Top 10 Best Android Tablets For 2020
Tablets with latest Android version
With the evolving technology, everything around the world has changed. Now you can book taxis online, order food on app, shop online, and so much. We cannot imagine the world when you had to actually stop taxis by standing on the lane, go to restaurants for having dinner.
Conjecturing this kind of world ever happened gives dilemma! Like how? Then came the era of smart phones and internet, which indeed change the entire communication system! We can say this was truly a revolutionary change across the globe.
Today, we cannot think of living without our smart phones, it has become that important in everybody's life. After this development, then came tablet into the picture. What is a tablet? It is a portable, wireless PC with a touch screen, which differentiates it from the personal computers.
This idea was sketched out by Alan Kay of Xerox in 1971, but Apple introduced this device first in the marketplace and it was sold out worldwide. To simply put across, tablet is typically a small form of computers, but greater than smart phones.
In the present scenario, tablets have become more successful than computers or laptops. Many businesses provide their employees with tablets, which is actually helping organizations to eradicate the papers from their firms and step into the digital world.
Business and individuals are indeed enjoying this groundbreaking invention and supporting it by purchasing more and more tablets. But with so many players in the market, choosing the right tablet that suits your needs is tough. However, Android always hit the market as they are cheap and equipped with better processors and storage.
Our Picks: 10 Best Android Tablets 2020
In the tablet market, Android tablet(s) is the only tough competitor of Apple iPad(s). Why? Because, AndroidOS delivers best-in-class performance, productivity, security, user-friendliness, etc… And so, large number of Android tablets are available in the market, which makes it difficult for one to choose the best one. To make it easy, we have compiled the list of best Android tablets below with latest version of OS and performance.
1. Samsung Galaxy Tab S6 – Best Android Tablet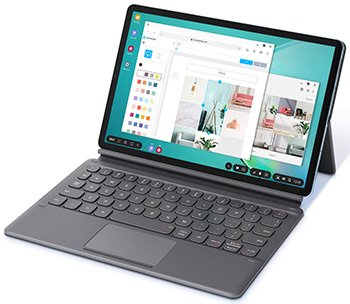 Samsung Galaxy Tab S6 is one of the best tablets introduced by this company. With 10.5" Super AMOLED display and just 5.7mm thickness, Samsung Galaxy Tab S6 is your perfect on-to-go partner. It is very lightweight that makes it very flexible and easy to carry.
The design of the tablet is pleasing to eyes and the vibrant color availability, which is Rose Blush, Cloud Blue, and Mountain Gray with the same pen color, making it fascinating to users.
The pen of this groundbreaking tablet is unique as it enables you to overcome any situation with high productive pen. More so, the magnetic back of the tablet allows you to keep your pen attached to the body of the tablet, eliminating the hassle of losing a pen. Samsung Galaxy Tab S6 runs on Android version 9 (Pie) and has rear and front camera of 8MP and 5MP, which is revolutionary as you can click picture studios images.
The tablet is equipped with Snapdragon Qualcomm processor and is available with two choices concerning RAM and storage – 6GB RAM and 128GB ROM, 8GB RAM and 256GB ROM – along with 15 hours of battery backup with continuous browsing and video playback.
2. New Samsung Galaxy Tab A 8.4″ 2020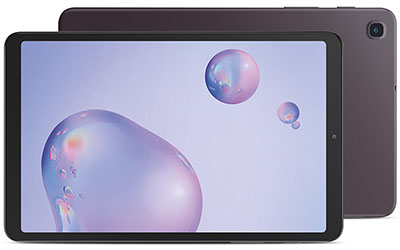 The name Samsung is completely bankable and coming from the company, new Samsung Galaxy Tab A 8.4″ 2020 is sure to prove its credibility in this fiercely competitive digital market.
People will love this updated and advanced Android based tablet from Samsung owing to its high effectiveness and great performance. Its sophisticated and high-end features will account for its growing popularity.
Its compactness in terms of designing will significantly match with its high speed effortless performance to add to the productivity and efficiency of users. Strong and easy connectivity via 4G LTE and extremely good battery life along with vivid and crystal clear display is what this awesome Android tablet promises for its worthy customers.
Most interesting part is that the new Samsung Galaxy Tab A 8.4" is meant for all and thus the pricing has been kept at an affordable limit.
3. Samsung Galaxy Tab A 10.1″ – Best Budget Android Tablet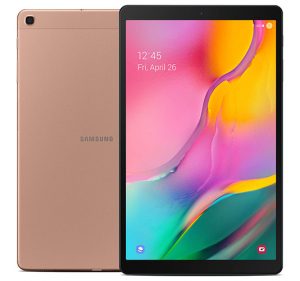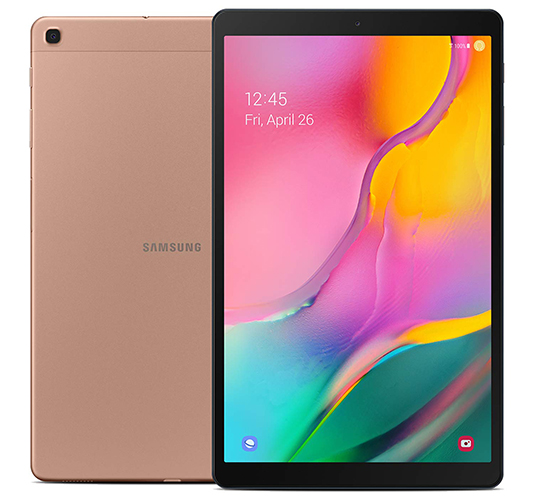 Samsung Galaxy Tab A 10.1″ is perfect for a perfect family as tablet is built with amazing features that would help people with household stuff. With 10.1 inch display, Samsung Galaxy Tab A offers an amazing viewing experience and with minimal bezels you can carry your tablet in your bag as it is very lightweight and compact.
The tablet is pre-loaded with thousands of educational applications and content for kids, making your stress-free while handling your tablet to kids.
More so, you can easily customize the tablet as it is highly under the control of parents. Samsung Galaxy Tab A provides you 2GB/3GB of RAM and storage of 32/64/128GB, eliminating the pain of haggling of device and storage full. The tablet also offers 8MP rear camera and 5MP front-facing camera to make your family journey more thrilling. With Dolby Atmos speakers you can enjoy your favorite show or movie on the large display.
The tablet runs on Android P- the latest Android version- offering more ease to users as the interface of this version is highly appreciated by the users across the globe. The battery durability is very long lasting up to 12 hours, so now enjoy your family trip with great fun!
4. Samsung Galaxy Tab S4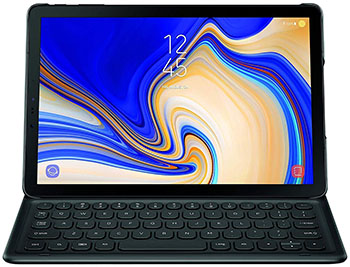 Samsung Galaxy Tab S4 is one the finest tablets launched by Samsung so far. The tablet has an elegant design and is very handy, allowing you to carry this device all around the globe seamlessly. It weighs only 17oz and has an average screen size, which is 10.5 inch.
Besides, the resolution offered by the company is 2560 x 1600 that gives you brighter images and the Super AMOLED gives you clear and crisp picture quality that makes your viewing experience amazing. Samsung also provide users with high-tech pen that can make your life more relaxing.
The pen is very sensitivity, lightweight and doesn't need charging because it has the capability to work for hours without haggling. This tablet offers you 4GB RAM and 64GB and 256 GB, depending upon your choice along with extendable option up to 400GB. Samsung Tab S4 offers Octa-Core processor and durable with fast charging.
5. New HUAWEI MediaPad M6 10.8″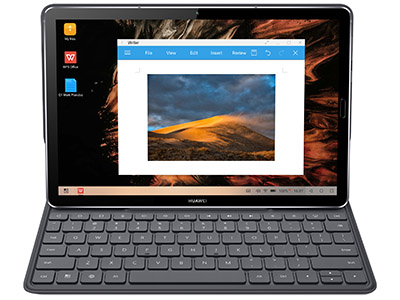 HUAWEI has never taken the job for granted. The company knows that technology has a great role to play in everyone's life. It can be a great help to people to accomplish their jobs at swift pace.
MediaPad M6 provides brilliant views to the users with 10.8" 2K display. The makers have strived pretty hard to bring the best. Any activity from playing games to shopping, reading and watching videos, this screen size is second to none.
Its exceptional contrast and clarity is more like a present to the users that not only eases but also enhances the experience every time the screen is in front of a user. Without any doubt, the company understands the fact that having a pristine treble and deep base is a must and this can be experienced with quad-speaker sound system from Harman Kardon.
Shedding light on the CPU, the fact comes to light that Kirin 980 is at helm for powerful performance. Besides, performance with energy efficiency is the main trigger for the tablet to touch the peak of success. With such power, it takes no time to switch to PC Mode. By pairing it with M-Pen lite stylus and the slim Smart Magnetic Keyboard, users get all remarkably, what they expect.
6. Samsung Galaxy Tab A 8″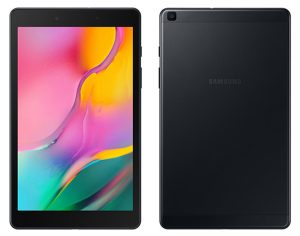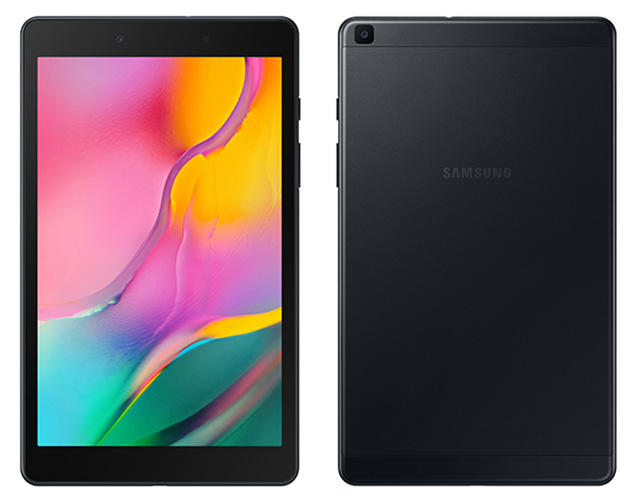 Samsung has always surprised its customers by delivering quality products and Galaxy Tab A 8 is one of such products. From finishing to features, the company has tried its best to serve the customers with amazing options.
Foremost, with the least bezel, users can view excellently whether it is a picture or video or any file. Moreover, the design is quite eye catching. Being slim, the tablet is quite easy to carry and to use. Adding to its looks, the metallic look is to please everyone that sets eyes on the gadget.
Its lightweight design helps the users to use it with all the ease. When it comes to its display, the users get an 8.0 inch of screen that lets the users have a great time doing any activity. In addition, dual speakers act like an icing on the cake particularly when someone is using the tablet to recreate oneself.
It is obviously an added advantage to have a battery that lasts quite longer. Be it any activity, one does not need to charge tablet repeatedly. Also, Samsung Galaxy Tab A offers 32 GB of inbuilt memory that is pretty good and it can be expanded up to 512GB with the help of a Micro SD card.
7. Samsung Galaxy Tab S5e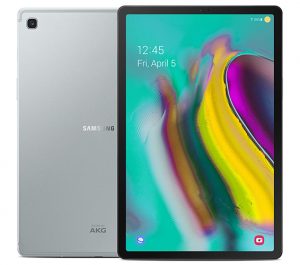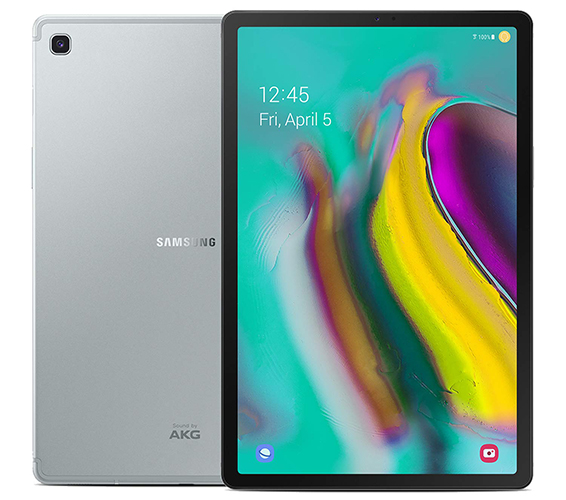 Samsung Galaxy Tab S5e is one of the thinnest tablets introduced by Samsung that perfectly meets the requirement of modern people. With an average screen size of 10.5 inch and 5.5mm thickness, Samsung Galaxy Tab S5e can be right partner of your on the go lifestyle.
The Super AMOLED display delivers true and deep colors, giving you an amazing viewing experience. The tablet is available in three magnificent colors Gold, Silver and Black.
To enjoy the amazing display quality of the tablet, it is also equipped with 8MP front-facing camera and 13MP rear camera that make it ideal when you are on a journey or exploring new places. Featuring Qualcomm Snapdragon, Samsung Galaxy Tab S5e provides users with 4GB and 6GB RAM along with 64GB/128GB storage. However, the storage is extendable up to 512GB via microSD, so you are free from "storage-full" notification.
The tablet runs on Android Pie, which is the latest version that makes your experience more seamless. The battery is extremely durable that can stay up to 15 hours along with fast-charging capabilities that enable you to stay online all day long without worrying battery. Samsung Galaxy Tab S5E is an incredible product delivering amazing experience and quality.
8. Lenovo Smart Tab (P10 & M10)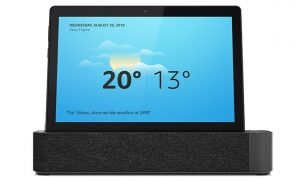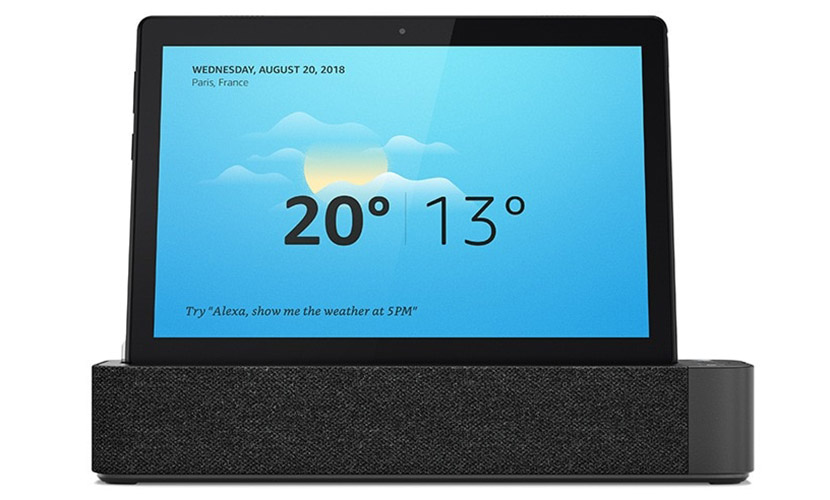 Lenovo is another player in the gadget market that sells powerful Android tablets. Lenovo Smart Tab is one the finest amalgamation with Alexa in its top family tablets that is P10 and M10. These both the tablets are unique in their own way and specs.
P10 and M10 have same screen size that is 10 inch FHD IPS display, giving users brighter and sharper picture quality. To simply put across, smart tab allows you to use this device as a tablet + smart dock, enabling you to live a hands free life.
M10 and P10 are extremely lightweight- 480g and 440g, equipped with latest operating system version i.e. Oreo. Furthermore, both the tablets offer same processor-Snapdragon Qualcomm 450, but M10 offers 3GB RAM and 32GB storage, whereas P10 offers 4GB RAM and 64GB storage with dual glass fingerprint scanner- this feature lack in M10.
9. Lenovo Tab 4 (8 & 10)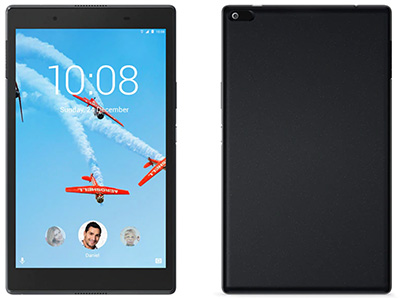 Lenovo Tab 4 (8 & 10) again is a family tablet like P10 and M10, but is not smart enough like them. However, both the tablets are stylish enough and allow parents to keep an eye on their kid's activity with enhanced features in the tablet.
More so, it also allows users to make different account in the same tablet and keep their data secure. While digging in the specs of the tablet, Lenovo Tab 4 8 inch is quite handy because of small screen size and HD display boasting 1280 x 800 resolution, whereas Lenovo Tab 4 10 inch is greater in size, but offers the same resolution like 8 inch, giving you bright picture quality with deep contrast.
The weight of 8 inch tablet is lesser than 10 inch, providing you with more flexibility. Both have same processor Qualcomm Snapdragon 1.4 GHz and RAM i.e. 2GB, however, the storage differs- 8 inch offer 16GB storage and 10 inch offer 32GB. The battery life of Tab 4 10 is much durable then Tab 4 8.
10. Lenovo Tab E10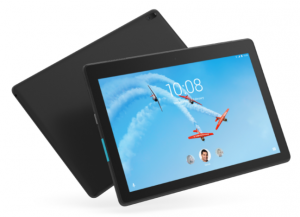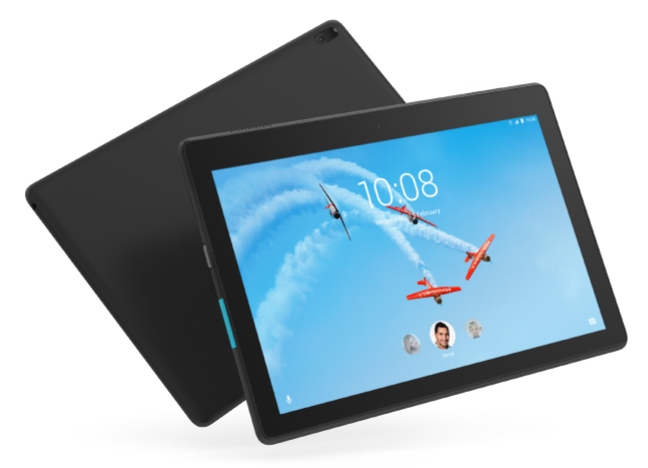 With Tab E10, Lenovo is again targeting the families to keep them connected with their kids in this advanced world.
Lenovo Tab E10 is number of choice of parents that comes with a screen size of 10 inch with HD display that provides a resolution of 1280 x 800 IPS multi-touch screen. The tablet weighs only 1.16lbs, which makes it quite easy-to-carry tablet and keep you on the go.
The processor of Lenovo Tab E10 is Snapdragon 212 Quad core, along with 2GB RAM and 16GB storage, which is extendable up to 128GB. It has the latest Android Oreo operating system and an average battery life as the battery capacity is just 4850 mAh, which can support you only for 7 hours.
How to choose an Android tablet?
There are innumerable companies providing Android tablets, but picking up the right one that meets your needs can be daunting. Often people are in turmoil while purchasing the tablet, and more the suggestion more the confusion.
As it is rightly said, "Too many cooks spoil the broth". So take a deep breath and just add the below factors in your list to make a better decision. In this way, you could find the tablet that worth your money.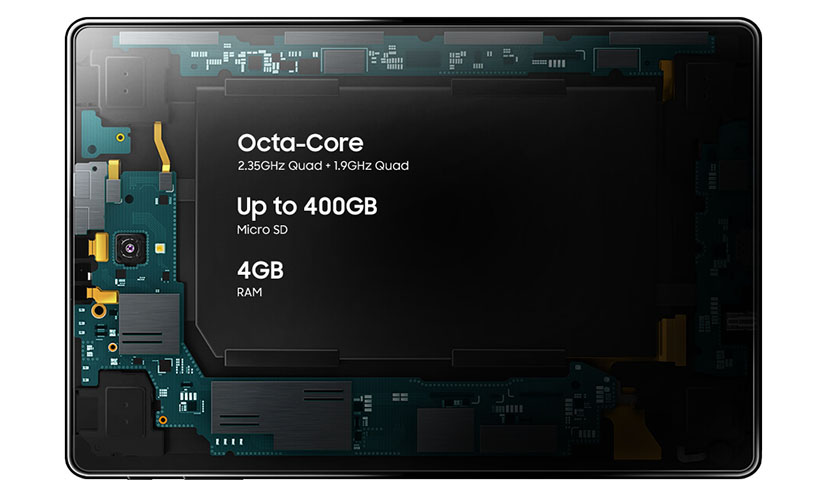 Besides budget, let's take at some of the crucial factors, which you should consider while purchasing an Android tablet:
i. Processor
It is the king and the most integral part in tablets. If your processor is of outdated version, you will face difficulties while downloading heavy apps. You would not optimize your tablet to the fullest if your processor is outdated or less as compared to your usage.
Your processor is your CPU that maintains the overall functioning of your app. You might have said many a times "Oh my god the tablet quickly close the apps and unlock itself within seconds". How it happens? It's all about your processor and its speed! So always consider this feature at priority.
ii. Display
Second comes your display, decide whether you want a big screen or average one. The average display size ranges from 8-inch to 10-inch, which makes your viewing experience more promising and better. There are tablets above this screen size that allows you to view pictures with more details and clarity.
However, large screen sizes are mostly used by people who like watching videos, movies, or are artists, etc. And don't forget to look at the resolution of the tablet to avoid that blurriness in the picture or any video when you zoom in and out.
iii. RAM & Storage
These are the only two factors that work in coordination with your processor. Maximum RAM and maximum storage will never take you to haggling situation. People say "My tablet hangs a lot, apps doesn't get opened instantly, etc". Don't be one of them! Always go for better RAM and storage to maintain that consistent speed of your tablet.
Together, these specs have an effect on the overall performance of your tablet, so choose a tablet with better RAM and storage.
iv. Battery
Durable battery life is what everyone needs! Tablet that offers you battery life between 1000 mAh to 2500 mAh are not worthy. Because as soon as you will start surfing, the battery with start draining with a high speed, which is something you don't want.
Presently, the generation is always on the go, tapping in different activities and so they want tablet like this. It is highly advisable to go for a durable battery life that offers you fast charging with it. Fast charging gives you an opportunity to charge your battery in an hour so that you can continue with your adventure seamlessly.
v. Android Version Support
Here comes the saying "You will get what you pay for"! You may find countless Android tablets in the market that offers better RAM & storage may be processor as well, but what about the operating system.
Cheap or inexpensive tablets might offer you the out of date Android version, without permitting you the up-gradation to the latest Android versions, which automatically throw you out from the latest the apps or upgrades.
Therefore, it is recommendable to do your homework properly on Android versions while purchasing a tablet and make sure it has software update capabilities so that you won't be kicked off from the game.
Verdict
Well, choosing the right Android tablet that suits your requirement can be quite tricky, but once you have outlined your basic needs and routine usage you can pick the right tablet. I hope that above-mentioned lists of best Android tablets that are ruling the market today will help you to simplify your choice and move on with your purchasing process.
You can also check reviews for the same tablets on Google to get better idea and make a better decision. I would recommend you to have an overview of each tablet and try to cross-verify it with your requirement list. So what are you waiting for, pick the right one move ahead!