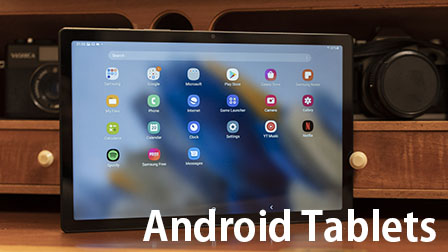 Android tablets cover around 60% of market share compared to other OS tablets. Reason is simple – Android tablets have easy user interface, comes with lots of productivity features and more.
So, if you are looking for a good tablet, check out our list of best Android tablets for 2021.
Android tablets has always been preferred owing to their simplicity of functioning and superior performance. The outbreak of the deadly pandemic has brought human life to a standstill.
With lock-down and "stay home" as probable solutions, dependence on the internet for carrying out all regular necessary work has increased manifold. The demand for tablets has seen a great rise with people locked in their houses.
Here, we shall be discussing about the key features and aspects of some of the best Android tablets of 2021 to help probable customers understand them better. In spite of the fact that there are other competitive tablets based on other popular platforms, Android based tablets has always seen a steady growth in demand.
It is important to mention here that making the right choice can turn out to be a hectic task in absence of ample knowledge about the different popular tablets that are available. There are several tablets based on Android that all appear to be almost similar to each other.
But, there lies deep distinction in them in terms of storage capacity, processor, connectivity option, RAM, battery backup and many such other elements. Another important factor that is supposed to be the primary decisive parameter is the budget.
Best Android Tablets (Top 10 Picks)
From Samsung to Lenovo, this article will try to throw light on some of the best Android tablets from these brands to help the readers analyze better a d make the correct choice.
Some may provide more of screen space compared to other while some might be superior in other technological aspect. Hence, it is important to understand what exactly is the need to identify the best match while going for an Android based tablet.
1. Samsung Galaxy Tab A7 Lite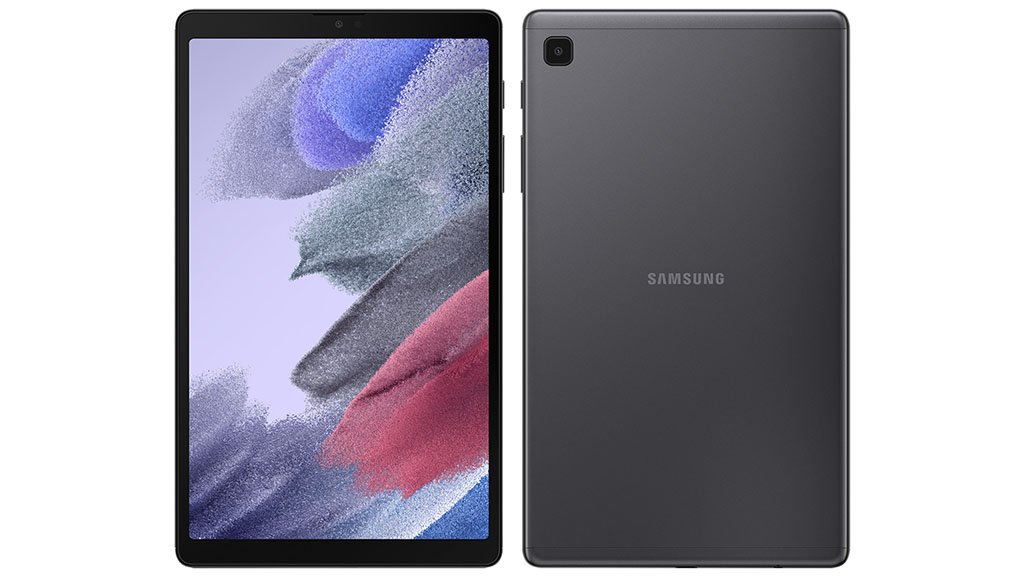 When it comes to choosing a brilliant Android-based tablet, you can hardly ignore Samsung. Samsung Galaxy Tab A7 Lite, with a price starting from $159, is undoubtedly one of the best Android tablets of 2021.
It has earned credit with its incredible performance and super-rich features and specifications. It is equipped with an 8.7-inch magnificent screen and sports a stylish yet handy and compact design. It is based on Android 11.0 and is powered by MediaTek MT8768N Octa-Core Processor that makes it fit to deliver and perform in the best form.
Galaxy Tab A7 Lite is powered by a 5,100mAh powerful battery that provides it with the potential to perform for long hours without any interruption. It is built sturdy and strong and is well protected by a fashionable cover. With up to 1TB of expandable storage space, indulge in all that matters from the world of entertainment.
2. Samsung Galaxy Tab S7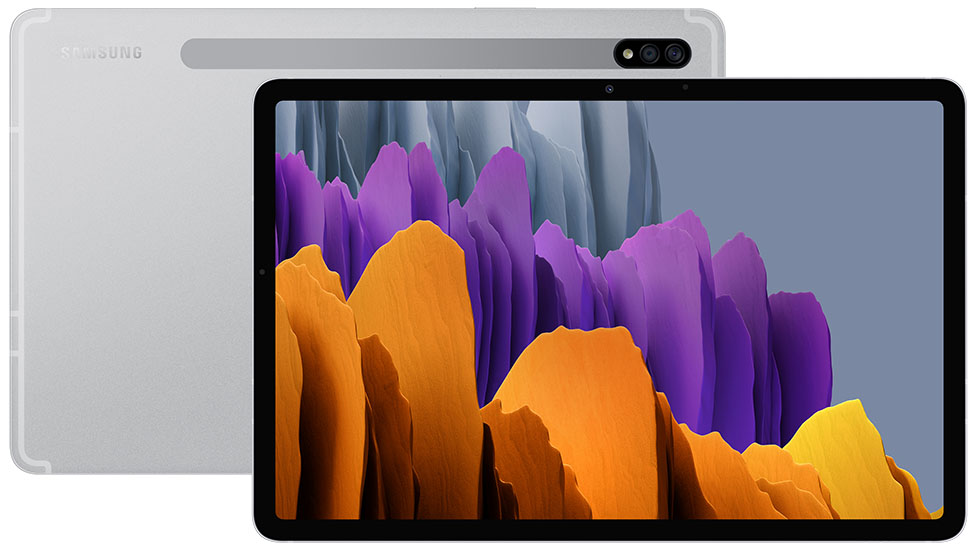 With Wi-Fi and 5G connectivity to support blazing speed like never before, Samsung Galaxy Tab S7 is undoubtedly one of the best Android tablets of 2021. Coming from Samsung and with prices beginning at $649.99, it is loaded with the most latest and bankable features that make work and fun go hand in hand.
This amazingly performing tablet can be with ease transformed into a PC with DeX and optional keyboard that has been redesigned to include track-pad and shortcut function keys. The bigger, immersive edge-to-edge display features an 11″ TFT LCD screen for the best viewing experience.
The tablet also houses AKG quad speakers coupled with Dolby Atmos surround sound. Users can make full use of the redefined S Pen for fine creations and better productivity. The CPU that is 30 % faster than the predecessor meets the power and speed of 5G to deliver all within the easy reach of the users.
3. Samsung Galaxy Tab S7 Plus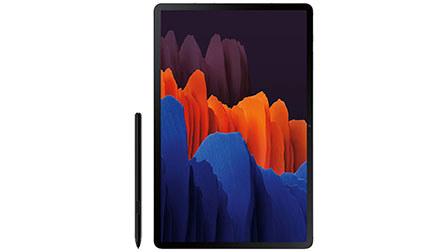 The brilliant 12.4" Super AMOLED display of Samsung Galaxy Tab S7 Plus is sure to keep the eyes glued to the bright and vibrant screen with a 16:10 aspect ratio.
The display is SGS-certified and thus is thus meant for soothing and comfortable watching.
Available in three color variants which are Mystic Black, Mystic Silver, and Mystic Bronze, Samsung Galaxy Tab S7 Plus is sure to add to the overall statement. Coming to its performance aspect, it is engineered to possess all that is needed to make work and entertainment to be defined better.
Be it for work or sheer fun, there cannot be a better companion than this 2-in-1 tablet that promises to unleash the best with its superior features. With prices starting at $849.99, the device is worth every penny spending on it.
From flawless and blazing 5G connectivity coupled with Wi-Fi, Samsung Galaxy Tab S7 Plus is sure to take the market by storm on its launch.
4. Lenovo Tab P11 Pro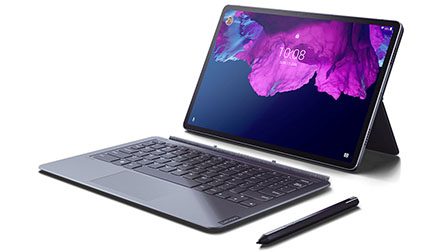 With prices starting from $499.99, the Lenovo Tab P11 Pro is a definite mention in this list of best Android tablets 2021.
This extremely capable Android tablet is your key to unlock all the amazement from the entertainment world.
With a stunning 11.5-inch display, this device is styled with grace and precision and comes with a contemporary look. The OLED screen with 2560 x 1600 resolution and Dolby Vision makes everything very clear and distinct across the screen.
Realistic graphics are coupled with the accurate sound made possible by the JBL speakers and Dolby Atmos. It owes its superior power to the incredible Qualcomm Snapdragon 730G processor that provides it with immense potential and abilities.
The new chip also allows this amazing Lenovo tablet to perform for as long as 15 hours. The compatibility with the optional keyboard and the Lenovo Precision Pen 2 makes this tablet from Lenovo a worthwhile product.
5. Samsung Galaxy Tab S7 FE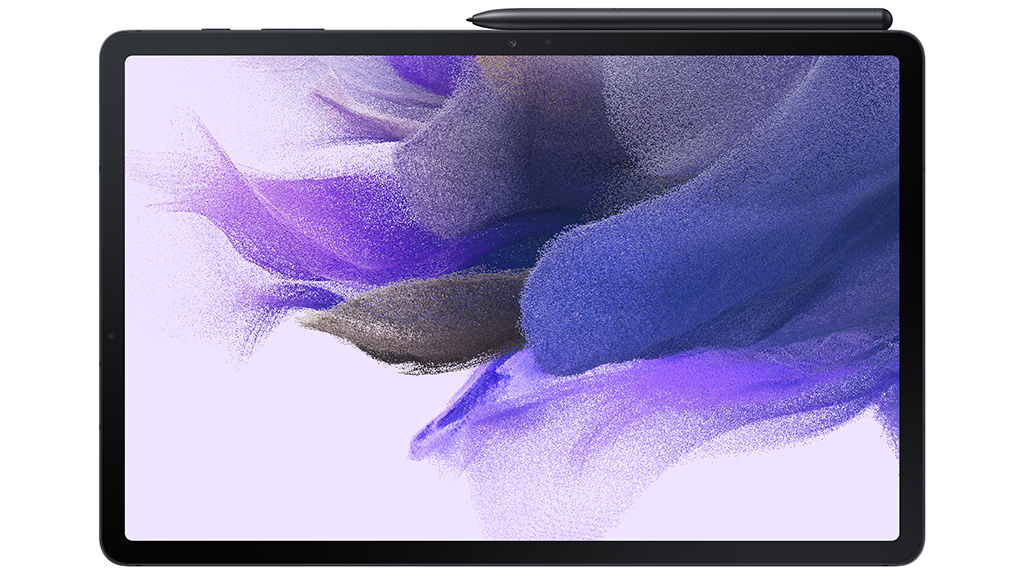 Samsung is a brand that every person on this planet has blind reliance on. So, if you are looking for a high-quality Android tablet, the Samsung Galaxy Tab S7 FE is a good option to look into.
The device is compatible with AT&T only and provides with immaculate communication like you would have never expected.
The tablet is equipped with a responsive 12.4" display that brings your content to life, especially with the vivid visuals and the brighter color reproduction.
Not just for students, the device works equally well for the professionals too. The device is also available in four distinct colors for you to choose from.
Besides the Android OS support, the device also provides with long-lasting battery life and powerful performance that makes it a worthy option to look into.
It is backed with 64GB eMMC flash storage with optimal RAM management that supports seamless multitasking.
6. Samsung Galaxy Tab A7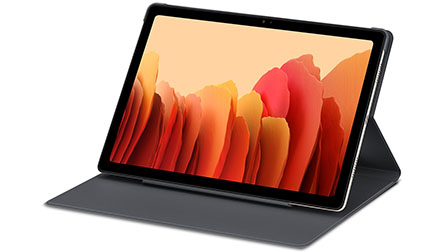 Coming from Samsung, you can always expect that extra edge over the other when comparing in terms of features and performance.
Samsung Galaxy Tab A7 is yet another worthy product from the manufacturer. It's very slim and lightweight and is fitted with a 10.4-inch display that supports ultra-widescreen viewing.
The flawless audio system made possible by the quad speakers further adds to the depth and reality of the graphical representations.
You can choose from 32GB and 64GB built-in storage variants and the capacity can be expanded up to 1TB via microSD card. The battery life is also very strong and keeps it going for longer duration.
The availability of a USB-C type port makes charging quick and easy. Available in stunning colors of Silver, Gold, and Dark Grey, this incredible tablet is powered by Qualcomm SM6115 Octa-Core processor. With prices starting from $119.99, Samsung Galaxy Tab A7 makes for a satisfying purchase.
7. Lenovo Yoga Tab 11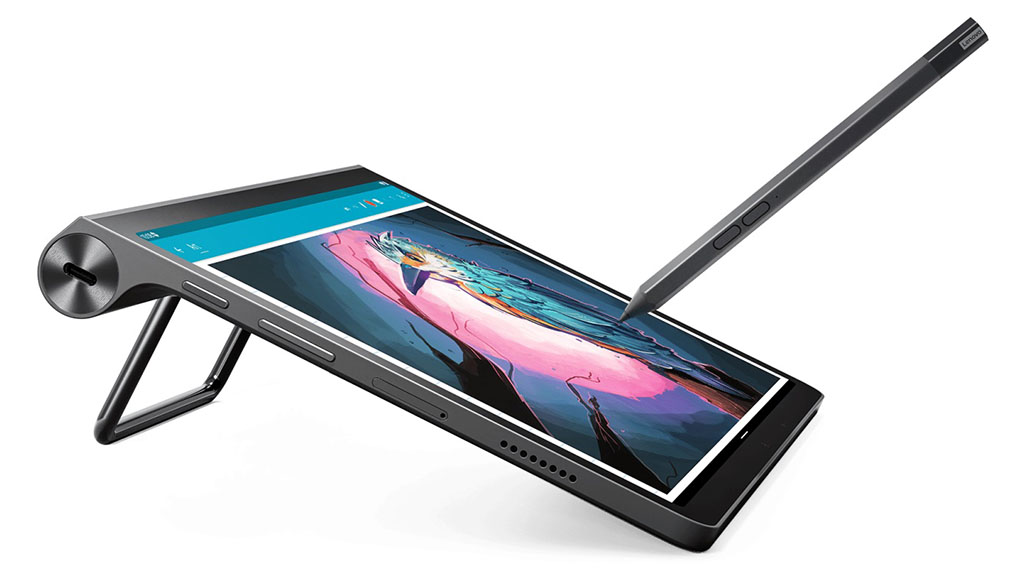 Another trusty brand worthy of your money is Lenovo. For the users looking for a high-quality tablet from them, the Lenovo Yoga Tab 11 is an option you can consider looking into without any questions.
Priced under $300, this premium Android tablet is everything you need to work even while travelling.
The device is equipped with a responsive 11" 2K display that supports an immersive user experience with premium visual quality and bright and vivid color reproduction.
The Dolby Atmos speaker pairs well with the performance and delivers crisp and clear audio output, which is always a benefit.
The tablet is powered by the latest MediaTek Helio G90T processor that supports Android 11 OS along with 4GB expandable memory slot for optimal multitasking experience.
You also get access to 128GB storage which supports seamless data transfer without any hassle. The users can also get up to 15 hours of battery backup, which is ideal.
8. Samsung Galaxy Tab S6 Lite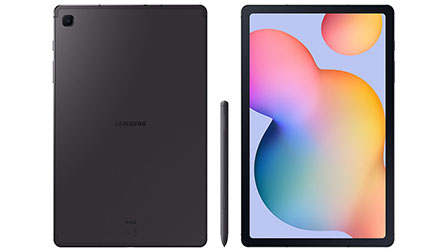 Engineered to be the best companion on the go, Samsung Galaxy Tab S6 Lite is sure to win over hearts with its sleek frame and masterly features. The display offers high picture quality with great accuracy and vividness.
Everything is depicted across the screen with equal importance and clarity. This Android-based tablet comes with a fast performing and highly interactive S Pen that adds more to the overall experience.
The S Pen nicely fits with the help of a built-in magnetic holder and can be used for all kinds of writing and editing purposes along with creative ones.
With almost 13 hours of battery life and 128GB internal memory that can be further expanded to 1TB with the help of microSD card, there is no limit to achieving all that is meaningful.
Available in three different shades to choose from, the styling of Samsung Galaxy Tab S6 Lite is made to give it a sleek and modern look while keeping it light in weight.
9. Lenovo Tab M10 FHD Plus (2nd Gen)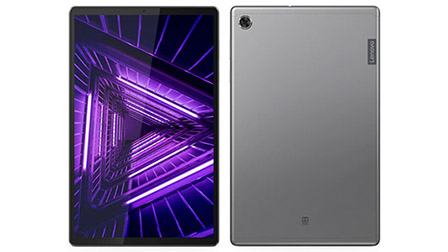 Lenovo Tab M10 FHD Plus (2nd Gen) is yet another worthy addition to the list of best Android tablets that have marked 2021 and is loved for its great styling and high-level performance.
It is fitted 10.3″ FHD display that provides for wide-angle viewing and allows getting the most from its high-quality graphical representation.
Excellent picture quality is backed by equally driving and engaging audio quality made possible by the Dolby Atmos dual speakers. With ultra-thin bezel and complete metal finish, the overall styling of Lenovo Tab M10 FHD Plus (2nd Gen) is smart and elegant.
The device is meant for convenient usage to allow smooth functioning and greater productivity. Thus, it is very portable and compact. It is based on Android Pie OS and is powered by MediaTek Helio P22T octa-core processing that provides it with all the incredible aspects. It also assures great WiFi connectivity and thus allows the users to remain connected and available at all times.
10. Lenovo Tab M8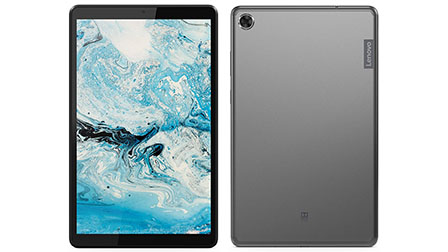 Mold in full metal cover, Lenovo Tab M8 tablet is sure to turn heads owing to its super stylish exteriors painted in slate black.
Priced below $100, this handy and useful Android 9 Pie-based 8-inch tablet is 2GHz, Quad-Core processor that accounts for its flawless performance.
It is fitted with an 8-inch HD display that supports 1280 x 800 resolutions that explain the extra clarity and brightness on the screen. Now, watching all the favorite content can be more exciting and vivid. Lenovo Tab M8 comes with front and rear cameras to capture all the important moments of life.
Its built-in Bluetooth 5.0 and Wi-Fi connectivity helps users to remain in action all the time without missing out on anything important. Keeping us well connected with others even on the go, Lenovo Tab M8 promises to deliver only the best. Powered by 5000 mAh battery, it is sure to perform day long without the need for quick charging in between.
Amazon Fire OS vs Android OS
It is of primary importance to understand the basic differences in Amazon Fire OS vs Android OS before settling for a purchase. Amazon Fire OS is an extension of Android OS and thus is deciphered that both the Operating Systems have much in common.
There are three versions of Fire OS. Fire OS 7 is based on Android 9, Fire OS 6 is based on Android 7.1 and Fire OS 5 is based on Android 5.1. Amazon Fire tablets also runs several Android codes and almost all the applications and services are installed from Android.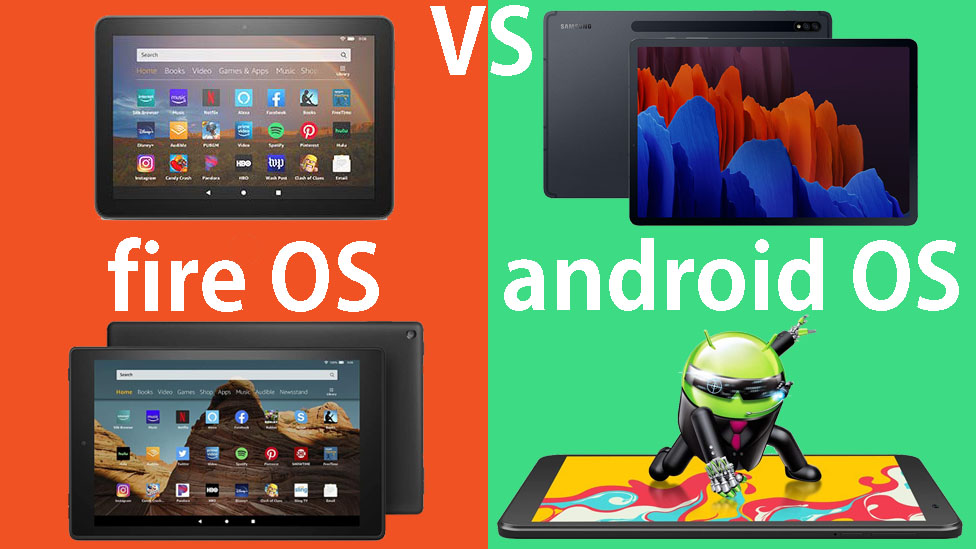 So, it is possible that the experience of using tablets based on both the platforms might be very similar and simple. But, there is a big difference that needs to be highlighted for readers here. The difference is in term of services.
With tablets based on Amazon Fire OS, there is no access to Google services. So, users cannot make use of any Google services and Google Play Store. Instead, alternatively, Amazon Services are available for the users along with access to Amazon App store.
So, if you are looking to have a standard tablet with all the basic amenities in terms of browsing and other internet based activities and are not inclined to the Android services, you may go for an Amazon Fire OS tablet.
Verdict
With so many impressive options available in the market, you can go for anyone after considering the requirements and budget. The good part is the price bracket is very wide. There is something from Android to offer to all.
And with Android, most of the loved features are available with almost all the different models at varying prices from a different manufacturer. Thus, with the best Android tablet that will fulfill all your need, get started to reach newer heights of success.