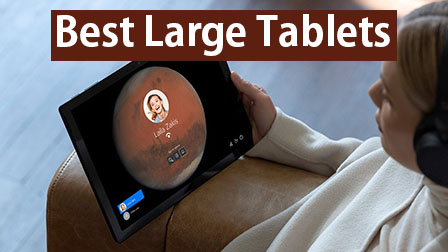 The bigger the better. You can easily choose a tablet with a big screen. But you have to see other factors as well because they affect the overall performance of the device. Well, don't worry, we are here to help you with our list of the best large tablets of 2022.
Before you head over to an e-commerce store to buy a tablet with a large screen I'd like to tell you what you should look for in a large tablet.
First, it should have a battery with high capacity. A tablet with a big screen has more pixels to light up. That will increase the power consumption. Similarly, its powerful speakers and other outputs need a bigger and long-lasting battery.
Second, it has to have a strong and powerful processor. Large tablets have bigger screens and bigger screens offer a detailed viewing experience as well as functionality. That asks for more data processing and requires a strong beast-like processor.
Further, RAM and Graphics (GPU) decide the final performance of a large tablet. They store dynamic data and aid processors in the faster and smoother data processing. That being said, a good large tablet should have better graphics and more RAM storage.
Third, you have to see what other features and specifications the tablet is offering. Many of you prefer using a tablet with big screens to enjoy work, play, and entertainment. In addition to that, we all want a hybrid device that perfectly matches our needs and wants during the pandemic and work from home era.
Considering other features while buying a large tablet may also eliminate the need for another device. For instance, you want a tablet that lets you transfer all photos from your camera and make some quick edits and send it to your client.
But if it's a robust tablet with a big screen and longer battery, you can do heavy editing using high-end software on your tablet only and may eliminate the need for a separate laptop for post-processing.
So, whether you want to use it for work, education, or entertainment, other features play a big role in a good large tablet and use it on the go while working.
People usually buy a tablet because they need a computing solution that falls somewhere between a premium smartphone or a laptop. If you need a large tablet but do not know what to choose, you may end up buying a small laptop just for a bigger screen.
That will cost you more money because a laptop has better performance that you don't require.
Most tablets these days come with full-sized keyboard support with a touch-pad and stylus support. This increases the functionality and convenience of a tablet along with a large screen.
There are some other small big things you need to consider when buying large tablets. So, after researching thousands of tablets in the market currently, we have handpicked the best large tablets of 2022 for you.
Best Large Tablets
Tablets are definitely bigger than smartphones. But what screen size should a tablet have to be considered as a large tablet? Most tablets have a 7-inch, 8-inch or 10-inch screen. Considering that the large tablets should have about 11 to 14 inch screens.
The next crucial thing that you should decide is whether you want an Android, iOS, or Windows tablet. They all are unique in their own way.
I have categorized our list into four different sections: Best Large iPad(s), Best Large Android Tablets, Best Large Windows Tablets 2022, and Best Large Chrome OS Tablets.
Best Large iPad(s) 2022
Nothing matches the performance and uniqueness of iOS devices. Apple tablets are amazingly better than any other tablet. If you're already in love with Apple and its iOS, you should check out the following iPad(s). They have big displays and all the features you require.
1. Apple iPad Pro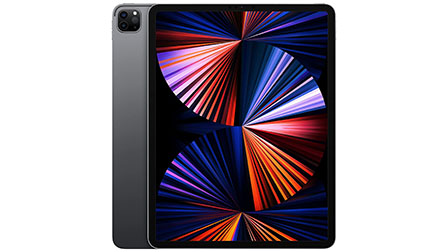 The first on our list is Apple iPad Pro. With the Apple M1 Chip, it is among the world's best tablets overall.
You get two different display sizes: 11 inches and 12.9 inches with the iPad Pro. This size is measured diagonally, so the actual viewing area will be slightly smaller.
Both these variants are the same with some minor differences. It offers an LED display with liquid retina XDR in 12.9 inches and liquid retina display in 11-inch models. The larger variant has more pixels and requires a better viewing experience.
iPad Pro is practically able to fulfill all your needs and wants. Whether you want it for professional designing, education, working, playing, or entertainment, it is the best tablet with a long-lasting battery.
You also get to choose from a combination of Wi-Fi and 5G models, two different colors, two display sizes, and storage variants.
2. Apple iPad Air (5th Gen)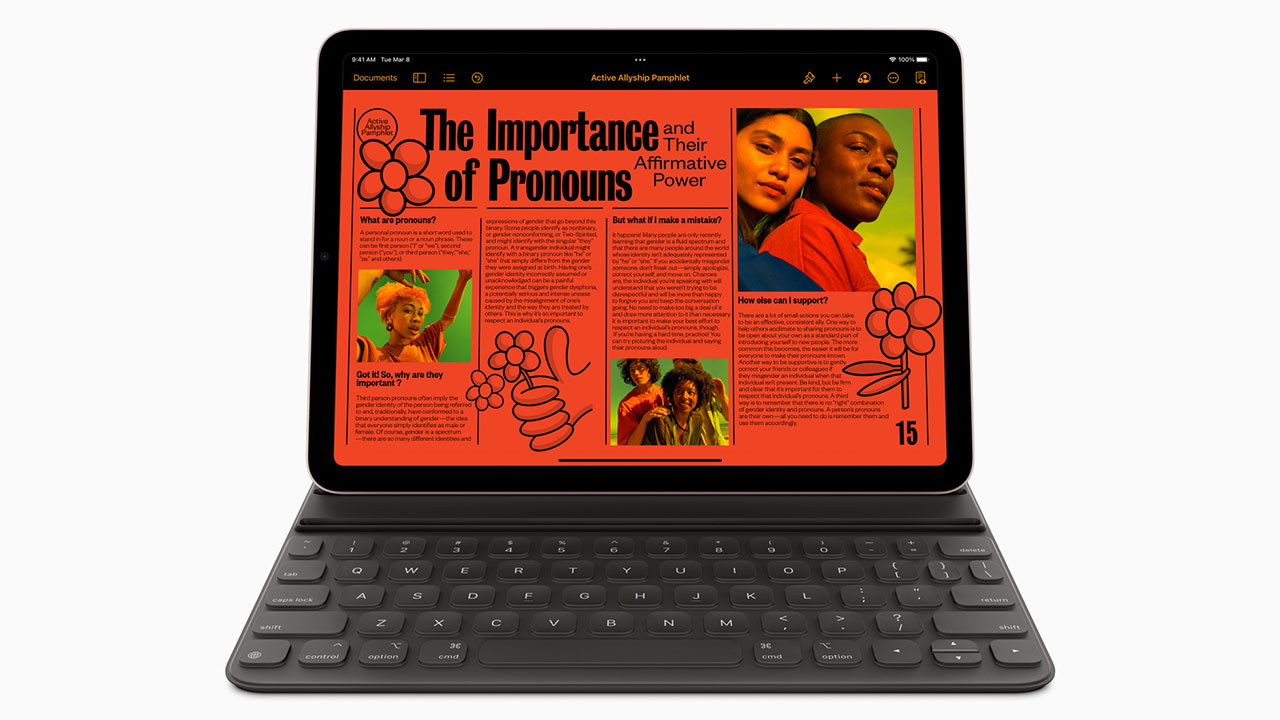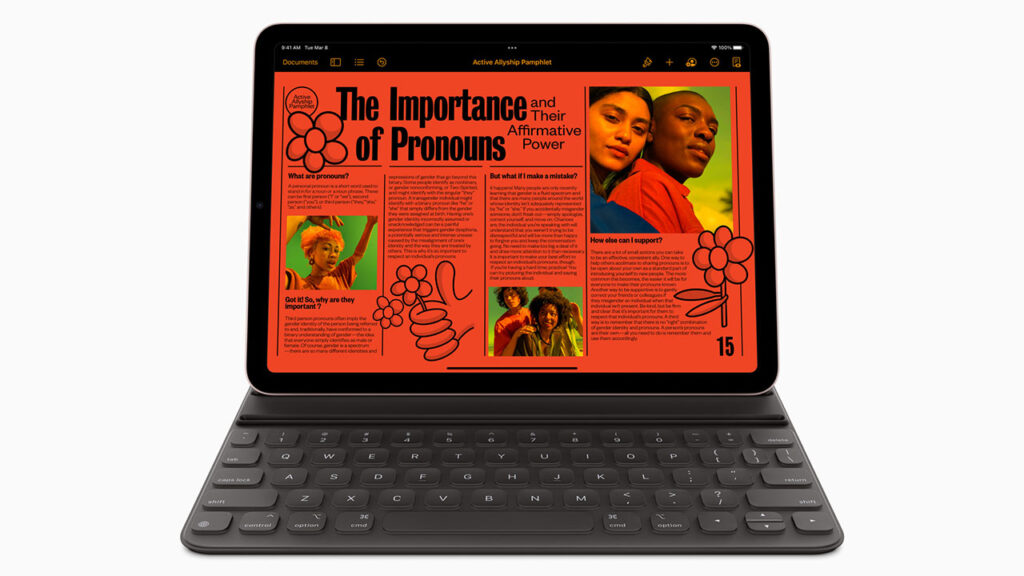 Although Apple's iPad Air 2022 (5th Gen) doesn't stand out in difference in terms of design, the brand has prioritized revolutionizing performance and user experience with the set of latest specifications and performance improvements.
Despite the thin and lightweight chassis, Apple has managed to integrate the powerful M1 processor into the device for unmatched performance.
The model is available in five stunning color variants, offering users a variety to choose from. However, don't expect much of a difference in terms of the design and spec sheet. Besides featuring a powerful processing power, the iPad Air 2022 is also backed with up to 10 hours of battery life, despite the performance upgrades.
As for the display, all-screen display panel in the model is equipped with a 10.9" Liquid Retina display with True Tone color technology, P3 color gamut and anti-reflective coating for detailed and vivid visuals on the screen.
Best Large Android Tablets 2022
There are so many Android tablets you have to choose from. Android tablets are best for education, entertainment, and e-book reading. On top of that, you get all Google Apps and features to ease up your life.
Surely iPad(s) have better versatility, but Android tablets offer top-notch technology with a wide range of configurations by different companies. They are also cheaper than iPad(s) in general.
3. Samsung Galaxy Tab S8 | S8 Plus | S8 Ultra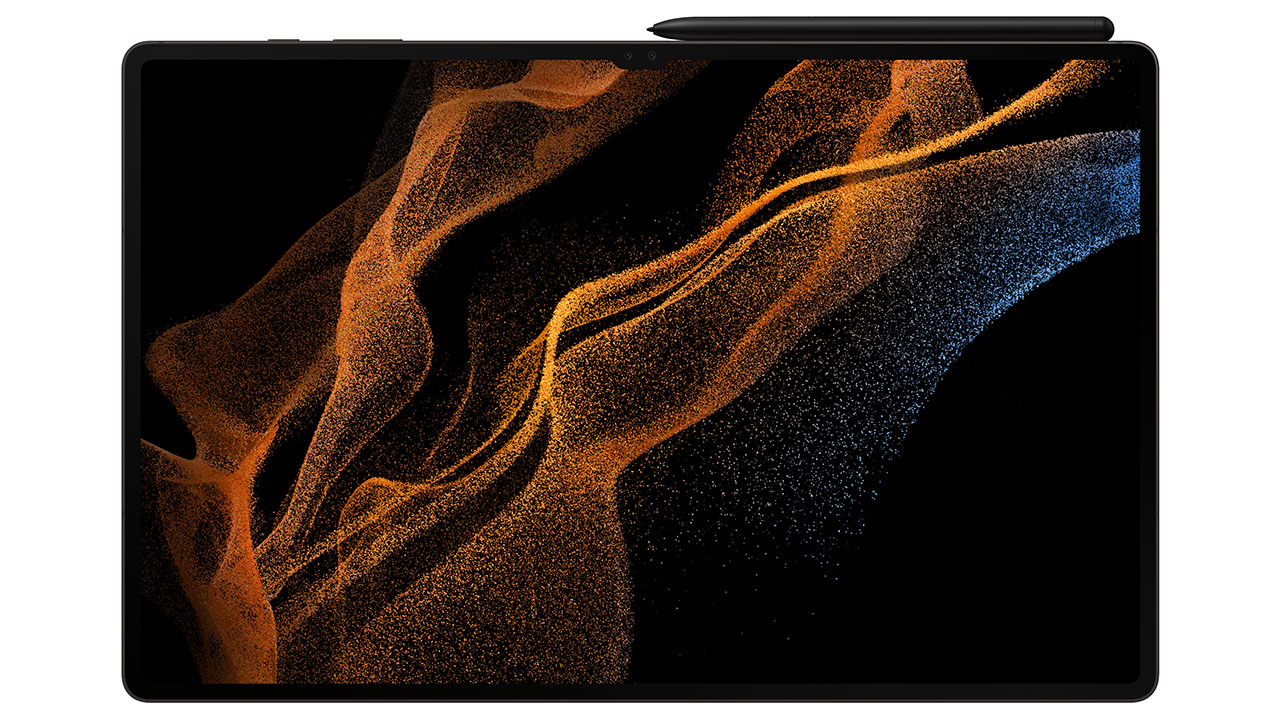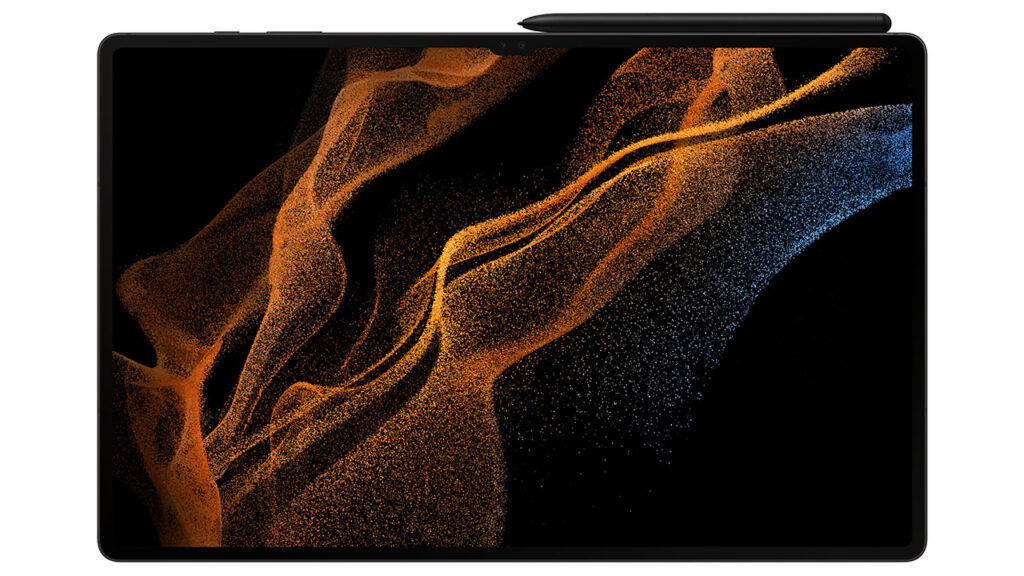 Tablets are convenient to carry around and support your workflow. However, if you are one of those users that prefer using a tablet instead of lugging a laptop, a larger tablet could be fit for all your needs. The Samsung Galaxy Tab S8 series could be the one that caters to all your needs.
This ultimate larger tablet is equipped with the responsive S Pen from Samsung that streamlines your user experience and takes productivity to the next levels. Starting from an 11" display, the Tab S8 series goes up to 14.8" with the S8 Ultra, all of which are designed to meet the ever-changing needs of the consumers.
The Samsung Galaxy Tab S8 Ultra made the news featuring the largest AMOLED display in a tablet. The functionalities don't stop there as the models are equipped with a large span battery that supports all-day productivity. Also, this super lightweight tablet features an Armor Aluminum casing and is integrated with up to 512GB SSD storage and 16GB RAM configuration.
Samsung Galaxy Tab S8 series is powered by the Qualcomm Snapdragon chipset with a smooth 120Hz refresh rate for a responsive game-play and performance to unleash one's most creative self.
4. Lenovo Yoga Tab 13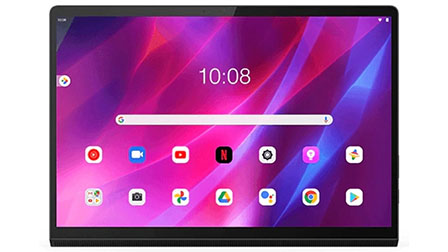 Recently launched, Lenovo Yoga Tab 13 is one of the best candidates for the best tablet in the year 2022.
Lenovo designed the Yoga Tab 13 specifically for the hybrid lifestyle during the pandemic and work from home culture.
A tablet that is perfectly fine for working, playing, and entertainment has to have a big display, powerful processor, and a longer battery.
The Yoga Tab 13 has a 13-inch screen. That will offer a better viewing experience from all angles.
It runs on Android 11 and is powered by Qualcomm Snapdragon 870. Which is great! Also, it has a Qualcomm Adreno 650 GPU. This means faster and efficient performance with improved battery life. Its support for a stylus, AAA games, and a keyboard makes it quite versatile.
Its bigger display and support for micro HDMI connectivity lets you use the Yoga Tab 13 as a secondary display for your computer too.
5. Samsung Galaxy Tab S7 FE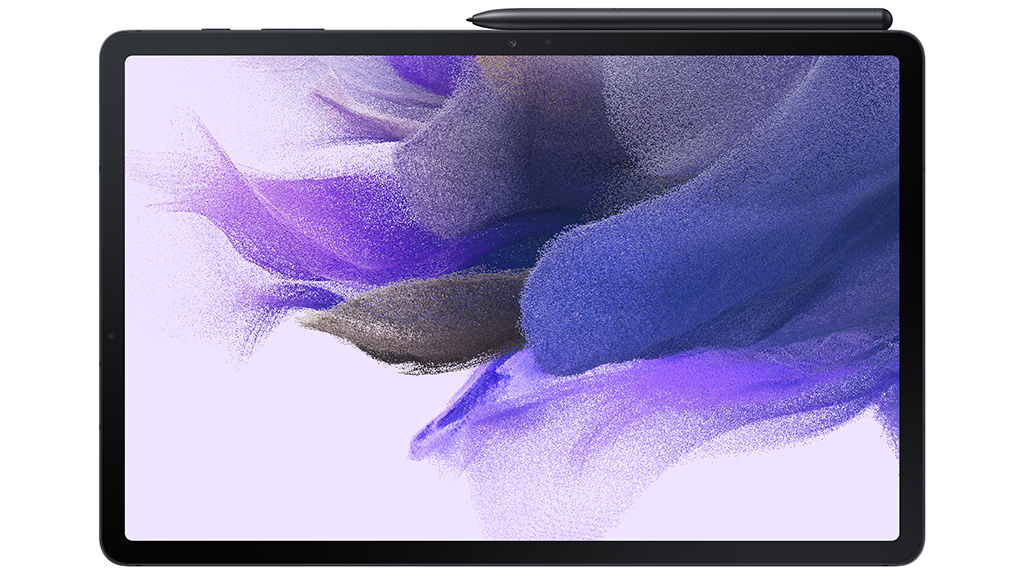 Here's another tablet by Samsung on our list of the best large tablets. The Galaxy Tab S7 FE is specifically designed for educational and entertainment purposes. Samsung is marketing the device as "Study is better with play."
If you're looking for a tablet for online education, entertainment, attending video conferences, the Galaxy Tab S7 FE is the best choice. It also has 5G connectivity so that you can use high speed data and work endlessly even if Wi-Fi is not available.
Not to mention its support for Samsung's redesigned S Pen and keyboard. Its 10,090 mAh battery, superior camera, and synchronization with other Samsung devices make it the perfect device for your needs.
Most importantly, it has a 12.4-inch screen which lets you do everything a little more and better. It packs 8GB RAM, up to 256 GB of internal storage in addition to cloud storage, and is available in 4 different bold color options.
6. Lenovo Tab P12 Pro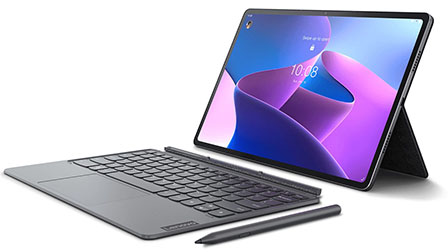 With a 12.4" screen, Lenovo Tab P12 Pro is one of the best Lenovo tablets you can buy.
Its display is big enough to use the tablet as a wireless secondary screen while you work. Thanks to Lenovo's Project Unity, you can make stylus and touch inputs in the doubled screen.
The tablet is powered by Qualcomm Snapdragon 870 Octa-core processor, 6 GB RAM, and Qualcomm Adreno 650 GPU. Such high-end specifications ensure smooth and fast performance. You can also run most AAA gaming titles with this slate.
The tablet features an AMOLED display along with a 120 Hz refresh rate and 2K screen resolution. In addition, it offers Dolby Vision technology for a stunning and smooth viewing experience. Enjoying entertainment on Lenovo P12 Pro is even better with quad speakers and premium Dolby Atmos.
Lenovo P12 Pro comes with Lenovo Precision Pen 3 included and an optional 2-in-1 keyboard.
Best Large Windows Tablets 2022
If you're a fan of the Windows platform and want a large tablet that runs on a Windows operating system, we have three different options for you to choose from. Windows is most preferred by professionals working in an enterprise setting and schools for education purposes.
Windows tablets have pretty smart features that you'll like to have in your large tablet.
7. Microsoft Surface Pro 8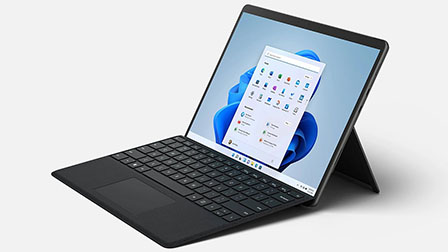 Considering buying a good-quality and expansive tablet for your everyday usage? Well, the Microsoft Surface Pro 8 is hands down one of the best choices that you can indulge in.
This convertible laptop combines the flexibility of a tablet and the high-end functionalities of a laptop. It is also integrated with a Kickstand and a 13" display for superior visuals.
The device is equipped with the latest 11th Gen. Intel Core processor with up to 32GB RAM for the ultimate productivity setup.
Pair that with access to the latest Microsoft 365 Office applications and your work never has to hinder.
The tablet is also equipped with a 13.3" PixelSense Flow touch display with 120Hz refresh rate and narrow side bezels for an expansive viewing experience.
The Kickstand further adjusts the device at a 180 degrees angle for enhanced work flexibility. It runs on the latest Windows 11 OS and is integrated with a host of I/O ports, including the Thunderbolt 4.
8. New Microsoft Surface Pro X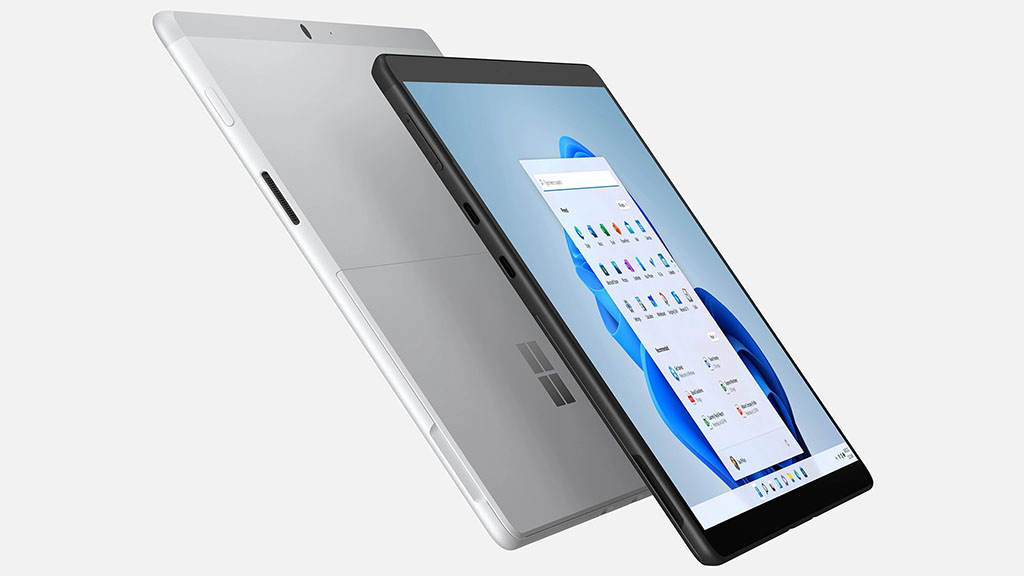 The latest addition to the Surface lineup, the New Microsoft Surface Pro X is everything you need if you are on the go.
The optimal design of this laptop is designed to keep you productive at any time throughout the day.
It is programmed with the custom-engineered Microsoft SQ processor for improved core performance.
It is also backed with the latest access to the Microsoft 365 apps for seamless user experience and work needs. The device is integrated with an adjustable kickstand like most of the other Surface laptops and is the thinnest and lightweight one in the series.
The tablet is further equipped with a 13.3" PixelSense touchscreen display with high resolution output. The 3:2 aspect ratio enables easier viewing and user experience without any compromise in the equation. It runs on the latest Windows 11 OS.
9. Microsoft Surface Book 3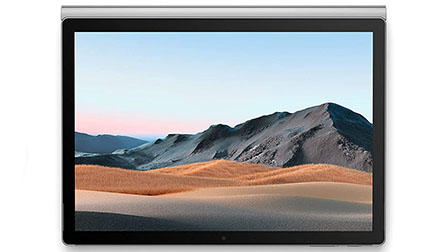 This Microsoft Surface device is actually a detachable laptop. However, it has two different display size options of 13.5 inches and 15 inches.
Of course, it features a touchscreen. So, basically, you can use it as a laptop and tablet separately according to your needs.
The good thing about Microsoft Surface Book 3 is that it eliminates the need for a separate computer for running high-end applications and software. This all-in-one device suits your hybrid lifestyle perfectly.
Students can also use it just fine. Wherever you feel tired and uncomfortable studying on it at your desk, you can detach it and continue studies from your comfy bed.
It is powered by 10th Gen Intel Processors and packs a whopping 32 GB RAM for ultra-fast and smooth performance. In addition to that, you get to choose from discrete Graphics cards.
The Surface Book 3 is the ultimate choice as a large tablet but with such high-end features and specifications, it is priced higher compared to the Surface Pro X and Surface Pro 7. But if you have a bigger budget, don't hesitate to go with a Surface Book 3.
Best Large Chrome OS Tablets 2022
The Chrome OS tablets are unique and known for their low prices. Chromebooks have recorded booming sales in the last couple of years thanks to their features and usefulness. If you're looking for the best large Chrome OS tablet, the following tablet is the perfect match.
10. HP Chromebook x2 11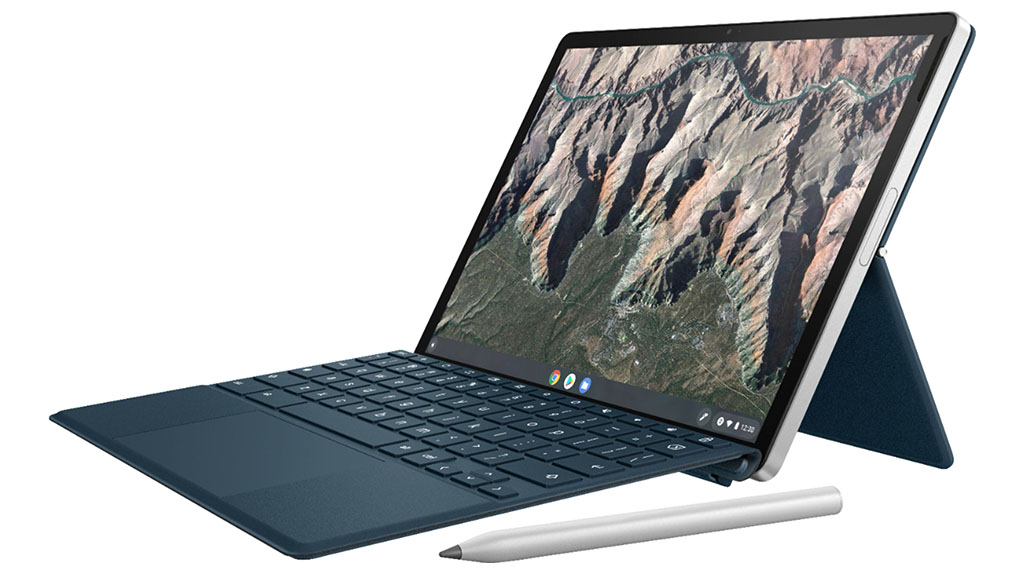 The record-breaking sales of Chromebooks recently have driven HP to deliver a device that is just right for your hybrid lifestyle. HP partnered with Google to introduce their new HP Chromebook x2 11 which is powered by a Qualcomm Snapdragon 7c processor.
It features an 11-inch display with 2K resolution. It is a detachable tablet so that you can easily switch from homeworking to home entertainment. It also supports a wirelessly chargeable USI stylus for a better working experience.
It comes with superior cameras, dual speakers with audio by Bang & Olufsen, and is compatible with apps like Microsoft Office and Google Workspace. Moreover, it is powered with the HP Quickdrop for quick accessibility of files among your digital device family.
Conclusion
Choosing the best large tablet is not the simplest task as you may think. Sure, you can tell which tablet falls under the category of large tablets.
But that alone is not sufficient. With a larger size comes better features and specifications. If you ignore that part, you may end up wasting your money.
The tablets listed in this article are the best large tablets of 2022 in the industry. We have put a lot of work into choosing them for this piece.
If you want to go with iPad(s), both iPad Pro and 5th Gen iPad Air are great. So choose the one which fits your budget the most.
With Android, the story changes a little bit because they are manufactured by different companies and offer different configurations.
We recommend you to go with Samsung Galaxy Tab S8 Series as an ultimate choice. However, the other three tablet options should be considered according to your needs and wants.
Windows platform tablets are robust and for high-end operations. If you want that, you can choose from any three options we have suggested. All three are great but be sure to see what matches your budget.
Lastly, if you're a Chromebook fan, there is no alternative to the latest HP Chromebook x2 11. Check all of them out and see what you want to purchase.
If you have any questions regarding this article, we are happy to help. Let us know about it in the comment section.