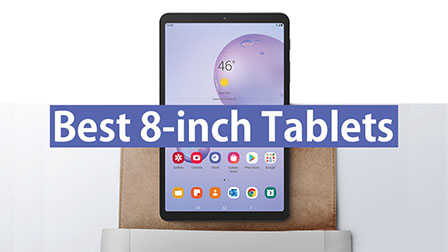 Need a device slightly bigger than smartphone? This best 8-inch tablets comes with portable lightweight design and are packed with a good performance features.
With the introduction of tablets, technology and innovation have been able to do wonders for the world. Information and data were never as handy as they are now and here no one can deny that tablets have played an important role.
Today, the market is flooded with numerous options in terms of tablets and every giant manufacturer is busy in bringing out the best competitive product to capture the ever-growing market. Some have been able to impress buyers with their products while others are still trying the same.
If you are planning to buy a tablet, it is very important to understand and compare the products that are available and then to finalize one.
Understanding the features and aspects of the different tablets from different companies is a must because that will help to make a practical decision. It is also important to understand certain key factors that will help to choose the right one.
Some of the important factors in choosing the right tablet are;
Identifying the purpose behind the purchase.
Deciding on the budget that can be allocated for the purchase.
The storage size that will be needed to fulfill the purpose.
The processor and operating system to do justice to the purpose.
The usage duration required and knowledge about battery life.
The size of the screen to go for.
Checking on connectivity options and latest compatibilities.
These are a broad classification of some of the important factors which can prove to be helpful in buying the exact tablet that is needed.
10 Best 8 inch Tablets 2021
Here, the key points and features of some of the reigning 8 inch tablets from big brands are discussed to give a better insight into products to choose from.
1. Amazon Fire HD 8 (9th Gen.)
Starting at $89.99, Amazon Fire HD 8 9th Generation is the best and affordable 8 inch tablet in the market.
Users can select any of the five different color options that this tablet will be available in. Thus, performance and preference go hand- in-hand with Amazon Fire HD 8.
Loaded with outstanding features, this tablet promises to deliver the best. The tablet comes in both 32GB and 64GB internal storage capacity option to choose from, which can be again increased up to 1TB via microSD card.
It's powerful 2.0 GHz quad-core processor allows it to deliver 30% faster while its all-day battery allows for a hassle-free, contributing usage. The tablet lets users enjoy lag-free and uninterrupted surfing experience. The Gaming Mode is an added attraction for game lovers.
Amazon Fire HD 8 also supports hands-free Alexa and all other popular apps like Instagram, Facebook, and Netflix. To make things easy, the tablet supports wireless charging and enhanced dual-band, Wi-Fi connectivity.
2. Apple iPad mini
7.9″ 2048×1536 326ppi 500nits Retina
A12 Bionic Chip
64GB or 256GB
Up to 10 hours
Designed for ultimate convenience and high-class performance, Apple iPad mini is loved for its compactness. It houses huge capabilities being powered by A12 Bionic chip with Neural Engine and makes use of real-time machine learning for carrying out its numerous functions.
Its 7.9 inch retina display is meant to provide total protection for eyes. The light, brightness gets adjusted to all kind of viewing environment and the screen is anti-reflective. Also features like True Tone helps in better and natural viewing experience.
With the Apple Pencil in hand, this device can create magic and turn all thoughts into reality. The combination of iPad mini with the Apple Pencil allows using the device as a productive digital notebook. It comes with an 8MP rear camera and 7MP face time camera. It is meant to support both Wi-Fi and LTE connectivity and the battery life is of about 10 long hours.
3. Samsung Galaxy Tab A 8.4″
8.4″ 1920×1200 WUXGA TFT
1.8GHz, 1.6GHz Octa-Core
3GB RAM
32GB
Up to 12 hours (5000mAh)
Whether using it indoor or on the go, new Samsung Galaxy Tab A 8.4″ is designed to offer maximum satisfaction of ease and convenience to the users. Styled in a premium manner, it is very compact and portable.
With stable and fast 4G LTE connectivity and great battery life that supports almost 10 hours of streaming on a single charge, what can be a better companion than this device? Whether using it for work or entertainment, no other tablet can match it in terms of its features and specification. Watching movies and images on the vivid 8" display can be the most awaited experience.
Samsung Galaxy Tab A 8.4″ offers crystal clear display combined with air filling sound from the dual speaker that makes it a great choice for all. With 32GB internal memory and 512GB on the microSD Card, this tablet is the most handy, useful and ready to use gadget for today's genius minds.
4. All-new Amazon Fire HD 8 Plus
Starting at $109.99, this amazing tablet from Amazon, Fire HD 8 Plus comes with higher RAM and wireless charging option as an additional features to Fire HD 8.
It's smart, portable and compact styling aids in taking work and entertainment wherever you go. The 8-inch HD display screen makes for crystal clear and crisp viewing.
This tablet is blessed with greater capacity and high-level productivity. All-new Amazon Fire HD 8 Plus is powered by a 2.0 GHz quad-core processor to enable the device to deliver faster and competent performance.
With 3GB RAM, it is available in 32 and 64 GB internal storage options. The storage capacity can further be expanded immensely up to 1TB through a microSD Card. Users need not worry about the battery running out while doing what matters.
The battery life of the tablet is great with almost 12 hours of continuous usage support. Wireless charging option makes things much easier and simple. It supports dual-band, better Wi-Fi connectivity for enhanced mobility.
5. Lenovo Tab M8 HD
Lenovo's Tab M8 HD is engineered to support high-end performance and combine luxury with sheer convenience.
The designing of the tablet has a sophisticated look with metal finishing and yet it is meant to be sleek and compact. Its 8" IPS HD display is fully touch screen and offers a seamless experience.
It is powered by 2.0 GHz Quad-Core MediaTek Helio A22 Tab processor and is based on the Android 9 Pie platform. The performance is further enhanced by a powerful battery life of up to a fantastic 18 hours. Thus, once fully charged, you can use the device uninterruptedly for 18 great hours.
The rear side comes with 5MP or 8MP Auto-Focus camera while the front camera is 2MP fixed focus. It supports Wi-Fi and Bluetooth connectivity to allow the users to enjoy all its high definition features to the fullest without any lag. It is available in Platinum Grey and Iron Grey Shades.
6. Samsung Galaxy Tab A 8.0″ (SM-T290)
Coming from Samsung, this tablet is a perfect blend of great performance and practical designing. It is developed to make everything attainable and within easy reach.
Design-wise, it is very compact and so portable that it can be conveniently carried with one hand. Some changes have been made to the designing aspects to increase convenience and further add to the sleekness.
The home key has been removed that was in the front and the logo has been put in the backside. This way, a better screen view is made possible.
It weighs only 344 grams and is available in black and silver color options. It is fitted with 8" TFT fully touchscreen and is of 1280 x 800 WXGA resolution and 16M color depth. The device gets its amazing power from the 2GHz Quad-Core Qualcomm Snapdragon 429 processor, and works on Android Pie 9.0 version.
7. Vastking KingPad SA8
A close look at the features and specifications of Vastking KingPad SA8 will let you realize its potential and abilities.
Vastking KingPad SA8 on Amazon
This amazing 8-inch tablet from Vastking GMS certified comes with an FHD 1920×1200 resolution IPS touch screen that makes for a fulfilling digital graphical experience for the users.
Given the price bracket of this product, you will be amazed at the display quality that makes it one of the best 8 inch tablets of 2021.
It comes with a 13 MP rear camera and a 5 MP front camera to assist standard photography. This Android 10.0 OS tablet is powered by an Octa-Core CPU processor and supports 3GB RAM. 32 GB of internal storage capacity can be extended to 128GB.
This metal finish, slim and lightweight tablet is ready to be your partner in all your venture. Built-in 4000mah battery keeps it going for 10 long hours to deliver uninterrupted service and meet all expectations.
8. Vankyo MatrixPad S8
Owing to the rich features and sophisticated performance, Vankyo MatrixPad S8 stands out as one of the best 8-inch tablets for 2021.
The 8-inch HD display screen is designed cautiously to deliver the most eye-soothing and eye-catching presentations.
Vankyo MatrixPad S8 is equipped with an IPS screen with 1280*800 resolutions and also supports 178° wide-viewing angle that promises to project every single detail in great accuracy and liveliness. So, be ready to explore all the digital aspects in great depth and utmost clarity.
The tablet has been designed to match efficiency with high-level productivity. This amazing Android 9.0 Pie-based tablet is powered by a 1.3GHz Quad-core processor and is provided with 2GB RAM and 32 GB ROM.
The storage capacity can be further expanded to 128GB with the help of a MicroSD Card. Sensitive features like Eye Comfort mode provides for eye comfort and makes reading comfortable. With this remarkable device, users are assured of the fastest and most responsive computing experience to match their expectations to deliver the best.
9. Coopers CP80
Available Online on Amazon
Priced at $84.99, Coopers CP80 is an ideal 8-inch tablet that has much to its credit in terms of performance and efficiency. This Android tablet is equipped with an 8-inch IPS HD Display that represents every detail across the screen in "True-to-life Viewing experience".
Everything across the screen is bright and crisp with 1280 x 800 resolutions. It supports 2GB RAM and 32GB ROM that gives it ample space for storing all that is important in one particular device. It is powered by a quad-core processor which allows it to deliver all tasks in a faster and more responsive manner.
It is based on Android 10.0 Pie OS and also comes with dual cameras. It is ideal for everyday light use. Proper care is taken in making the tablet kids-friendly that can enjoy watching their favorite shows and cartoons and also use it for an engaging learning experience. The battery life of Coopers CP80 is also very good.
10. Winnovo M8
Priced at $89.98, the Winnovo M8 is one of the best 8-inch tablets of 2021 and its features are worth knowing about. This extremely thin tablet comes with a full-fit 8-inch screen.
Everything across the screen is presented in utmost brightness while maintaining color accuracy. This is made possible by its 1280*800 pixels display.
It is designed to help users enjoy realistic videos handy and images, as the clarity and graphic quality are very high.
To enable users to continue with their important tasks even during the night-time, the device supports useful features like dark mode. The importance of this feature lies in the fact that it adjusts and optimizes the backlight so that viewing is comfortable for the eyes.
Winnovo M8 is powered by MediaTek MT8163 Quad Core that gives it the stability and smoothness of performance. It can run multiple apps at the same time and thus help in managing time more efficiently.
Users can enjoy all the amazing Google Playstore Apps as this tablet is Google verified. With 1GB of RAM and 32 GB of ROM that can be expanded to 128GB, this is one of the smartest choice when it comes to buying a worthy tablet.
Related:
Verdict
All the above 8-inch tablets, although meant to serve the same purpose are different from each other in terms of specifications and performance. One might be suitable for someone, while for others, it might not be worthy enough. Hence, it is very important to understand the individual requirement before buying a tablet. Only going by the outer appearance might not be wise.
All the above-discussed tablets are recent releases and have successfully created a market for themselves owing to their great features. So, you can go for any of the above-discussed tablets and get full value for the money spend on it.