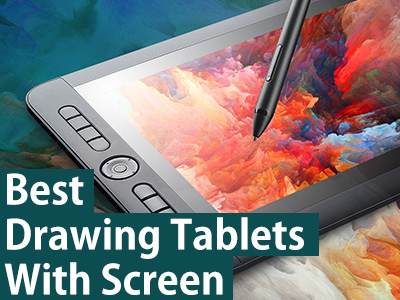 If you're an artist and looking for a good pen display, check out our list of best drawing tablets with screen here and get a good one for you.
There's no doubt that the digital age has changed life for the better and by that, we don't just mean smartphones.
Want to know the temperature outside? Just ask your digital home assistant. Need to finish a report on the go? The tablet will come to your rescue. Want to take a hundred books on your trip because you can't decide which one to read? Well, what's your eBook for?
There's literally a device for all kinds of people and every kind of requirement. And while the list of these devices that can simplify (and might we say elevate) your lifestyle goes on and on, we'd like to emphasize on the ten best drawing tablets with screen (pen display) that artists and graphic designers might want to consider upgrading to in 2023.
If you're a budding artist in today's day and age, you'd know there are limitless digital drawing tablets with screen out there that can increase both your creativity as well as productivity by letting you explore features that you otherwise can't on paper.
Drawing Tablets With Screen For 2023 (Top 10 Picks)
A number of electronics companies manufacture a permutation and combination of these varied tablets and before you fixate on one, we suggest you go through your list of requirements, features and categories that will bring out the best of your creativity.
Now that you have an idea about the various kinds of drawing tablets with screen, we've rounded up the ten best ones to help you make an informed purchase. Whether you need a wired or non-wired pen display, a pressure sensitive stylus or an anti-glare glass on top priority, this list will have you covered.
1. Wacom Cintiq 16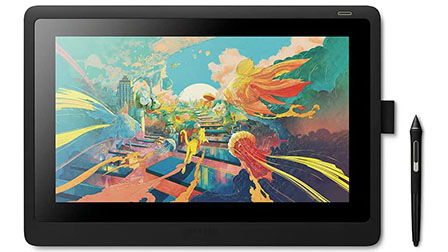 If you are a creative or digial artist, having access to a good-quality drawing tablet is a must. Featuring a very minimal parallax and 8,192 pressure points, Wacom Cintiq 16 works like a dream, despite the fact that the price point might be a deal breaker for some buyers.
The drawing tablet is equipped with an expansive 15.6" display with 1080p screen resolution and 72% NTSC that allows the users to explore every last bit of the work that they are rendering on the tablet. Ideal for young creative professionals, the tablet features all the latest functionalities of the Cintiq Pro.
However, the unique bystander in the package is the battery-free pen that charges from the screen as the user keeps using it. This assures all-day productivity without any delays and inhibitions. Furthermore, the model is equipped with foldable legs and a 3-in-1 HDMI connection cable that asserts perfect usability of the model even when an artist is on the go.
The Cintiq 16 is also backed with the advanced Pen technology that supports creativity and innovation without any limitations.
Reasons to buy:
Sleek and premium design
Expansive display
Battery-free pen support
Multipurpose connectivity
Optimal pressure point
Reasons to avoid:
A bit bulky design
Cable size is quite short
2. XP-Pen Artist 10 (2nd Gen)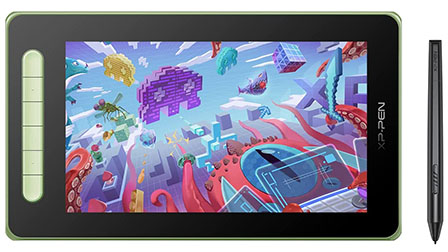 Not everyone likes to lug around a large drawing tablet and if you are one of those people, the XP-Pen Artist 10 (2nd Gen) is going to come in handy for you.
This is one of the smallest pen display with a display of 10.1 inches. The X3 chip stylus is another factor that escalates the usability of the device.
Designed for creators and creative heads, the drawing tablet acts like a fresh canvas for the artists to express their creativity and pursue their dreams. The X3 chip stylus is powerful and multi-functional that functions upon initial activation force, and has a life span double that of the existing styluses in the market.
The drawing tablet is backed with a 120% sRGB color gamut for realistic yet vibrant color reproduction for precision to detail, especially for intricate art projects. It is also backed with 1000:1 contrast ratio for a vivid visual experience.
Featuring an anti-glare screen with the matte eye protection, the display doesn't reflect the light from the environment for comfortable visibility, even under direct sunlight. Overall, the touch experience is pretty comfortable as well. Also, you get to pick from four different color options.
Reasons to buy:
Powerful X3 chip stylus
Anti-glare screen
Smooth performance
Reasons to avoid:
Feels a bit plasticky
Set-up is quite complicated
3. Wacom Cintiq Pro 27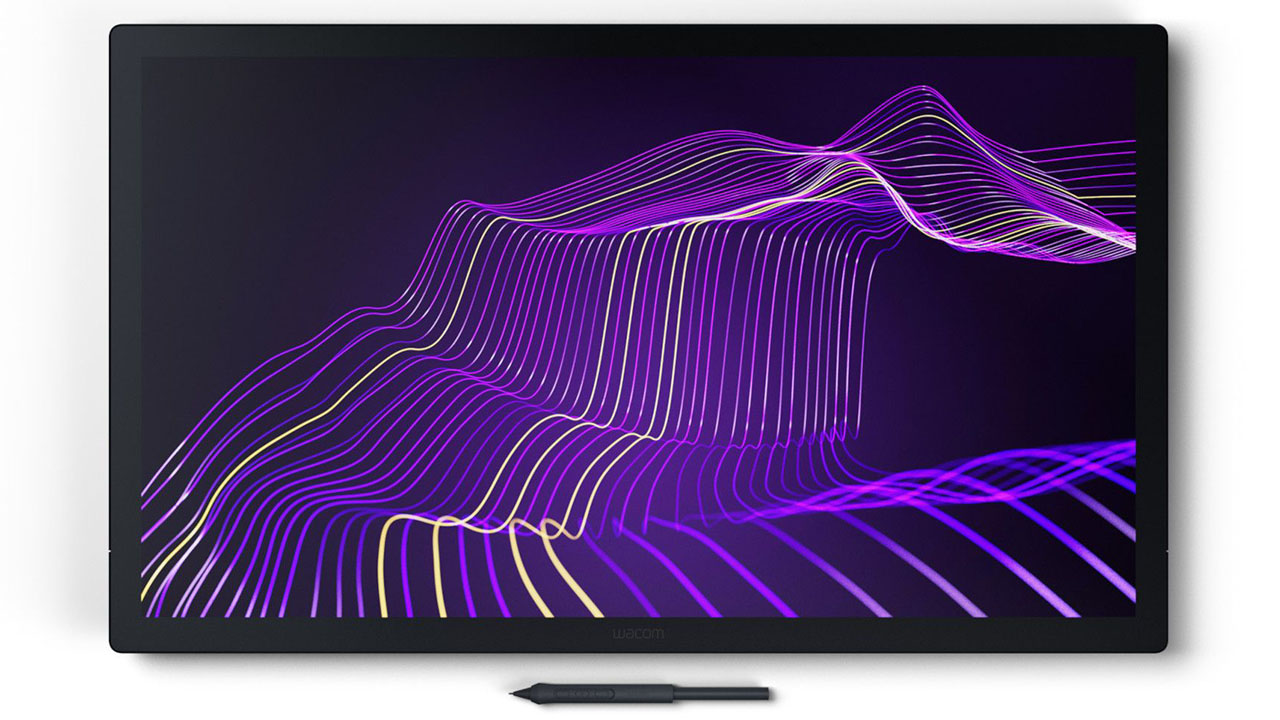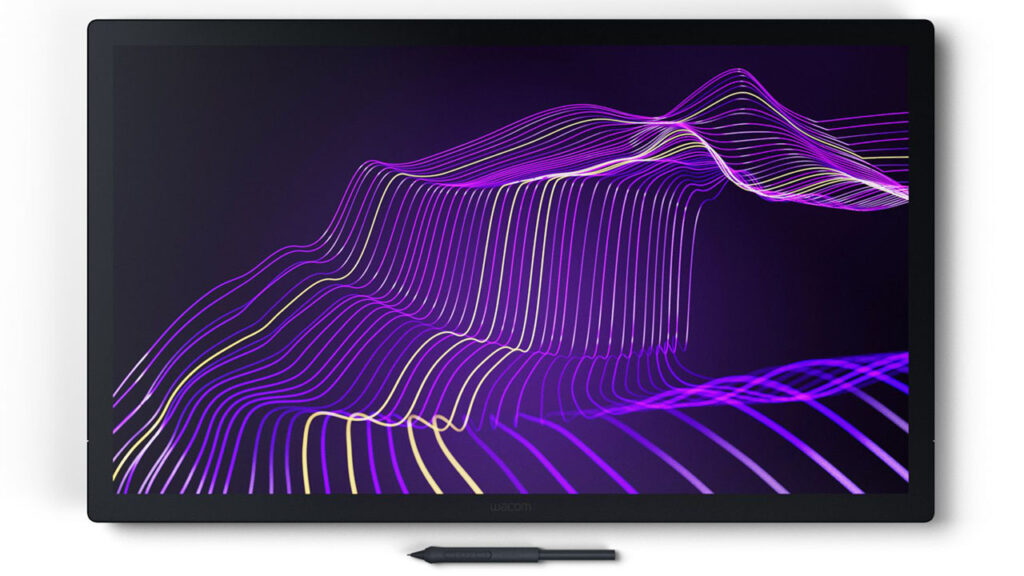 Drawing tablets are available in abundance in the market, but its not every day you come across versatile one that's ideal for professional photographers to streamline paint details into shadows and highlights.
The Wacom Cintiq Pro 27 is a high-quality and responsive tablet equipped with a 26.9" UHD display with 99% of Adobe RGB and 98% of HDR PQ. Despite the larger size of the tablet, the bestselling point is the durable yet lightweight construction that keeps you hooked.
Integrated with USB-C and USB 1 connections, the model supports Windows 7 and up and Mac OS 10.5 and above. Programmed with 8 express keys, the Wacom Cintiq Pro 27 features an ergonomic design with multiple buttons on the back of the tablet to perform a myriad of tasks.
The ease of use on this drawing tablet is all thanks to the new pens that are available in different shapes and integrated with weight balancers at the bottom. Once hooked to a laptop, the drawing tablet performs effortlessly without any restrictions and limitations, which is always a benefit.
The only issue with this drawing tablet from Wacom is the price point. Its quite an expensive purchase but definitely worth the buck, especially for photographers.
Reasons to buy:
UHD display panel
Optimal I/O ports
Highly compatible
Reasons to avoid:
4. Huion Kamvas Pro 13 (2.5K)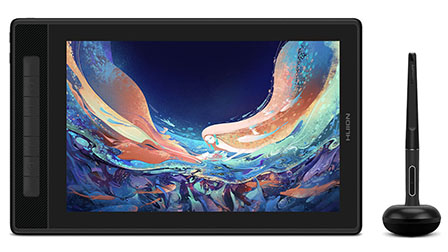 Huion is a leading tablet brand in the market and the Huion Kamvas Pro 13 (2.5K) deserves a special mention in the list.
The highlight of this drawing tablet has to be the 2.5K display that enables users to embrace new possibilities in life, without any inhibition.
The display in Kamvas Pro 13 (2.5K) features a 16:10 aspect ratio that renders sharp and vivid picture quality, especially when it comes to working on intricate art or photography projects. Designed to support mobile workflow, the tablet is thin, lightweight and portable.
Kamvas Pro 13 is manufactured using an aluminum alloy using sandblasting and anodizing technique for a smooth and refined appearance. It weighs around 1 kg and has a thickness of 10 mm for slipping it inside your backpack for easy carrying experience.
Backed with the full lamination technology, the drawing tablet prioritizes transparency and prevents risks of light loss for an improved visual experience. It is also equipped with an anti-glare display with ultra-wide viewing angle for comfortable viewing experience. Furthermore, the PenTech 3.0 technology ensures comfortable user experience, with better pen tip stability.
Reasons to buy:
Durable aluminum body
Lightweight and portable
Full lamination technology
Reasons to avoid:
Quite overpriced
Display quality isn't top-notch
5. Huion Kamvas 16 (2021)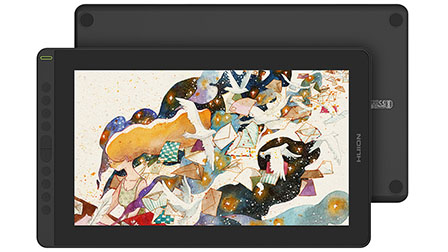 The Huion Kamvas 16 (2021) is for all the traditional artists and beginners who are on a shoestring budget.
With an easy to use functionality and manageable cost, this drawing tablet is a popular option among most of the newbie creators or students who are getting into explore digital art for the first time.
Kamvas 16 features a laminated technique combining glass to predominantly minimize parallax and feature an anti-glare display for transparent and optimal viewing experience of the users. The 15.6" FHD IPS display with 120% sRGB color gamut supports 16.7 million display color to breathe life into the art of the creator.
Further integrated with PenTech 3.0, this battery-free pen offers a stable drawing experience with the lower positioned nib that mimics the experience of drawing on a paper or canvas in real-time. Featuring 8192 levels of pressure sensitivity and ±60° Tilt function, it hands down contributes to one of the best drawing experience beyond words.
Reasons to buy:
Superior design and construction
Features laminated technique
Anti-glare display
Battery-free pen
Optimal pressure sensitivity
Reasons to avoid:
Color reproduction is average
Integrated cable is quite small
6. Gaomon PD1161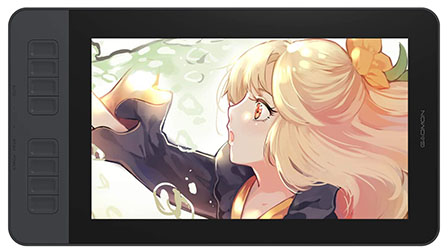 The Gaomon PD1161 is a handy tool for all the creative professionals and digital artists.
Offering a handy drawing tablet experience on the go, the model features a battery-free technology that supports optimal usage and contributes to an eco-friendly drawing experience. It is a compact yet very powerful drawing tablet.
Equipped with a smaller 11.6" display that supports carefree and on-the-go creativity like no other. The FHD IPS display further boasts a 1080p screen resolution with 72% NTSC gamut to bring the intricate details to life and support vivid color reproduction.
The compatible pen with this drawing tablet supports 8192 levels of pressure sensitivity that makes it easier for the creators to have complete control and freedom over the drawings rendering on the tablet. The 5080 LPI supports seamless creativity with the strokes and lines that allow users to express the ideals more creatively and without any inhibition.
Also, the Pen AP50 features an ergonomic design, which streamlines seamless drawing experience and offers a comfortable grip to reduce fatigue and pain in the fingers. The pen is also battery-free, making it a more environment-friendly option.
Reasons to buy:
Sleek and compact design
Vivid display panel
Optimal pressure sensitivity
Ergonomic pen design
Battery-free pen technology
Reasons to avoid:
7. XP-Pen Artist 13.3 Pro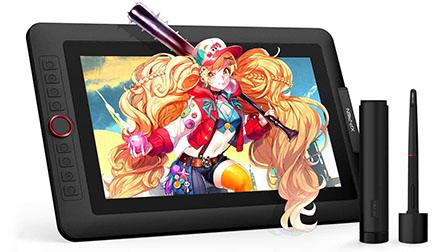 No device in the market is perfect and a 100% of everything that a creative professional is on the lookout for.
However, the XP-Pen Artist 13.3 Pro manages to live up to those expectations quite profoundly, which is a lighter and more powerful drawing tablet in the market.
Overall, the design is quite compact and portable, making it easy to carry around and slip into the backpack as needed. Weighing in at 4.4 pounds, the tablet is made entirely out of plastic with rounded corners for comfortable hold.
Featuring a 13.3" display with a convenient 3-in-1 cable design for uninterrupted and seamless connectivity. Also, with the advanced pen technology, the drawing tablet also supports up to 60 degrees of tilt function for smoother strokes and drawing experience.
The fully-laminated display is also backed with 178-degrees wide viewing angle that delivers vivid imagery and color reproduction on the model.
Reasons to buy:
Compact and lightweight design
Nine customizable controls
Easy connectivity options
Responsive display and stylus
Compatible with any latest computer or desktop
Reasons to avoid:
Poor color clarity for certain shades
Set-up can be complicated
8. Wacom One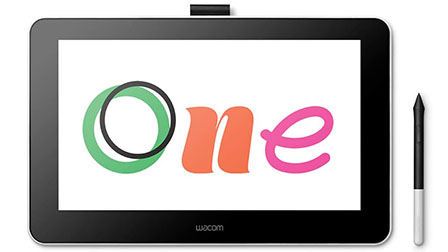 If you want to bypass the more expensive drawing tablets and settle for a fully-functional yet affordable choice, the Wacom One is a good starting point.
The HDMI-based display and the 13-inch footprint, the model is equally riveting among the artists, creative heads who are just starting out.
Comparing the drawing surface on the Wacom One, it feels a lot more paper-like and comfortable to draw in real-time, if that's something you are particular about. With enough resistance to the strokes, the model works effortlessly to render the final version of the drawing.
Although it falls short on the color representation, one thing that Wacom has lived up to is the overall responsiveness of the model. As for the integrated pen that comes with the model, it is quite comfortable to hold and features an ergonomic design that doesn't require charging.
The Wacom One does lack the staple hotkey buttons on the tablet, which is a very big downside for several users. However, spending an extra $99 provides access to the Wacom ExpressKey Remote, which resolves these complications quite readily.
Reasons to buy:
Sleek and compact design
Responsive display and stylus
Vivid visuals
Ergonomic design of the pen
Paper-like texture and feel
Reasons to avoid:
Color representation is average
Lacks hotkey placement
9. Huion Kamvas 22 Series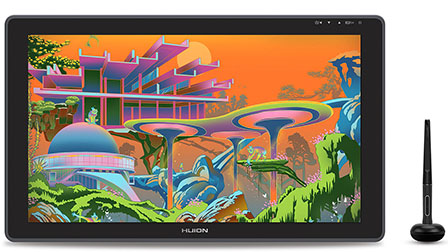 If you want to include one of the best drawing tablets to your collection featuring the best display, we had to suggest the Huion Kamvas 22 Series in the list.
The overall visual quality of this display is beyond anyone's expectations – especially for the kind of price point it comes for.
Also, the laminated display features up to 94% NTSC and 88% P3 color gamut support with around 300 nits brightness, which makes drawing in real-time a breeze. Also, the 1080p resolution speaks for itself when you draw on it. If you are worried about the viewing angles, Huion keeps a check on that too.
It is a standalone drawing tablet but is compatible with your PC, Mac or even your laptop. So, you are very less likely going to feel a damper to your drawing experience. It is an IPS LCD display, which falls short on certain grounds, especially with the vividness and color reproduction. As for the pen, it is backed with Huion's PenTech 3.0 technology with 8192 levels of pressure sensitivity.
Reasons to buy:
Sturdy and portable design
Optimal connectivity
Bright display output
Responsive pen technology
Wide viewing angles
Reasons to avoid:
Not touch screen
Excess wires
10. XP-Pen Artist 16 (2nd Gen)
If you are an artist, the need for a good-quality drawing tablet precedes all your other needs.
So, if you are on a quest to buy the best drawing tablet in 2023, the XP-Pen Artist 16 (2nd Gen) is hands down the best option in the list.
Ideal for new artists and seasoned professionals, this new drawing tablet is backed with the X3 chip that allows the artists to experience a pen and paper like feel. The X3 chip technology is like no other, offering the best drawing experience throughout.
Backed with the X3 smart chip stylus, the stylus has 0.6 mm retraction distance and 3g initial activation force, which is a lot lower than you'd generally expect. The stable anti-interference design of this stylus also contributes to an effortless glide and performance.
As for the display, the tablet features a vibrant and responsive screen with 127% sRGB color gamut for detailed expression of every art piece that you render on this tablet. The tablet also features an anti-glare display for better visibility and to enable you to focus on your creativity without any distractions.
Reasons to buy:
Powerful and responsive performance with X3 chip technology
Stable stylus performance
Matte eye-protective screen
Reasons to avoid:
Port selection is limiting
Set-up is complex
Understanding Drawing Tablets
There are several kinds of drawing tablets that cater to different art styles depending on the mediums you use. Once you're familiar with the key features and specs of a basic drawing tablet, you can pick a model to suit your preferred art style. There are multiple factors impacting a drawing tablet's quality and functionality.
So, before you purchase one, here are a few key points to remember – the pressure sensitivity of the stylus/digital pen is extremely important since it can make or break your artwork, the screen size especially if you're used to working with a particular canvas size, the resolution, responsiveness, stylus type and advanced features among others. Here are a few more categories within drawing tablets to look into.
Laminated vs Non-Laminated Display
You might have heard of a laminated screen for your smartphone. But if you're wondering what that is and how it helps, here's everything you need to know about laminated screens and non-laminated screens. Before we delve into details, here's what you need to know about screens in general.
The top panel of any regular device screen comprises three basic layers – display panel which is the bottom layer, touch layer which is right above the display panel that makes the device touch sensitive and top glass which is the top most layer and has scratch resistant properties.
In traditional non-laminated screens, all these three layers are stuck together using glue, which sometimes causes air gaps to form between any two layers. This, in turn, leads to disturbances in light coming in and out of the screen and thus affects the image quality.
On the other hand, laminated screens basically have the three layers laminated together as a single piece of glass display. Since the glue is not visible between the panels, the screen looks seamless. This is one of the main reasons why modern devices have adapted laminated screens on their displays.
Apart from reduced thickness and increased image quality, some other advantages of a laminated screen are that is avoids accumulation of dust, reduces hollow sound, increases image clarity as well as outdoor performance. On the flip side, its disadvantages are that it's expensive to repair/replace and complicated to manufacture.
Wired vs Wireless Drawing Tablets
Whether you opt for a wired pen drawing tablet or a wireless one, their features are essentially the same except that you can move a wireless pen more freely. A wireless control gives users the liberty to work at their convenience without being restricted by wire bundles. Additionally, the wireless version is more convenient to carry and keeps your work space tidy.
But the wired pen tablet has its own advantages in terms of performance stability, better signal transmission etc. which are important factors to consider while using a drawing tablet. You wouldn't want any interference with your work as far as these factors are concerned, even though the wireless device offers free flow of movement.
The manufacturing cost of a wired tablet is also considerably lower than that of a wireless one since it is designed without a module for receiving wireless signal. You could pick the best version of the pen drawing tablet based on the criteria that's most suited to your skill set.
About Anti-Glare Glass
In order to be able to present your artwork or creation in the best possible manner, you need to ensure that your drawing tablet has a screen with an anti-glare glass. Otherwise, the glare reflected on your screen not only affects your presentation but will also cause disturbance to your eyes.
In an anti-glare glass, the luminance gets milder to reduce the fatigue caused to your eyes, owing to constant screen interaction. Here's what an anti-glare glass essentially does – it alters the way light passes through your screen with a technique called diffusion and the frosted surface of the glass offers paper-like texture.
It also influences your viewing angle, presentation of images, color and brightness in such a way that there is hardly any glare reflected on the screen. On the other hand, a display with ordinary glass will present your work in poor light and fails to avoid harsh glares with changing surrounding light.
It is also easily blurred with fingerprints while you work on the display, whereas an anti-glare glass can prevent the occurrence of this owing to its anti-friction display. If you have an anti-glare glass, this can easily be controlled by adjusting the screen brightness as well as the contrast.
Pressure Sensitivity of a Stylus
A stylus comes with several pressure sensitivities and if you're looking for something to suit your style, here's everything you need to consider before making the right choice.
Some pen tablets and displays are developed using electromagnetic resonance technology but are restricted to specific fields, owing to their specialty. Graphic designers can visualize how their work will appear on computer software such as Photoshop and CorelDRAW, using a drawing tablet to make initial sketches.
Using a pressure sensitive pen, you can ideate better and render the images on a pen tablet or display, especially if your design is complicated.
The difference between a regular digital pen and the nib of a pressure sensitive pen is that the latter has a pressure sensor which can be used for writing, drawing, rendering lines of varying thickness by applying pressure on the nib wherever required.
So, essentially it gives you the same experience as drawing on paper. Remember this: The higher the pressure sensitivity, the faster the pen responds to changes.
There are broadly three types of pressure sensitive pens that are available for purchase – wired and charge required, wireless and charge required and wireless and battery-free.
Verdict
A digital drawing tablet will easily last you years and hence is a huge investment. Especially display-style tablets that come with screens for you to draw, sketch, doodle, paint, edit images etc.
While they may lean towards the expensive side, they're extremely useful for artists who are heavily involved with digital work. So, purchasing a tablet suited to your design and creative preference is equally important.
Before you purchase one, ensure you measure your work area and estimate the display size you'd like to go for. Some models come in varying sizes but others have a single display with no other alternatives.
Apart from this, a few other aspects to take into consideration are the weight of the tablet, cable management, drawing surface, OS support or drivers and all the accessories it comes with such as stylus or digital pen.