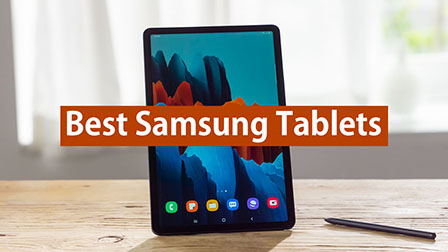 Let's face it! Choosing the right tablet is always a daunting task considering its features, price, and technical specifications. But we have narrowed down choices for you by handpicking the best Samsung tablets for you.
The tech giant has launched quite a few models in the year 2021 and is planning to bring a few more in 2022. Samsung has the vision to provide a computing solution for literally everyone. That said, you will find affordable, mid-range, and high-end tablets with diverse features from Samsung.
If we look at it closely, you might feel it's a marketing gimmick to keep launching new products to sell and attract customers to buy and upgrade to the latest devices. But, that's simply not true. Samsung is the top dog in the Android tablet world. That briefly sums up the fact that there ought to be something special about each launch by Samsung.
Nevertheless, more options bring confusion to a certain extent. But if you've decided to go with Samsung, it's already a good decision because no company offers better Android tablets than Samsung. And about confusions, we've got you covered.
The company has designed tablets the way each tablet offers a unique combination of features and specifications. That way, you get to choose from different price ranges corresponding to its features. This also means that most of the Samsung tablets have fair price points and value for money.
Let me explain this point by taking an example. Consider Samsung Galaxy Tab S7, Galaxy Tab S7+, and Galaxy Tab S7 FE. The S7 tablets have one thing in common; their basic inspiration and feel.
But when if we look at the price, S7+ is the most expensive and premium, whereas S7 is slightly cheaper than the S7+, and S7 Fan Edition is the cheapest among the three but with compromised features.
However, this doesn't mean any of these three are better than the others. This is due to the fact that each one comes with its unique usefulness thanks to the set of specifications and different prices. This basically allows users more flexibility to choose the tablet that is perfect for their needs at fair price points and within their budget.
The list we have prepared of the best Samsung tablets of 2022 contains the S series and A series of tablets. Apart from that, we have also included Samsung Galaxy Book Pro 360 5G. The device is specifically designed to be used as a PC and tablet interchangeably.
And not to mention, the Galaxy Fold 3. It's a tablet when unfolded and a smartphone when folded. This is the beauty of Samsung devices! They can magically put tech in their ideas and creations.
Best Samsung Tablets 2022
We have listed the best Samsung tablet to buy in 2022 below. It will help you out to choose the Samsung tablet you need. With the tablet details, we've also mentioned the pros and cons of each tablet for additional quick help.
All these tablets are a good buy, so, whichever tablet you decide to choose after reading the reviews, ought to fulfill your requirements and the budget. Importantly, we will keep updating this list so that you never miss out on the latest tablet launched by Samsung.
And at the end, you will find the verdict of our team of tech experts consistently working to help you out.
1. Samsung Galaxy Tab S8 | S8 Plus | S8 Ultra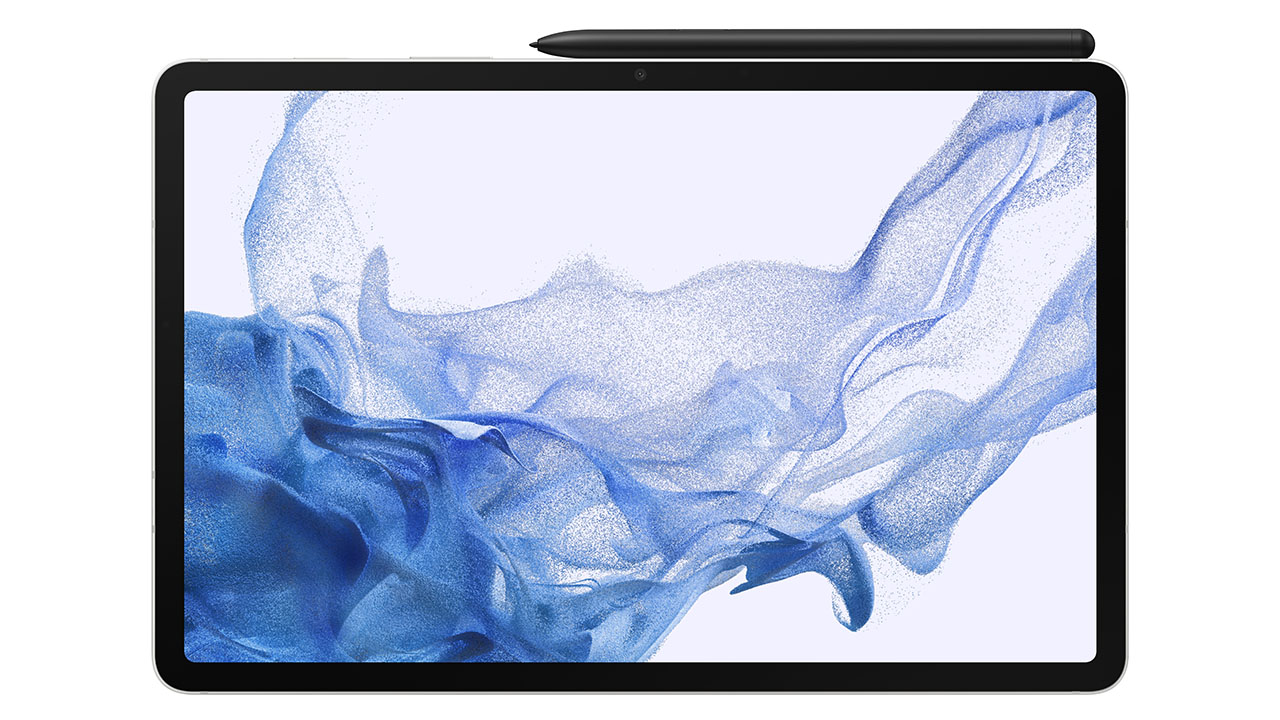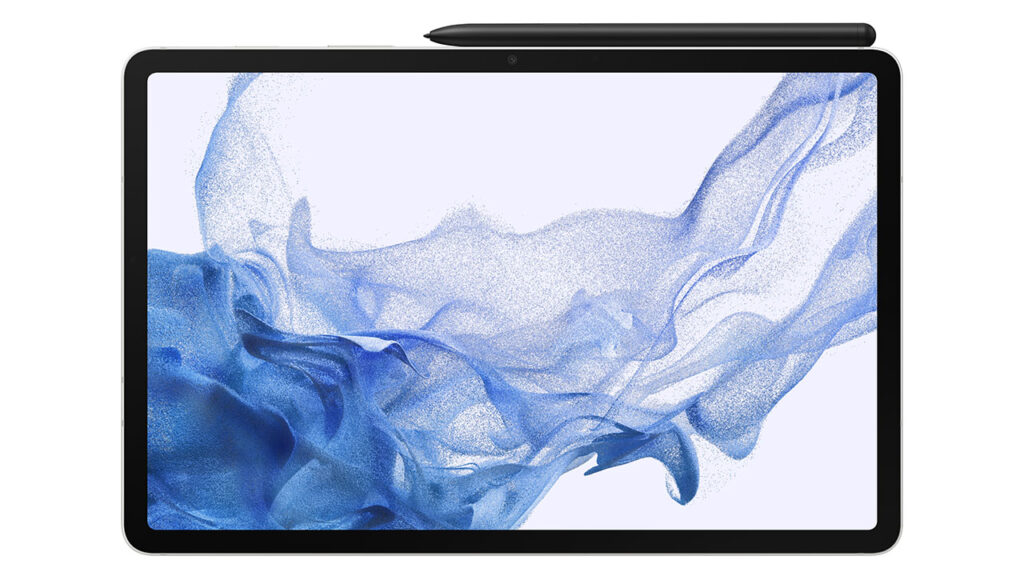 If you have a generally lenient budget, you can go with any of the Samsung Galaxy Tab S8, S8 Plus, and S8 Ultra without a doubt.
They are overall best for your all-round requirements. S8 series tablets are successors to one of the most celebrated S7 tablets by Samsung. Moreover, Tab S8 Ultra is a first of its kind with absolute premium features.
All three tablets run the latest Android 12.0 operating system and are powered by robust Snapdragon 8 Gen 1 octa-core processors (up to 3.0 GHz). All three of them feature 8 GB of RAM storage. However, with Galaxy Tab S8 Ultra, you can choose from 12 GB and 16 GB variants too. They come with up to 512 GB of onboard storage. Not to mention their compatibility with a 1 TB microSD card.
These specifications potentially can offer a seamless and wonderful user experience. Galaxy Tab S8 series tablets feature super-fast WiFi 6E and Bluetooth v5.2. Apart from that, S8, S8+, and S8 Ultra have different battery capacities, display technologies, color options, and much more. Bottom line, consider the price and your preferences as decisive factors to choosing from the three.
Pros:
Powerful CPU and RAM
Impressive battery capacity with reverse charging
Nice camera and audio performance
Suitable specs for gaming and all your needs
Comes with an S pen
Cons:
They are somewhat expensive
2. Samsung Galaxy Tab S7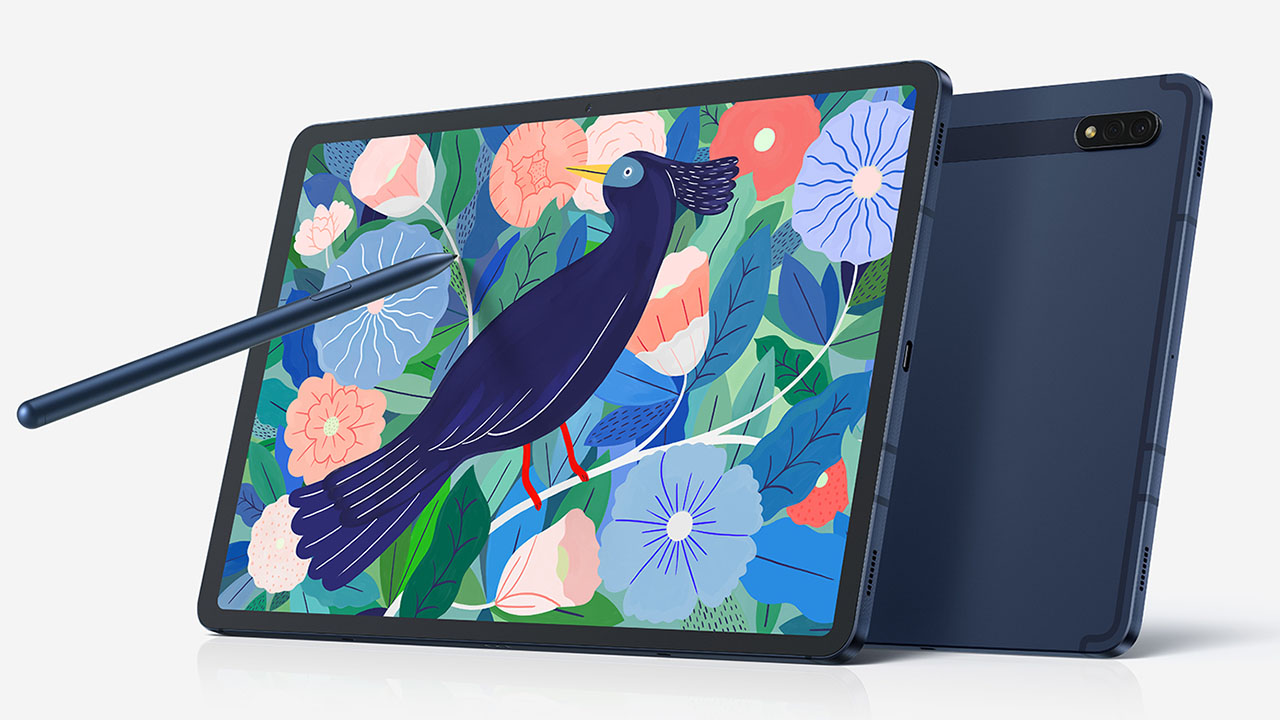 This tablet is an overall best buy for everyone. If you want a table that packs everything you need with the industry-best specifications and features, just go for it.
It is powered by Qualcomm Snapdragon 865+ processor and features 8GB RAM. Its 11-inch screen is just perfect for working, learning, gaming, reading, writing, and binge-watching. The resolution of its LTPS LCD display is 2560 x 1600 resolution. Other display features include 500 nits brightness, and blue light protection certification.
If we compare Tab S7 with S7+, you get a larger screen of 12.4 inches and a super AMOLED display. However, of course, S7+ comes with a higher price tag. So, if the budget is not the constraint for you, you can go with S7+ rather than S7.
Faster charging, long-lasting battery, S-pen support, 5G connection, are some other features to be considered.
Pros:
120 Hz refresh rate for a stunning viewing experience
S pen support
Qualcomm Snapdragon 865+ processor
The best flagship combination of specs, features, and price
Cons:
It doesn't have an AMOLED display
It's costly
3. Samsung Galaxy Tab A7 Lite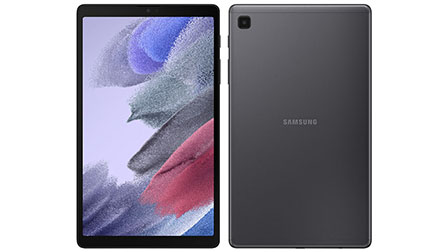 Like S series smartphones, S series tablets also are superior to A series counterparts.
However, Galaxy A series tabs come with affordable prices with pretty much standard specifications. The Galaxy Tab A7 Lite is the best budgeted compact tablet you may want to buy.
It is powered by MediaTek MT8768T Helio P22T and 4 GB RAM. This might seem drastically inferior specs but keep in mind that it's a best-budgeted choice. Samsung has focused on its kids' and business-friendly side on the product page.
That's a clear hint that the company has designed it to be used as a family tablet or for business. The Galaxy Tab A7 Lite features an 8.7-inch screen along with 1340×800 resolution and a TFT display.
Pros:
Compact screen size of 8.7 inches for entertainment on the go and general usage
Extremely budget friendly
Cons:
S Pen is not included
Poor display performance and slow processing
4. Samsung Galaxy Tab A8 (10.5″)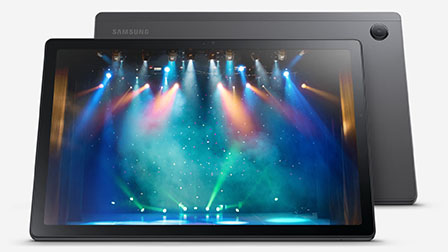 Launched in December previous year, Samsung Galaxy Tab A8 packs an impressive screen, performance, and power in a 10.5-inch tablet.
It is powered by a UNISOC Tiger T618 Octa-core 2GHz processor along with 4 GB RAM.
The internal storage it offers is up to 128 GB with microSD card slot support for up to 1TB extended storage. It's quite slim with only 6.9mm thickness. The Galaxy Tab A8 features a 1200 x 1920 pixels TFT display.
So, if you want a mid-range tablet and budget is not a pressing problem, the Galaxy Tab A8 could be the perfect choice for you in the year 2022. The tablet doesn't come with an S pen or stylus support; making it more affordable.
Pros:
Quad speakers with Dolby Atmos sound
The combination of specs and latest features make it suitable for families including kids
Cons:
Doesn't come with an S pen or stylus support
5. Samsung Galaxy Tab S7 FE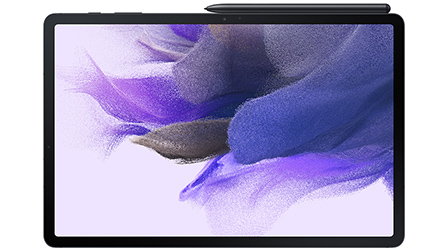 The next on our list is the Samsung Galaxy Tab S7 FE. This fan edition tablet provides the classic S7 tablet experience at quite an affordable price.
That also makes this tablet perfect for entertainment purposes due to its large screen.
The tab features a 12.4-inch display. This specification is fetched from the S7+, the premium device. In addition, it also features a better battery capacity. So, for a mid-range tablet, it's a great choice in an S series of tablets.
However, the tablet compromises on core features of S7 and S7+. It only has 4 GB RAM and is powered by Snapdragon 750G rather than Snapdragon 865+ in S7 and S7+. Moreover, the refresh rate gets halved here with a TFT display instead of LCD or AMOLED display.
All in all, if you're considering going with S7 FE, the rational comparison should be between S7 and S7 FE.
Pros:
A bigger screen than S7, 12.4"
Longer battery life than S7
More affordable than S7
S pen support
Cons:
Compromised features and core specification compared to S7
6. Samsung Galaxy Tab S6 Lite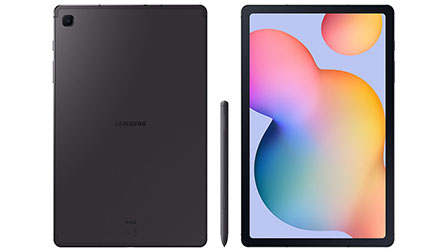 Up next is Samsung's Galaxy S series tablet S6 Lite. This again is an affordable option as a Lite version of S6.
The tablet is more suitable for students because it covers mid-range specifications and features in addition to S pen Support.
As we know, the S series tablets crush their A series counterparts, S6 Lite has an edge over its A series alternative with affordability and S pen support. Also, it features a 10.4-inch screen along with an LCD display and 2000×1200 screen resolution.
It is powered by the company's flagship Exynos 9611 System on Chip and offers 4 GB RAM.
Pros:
Aluminum finish and LCD display
Comes with S Pen
Affordable and perfect for students
Cons:
Not as stunning performance as S7
7. Samsung Galaxy Tab A7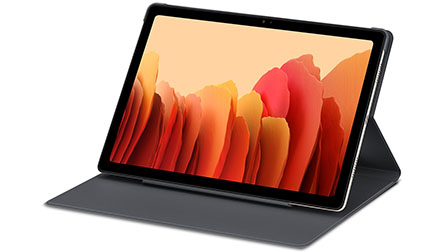 Here comes another tablet from A series' Galaxy Tab A7. This tablet is perfect for people who want a tablet with longer battery life and provides an amazing entertainment experience.
It is powered by Qualcomm SM6115 Octa-core processor and offers 3 GB of RAM. This A series tab has quad speakers with Dolby Atmos, TFT display with 2000 x 1200 resolution and a 10.4 inch screen.
It has slightly poor performance than Galaxy Tab A7 Lite. However, you get a bigger screen here with a better screen resolution in Galaxy Tab A7. All in all, the real battle is A7 vs A7 Lite and than whichever suits your requirements more, compare it with the Galaxy Tab A8.
Pros:
Longer battery life
Dolby Atmos technology in addition to Quad speakers
10.4-inch screen suitable for entertainment purpose
Cons:
Slightly poor performance than A7 Lite
8. Samsung Galaxy Tab S7 Plus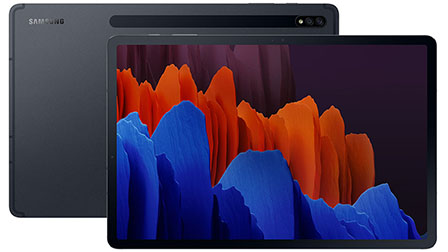 This S series tablet is the best premium choice on our list. If budget is really not your problem, then the Galaxy Tab S7 Plus will fulfill all your requirements with the latest Samsung features, tech, and best technical specifications.
The tablet is powered by Qualcomm Snapdragon 865+ System on Chip along with 8 GB of RAM. It features a 12.4-inch screen with AMOLED display. Also, the screen offers 120Hz refresh rate that produces smooth viewing experience.
The tablet has a battery that will last up to 14 hours of playback on a single full-charge. And not to mention its stunning S pen! It offers 512 GB of onboard storage plus 1 TB of microSD card support.
Pros:
AMOLED display with a larger 12.4-inch screen
120Hz refresh rate
Qualcomm Snapdragon 865+
Comes with S pen
All the latest and flagship high-end features and specifications
Cons:
9. Samsung Galaxy Book Pro 360 5G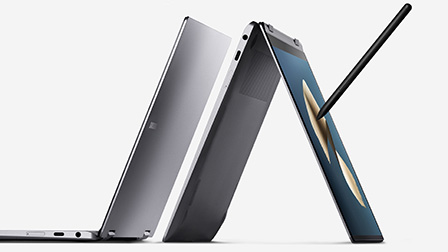 The next up is a 2-in-1 laptop by Samsung. It is ore suitable for hybrid lifestyle.
It comes with a sleek keyboard and can be positioned up to 360 degrees. It features a 15 inch AMOLED display. However, it doesn't come with 4K resolution.
Galaxy Book Pro 360 also features a 5G connection. So wherever you go, you are always connected to the Internet and can work uninterruptedly. The tablet is powered by 11th generation Intel Core i7 CPU with Windows 11 Home operating system. It also lets you choose Intel Core i5 and Windows 10 Home too.
It also supports S pen, adding more functionality to it.
Pros:
AMOLED display
Works as both laptop and tablet
S pen support
Intel Core i5 and Core i7 processors along with Windows OS
Cons:
It has a 15-inch screen which might be too large for a tablet for some
Keyboard is not comfortable
10. Samsung Galaxy Z Fold3 5G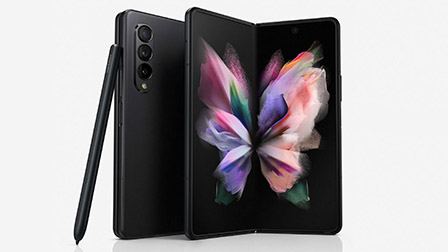 Here comes a smartphone cum tablet by Samsung. Galaxy Z Fold3 has been a big success in the year 2021 and still will make huge sales in 2022.
It was launched along with Galaxy Z Flip3 5G. The use of Fold technology at its best.
When unfolded, the Galaxy Z Fold3's screen is 7.6 inch large diagonally. And when folded, it measures 6.2″. Meaning, you get a hybrid device acting as a smartphone and tab. The tablet falls into premium devices by Samsung.
It is powered by high-end Qualcomm Snapdragon 888 with whopping 12 GB RAM. Such a beast combination of CPU and RAM provide smooth and super-fast operations. It is one of the most advanced smartphones by Samsung so you can imagine all the latest flagship features available in Galaxy Z Fold3 5G.
Pros:
It's a smartphone cum tablet
12GB RAM and Snapdragon 888 processor
S pen support
Cons:
It's expensive
The screen size is 7.6" when unfolded. This can be too small for some users.
Verdict
I hope this article has helped you to choose the best Samsung tablet for you. The overall best choice for Samsung tablet in 2022 is Galaxy Tab S7. It has all latest high-end specs and features which is suitable for everyone. However, if budget is not your concern, go with Galaxy Tab S7+.
If Galaxy S7 is still out of your budget, the next best option is Galaxy Tab S7 FE. Compare both of them and see which one suits your needs and budget the most.
As mentioned in the article, the S series tablets usually crush their A series tablet alternatives. This also means, A series tablets are pretty much budget-friendly. If the Galaxy Tab S7 FE is out of your budget, you should consider Tab A7 Lite. It's a tablet with no S pen support and quite cheaper.
The rest A series and S6 Lite tablets are pretty much affordable. But you have to weigh pros and cons of them and see what suits your needs best.
Lastly, Galaxy Book Pro 360 is a hybrid tablet and laptop. And on the other hand, Galaxy Fold 3 5G is a hybrid smartphone and a tablet. That way, Samsung also has to offer practical solutions to your needs.
We will keep posting more tablet reviews and news articles. If you still need any help or have questions, you can let us know about it in the comment section below.