Top 10 Best Samsung Tablets For 2020
Best tablets from Samsung Galaxy Tab series
In the digital age, the more gadgets you own, the more tech savvy you probably are. And with growing tablet technology, every household probably owns at least one tablet for entertainment or work. While it's true that your tablet is basically your smartphone in a larger size, there's a lot more you can do with your tablet than you'd imagine. If you're looking to pick a tablet in 2020, we've rounded up the ten best Samsung tablets worth considering.
For artists, a drawing tablet could serve as a means to enhance your skills. On the other hand, if you travel frequently for work, a tablet is more easily portable than a chunky laptop and helps you save important files, presentations etc. in one place.
Now, Samsung has launched a series of tablets over the years, with several upgrades that cater to various requirements.
From varying price ranges that fall under all kinds of budgets to features that suit specific requirements, we've got you everything you need to know. But before you get invested, let's take a look at the Samsung Galaxy timeline of tablets from previous years and how it has evolved in tablet technology.
Why Samsung Tablets Standout in Crowd?
Samsung has made switching from a PC to a tablet a whole lot easier with features such as multi-screen views (which is also available on the iPad but is a lot easier to navigate on Android), a steady kickstand, enabling you to set a default browser etc.
Samsung also sells its own keyboards and offers real mouse support. For instance, the Samsung Galaxy Tab S6 has features no other tablet has yet boasted of.
It has a fingerprint sensor buried in the display, a first of its kind technology for a tablet. While in-display fingerprint sensors are common in smartphones, Samsung was the first to introduce the feature in a tablet. Unlike the iPad, Samsung uses its preferred OLED screen technology, which offers maximum possible clarity.
Samsung Galaxy Tab S6 was also the first tablet to have introduced dual cameras on the back. Later, Apple introduced the same feature in its iPad Pro 2.
The Samsung Galaxy Tab S6 lets you connect any wireless mouse over Bluetooth or you can even plug one in via USB-C port for a cursor to pop up on the screen. Samsung's own keyboard cover for the device, which costs extra, even has a little trackpad on it.
Even back in 2010, at the CEATEC (Combined Exhibition of Advanced Technologies) held in Japan, the Samsung Galaxy Tab stood out among other tablets. So, right from the beginning, Samsung has been making tremendous technological advancements to all its devices. We've listed down ten best Samsung tablets in 2020 that are worth investing in.
Our Picks: 10 Best Samsung Galaxy Tablets 2020
With a wide range of Samsung Galaxy tablet series having launched in the past couple of years, picking the right tablet for your specific requirement could be a tricky task.
Which is why we've analyzed the pros and cons of each tablet worth considering in 2020 and listed down the best Samsung tablets for you to make a well-informed investment.
1. Galaxy Tab S6 – Best Samsung Tablet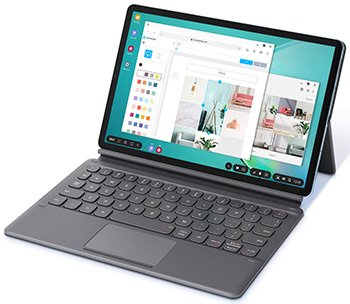 The Samsung Galaxy Tab S6 makes the transition from PC to tablet a seamless one. With whole new levels of S Pen integration, it makes the tablet great for both work and play. You can connect the device to your smartphone via Bluetooth with just a press of the S Pen button.
Additionally, the S Pen Air action lets you intuitively control your tablet with hand gestures. On the flip side, this could sometimes get confusing when the button is on and you're just stretching. Samsung Galaxy Tab's portable keyboard has a dedicated key for a quick DeX access for a PC-like experience.
The tablet also offers a first-of-its-kind rear dual camera with 13MP and 5MP of resolutions, with Ultra Wide angle and smart AI options available for those pro shots. However, we're not sure how ergonomically convenient it is to take photos using a thin sheet of glass. Another great feature in the tablet is its onscreen optical fingerprint scanner. This means you can unlock your tablet with a single press on the front screen.
Although, in our opinion, this doesn't count as complete security and it's always safer to password-protected all your devices. The new Bixby helps make your home smart using SmartThings where you can manage all your appliances from a single app on the tablet – even when you're away from home. Bixby uses voice-recognition for this.
2. Samsung Galaxy Tab S6 Lite – Best 10 inch Samsung Tablet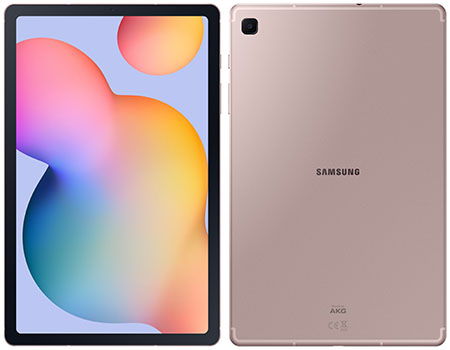 Undoubtedly, Samsung Galaxy Tab S6 Lite has carved for itself a place in the list of best Samsung tablets with its ultra-sophistication and super-rich features.
As has been named aptly, this amazingly stylish device is extremely compact and lightweight and thus can be easily carried along.
Its 10.4 inches expansive and smart screen offers the most vivid and crystal clear representations and is ideal for watching and viewing your favorite contents. Everything becomes believable and breathable with the mind-blowing Dolby Atmos sound effects by AKG dual speakers.
Samsung Galaxy Tab S6 Lite is accompanied by the smart and efficient S Pen that can deliver wonders. Right from highlighting texts to marking PDFs to taking notes and drawing, S Pen functions to realize all of these.
The primary keyword is convenience and a look at the stylish, highly manageable, magnetically slinging case of the tablet confirms the same. Available in three-color options, which are Oxford grey, Angora Blue, and Chiffon rose, this Samsung tablet is powered by Exynos 9610 Octa-Core processor and is based on Android 10.0 OS.
3. New Samsung Galaxy Tab A 8.4" 2020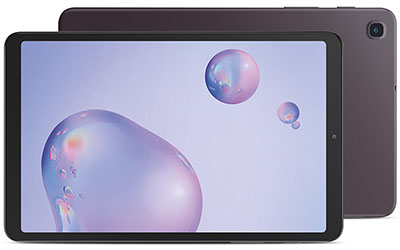 This is Samsung's latest addition to the Samsung Galaxy Tab series and comes with great features that are both fun and functional. Apart from a slight variation in screen size, it has a lot more to offer as compared to its previous iteration – the Samsung Galaxy Tab A 8.0".
The tablet's crystal clear display gives you an all-immersive experience paired with dual speakers for spacious surround sound. Its sleek and compact design makes it extremely portable and its long-lasting battery life of up to 10 hours lets you binge endlessly even when you're traveling. What's more? It has a Fast Charging feature that lets you quickly recharge the tablet using the USB-C port, when the tablet runs out of juice.
The best part about the Samsung Galaxy Tab A 8.4" is that it lets you stay connected even without Wi-Fi, owing to its 4G LTE. To enable this, just add the Samsung Galaxy Tab A to your existing data plan and you're all set. The device comes with 32GB of built-in memory along with an option for expandable storage space up to 512GB. Samsung Galaxy Tab A 8.4" also has an upgraded front-camera with 5MP of resolution and a rear-camera with 8MP of resolution along with auto-focus.
4. Samsung Galaxy Tab A 10.1″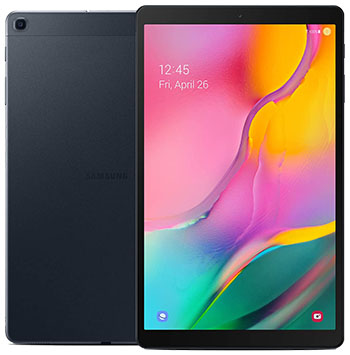 Samsung Galaxy Tab A 10.1 comes with a widescreen display and is best for family entertainment. The Dolby Atmos surround sound is great for an all-immersive viewing experience, especially with a display that has cinematic clarity.
The long-lasting battery life lasts up to 13 hours after a single charge and lets you binge-watch shows and play video games endlessly. It also comes with 512GB of expandable storage using a microSD card, so you can make space for all your photos, files and gaming apps.
Samsung Galaxy Tab A 10.1 also has a cool feature called FamilyShare that lets you sync up to six individual accounts to one group. This lets you keep track of everyone's schedules, share photos and videos and set up reminders or leave important messages.
The tablet also has an 8MP rear camera with auto-focus for pro pictures and 5MP front facing camera for your selfies. Another feature, SamsungKids, lets families monitor their kids' screen time and also what they access. Learning with popular cartoon characters is just a swipe away.
5. Samsung Galaxy Tab A 8.0″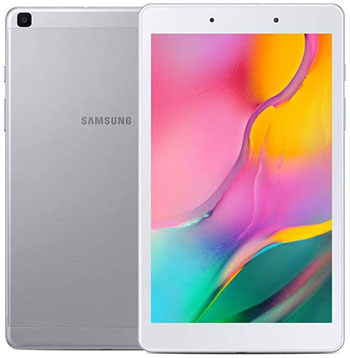 While the basic exterior design language remains the same as the Samsung Galaxy Tab A 10.1 with a sleek and compact body, the Samsung Galaxy Tab A 8.0 comes with minimized bezels for maximum viewability. It's also extremely lightweight which makes it easily portable.
The Samsung Galaxy Tab A series carries a whole lot more power than you can imagine in a device this sleek. With a 5100mAh battery, the device gives you the freedom to binge-watch as many shows as you want, for as long as you want. Additional to the 32GB internal memory, it comes with 512GB expandable memory with an external microSD card, so you can safely store your songs, photos, videos and more.
The Samsung Galaxy Tab A 8.0 also comes with great camera quality – 8MP rear-facing and a clear front-facing camera for video chats and crisp selfies. What's more? You get a free two-month YouTube Premium subscription (ad-free) with the Galaxy Tab A so you can access content from your favourite creators and even download videos to watch later. While there are no remarkable features that stand out in this device, it's newly launched iteration – Samsung Galaxy Tab A 8.4" – is worth considering if you're looking for the latest in the Galaxy Tab series.
6. Samsung Galaxy Tab S4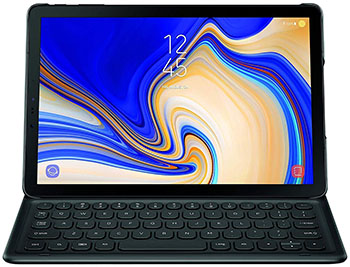 The Samsung Galaxy Tab S4 introduced the Samsung DeX for a seamless PC to tablet transition. You can multi-task via an HDMI adapter and without a DeX station or pad and add a keyboard, mouse and even a monitor (sold separately) for increased efficiency and productivity.
The device comes in two storage variants – 64GB and 256GB – with an additional memory of up to 400GB using the MicroSD card. It has a 10.5-inch screen with minimized bezels with no top logo or home button, for maximum viewability. It's also got Quad Speakers tuned by AKG to deliver true-to-life sound quality and Dolby Atmos that contributes to moving audio technology that enables 3D surround sound.
Samsung Galaxy Tab S4 has a long-lasting battery life that lasts up to 16 hours of video playback and can even be brought to a full charge in just 200 minutes with fast charging. Daily Board displays your photos on loop, while the device is charging on its stand. The tablet can also turn into your assistant and provide information on weather forecast, current time on your calendar etc. Apart from face recognition technology, Samsung Galaxy Tab S4 includes iris scanning to unlock your device.
7. Samsung Galaxy Tab S5e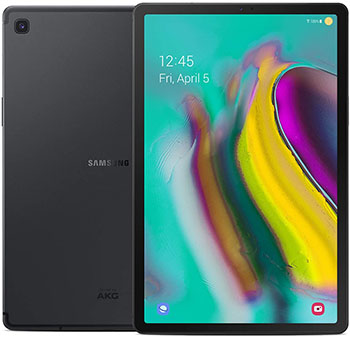 The Samsung Galaxy Tab S5e has an extremely thin (5.5mm) and lightweight design (400g), which makes it easily portable and lets you stay connected on the go. The tablet introduced One UI to reduce display clutter by curating content most relevant to you at the time. All you need to do is tap and focus on what you want to view and read, one detail at a time.
With a vivid 10.5-inch sAMOLED display, the tablet delivers stunning visuals by optimal screen brightness levels and clear color reproduction. Similar to the Galaxy Tab S4, the S5e has a Quad Speaker system sound by AKG and Dolby Atmos' 3D surround sound for an all-immersive experience. The Bixby voice functionality lets you control your home appliances by simple voice commands, even while you're away.
FamilyShare lets you connect with your family and share photos, notes etc. The tablet also lets you sync your smartphone to it, so you don't miss calls or messages while your phone is away. You can also connect the device to Galaxy Buds for a seamless listening experience. Its long-lasting battery life lasts up to 15 hours and lets you endlessly binge on your favorite movies and TV shows.
The Samsung Galaxy Tab S5e features Face Recognition technology and Fingerprint Scanning right from the Power Key, to avoid recollecting passwords when you're in a hurry to access the device. The device comes with 4GB RAM and 6GB ROM or 4GB RAM and 128GB ROM storage variants, as well as 512GB of expandable storage via an external microSD card9 support.
8. Samsung Galaxy Fold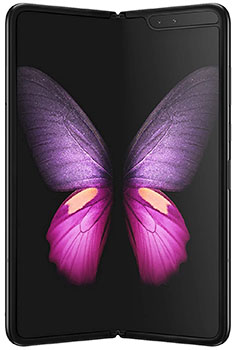 Samsung Galaxy Fold is a cutting-edge phone cum tablet device with revolutionary display technology. The foldable Infinity Flex Display is a 7.3-inch dynamic AMOLED display made of polymer material for slim flexibility and is the largest Galaxy smartphone screen. The device has a hinge that offers symmetrical movement that gently locks in place so the Galaxy Fold functions like a book and folds intuitively.
When the device is folded, it serves as a smartphone and can easily slip into your pocket but when you unfold, its displays fuse seamlessly to offer app continuity. Since the Galaxy Fold contains magnets in its mechanical design, you need to ensure to keep it away from other objects that are affected by magnets such as your credit cards.
The Samsung Galaxy Fold lets you use up to three apps at the same time. It has six pro-grade cameras and the Infinity Flex Display serves as a huge viewfinder while using front and rear cameras. It comes with 12GB of RAM and 512GB of built in storage space for apps and media. The Galaxy Fold's dual battery combines energy from two batteries into one long-lasting power source. The device also conserves juice by putting lesser-used apps on the back-burner while saving power for the apps consumed most.
9. Samsung Galaxy Tab A 10.5″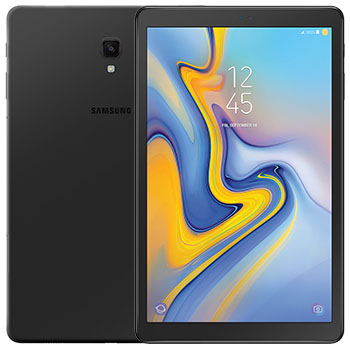 The Samsung Galaxy Tab A 10.5" has a full HD display and is great for both work and play. It has an immersive screen and Atmos surround sound with long-lasting battery that keeps the device running all day. You can turn on Google Assistant to play your favourite songs, give you weather updates etc. when your hands are full.
The Samsung Galaxy Tab A 10.5" comes with 32GB of internal memory with up to an additional 400GB of expandable storage using a microSD card, runs on Octa-Core processor and has 3GB RAM which lets you seamlessly switch between multiple apps simultaneously.
The tablet is also great for kids owing to Samsung Kids, where you can access both fun and educational content with just a swipe. The best part is that there are no ads or in-app purchases, which your kids could click on by mistake and you can easily monitor their screen time what they access. The device is also great for pictures with its rear-facing 8MP camera with auto-focus and front-facing 5MP camera.
You can unlock the device with facial recognition (while this may not always be the most secure system) even in darkness and bright light. You can also connect your smartphone to the tablet via Samsung Flow and respond to texts, get real-time notifications and share videos and photos between the two devices without the need for Wi-Fi connectivity.
10. Samsung Galaxy Tab E 9.6″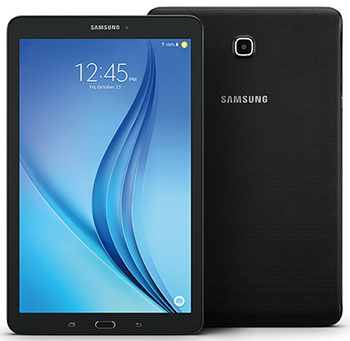 This is a relatively older model but still ranks in our top ten list of Samsung tablets for several reasons. Firstly, it's got a long-lasting battery of 7,300mAh that lets you watch videos for hours on end, runs on Android 5.1 (Lollipop) which means its processing speed is decent and has 16GB of storage with up to 400GB of additional expandable memory using the microSD card.
The Galaxy Tab E series has advanced camera features for pro photographs including Panorama and Continuous Shot modes and can quickly help you toggle between camera and video modes. It's also got a Kids Mode, available for free from Samsung Galaxy Essentials, which lets you monitor what your kids can access.
The Galaxy Tab E provides a collection of complimentary apps, which you can select and download, giving you a customized tablet experience. Additionally, the Samsung+ app gives you access to device information and a one-touch access to customer support.
The Timeline of Samsung Galaxy Tablets

Samsung Electronics released a line of Android-based tablets under the series named Samsung Galaxy Tab, a decade ago and have launched several iterations since then. The very first model in the series was the Samsung Galaxy Tab 7-inch.
Following this, Samsung released tablets with 7.7-inch, 8.9-inch and 10.1-inch displays that were all a huge success. All the Wi-Fi versions of Samsung tablets include a GPS system while others have cellular capability too such as 3G/4G (and now most recently 5G) tablets. It used Android's 2.2 Froyo as its OS with custom apps.
In 2011, Samsung introduced Android's 2.3.3 Gingerbread version to its tablets. Next came the Samsung Galaxy Tab 7.0 Plus in 2011, as a direct successor to the original Galaxy Tab. This tablet came with Android's 3.2 Honeycomb pre-installed and had more powerful hardware.
The Galaxy Tab 7.7 launched in the same year came in three storage variants – 16GB, 32GB and 64GB, ran Android 3.2 Honeycomb with Samsung's custom TouchWiz software that also enabled an update to Android 4.0 Ice Cream Sandwich.
2011 also saw the launch of Galaxy Tab 8.9 and 10.1 featuring the same NVIDIA Tegra 2 processor. The latter used Android's 3.0 Honeycomb as its OS.
In 2012, Samsung launched the Galaxy Tab 2 series, which served as the second generation 7.0 and 10.1, aimed at budget markets with downgraded camera quality.
Both models used Samsung's TouchWiz software on top of Android's 4.0 Ice Cream Sandwich, which was later updated to 4.1 and 4.2.2 Jelly Bean.
In 2013 came Samsung Galaxy Tab 3 series aka the third generation Galaxy Tab with 7.0, 8.0 and 10.1, aimed at budget markets. At the same time, the Samsung Galaxy Note series took over the higher-end market.
Samsung Galaxy Tab 3 Lite 7.0 launched in 2014 with Android 4.1.2 Jelly Bean and a customized software interface. Samsung apps such as S Voice and S Planner were available too.
In 2014, the fourth generation of Samsung Galaxy Tab 4 series was launched, which again aimed at budget markets while Galaxy Tab Pro and Note Pro series took over the higher-end market.
Samsung Galaxy Tab S series served as the ultra high-end models, aimed to be the flagship model line of Samsung Galaxy tablets, including Samsung Galaxy S5.
In 2015, Samsung launched the Galaxy Tab A series with S-Pen to resemble the same series of smartphones. This was the first tablet to offer free versions of Microsoft Office, OneNote and OneDrive. 2015 also saw the Samsung Galaxy Tab E series aka the entry-level Samsung tablets. The Samsung Galaxy Tab S2 series which refer to the second generation ultra high-end tablet models, then aimed to be the flagship model line with Samsung Galaxy S6.
In 2016, the Samsung Galaxy TabPro S was Samsung's first Windows-powered 2-in-1 tablet that was released with first-party detachable keyboard and folio keyboard included. It could also be paired with a phone via Bluetooth and users could unlock the tablet with their phone's fingerprint sensor. Following this, Samsung launched Samsung Galaxy Tab A series, in the same year.
In 2017, Samsung launched the Samsung Galaxy Tab S3 with a new and improved S Pen. Next came the Samsung Galaxy Tab S4 in 2018, Samsung Galaxy Tab S5e, Samsung Galaxy Tab A 10.1, Samsung Galaxy Tab A 8.0 and Samsung Galaxy Tab S6 (with Samsung DeX and S Pen) in 2019. Most recently, Samsung launched the Galaxy Tab A 8.4″ earlier in 2020.
The Verdict
Samsung tablets have proved to be among the most premium Android tablets and some of them have features that are even better than Apple's iPad versions. Novel features such as the dual camera in Samsung Galaxy Tab S6 and foldable display in the Samsung Galaxy Fold device, truly sets the electronic company apart for extraordinary innovation in tablet technology.
While all the above listed Samsung tablets are great if you're considering investing in one this year, you need to pick a tablet that suits your budget as well as your requirement.
The Samsung Galaxy Tab S6 is one of the most popular one, since it has the most sought-after features for every tech savvy individual. If you're looking for the best home entertainment tablet for your family, we suggest you opt for the Samsung Galaxy View2, which has one of the largest screens among all the other tablets.
The Samsung Galaxy Fold is by far the most expensive tablet priced at nearly $2000, followed by the View2 and then the Samsung Galaxy S6. If you're looking for a portable device, the Samsung Galaxy Tab A 8.0" and Samsung Galaxy Tab A 8.4" make for great devices that will fulfill all your needs.