Today, no matter how much you proclaim that tablets are out of match for smartphones in the market, you will have to accept that tablets are proving a tight competition to laptops. Not to belittle laptops, of course, they have their league, but tablets today are amping up their features and specs that could level down the use and need of carrying a laptop anywhere and everywhere. It is the best thing about tablets.
Right from massive processors to detachable keyboards, they have the best of features today that correctly serves the need of anyone who wants a little extra to be done in their leisure time or even while traveling to work. And that's precisely why tablets seem to climb the ladder in the market by achieving high sales and different brands and ranges of tablets for everyone.
Why Samsung tablets?
Samsung has been the face of the tech world with several gadgets right from smartphones, Televisions to tablets that are found almost in every house. The best part about Samsung is that it caters to every audience by providing every kind of device in the market. They have also been at the top for delivering quality at affordable rates. It is known for its premium devices that can be availed at prices that do not burn a hole in your pocket.
Not just that, it has different price ranges for different audiences categories. During the year 2013, Samsung had sold around 13.5 million tablets globally. And with every year, they are launching tablets that are premium and better packing in fantastic features.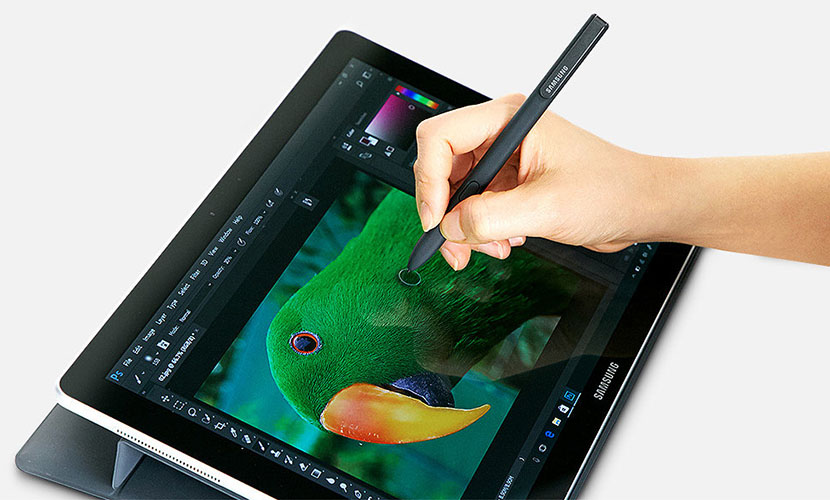 Samsung tablets are known for its quality and their affordability. You could certainly argue that there are other tablets in the market that have the sheer variety and competition. However, Samsung has always established its brand in the market and have rightly caught the eye of tablet lovers.
10 best Samsung tablets to buy in 2019
In the year 2017, Apple sold roughly about 43 million iPads while on the other hand, Samsung sold 25 million tablets. Being the second most favored tablet globally is not an easy feat. It only tells us why Samsung tablets are still dominant in the market. It can be difficult for anyone to choose which Samsung tablet is the best. Here we break it down and bring you the list of 10 Best Samsung Tablets of 2019.
1. Galaxy Tab S4
"This tablet can also be used as your PC companion and here's why"
Samsung Galaxy Tab S4 is the ideal partner for anyone who wants multi-function on a tablet. It holds every feature that a good tablet in the market has, along with the benefit that it can become your mini PC at work. It comes with the revolutionary Dex mode that makes it into a functioning desktop along with the taskbar. This is primarily why this tablet is a must use.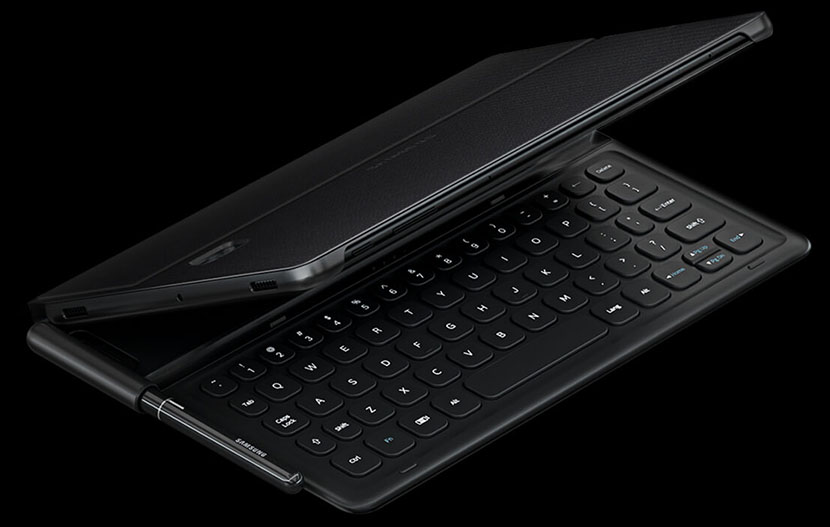 It comes with the S pen that has a fantastic accuracy to work with. It has 64GB onboard storage and 4GB flash memory capacity. It gives excellent performance and also does not compromise on its processor that is the Qualcomm processor along with Adreno 540 Graphics Co-processor. It has Android 8.0 delivering smooth interface with a 10.5-inch display that provides a pixel resolution of 2560×1600 offering immersive visual details on the things you watch on it.
It has a 13MP camera that comes under the high-range specification for any camera in a tablet. The best part about this device is that it weighs just 1.06 pound making it portable. This tablet is excellent for working on your documents or your quirky movie watching behavior.
2. New Galaxy Tab S5e 2019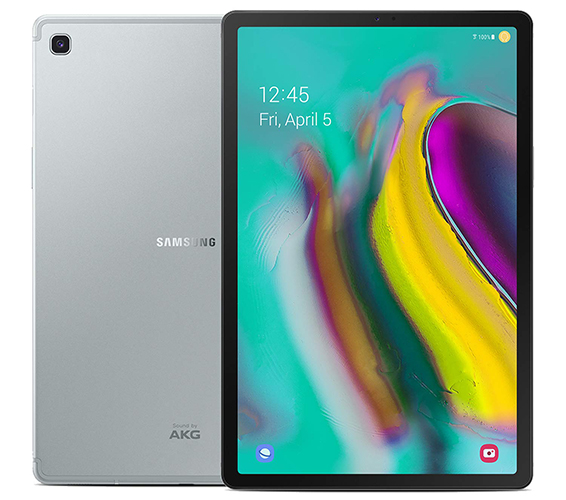 Samsung Galaxy Tab S5e is one of the finest tablets introduced by Samsung. Samsung has eventually worked on the design of the tablet by trimming down the unnecessary frame, making it thin and slim up to 5.5mm. More so, the tablet is lightweight, only 400gms that makes it quite handy, which enable it to stay with you for a quit long time, you can control home appliances or watch your favorite shoes holding the tablet without feeling bogged down.
The tablet is made of high quality metal that makes the appearance of Samsung Galaxy Tab S5e sophisticated and classy. Samsung Galaxy Tab S5e comes in a trio of solid colors Black, Gold and Silver that absolutely suits your style. The 10.5 inch display of Samsung Galaxy S5e features super AMOLED that delivers amazing colors, making your viewing experience mesmerizing and boosts your performance as it is equipped with Qualcomm Snapdragon processor.
The tablet offers 4GB or 6GB RAM and storage of 64GB/128GB, which is extendable up to 512GB. Running on Android P the tablets very intuitive user-interface along with impeccable battery life of 15 hours with continuous surfing as it is equipped with 7040 mAh.
3. Samsung Galaxy Tab A (10.5-inch)

"The long-lasting partner on-the-go"
The Samsung Galaxy Tab A 10.5-inch Tablet can be your entertainment partner that does it all. You can avail this tablet and use it for a variety of reasons. It has terrific battery power that lasts for almost about 14.5 hours upon full charge. Other amazing specs of the tablet support this. This tablet has an internal memory storage capacity of 32GB and can also be expanded to 400GB via microSD card.
It has an octa-core processor with 3GB RAM that forms the stepping stone of powerful processing for any task you do. It can be your best device for binge-watching as you get a 16:10 widescreen that allows you to immerse into the visuals with details and the vibrant colors it provides. Not just the display, but the quad speakers with Dolby Atmos surround infused in the tablet makes the sound dynamic making the whole visual experience a profound one.
Its 10.5-inch screen gives you an enormous workspace. This tablet runs on Android O giving it superb interface functionality along with Google Assistant that makes it easier to control the tab.
4. Galaxy Fold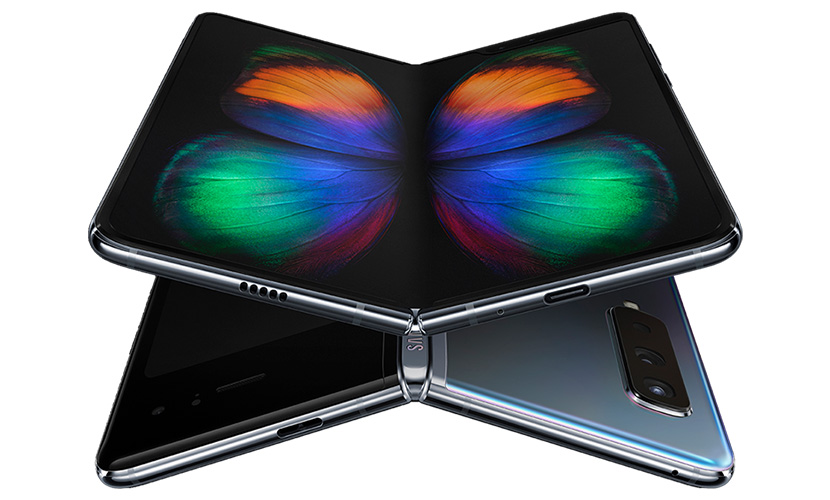 Samsung Galaxy Fold is a unique tablet introduced by Samsung in the gadget market for the first time. This impeccable convertible tablet has created a history that can be used as a smartphone as well as tablet. When you use the tablet as a smartphone it gives you a screen size of 4.6 inch and when you use it as a tablet, you get a screen size of 7.3 inch that too Super AMOLED. And the interesting fact about Samsung Galaxy Fold is it weighs only 263g, which makes it extremely lightweight.
More so the tablet offers dual front camera of 10MP and 8MP to give you amazing pictures, whereas the rear camera possess triple camera of 16MP, 12MP and 12MP. The tablet offers unbelievable RAM of 12GB, which is more of a desktop to make your gaming to streaming experience seamless. And 512GB storage allows you to download as many apps as you want and explore your creativity side efficiently.
The battery of Samsung Galaxy Fold is 4380 mAh along with fast charging capabilities that makes sure that you don't run out of battery. Featuring Android P the tablet is available in two stunning colors that are Cosmos Black and Space Silver.
5. New 10.1″ Samsung Galaxy Tab A 2019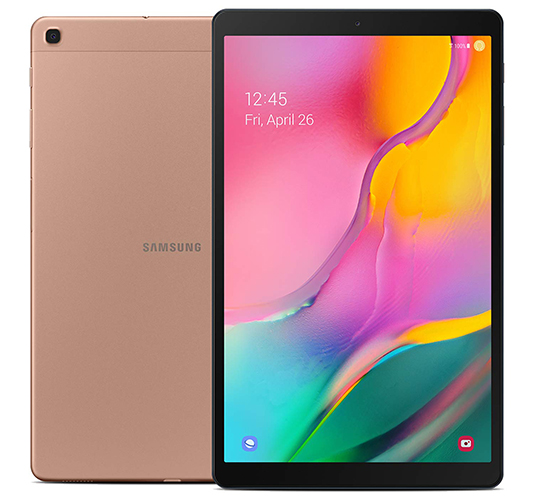 New Samsung Galaxy Tab A 10.1 brings an excellent display, design and powerful performance in order to offer great customer experience to the users. The captivating display of 10.1 inch enables you to enjoy your favorite shows and movies with great enthusiasm.
More so, Samsung Galaxy Tab A 10.1 is equipped with the latest Dolby Atmos technology to deliver mesmerizing sound quality through its dual speakers. The tablet also provides you with 8MP rear and 5MP front facing camera that makes it your perfect partner in crime at every touch point.
Samsung Galaxy Tab A 10.1 is packed with strong chipset i.e., Lassen O+ (Octa Core processor), offering amazing options concerning storage and RAM. It provide you with 2GB RAM + 32GB storage, 3GB RAM +64GB storage and 3GB RAM + 128GB storage, accompanying storage extendable slot up to 512GB.
Featuring Android Pie 9.0, Samsung Galaxy Tab A 10.1 is recommended as one of the best tablets of Samsung so far. With 6150 mAH of battery, you can utilize this tablet up to 15 hours with continuous surfing and browsing.
6. Galaxy Book2
"The latest 2-in-1 tablet with amazing features"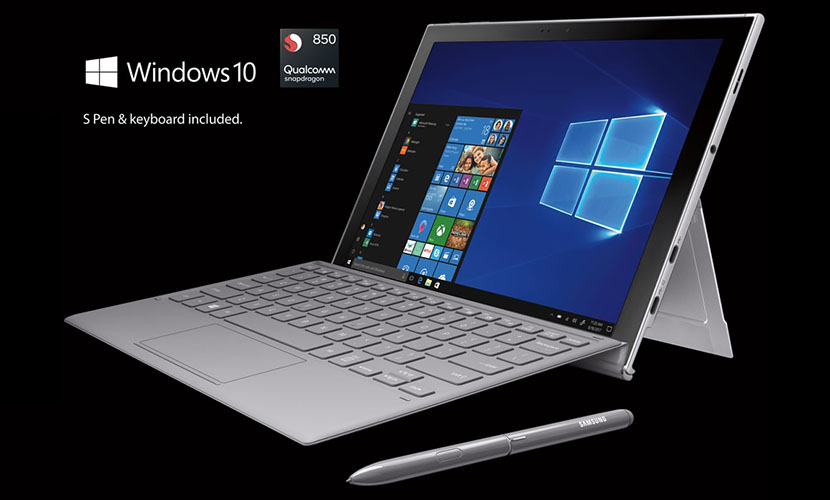 The Samsung Galaxy Book2 2-in-1 tablet can be your laptop in disguise with a battery so powerful that you don't need to charge it for the next 20 hours after full charge. It has powerful processing capacities with Qualcomm Snapdragon 850 processor that gives you an opportunity to multitask with various apps and makes this device blazing fast. It comes with the S pen and a backlit detachable keyboard that gives it the 2-in-1 feature. It's sleek, and grey metal finish gives it a premium look. The premium looks are incomplete with a premium display.
It has a Super AMOLED Display. The super-fast gigabit LTE also lets you be connected to the web always so that you never run out entertainment or surfing. It gives you a mini-theatre like sound quality with ample sound volume that is the result of Dolby Atmos Surround speaker. The OS you get in this tablet is Windows 10 that gives you the best experience of Windows. The main thing to talk about this tablet is its premiumness and display and battery and speakers and connectivity and everything else. So in a nutshell, this tablet is purchase-worthy!
7. Galaxy Tab A (8-inch)
"Small yet powerful"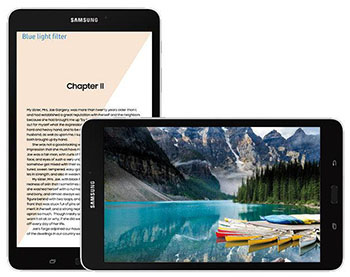 The 8″ Galaxy Tab A is a sleek and light tablet that gives a terrific edge on display light and portability. You can seamlessly connect with other Samsung devices with Samsung Flow. It retains you high performance with its 2GB RAM and 32GB inbuilt memory that can be expanded up to 256GB.
The 8-inch display of this tablet is applaudable because it crystal clear display with enough brightness to not dim the content on the screen even when you are under sunlight. It is powered with a long-lasting battery that gives a minimum of 14 hours of run on a full charge. With this tablet, you get three months of free Youtube Red subscription that has content for every family member right from kids to adults.
Its HD display is supported by the ergonomic and sleek body build that is easy and comfortable to hold while watching movies or browsing the internet. It also has an excellent rear camera with 8MP, also available to click photos in HDR. It also has a 5MP front-facing camera for clicking selfies. It has an advantageous feature called Bixby Home. Stay updated on relevant news and weather forecast with this feature.
8. Galaxy Tab S3
"You can call this tablet a fierce competition for iPad 9.7"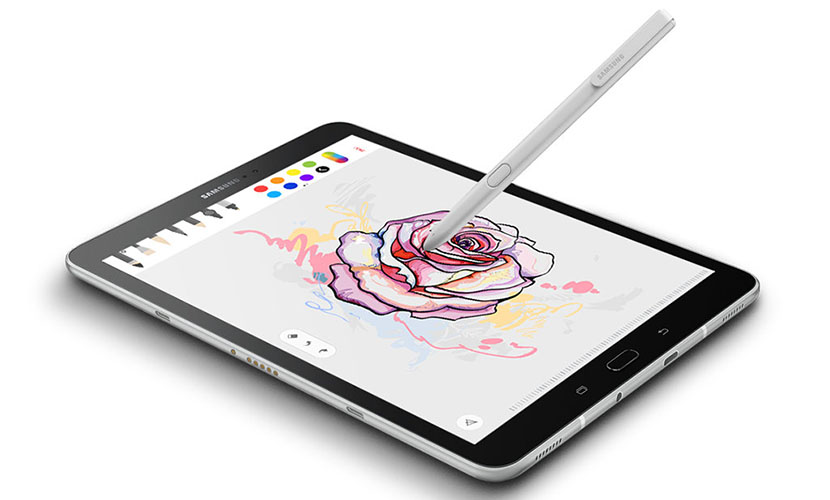 Galaxy Tab S3 that calls out iPad 9.7 for competition has the same 9.7-inch display size with the Super AMOLED display that proves to be a wonder with fine details and vivid colors that elevates the entire visual experience while the body design is so ergonomic that it is very comfortable to hold. The S pen that comes with it never requires to be charged and has fantastic accuracy and pen pressure levels. The detachable keyboard of this tablet auto-pairs and gives you the benefit of typing on the tablet using feather-touch keys. The keyboard is to be purchased separately.
It has a 2.2 GHz Snapdragon processor with 4GB RAM and 32 GB internal room to store your files. It is powered with a long-lasting battery that charges unbelievably fast and gives up to 12 hours of battery charge. It is also fitted with Quad speakers fine-tuned by AKG giving you crisp and dynamic audio quality that proves to be a treat along with the cinematic display. It captures moments with brilliant details because it has a 13MP rear camera and 5MP front facing camera. It also has Samsung Flow making this an all-rounder tablet.
9. Galaxy Tab E (9.6-inch)
"A budget tablet like never before"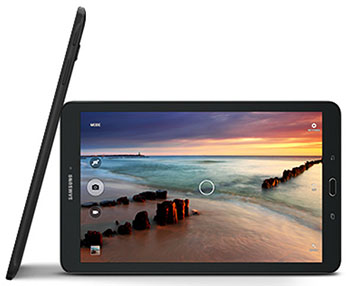 The Samsung Galaxy Tab E 9.6-inch is an entry-level tablet that does not leave a hole in your pocket and at the same time provides you with every feature that is useful for you. It has 1.5GB RAM and 16GB internal memory expandable up to 128GB. With a 9.6-inch screen and 1280 x 800-pixel resolution, the device gives you good visuals without much at task. It also weighs only about 1.21 pounds making this incredibly light to carry around.
It runs on Android 5.1 Lollipop and a 1.2GHz processor that is decent enough for all light and semi-heavy tasks. It is powered with a 7300 mAh battery giving you 20 hours of battery run, and this is the best part about this tablet that it can endure long hours with you. It also has an inbuilt 5MP rear camera with fantastic features like auto-focus and panorama. It has brilliant visual clarity for the photos you take. It has Kids Mode that is very useful for kids and parents can have the baton of control while they use the tablet. It also has the Samsung Galaxy Essentials that keeps your favorite apps and content intact.
10. Galaxy Tab S2
"A tablet that likes to dress in four different colors"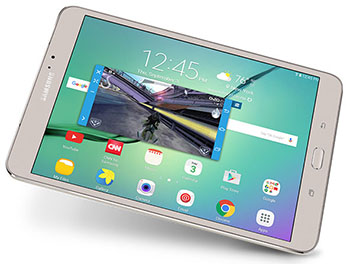 The Samsung Galaxy Tab S2 9.7-inch Tablet is built for dominant performance with its octa-core processor and 3GB SDRAM along with 32GB internal storage that is expandable up to 128GB. It has a 9.7-inch tablet with 2048 x 1536 pixels and Super AMOLED display giving you a visual experience like never before. It has Adreno 510 as its graphics processor.
This device runs on the platform of Android 6.0 Marshmallow giving it better functionality than Lollipop or lower android versions. It is sleek and super light. It weighs almost 1 pound making it very portable so that you can have your tablet with you wherever you go. It has an advanced security feature of fingerprint scanning, unlike other tablets.
The tablet is the perfect balance of entertainment and work because it also has Microsoft Office tools that let you edit or work on your document whenever needed. It's powered with a battery that provides 12 hours of video playback. This surely is a tablet to look out for.
Verdict
It is crystal clear from the above list on how Samsung, as a brand, tends to continuously amp up features and benefits along with every other tablet that they launch. Right from fantastic display to powerful batteries, Samsung tablets come in a wide variety of tablets that are available for each person according to their needs.
This list has explored the 10 best Samsung tablets in detail, and the prices run in parallel with the features they offer. It is incredible how Samsung comes with impressive technologies that blend in smoothly with these tablets.