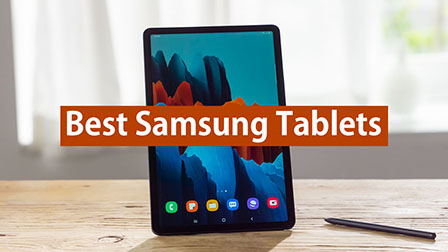 The best Samsung tablets may not suffice every creator and tablet user out there, but Samsung has an incredible brand recognition that speaks for itself.
Samsung is relentlessly releasing one tablet after another to satisfy specified tasks that are operated on a daily basis.
Being a pioneer in the industry, Samsung has already cracked the code to building the perfect tablets.
The market share of Android Tablets is a lot less compared to what it was a few years ago, but Samsung continues to come up with new and futuristic designs to keep the consumers engaged.
The new models always come with some new or unexpected features, and Samsung's creative talents ensure artist-friendly applications.
Best Samsung tablets always focus on ways to increase productivity and also, they try to increase energy efficiency.
The big screens and brightness capacities are a few of many that Samsung aces in their Tablet product line.
Portability, compatibility, and connectivity are the three main reasons to pick tablets over chunky laptops. And Samsung tablets excel in all three aspects. For creative influencers and real-time artists, Samsung offers a drawing tablet to enhance and practice their skills.
Tablet technology has also helped many small businesses and professionals always to stay connected. Samsung comes up with sleek designs and impressive storage spaces to help one save and present important files. This doesn't come as a surprise because Samsung is an industry leader in the smartphone space.
It is often mistaken that every gadget suits every user, but that's not the case. We have curated a list of the best Samsung tablets and everything you need to know about them.
You will get to witness the evolution of Samsung's tablet technology and how the new removable batteries and advanced octa-core processors can increase your multitasking abilities.
This buying guide can help you narrow down to the best Samsung Tablet that fits your requirement and comes under your budget range.
Our Picks: 10 Best Samsung Tablets in 2021
With a wide range of Samsung Galaxy tablet series having launched in the past couple of years, picking the right tablet for your specific requirement could be a tricky task.
Which is why we've analyzed the pros and cons of each tablet worth considering in 2021 and listed down the best Samsung tablets for you to make a well-informed investment.
1. Samsung Galaxy Tab S7+ (Best Overall)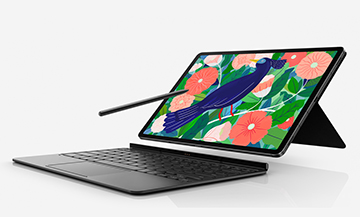 When precision meets excellence, you get one of the best-crafted tablets, and that is none other than Samsung Galaxy Tab S7+.
Being the flagship variant in the galaxy series this year, S7+ doesn't disappoint. The 12.4″ OLED display is one of the finest screens in the marketplace, and it notches up to a 120Hz refresh rate.
The high FPS makes it a lot better while streaming movies and playing games. As we all know, flagship tablets always come with the best internal specifications, and that still stands true with Galaxy Tab S7+.
This powerful tablet comes with the new Snapdragon 865+ chipset, and that is paired with either 6GB or 8GB ram depending on the storage versions.
Adding to the internal architecture, Tab S7+ adds a quad Dolby Atmos speaker and in-screen fingerprint scanner to enhance the immersive audio experience and safety levels, respectively.
Tab S7+ has the best internal specification and performs to the highest level in optics and connectivity. The dual rear cameras packed with 13 and 5 megapixels help take sharp and high-quality selfies and videos.
Samsung DeX integration is fascinating to watch, but the control over the windows application still has much room to improve.
2. Samsung Galaxy Tab S7 Tablet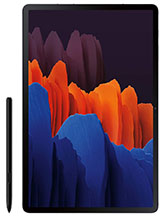 Galaxy Tab S7 proves the creative prowess achieved by the Samsung team. Having to combine the power of a PC and the mobility of a tablet is extremely hard to pull off, but with Tab S7, they not only accomplished it but took it to the next level.
Samsung has also taken its peripheral game to a new level by redesigning the S pen and giving an optional keyboard. The 11.0″ LCD screen is an ultra-smooth display, and it is edge-to-edge, so one can really amp up their productivity and enjoy a cinema-like viewing experience.
It would have been a lot better to use the OLED screen to make the images look sharp. To process the LCD screen, Samsung has collaborated with Qualcomm to come up with the hyperfast Snapdragon 865 Plus processor.
The processor allows other counterparts such as Bluetooth-enabled controllers and fast-charging batteries to increase their energy-efficiency and, at the same time, provides high-level connectivity and immersive gaming experience with Xbox Game Pass.
Samsung also allows users to store all the things they love, from movies to AAA titled video games. The two storage options are 128GB and 256GB, but one can always increase it to 1TB using an external microSD card.
3. Samsung Galaxy Tab A7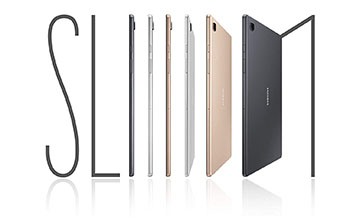 The newest member of the Samsung Galaxy tablets series is the A7. Being the latest version in the tablet industry, the expectations were set quite high, and Samsung has once again delivered a great premium build tablet.
The 10.4" ultra-wide screen comes with WUXGA+ resolution, which is excellent for content sharing and creation. The orientation of the front-facing camera and the landscape-oriented camera is perfect, and it helps the transition from one application to another seem effortless.
Despite being the latest Galaxy tablet, Samsung decided to go with Qualcomm Snapdragon 662 and 3GB RAM.
They have taken a step-down in internal specifications because they want Tab A7 to be a cost-effective, user-friendly tablet. This is not a drawing tablet, so one cannot use the S pen for artistic purposes.
It may not be a high-processing tablet, but it is a remarkable gadget for productivity and entertainment. The 7,040mAh battery capacity can keep you going for more than ten hours, so there is no need for recharging.
In terms of audio, Samsung has enhanced its quad stereo speaker system, and they also incorporated Dolby Atmos surround sound. This puts the user in the center of the action while playing games and watching movies.
4. Samsung Galaxy Tab S7 FE (Newest)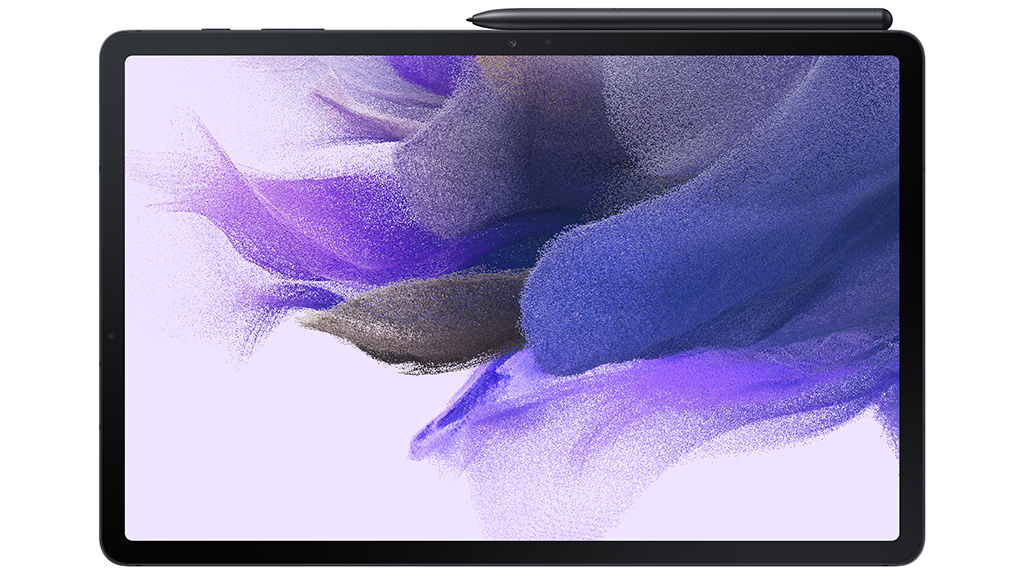 The Galaxy Tab S7 FE aims to provide customers with the specifications they want at an affordable price. The tab has a 12.4-inch large screen, which meets the most demanded customers' requirements and is perfect for productivity, creativity, and entertainment.
With the S Pen, you can take full advantage of this giant screen and complete tasks more efficiently. Using Samsung Notes, one can easily convert handwritten notes into text on the screen. It can handle multitasking easily. With multiple active windows, you can use a maximum of three applications at the same time.
From App Pair, you can also quickly save and launch your favorite application combinations in multiple active windows. With Keyboard Case 2 and Samsung DeX, you can use your tablet as a laptop and turn your user interface into a computer interface.
The second display also turns this beast into the second display of your PC to broaden your field of view and do more work. The Galaxy Tab S7 FE has the same stylish and elegant metal finish as the Tab S7 series and comes in four stunning colors to gratify your style. It has a slim and lightweight shape and a powerful battery.
5. Samsung Galaxy Tab A7 Lite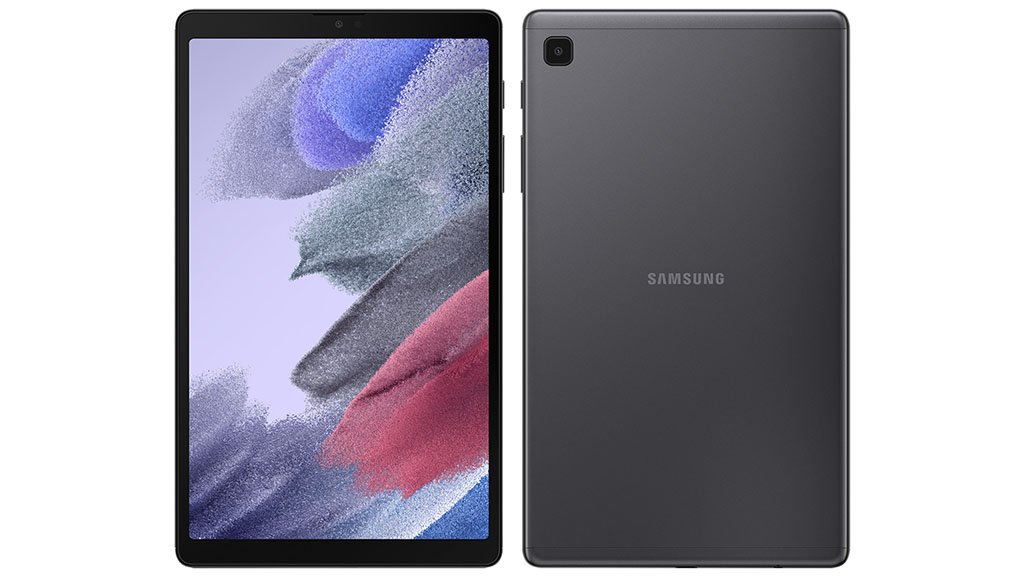 The Samsung Galaxy Tab A7 Lite is your go-to travel mate for gaming and daily work at a low price. This tab has an 8.7-inch display size fitted in a durable and sleek metallic back; it is ultra-portable.
Slender bezels across the screen and influential Dolby Atmos dual speakers also give you a pleasant experience of navigating your favored movies, concerts, and games.
With 64GB of internal storage, which is expandable up to 1TB with a Micro SD card, there is abundant space to store all your files in the tab. The octa-middle processor ensures effortless operations.
With an enduring battery, 15W Fast Charging adapter, and non-obligatory LTE capability, the Galaxy Tab A7 Lite is perfect for you if you are looking for trending new displays or gaming at the go. It is available in Silver and Grey with a metal back and slender bezel.
6. Samsung Galaxy Tab S6 Lite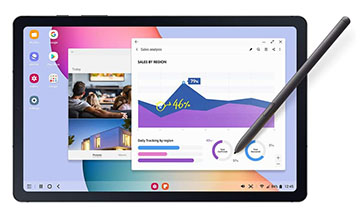 Samsung always tries to cover a wide variety of price points with every product line so that each computing solution is available to the public.
Despite being at a lower price point, the Galaxy Tab S6 lite feels premium and high-end when one holds in their hands.
It is a highly portable tablet that can smoothly blend into one's workflow. The landscape and portrait orientation make it easier to switch from one application to another, so one can really benefit from multiple viewing angles.
Adding to the display part, S6 Lite is not the same as its flagship cousin, but it does come with a 16:10 aspect ratio and a large LCD screen. But the rest of the viewing experience is just a disappointment.
Samsung failed to incorporate HDR certification and AMOLED display, so the absence of sharp images and buttery-smooth videos is noticed. The S6 Lite is known for its excellent stylus experience and gesture functionality.
The S Pen is insanely responsive, and it is one of the best on-the-go solutions to draw and take notes. However, Samsung fails to deliver a high-performance processor and Dex mode support.
7. Samsung Galaxy Tab S6 Tablet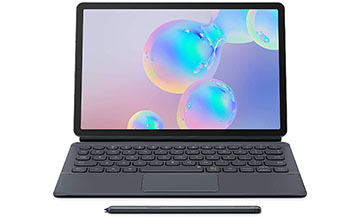 Two-in-one tablets like Galaxy Tab S6 are hard to ace, but Samsung has gone above and beyond to create that unexpected adventure for artists, gamers, and other serious professionals.
Unlike other tablets, Tab S6 comes with an immersive 10.5″ corner-to-corner display screen.
The Super AMOLED technology and WQXGA resolution combine to bring life-like colors and focus on every small detail on the screen. Despite the vivid colors and extreme brightness capacity, Galaxy Tab S6 delivers up to 15Hrs video playtime, and all credit goes to the Lithium-ion battery, which is packed with 7,040mAh.
In terms of performance and speed, Tab S6 is not equipped with the best processor, but the benchmarks of Snapdragon 855 and 865 are pretty much in the same place. To support this hyperfast processor, Samsung has given two variants in RAM: 6GB + 128GB(internal) or 8GB + 256GB(internal).
The audio experience is uplifted from the previous models by introducing new quad AKG speakers. The only downside to listening to songs and audio tracks is the absence of a headphone jack. So one has to use only the Bluetooth audio or the built-in speakers.
8. Samsung Galaxy Tab A 8.4″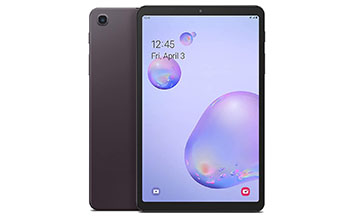 The Galaxy Tab A 8.4″ may not be the best mini Samsung tablet in the marketplace, but it is a reliable gadget to perform multitasking operations on a daily basis.
The three main aspects it outsmarts other tablets are battery, compactness, and display.
The main goal Samsung was trying to achieve with this tablet was to provide a device that can be carried to any place and still be connected to the online world. It is a perfect tablet for casual streaming and listening to music.
With Tab A, users need not search for Wi-Fi networks, but they can use their existing data plan. Being one thinnest and lightest Galaxy tablet, one can comfortably hold the device even with one hand, and they can carry it around in their backpack.
The internal specifications are not that impressive to provide high-level game-play or performance. Galaxy Tab A 8.4″ is equipped with 3GB RAM, and in-built memory of 32GB is provided. However, the device is Energy Star certified, which adds much credibility to the tablet's energy consumption.
In a nutshell, this is an excellent tablet for people who are constantly traveling, but it doesn't suit serious content creators and mobile gamers.
9. Samsung Galaxy Tab A 10.1″ Tablet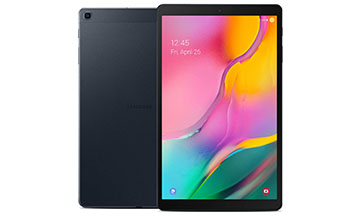 The Tab A series only gets better with size, and with 10.1″, users can have more space to engage and create more artistic stuff.
The body design of the Galaxy Tab A is stunning to look at, but it does come with some absences and flaws.
The enlarged screen is to bring minimum bezel and maximum view display. Streaming videos, browsing over the internet, and listening to music are the three main aspects of Samsung.
As the main focus point highlighted is the display screen, they have given it HD resolution to sort of level-up that immersive binge-watching or cinematic experience.
It is great for all entertainment tasks, but the display screen does not bring any security features. Samsung did not integrate fingerprint sensors, so it is less secure in outdoor spaces and can risk leaking information to strangers.
Being a budget-friendly tablet, Samsung had to cut corners to reduce the overall cost, but they did not compromise on providing features that could support the performance. With Android 9.0 Pie and 2GB RAM, Samsung does not give enough hardware to run games like PUBG and Fortnite.
10. Samsung Galaxy Tab A 8″ SM-T295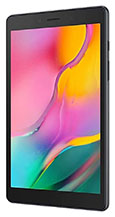 Priced at $155, Samsung Galaxy Tab A 8.0 SM-T295 is one of the best Samsung Tablets 2021. The ideal device for today's fast-paced generation, this device comes with an efficient 8-inch display with high resolution. It's TFT display supports 16M color depth and 1280 x 800 (WXGA) resolution.
This device, belonging to the SM-T295 series is based on Android 9.0(Pie) and is powered by Quad-core 2.0 GHz Cortex-A53, Qualcomm SDM429 Snapdragon 429 processor. The rear camera is 8MP and the front camera is 2 MP. There is a dual speaker to make the audio good quality support the great display.
This highly compact and portable tablet from Samsung comes with 2GB RAM and 32GB ROM. You can save all that is important on this single multitasking device as its storage space can be expanded up to 512 GB for increase convenience.
Compatible with a GSM network, this tablet can also take care of the calling needs as it can also function as a smartphone.
5100mAh Battery makes this tablet a powerful performer and also gives it the strength to meet all deadlines. This LTE 4G enabled tablet is available at a very affordable price to let the users achieve their targets easily.
Related Posts:
Why Samsung Tablets?
Samsung has made switching from a PC to a tablet a whole lot easier with features such as multi-screen views (which is also available on the iPad but is a lot easier to navigate on Android), a steady kickstand, enabling you to set a default browser etc.
Samsung also sells its own keyboards and offers real mouse support. For instance, the Samsung Galaxy Tab S6 has features no other tablet has yet boasted of.
It has a fingerprint sensor buried in the display, a first of its kind technology for a tablet. While in-display fingerprint sensors are common in smartphones, Samsung was the first to introduce the feature in a tablet. Unlike the iPad, Samsung uses its preferred OLED screen technology, which offers maximum possible clarity.
Samsung Galaxy Tab S6 was also the first tablet to have introduced dual cameras on the back. Later, Apple introduced the same feature in its iPad Pro 2.
The Samsung Galaxy Tab S6 lets you connect any wireless mouse over Bluetooth or you can even plug one in via USB-C port for a cursor to pop up on the screen. Samsung's own keyboard cover for the device, which costs extra, even has a little trackpad on it.
Even back in 2010, at the CEATEC (Combined Exhibition of Advanced Technologies) held in Japan, the Samsung Galaxy Tab stood out among other tablets.
So, right from the beginning, Samsung has been making tremendous technological advancements to all its devices. We've listed down ten best Samsung tablets in 2021 that are worth investing in.
Verdict
The flagship models in this category include Tab S7 FE, Tab A7 Lite, and Tab S7+. These three models are packed with the most powerful processors and operating system, so there is no task which cannot be performed seamlessly.
The OLED display screen in S7+ is breathtaking, and these can be of real help to illustrators and people starting in graphic design.
Artists can take advantage of the S pen and work anywhere they want with no boundaries. These tablets can be expensive, but they are reliable for every application and dual monitor work. Moving on to the budget-friendly tablets, Galaxy Tab S6 lite, Tab A 8.4″, and 10.1″ come with great specifications to increase one's productivity.
These are highly bought by working professionals and business owners to automate most of their paperwork. The eight-inch tablets can be used as a kid version in homes to watch shows and play games, but they are incapable of taking high-level processing tasks.
Tablets that come with AMOLED technology, Snapdragon above 670, and a minimum of 6GB RAM are considered future-proof gadgets in the marketplace. Try and secure one of them to ensure the longevity and durability of your Samsung tablet.