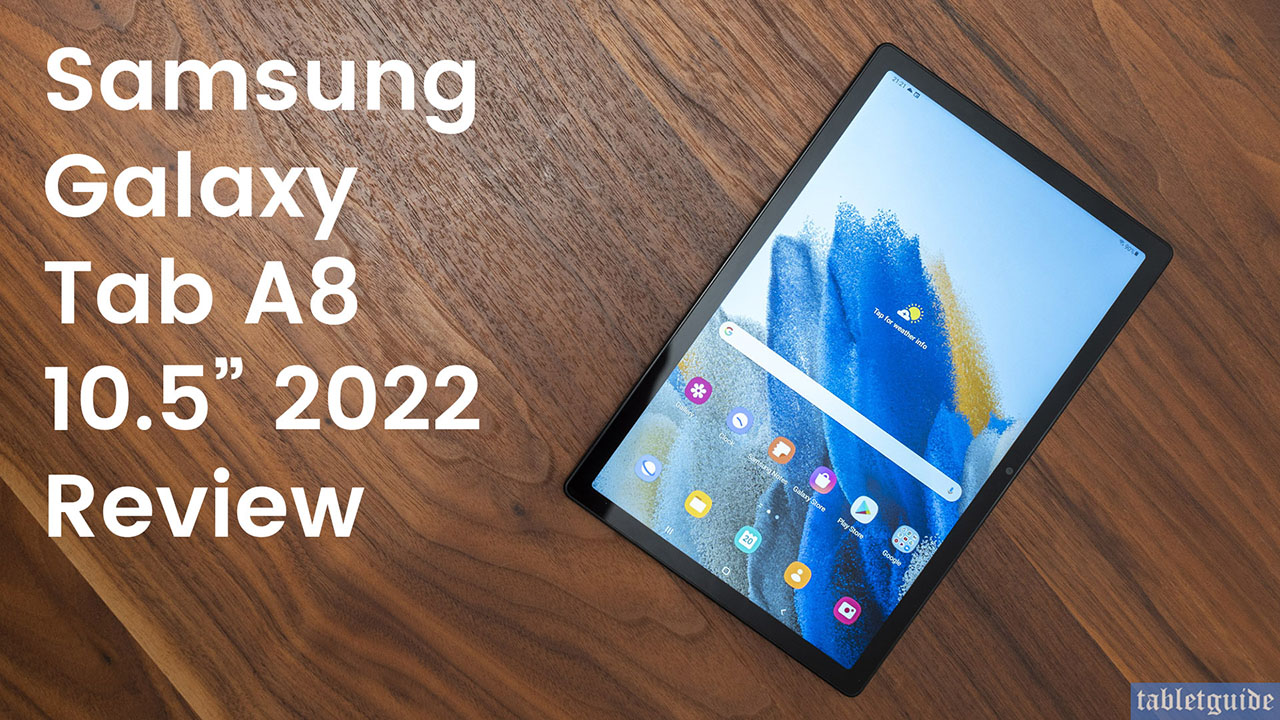 A review about a new budget friendly tablet from Samsung: The Galaxy Tab A8 10.5″. The device offers a FullHD display, a really good build quality and gains a little bit more horsepower compared to the old model. Our review tells you all the details about Samsung's most affordable tablet.
| | Samsung Galaxy Tab A8 10.5″ Specifications |
| --- | --- |
| Processor | Unisoc T618 Octa-Core (2×2.0GHz + 6×2.0GHz) |
| Memory | 3GB + 32GB or 4GB + 64GB/128GB |
| Display | 10.5" (1920×1200) WUXGA LCD |
| Camera | Front: 5MP | Rear: 8MP |
| Speakers | 4x Stereo Speakers, Dolby Atmos |
| Dimensions | 246.8 x 161.9 x 6.9mm |
| Weight | 508g |
| Battery | 7040mAh |
| Wireless Connectivity | Wi-Fi 5 (802.11 a/b/g/n/ac), Wi-Fi Direct, Bluetooth v5.0 |
| Ports | USB 2.0 Type C, 3.5mm Ear Jack |
| Sensors | Accelerometer, Compass, Gyro, Light, Hall Sensor |
| GPS | GPS+GLONASS, Beidou, Galileo |
| Operating System | Android 11 |
The Samsung Galaxy Tab A-line is pretty popular. For good reason: Samsung tries to offer a really competitive product for an affordable price. The Galaxy Tab A8 is not reinventing anything new, but tries to improve on a few things compared to the older A7 model.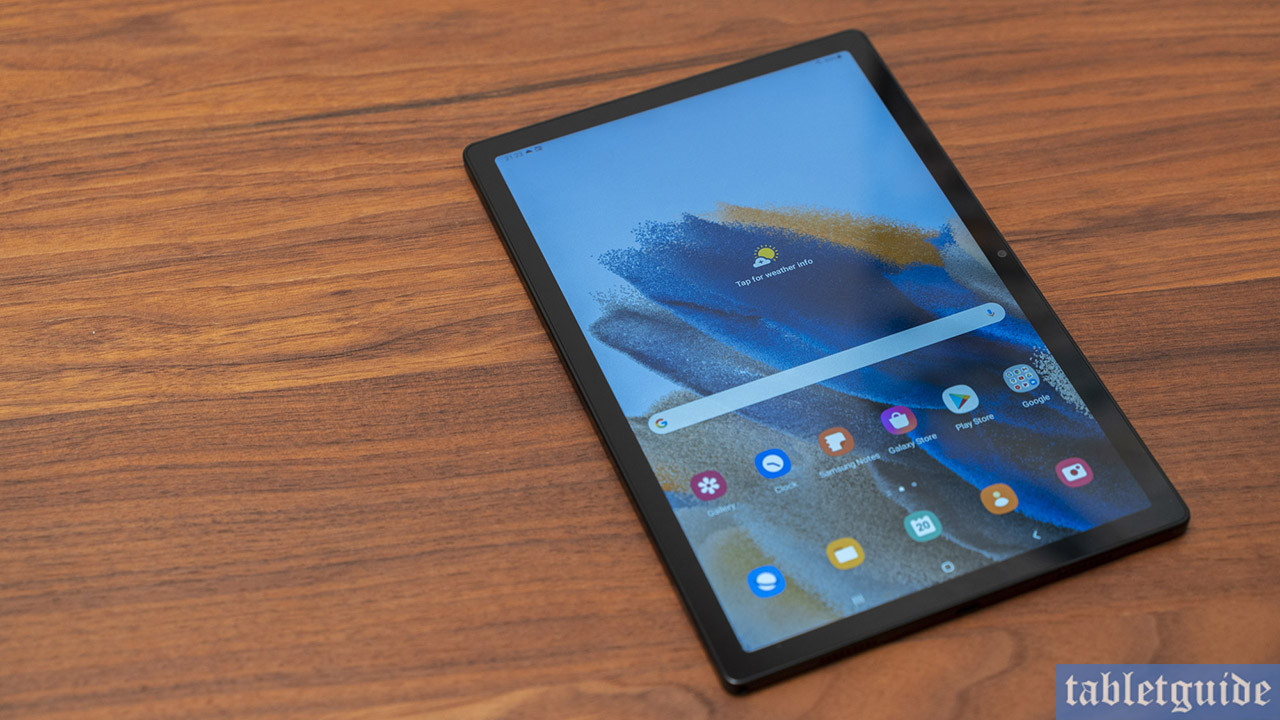 The screen gets a little bit bigger, the CPU gets faster and finally, there are more options in case you want significantly more storage. To be precise: You can choose between a 32GB, a 64GB and a 128GB model.
All of these models come in the colors Pink Gold, Dark Grey or Silver. Oh, and you also can choose between 4G or Wi-Fi only, so there is a lot to think about. So before doing that, let us start with the unboxing of our 32GB Dark Grey Wi-Fi model.
Unboxing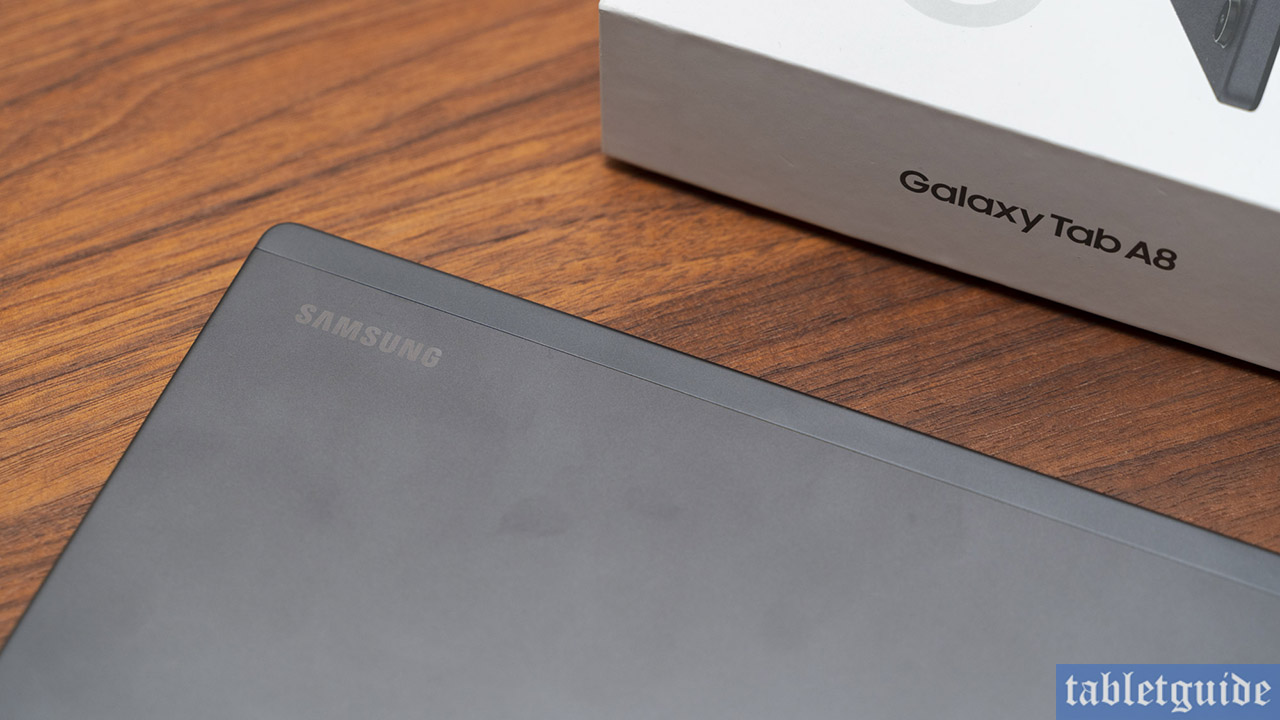 Because this is an affordable device, there is not much to expect. You will find the tablet, a USB A to USB type c charging cable, as well as a USB wall charger. Besides the quick starting guide, there is also a little pin to open up the sim-slot/microSD Slot of the tablet.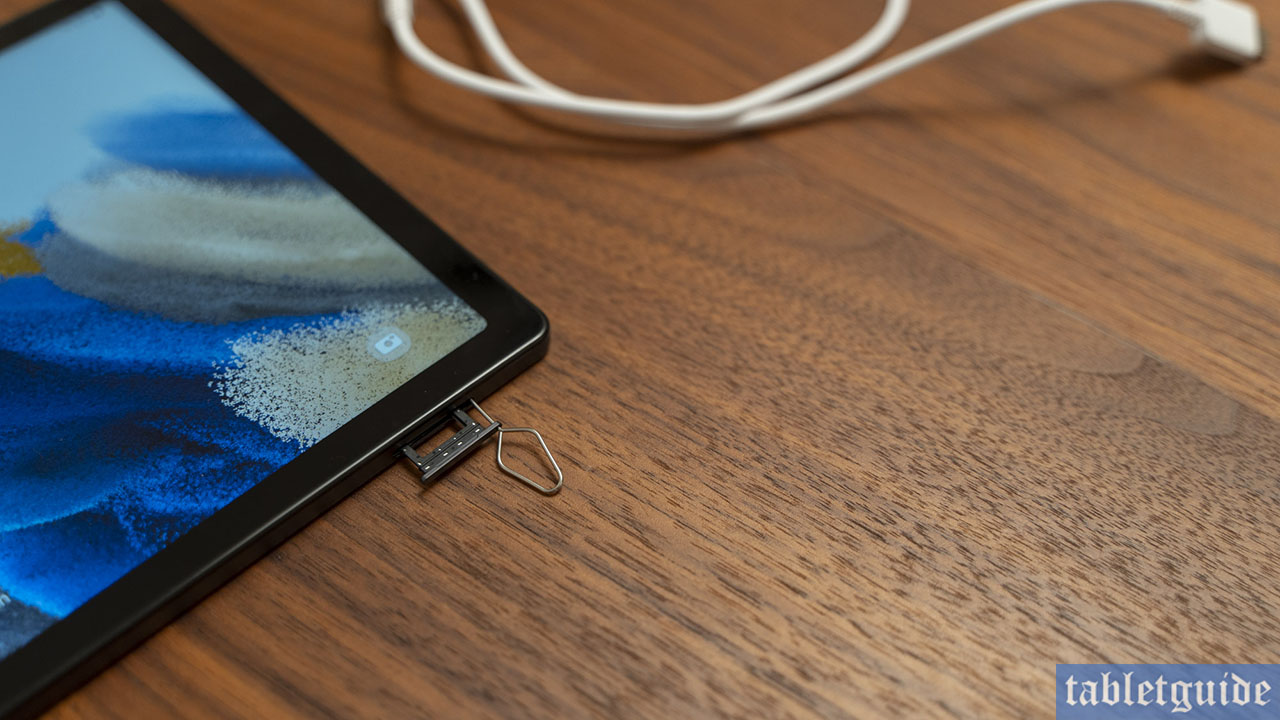 Unfortunately the USB charger only offers 7.8 Watt of charging, which is quite low these days. Up to 15 Watts of charging are supported on the tablet though, so you might want to use a different charger if the charging time is important to you.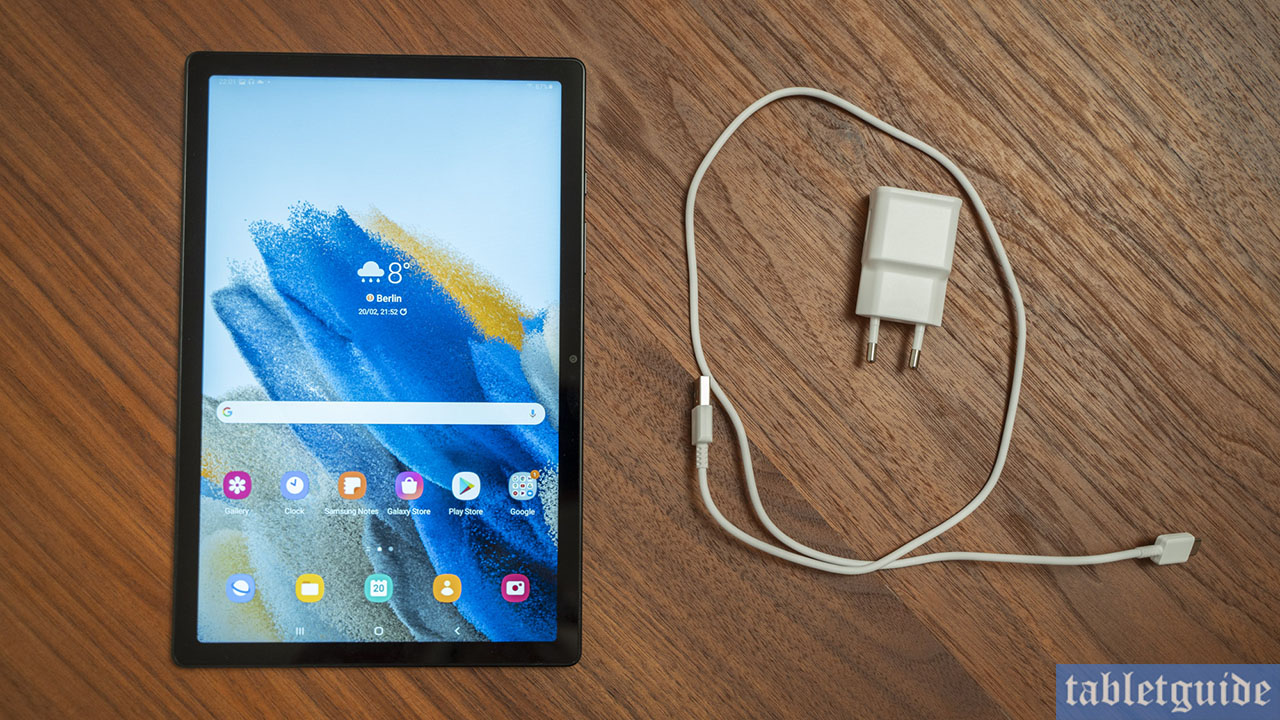 Build Quality
When you take the tablet out of its protective sleeve you will notice something straight away: You can sense that it is really well made. The chassis is not made out of plastic, but out of aluminum. Therefore, the Galaxy Tab A8 seems and feels sturdy.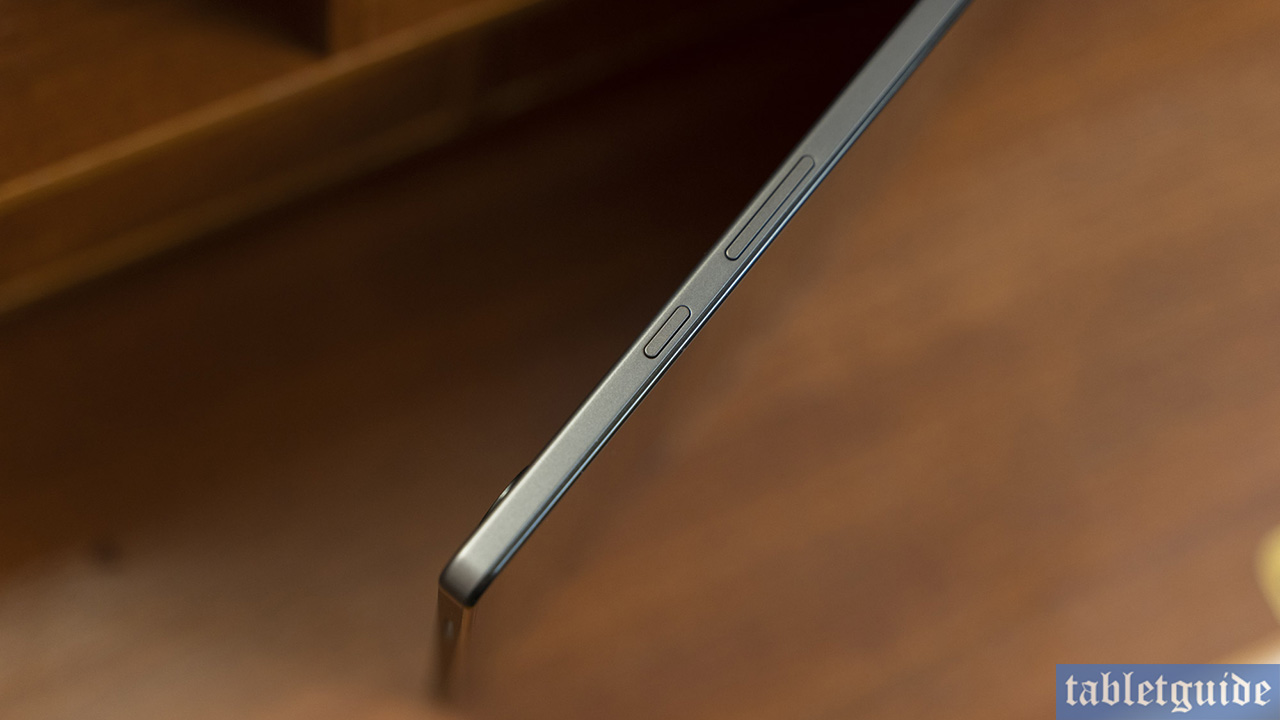 The power button as well as the volume keys are satisfying to press. Build quality wise, nothing gives you the impression that you are using the cheapest tablet option from Samsung. The tablet is about 7mm thick (0.28 inch), but due to the protruding camera bump it can't lie completely flat on a table.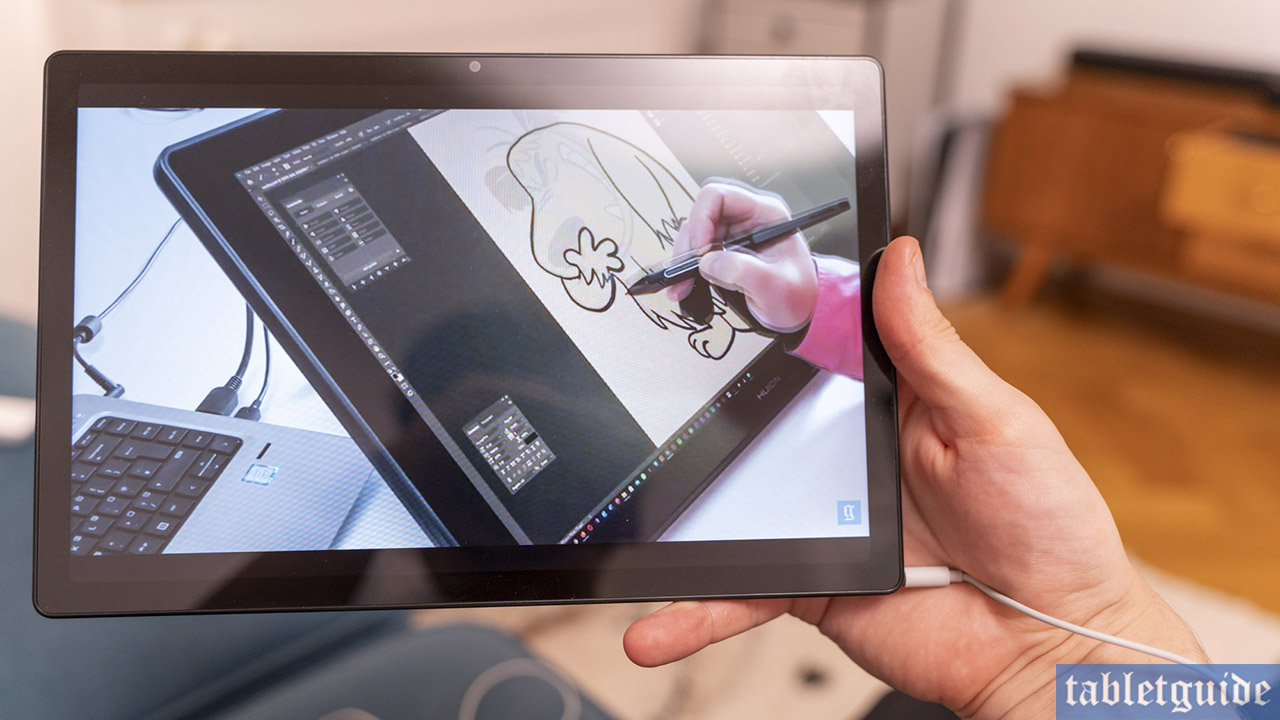 On the right side, if you hold it in landscape orientation, you will find the USB-C port and even a good old headphone jack. Nowadays that's not a given anymore. The placement of the headphone jack can be annoying in landscape mode, but that may depend on your personal preference. In portrait mode, this is not an issue at all.
Display
The screen grew a tiny amount compared to the old model. The Galaxy Tab A8 offers an 10.5 inch screen, compared to the 10.4 inch of the old A7. But that's not all: Samsung decided to change up the aspect ratio for the new A8 model.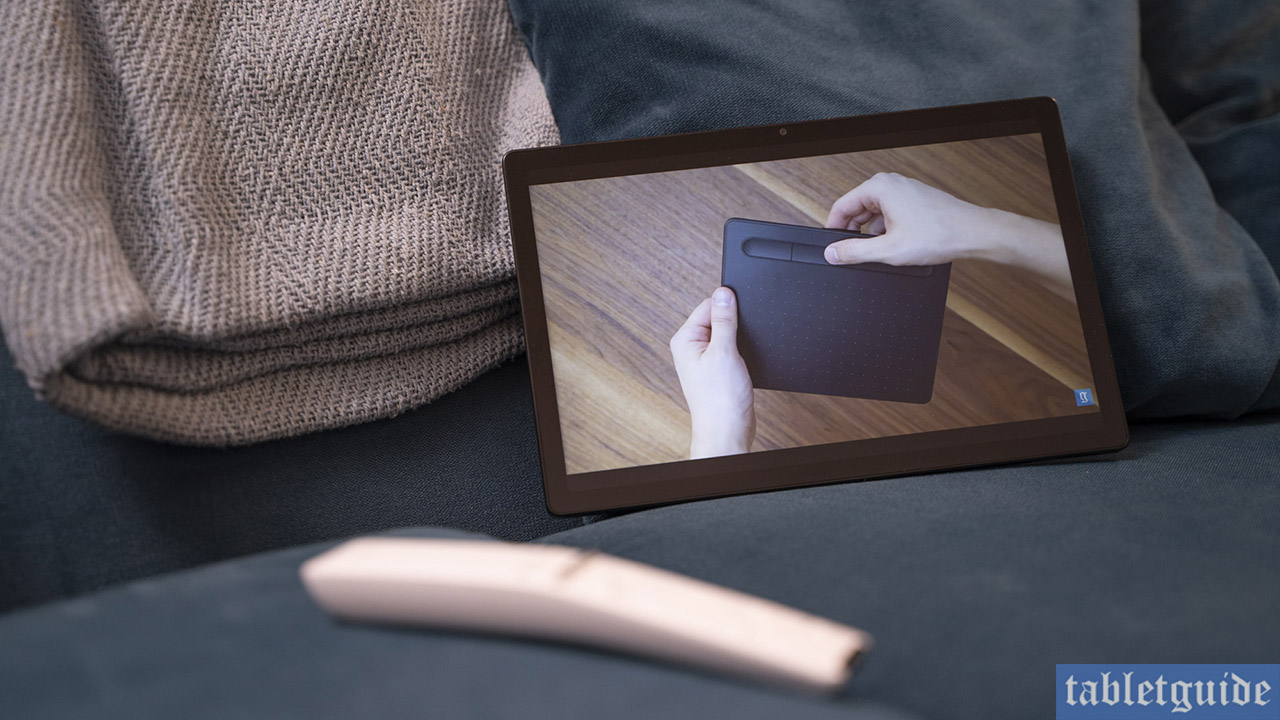 From a narrower 5:3 ratio to a wider 16:10 ratio. Depending on your usage, this could be a big plus. As a media consumption device, primarily streaming videos, the 16:10 ratio is really neat.
The display of the A8 offers a resolution of 1920 x 1200 pixel. It's a classic TFT-LCD panel, Samsungs amazing OLED screens are reserved for their higher priced models. With a max brightness of about 350 nits, it is by far not the brightest screen out there, and unfortunately not really enough to be enjoyable outside on a sunny day.
The colors are nice and not too over-saturated. The contrast ratio is nothing to brag about, but fine regarding the price. The viewing angles, on the other hand, are quite good. There is no PWM (Pulse-Width Modulation) used to regulate the brightness of the screen, so you will never notice any sort of flickering.
Sound Quality
The Galaxy Tab A8 offers four speakers, two on each side. That's quite an impressive number for such an affordable device. The consequence is that the tablet can't just get really loud, but also offers an exceptional sound quality for its price range.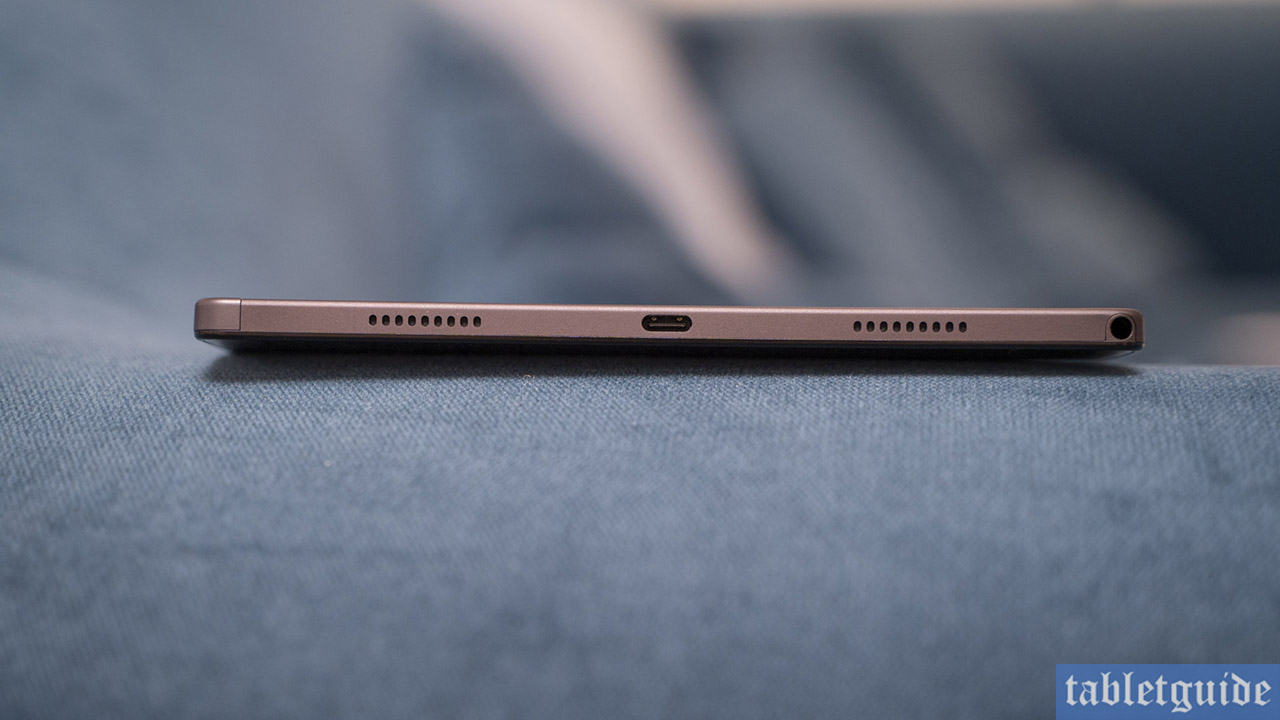 Using four speakers also means, no matter how you hold the tablet, there is no way to accidentally cover up all the speakers at the same time. The tablet really delivers in that regard.
Cameras
There are two cameras on the A8, a 8MP rear camera and a 5MP selfie camera. The rear camera is not very impressive. It doesn't come with a flash, there is no stabilization system and it tends to produce very over sharpened pictures.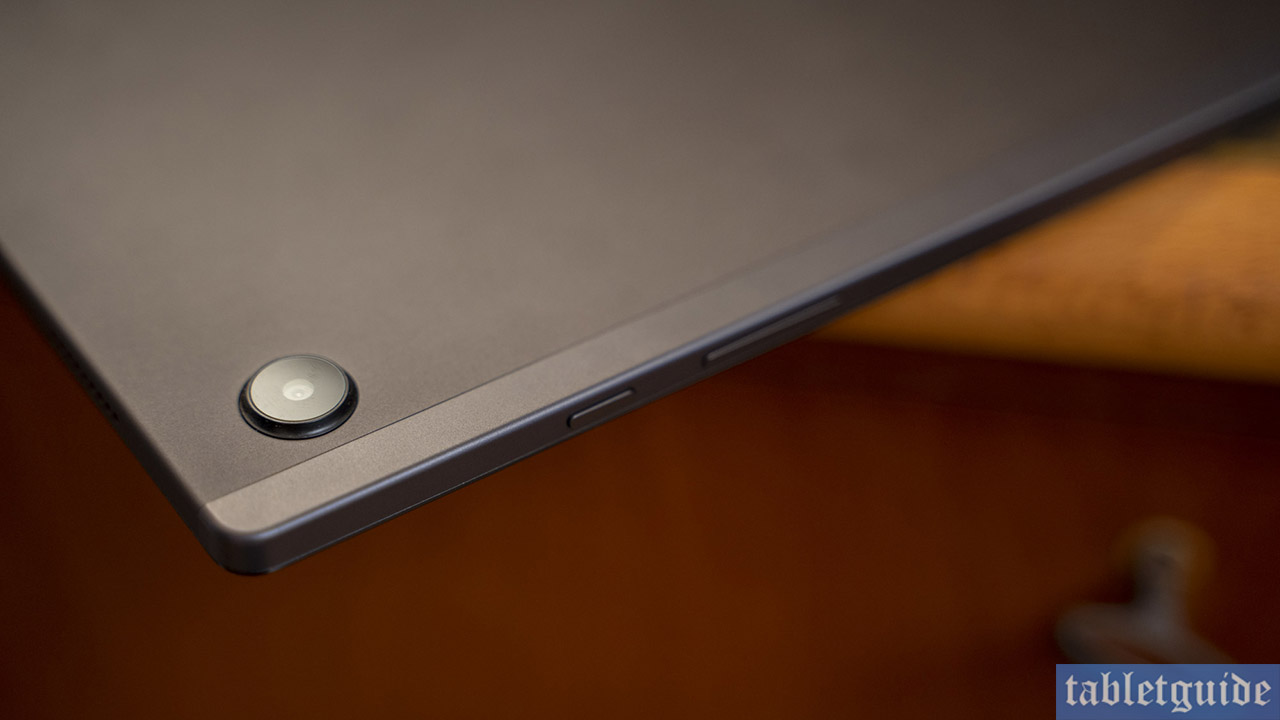 The selfie camera on the other hand is quite good for taking video calls, as the 5MP sensor delivers better video quality than a typical webcam. Just make sure you have a nicely lit location, as it really struggles with dynamic range.
Software
The Galaxy Tab A8 comes with Android 11 pre-installed, the latest security patch level is the first of January, 2022. Like all the Samsung tablets, the A8 also uses One UI, version 3.1 to be exact. When I booted the tablet for the first time, I got a system update straight away, and another one after that.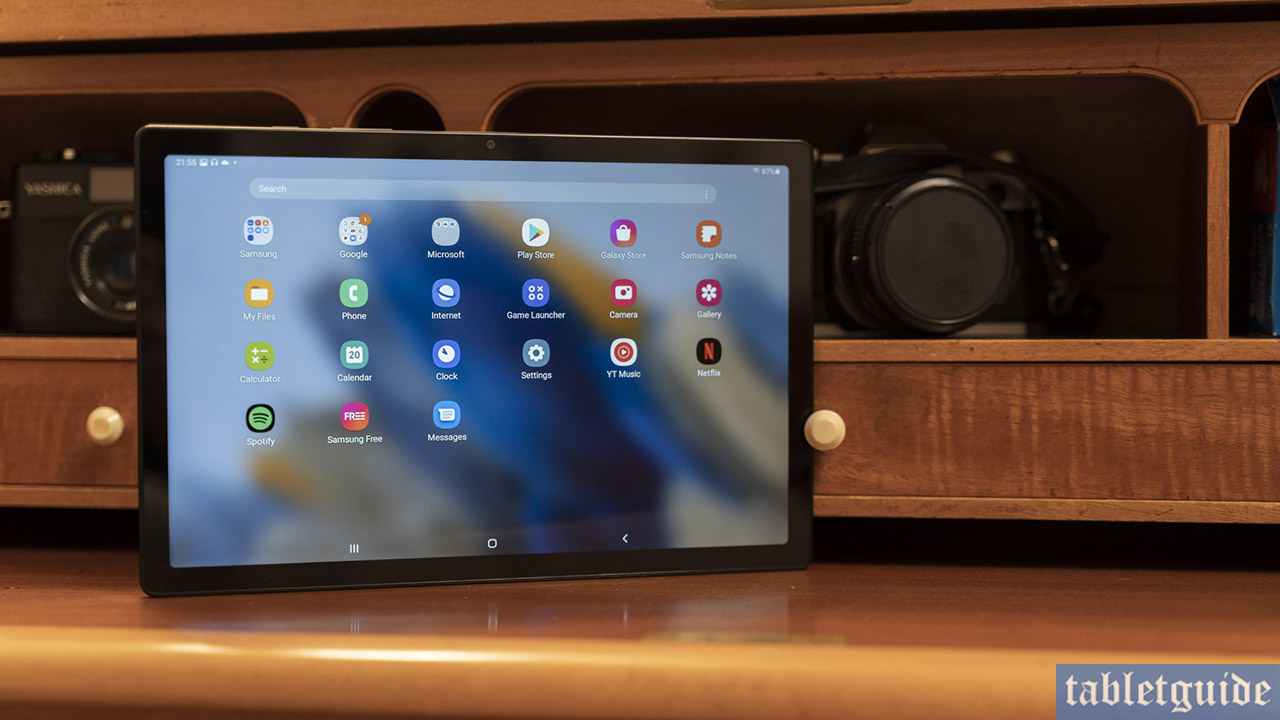 Samsung really improved on providing updates for their low-tier devices in the last couple years. Even the A8 now comes with 3 years of promised updates, which was unheard of for non-flagship devices in the past. That means that the A8 will also get an update to Android 12 and One UI 4.0 in the future.
Performance
The A8 uses the so-called Unisoc T618 SoC. Samsung promised a 10% performance increase compared to the A7, and they delivered. That doesn't seem a lot, but while gaming it definitely helps.
For example, in PUBG Mobile the tablet manages to average 30 fps in the HD preset. One plus point though, the tablet doesn't seem to get uncomfortably hot even after longer gaming sessions.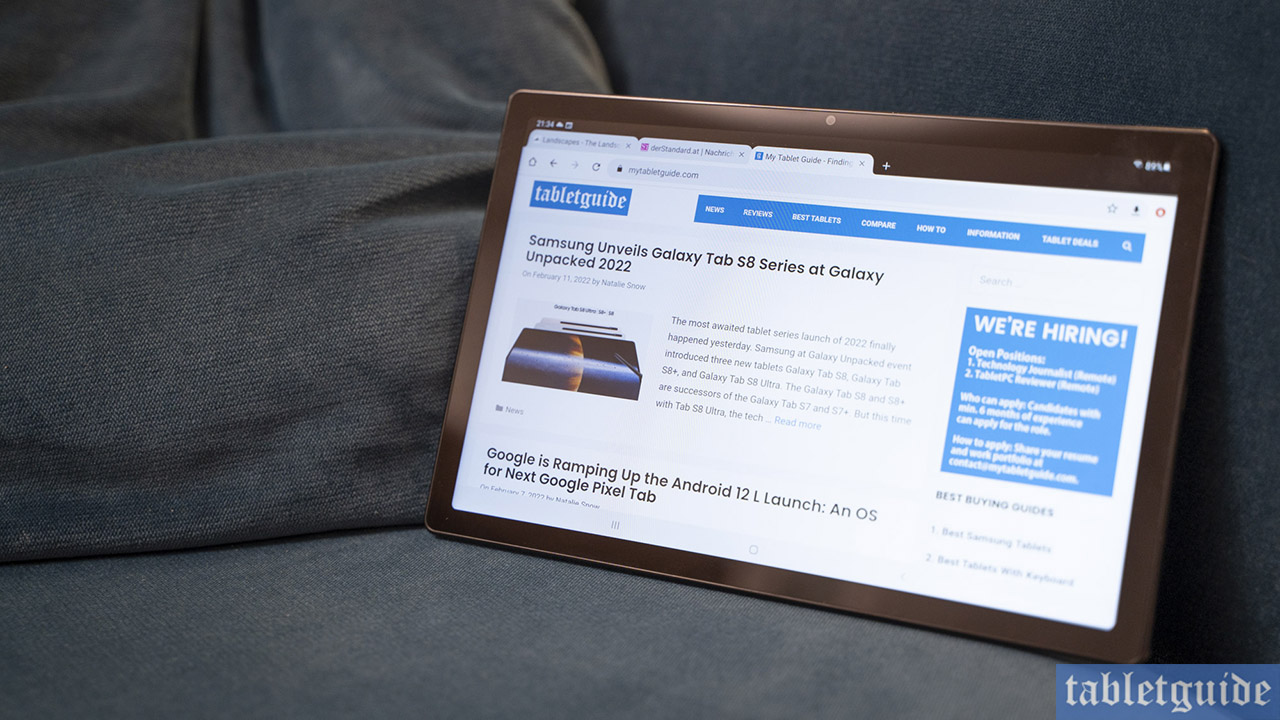 The performance of just using the UI and basic apps is okay. You normally don't encounter any hiccups or lags if you are just browsing the web or watching a movie. After booting up the tablet you do need to wait a few extra seconds till everything runs as smooth as it should.
Sometimes switching from landscape to portrait can take some extra time, or switching from one heavy app to another via multitasking. If you do want to improve on that, we would suggest you go for the 64GB or 128GB model, as it comes with 1GB extra RAM.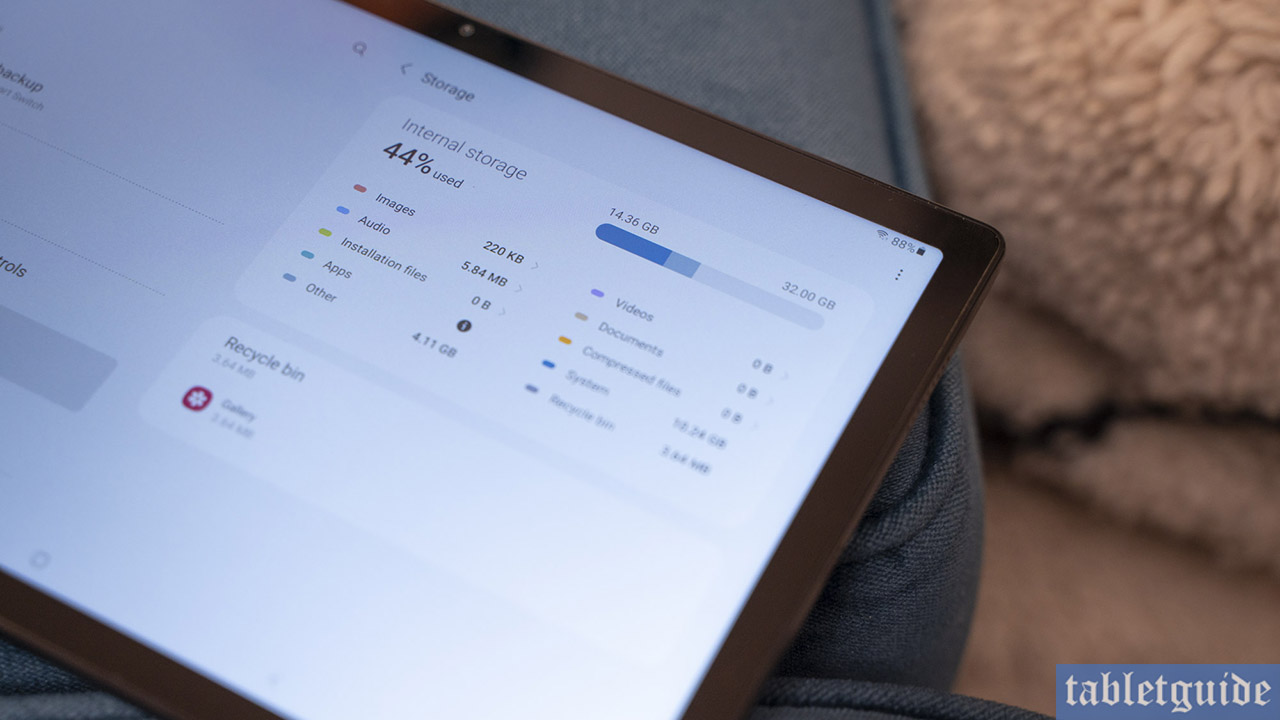 More storage might come in handy anyway, as 32GB is not a lot these days. After installing the two latest system updates, the tablet tells me that 44% of my storage space is already used. But if you want, you also can upgrade your storage via microSD card down the line.
As mentioned before, this tablet is mostly meant as a media consumption device with some light gaming and web surfing on the side, and for that it works well. People who use very demanding apps or games on a regular basis should look elsewhere in the tablet market.
Summary
The model we tested starts at 199$. You get 4 great speakers, a solid build quality, 3 years of update support as well as an okay-ish screen and performance. Sure, the cameras are not great, the multitasking experience could be better and you only get about 16GB of usable storage.
Not a lot of people care about cameras on tablets though, and just want a neat little device to watch their favorite video streams. For 80$ more you get 128GB of storage and 1GB of extra RAM if you really care about storage space.
Either way, if you look at the basic 32GB model, or the more expensive 128GB model, the conclusion is the same: Samsung offers a fair package for the price.