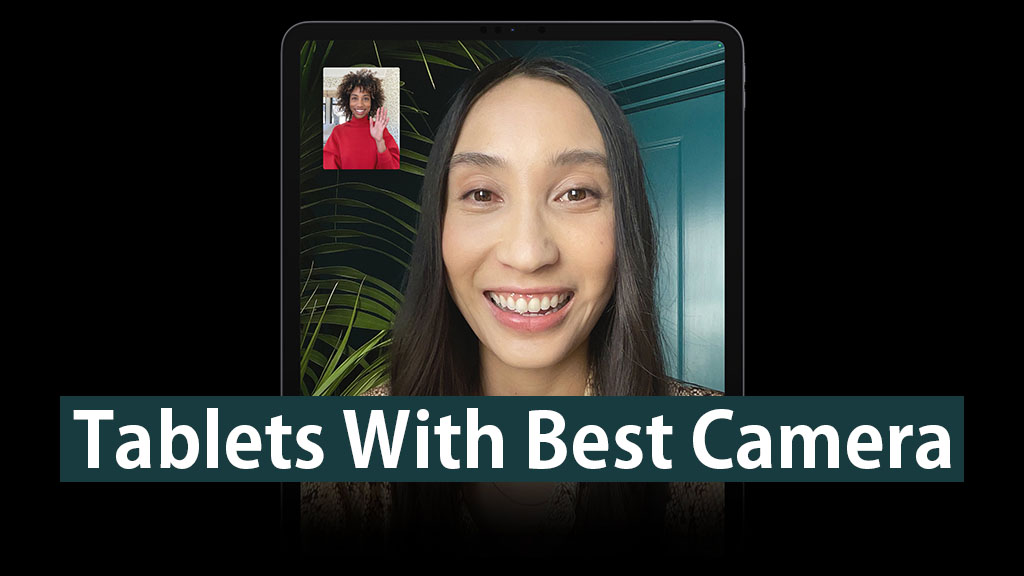 It's true that technology makes human life a lot easier. But before you live that lavish and convenient life, you have to make the right choices or you may end up losing money and suffer from your poor choices. Tablets are the devices that fall in the middle ground between smartphones and laptops. In this article, we have picked up 10 best tablets with camera you should buy in 2021.
There are myriad choices available in the tablet world with different sets of features and specifications. That being said, you need to opt for the tablet which meets your needs the most. We have selected and reviewed tablets with the best camera which will help you to choose one if your primary needs are related to the camera.
Best Tablets With Camera – Top Picks
We have handpicked tablets with stunning cameras just for you so that you can choose the one that meets your needs and the budget. Keep in mind all the factors and consider all of them while you read reviews of tablets. Apple, Huawei, Microsoft, and Samsung brands have the best cameras, and below is the list where you will find what device offers what.
Cameras on tablet devices have very specific use cases. You need them when you want to digitize your handwritten notes, blueprints, or schematics. You would also need them to quickly grab a picture of notes and explanations on the board. They are also required for video-conferencing and nowadays with Augmented Reality (AR) use cases.
The need for good cameras on tablets is very crucial nowadays. So, here are the tablets with best camera in 2021.
1. Apple iPad Pro 2021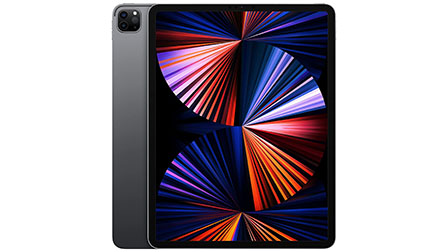 The latest iPad Pro lineup comes with dual-camera setups. The iPad Pro comes with the option of 11 as well as 12.9-inch and is powered by the M1 Chip.
The iPad Pros comes with a 12MP wide-angle camera with f/1.8 aperture and a 10MP ultra-wide-angle camera with f/2.4 aperture with a 125-degrees field of view.
For video recording, the iPad Pro has Optical Image Stabilization (OIS) and offers 4K recording at 24,25 as well as 30FPS on both lenses. Meanwhile, 4K recording at 60FPS is only offered on the primary wide-angle lens.
The camera also offers slo-mo video at up to 240 FPS. Furthermore, the front camera on the iPad Pro is 12MP ultra-wide with 122 degrees field of view.
The iPad Pro also boasts a new feature called 'center-stage' where the front camera of the iPad will automatically keep the subject on the center of the video. This feature also works when multiple people come into the video.
The iPad Pro 11 is available starting at $799, while the iPad Pro 12.9 starts at $1099.
2. Samsung Galaxy Tab S7/S7+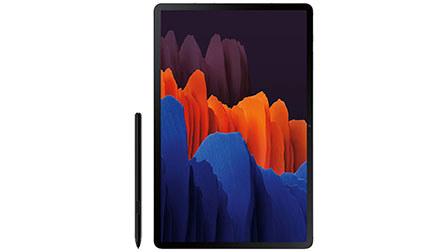 The latest flagship tablets from Samsung boasts 11-inch and 12.4-inch screen sizes while being powered by the Snapdragon 865 Plus.
Both tablets come with a dual-camera array in the rear comprising a 13MP wide-angle f/2 lens and a 5MP ultra-wide-angle f/2.2 lens.
The camera also supports 4K UHD (3840X2160) at 30FPS. The primary ultrawide angle lens is a 13MP Samsung ISOCELL S5K3M5 sensor. The size of the sensor is 1/3.4″.
The front camera is a 5MP ultrawide angle sensor with an f/2.2 aperture. The front camera boasts a wide mode on the app that gives out 8MP output. The front shooter does not have autofocus. The selfie camera does not have 4K support.
The camera app supports scene optimization as well as Night mode on the main camera, while features like Auto HDR and live focus are also there. Furthermore, there is also a Night Hyperlapse mode.
3. Apple iPad Air 4th Gen.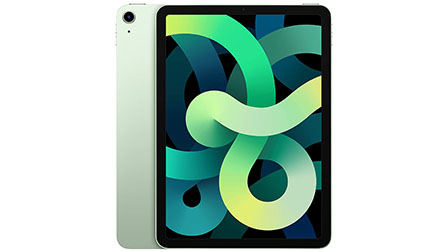 The new iPad Air comes with a 10.9-inch display and is powered by Apple's A14 Bionic chip.
The tablet comes with a 12MP wide-angle camera with an f/1.8 aperture. The camera supports Smart HDR 3 as well as time-lapse video with stabilization.
Meanwhile, the wide-angle sensor offers 4K recording at 24 FPS, 25 FPS as well as 30FPS on both lenses. 4K recording at 60FPS is offered with slo-mo video at up to 240 FPS.
While the Video Stabilization is only supported at 720p and 1080p resolution. This showcases that the iPad Air does not have Optical Image Stabilisation (OIS) and only utilizes Electronic Image Stabilization (EIS).
The front camera is a 7MP f/2.2 aperture sensor with video support for up to 1080p at 60FPS. While the selfie camera also boasts features like exposure control, retina flash, and Smart HDR. This camera does not support continuous autofocus like the rear camera.
4. Apple iPad 10.2 (9th Generation)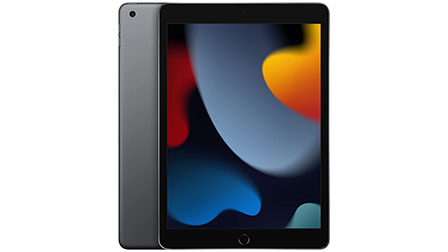 Apple iPads have revolutionized the overall user experience and if you want to indulge in one that can streamline your performance, especially when you are on the go, the Apple iPad 10.2 (9th Generation) is an option worth considering.
This versatile device is powerful and easy to use and enables you to stay connected, all in a value inducing price range.
The device is powered by the latest A13 Bionic chipset for a more responsive performance and browsing experience. It also supports up to 20x better GPU performance for indulging in an immersive gaming experience.
The 10.2" Retina display reflects on clear and interactive visuals, especially with the True Tone technology and adjustable color temperature for a comfortable viewing experience.
Pair that with the 12MP front facing camera for interactive video calls and the 8MP rear camera that capture crisp images and videos.
5. Lenovo Tab P11 Pro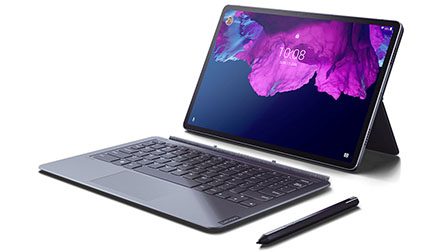 The Lenovo Tab P11 Pro comes with an 11.5-inch display and is powered by the Snapdragon 735G.
The tablet comes with two cameras on the rear with a main 13MP primary lens and a 5MP ultra-wide lens. The rear camera array also comes with a flash. Furthermore, it supports video recording of 1080p with up to 60FPS.
The rear camera array offers auto-focus only on the main 13MP sensor, while the 5MP ultra-wide comes with a fixed focus. The camera also has a document scanning mode which is integrated into the camera UI.
The front camera comes with an 8MP RGB sensor along with an 8MP IR sensor. Both of these sensors do not have auto-focus and offer fixed focus. Furthermore, the "AI Experience Centre" enables the front cameras to blur the background while video-calling on supported apps.
6. Apple iPad Mini (6th Generation)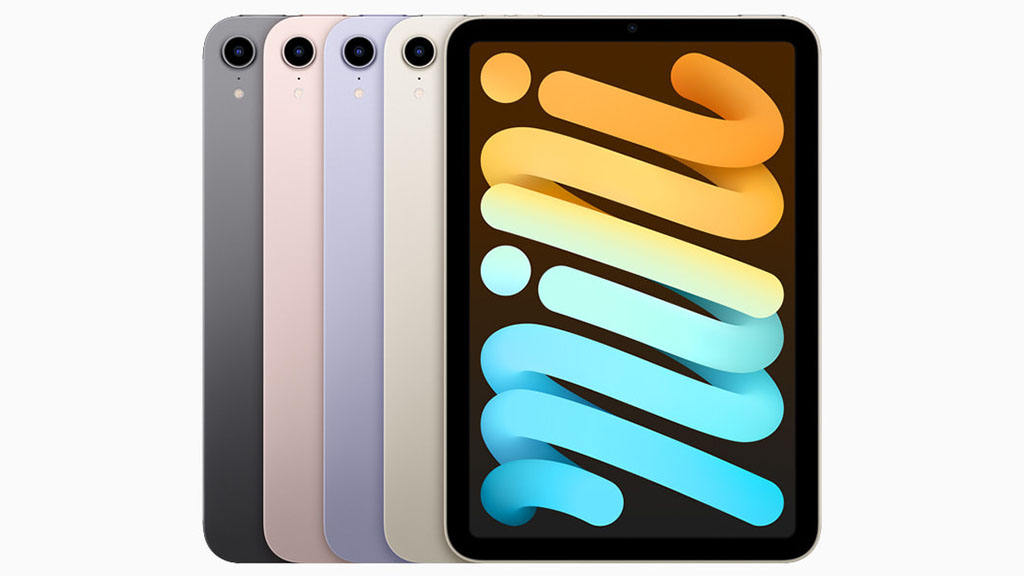 The latest launch in the list of the leading Apple iPads, we have the Apple iPad mini (6th Generation). This one has been nothing short of a breakthrough, enabling you to master the power of versatility in the palm of your hands. The device is available in four different color variants for optimal user experience.
The device is powered by the latest A15 Bionic chip with the 64-bit architecture with the hexa-core CPU configuration.
It is equipped with a compact 8.3" Retina display with multi-touch enabled user experience. The exterior of the display is designed with the fingerprint-resistant oleophobic coating and a fully-laminated display.
As for the camera settings, the device is integrated with a 12MP wide camera with 5x digital zoom for clear capturing of the images and videos. The USB-C fast charging functions are also pretty amazing, especially in terms of the functionalities and all-day productivity.
7. Samsung Galaxy Tab S7 FE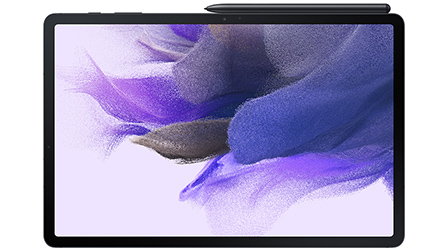 Samsung stands out with their devices and innovation. And, while you are on a quest to find the ultimate tablet with a responsive and optimal camera configuration, the Samsung Galaxy Tab S7 FE is an option you won't regret investing your coins in
The device is compatible with four carrier options at this point including Verizon, AT&T, T Mobile and UScellular.
Moving ahead to the functionalities, the tablet runs on the Android OS and features an expansive 12.4" display that reflects on the visuals and the color reproduction. The device is further available in multiple bold colors for you to choose from.
The device also supports 5G connectivity for superior network connection. It is programmed with an octa-core processor with up to 1TB microSD support.
It features up to 256GB and 8GB storage configuration. The landscape camera is further programmed with 3-mic solution for easier communication and reduce noise disturbance.
8. Samsung Galaxy Tab S6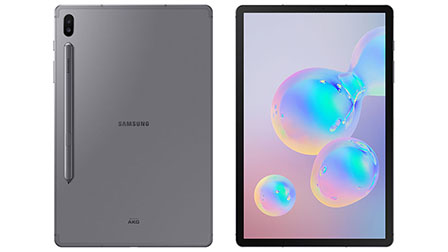 The next up is Samsung Galaxy Tab S6. This stylish tab available in three different colors is the right device that can replace the need for a smartphone, laptop, and a camera.
This tab has got two rear cameras for wide and ultra-wide captures. In fact, it is the first tablet from Samsung having two rear cameras.
Its 13MP rear camera clicks photos with f/2.2 aperture in ultra-wide mode and f/2.0 in wide camera. Both it's wide and the front cam has the live focus feature.
Its 8 Mp front camera is of superior quality that allows you a better video calling experience. Moreover, the Samsung Galaxy Tab S6 has smart AI that helps you click the best-optimized photos. And it also has Adobe Premiere Rush installed for creating studio-quality videos.
An S pen makes it so easy to edit and retouch the image. With 6GB/8GB and 128GB/256 GB storage, Galaxy S6 Tab is a faster and great device to click lots of photos and videos and to store them.
9. Microsoft Surface Pro 8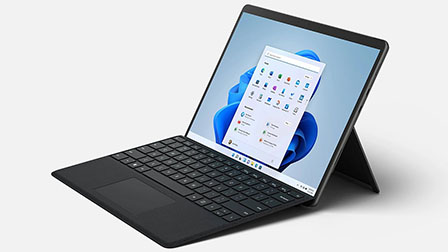 Although primarily a laptop, the Microsoft Surface Pro 8 is a laptop with the flexibility of a tablet for a mobile user experience.
The device has been recently launched and brings users closer to the functionalities of the Microsoft apps with pre-loaded Windows 11 OS.
The lightweight device is designed to enable you to work, play and move around effortlessly.
The device is powered by the latest 11th Gen. Intel core processor with up to 32GB RAM for optimal multitasking experience.
It is also integrated with up to 1TB SSD of storage for faster bootup and effortless app management on the device.
As for the visuals, the Surface Pro 8 is equipped with a 13" PixelSense Flow touch display with 3:2 aspect ratio and 120Hz refresh rate. It also features the efficient 10 point multi-touch feature with Dolby Vision support for optimal visuals.
10. New Microsoft Surface Pro X 2021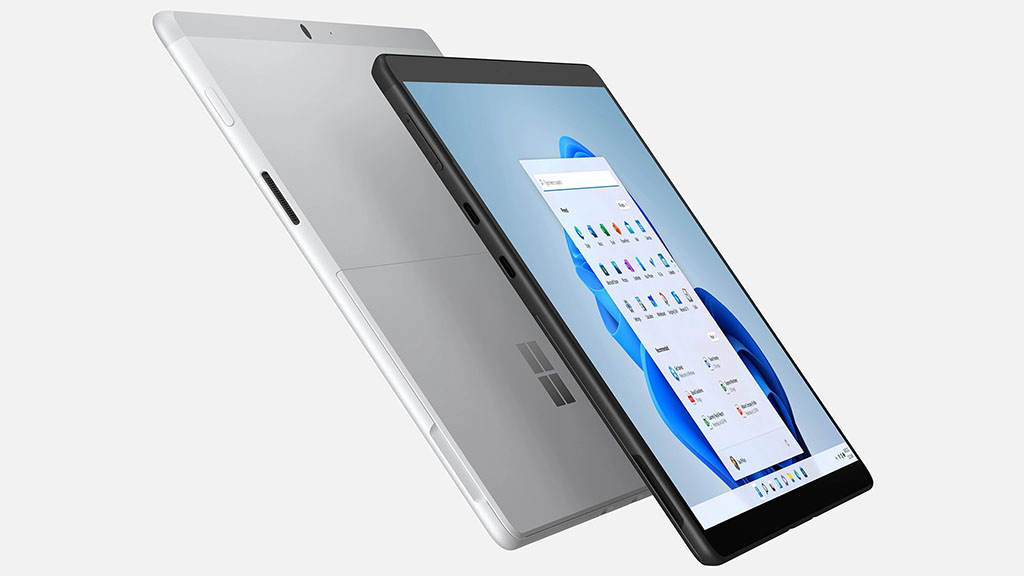 Another latest launch from Microsoft, the New Microsoft Surface Pro X is a new addition to the Windows 11 portfolio.
This is ideal for professionals who are always on the go and need a device that will support their productivity throughout the day. From sketching to editing your videos and content, this device is equipped to support you through all.
The Surface Pro X is powered by the octa-core custom Microsoft processor like that of the Microsoft SQ 2 for unlimited performance without any questions asked.
You also get access to the latest Microsoft 365 apps for superior multitasking and uninterrupted performance. This one is equipped with 16GB RAM and 512GB SSD of storage for optimal bootup and data transfer.
The device is also equipped with a responsive and compact 13" PixelSense touch display with 3:2 aspect ratio and 1920p screen resolution. Besides that, the display also features narrow bezels with 10 point multi-touch visuals for the ultimate user experience.
Related Posts:
What to look for in a Tablet when your preference is Camera and Photos
The reason why you want a better camera in your tab helps you to pick the right device. Because, the better the camera the higher the price will be.
For instance, if you're a student and want a tab with a decent camera because you want to scan documents so often and sometimes to video call your friends, you don't need a high-end device with the super-fast processor. A normal tablet with a scanning feature with a normal camera will do the job.
However, if you're a photographer or a model, you will need a tablet that not only has the superior camera but also the device that can run software like Adobe Photoshop and Adobe Lightroom without being hanged. In addition, the high transfer speed and storage capacity is needed to handle so many photographs and videos.
i. Resolution of Front and Rear Camera
This is the first thing you would want to check in the specification section of the tablet description. Mostly, popular devices come with decent resolution. Nevertheless, the higher the number in megapixel the better the photo quality will be.
ii. Aperture
The aperture of any camera controls the incoming brightness that falls on the image sensor. It is simply represented by the f-number. While varied f-numbers may mean many different things but one of the important and easy-to-understand significance is the depth of field.
With higher f-numbers, the depth of field increases and with lower f-numbers, the depth of field decreases. You might want to go with higher aperture numbers like f/2.0 or f/2.2 but that only is useful when the sensor is of good quality.
You may find higher apertures comparatively in iPads. Therefore, you can get better shots in Apple tablets at a higher aperture number when the device has a better image sensor.
iii. Devices Ability to Run Software
If you're a photographer or a model, you would not rely on your tablet camera primarily. This is because you will have a dedicated DSLR cam for that. But when you're shooting videos and photos at an event and you may need a device that can replace your laptop for editing, selecting, and transferring images and videos.
If you have a high-end tablet that has fast processors, higher RAM, storage capacity, and graphics card, you will be able to load high resolution and large files quickly and choose from thousands of your captures. Moreover, with smart USB C, the transferring speed also becomes super-fast.
While many tabs can transform in a laptop, there are some tablets, like Microsoft Surface series tabs equipped with i7 processors will let you run Photoshop and Lightroom in dull mode. This will eliminate the need for a laptop for sure. In a nutshell, do not miss checking what camera-related software or apps you might need to run on and if the tablet is compatible with those or not.
iv. Some Other Features and Screen
Like Apple iPads provide different modes and equipped with AI, making the camera superior to many other similar tabs, you may want to check all the camera modes. A Samsung Galaxy Tab S6 has a dual rear camera for Wide and Ultra Wide Captures.
The next feature is the quality of mic. If you want a tab for shooting small videos or recording podcasts, the quality of audio matters, and that highly depends on the mic used.
Well, if you're a model or a professional who wants a slate for using it as a portfolio, go with a better display and vivid colors. This will be a plus with a better camera.
Verdict
I hope our top picks have helped you to choose the right tablet with camera. If you have a bigger budget and want a device that can store, process, edits, and clicks photos and videos quite efficiently; Apple iPad Pro is the ultimate tab.
Whereas if you need to click wider photos, Samsung Galaxy Tab S7/S7+ is a great choice. Also, if you're fond of Samsung devices Galaxy Tab S6 and A7 are also a good choice if you don't need to shoot ultra-wide images.
Microsoft Surface tabs are great for office work, attending e-meetings, and video calls. Moreover, you can edit and run some high-end photo editing software on it. But choose the variant with the highest RAM and the best processor available.