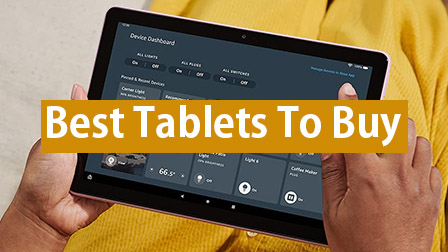 Check out the best tablets of 2021 to buy including iPad, Android, Windows and FireOS tablets.
Over the last year, we have seen some fantastic tablets with hyper-fast processors, unique camera systems, and flawless designs.
The same can be expected for 2021, but we will see many new concepts and technical specifications being added to each tablet.
The tablet marketplace has become more diverse with various options that meet every users' requirement, and the best part will always be affordable price points in every category.
Tablets have proved they are an essential gadget for performing a plethora of productive tasks in any type of environment. This year, we will witness some cool upgrades in Android tablets coming from Samsung, Lenovo, and Microsoft. Many more companies are competing at a high level to meet similar expectations of Apple users.
There will be new and advanced tablets at a very low price point, and they will serve as a reliable alternative for a full-size laptop. Some tablets may come up with a ruggedized version for helping the manufacturing and healthcare industries.
This year, there are no specific limitations so that we can expect multiple products from several tablet manufacturing companies.
Best Tablets 2021
Over the last few years, Apple has dominated the entire industry with its iPad Air and Pro models. But this year, many companies like Microsoft or Samsung are challenging Apple's products by making feature-rich Android tablets.
Tablets are evolving year after year, and they are getting better at overall performance. Some of the latest Android tablets provide great entertainment applications, battery life, and handy tools to be productive and creative.
When a tablet perfects in all those areas, it can easily bridge the gap between a smartphone and a laptop. We've performed extensive research and testing on all the top tablets in the market, and we narrowed it down to the best tablets for 2021. You will find many similarities from last year, but you will be able to find a tablet that meets your expectations and fulfills your purpose.
1. Samsung Galaxy Tab A7 Lite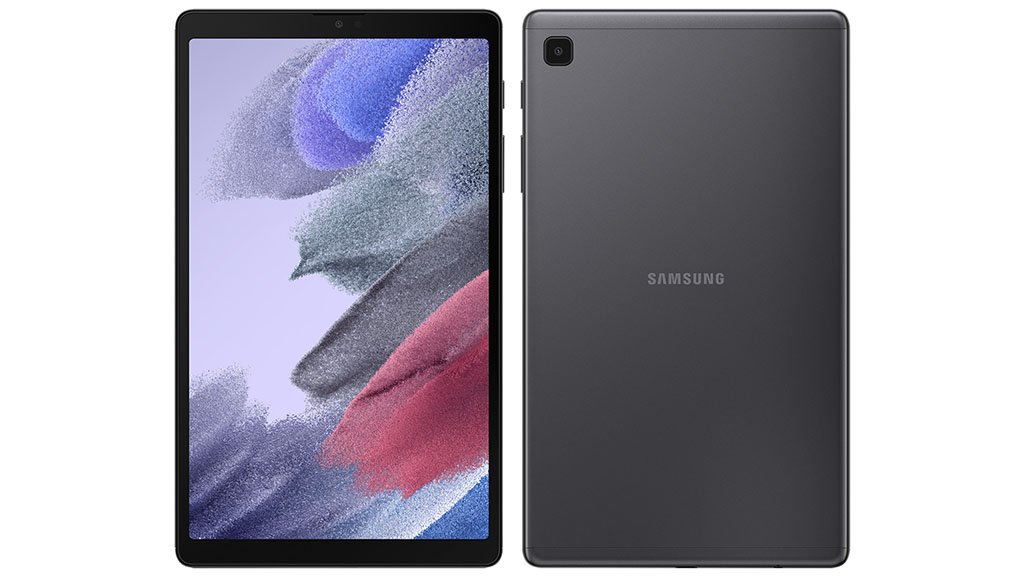 Available on Amazon
Samsung Galaxy Tab A7 Lite is one of the best tablets of 2021. It is the ideal family device that will let you achieve all with its powerful performance and super-easy operation. It comes with an 8.7-inch and sports a slim and handy design that makes it the perfect device for you to carry wherever you go.
It stores immense potential and power within its sleek and sturdy metal frame, which protects it against all types of fall and tear. It also comes with a great-looking book cover that guarantees better protection.
With long-lasting battery life and expandable storage capacity of up to 1TB, enjoy the best and most smooth streaming sessions. One UI lets you establish an easy connection between Galaxy devices. You can get it at the best trade-in price at Samsung stores. The price of Samsung Galaxy Tab A7 Lite starts at $159.99.
2. Apple iPad Pro 2021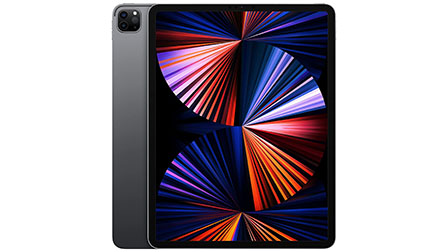 Any list of best tablets will remain incomplete if Apple iPad Pro 2021 is not in it. With prices starting at $949, Apple iPad Pro 2021 is meant for everything magical and magnificent.
It is powered by an Apple M1 chip and promises to offer the fastest and next-level performance. It makes the most of M1 technologies like unified memory architecture and advanced signal processors.
M1 iPad Pro delivers tasks at 5G cellular speed. M1's 8-core CPU makes the device 50% faster and 8-Core GPU makes it 40% faster for graphical presentations.
It comes in two variant screen sizes for you to select from. You can either go for the 12.9-inch variant that supports Liquid retina XDR Display to make everything come to life. Or you can buy the 11-inch iPad Pro that also features Liquid Retina Display.
3. All-new Fire HD 10 2021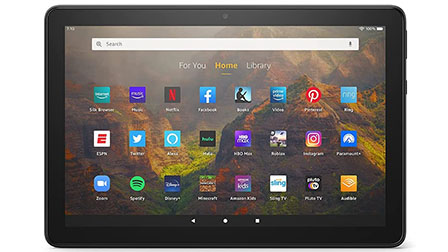 It sports a vibrant 10.1-inch display that supports 1080p Full HD features. It depicts all images and graphics in total brilliance, made possible by more than 2 million pixels that make the brightness 10% better than the previous model.
Watching sessions are made more gripping with superfluous Dolby Atmos audio. It is powered by an efficient octa-core processor, and also supports 3GM RAM.
It is engineered to perform continuously with 12 hours of battery life and easy charging via the USB 2.0 Type-C Port. You can make the most of all the standard and trending apps be it Zoom or Skype or OneNote and notepad. All-new Fire HD 10 tunes with Alexa to perform all your voice commands and also protects your privacy.
4. Apple iPad 10.2 (8th Generation)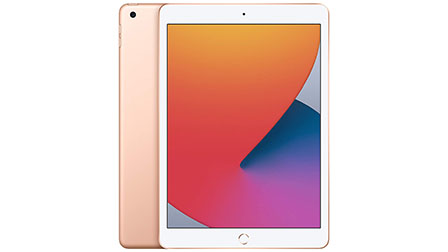 Apple iPad have a more considerable impact on the user experience than any other company in the marketplace.
The 8th gen iPad is a similar product that left an ever-lasting effect on the overall tablet experience. The large LCD retina display has better color accuracy than most tablets, and it also has a longer lifespan.
The A12 Bionic chip is still regarded as one of the most advanced processors on a tablet, so without a doubt, it can elevate gaming and video streaming performance.
The 3GB RAM might seem insufficient for some users, but it is good enough to simultaneously run powerful applications. Optics have no concern at all; the built-in HD camera is perfect for video calls, and the 8MP back camera takes care of shooting epic photos and AR experience. For drawing and sketching, the Apple Pencil is available with higher precision and versatility.
5. Samsung Galaxy Tab A7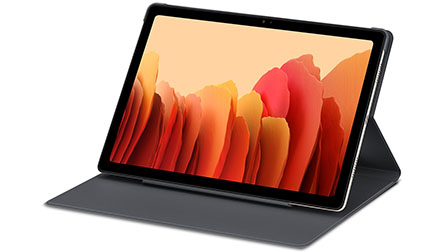 Samsung Galaxy Tab A7 is one of the best budget tablet that comes with a 10.4" display and WUXGA+ resolution.
The Tab A7 is a lightweight tablet with a metal body exterior, and it is highly portable for frequent travelers. Samsung also integrated the Dolby Atmos quad-speaker system to present that immersive cinematic experience to the users.
The display and surround sound take care of your entertainment needs, but you have to rely on the processor when it comes to productivity and overall performance. The Tab A7 comes with an octa-core processor powered by Qualcomm, and based on storage options, you can combine the processor with either 3GB or 4GB RAM.
To download your favorite movies and install games from the app store, Samsung provided two options- 32GB and 64GB internal memory. Being a business-focussed gadget, the Tab A7 has enhanced sharing capabilities to send high-quality photos and videos to nearby smart devices in a flash.
6. Apple iPad Air (4th Generation)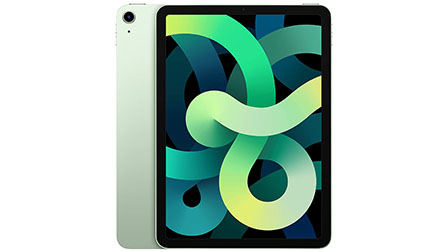 The iPad Air is one of the best Apple products, and it has just got better with a new chipset, design, and wireless compatibilities.
The latest iPad Air and Pro models have many similarities, and some may even argue that iPad Air is a better tablet, as it comes at a reasonable price point. Apple has also rolled out five new colors in the latest model.
With lesser bezels and edge-to-edge screen, Apple has made the iPad even more captivating and enjoyable to watch movies and play games. By adding in the new A14 Bionic, Apple made the Air models a creative studio and a productive powerhouse.
The processor is so unique and advanced that it has increased the GPU and CPU performance by almost 40%. With the Apple Pencil and Magic Keyboard, it is also likely to replace a full-size laptop. The keyboard is more dynamic than a standard PC, and the Pencil 2 can handle note-taking, sketching, and enables users to create a masterpiece.
7. Amazon Fire HD 8
The Fire HD 8 is for all those Amazon enthusiasts looking for a tablet with a limited budget.
It may be too Amazon-centric, but existing users of Alexa and Prime platforms will fall in love with this tablet. Everything about this tablet is surprising because it comes just under 100 Dollars.
Now, you may not get to experience 4K video streaming or high-quality gameplay, but it is good enough to watch movies and read books. The tablet comes with an all-plastic body, which is durable in any work environment. In terms of audio features, the Fire HD 8 has Dolby Atmos and several other music streaming services provided by Amazon.
Prime Music also helps in choosing your favorite albums and artists. The app store for this tablet is diverse, with a variety of games and useful applications. The 8-inch display encourages users to multitask to a certain degree, but it will overheat under heavy loads, so keep that in mind.
8. Microsoft Surface Go 2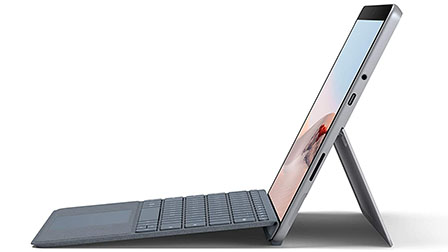 Microsoft Surface Go 2 is a remarkable tablet for everyday performing and several other entertainment purposes.
We have seen significant upgrades in both internal and external specifications that facilitate a better overall user experience in streaming movies and browning the web.
Microsoft is now providing 8GB RAM and SSD storage options to meet modern demands from different types of users. With SSD storage, users can enjoy fast load times and data transfers.
The Surface Go 2 comes with a 10.5" display, and its unique PixelSense technology largely contributes to its color accuracy and viewing angles.
For video calls and online interaction, Samsung put in a 5MP front-facing camera, and the rear-facing 8MP camera can take care of 1080p recording. If you are working outdoors and always want to stay connected, you have nothing to worry about because the Surface Go two is 64% faster than its previous model, and it lasts for almost 10 hours straight.
9. Samsung Galaxy Tab S7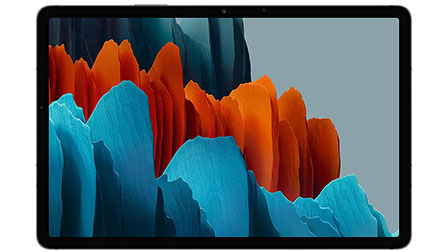 Samsung is the only brand that has produced an Android tablet with iPad level capabilities. The Galaxy Tab S7 is a flagship tablet, and it is the best Android tablet you buy this year.
If you have a budget for a top-rated tablet but can't afford the iPad Pro model, then this is the perfect alternative. The Qualcomm Snapdragon 865 processor and LED display are two critical points for the Galaxy Tab S7.
The 11" display is flawless, and its build has that premium feel and touch. It also supports HDR content, so if you like streaming movies on Netflix and other platforms, then you are in for a treat.
To take care of your gaming hours and multitasking, the Tab S7 comes with 6GB or 8GB RAM, and it is more than enough to play your favorite titles without compromising on graphics and picture quality.
10. Samsung Galaxy Tab S6 Lite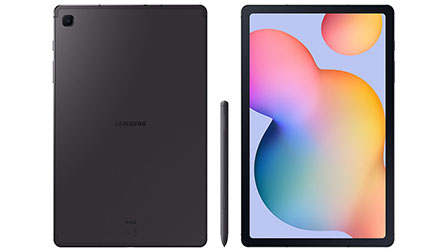 The Tab S6 and S6 lite have almost everything in common, but to lower the price, Samsung had to remove few features.
Even after sacrificing few main features, the S6 lite is still a respectable tablet with mid-level specifications. The S Pen is compatible with this tablet, and it is a huge plus point for artists to get a drawing tablet at such a low price point.
The 10.4" display quality is nowhere near its sibling, but it is good enough to stream movies and play games lag-free. In terms of overall performance and security, users may notice screen stutters, and the absence of a fingerprint sensor makes it inconvenient to unlock the device.
That said, the lite version has excellent speakers, so you can relax and enjoy your popcorn while binge-watching your favorite TV show.
How to select the perfect tablet?
This question might sound simple and straightforward in a way. Still, when you consider different factors such as storage options, portability, and display accuracy, it changes the whole buying process. Every enthusiast must perform detailed research on top-rated products to narrow down to the best tablet for 2021.
Here are few things you can consider:
Purpose
Figuring how you are going to use your tablet can ease the entire process. If you want only to browse the web, check e-mails in the morning, and stream content, then any mid-tier tablet will get the job done.
When you want to have something specific in addition to standard features, then you have to dig deep. For gamers and developers, it is suggested to go with a tablet that provides high processing power. In the case of graphic designers and artists, any two-in-one tablet with an excellent stylus from Apple or Samsung is good enough to meet all types of drawing requirements.
Operating System
There is always a battle between Android and IOS-based tablets, and both ecosystems have different vital points. Apple is pushing the envelope to develop the most advanced on-the-go computing device by putting together the best hardware and software components. On the other hand, Android tablets are still in the optimization phase, and the companies are putting great efforts into making the interface more comfortable for the users.
Key Specs
The specifications are no longer a problem to many users because every company makes the tablets more affordable with the best internal and external specifications. However, when it comes to comparing pills, you must look at key features like processing power or RAM to get in-depth knowledge of its overall performance. Another key differentiator is accessories that a company provides along with their main product line.
Verdict
A tablet should allow users to express themselves with drawing pens and other useful attachments, but what's more important is whether it fulfills the primary purpose. If you are an artist and want to buy a tablet for commissions, you should go with Apple iPad Air, Samsung Tab S7, and S6 lite model.
For business owners and professionals, the main thing that matters is battery life and productivity to go with either Lenovo P11 Pro or Microsoft Go 2. If you have a low budget but want to engage in streaming and playing games, you can explore Amazon tablets.
If you are stuck between extremely expensive Pro models and cheap Android tablets, then the best option for you might be the 4th gen iPad Air. These are just for a reference, so you have to properly align your requirements with the features to get the best suited tablet. Some influential factors are app selection, processing unit, camera system, and design.