Top 10 Best Windows Tablet 2020 For Everyone
Read, write, edit, publish and do more with these Windows 10 tablets
Choosing the best operating system while purchasing a tablet can be daunting. The debate between two major operating system – Android and iOS is never ending, but in the tablet world, a big player is entering the controversy these days- Microsoft Windows. Though Microsoft stepped in the tablet sector late, but it actually gained popularity in no time, beating Android and iOS. Today, you'll find an equal number of Windows tablets as compared to other two operating systems. Many companies are taking the initiative to utilize Windows for their tablet and provide customers something unique and easy-to-go.
Besides, even Microsoft keep itself upgrading from Windows XP to Windows 10 – the journey was amazingly beautiful, giving customers excellent experience with better choices in apps. Presently, Windows 10 is the most common version used among people and it is indeed rated as one of the best versions of Windows so far.
You might be a in a turmoil that to explain so much about Windows tablet when there are such big players- Android and iOS. Well, everything depends on the usage and choice of customer, but I just want to convey that don't exclude Windows tablet from your choice list while shopping.
Why Windows tablets?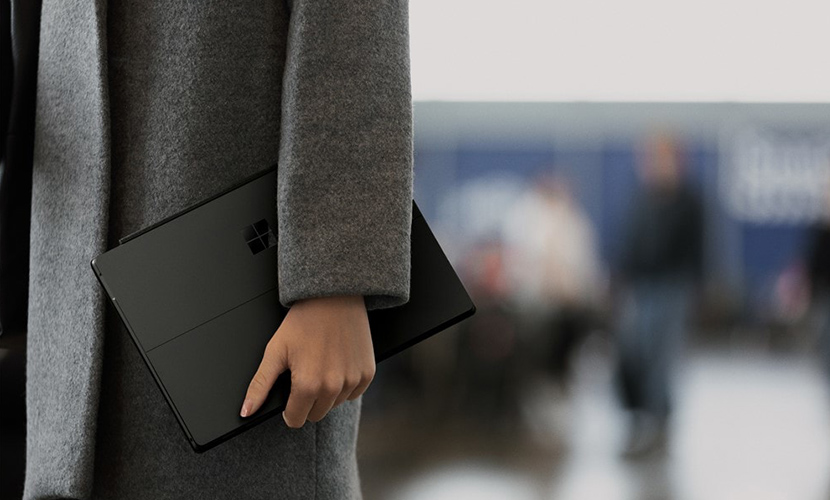 Below I have listed some reasons of choosing Windows tablet over other operating systems, while it may sound weird to others, but who are really fond of Windows would love to know:
i. Provides common experience
A windows tablet will give the common user-experience like you are using your laptop or desktop as today every Windows tablet is powered by latest version of this operating system.
ii. Similar peripherals
You would love this feature if you go for a Windows tablet because the hardware compatibility would be the same as your desktop. This means you can easily connect keyboard and mouse with your tablet as you do with your laptop.
iii. Highly secure and compatible at workplaces
Well, Microsoft is the only choice of entrepreneurs because it completely understands the needs of the businesses and deliver that kind of version, Windows 10 and its pro version is the best example for the same. Microsoft offers great security features to users who are always on go for their business and when you get a tablet giving that accessibility, security and ease, then what could be better.
iv. Wide range of choices
It's not only Microsoft that offers Windows tablet- Surface go, many companies have lined up Windows-based tablet like Acer, Asus, Lenovo, etc. So you are not restricted up to just one company while shopping Windows tablet, you get a variety of companies that offers Windows tablet. And it is rightly said, "Better the options, better the choices".
v. Multitasking
Windows was introduced by Microsoft to give businesses the ability to be multitasking. You can run as many apps as you want at the same time on Windows, which is not possible on iOS, though Android offers multitasking feature, but it's not as efficient as Windows is.
Best Windows Tablets of 2020
As we have checked above the few reasons of choosing a Windows tablets, let's check out the best-in-class and latest Windows tablets below.
1. New Microsoft Surface Pro 7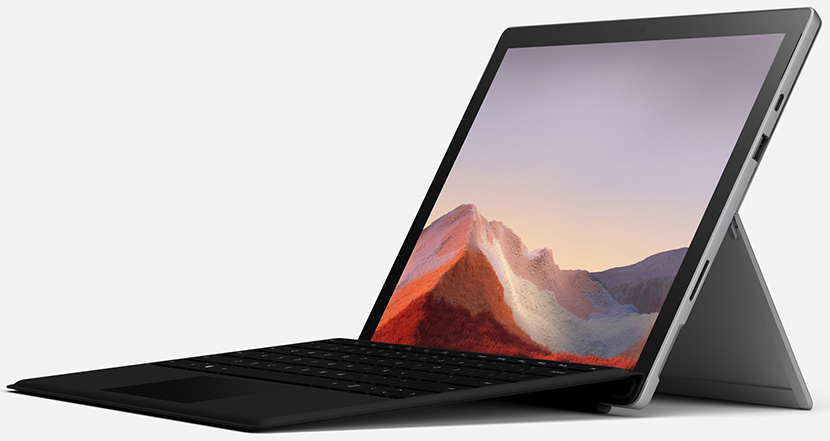 Microsoft always targets business person and launch products that are highly flexible and on the go. Transforming the outdated business premises, Microsoft introduced Surface Pro 7, which is aesthetically designed. The tablet is ultra-light and slim that makes it perfect for on-the-go entrepreneurs. The tablet can also be converted into a PC within a fraction of second. It is not only flexible, but versatile as well along with enhanced connectivity that includes USB-C and USB-A ports. Its kickstand and removable surface signature cover enable you to convert the tablet into a desktop. The tablet is 12.3" in size with a full-touch screen display that naturally adjusts itself to lighting conditions.
Surface Pro 7 Specs
Processor
10th Gen. Intel Core i3-1005G1, Core i5-1035G4 or Core i7-1065G7
RAM
4GB, 8GB or 16GB LPDDR4x
Display
12.3" (2736 x 1824) 267PPI PixelSense
Graphics
Core i3 Model: Intel UHD
Core i5, i7 Model: Intel Iris Plus
Storage
128GB to 1TB SSD Options
Camera
Front: 5MP | Rear: 8MP
Weight
(Without Type Cover)
Core i3, i5 Model: 1.70 lb
Core i7 Model: 1.74 lb
USB Ports
USB-C and USB-A
Battery
Up to 10.5hrs
OS
Windows 10 Home
Price
Starting from $749 | Check on Amazon
The tablet can be available to you in three RAM options, which is 4GB, 8GB, and 16GB along with storage of 128GB, 256GB, 512GB or 1TB. Therefore, the tablet is nothing less than a laptop. The powerful processor and improved graphics makes Microsoft Surface Pro 7 one-of-a-kind. The dual-core 10th generation processor is available in i3, i5, and i7 choices. And the operating system is none other than Windows 10, which makes sure the user-interface will be quite interactive. The battery life of the tablet lasts up to 10.5 hours.
2. New Microsoft Surface Pro X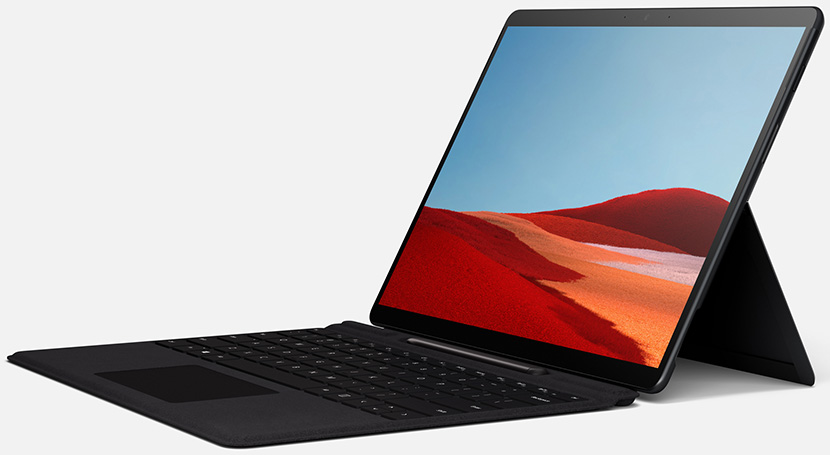 Microsoft Surface Pro X is another flagship product of Microsoft that is quite appealing to eyes. Surface Pro X is also ultra-slim and lightweight, which makes it quite flexible and perfect for on the go business persons. However, the tablet differs in size as compared to Surface Pro 7 as it boasts 13" screen, which is virtually edge-to-edge along with the automatic light adjusting feature. The tablet is 2-in-1 as you can instantly convert it into a PC with its kickstand and removable surface signature cover. The connectivity of the tablet is improved than previous versions, providing 2 portable ports for the users.
| | Surface Pro X Specs |
| --- | --- |
| Processor | Microsoft SQ1 |
| RAM | 8GB or 16GB LPDDR4x |
| Display | 13" (2880 x 1920) 267PPI 450nits PixelSense |
| Graphics | Microsoft SQ1 Adreno 685 |
| Storage | 128GB to 512GB SSD Options |
| Camera | Front: 5MP | Rear: 10MP |
| Weight (Without Type Cover) | 1.7 lb |
| USB Ports | 2 x USB-C |
| Battery | Up to 13hrs |
| OS | Windows 10 Home |
| Price | Starting from $999 | Check on Amazon |
The tablet provides 8GB and 16GB RAM along with 128GB, 256GB or 512GB storage capabilities. The all-new Microsoft Surface Pro X is equipped with Microsoft SQ1 processor, which is the newly launched processor by this brand. The efficiency of this processor matches to the Intel Core i7 or a bit more powerful than this. The tablet will be a significant choice if you're always on the go and want something that works as a PC for you. The battery life of Microsoft Surface Pro X lasts up to 13 hours.
3. Microsoft Surface Pro 6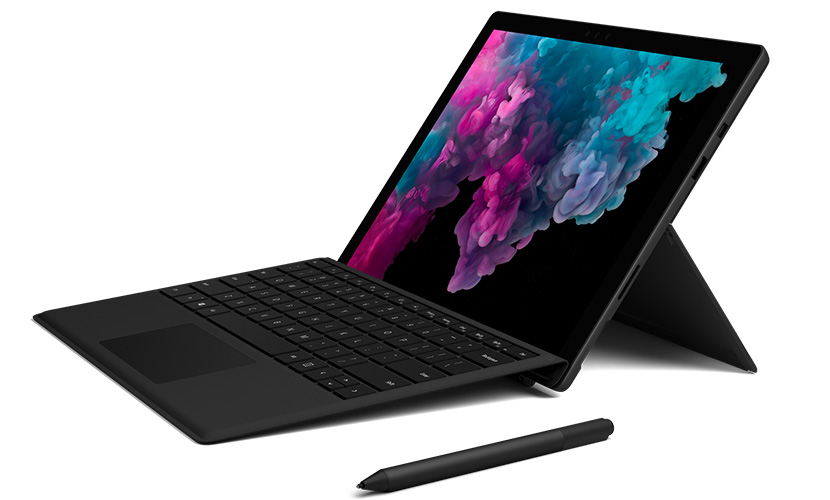 Microsoft Surface Pro 6 has 12.3" display with an amazing resolution of 2736 x 1824 and 10 point multi-touch. This Windows tablet is extremely lightweight just 1.70lbs and sleek available in two bold colors New Matte Black or Platinum. More so, the tablet enables you with greater flexibility, allowing you to convert this device into a laptop, studio mode or a tablet as per your choice. It has built-in kickstand that gives you so much accessibility to convert this tablet as per your convenience and mood.
Surface Pro 6 Specs
Processor
Intel Core i5-8250U
Intel Core i5-8350U (For Business Only)
Intel Core i7-8650U
Graphics
Intel UHD 620
Display
12.3" (2736 x 1824) 267 PPI PixelSense
RAM
8GB or 16GB
Storage (SSD)
128GB, 256GB, 512GB or 1TB
Camera
Front: 5MP (1080P HD Skype Video)
Rear: 8MP (1080P FHD Video)
Weight
Core-i5 Model: 1.70 lbs
Core-i7 Model: 1.73 lbs
Dimensions
11.5" x 7.9" x 0.33"
Battery
Up to 13.5 hours
Operating System
Windows 10 Home
Windows 10 Pro (For Business)
Price
Starting from $799 | Surface Pro 6 on Amazon

The tablet is packed with 8th gen Intel core processor that boosts the overall performance of the tablet efficiently. Besides, Microsoft Surface Pro 6 offers RAM options, which is 8GB and 16GB along with storage capabilities, starting from 128GB, to 256GB to 1TB. We can say that the tablet is blockbuster in the market, beating Android and iOS with a great option of storage and RAM. Surface Pro 6 is highly durable in terms of battery; it can run straight up to 13.5 hours with continuous usage of internet or while watching videos, movies, etc., without any hassle.
Powered by Windows 10, Microsoft Surface Pro 6 can be a handy and most lovable tablet, whether you are on the go or at the comfort of your home.
4. Fusion5 FWIN232 Windows 10 Tablet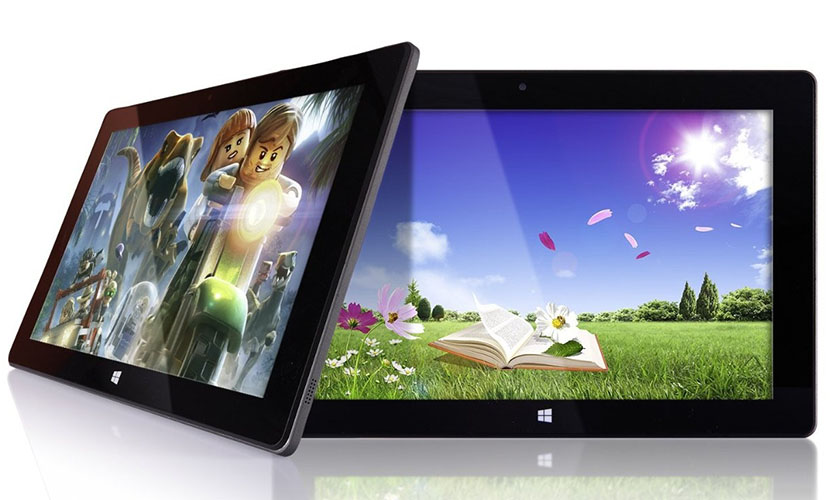 The featured tablet from Fusion5 offers unique and sensible approach for the product rather than merely providing information. Being slim and stylish, the tablet captured the attention of everyone that sets an eye on the gadget. What adds in its perfect configuration is the fact that it comes with Windows 10 package that makes the work super easy and ultra-fun.
With 2GB of RAM, the makers have made it to deliver quality services by all means. What is more is its 10 inch screen that gives the autonomy to the users to make the most of it. Be it shows on Netflix or videos on YouTube or playing games, users are sure to have remarkable viewing experience.
Apart from this, with the power of Intel Quad-core processor, the device is going to be a hit in every manner. All the specifications and features are laudable. From the utility point of view, Fusion5 FWIN232 is one of the gadgets that come in the category of second to none equipments. So that users can rest assured about everything, they also get 12 months of warranty through and through. Last but not least, the device offers 5MP rear camera with amazing clarity.
5. Microsoft Surface Go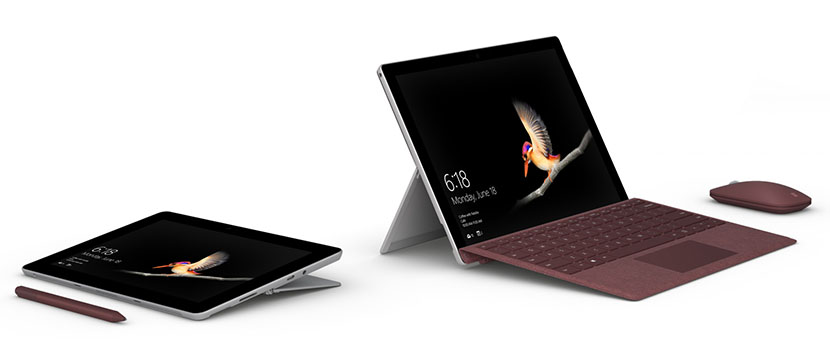 Microsoft Surface Go is one of the finest inventions of Microsoft in the tablet sector so far. Soon after the release of the Surface Go, it became top selling tablet in the market instantly. The 10" Surface Go is very handy and lightweight, just 1.15lbs that smoothly fits in your bag. This 4G-enabled ultra portable tablet is very beautiful and elegant in appearance.
Surface Go Specs
Processor
Intel Pentium Gold 4415Y
Graphics
Intel HD 615
Display
10" (1800x 1200) 217 PPI PixelSense
RAM
4GB or 8GB
Storage
64GB eMMC or 128GB SSD
Camera
Front: 5MP (1080P HD Skype Video)
Rear: 8MP (1080P FHD Video)
Weight (Without Type Cover)
Wi-Fi Model: Starts at 1.15lbs
LTE Advanced Model: Starts at 1.17lbs
Dimensions
9.65" x 6.90" x 0.33"
Battery
Up to 9hrs
Operating System
Windows 10 Home in S Mode
Windows 10 Pro (For Business)
Price
Starting from $399 | Surface Go on Amazon
Microsoft Surface Go offers 4GB RAM, but gives two choices when it comes to storage i.e., 64GB and 128GB, enabling you to work efficiently without any hassle. More so, Surface Go is packed with Intel Gold processor 4415Y, giving you ultimate performance while using the tablet and making user-experience unforgettable. You can easily connect with your family and friends with this handy tablet as it offers amazing rear and front facing camera that gives you better quality. The tablet runs on Windows 10 and you can upgrade it to Windows 10 Pro, enjoying all the pre-installed apps by Microsoft.
Featuring common feature like Wi-Fi, Bluetooth, sensors, etc., Surface Go gives you a battery backup of 9hours with continuous browsing, downloading and uploading that makes this tablet most wanted. You don't have to worry about the battery and take pleasure in your favorite shows or movies without thinking much.
6. Lenovo ThinkPad X1 Tablet (3rd Gen)

Lenovo has always been a top choice among businesses when it comes to purchasing a laptop. But it actually showed a good interest in the tablet sector and came up with Lenovo ThinkPad X1, aiming business owners or employees that are always on the go. This 13" tablet with edge-to-edge screen captured the attention of users in no time. Lenovo ThinkPad X1 is 2-in-1 tablet, weighing just 3 pounds with full touch screen, enabling users to read anything on the screen easily. The tablet is very strong, protecting you from spills and drops. Lenovo ThinkPad X1 is dust-resistance and equipped with Corning Gorilla glasses that protects the screen of the tablet.
Lenovo ThinkPad X1 (3r Gen.) Specs
Processor
Up to Intel Core i7-8650U (1.90GHz - 4.20GHz)
Graphics
Intel UHD 620
Display
13" (3000 x 2000) QHD+
RAM
Up to 16GB LPDDR3
Storage (SSD)
Up to 1TB PCIe
Camera
Front: 2MP
Rear: 8MP
Weight
1.69lbs (Without Keyboard)
Dimensions
11.96" x 8.88" x 0.35"
Battery
42Whr (Up to 9.5hrs)
Operating System
Windows 10 Home or Pro
Price
Check on Amazon
Lenovo ThinkPad X1 also offers a pen, which make things simpler for the users like signing documents, taking notes, etc. The device is Thunderbolt 3-enabled that means the tablet works very and efficiently when connected with another device through USB. However, the battery life offered ThinkPad X1 tablet is 9.5 hours comparatively more than Microsoft Surface Go.
Running on Windows 10, the tablet is packed with 8th Gen Intel core processor along with 16GB of RAM and 1TB storage, making it more of a laptop.
7. Lenovo Miix 630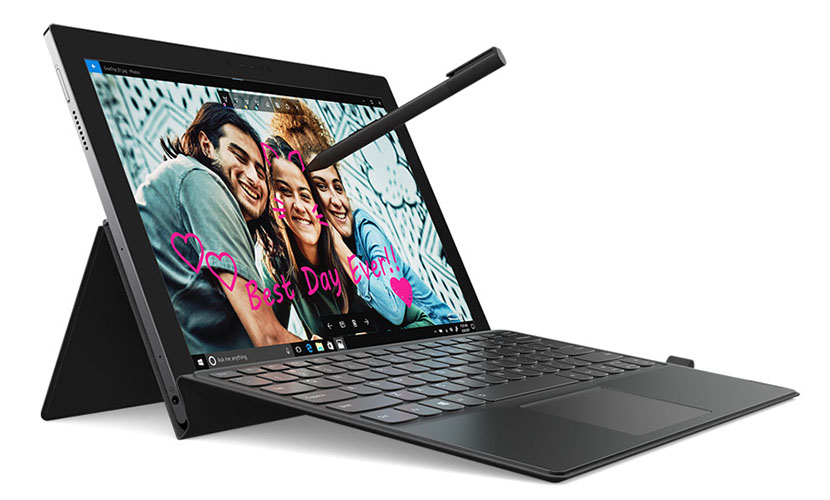 Lenovo Miix 630 is an ultimate and supreme tablet by Lenovo that runs on Windows 10, offering exciting features to the users. The 12.3" Full HD display of the tablet with a resolution of 1920 x 1280 cut off Lenovo Miix 630 tablet from others in the market, making it purely unique. The tablet is very handy and can be converted into a PC within seconds, depending upon the usage of the customer or convenience. Featuring Qualcomm Snapdragon processor, Lenovo Miix 630 is very powerful in terms of performance enabled with 4G.
Lenovo Miix 630 Specs
Processor
Qualcomm Snapdragon 835
Graphics
Qualcomm Adreno 540 (Integrated)
Display
12.3" (1920 x 1280) FHD+ IPS 400nits
RAM
4GB LPDDR4
Storage
128GB UFS2.1
Camera
Front: 5MP
Rear: 13MP With Auto-Focus
Weight
3.1lbs (Without Keyboard)
Dimensions
8.23" x 11.54" x 0.29"
Battery
48Whr (Up to 20hrs)
Operating System
Windows 10 S
Price
Check on Amazon
Lenovo Miix 630 also offers a pen that enhances your writing, drawing and scribbling capabilities, making more productive. With a 4GB RAM and 128GB storage, Lenovo Miix 630 has just nailed it in every aspect whether it is fast performance, or efficiency. The tablet runs on Windows 10, giving users a friendly interface and some pre-installed apps.
The epic part in Lenovo Miix 630 is the battery life! Well, Lenovo Miix 630 offers a battery life up to 20 hours straightaway. You don't have to bother at all about the batter of the tablet and browse or watch your favorite shows or videos stress-free.
8. CHUWI UBook Pro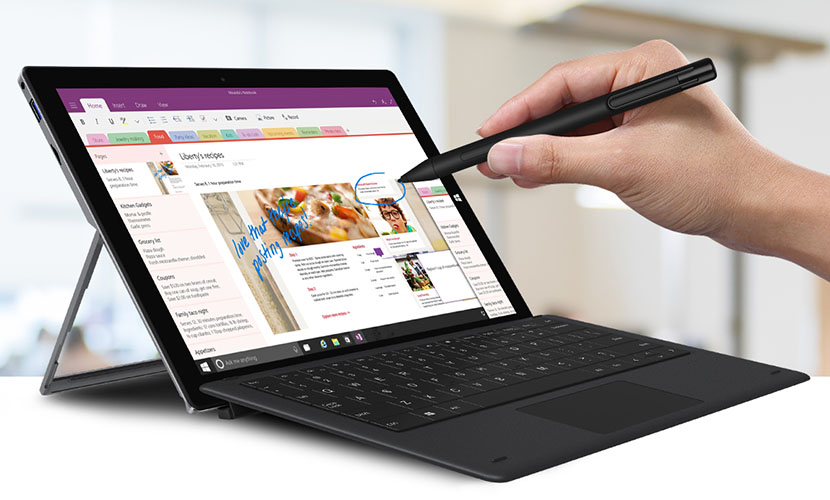 It is a common knowledge that this is a techno-savvy world and having gadgets are quite pivotal in everyone's life. From computers to laptops to tablets, the world is expanding quite swiftly. Shedding light on various tablets that are making the difference, one of the best options available in the market is CHUWI UBook Pro.
The device has won various compliments for its design that is really amazing. Thanks to U-shaped kickstand design, the tablet can be used for different scenario needs easily. Furthermore, 12.3 Inch IPS fully laminated display is what greets the users with fantastic visual experience.
When it comes to technicalities, the device has got Intel Core N4100 processor. Getting the adequate efficacy from Intel Gemini Lake quad-core processor, the gadget can offer a turbo frequency of up to 3.4GHz. All the daily tasks can be easily accomplished with its features that improve the productivity greatly.
Quick processing and great space are the properties of the gadget. One gets 8GB LPDDR3 RAM and 256GB SSD hard drive that can easily keep a great deal of data. Eventually, it's ultra-slim with 9mm of thickness and weighs just 780g. All this is offered by the gimmick, which makes it worth spending for.
9. Teclast X6 Pro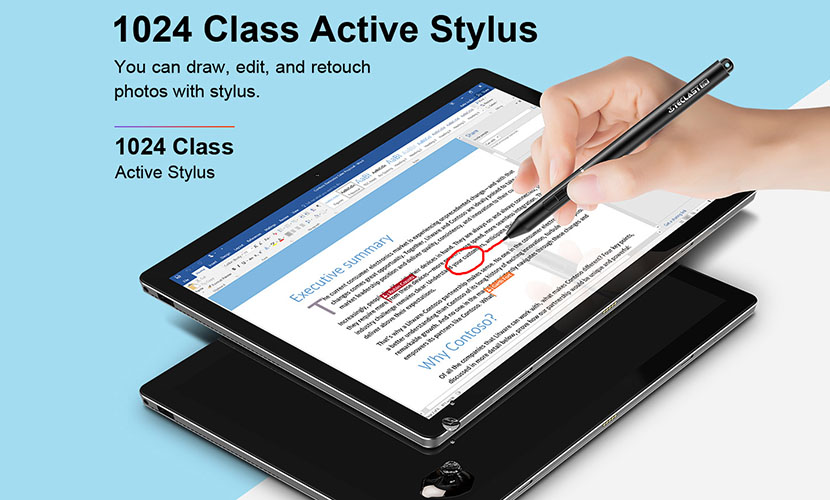 Teclast X6 Pro is known of its sleekness and slimness. Teclast X6 Pro has 12.6" IPS display, giving a resolution of 2880 x 1920 that makes the viewing experience of the user unforgettable. It gives brighter, sharper and clearer picture quality with HD graphics. The tablet is 8.5mm thick and is extremely lightweight- 860g that allow this tablet to fit in your sling bag and be always on the go.
Teclast X6 Pro Specs
Processor
Intel Core M3-7Y30
Graphics
Intel UHD 615
Display
12.6" (2880 x 1920) 3K IPS 275 PPI
RAM
8GB
Storage
256GB SSD
Camera
Front: 2MP
Rear: 5MP
Weight
1.9lbs
Dimensions
11.81" x 8.27" x 0.35"
Battery
5000mAh
Operating System
Windows 10 Home
Price
Starting from $499 | Teclast X6 Pro on AliExpress
Teclast X6 Pro is promoted with a tag line "Tablet outside, laptop inside" because the configuration of this unique tablet is more of a laptop. Teclast X6 Pro is equipped with Intel M core processor, coupled with 8GB RAM and 256GB ROM, giving you impeccable user-experience without haggling. Now you can be a multitasking person with X6 Pro and accomplish all your tasks in a few clicks. The tablet runs of Windows 10 that is packed with Cortana who enable you to have a hands-free day as she'll be your personal digital assistant.
X6 pro also offers powerful stylus, which allows you to draw, write and retouch photos without any hassle. It provides you with 135 degree kickstand that enables you to convert the tablet into a laptop and work seamlessly.
10. CHUWI Hi10 Air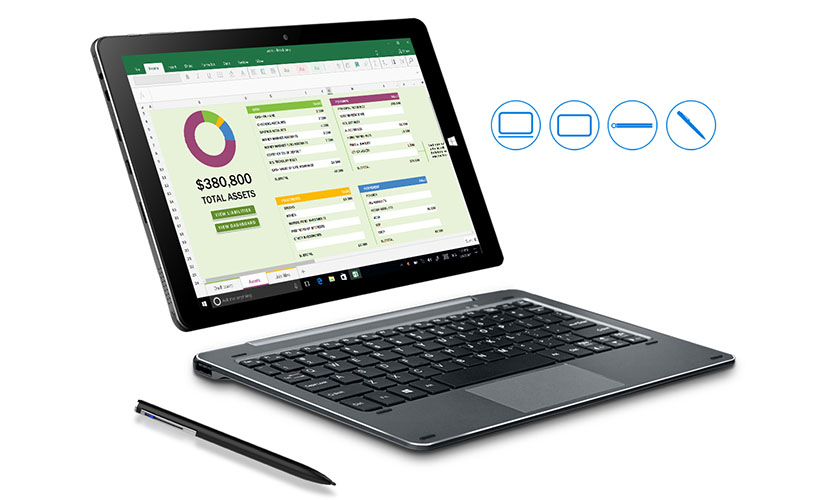 CHUWI Hi10 Air is the next generation tablet that is manufactured with full metallic body, which makes the tablet solid. It includes 10.1" Full HD display along with OGS technology that reduces the air refraction between TP and glass dramatically, giving you remarkable picture quality. CHUWI also offers a soft keyboard that can be connected with docket, enabling you to convert the tablet into a laptop instantly. More so, you'll be Hipen H2 stylus as well that boosts your creativity and productivity.
CHUWI Hi10 Air Specs
Processor
Intel X5 Z8350 Quad-Core
Graphics
Intel HD Gen8
Display
10.1" (1200 x 1920) IPS
RAM
4GB
Storage
64GB
Camera
Front: 2MP
Rear: 2MP
Weight
1.15lbs
Dimensions
10.3" x 6.59" x 0.35"
Battery
6500mAh
Operating System
Windows 10
Price
Starting from $169 | CHUWI Hi10 Air on Amazon
Featuring metallic body, the tablet is 8.5mm thinner with a 562g of weight that makes CHUWI Hi10 Air absolutely lightweight and sleeker. The tablet is equipped with Cherry Trail CPU and Gen 8 HD graphics that boosts your overall performance and enhances your gaming experience while using this dynamic piece. Besides robust chipset, CHUWI Hi10 Air offers 4GB RAM and 64GB ROM, giving you more efficiency.
The tablet also provides you with super fast charging capabilities that charges your tablet in just 3 hours.
The End Note
Today, many people are only sifting through Android tablets and iPad, but I would recommend don't just kick out Windows from the list. As from the above-mentioned reasons and the top Windows tablet in the market list, you can see the difference that Microsoft has brought so far. It's not that if you are a homey- means you cannot buy a Windows tablet, no, the scenario is completely different! You can pick the home like tablets from the above list along with kid's mode choice to protect your kids from any unethical thing. More so, you can use any of these tablets as a true replacement to your laptop and enjoy the immense flexibility provided by a tablet.
If you are looking for something unique, besides what Android and iPad have to offer you, look further than Windows tablet- highly efficient and reasonable comparatively. According to sources, Microsoft is at the edge of evolving itself from the entire previous versions and hit the market with something unique and new concerning its operating system Windows. You can enjoy with any of the above Windows tablet that too at great price and upgrade the tablet without any hassle.