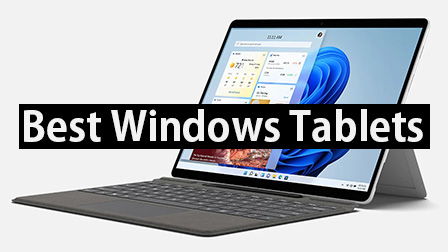 Windows tablets are ideal for on-the-go productivity and business use as it comes with lots of useful apps like Microsoft Office.
Choosing the best operating system while purchasing a tablet can be daunting.
The debate between two major operating system – Android and iPadOS is never ending, but in the tablet world, a big player is entering the controversy these days – Microsoft Windows.
Though Microsoft stepped in the tablet sector late, but it actually gained popularity in no time, beating Android and iPadOS.
Today, you'll find an equal number of Windows tablets as compared to other two operating systems. Many companies are taking the initiative to utilize Windows for their tablet and provide customers something unique and easy-to-go.
Besides, even Microsoft keep itself upgrading from Windows XP to Windows 11 – the journey was amazingly beautiful, giving customers excellent experience with better choices in apps.
Presently, Windows 11 is the most common version used among people and it is indeed rated as one of the best versions of Windows so far.
You might be a in a turmoil that to explain so much about Windows tablet when there are such big players – Android and iPadOS. Well, everything depends on the usage and choice of customer, but I just want to convey that don't exclude Windows tablet from your choice list while shopping.
Best Windows Tablets 2023 (Top 10 Picks)
Windows tablets are ideal for business and office people as it comes with lots of productivity tools for working with documents, presentations and more. Here we have listed down the best Windows 11 tablets with latest productivity and enhanced features.
1. Microsoft Surface Pro 9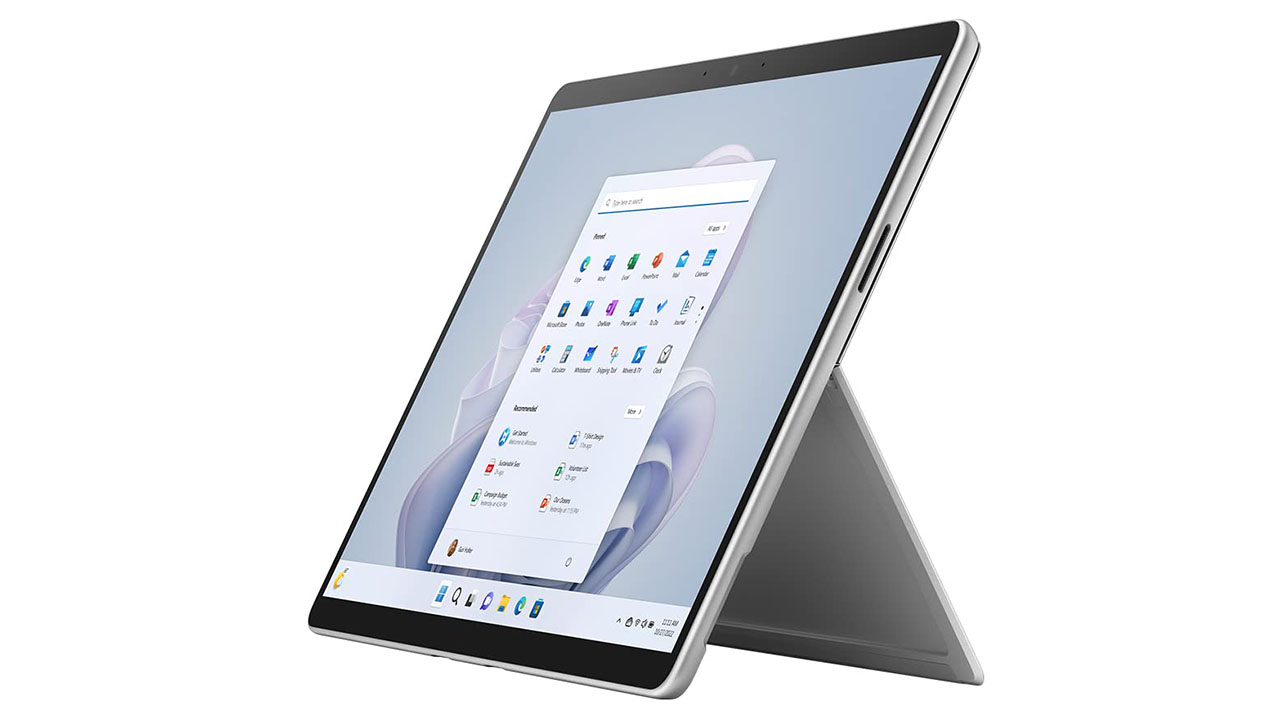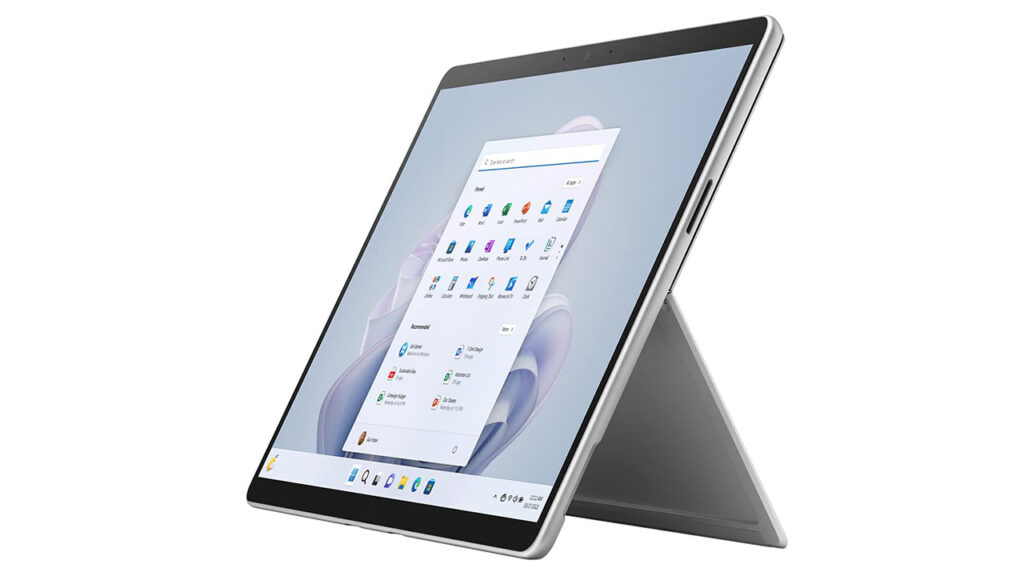 Microsoft is known for their diverse portfolio of tablets, so when it comes to picking the best one in 2023, the Surface Pro 9 is one of the best options you can consider splurging out on.
The device packs in the flexibility of a tablet with the performance of a laptop.
The Surface Pro 9 is built on the Intel Evo platform and is powered by the latest 12th Gen. Intel Core i7 processor for the ultimate user experience. It doesn't stop there since the internal specifications of up to 32GB RAM and up to 1TB SSD storage further elevates the productivity to the next level.
What stands out in the new Surface Pro 9 is the optimal variant that's powered by the Microsoft SQ 3 processor. This is a cellular variant and supports 5G network connectivity as well. If you are wondering about the battery life, Microsoft hasn't disappointed its users on that ground too.
As for the visuals, the Surface Pro 9 is equipped with a 13" PixelSense edge-to-edge display for responsive and vibrant visual experience. It also comes with Windows 11 OS out of the box.
Reasons to buy:
Premium performance and productivity
Lightweight and durable design
Built on Intel Evo platform
Reasons to avoid:
Storage configuration could be better
Ports selection is average
2. Dell Latitude 7320 Detachable (13-inch)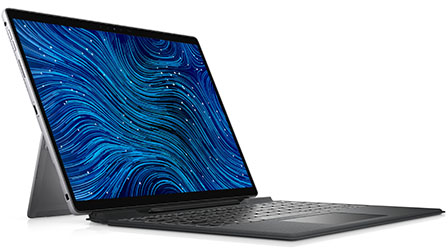 If budget isn't a constraint and you want a compact yet powerful Windows tablet to streamline workflow and productivity, the Dell Latitude 7320 Detachable is a pretty great device to start with.
Integrated with the latest Windows 11 OS, the tablet offers access to all the latest applications and upgrades.
Designed for mobile users, the Latitude 7320 is a compact and lightweight tablet that meets the MIL-STD durability without any complaints at all. Not just the build, even the display in this tablet is backed with the durable Corning Gorilla Glass 6DX, making it tensile, resilient and scratch-resistant too.
Built on the Intel Evo platform, the Dell Latitude 7320 runs on the 11th Gen. Intel Core i5 processor with integrated Intel Iris graphics. As for the display, the model is equipped with a 13.2" FHD+ ComfortView Display with 1280p screen resolution and 500 nits brightness.
The internal specifications of this model include 256GB SSD storage with 8GB RAM for the ultimate performance and multitasking experience. Paired with Wi-Fi 6 and Bluetooth 5.2 technology, wireless connectivity is quite promising too.
Reasons to buy:
Aluminum construction
Stunning and responsive display
Built on Intel Evo platform
Reasons to avoid:
Slightly overpriced
RAM and storage configuration could be better for the price
3. New Microsoft Surface Pro X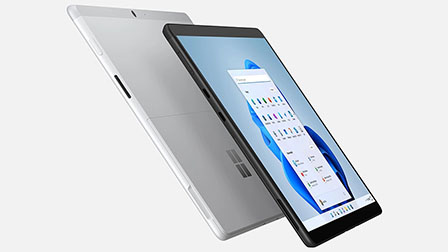 The latest venture in the Surface series, the New Microsoft Surface Pro X looks and works like a dream.
The mobile device is ideal for users who are consistently on the lookout for optimal performance even when they are on the go. It is backed with a functional Gigabit LTE function on the side.
The device is powered by the Microsoft SQ 1 and 2 for the unique octa-core performance like never before. You get access to the Microsoft 365 Office that delivers the ultimate work efficiency with access to all the best applications.
The signature design and functionalities of this device ensures flexible adjustability and usage, especially with the kick-in stand. Like most of the other Surface laptops, even this one is equipped with a 13.3" PixelSense flow touch display with edge-to-edge design.
The 3:2 aspect ratio supports seamless viewing and work on the various kinds of word documents, etc. It is backed with up to 512GB SSD of storage and up to 16GB RAM configuration.
Reasons to buy:
Powerful CPU specifications and RAM
It has a thin bezel-less screen compared with other Microsoft Surface models
Surface Pen support
Reasons to avoid:
No Thunderbolt ports
It's expensive
You have to buy keyboards separately
4. Dell XPS 13 9315 2-in-1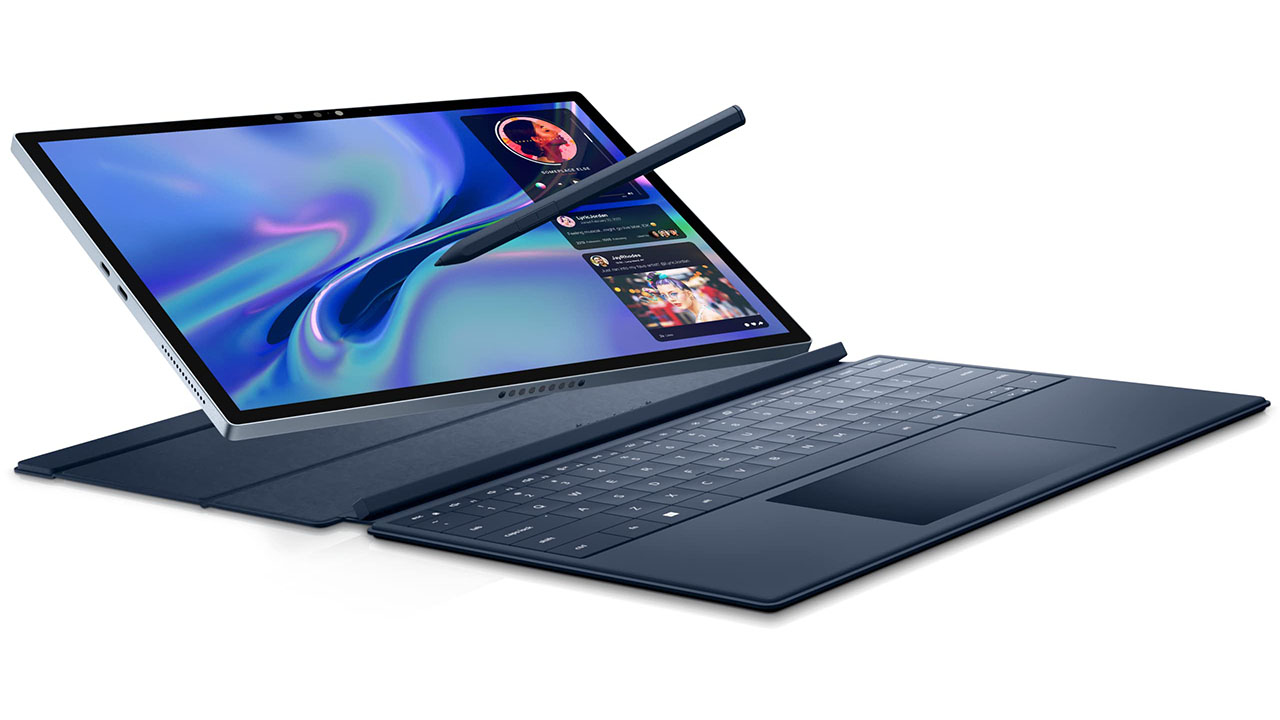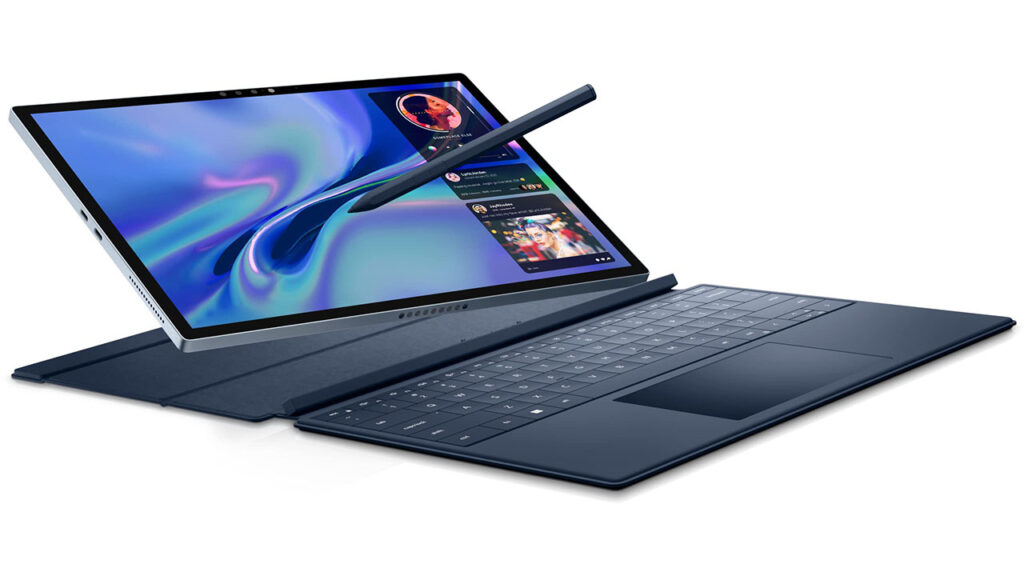 The power of a Windows tablet is unmatched and the new Dell XPS 13 9315 2-in-1 proves just that.
This compact and portable convertible laptop can be used as a tablet, especially when you are on the go and want efficiency.
Besides the slightly higher price point, you get specifications that justify the kind of price you are paying. Powered by the latest 12th Gen. Intel core processor, the tablet supports you through your workflow and learning journey without any interruptions.
The tablet is preinstalled with Windows 11 and offers an optional 5G support for effortless connectivity. The optional XPS Folio is another highlight of this tablet that helps you turn your tablet into a PC in a matter of seconds.
Built with chiseled CNC-s and low-carbon aluminum, the tablet is lightweight but features a very premium and eclectic look. It is available in two color variants – sky and slate.
Dell hasn't compromised on the ports as well. The tablet comes integrated with two Thunderbolt 4, display port and power delivery to keep you hooked and connected.
Lastly, the portable tablet weighs starting 1.60 lbs, making it easier for people to travel with.
Reasons to buy:
Premium and modern design
Latest CPU configuration
High resolution display
Supports Thunderbolt 4 port
Reasons to avoid:
Pretty steep price point
RAM configuration could be better
5. Microsoft Surface Go 3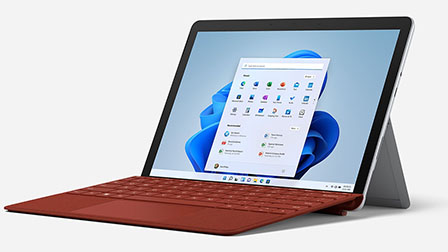 For the users who want a budget-friendly Microsoft tablet cum laptop to look into, the Microsoft Surface Go 3 is a pretty good option.
Not only does it stand out due to its portable design but the powerful features that enable you to achieve all your everyday tasks, homework and even your entertainment and gaming requirements.
The device comes preloaded with Windows 11 for early access to all the best kinds of programs and Microsoft applications.
It is further fueled by the latest 10th Gen. Intel Core i3 processor or the Intel Pentium Gold processor for the ultimate performance.
Pair that with 8GB RAM and you have the absolute best multitasking experience. The Surface Go 3 is equipped with a compact 10.5" PixelSense display with 10-point multi-touch and 3:2 aspect ratio.
Also, it comes with the Corning Gorilla Glass on the exterior that shields the device from external damage. It also features up to 128GB SSD of storage for faster bootup and data transfer.
Reasons to buy:
Quite affordable compared with Surface Pro 8 and Pro X
It's ultra-portable and lightweight
Attractive slim design
Reasons to avoid:
It only has one USB Type C port
Have to buy keyboards and accessories separately
6. Lenovo ThinkPad X1 Tablet Gen 3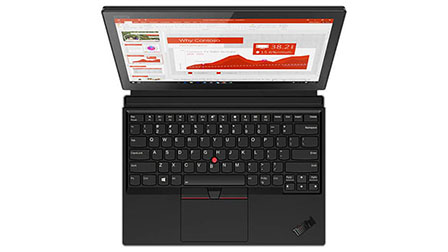 Lenovo is a front-runner when it comes to budget-friendly laptops. But, it doesn't slag when it comes to the latest Windows tablets too.
Priced under $1000, ThinkPad X1 Gen 3 is ideal to support all your productivity needs throughout the day.
The premium redesigned device features a detachable 2-in-1 design that contributes to immaculate work flexibility.
The device is powered by the 8th Gen. Intel core i7 processor with Intel UHD graphics for immaculate performance and all-day productivity like no other. If you are worried about the performance, the 256GB SSD storage with 8GB RAM configuration takes care of that for you.
Also, the tablet is equipped with a 13.0" QHD+ IPS display with 400 nits brightness and anti-reflective coating on the exterior. The device is also integrated with a host of I/O ports for optimal connectivity and data transfer. It runs on the Windows 10 Pro OS.
Reasons to buy:
It comes with 512 GB of SSD storage
Lenovo ThinkPad pen is included with it
Input specs are impressive
Reasons to avoid:
Too expensive for its specifications
It doesn't have the most efficient battery
7. Microsoft Surface Book 3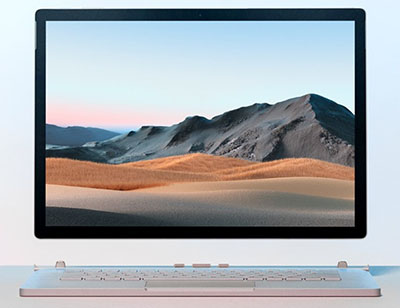 Starting from $1,599.99, Surface Book 3 is the perfect answer for all your queries and demands.
It brings the best for its users in terms of quality and performance along with the much-needed portability to carry power on the go.
It is available in two varying display sizes. 13.5" or 15" sizes are the two sizes to choose from the high-resolution touchscreen display splendor.
Its grand quad-core powered 10th Gen Intel Core processors deliver it with abilities to perform 50% faster than Surface book 2.
It is built to accomplish every task and to deliver the most immersive and engaging gaming experience. Users can enjoy the extravaganza of choicest graphics cards including the NVIDIA GeForce GTX 1660 Ti.
It supports 32GB RAM with "2TB of lightning-fast storage". It is blessed with the most powerful battery life that can last for incredible 17.5 hours at a stretch and also features improved standby.
Reasons to buy:
Powerful CPU, RAM, and other specifications
It has USB Type-C and Type-A ports
Pro-grade SSD storage
Reasons to avoid:
It has high-end specs and hence, it's expensive
No Thunderbolt ports
8. Dell Latitude 14 9440 2-in-1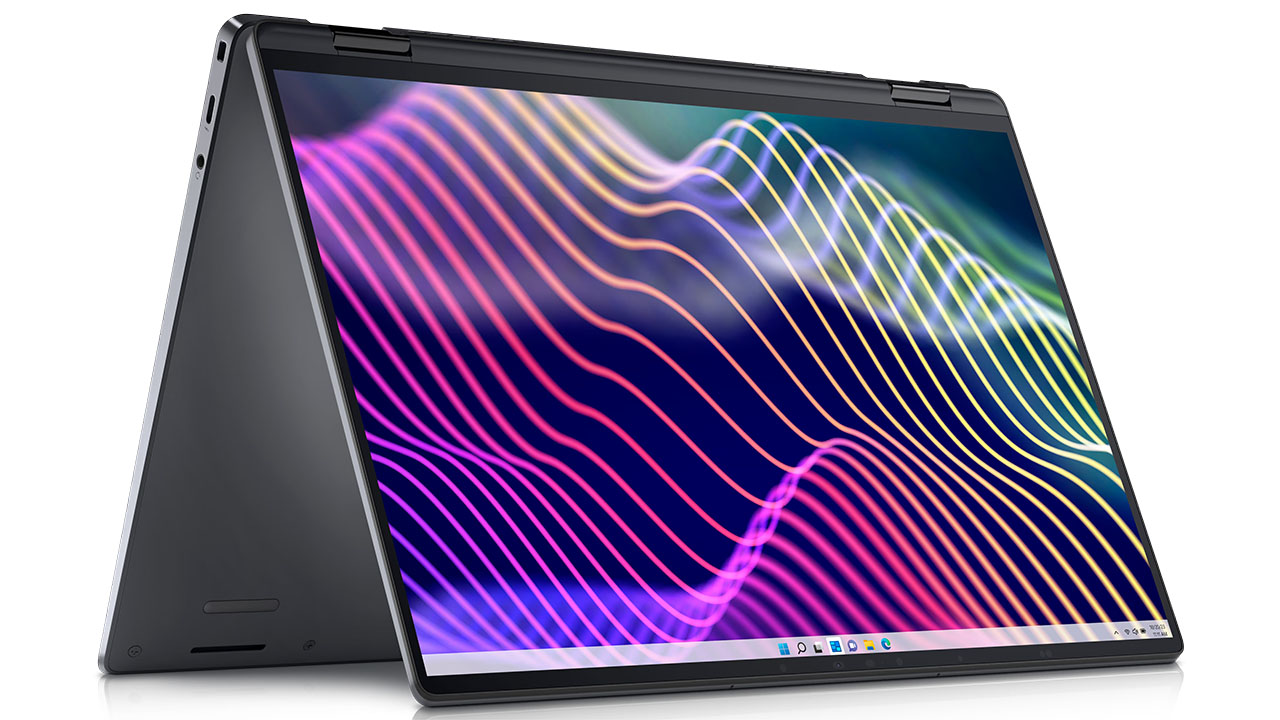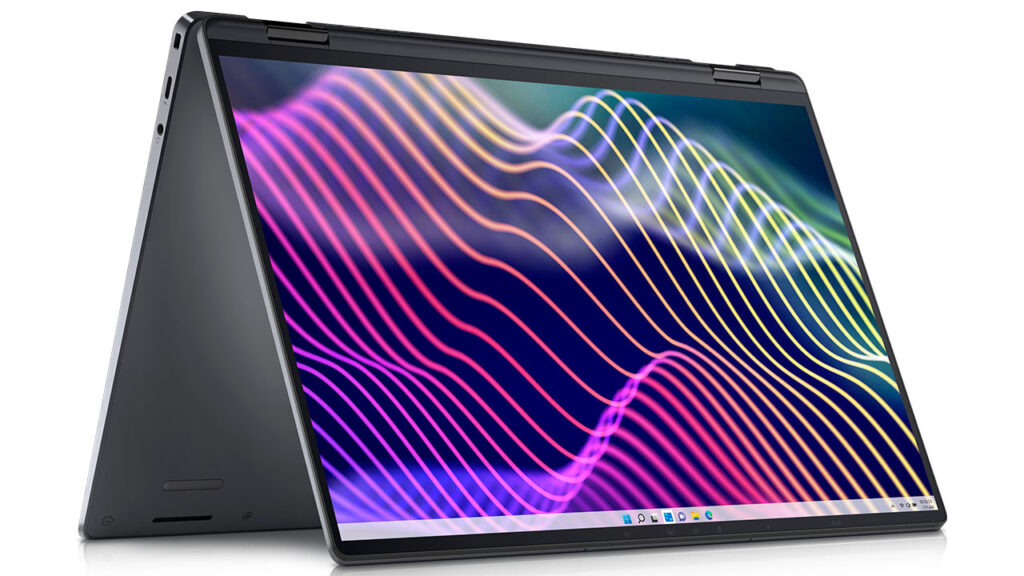 Dell is known for being one of the best tech brands with convertible laptops.
The Dell Latitude 14 9440 2-in-1 is perfect for users that are on the go and need access to a lightweight and functional tablet that would keep their workflow in check.
Besides the expensive price point, the tablet is powered by the latest 13th Gen. Intel core processor that elevates the overall performance to the next level. No longer will you have to worry about delays and stuttering in the device.
Pre-installed with Windows 11 Pro, the Dell Latitude 14 9440 features up to 32GB RAM and up to 512GB SSD in terms of internal specifications, which is pretty impressive.
Coming to the display configuration, the tablet is equipped with a 14" QHD+ IPS touch display with ComfortView+ viewing experience.
Not only does it stand out with its latest CPU configuration, the tablet is pretty great with the Intel Iris Xe graphics too. As for the battery life, it is integrated with a 60 Whr battery for long-lasting user experience.
Reasons to buy:
Sleek and durable build
Preinstalled Windows 11 Pro
Impressive RAM configuration
Latest processor
Reasons to avoid:
Quite a steep price point
Storage configuration could be better
9. Lenovo IdeaPad Duet 3i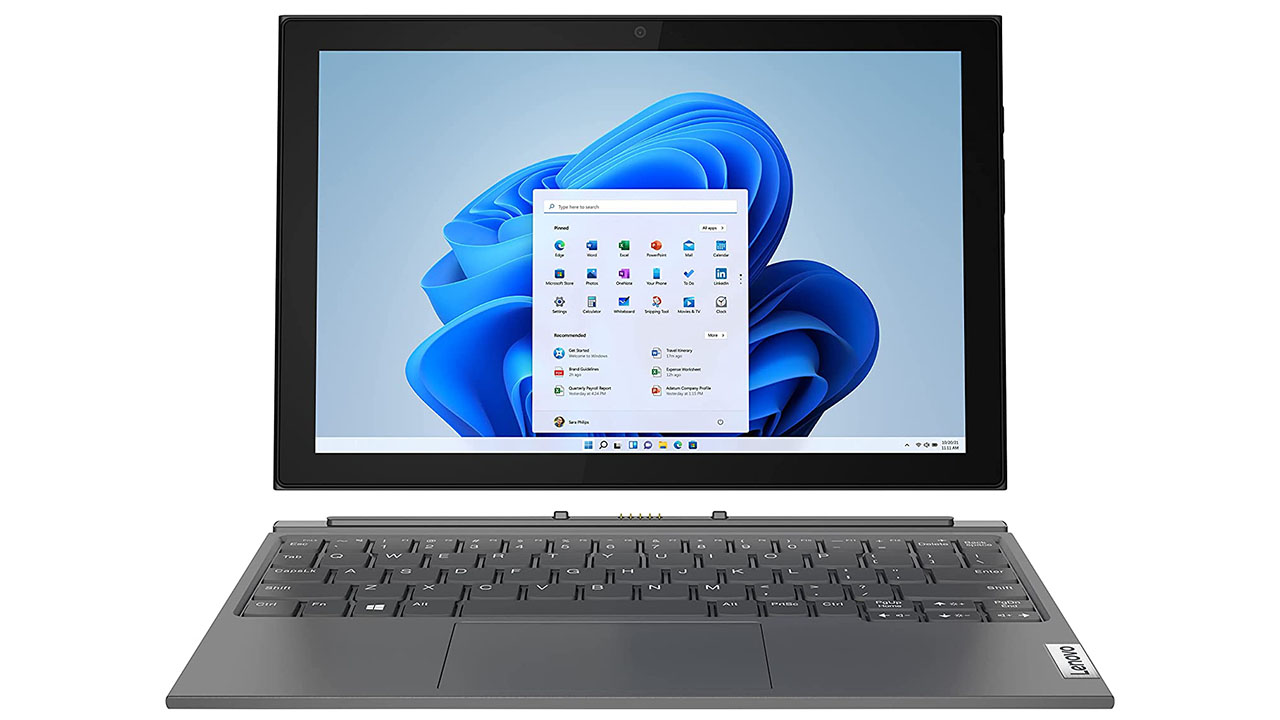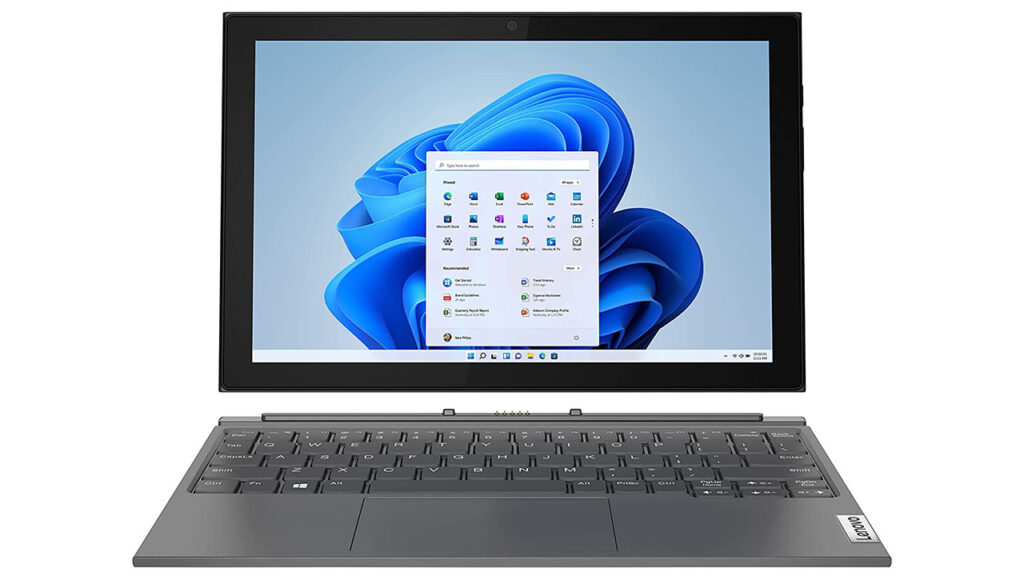 If you are on a budget and don't have the means to spend an upward of $500 and up, the Lenovo IdeaPad Duet 3i is a great alternative.
The model is powered by the Intel Celeron processor that supports effortless multitasking and optimal communication like you have never experienced before.
For the affordable price range, the tablet does have a leg up in the competition with convertible design and a responsive 10.3" FHD IPS touchscreen with 1080p screen resolution and 16:10 aspect ratio.
The internal specifications of this Windows tablet include a 4GB RAM and 64GB eMMC flash storage for data storage and multitasking experience. Not just that, the tablet is also integrated with Intel UHD graphics 600 and a 30 WHr li-ion battery for up to 9 hours of battery life.
What's disappointing in the tablet is the camera settings with a 2MP front camera and 5MP rear camera. Lenovo hasn't compromise on the connectivity part since the model supports Bluetooth 5.0 and 2×2 802.11AC wireless connectivity. It runs on Windows 11 in S mode.
Reasons to buy:
Compact and lightweight design
Superior multitasking experience
Longer battery life
Reasons to avoid:
RAM and storage configuration is disappointing
Camera settings is subpar
10. HP Spectre x360 14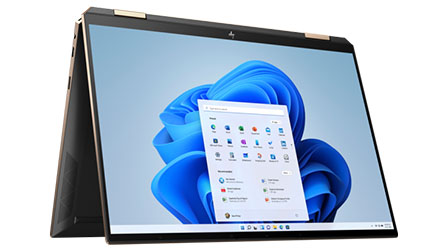 Launched in October 2020, this HP Spectre series tablet is powered by Intel's Evo platform based Core processors.
This 14" tablet is a 2-in-1 PC. That said, it comes with a detachable keyboard with a touchpad included. Moreover, it can be rotated 360 degrees, as its name suggests, and can be placed at a convenient angle.
When detached, HP Spectre is perfect for all your entertainment needs. It comes with quad speakers powered by Bang & Olufsen. Better yet, if you want to use it hands-free just position it accordingly on your desk. Moreover, you can also get a 16-inch display size variant if you want a bigger slate.
It runs Windows 11 OS, comes with a USB Type-A port, 2 Thunderbolt 4 Type C ports, 16 GB RAM, WiFi 6, Bluetooth 5, and stylus support. It has an impressive camera shutter that keeps you safe from any cyber attacks on your computer.
Reasons to buy:
It has USB Type-A and two USB Thunderbolt 4 ports
It has an elegant design
Stunning sound with quad speakers
More battery life
Reasons to avoid:
It's expensive
Its fingerprint sensor replaces the Ctrl key on the keyboard
The End Note
Today, many people are only sifting through Android tablets and iPad, but I would recommend don't just kick out Windows from the list.
As from the above-mentioned reasons and the top Windows tablet in the market list, you can see the difference that Microsoft has brought so far. It's not that if you are a homey- means you cannot buy a Windows tablet, no, the scenario is completely different!
You can pick the home like tablets from the above list along with kid's mode choice to protect your kids from any unethical thing. More so, you can use any of these tablets as a true replacement to your laptop and enjoy the immense flexibility provided by a tablet.
If you are looking for something unique, besides what Android and iPad have to offer you, look further than Windows tablet- highly efficient and reasonable comparatively.
According to sources, Microsoft is at the edge of evolving itself from the entire previous versions and hit the market with something unique and new concerning its operating system Windows. You can enjoy with any of the above Windows tablet that too at great price and upgrade the tablet without any hassle.