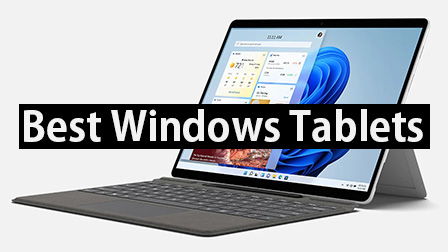 Windows tablets are ideal for on-the-go productivity and business use as it comes with lots of useful apps like Microsoft Office.
Choosing the best operating system while purchasing a tablet can be daunting.
The debate between two major operating system – Android and iPadOS is never ending, but in the tablet world, a big player is entering the controversy these days – Microsoft Windows.
Though Microsoft stepped in the tablet sector late, but it actually gained popularity in no time, beating Android and iPadOS.
Today, you'll find an equal number of Windows tablets as compared to other two operating systems. Many companies are taking the initiative to utilize Windows for their tablet and provide customers something unique and easy-to-go.
Besides, even Microsoft keep itself upgrading from Windows XP to Windows 11 – the journey was amazingly beautiful, giving customers excellent experience with better choices in apps.
Presently, Windows 11 is the most common version used among people and it is indeed rated as one of the best versions of Windows so far.
You might be a in a turmoil that to explain so much about Windows tablet when there are such big players – Android and iPadOS. Well, everything depends on the usage and choice of customer, but I just want to convey that don't exclude Windows tablet from your choice list while shopping.
Best Windows Tablets For 2021 (Top 10 Picks)
Windows tablets are ideal for business and office people as it comes with lots of productivity tools for working with documents, presentations and more. Here we have listed down the best Windows 11 tablets with latest productivity and enhanced features.
1. Microsoft Surface Pro 8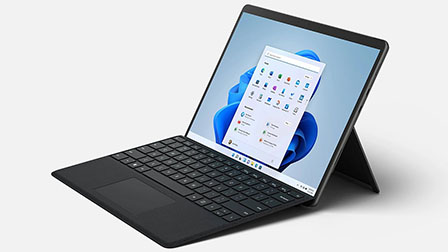 Ideal for the users who want the functionalities of a laptop in a tablet, the Microsoft Surface Pro 8 is hands down one of the best Surface laptops launched by Microsoft till date.
The device features a 13" touchscreen display panel and an even better kickstand that enables you to work from anywhere without any complaints.
The device is fueled by the latest 11th Gen. Intel core processor and is integrated with 32GB RAM configuration for the ultimate performance and all-day productivity.
Pair that with long-lasting battery life and versatile Thunderbolt ports and you have nothing but the absolute best user experience that you can possibly get.
The Surface Pro 8 is equipped with a responsive and compact 13.3" PixelSense Flow touch display with narrow bezels and 120Hz refresh rate that enables you to live through every frame of the game. Also, the access to the Microsoft 365 Office enables you to work through multiple tasks without any complications.
2. New Microsoft Surface Pro X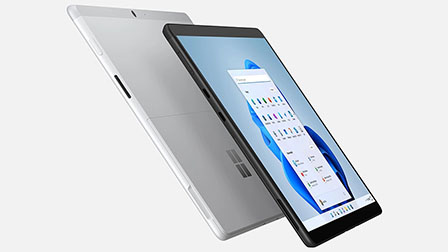 The latest venture in the Surface series, the New Microsoft Surface Pro X looks and works like a dream.
The mobile device is ideal for users who are consistently on the lookout for optimal performance even when they are on the go. It is backed with a functional Gigabit LTE function on the side.
The device is powered by the Microsoft SQ 1 and 2 for the unique octa-core performance like never before. You get access to the Microsoft 365 Office that delivers the ultimate work efficiency with access to all the best applications.
The signature design and functionalities of this device ensures flexible adjustability and usage, especially with the kick-in stand. Like most of the other Surface laptops, even this one is equipped with a 13.3" PixelSense flow touch display with edge-to-edge design.
The 3:2 aspect ratio supports seamless viewing and work on the various kinds of word documents, etc. It is backed with up to 512GB SSD of storage and up to 16GB RAM configuration.
3. Microsoft Surface Go 3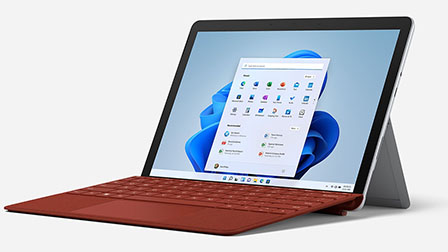 For the users who want a budget-friendly Microsoft tablet cum laptop to look into, the Microsoft Surface Go 3 is a pretty good option.
Not only does it stand out due to its portable design but the powerful features that enable you to achieve all your everyday tasks, homework and even your entertainment and gaming requirements.
The device comes preloaded with Windows 11 for early access to all the best kinds of programs and Microsoft applications.
It is further fueled by the latest 10th Gen. Intel Core i3 processor or the Intel Pentium Gold processor for the ultimate performance.
Pair that with 8GB RAM and you have the absolute best multitasking experience. The Surface Go 3 is equipped with a compact 10.5" PixelSense display with 10-point multi-touch and 3:2 aspect ratio.
Also, it comes with the Corning Gorilla Glass on the exterior that shields the device from external damage. It also features up to 128GB SSD of storage for faster bootup and data transfer.
4. Lenovo ThinkPad X1 Tablet Gen 3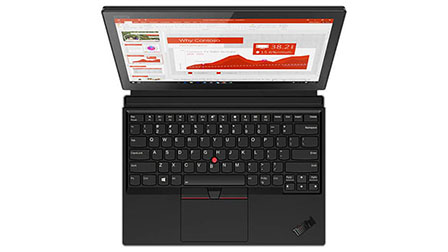 Lenovo is a front-runner when it comes to budget-friendly laptops. But, it doesn't slag when it comes to the latest Windows tablets too.
Priced under $1000, ThinkPad X1 Gen 3 is ideal to support all your productivity needs throughout the day.
The premium redesigned device features a detachable 2-in-1 design that contributes to immaculate work flexibility.
The device is powered by the 8th Gen. Intel core i7 processor with Intel UHD graphics for immaculate performance and all-day productivity like no other. If you are worried about the performance, the 256GB SSD storage with 8GB RAM configuration takes care of that for you.
Also, the tablet is equipped with a 13.0" QHD+ IPS display with 400 nits brightness and anti-reflective coating on the exterior. The device is also integrated with a host of I/O ports for optimal connectivity and data transfer. It runs on the Windows 10 Pro OS.
5. Microsoft Surface Book 3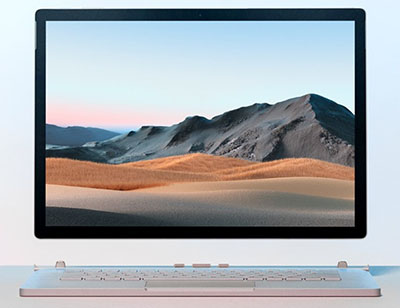 Starting from $1,599.99, Surface Book 3 is the perfect answer for all your queries and demands. It brings the best for its users in terms of quality and performance along with the much-needed portability to carry power on the go.
It is available in two varying display sizes. 13.5" or 15" sizes are the two sizes to choose from the high-resolution touchscreen display splendor.
Its grand quad-core powered 10th Gen Intel Core processors deliver it with abilities to perform 50% faster than Surface book 2.
It is built to accomplish every task and to deliver the most immersive and engaging gaming experience. Users can enjoy the extravaganza of choicest graphics cards including the NVIDIA GeForce GTX 1660 Ti.
It supports 32GB RAM with "2TB of lightning-fast storage". It is blessed with the most powerful battery life that can last for incredible 17.5 hours at a stretch and also features improved standby.
6. Microsoft Surface Go 2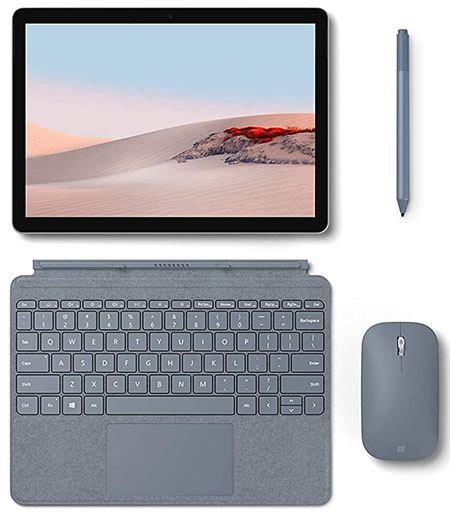 This amazing 10.5-inch Window-based tablet has it all that makes it one of the best choices of the time.
This highly portable table-cum-laptop Microsoft device is meant to deliver only the best with its incredible 220 PPI resolution, better productivity, and 10 hours of battery life.
An ideal compact companion of a daylong hectic schedule, Microsoft Surface Go 2 is accessorized efficiently to aid the best experience in writing, learning, and sketching.
It comes with built-in Wi-Fi and LTE advanced connectivity and supports up to 1TB storage capacity through built-in MicroSD Card Reader.
One drive Cloud Storage and One Drive Personal Vault are prized features to heighten security and convenience.
This is a complete family device with important functional controls that let parents limit screen-time and help in content filtering also. Starting at $399.99, it's Intel Pentium Gold and Core M processors account for its unmatched excellence.
7. Microsoft Surface Pro 7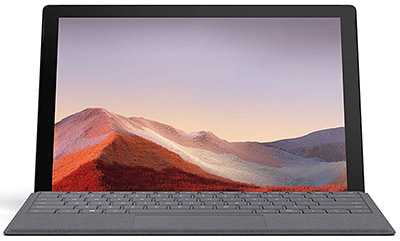 Microsoft always targets business person and launch products that are highly flexible and on the go.
Transforming the outdated business premises, Microsoft introduced Surface Pro 7, which is aesthetically designed. The tablet is ultra-light and slim that makes it perfect for on-the-go entrepreneurs.
The tablet can also be converted into a PC within a fraction of second. It is not only flexible, but versatile as well along with enhanced connectivity that includes USB-C and USB-A ports.
Its kickstand and removable surface signature cover enable you to convert the tablet into a desktop. The tablet is 12.3" in size with a full-touch screen display that naturally adjusts itself to lighting conditions.
The tablet can be available to you in three RAM options, which is 4GB, 8GB, and 16GB along with storage of 128GB, 256GB, 512GB or 1TB. Therefore, the tablet is nothing less than a laptop. The powerful processor and improved graphics makes Microsoft Surface Pro 7 one-of-a-kind.
The dual-core 10th generation processor is available in i3, i5, and i7 choices. And the operating system is none other than Windows 10, which makes sure the user-interface will be quite interactive. The battery life of the tablet lasts up to 10.5 hours.
8. Lenovo ThinkPad X12 Detachable Gen 1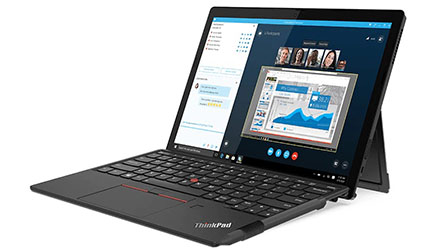 This amazing release from Lenovo is a real game-winner and is laden with impressive features that make it a worthy choice.
Lenovo ThinkPad X12 Detachable Gen 1 is equipped with a vibrant and stunning 12.3-inch, anti-reflective and anti-smudge, FHD touchscreen display that is protected with corning Gorilla Glass.
This amazing detachable tablet by Lenovo is powered by the 11th Gen Intel Core i7 vPro processor and is based on Windows 10 Pro 64.
It is extremely lightweight and ultra-thin and typical to ThinkPad Laptops, is also tested against 12 military-grade requirements, and has passed numerous quality checks to ensure durability.
Features like Rapid Charge and Modern Standby make operating the device hassle-free on an extra-demanding day. Coupled with the optional Lenovo Precision Pen, you can enjoy the best designing and creative activities on this Windows Tablet.
With prices starting at $1075, Lenovo ThinkPad X12 Detachable Gen 1 is undoubtedly one of the best Windows tablets 2021.
9. HP Envy x2 12-e068ms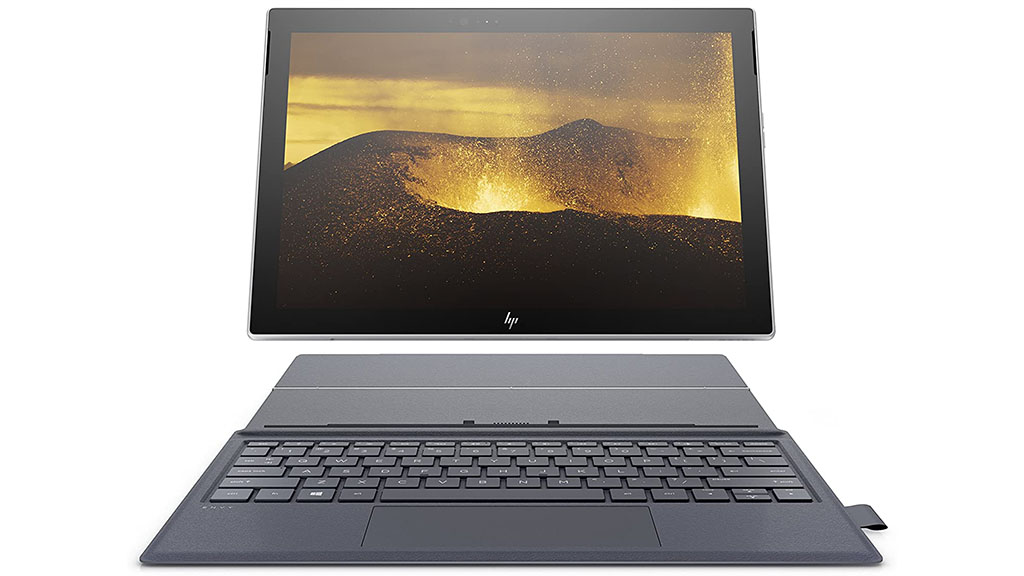 HP brings in a new form factor to their two-in-one tablet, and it is considered one of the best Windows tablets in the marketplace. The tablet has many modes to make it easy and accessible for the users.
The Envy x2 can be transformed into a laptop-like device by using the detachable soft keyboard. In laptop mode, users can check emails and write blogs as they do on their original laptop. The alternative model is tablet mode, and it can be used for note-taking or draw whenever inspiration strikes.
The display is of high resolution, and it provides a paper-like feel when writing with the HP digital pen. The pressure sensitivity levels have improved by huge margins, and the coloring effects it provides helps artists explore new creative dimensions.
HP has done an excellent job in partnering with Qualcomm to incorporate a high end, Snapdragon 835 processor when it comes to speed and performance. The 12.3" tablet also comes with 4GB RAM storage and 128GB flash memory.
Even though flash memory is not the best option, it works out well with the processor and the rest of the internal architecture. The battery is just remarkable, with 20+ hours of video and playback.
10. Chuwi UBook X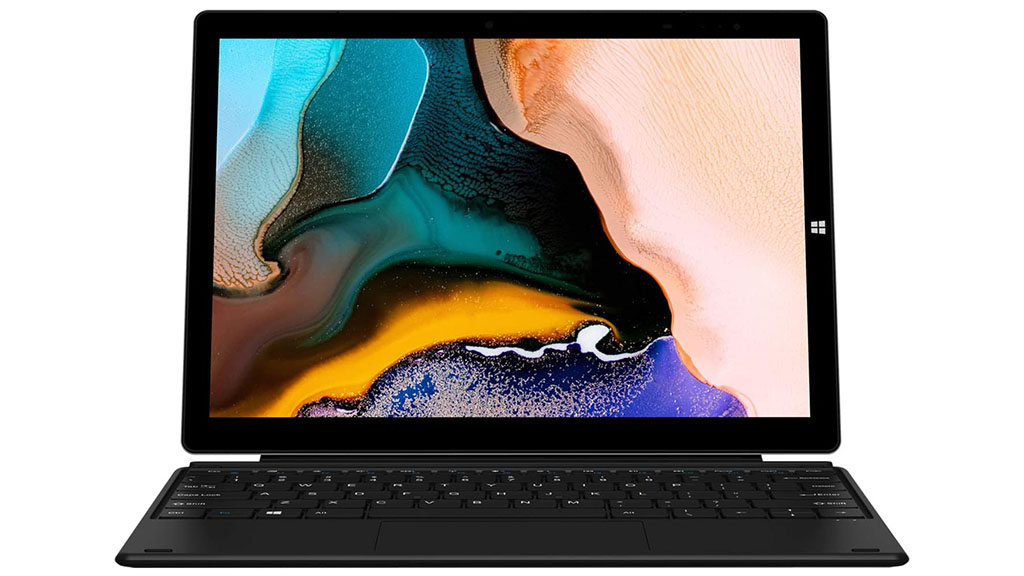 The Chuwi UBook X is another excellent 2-in-1 tablet with unique specifications from display to performance. Chuwi made sure to incorporate as many features as possible to elevate user experience. They have perfected many components and accessories, along with the primary device.
The first spec that caught many buyers attention is the 2K resolution IPS display. The 12" screen is fully-laminated, and it has a brightness capacity of 340 nits. Even the aspect ratio is set at 3:2, and it helps create a more open and natural cinematic experience. If you think the display is surprising to watch, wait until you see the form factor and design of the new UBook X.
The body is made with an alloy combining aluminum and magnesium, making it lightweight and highly portable for office environments. It is named UBook X for its U-shaped bracket. It can be adjusted to many flexible levels up to 145 degrees. With such a unique form factor, the UBook X can be transformed into board and Laptop forms with minimal effort.
Intel Gemini Lake N4100 processor powers the internal architecture with a turbo frequency of 2.4GHz. It is a high-end processor that perfectly balances battery efficiency and overall performance.
The tablet is also equipped with an 8GB RAM slot that works on a dual-channel mechanism. Users can use the Hi-pen for navigation and 256GB SSD storage for high-speed downloads and transfers for entertainment purposes and storage.
The End Note
Today, many people are only sifting through Android tablets and iPad, but I would recommend don't just kick out Windows from the list. As from the above-mentioned reasons and the top Windows tablet in the market list, you can see the difference that Microsoft has brought so far. It's not that if you are a homey- means you cannot buy a Windows tablet, no, the scenario is completely different!
You can pick the home like tablets from the above list along with kid's mode choice to protect your kids from any unethical thing. More so, you can use any of these tablets as a true replacement to your laptop and enjoy the immense flexibility provided by a tablet.
If you are looking for something unique, besides what Android and iPad have to offer you, look further than Windows tablet- highly efficient and reasonable comparatively.
According to sources, Microsoft is at the edge of evolving itself from the entire previous versions and hit the market with something unique and new concerning its operating system Windows. You can enjoy with any of the above Windows tablet that too at great price and upgrade the tablet without any hassle.