With the new version of Windows announced, there have been loads of talks in the global digital community about the future of digital transformation and digitization.
But people overlook a massive point when we look at the features and talk about every detail in the new version of Windows. With the introduction of the latest Windows 11, it is not the PC that we will try to fit into our lives; it will be the other way round!
According to Microsoft, they thought and designed the first step for man to go digital. From the first PC to the latest Windows 11, the thought leadership by Microsoft has been enormous. But what is that one elusive detail we all are missing?
Connection.
Yes, since the last year and a half, our only connection to ourselves has been routed via digital media. Work from home norms existed even before
But doing meetings and classes digitally, from virtual dates to binge-watching web series to attending webinars, people's lives are centered around virtual media. The digital stir that Windows 11 has created is basically an effective and fluid transition from revolution to normalization.
According to the Microsoft team, Windows 11 has been created with a vision to shift things from the very functional and practical perspective to personal and emotional ones. With Windows 11, a new future is on the horizon. A future that promises fun and creation and learning and achievements and connection and celebrations of everything positive in our lives.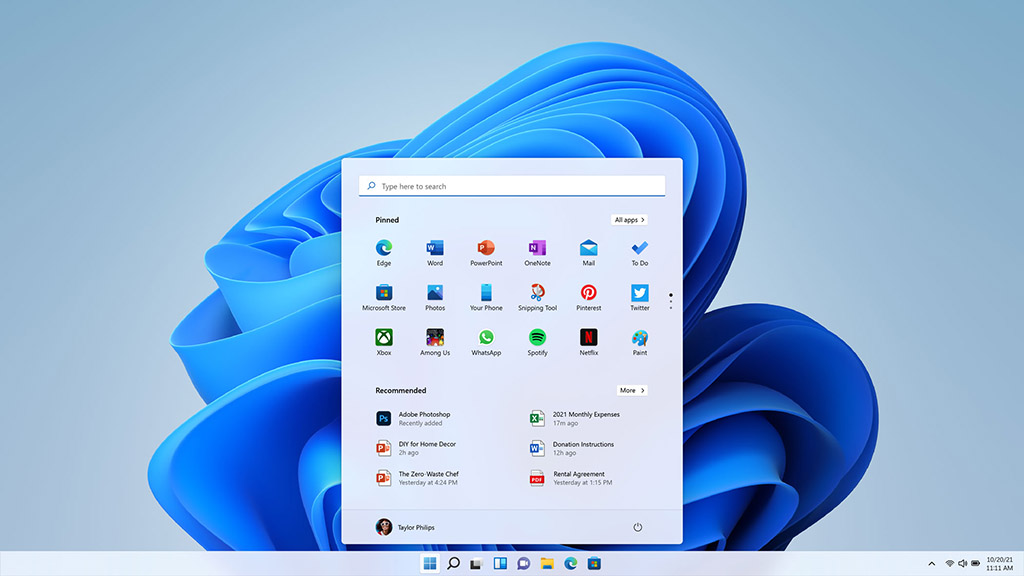 Windows 11 delivers a lot of exciting new features that were never a part of an OS. With these, people will rethink and redo the OS, and thus the PC will be reborn. Or maybe our lives will constitute a part of the new generation of PCs. Just like the brilliant design of Windows 11, everything will be unraveled in time!
The innovations in store with the latest version-Windows 11
Several innovations are in place with Windows 11. Let's take a look at some of the most compelling features.
On-demand global Livestream
The on-demand global live-streaming feature has been the hallmark of the reimagined Windows OS. With this feature, we can create live streams of real-time videos. Watching, making, and sharing videos in real-time enables us to be more productive and functional while staying connected from any part of the world.
Best-ever hybrid work and learning environment
Windows 11 is an OS that has been reimagined to deliver more than just what a word processor or an app platform will do. It has been recreated to provide a more personal and emotional working and learning environment that can help you create and nurture your abilities.
This hybrid work and learning platform is designed to deliver a more streamlined and personal approach to work and learning without compromising safety, security, manageability, and performance.
'Built for gaming' Windows
Windows 11 is your gate pass to a fantastic gaming experience. With the past year and a half teaching us the necessity of entertainment and how the virtual world chips in and provide you with your daily dose of dopamine, Windows 11 has been streamlined to deliver the most innovative gaming experience ever.
With superior graphics owing to the Auto HDR, the incredible speed with the NVMe SSD and drivers, and an excellent selection of games from the Xbox Game Pass for PC- Windows 11 connects you to rich, enjoyable, and superb gaming experiences.
Introduction to a more wholesome Microsoft Store
The Microsoft Store is an addition to Windows 11 and Windows 10 and is built to outshine its predecessors in every possible dimension. It's a ready-for-you platform that provides the best personal, official and developmental experience possible.
From a plethora of web and mobile apps and games that can be readily installed from the Microsoft Store to providing the best inventory and platform for developers and the ecommerce community to exercise their skills upon, this is vastly different from the MS Store you have seen or imagined.
Partnership opportunities like never before
Apart from being an open platform, Windows 11 has enabled intuitive ways to interact like Voice Typing, Digital Pen, and multiple touch gestures. Windows 11 provides a definitive impact on creation, collaboration, and consumption for the community and helps them do so in unique and authentic ways.
From helping Independent Software Vendors (ISVs) partners to develop and scale solutions and apps on the cloud and deliver a rich experience to creating a fresh API platform to build, launch and sell applications, it is a superb way to do things.
Since GSI (Global Systems Integrators) and advisory partners play an integral role in helping customers migrate to newer Windows versions and help with set-up, support, deployment, and desktop management services, this Windows version is helping them accelerate their impact and even channel sales for the Microsoft partners community who want to materialize their promises of digital transformation.
Final words
Apart from being great news to the Windows ecosystem, Windows 11 provides a fresh direction to what's next for learners, earners, consumers, gamers, businesses, and how their innovations will help them realize their dreams. So it remains to be seen how Microsoft can stand out and deliver on their role that is already exceeding expectations.