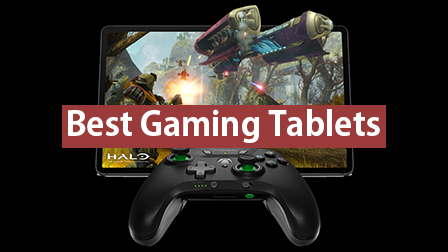 What can be more exciting and griping than playing the most intense part of digital games on sophisticated gaming tablets that promises all types of premium features? Playing games in tablets have grown in craze and the entire concept has become a matter of great liking nowadays.
The numerous options that are available in the market in terms of tablets make it alluring and attractive for users to enjoy their favorite games in one of these, to explore the best gaming options.
But, with so many different competitive products, it is a big task to zero down to one particular tablet as per choice. Things get tough with each company promising the best service and satisfaction in terms of usability and productivity.
Here, we have listed down the top 10 best gaming tablets for 2021 based on their features and specifications.
Best Gaming Tablets For 2021
Not all tablets can deal with high-end games having great visuals and graphics. For playing such high-end games, a tablet should be rich in performance features like processor, graphics, display, storage, RAM and battery. So, after considering all the factors, the below list of best gaming tablets is compiled.
1. Apple iPad Pro with M1 Chip – Most Powerful Gaming Tablet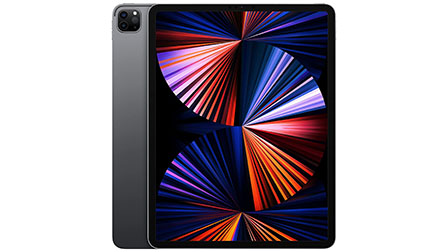 iPad Pro is undoubtedly one of the most dynamic and powerful gaming tablets of 2021.
Apple latest 2021 iPad Pro delivers only the best and when it comes to gaming, it was never this exciting and engaging before.
All credit goes to the robust M1 chip, which allows the iPad to perform all its tasks at blazing speed and in a seamless manner. M1 chip with the 8-core CPU makes the device 50% faster.
And the 8-core GPU allows permits 40% faster graphics flow, thereby assisting in an immersive gaming experience for the users. Based on iPadOS, it offers strong and stable 5G connectivity and day-long battery life that makes it the best choice when it comes to flawless, next-regeneration performance.
Five Studio-quality microphone and four speakers and Dolby Atmos support, makes everything come to life. You can enjoy over 1M apps on the App Store and with support for 2TB configuration, the limit is endless.
2. Samsung Galaxy Tab S7/S7+ – Best Android Gaming Tablet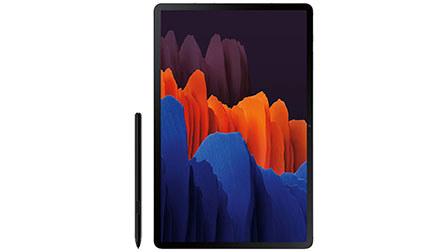 Yes, this is your best option when gaming is your passion. Samsung Galaxy Tab S7/S7+ is the first 5G-enabled tablets in the US, known for everything premium and high-end.
The refresh rate is 120Hz, making the display responsive to the content on the screen. Samsung Galaxy Tab S7/S7+ gets their mind-blowing potential from Qualcomm Snapdragon 865 Plus Mobile Platform. So, be ready to experience the smoothest and fastest gaming fiesta with these amazing tablets from Samsung.
The processor allows the devices to perform 25% faster and makes their graphics performance faster by 36%. They are ideal for multi-tasking. 5G connectivity and immersive graphical representation and Bluetooth enabled controller along with equally enthralling audio via Quad-core speakers let you feel and enjoy every moment of the games.
You can download 100Xbox games. With strong battery life and large storage capacity, Samsung Galaxy Tab S7/S7+ proves that they are the best Android-based gaming tablets.
3. Microsoft Surface Book 3 – Best Detachable Windows Gaming Tablet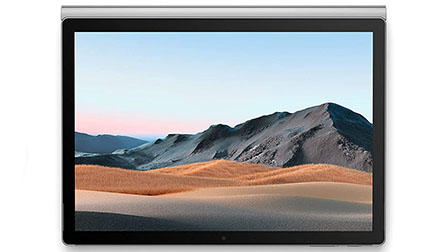 Surface Book 3 promises to deliver the best graphics than any other Surface device. It is powered by the latest NVIDIA GTX GeForce GPU that explains the excellence of the device when it comes to gaming.
Along with the easy-going versatility of the tablet and stunning pixel sense display on 13.5 and 15 inch screen size, high graphics quality and blazing speed with Dolby Atmos sound make it the best choice for Detachable Windows Tablets for Gaming.
Powered by 10th Gen Intel Core processors, 32GB of RAM, and 2TB of lighting fast storage combined with 17.5 hours of battery-life makes Microsoft Surface Book 3 the most dependable 2-in-1 tablet for work and entertainment. You can seamlessly pair Xbox Wireless Controller to indulge in the latest game releases for PC with Xbox Game Pass.
4. Apple iPad 10.2 (9th Generation)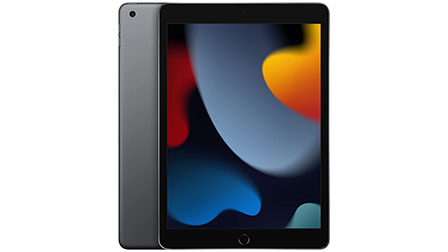 Starting from $329, the Apple iPad 10.2 (9th Generation) is everything you need to have a versatile user experience with all-day productivity.
The device runs on the A13 Bionic chip that creates a more responsive user experience. The processor also supports 20% improved graphics performance for tackling some of the most immersive games.
The 10.2" Retina display is ideal for bringing your movie-watching experience to life. Also, the True Tone functionality adjusts the color temperature for a comfortable viewing experience. It is also programmed with the Center Stage function that makes video calls a lot more interactive and clearer.
The iPad is integrated with a combination of 12MP front facing camera and 8GB wide camera for capturing all your memories in the device. The faster Wi-Fi connectivity enables you to stay connected while you are at home, work or even school. The iPad OS offers smoother performance rendition too.
5. Samsung Galaxy Tab S7 FE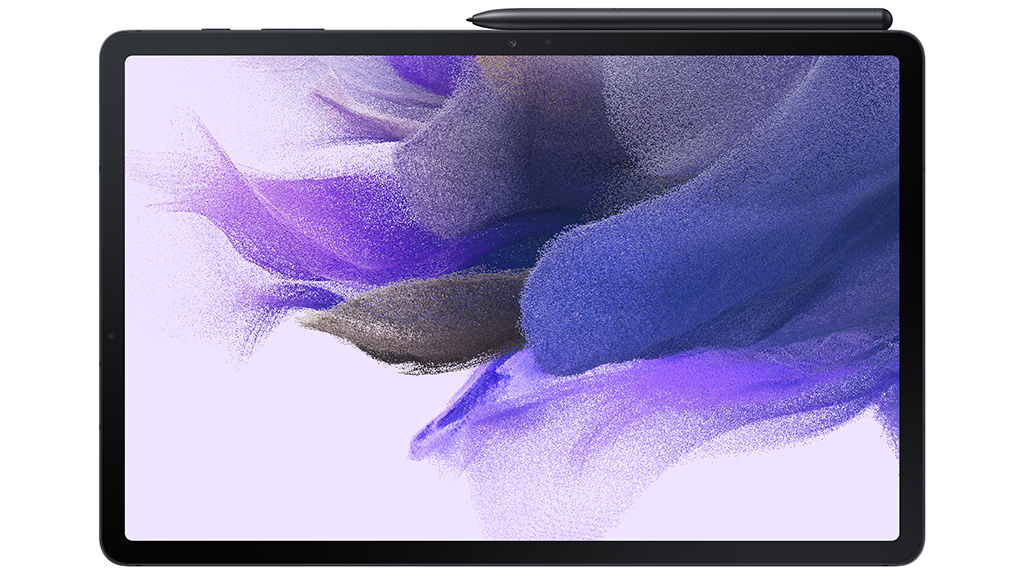 Not just for gaming needs, Samsung Galaxy Tab S7 FE is a complete package to make your life easier and entertaining. With a Qualcomm Octa-core processor and 8 GB RAM, nothing matches to the smooth gaming experience it offers.
The tablet comes in three different combination of RAM and Internal storage; 4+64GB, 6+128GB, and 8+256GB. Additionally, you get a MicroSD card slot that supports a memory card upto 1 TB of storage. In a nutshell, you don't have to worry about the storage when installing games on your device.
Galaxy Tab S7 FE has a 10,090 mAh battery which ensures you have an immersive and uninterrupted gaming experience. With such a powerful chip, the battery lasts longer.
Its support for a keyboard, a 12.4" screen, and iconic colors are some more features you may find intriguing for gaming.
6. Microsoft Surface Pro 8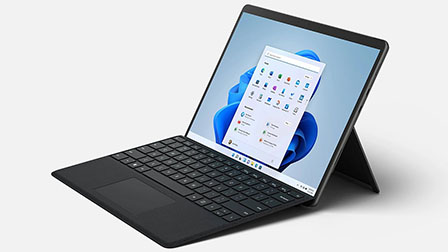 Powered by the latest Windows 11 OS, the Microsoft Surface Pro 8 is a beast of a device. The newest addition to the Surface range, this laptop comes with the flexibility of a tablet and the comfortable and ergonomic user experience with a Kickstand.
The device is powered by the latest 11th Gen. Intel core processor with all-day battery that allows you to stay productive throughout the day.
The double Thunderbolt 4 ports further contribute to the high speed connections that keeps your dream up high with the gaming setup, especially if you don't want to compromise on the performance and efficiency.
The ultra-portable design of this laptop is further enhanced with the compact 13.3" PixelSense Flow touch display with 3:2 aspect ratio and 120Hz refresh rate. The device also supports up to 32GB RAM and 1TB SSD of storage for faster bootup configuration.
7. Apple iPad Air (4th Gen.)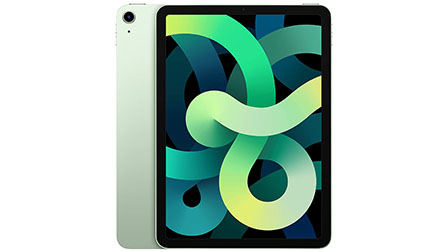 Powered by A14 Bionic, the 10.9-inch stunning Apple iPad Air (4th Gen.) is amazing when it comes to performance and pleasure.
It opens the doors to brighter possibilities with its most powerful and incredible performance. A14 Bionic allows enhanced graphical representation and a 2% faster machine learning Neural engine.
It makes the iPad perform 40% faster and 30% faster graphics. The breath-taking display with Liquid retina adds the quotient of exquisiteness to all the representations on the screen, making you feel the vibe of the games and letting you become a part of that imaginary world.
You can just indulge in the most immersive and demanding games with all the advanced features and enjoy them smoothly on the Apple iPad Air (4th Gen.) without any lag. High-quality stereo speakers add to the reality of the console-based games that you play on it. You also have the option of connecting the controller to it.
So new possibilities with new dimensions open up for you with the Apple iPad Air (4th Gen.) in your hand. Fast and easy connectivity options with day-long battery life and huge storage capacity make the iPad Air the ideal choice for all who are passionate about gaming.
8. Lenovo Tab P11 Pro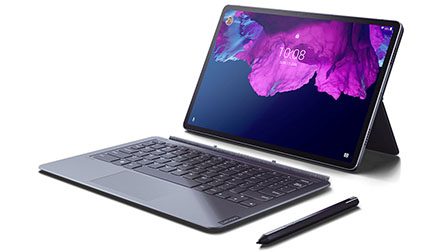 Lenovo Tab P11 Pro ranks among the Best Gaming tablets of 2021 owing to its sophisticated features and specifications.
With the "state-of-art" 11.5-inch, OLED screen display, and Dolby Vision, enjoy unstoppable binging and gaming sessions of Lenovo Tab P11 Pro. TÜV Rheinland eye comfort certification will take care of your eyes.
This Lenovo tablet is based on the magical Qualcomm Snapdragon 730G platform. So, it provides high-end gaming performance along with superlative graphics and encompassing video quality. So, you will get transported to the gaming world with the breathtaking performance of this tablet.
It supports smooth multitasking. Splendid graphics are matched with smart audio produced by Dolby Atmos Quad JBL Speakers. Based on Android 10, Lenovo Tab P11 Pro aims at taking productivity to the next level with an optional keyboard that will transform it into PC mode. Huge storage capacity and strong battery life form the base of considering it as one of the best purchase of 2021.
9. Apple iPad mini (6th Generation)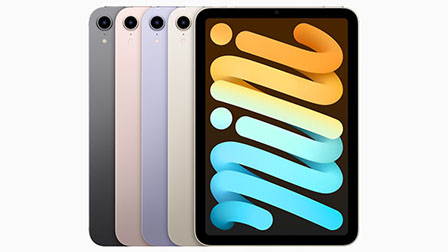 The latest addition to Apple's iPad series, the Apple iPad mini (6th Generation) is everything the mobile users have been looking for.
The device is designed to bring productivity in the tip of your fingers and promote seamless user experience.
This power packed device is powered by the latest A15 Bionic chipset for uninterrupted performance like no other.
It is available in four bold and stunning color variants and with up to 256GB storage capacity. The lightweight and compact design of this device weighs around 0.65 pounds for a comfortable travel experience.
As for the display, it is equipped with an 8.3" LED-backlit multi-touch display with IPS technology. It is further accentuated with the True Tone display and the exterior anti-reflective coating for a comfortable visual experience. Pair that with the latest iPad OS and you won't even have to compromise on the performance.
10. Samsung Galaxy Tab A7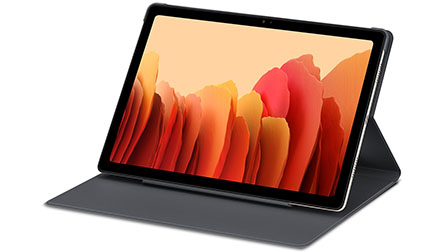 Another worthy mention in this category is Samsung Galaxy Tab A7. This smart, slim and highly portable tablet from the Samsung Galaxy series will introduce you to an exciting world of entertainment, made possible by its wonderful powers.
On the 10.4-inch screen that supports ultra-wide viewing, you will enjoy the best content and the list will continue to get bigger. This slim and compact device is powered by a fast Octa-core Processor and comes with 3GB RAM.
It is ideal for multitasking with 32 to 64GB built-in storage, which you can further expand to 1TB as per your need. A fast processor and more space mean uninterrupted, smooth watching and gaming sessions. Quad speakers enable Dolby Atmos to surround sounds and do complete justice to your favorite games.
What to look for in gaming tablets?
Certain basic factors need to be considered to buy the most suitable tablet for gaming purposes. Although the importance of gaming in tablets might vary from user to user, it is very crucial to understand that not all tablets can serve the purpose equally effectively.
Hence, if you are planning to buy a tablet and is also a gamer, then clear and better understanding of the below factors are essential to make the best purchase:
Processor
Although almost all the latest tablets are powered by sound and powerful processors, it is important to know about this aspect very clearly when it comes to gaming. Be it Samsung, Apple, Microsoft or any other manufacturer, the processor must be able to support next-generation features to support the best, lag-free and gaming experience.
Graphics
This is very important when it comes to playing games on tablets. It is better to select tablets that support high-end graphical representation with vivid clarity and perfection to allow the best to unleash on the screen.
RAM
The RAM is another important aspect that needs special consideration. Most of the modern graphic games are huge and comprises of several stages, also, their resolution requirement is very high. Thus, for proper gaming purposes, the RAM impacts the information processing capability. The greater the RAM, the greater is the efficiency of the tablet.
Storage
This can be easily understood that to play the high-end latest games, the tablet must have sufficient storage space. The internal storage capacity of a device has an impact on its efficiency and playtime. Plus, there must be the option of expanding the storage capacity via microSD Cards to allow enough space for the games to load and play at their own pace.
Display
We feel what we see. This is equally true for gaming in tablets. The visuals matter the most because it reflects the true soul of the games. Hence, it is important to check on the display configurations and specifications to select the best tablet for playing games. The immersive display contributes to the overall experience.
Battery Life
However mighty be a tablet in terms of its features and configurations, the life of its battery is crucial in deciding its usefulness. Thus, it is always recommended to check on the battery life of a tablet to enjoy uninterrupted playing.
Verdict
It is but obvious that with so many competitive options available to choose from, it is quite difficult to select the one that is most suitable. Although the idea of buying a tablet just for playing games is quiet alien, but still it is one of the driving factors that can help potential buyers to arrive at a decision.
Gaming has become mobile with more and more computing manufacturers investing intelligence and technology in making tablets to accommodate them. Thus, it can be rightly said that as the concept of entertainment has evolved with the gaining popularity of PCs and tablets, so has gaming progressed from just being a time pass to complete indulgence.
So, if you are a game lover and desire to experience the best gaming pleasure, then you can select any one of the above listed best gaming tablets for 2021.