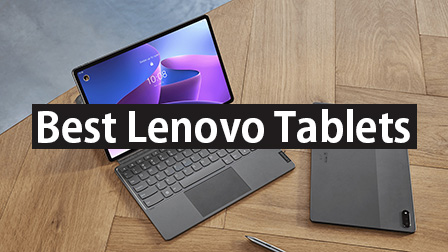 Are you looking for a Lenovo tablet that will fulfill all your wishes and requirements? Don't worry, we have got you covered. Lenovo tablets are special in their own way with affordable price points and superior features.
A tablet is used to power up your workflow on the go. So, when you use a tablet computer that isn't a good fit for your requirements, you'll have to compromise with the quality or get a new one.
That said when you decide to buy a tablet, list down your needs and look for the tablet accordingly. Nevertheless, Lenovo, along with other big brands like HP and Samsung has introduced tablet computers more suitable for a hybrid lifestyle.
Covid has changed how we work, play, and enjoy entertainment, so there ought to be a device that makes our hybrid lifestyle more convenient and better. And it's always better to have a device that can do everything for you.
Lenovo tablets offer three different operating systems to choose from and each platform has its own pros and cons. It works on either Google's Android, Google's Chrome OS, and Microsoft Windows.
So, you'll have to decide first what operating system would be perfect for your requirements. The android operating system on Lenovo tablets is pretty much similar to that you see on Android smartphones.
The navigation and user experience are quite appealing with Android. Not to mention, new features and upgrades you'll get from Google.
Whereas Windows operating system offers you a perfect interface for working in an enterprise or office along with amazing entertainment and gaming experience.
Some of you may like the traditional Windows feel of working on a computer and that's completely okay. In addition, Windows 11 makes new Tablets more powerful than ever.
Lastly, Lenovo also partners with Google for Chromebook tablets. A Chromebook is a great option for education and working where you don't need to run high-end software.
These tablets feature super-fast performance powered by Google and all its apps. You get internal storage as well as cloud storage with the utmost security. The best thing about Chromebooks is that they come with a comparatively smaller price tag.
Most Lenovo tablets range from 8 inches to 10.1 inches. However, rarely there's a 7-inch and 13 inch Lenovo tablets are available. Choosing the right screen size along with its resolution is quite important, especially when you're buying a tablet for gaming or live streaming. So, always check what set of specifications works best for you.
CPU, RAM, and graphics; you should never overlook these specifications because they decide how well your tablet will perform. All in all, when you look for Lenovo tablets, or for that matter any tablet, ensure you get the best combination of CPU, RAM, and graphics that fits in your budget.
One more underrated specification is the weight of the tablet. While it may look like it doesn't make much difference, the weight of the tablet impacts how conveniently you can work on it. Heavy tablets are tough to carry around the whole day.
Best Lenovo Tablets 2022
Lenovo comes at a lower price compared to other brands. With Lenovo, the price range varies with the screen size. Meaning, Lenovo tablets with smaller screens have lesser price points and likewise.
Some tablets at the lower price range are a little bit older. But you don't have to worry about that. We have ranked them according to their specifications, features, and price. Nevertheless, all tablets on our list are the best creations by Lenovo, so choose what suits you the best.
1. Lenovo Tab P11 Plus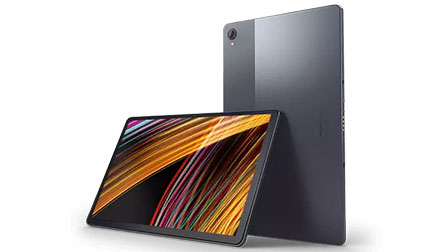 The first on our list is Lenovo Tab P11 Plus. Launched recently this year, P11 Plus is specifically designed for a hybrid lifestyle.
It lets kids discover new things on their own and also provides a stunning entertainment experience for a family.
Its dual microphones and quad speakers make the tablet just perfect for shooting videos with superior quality and enjoy entertainment seamlessly.
In addition, it is compatible with Lenovo Keyboard Pack and Lenovo Precision Pen 2. This lets you unleash your creative ideas and create masterpieces when inspiration strikes. It is perfect for working on and powered by MediaTek Helio G90T octa-core processor and runs the Android 11 operating system.
You get three combinations for RAM and ROM storage with 4GB and 6 GB RAM and 64GB and 128GB internal storage capacities. Lenovo Tab P11 Plus features an 11 inches screen with 2K resolution, 70% NTSC colors, and a 60 Hz refresh rate.
Pros
Features portable 11" 2K display with heightened responsiveness
Backed with Dolby Atmos quad speakers for ultimate audio experience
Supports up to 15 hours battery life
Affordable price point
Configured with optimal memory and storage
Cons
Camera focus and image quality isn't optimal
2. Lenovo Chromebook Duet 5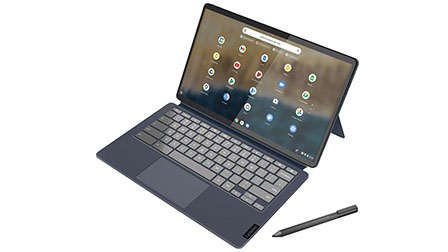 While you are scrounging for a good-quality Lenovo tablet to invest in under $500, the Lenovo Chromebook Duet 5 is an option that you wouldn't regret splurging out on.
Besides the sleek, convertible design, the device also features the prominence of an OLED touch display that enables you to stay productive even on the go.
The tablet is powered by the latest Qualcomm Snapdragon SC7180 Processor with 4GB RAM and 64GB eMMC flash storage.
So, long gone are the days when you'd complain about delays in the productivity. Pair that with 15 hours of battery life and the prompt Chrome OS and you will never have to compromise on your productivity.
The 13.3" FHD OLED display with 1080p screen resolution is another benefit to this device. It produces sleek and stunning display with vivid color reproduction. Also, the I/O ports and wireless connectivity options in the device with Bluetooth 5.1 and 802.11AC Wi-Fi connectivity.
Pros
Responsive and high-performance configuration
Mesmerizing OLED display for hyper-realistic color reproduction
Quad-speakers with amplifiers for crystal clear audio
Convertible functions and ultra-portability
Supported by Google Play for superior application access
Cons
Lacks proper RAM management
3. Lenovo Tab P12 Pro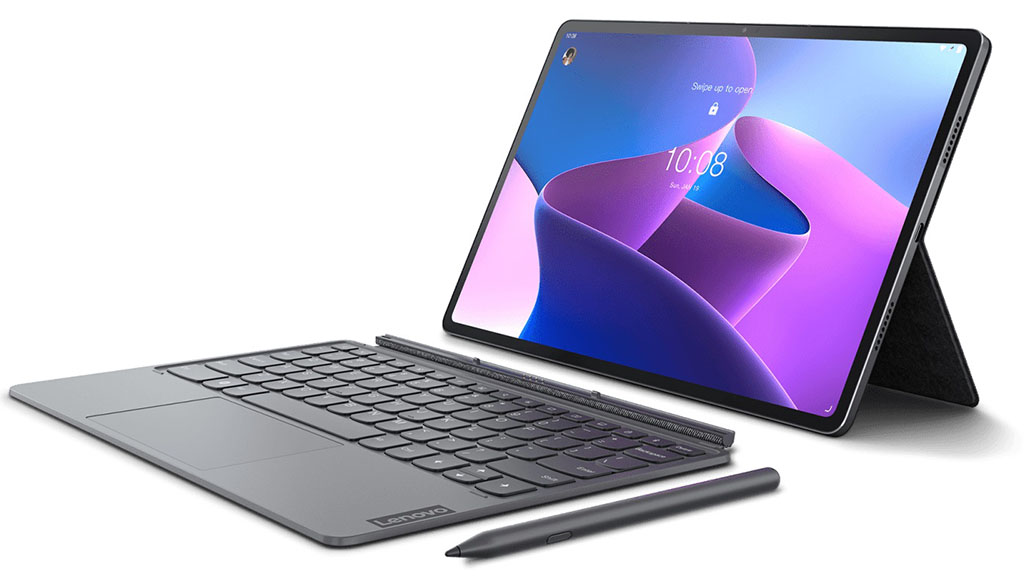 If you are on a budget and don't want to go overboard with the spendings, the Lenovo Tab P12 Pro is a pretty great investment. The highlight of this device is that it doubles as a wireless second screen for the laptop, allowing you to make the most out of your work and productivity. Backed with the Lenovo Project Unity, the tablet supports touch and pet input.
The tablet is designed for indoor and outdoor usage and features a bright and vivid 12.6" 2K AMOLED display that supports superior productivity, gaming and entertainment without any drawbacks. The best thing about this device is that it supports all-day productivity with high-performance specifications.
The Tab P12 Pro is also powered by the latest Qualcomm Snapdragon 870 CPU with Qualcomm Adreno 650 GPU configuration for the ultimate responsiveness. The device is backed with Android 11 OS with 6GB RAM and 128GB UFS 3.1 storage requirements. The device also features a combination of 13MP and 8MP rear and front-facing camera.
Pros
Equipped with a stunning AMOLED display
Backed with JBL quad-speakers for superior cinematic audio
Supports buttery-smooth visuals for superior gaming
Integrated with the latest Wi-Fi and Bluetooth connectivity
Optional convertible design with prolonged battery life
Cons
Visuals aren't very bright or vivid
4. Lenovo Tab M10 Plus (3rd Gen)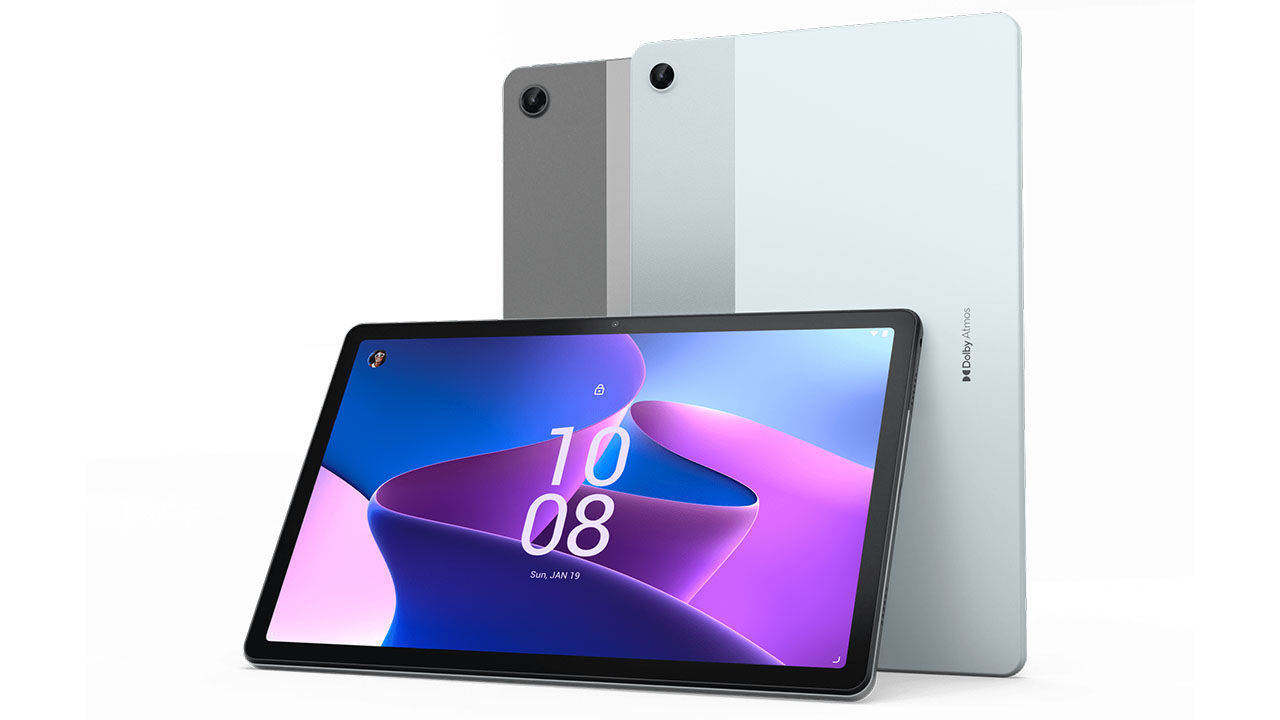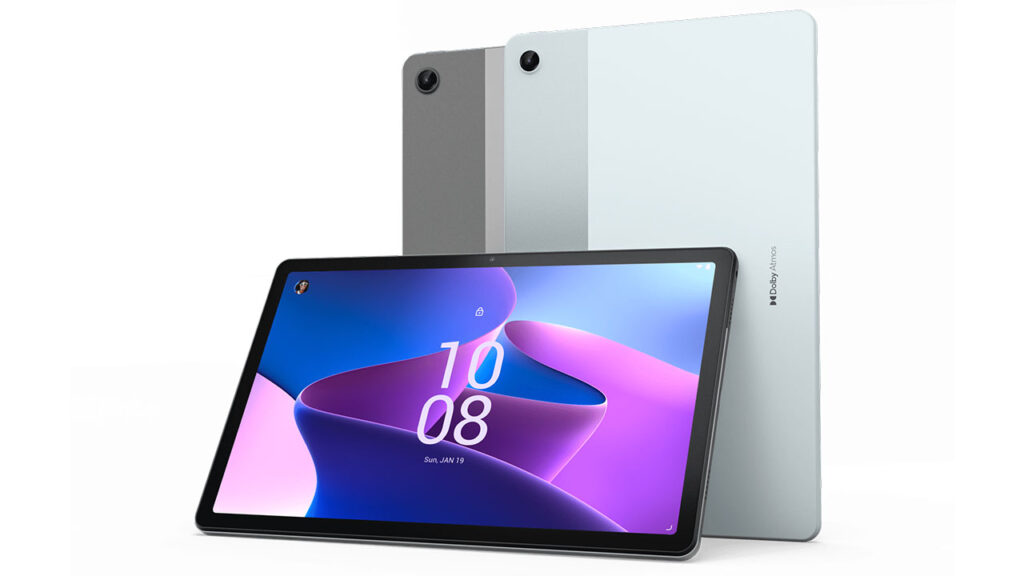 Launched in 2022, Lenovo Tab M10 Plus (3rd Gen) features a large 10.6-inch IPS LCD display with 2000 x 1200 pixel resolution and 400 nits brightness.
This tablet is equally suitable for study, play, work, and entertainment. It comes equipped with a reading mode which is a promising feature for those who e Read. Moreover, Tab M10 Plus 3rd gen comes with TUV certification for the protection against Blue Light.
It is powered by a MediaTek Helio G80 octa-core processor (up to 2.0 GHz) along with 4 GB RAM storage. It comes with Android 12 pre-installed, however, Lenovo claims that the next version, Android 13 will be made available upon its launch worldwide.
It features an 8 MP rear cam with auto-focus and an 8 MP selfie cam with fixed focus. Lenovo Tab M10 Plus 3rd gen packs a battery that lasts about 12 hours. That makes binge-watching even more fun.
The tablet comes with stylus support. Nevertheless, you'll have to purchase Lenovo Precision Pen 2 separately. Tab M10 Plus 3rd generation features quad speakers, mic input, and USB Type-C 2.0.
Pros
Powerful octa-core processor
Enough 128 GB eMMC internal storage plus microSD card support
Pleasant sounding audio
Cons
It doesn't come with a stylus
No keyboard compatibility
5. Lenovo Yoga Tab 13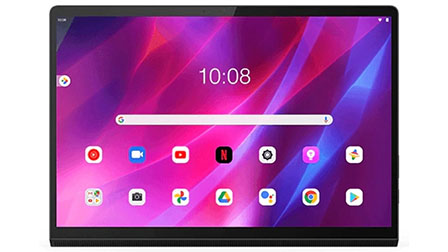 This is one of the largest tabs Lenovo offers with a 13-inch screen along with a 2K resolution display powered by Dolby Vision.
It features the classic JBL audio experience with Dolby Atmos. Also, it is so powerful that it can run all AAA gaming titles without lag for a smooth and seamless gaming experience.
It is powered by Qualcomm Snapdragon 870 Octa-core processor and Qualcomm Adreno 650 GPU. Moreover, it comes with 8 GB RAM. Such a powerful combination of processors and specs is potentially able to perform any task with ease.
Its screen features a 100% sRGB color gamut and a 60 Hz refresh rate. Powered by the Android 11 operating system, it offers the latest features and apps by Google.
Lenovo Yoga Tab 13 features a micro HDMI cable to use as a secondary screen. This makes it quite a perfect choice for your hybrid lifestyle. Not to mention its compatibility with a keyboard and Lenovo precision pen.
Pros
Multi-mode support with stainless steel stand
Supports 2K display with Dolby Vision
Supports cinematic moving audio
Lightweight and portable design
Supports HD streaming of favorite shows
Cons
Overpriced for the available features
6. Lenovo Tab M8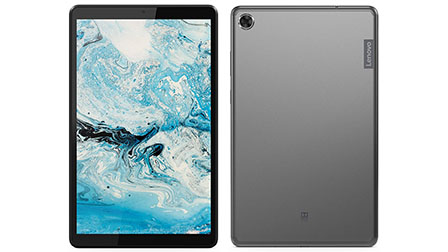 The Lenovo Tab M8 is a small and affordable tablet. It features an 8-inch screen with 1280 x 800 resolution.
Moreover, it is powered by a Quad-Core 2GHz processor along with 32 GB internal storage.
All in all, if you need a smaller tab just for use on the go and don't require it as your primary device, you can surely go with Lenovo Tab M8. It features a 5000 mAh battery that lasts all day long. That said, this tablet is perfect for traveling, and also its smaller size makes it easier to carry around.
The Lenovo Tab M8 runs the Android 9 Pie operating system pre-installed. You can, however, upgrade it to Android 11. Its smaller screen also comes with blue rays eye protection to reduce strain on your eyes while looking at the screen for quite a long.
Pros
Sleek and ultrathin design with a metal back cover
Equipped with an IPS HD touchscreen display
Backed with quad-core processor for ultimate performance
Backed with the TUV-certified display that protects vision
Integrated with all the latest I/O ports
Cons
Integrated with older Android version
7. Lenovo Tab P11 Pro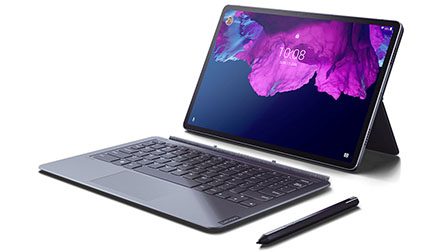 The next one on our list is Lenovo Tab P11 Pro. It is compatible with Lenovo Precision Pen 2 and P11 Pro Keyboard.
You can buy them separately. That way, if you can choose not to buy a pen or a keyboard and save extra bucks on the final price of the tablet.
It features an 11.5 inches screen with 2560 x 1600 or simply WQXGA resolution. It uses OLED display technology with 350 nits of brightness.
The Lenovo P11 Pro tablet is powered by a Qualcomm Snapdragon 730G Octa-core processor along with 4 GB RAM. This is a powerful CPU and RAM combination that can run high-end apps and games smoothly without any lag.
With a cinematic viewing experience and pro-class performance, Lenovo Tab P11 Pro is one of the best tablets suitable for a hybrid lifestyle. Also, the newer tablets, including Tab P11 Pro, have new camera features for clicking better pics and shooting videos.
Pros
Powered by the latest Qualcomm process
Optional storage configuration
Sleek and compact OLED touchscreen display
Backed with quad JBL speakers for the ultimate audio experience
Powered by the latest Android OS
Cons
Overpriced compared to the features
8. Lenovo Yoga Tab 11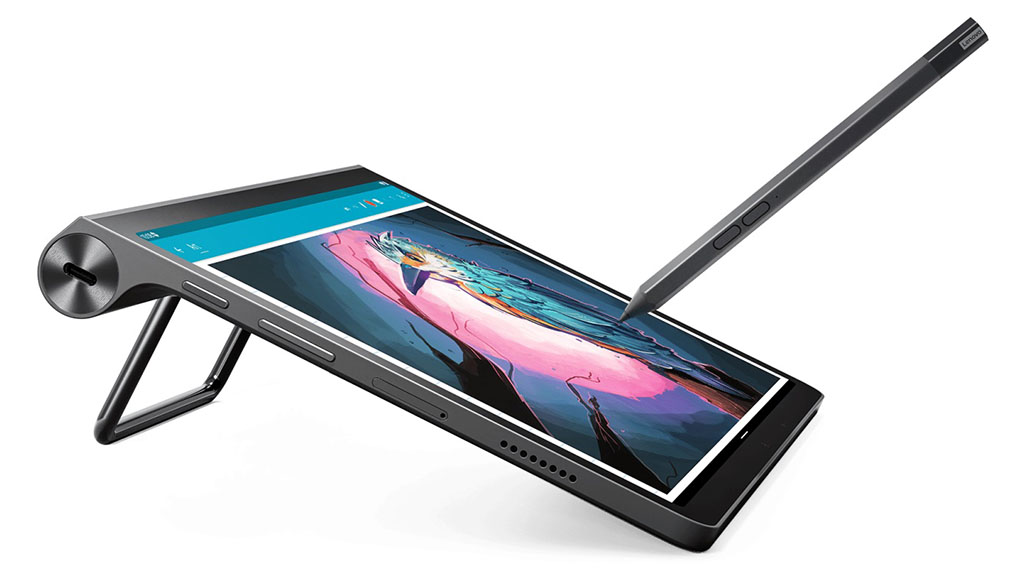 Another Yoga series Lenovo tablet on our list is Lenovo Yoga Tab 11. This tablet features an 11-inch screen along with a 2K display and TÜV-certified blue light reduction technology for a strain-free working experience with the tablet.
It is powered by a MediaTek Helio G90T Octa-core processor and runs on the Android 11 operating system pre-installed. With 4 GB RAM, this tablet can run all high-end apps available on the Google Play Store. And it offers 128 GB internal storage along with a microSD card support for additional storage.
Lenovo Yoga Tab 11 uses LCD IPS display technology with 400 nits brightness and 16.7 million colors. The display offers a 60 Hz of refresh rate and Dolby Vision support.
Like the Lenovo P11 tablet, it also comes with JBL quad speakers, dual microphones, and Dolby Atmos optimized sound. Its battery capacity is 7500 mAh and comes with a 20W quick charger with the support of MediaTek power delivery 2.0.
Pros
Integrated with a stunning 2K Dolby Vision display
Backed with Dolby Atmos quad-speaker
Supports up to 15 hours of battery life
Sleek and portable design
Supports all the latest applications
Cons
RAM configuration could be better
9. Lenovo Tab M7 Gen 3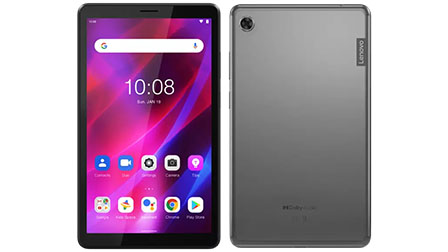 Here's one more small tablet of 7-inch screen size for you. Lenovo Tab M7 Gen 3 is a family tablet suitable for all regardless of age.
It features unlimited content for kids that help them learn, grow, and provide answers to their curiosity. On the other hand, it features everything you need to access, whether it's entertainment or games.
With just one right swipe, you can access your favorite content on Lenovo Tab M7 gen 3. The display technology it uses is TDDI LCD with 5 point touchscreen. The screen resolution is 1024 x 600 with 400 nits brightness. It is powered by MediaTek MT8166 processor and runs the Android 11 operating system.
It comes with only 2 GB RAM but that's sufficient for your day-to-day tasks, entertainment, and gaming. You get free 3 months Amazon Music subscription and the power of Google Apps with it.
Pros
Supports all your entertainment in one place
All-metal design for heightened portability
Backed with the latest Google apps support
Supports 3 months of free Amazon Music Unlimited
Optimal and vivid display panel
Cons
Lacks good speaker and audio output system
10. Lenovo ThinkPad X12 Detachable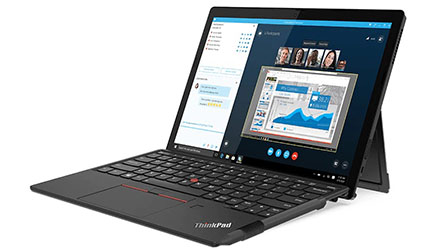 The next on our list is the Lenovo ThinkPad X12 Detachable.
All ThinkPad devices by Lenovo run on Microsoft Windows operating system and feature computer-like CPUs. That makes such tablets highly powerful with the utmost mobility.
It is powered by 11th generation Intel Core i5 and i7 processors. Meaning, you have to configure your device with 5 different CPU options.
This allows you to choose the best specs for your requirements. It comes with Windows 10 Home pre-installed. However, Lenovo recommends using Windows 10 Pro for businesses and enterprises.
ThinkPad X12 features a 12.3 inches display with a Full HD resolution. It uses IPS display technology and offers an anti-reflective touchscreen with 400 nits brightness and toughens the screen using Corning Gorilla Glass.
It packs a whopping 16 GB RAM and its battery lasts for 10 hours straight on a single charge. This makes it the perfect device for running high-end software seamlessly.
Pros
Designed for lightweight convenience
Powered by the latest 11th Gen. Intel process
Superior combination of RAM and storage
Stunning visuals
Detachable and flexible work station
Verdict
I hope this list has helped you with choosing the right tablet. Lenovo's tablets working on Windows platforms are costlier than Android tablets and Chromebooks.
This is because of the powerful CPU, graphics, RAM, and internal storage it provides. Moreover, Windows is a better platform to be used in an enterprise or business.
In a nutshell, when you're looking for a tablet for your workplace where quick processing and transferring data is the top priority, you can go with the Lenovo ThinkPad series tablets.
ThinkPad series tablets are also suitable for other general day-to-day life needs. However, the price factor plays a huge role there. Instead, you can choose a Lenovo tablet that runs on Android operating systems.
They feature powerful processors and RAM that can run high-end computer graphics software, apps, and games. Plus, they can provide the best entertainment and make your life easier.
Lastly, if you or your family need a tablet for just browsing and educational purposes, you should go with the Lenovo Chromebook Duet. Also, it offers great benefits of Google Drive, Google One, and other apps at quite an affordable price range.