Top 3 Best Chrome OS Tablets 2020
With every tech firm releasing out a one or two tab every year, the fight is undeniably tough. Be it iOS or Android, people tend to choose the OS they trust. Now, since Chromebooks are rolling into the market, the new trend is setting in. Chrome OS tablets are most apt for simple day-to-day tasks such as emails, social media and browsing web. With Chrome getting Android apps, the Chromebooks have now turned more sophisticated and organized to use. Also, it is quite preferable at school level.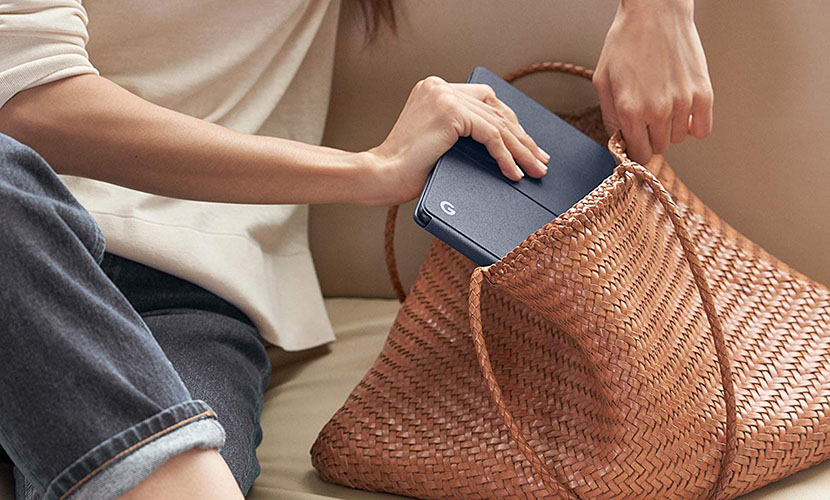 With nearly 25 million Chrome OS users now, Chromebooks often amaze us with its latest features and ones that we direly await for. Along with the impressive battery life and a fair deal on our pockets, Chromebooks are generally what they need to be, nothing more and nothing less. That is exactly what makes it less expensive and suitable for all.
Having said all good things about Chrome OS tablets, we bet you might want to have a look at some top notch Chrome OS tablets that will surely redefine your experience.
Summary
The top three Chrome OS Tablets are mentioned below along with their brief elucidations. Worry not folks! You will find a detailed analysis further down in the article.
Molecular display with enduring battery life is what defines Google Pixel Slate for you. Well, that's not all; it has a fast processing system and does provide fast charging as well.
Large display along with 2400 x 1600 resolutions gives HP Chromebook x2 12-f015nr, an outstanding look. It can be termed as 2-in-1 tablet with detachable keyboard feature. Now, one thing that Chromebooks are well known for is the enduring battery life.
Walking down to another best Chrome OS tablet, Acer Chromebook Tab 10 is full of gorgeous display with 2048 x 1536 QXGA resolutions. And a Wacom stylus makes it even more desirable.
And, that's not all about these Chromebooks, get detailed elucidations about these Chrome OS tablets further down in the article
What's Different in Chrome OS Tablets?
Chrome OS tablets are now settling in as the latest trend and are surely becoming talk of the town. With being less expensive as compared to other tablets, it offers all the imperative features that you'll need in your daily work-life. Sounds quiet apt, isn't it?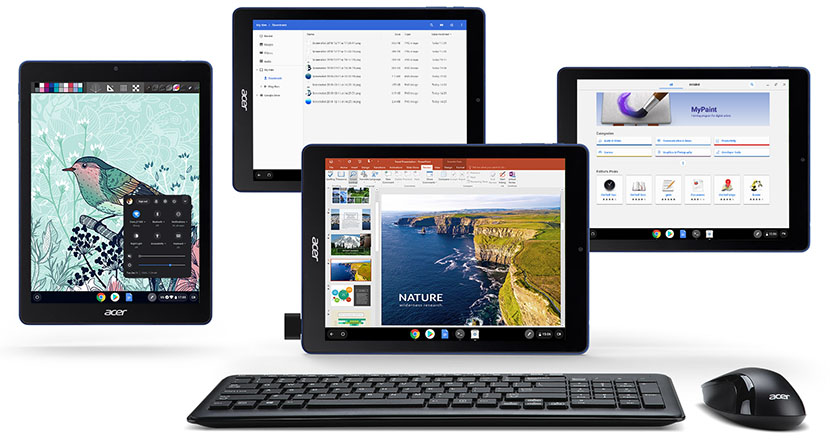 Unlike other tablets, Chrome OS Tablets are designed in a manner that they serve the purpose they are supposed to serve, not much higher or a wee less. The Chrome OS tablets have a fast processing system and thus, are surprisingly good at multi-tasking. The tabs are designed for simple daily tasks, hence, they turn out to be more preferred at school level unlike other tablets in the market.
Along with being user friendly, Chrome OS tablets extend all features that other tablets have and that too a notch higher in terms of usability. Be it apps or Microsoft Office, Chrome OS tablets are compatible to have it all. Along with Microsoft Office, Chromebooks are well versed with extending inbuilt facility of Google docs, sheets or slides. Chrome OS tabs have a larger display, high resolution and many other features that keeps it, if not unique, at par with other similar tablets. It is the price that makes all the difference and pushes Chromebooks a step forward as compared to others.
Chrome OS Tablets: Comparison With Android Tablets
Hopping onto the comparison between ever trending Android Tablets and a tough competition Chrome OS Tablets. Well, according to recent tabs rolled out, one thing that we can be pretty sure of is that Android tablets aren't much of a deal. While Android tablets don't seem likely to stay, Chrome OS tabs are in full trend and acing like pro. Even though the recent launches, Acer Chromebook 10 and Google Pixel Slate have just been rolled out, they have successfully compelled buyers with their features.
The Chrome OS Tablets are undeniably here to stay, with the features they have and packing up all that they need in a single device, tech firms do play smart. Also, by keeping the process low, they tend to win the half race already.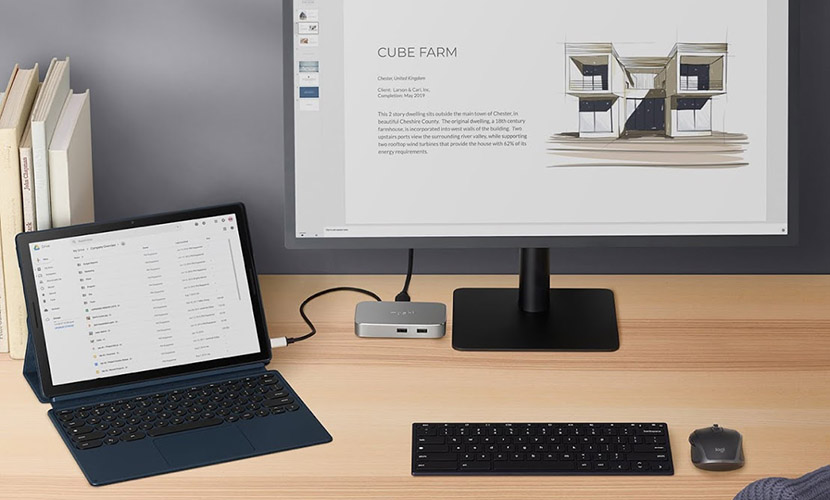 Also, Chrome OS Tablets are well known for their enduring battery life which sadly any other OS could not achieve by now. There are various features that help Chrome OS tabs outrun Android ones. From price range to user friendly experience, Chromebooks just tend to be a wee better than others.
You can easily get your hands on Chrome OS tablets at an average of around $300, whereas other tablets are nearly $100 or more than that. Needless to mention about the better battery life and a larger screen size.
Other than these few features, Chrome OS tablets are more broadly preferred at school level as they do a fine job in writing essays, emails or even research. Along with the school work, you can also run apps on Chromebooks with help of Chrome Store. Hence, it comes par with Android tablets in this aspect as well. If you wonder that you might not be able to use Microsoft Office on a Chrome OS Tab, well to your surprise, Microsoft has extended its subscription to Chromebooks as well. Hence, making it easier for you to use it. Although, a slight glitch here is that the older versions of Chromebooks might face troubles using it.
So now, while Android tablets are on verge of taking their last breaths, Chrome OS Tablets have successfully established themselves in market and are here to stay!
1. Google Pixel Slate​
Now do we really need to mention how awesome this tablet is? one of the best in market, Google Pixel Slate is embedded with molecular display for sharp picture quality. It also helps you to multi-task with split-screen functionality. Also, it makes your work easy with built-in google docs, sheets and slides. Hence, you can work offline as well. Another best thing about Google Pixel Slate is its battery life. 12 hour straight battery life is what you get with Google Pixel Slate. It also imbibes a finger print unlock system which secures your tab.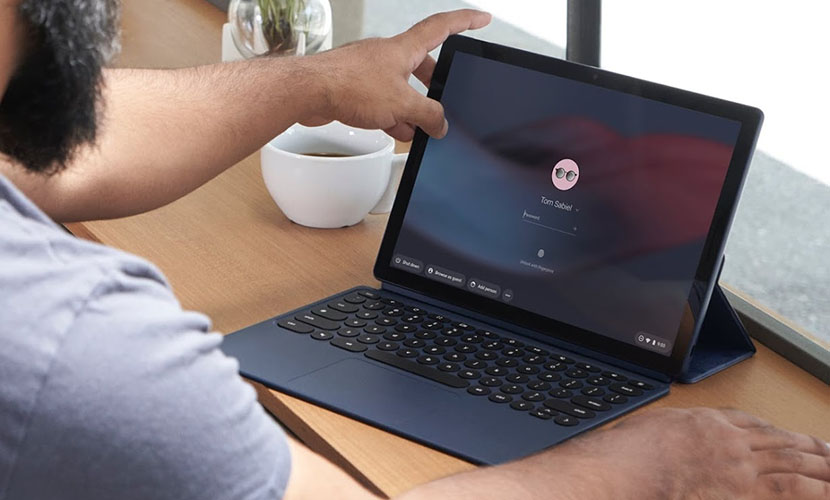 Pixel Slate has a Chrome OS that gets some cool automatic updates which helps your tablet to have the latest features. You know what's more interesting? You get Pixelbook pen that just intensify your working experience with the Google Pixel Slate. Also the Google Assistance, can we really forget to mention it? Definitely not! With Google Assistance, you can get ask questions, set reminders, add tasks or play music, hence, you get to do any possible thing.
Quick glance at some of the exclusive features of Google Pixel Slate:
Molecular Display
Helps in Multi-Tasking
Enduring Battery Life
Fast Charging
Chrome OS
Fast Processing
Hence, Google Pixel Slate is certainly among the top 3 Chrome OS tablets that you will love to have.
2. HP Chromebook x2 12-f015nr​
Coming to HP Chromebook, the tab is just what we need. In a market where big screens having chrome OS aren't many, HP Chromebook x2 is indeed the most desirable tablet with a good 12.3 inch screen. With nearly 12 hour battery capacity, it also rules out this feature. With numerous tabs being rolled out in the market, tech firms often buckle up to ace in the race. HP Chromebook series have undoubtedly established a firm grip over the market.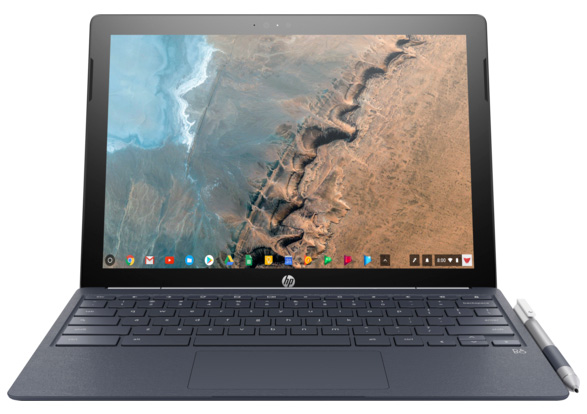 HP Chromebook x2 12-f015nr ​has a fine display with resolution of 2400 x 1600 pixel 235 PPI. It is counted among the best 2-in-1 tablets with detachable screen feature, hence, making it more user friendly and easily adaptable. Being a lightweight tablet, you also get the ease of carrying it when you travel or go for a meeting.
| | HP Chromebook x2 12-f015nr Specs |
| --- | --- |
| Processor | 1.0GHz - 2.6GHz Intel Core m3-7Y30 |
| Graphics | Intel HD Graphics 615 |
| Display | 12.3-inch (2400 x 1600) Touch |
| RAM | 4GB LPDDR3 |
| Storage | 32GB eMMC |
| Battery | 48Wh Li-ion |
| OS | Chrome |
HP Chromebook x2 12-f015nr​ also has an impressive storage of 32 GB imbibed. Talking about the design, the tab is well built and has an aluminium body which gives it an amazing look. You also get a comfortable working experience with HP Chromebook keyboard.
Now coming to quick glance at HP Chromebook x2 12-f015nr​ features that might just sway you away:
12.3 inch display
Long battery life
2400 x 1600 pixel resolution
Detachable keyboard
Impressive storage
In all, you get an amazing deal of features and qualities packed in a single tablet. Hence, you just cannot miss trying this beauty.
3. Acer Chromebook Tab 10​
Moving forward to Acer Chromebook Tab 10, the tab has some exclusively amazing features than can lead you in dilemma as to what could be the best buy. Well, now that depends on you. Coming to the features, first can be the Chrome OS. Similarly to other tablets, even Acer Chromebook Tab 10 is well processed due to its operating system. Also, you get amazing all day battery life which can further help you to work all day without any hassle of charging time and again.
| | Acer Chromebook Tab 10 Specs |
| --- | --- |
| Processor | ARM Dual-Core OP1 RK3399 Processor |
| Graphics | ARM Mali-T864 |
| Display | 9.7-inch QXGA (2048 x 1536) IPS Touch |
| RAM | 4GB LPDDR3 |
| Storage | 32GB |
| Battery | 4500mAh |
| OS | Chrome |
Chrome OS is not just about long battery life, it delivers an intuitive use, fast processing and enhanced security system which will further enhance your user experience.  Getting a notch higher with the Wacom technology pen, you get a natural feel to write and work.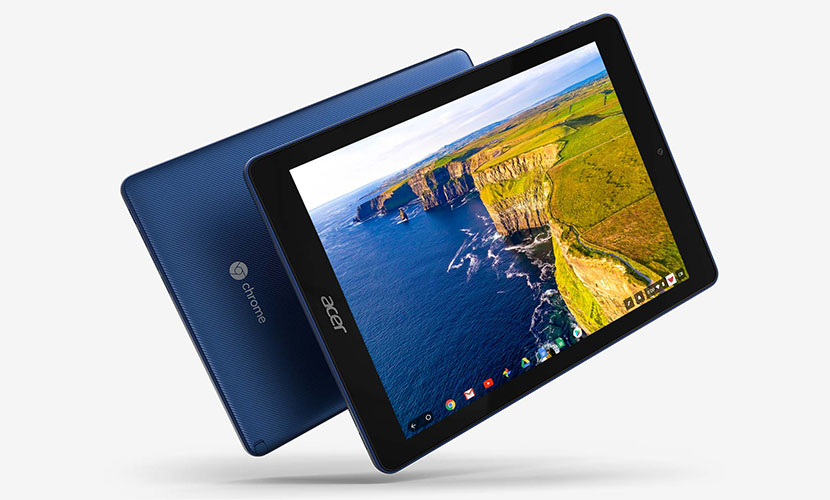 Talking about the display, Acer Chromebook Tab 10 has display with 2048 x 1536 QXGA resolutions that successfully delivers undoubtedly best and crisp display. Another best thing apart from the gorgeous display is that the tablet has included stylus. Acer, since last few years, has been able to make its place in the market. Now, with every feature counted, the tab is surely one of the best yet it might not just do justice to the price. Well, we'll leave it on you to decide.
Let's now have a quick recap of all features of Acer Chromebook Tab 10:
9 hour long battery life
Gorgeous display
2048 x 1536 QXGA resolution
Inbuilt Stylus
Wacom technology pen
This is all about Acer Chromebook Tab 10. An exclusive Chrome OS tablet which might be a little high priced as per the features.
BONUS: ASUS Chromebook Tablet CT100
ASUS launched Chromebook Tablet CT100 in Q1 2019. What's good about it, you ask? Well, the tab certainly defines innovative for you. With this tablet, ASUS has simply targeted the school students and budding artists to design their way and polish their skills on a digital platform.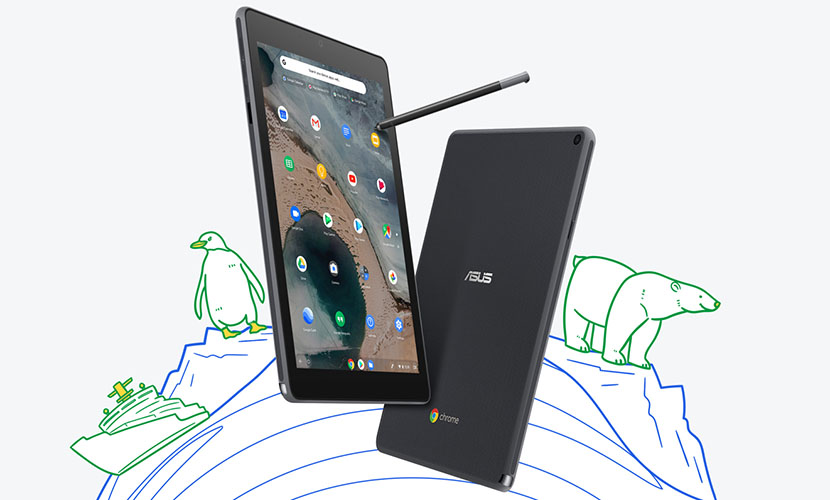 The ASUS Chromebook is much more than that. The display is well covered with tempered glass and is 9.7 inch in size. It is also easy to carry for a school kid, the side 10mm chassis makes it easier for small hands to hold it without slipping it. ASUS Chromebook CT100 is inclusive of an inbuilt stylus frame that keeps it well protected from getting misplaced. Along with enduring battery life, the tab is all that your kid needs to explore art and design or just to play some video games.
Battery life of this yet to launch ASUS Chromebook is sufficient for your child's day at school, hence, keeping him from the trouble to charge again and again. Another best part about the tab is that it has been rated for drops up to 100cm which is average height of most tables and desks. Hence, now you even don't have to worry about handing it over to your child.
Conclusion
With grasping all details about Chrome OS Tablets, we can finely state that the era of Chromebooks has finally begun. The features that a Chrome OS tab offers is at par with other tabs and are all that can make you want it. Tech firms have now started having Chrome OS in their products in order to provide more efficiency in processing and an enhanced user friendly experience.
Impressive battery life, gorgeous display, large screen size and much more. Chrome OS tablets are everything that you need for functioning in day-to-day routine. Yes, if you wish to go higher than just basic web browsing, or emails, you can look for something else. The Chrome store offers compatible apps and being less expensive, Chromebooks are your thing. Without luring yourself into a high tech tablet which might not be of much use, get yourself a basic Chromebook that happens to fit your suitability along with your budget.