Chrome OS tablets are now settling in as the latest trend and are surely becoming talk of the town. With being less expensive as compared to other tablets, it offers all the imperative features that you'll need in your daily work-life. Sounds quiet apt, isn't it?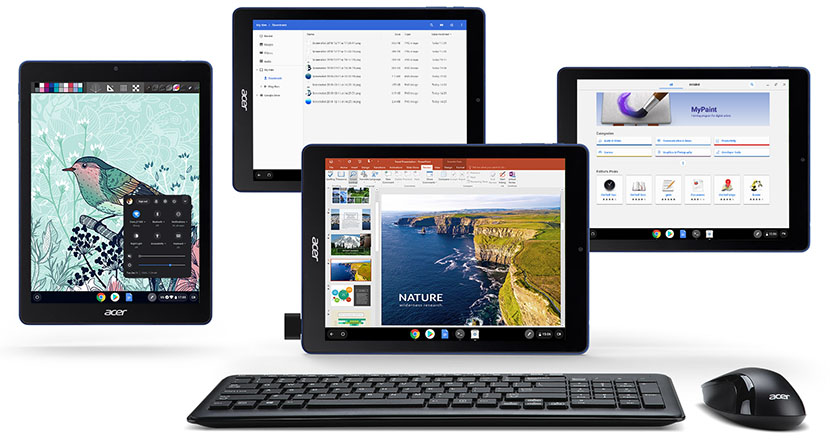 Unlike other tablets, Chrome OS Tablets are designed in a manner that they serve the purpose they are supposed to serve, not much higher or a wee less. The Chrome OS tablets have a fast processing system and thus, are surprisingly good at multi-tasking.
The tabs are designed for simple daily tasks, hence, they turn out to be more preferred at school level unlike other tablets in the market.
Along with being user friendly, Chrome OS tablets extend all features that other tablets have and that too a notch higher in terms of usability. Be it apps or Microsoft Office, Chrome OS tablets are compatible to have it all.
Along with Microsoft Office, Chromebooks are well versed with extending inbuilt facility of Google docs, sheets or slides. Chrome OS tabs have a larger display, high resolution and many other features that keeps it, if not unique, at par with other similar tablets.
It is the price that makes all the difference and pushes Chromebooks a step forward as compared to others.
Our Picks: Best Chrome OS Tablets 2023
After Chromebooks gaining popularity in laptop market, the tablet industry is also getting into Chrome OS tablets with few new tablets launching every year. It's a fact that there are only few Chrome OS tablets available in the market right now.
But, once people start loving it, more number of tablets with Chrome operating system will be launched. Till then, we have listed down the few best Chrome OS tablets for 2023.
1. Lenovo Chromebook Duet 5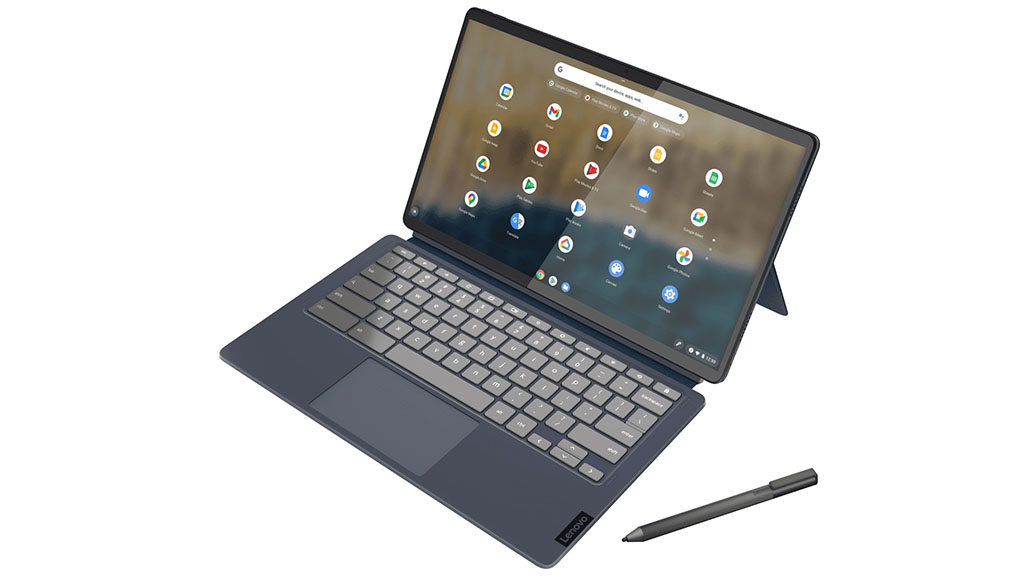 With a 13" OLED display, Lenovo specifically designed Chromebook Duet 5 for the hybrid working lifestyle.
The slate is powered by Qualcomm Snapdragon SC7180 processor along with 4 GB RAM. This set of specs works wonders in tablets with Chrome OS.
Lenovo Chromebook Duet 5 packs a battery that lasts up to 15 hours on a single full charge. So whether you work, study, or binge-watch, you don't have to worry about running out of battery.
It comes with a 256 GB of onboard storage which is great in addition to cloud storage on Google Drive and Google One. The slate is compatible with stylus and can be detached from Keyboard Folio to be used in a tablet mode and attach back to switch to make it a productivity powerhouse. It has 2 USB type C and 1 POGO pin ports.
Chromebook Duet 5 has 4 speakers for immersive sound, whereas its 5 MP front Fixed Focus and 8 MP rear auto-focus camera add to its versatility.
2. ASUS Chromebook Detachable CM3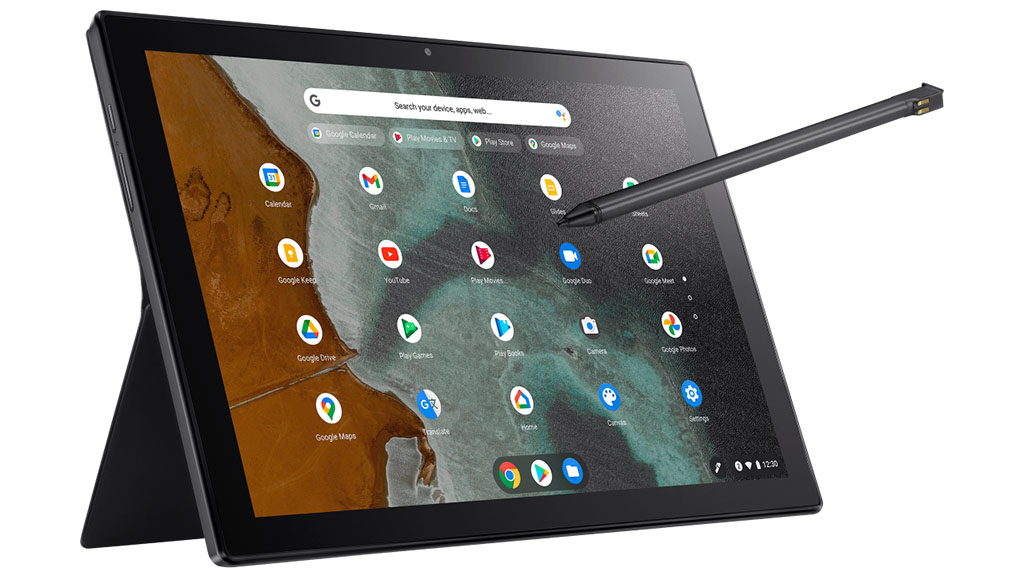 The ASUS Chromebook Detachable CM3 combines performance, versatility and portability, making it an excellent device.
The appearance is unique and elegant, and the original vertical and horizontal bracket design provides the best direction and perspective for study, work, and fun.
Connected to a full-size ergonomic keyboard, the ASUS Chromebook Detachable CM3 turns into a laptop with ErgoLift design and 1.5 mm keystroke to improve work efficiency. After removing the stand cover and keyboard, it becomes a compact tablet. Take notes or draw pictures at ease with the stylus pen.
The 7.9mm ultra-flat design and anti-stain coating make it a stylish and reliable companion for play, study, or work. With the pen, you can express your creativity and productivity through quick and precise movements: as long as you have an idea, take notes, draw or write down ideas.
The easily detachable keyboard and magnetic back cover and the flexible tilt stand on the ASUS Chromebook Detachable CM3 keep you productive.
3. Lenovo Chromebook Duet 3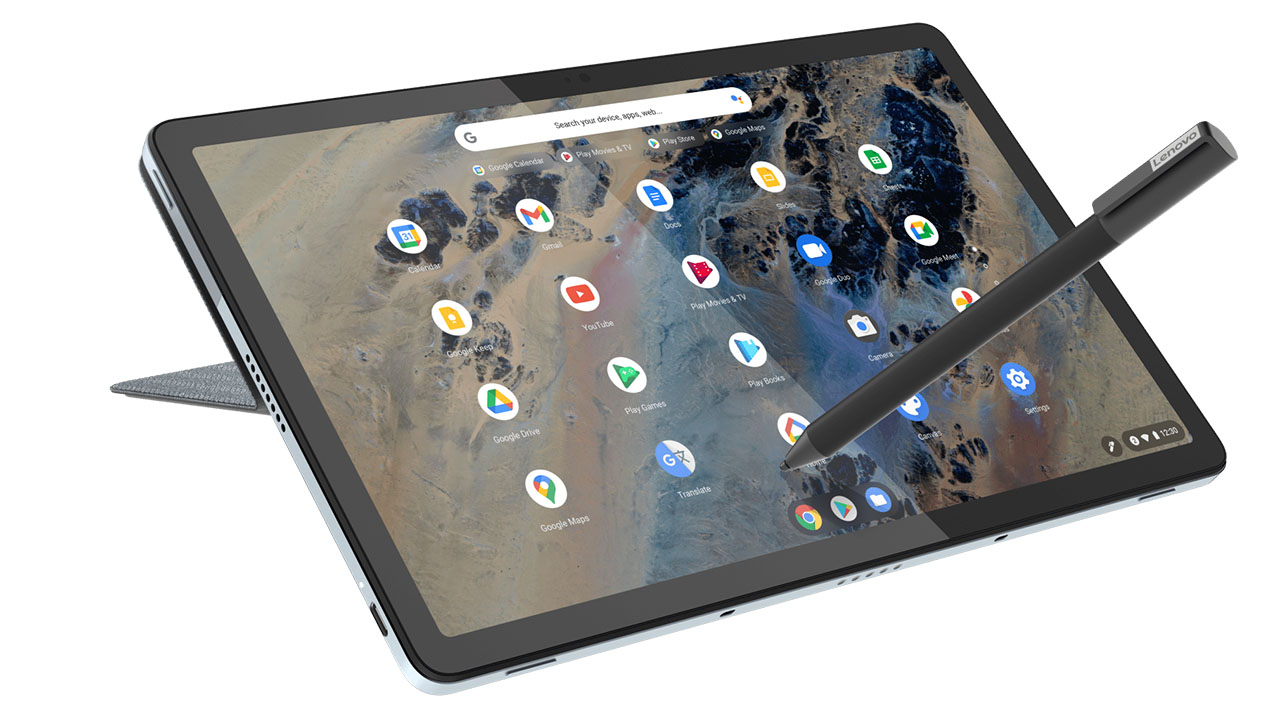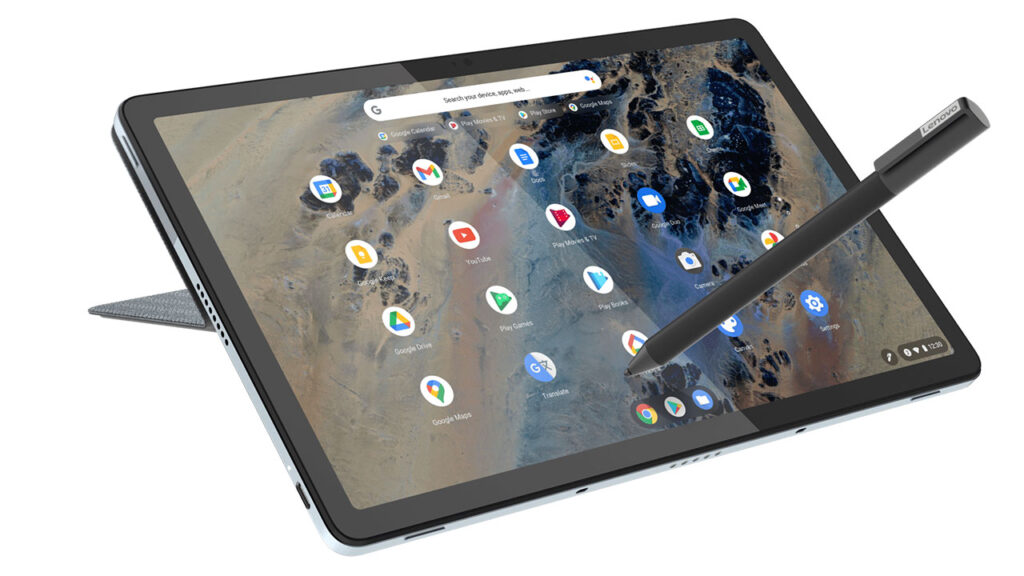 Tablets are convenient, easy to travel with and equally powerful with all the latest specifications.
If you travel a lot and need a mobile workstation that can support your workflow, the Lenovo Chromebook Duet 3 is a pretty great deal.
Powered by the Qualcomm Snapdragon SC7180 Processor and Qualcomm Adreno graphics, the model runs on the Chrome OS for easy access to all the productivity apps without any drawbacks. The configuration of 64GB eMMC for storage and 4GB RAM further optimizes the workflow even seamlessly.
The tablet is equipped with a 10.9" 2K display panel with an IPS glossy touchscreen panel with 400 nits brightness for vivid visuals. Wireless connectivity in the model is streamlined with 802.11AC (2 x 2) & Bluetooth 5.1, which is a bonus.
4. Lenovo Chromebook 10e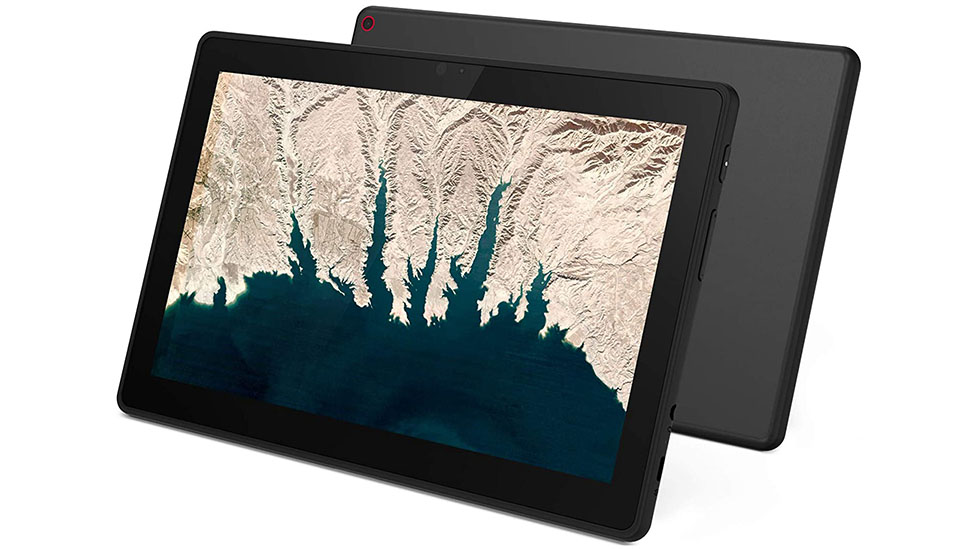 Lenovo isn't just famous for their laptops; they have carved a place for themselves in the tablet market too.
If you are currently hunting for a responsive and good-quality ChromeOS tablet, the Lenovo Chromebook 10e is a pretty great choice to buy.
This powerful and highly responsive 10" tablet is designed with a Dragontail Pro glass and high-definition display to make the most out of your viewing experience, especially when it comes to streaming and watching videos.
Designed to optimized online learning, the Lenovo Chromebook 10e is an ideal tool for the K-2 students who are in the process of kickstarting their academic journey. Also, it is integrated with dual-cameras – 5MP back and 2MP front camera, enabling students to keep track of the progress around them.
The tablet is extremely portable, hence ideal for students to carry around with them without needing to worry about the device sustaining cracks on the display. Integrated with Chrome OS, access to all the latest browsing needs will never be an issue. The tablet is powered by the MediaTek 8183 processor.
As for the I/O ports for connectivity, the Chromebook 10e is equipped with USB-C, headphone-mic combo, volume control as per standard. The device does come with 4GB RAM and 32GB eMMC for storage, which is comparable but not enough in some cases.
5. Lenovo Chromebook Duet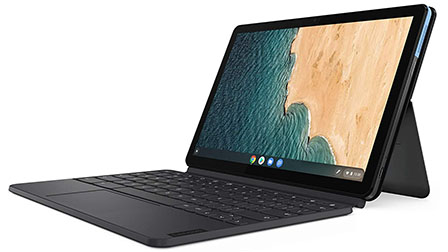 This super-convenient 2-in-1 Lenovo Chromebook Duet is designed for maximum utility.
With the detachable, ultra-thin, full size, highly responsive keyboard, Lenovo Chromebook Duet can perform as a laptop and turns into an efficient tablet without it.
The styling of the tablet brings out a unique dual-tone design with the use of color tones Ice Blue and Iron Grey. Its standard 10.1 inches FHD screen comes with 1920 x 1200 resolutions and its 400 nits provide the best display quality in terms of brightness and clarity.
This Chrome-based Lenovo tablet receives its amazing capabilities from the powerful MediaTek Helio P60T Octa-Core processor. Its ability to boot in just eight seconds keeps the users always committed and connected to work.
Its battery life of about 10 hours provides enough backup to remain productively focused. Known as Lenovo Chromebook Duet in North America and Lenovo IdeaPad Duet Chromebook elsewhere, this tablet is starting at $279.99.
6. Google Pixel Slate​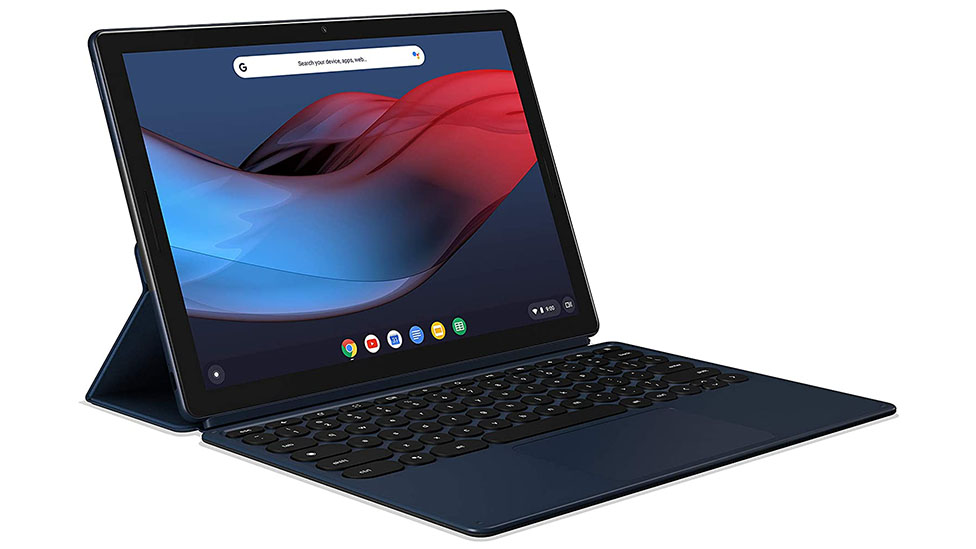 Now do we really need to mention how awesome this tablet is? one of the best in market, Google Pixel Slate is embedded with molecular display for sharp picture quality.
It also helps you to multi-task with split-screen functionality. Also, it makes your work easy with built-in google docs, sheets and slides. Hence, you can work offline as well.
Another best thing about Google Pixel Slate is its battery life. 12 hour straight battery life is what you get with Google Pixel Slate. It also imbibes a finger print unlock system which secures your tab.
Pixel Slate has a Chrome OS that gets some cool automatic updates which helps your tablet to have the latest features. You know what's more interesting? You get Pixelbook pen that just intensify your working experience with the Google Pixel Slate.
Also the Google Assistance, can we really forget to mention it? Definitely not! With Google Assistance, you can get ask questions, set reminders, add tasks or play music, hence, you get to do any possible thing.
Quick glance at some of the exclusive features of Google Pixel Slate:
Molecular Display
Helps in Multi-Tasking
Enduring Battery Life
Fast Charging
Chrome OS
Fast Processing
Hence, Google Pixel Slate is certainly among the top 3 Chrome OS tablets that you will love to have.
7. ASUS Chromebook Tablet CT100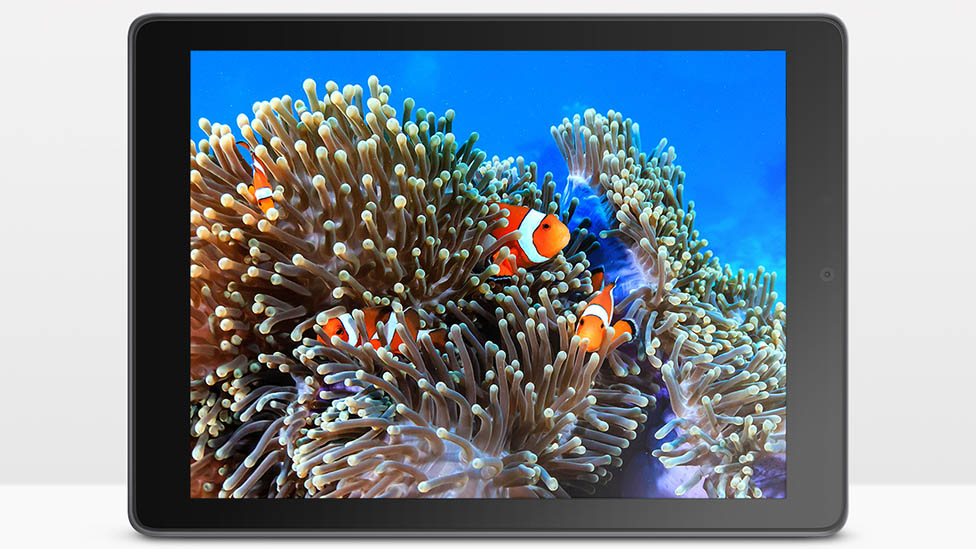 ASUS launched Chromebook Tablet CT100 in Q1 2019. What's good about it, you ask? Well, the tab certainly defines innovative for you.
With this tablet, ASUS has simply targeted the school students and budding artists to design their way and polish their skills on a digital platform.
The ASUS Chromebook is much more than that. The display is well covered with tempered glass and is 9.7 inch in size. It is also easy to carry for a school kid, the side 10mm chassis makes it easier for small hands to hold it without slipping it.
ASUS Chromebook CT100 is inclusive of an inbuilt stylus frame that keeps it well protected from getting misplaced. Along with enduring battery life, the tab is all that your kid needs to explore art and design or just to play some video games.
Battery life of this yet to launch ASUS Chromebook is sufficient for your child's day at school, hence, keeping him from the trouble to charge again and again. Another best part about the tab is that it has been rated for drops up to 100cm which is average height of most tables and desks. Hence, now you even don't have to worry about handing it over to your child.
8. Samsung Galaxy Chromebook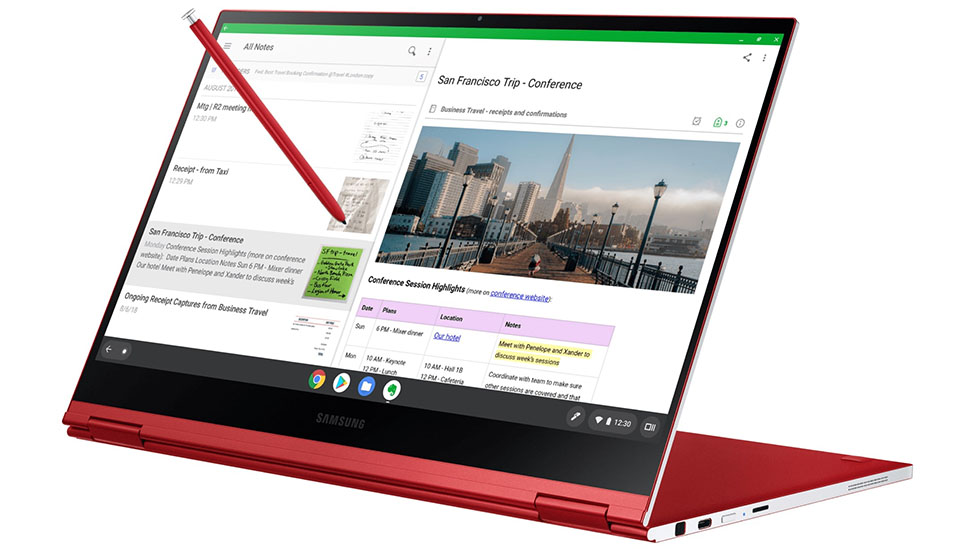 As the very name hints, Samsung Galaxy Chromebook is meant to unleash only the best. Combining the best aspects of Chromebook and Galaxy, this tablet has been engineered to set new goals.
It's stunning 2-in-1 convertible designing with flexible hinge gives it the power to be used as an ideal convertible – as a laptop or a tablet.
Priced at $999, this ultimate Chromebook tablet is designed to sport a "brushed aluminum finish" and is available in Fiesta Red and Mercury Grey colors. It is just 9.9mm thickness that gives it the ultra-slim look.
Users can enjoy maximum screen space as the bezel is at its minimum. Samsung Galaxy Chromebook's 13.3 inches 4K AMOLED touchscreen display promises crisp, crystal clarity with incredible color coverage.
To further add to the overall power and productivity, the tablet comes with a built-in stylus that seamlessly merges with the styling. Also, it comes packed with almost all the powerful apps and is well protected with multi-layered security features.
9. Acer Chromebook Spin 713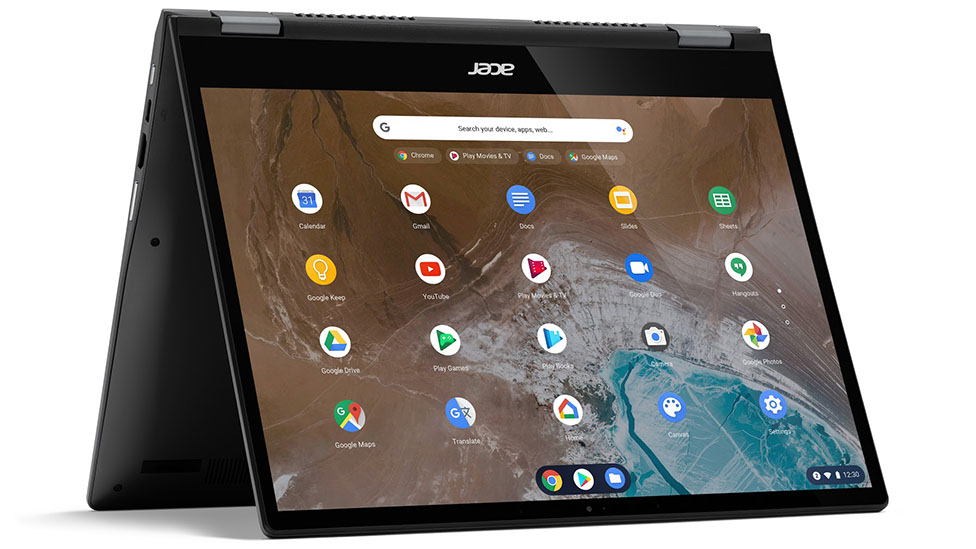 If you're looking for a Chrome OS tablet with beast-like CPU, Acer Chromebook Spin 713 is the one.
It is powered by the Intel Core i7 10th generation processor in addition to 8 GB/16 GB RAM options. The storage options are 128 GB and 256 GB.
If we consider the price factor, this tablet running the Chrome OS is promising. Generally, Chrome OS tablets are not as powerful as Windows PCs to run high-end software. But with Acer Chromebook Spin 713, it's possible.
It offers a 13.5" screen with a comfortable 3:2 screen ratio. 3:2 display ratio provides more vertical viewing space than 16:8. Even if it has a powerful CPU, its battery last for 10 hours on a single full charge. And not to mention its strong Corning Gorilla Glass protection.
Some other enticing features of Acer Chromebook Spin 713 include its 360 degree positioning, faster WiFi 6, HDMI and USB type C ports, and Military Grade ruggedness.
10. ASUS Chromebook CM14 Flip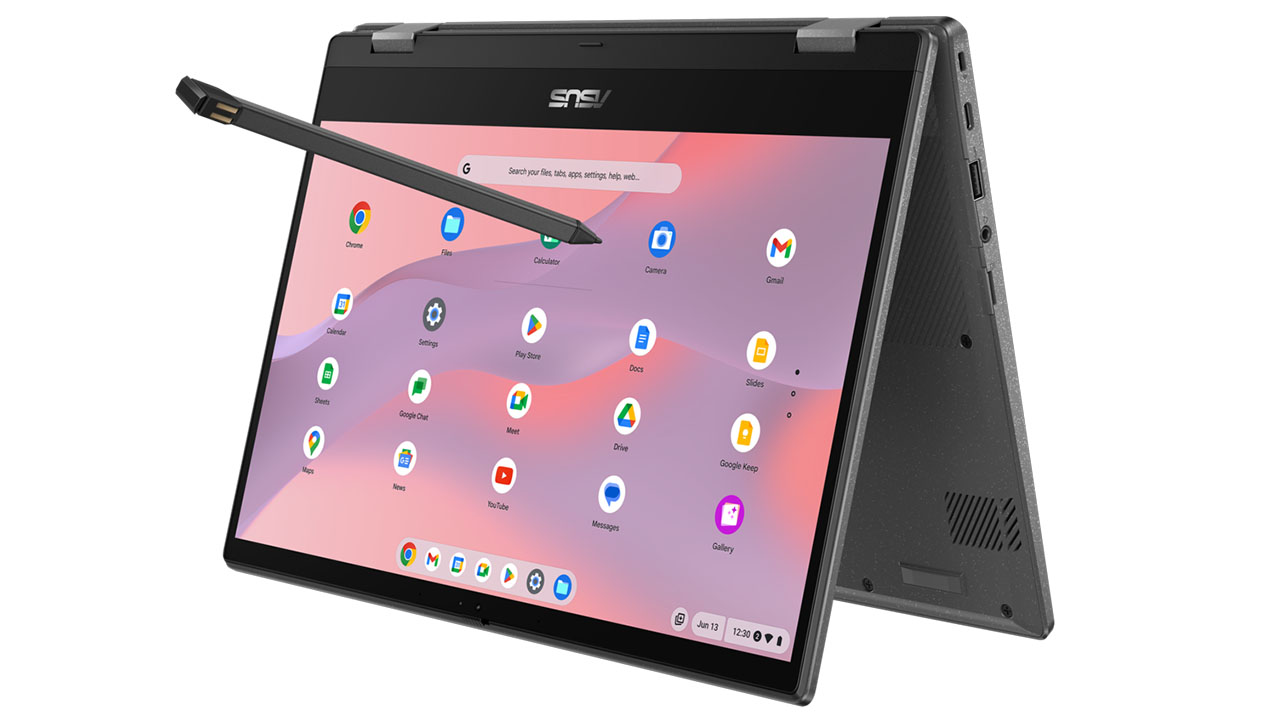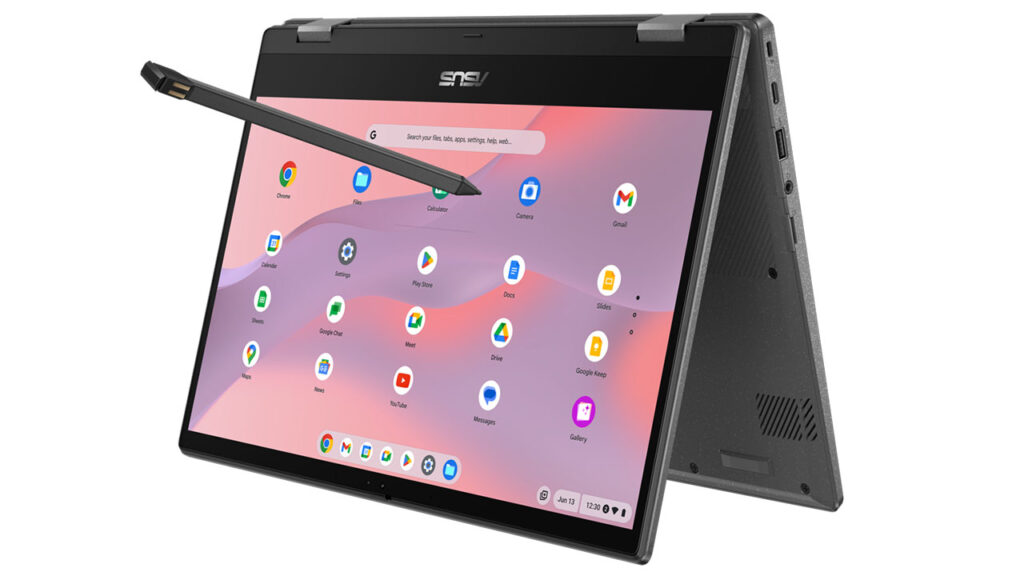 Looking for an innovative convertible laptop cum tablet that can not just boost your productivity but also tend to your flexible workflow needs? If yes, your search ends here with the ASUS Chromebook CM14 Flip.
Featuring an innovative design and an efficient MediaTek Kompanio 520 processor, the Chromebook CM14 Flip is designed to support your productivity. Installed with the best of Google, the tablet features a rich library of applications that are perfect for games, entertainment and work.
Besides the performance, the device also features a 360° hinge with touchscreen display that enables the user to switch their user experience based on their needs. When paired with the garaged stylus, the device unleashes your creativity and supports your innovative streaks like no other.
Featuring a solid build quality, the tablet meets next-level and industry-leading MIL-STD 810H US military tests that translates to the device's durability like no other. Furthermore, its integrated with an elevated camera experience and runs on the latest ChromeOS for easier navigation.
Integrated with a full-size ergonomically designed keyboard with a 1.5 mm key travel, typing on this device is effortless and without any interruptions. It is also backed with Wi-Fi 6 for strong, stable and reliable wireless connectivity.
Chrome OS Tablets: Comparison With Android Tablets
Hopping onto the comparison between ever trending Android tablets and a tough competition Chrome OS tablets. Well, according to recent tabs rolled out, one thing that we can be pretty sure of is that Android tablets will be affected a lot due to Chrome OS tablets.
While Android tablets already have a great market and popularity, Chrome OS tabs too are in full trend and acing like pro. Even though the recent launches, Lenovo Chromebook Duet and Lenovo 10e Chromebook tablets have just been rolled out, they have successfully compelled buyers with their features.
The Chrome OS tablets are undeniably here to stay, with the features they have and packing up all that they need in a single device, tech firms do play smart. Also, by keeping the process low, they tend to win the half race already.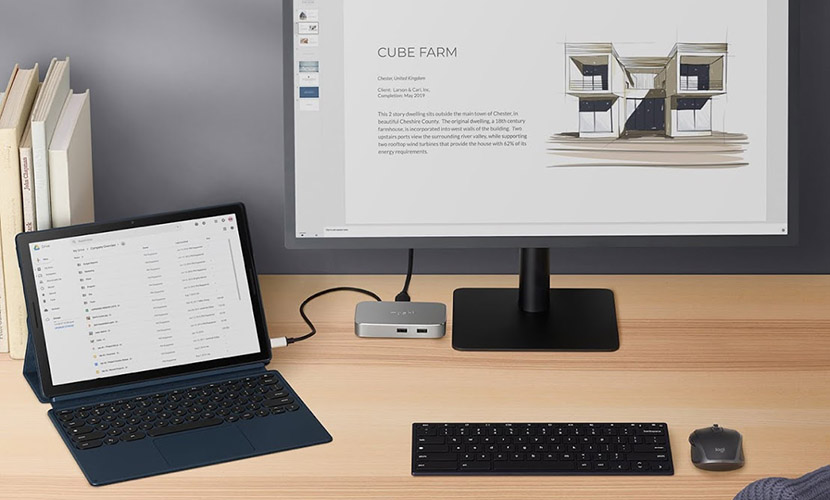 Also, Chrome OS Tablets are well known for their enduring battery life which sadly any other OS could not achieve by now. There are various features that help Chrome OS tabs outrun Android ones. From price range to user friendly experience, Chromebooks just tend to be a wee better than others.
You can easily get your hands on Chrome OS tablets at an average of around $300, whereas other tablets are nearly $100 or more than that. Needless to mention about the better battery life and a larger screen size.
Other than these few features, Chrome OS tablets are more broadly preferred at school level as they do a fine job in writing essays, emails or even research. Along with the school work, you can also run apps on Chromebooks with help of Chrome Store. Hence, it comes par with Android tablets in this aspect as well.
If you wonder that you might not be able to use Microsoft Office on a Chrome OS Tab, well to your surprise, Microsoft has extended its subscription to Chromebooks as well. Hence, making it easier for you to use it. Although, a slight glitch here is that the older versions of Chromebooks might face troubles using it.
So now, Chrome OS tablets have successfully established themselves in market and are here to stay!
Conclusion
With grasping all details about Chrome OS tablets, we can finely state that the era of Chromebooks has finally begun. The features that a Chrome OS tab offers is at par with other tabs and are all that can make you want it. Tech firms have now started having Chrome OS in their products in order to provide more efficiency in processing and an enhanced user friendly experience.
Impressive battery life, gorgeous display, large screen size and much more. Chrome OS tablets are everything that you need for functioning in day-to-day routine. Yes, if you wish to go higher than just basic web browsing, or emails, you can look for something else.
The Chrome store offers compatible apps and being less expensive, Chromebooks are your thing. Without luring yourself into a high tech tablet which might not be of much use, get yourself a basic Chromebook that happens to fit your suitability along with your budget.