Top 5 Best Tablets Under $100 2020
Digitalization has become an all-encompassing concept and its impact has been all permeating. Making and releasing of different types of digital devices, especially the mobile ones has remarkably affected the ever-changing market trends. Having a personal digital computing device is thus, no longer a luxury, but has become a necessity. However, here it is important to note that it is always not necessary to spend too much to buy these devices. There are reasonable and budget devices available in the market to serve your purpose.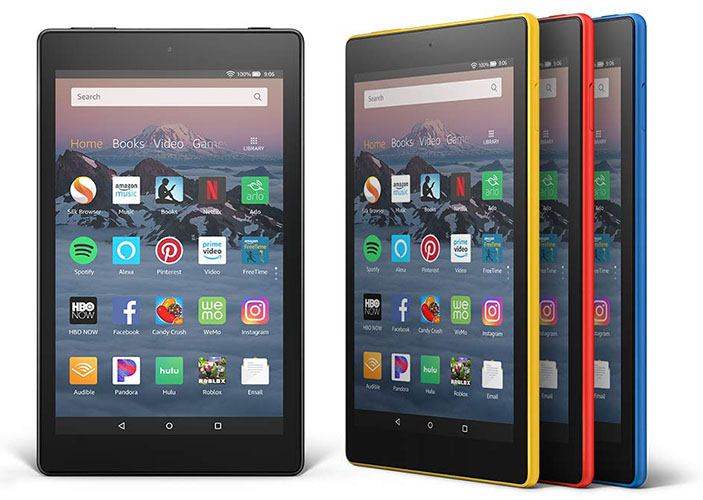 Similarly, there are different tablets available in the market from different brands that are actually priced within $100 surprisingly, but offer great features for the price. This is where the importance of affordable and within budget tablets lies. Tablets have been highly in demand right from their introduction owing to the high level of flexibility and mobility that they offer.
Best Tablets Under $100 2020
| | | | | | | |
| --- | --- | --- | --- | --- | --- | --- |
| Best Tablet Under $100 | Processor | RAM | Storage | Display | Battery | OS |
| Lenovo Smart Tab M10 HD | 2.0GHz Quad-Core | 2GB | 16GB | 10.1" (1280 x 800) | Up to 8hrs | Android 8.1 |
| New Fire 7 | 1.3GHz Quad-Core | 1GB | Up to 32GB | 7" (1024 x 600) | Up to 7hrs | Fire OS |
| Fire HD 8 | 1.3GHz Quad-Core | 1.5GB | Up to 32GB | 8" HD | Up to 10hrs | Fire OS |
| Dragon Touch K10 | 1.3GHz Quad-Core | 2GB | 16GB | 10.1" (1280 x 800) | Up to 7hrs | Android 8.1 |
| Vankyo MatrixPad Z4 | 1.5GHz Quad-Core | 2GB | 32GB | 10.1" HD | Up to 6hrs | Android 9 |
Here, we will be highlighting 5 best tablets available in the market currently that are priced under $100. The best part about these tablets is that they offer much more than what they actually cost. In addition, there is no need to think that since these tablets are priced reasonably, hence will involve a lot of compromise.
Of course, they cannot match completely with the high priced tablets because of the obvious reason that the amount that goes in their making is much less compared to the expensive ones. But, it is simply incredible to know about the rich features and high end technology that these tablets are engineered to offer. Hence, it is required to understand them in a better way.
1. Lenovo Smart Tab M10 HD
With its high-end features and great performance, Lenovo Smart Tab M10 HD is ready to win all hearts in 2020. It finds a place among the best-engineered tablets under $100 in 2020. The styling of the tab is ultra-modern and its dimension does justice to its purpose.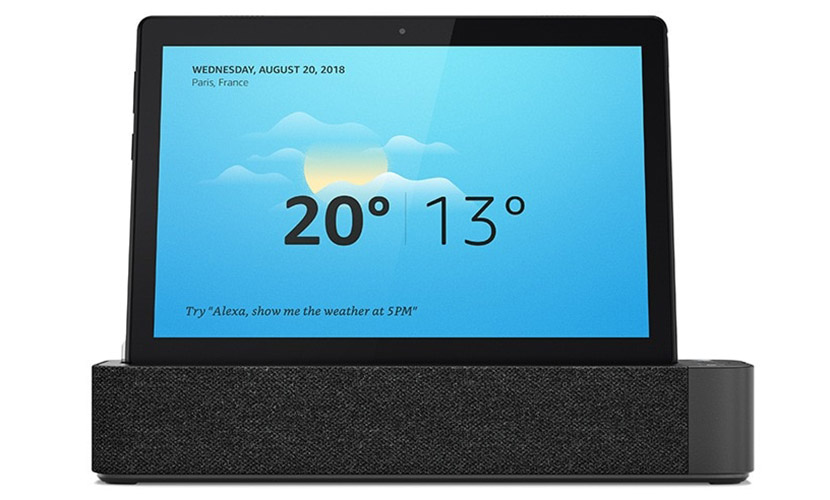 The tablet is based on the Android 8.1 Oreo platform and is powered by 2.0GHz Quad-Core Qualcomm Snapdragon 429 processor. It comes with 2GB RAM and 16GB ROM. Further, the storage capacity can be expanded up to 256GB through the support of the MicroSD Card. Thus, it is super fulfilling to use the device for various multimedia operations and functions.
It is also meant to produce superior sound quality that comes across rich and pure through the front speakers that come with Dolby Atoms. With built-in Alexa, the device gives a newer dimension to all your thought and ideas. Meant for easy and progressive usage, Alexa is a feature that adds manifold advantage of owning the device.
Right from complete hands-free operation with complete voice assistance to enjoy the benefits of a smart home, Lenovo Smart Tab M10 HD provides it all. Whether listening to your favorite numbers or keeping a track of arriving visitors, everything is made possible with built-in Alexa.
2. All-New Fire 7 Tablet
The All-New Fire 7 Tablet, manufactured and tested by Amazon, is undoubtedly one of the most popular selling 7-inch tablet under the given price bracket. The internal storage capacity has two options, 16 GB and 32 GB, with being expandable up to 512 GB with microSD card. It is powered by 1.3 GHz quad-core processor, and is known to be highly durable. Thus downloading unlimited numbers of games, videos, songs and all that is required was never faster and easier. Be updated by downloading all that is trending with the help of the fast performing processor.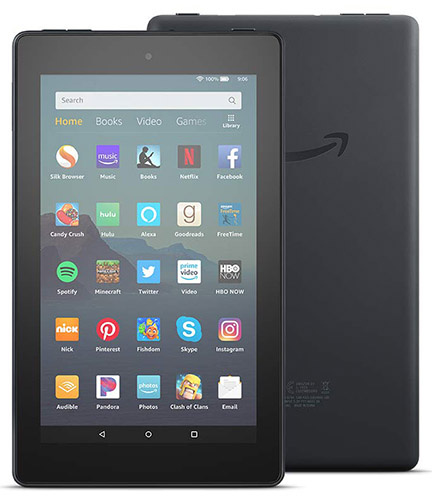 Its most amazing feature is that it support Alexa, and thus offers an excellent and total hands free operational control to the users over the device. With Alexa, life is simplified. It lets your voice do it all for you. Right from checking about the weather to shopping online to shuffling or playing or pausing of music, your voice requests through Alexa, and you get what you want. Even when the screen is on the standby mode, Alexa remains active.
Another amazing feature of this tablet that is worth a special mention here is that Amazon FreeTime that is free with this tablet. Being an award-winning Amazon developed feature, it allows parents to create child profiles with the aim to limit screen time and set educational goals for children. It provides easy-to-use parental controls that allows parent to effectively manage the content accessible by kids.
Free time being free gives access to over 20000 titles. Styled by Amazon, it comes with the slim case matching its size and built-in stand. These allow using the tablet for relaxed hands-free viewing in varying orientations. The magnetic cover is designed to permit easy access to device's ports, buttons, and cameras functions. It comes with 2MP front and rear cameras and offers 7 hours of battery life.
3. Fire HD 8 Tablet
Amazon Fire HD 8 features a very high definition 1280 x 800 display with about 189 PPI and thereby is loved for its vibrant HD display. The HD 8 inches display screen provides the perfect brightness without causing any stress to the eyes. The screen is bright and clear and displays every image and video in great depth and clarity. Further, the LCD display is In-Plane-Switching enabled to always assure the correct brightness.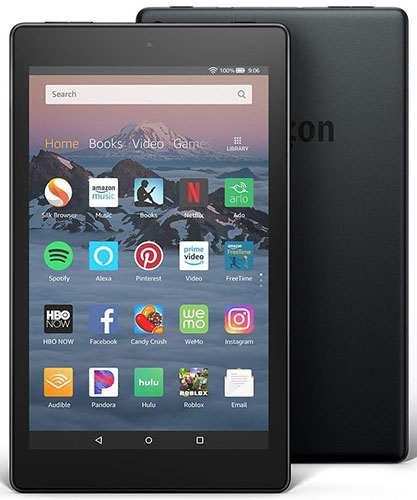 Fire HD 8 tablet, being powered by 1.3 GHz quad-core processor and with its 1.5GB RAM, is meant to offer fast and responsive entertainment without any disturbances and slowness. With incredible 16 GB storage capacity, it has the provision of expanding the storage on microSD card up to 400 GB.
Coming from Amazon, the users can also benefit from the unlimited cloud storage for all Amazon related content. Thus, storing every meaningful and important data is further simplified. Coming to the camera, there is 2MP front and rear camera that is standard enough to enable users to fully and ideally utilize them.
It assures amazingly long lasting battery life and provides great flexibility to the users. The battery, on fully charged, can perform for 10 long hours, which is fair enough to conduct a whole day's work without any tension of the charge running out. It is highly durable and is meant to withstand every wear and tear that normal daily usage might cause.
This is evident from the fact that it has been made to go through 50 different types of test imitating fall, drop, tumble and it has shown great resistance. It also offer great choice as it is available in four different hues. They are Black, Punch Red, Marine Blue and Canary Yellow. So just select the color that suits you the most.
4. Dragon Touch K10
Bring home unlimited entertainment and wider avenues by owning the fast and rich feature loaded Dragon Touch K10. The device is based on the Android 8.1 Oreo Operating System and powered by 1.3GHz MTK 64-bit Quad-Core processor. Thus it is developed to bring the best surfing and gaming experience for its users.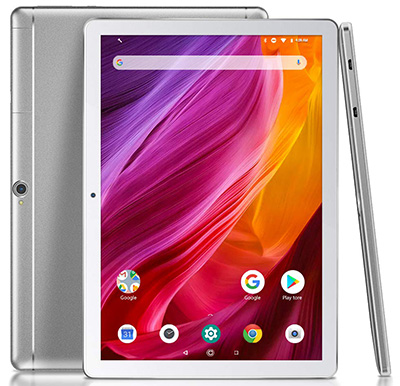 With great download speed and easy browsing function, this is something that simplifies every single task. Every single representation is extremely vivid and clear in its 1280×800 HD 10.1" display.
The 800*1280 resolution and 178 degrees wide viewing angle deliver great brightness and distinctness to the screen display. Its 2GB RAM along with 16GB internal storage makes it highly suitable for conducting all types of multimedia operations very smoothly.
The storage capacity can be expanded to 128GB via MicroSD Card. To give a new definition to convenience, the tablet comes with a micro USB Port that can be used to connect to television and stream contents. It is also engineered to include GPS sensors, Wi-F- connectivity and FM Radio.
The battery life for Dragon Touch K10 is also very impressive with 5 hours of playback time and about 7 hours of reading and viewing time.
5. Vankyo MatrixPad Z4
This is a high performance oriented android tablet with features remarkably rich and adequate in them. Vankyo MatrixPad Z4 features a 1.5GHz powerful 64 bit Quad-core processor, that also helps the tablet users by saving on power. It has 2GB RAM, thereby permitting smooth functionalities and allows various apps to launch and run without any lag. It is ideal for watching videos and playing games. It also features the latest version of Android OS – Android 9 Pie. Thus, with this device, it is possible to download all latest apps and games from the Google Play and it also avoids unnecessary ads from interrupting.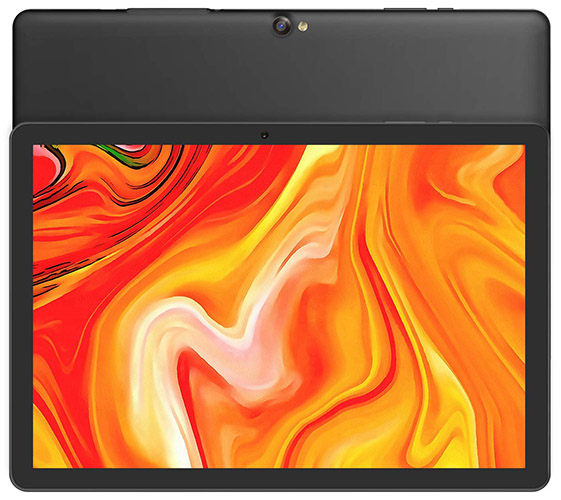 The tablet is fitted with an ideal 10 inch IPS display with resolution of 1280 x 800. The display is bright and offers crystal clear viewing, adding to the overall superb screen presentation. It comes with an additional feature, the Eye Health, which automatically adjusts the back-light of the screen during night-time viewing, thereby providing the required protection and comfort to the eyes.
MatrixPad Z4 is highly portable and is extremely light, thus being true to its purpose. It is also bestowed with amazing audio quality that is played via the dual speakers. Thus, carrying the tablet also means taking high quality audio player with you. The memory space that this tablet offers is really vast and sufficient for storing all your important data and media files without worrying about space shortage. Along with 32GB of onboard memory, it includes a microSD card slot that is sold separately. The card allows adding up to an additional 128GB of memory.
Thus, the overall performance of the device when compared to its price is surely amazing. Thus if you are looking for a budget tablet, do invest in Vankyo MatrixPad Z4 and surprise yourself.
Verdict
If you are planning to buy a decent tablet but are not willing to spend lot on it, then go for any of the above tablets. They will give you complete value for your money. There sure are more options available within this price range, but the above 5 tablets are undoubtedly the best. This can be understood from the detailed above discussion about each one of them.
So, all that is needed in your part is to understand your need and requirement and pair it with your budget and go for any of the above tablets to catch up on what you have missed. You will surely find the purchase to be worthy. It is through such affordable tablets that everyone can actually explore more from the digital world and be benefited from their impressive and quality based features.