The 10 best tablets under $100 for 2021 listed here are all value-for-money tablets. Priced below $100, these tablets will fulfill your entertainment, browsing, and other everyday needs.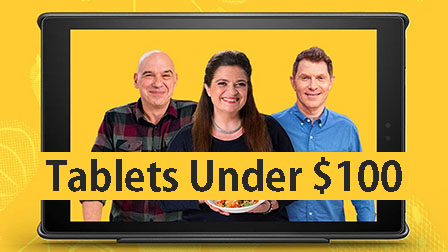 Tablets have become an inevitable part of our daily lives. With ever-increasing dependence and high-demand, the competition between the big brands of presenting with the "so-called" best product in the form of the latest tablet is gaining momentum.
With so many different brands and options available, it is really difficult to decide on one single product.
However, one thing that is the most important deciding factor while selecting the most suitable tablet apart from the other is the price.
Yes, tablets are quite expensive and the more you wish to have in terms of specifications and features, the higher are the price bracket. It is a lot more expensive with the addition and regular updation in the technological world now. But, the scenario is changing.
Best Tablets Under $100 2021 (Top 10 Picks)
Today, a lot cheaper versions are available, and thus buying a tablet has become possible for almost all groups of people. Of course, there cannot be any comparison with the high-end product, but the best part is that the price range has widened.
Nowadays, many brands are focusing on introducing cheap and affordable tablets. Here, we shall be discussing the best tablets under $100 2021.
1. Samsung Galaxy Tab A7 Lite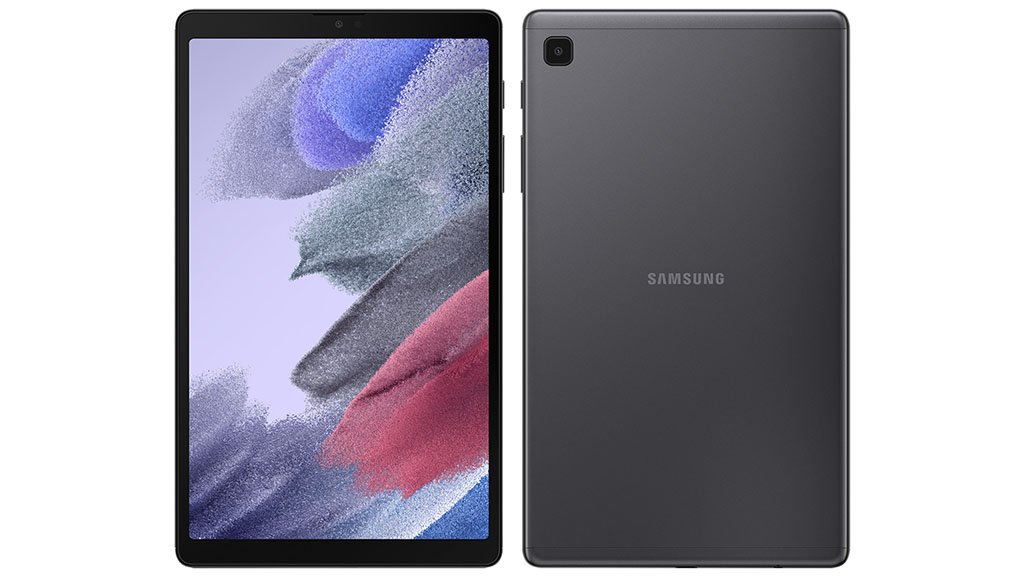 If you are considering best tablets under $100 for 2021, then you cannot afford to miss on Samsung Galaxy Tab A7 Lite. With a compact 8.7-inch screen, it looks elegant and smart.
The metal body frame delivers a cool look and also takes care of the strength of the model. Hold in it your hand and you are ready to explore all the opportunities with its infinite abilities.
It is based on Android 11 and comes with a 32GB storage capacity that can be expanded to 1TB via microSD card. All-day battery life further adds to the pleasure of making the most of this incredibly affordable tablet from Samsung.
With a gesture-based menu, everything is very convenient and allows one-hand navigation. The thin bezel around the screen gives more display room that is accompanied by superior quality stereo audio by dual speakers.
2. Amazon Fire HD 8 Plus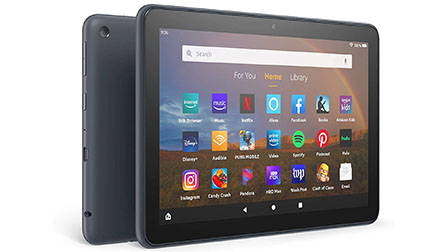 Amazon's Fire HD 8 Plus is one of the most affordable tablets that come with beneficial and useful features to manage everyday tasks efficiently and smartly.
It is fitted with a stunning 8-inch HD display that makes everything clear and sharp.
This ergonomically designed tablet is very handy and portable and can be easily carried along. Storage-wise, you can select either the 32GB or 64 GB model with the option of further expanding the storage capacity up to 1TB via SD card.
3GB RAM makes the device fluid and prompt and allows it enough strength to fulfill multitasking easily, without any lag. It is powered by a 2.0 GHz quad-core processor that makes it 30% faster.
Its battery life is also very impressive and allows users to work at a stretch. USB-C port makes charging an easy and quick process. The availability of high-end features like Alexa and compatibility with other popular apps makes this a great choice.
3. Fire HD 8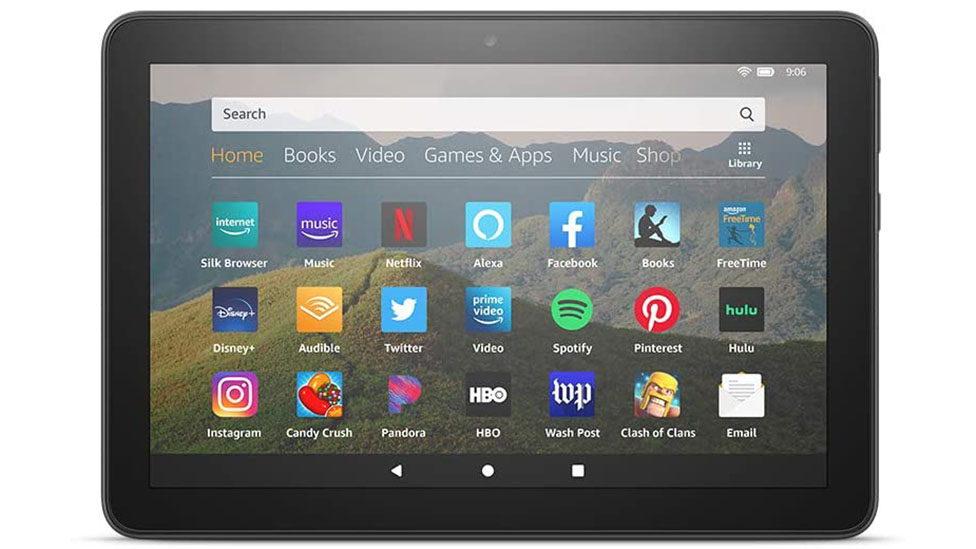 Starting at just $89.99, the new Fire HD 8 needs a special mention here if it is about the best tablets under $100 for 2021. Available in four impressive colors, this amazing device is powered by a 2.0GHz, quad-core processor and is provided with 2GB of RAM.
Thus, it's incredible potential is well explained here. It is 30% faster performance-wise and is also 2X in terms of storage when compared with previous version.
Available in two variants of 32GB and 64GB internal storage capacity, the storage can further expand up to 1TB via an attachable MicroSD card.
This extremely light and compact 8-inch tablet offers a high-quality display and makes every second spend watching contents on it worthy and comfortable.
The battery life of 12 hours with recharging time as less as 4 hours is enough for the users to keep going day long without interruption.
It is perfectly designed and engineered by Amazon to help you explore all that you wish without any limitations. Be ready to enjoy unlimited entertainment by having access to Amazon Appstore and make the most of the special game mode feature. With so much to offer at such a low price, it is surely a good buy.
4. Lenovo Tab M8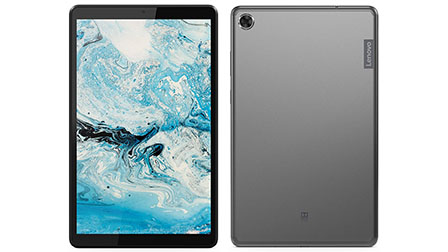 Another important tablet that has found a place for itself among the best tablets under $100 is Lenovo Tab M8.
Priced around $99.99, this Android 9 Pie-based tablet can offer incredible performance and let users make the most of it. Its full metal body styling offers it a premium, smart look.
With an 82% panel-to-body ratio, this tablet is fitted with an 8-inch high-quality display screen that supports 1280×800 resolutions.
Everything on the screen is very bright and sharp with the highest amount of clarity. It is powered by a 2GHz, quad-core processor and comes with 2GB RAM.
All this together confirms the level of fast and smooth performance that Lenovo Tab M8 can offer. It supports in-built Bluetooth 5.0 and strong Wi-Fi connections to enable users to stay connected and updated at all times.
It is very quick and responsive and with strong wireless connectivity, it provides the user with flawless performance. It also supports great battery-life with its 5000 mAh battery keeping it charged up for longer duration.
So much for such a reasonable price is enough, to sum up the reasons to buy this. But, it does not come with a USB-C port, and getting updates can be an issue.
5. Amazon Fire 7
Can you even imagine spending just $69.99 and getting hold of a full-fledged tablet that performs like a wizard? Yes, this has turned into a reality with Amazon Fire 7 tablet.
It is for sure one of the best tablets that one can buy under $100. It is available in four different colors and is very handy and compact.
Along with great portability, the tablet wins the heart over its highly stylish design. Carrying it adds grace and style.
The 7-inch IPS display is ideal for binge-watching and streaming all that's favorite with great graphics quality. It is powered by an efficient 1.3 GHz quad-core processor and is provided with 1GB RAM.
At the given price, it is for sure worthy and the affordability is good for everyone. It is enabled with dual-band Wi-Fi that allows users to remain connected and updated.
Very compact and trendy, this is your best on the go companion. Alexa takes things to the next level and Amazon Fire 7 can just be for fun and enjoyment.
6. Vastking Kingpad Z10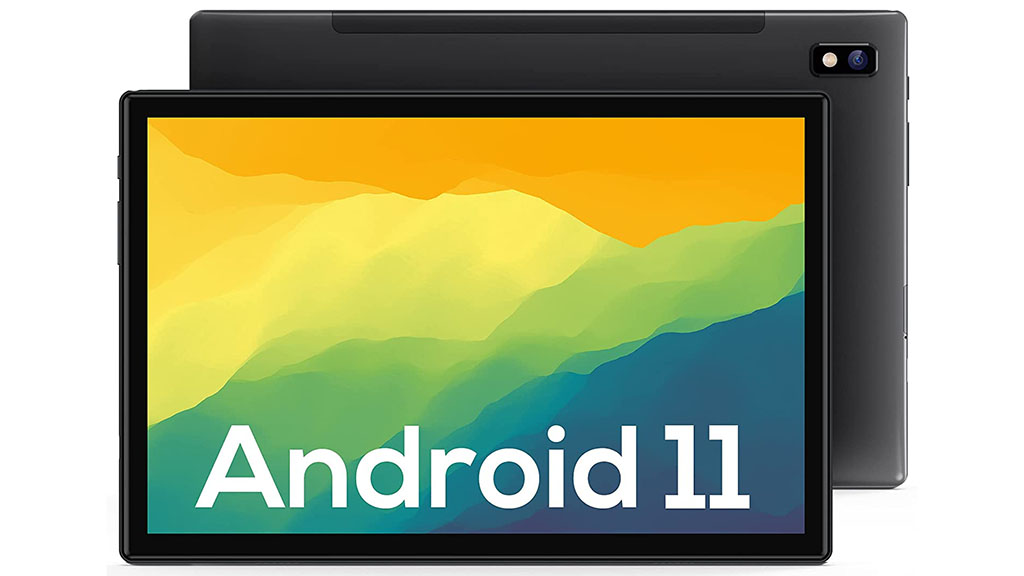 Available for $99.99, Vastking Kingpad Z10 has a solution to all your problems. This is very handy and easy to use with its compact frame and portable design.
Meant for the whole family, it takes care of your child's education and entertainment, while at the same time limiting the screen time for them. It runs on the latest Android 11 system and is powered by a quad-core processor.
It comes with 2GB RAM and 32GB internal storage space that can be extended to 512 GB by adding a microSD card. It is fitted with a standard 10.1-inch IPS display that supports 1280 x 800 I resolutions to make everything clear and brighter.
You can also enjoy watching your favorite movies on a bigger screen with the help of the wireless projection function of Vastking Kingpad Z10.
Strong battery life and highly useful features like 3D Face Unlock, built-in GPS Chip, hands–free Google Voice Control makes this an ideal choice for you.
7. Lenovo Tab M7 Gen 3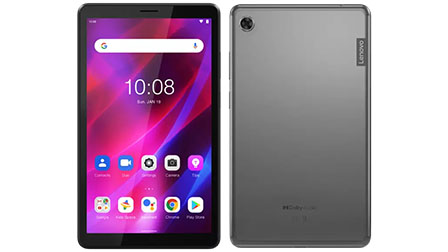 Not everyone has the budget to spend over $500 on a tablet and our aim is to provide an option for every user, despite their budget and affordability.
If you are looking for a reliable and branded tablet under $100, the Lenovo Tab M7 Gen 3 is a pretty great option to look into.
This compact and sleek designed tablet is a family favorite and extremely popular among kids.
Features a 7" display, this versatile and sleek tablet is everything you need to manage, work, training and entertainment.
The device is powered by the latest quad-core Mediatek processor that provides with optimal boost to performance and productivity without any questions. The faster charging port enables hours of video streaming and performance without compromises.
Priced at $79.99, this device works like a dream and runs on the latest Android 11 OS for access to all your favorite applications. You get 32GB eMMC flash storage with 2GB RAM for optimal app management.
8. Fire HD 10 (2019 Release)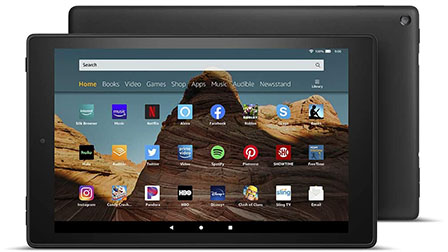 Although quite an underrated device, the Fire HD 10 (2019 Release) is one that has taken over the market, thanks to the affordable price range.
The tablet is equipped with a responsive and vivid 10.1" FHD display with narrow two side bezels for an expansive viewing experience.
Pair that with up to 64GB of internet storage and you will never have to compromise on the data transfer and storage ever.
The device runs on the 2.0Ghz octa-core processor and is integrated with 2GB RAM that support superior multitasking experience.
The tablet is also programmed with up to 12 hours of battery life that allows you to achieve your work without any delays in question. The 2MP front facing camera facilitates easier video communication as well.
The Fire HD 10 is also integrated with the latest USB Type-C ports with fast charging facility for quicker workaround and productivity.
9. Vastking Kingpad SA8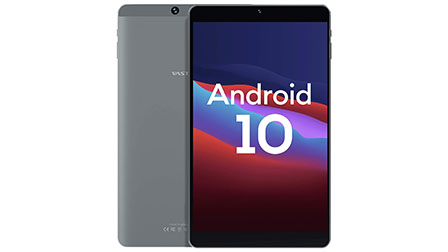 Yes, it is difficult to have many choices at this budget. But your search will meet the best result when it comes to Vastking Kingpad SA8.
Based on Android 10 and powered by SA8 Octa-Core Processor, this device comes with a perfect 8-inch IPS screen that is very impressive for its price around $100.
It supports 3GB RAM and 32 GB internal space with the option of expanding it to 128 GB. This ensures smooth performance and multi-tasking, thereby letting you attend to all demanding tasks at once.
This powerful and fast tablet is engineered with an intelligent chipset to make every task easy and achievable while also adding more fun with engrossing games.
This is extremely portable and compact and thus can serve the main purpose very easily. The display quality is very clear and crisp and you can enjoy long hours of watching and gaming sessions with 10 hours of battery life.
10. qunyiCO Y10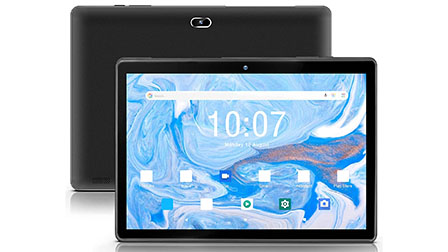 The qunyiCO Y10 is hands down one of the least talked about tablets in the market, despite the latest features and innovations.
Not only is the tablet priced under $100, you get access to all the latest features that you'd need to streamline the overall performance and productivity.
The device runs on the evolved Android 10.0 OS for safe and comfortable usage.
The tablet is further integrated with a combination of 32GB internal storage and 2GB RAM configuration for easier access to all your data storage needs. The storage is expandable up to 128GB with a microSD card.
The unique feature to this tablet is that its backed by the GMS certification that enables smoother experience with varying entertainment platforms. Also, the 5000 mAh battery capacity ensures longer hours of performance and productivity.
Verdict
It is now clear that there are many viable options available in the digital market to select a cheap yet good performing tablet. You can decide on the aspects that you are looking for and then select the tablet as per your requirement.
The best thing is that although the price is low, the qualities of the products are very standard and does not require any major compromise in terms of technical specifications.
These low priced tablets are especially good for students as they can fulfill their daily works. So, just select any one from the above-discussed tablets and be ready to get more than you pay for.