Top 10 Best Cheap Tablets For 2020
Are you planning to purchase a tablet for daily use or for entertainment purpose? Well, spending thousands of dollars on a high performing tablet is only worth able if you are about to replace your desktop. You may require tablet for general purpose such as for watching movies on big screen or to check emails, etc. In such scenarios, purchasing a high-end tablet is just a waste of money. That's the reason you should plunge into the cheap tablets market.
Countless brands offer amazing features that you may find in high-end tablets. However, the downside of cheap tablets is primarily the quality and durability as the tablets starts haggling quickly.
With top brand tablets like Samsung, Apple, Microsoft, etc. you may not encounter such issues within two year of the purchase. Lastly, everything depends on your usage.
If you're going to work on your tablet rather than desktop, then we suggest you to invest in high-tech tablets that provide great flexibility and features.
However, if you want a tablet for minimal usage, then cheap tablets is the best ever investment. It's not that cheap tablet would screw you, if you use it in light manner and sensitively, then cheap tablets are worth the money. Some cheap tablets will be with you beyond expectations if your usage is light and sensitive.
10 Best Cheap Tablets 2020
Now that you've evaluated your requirement concerning the tablet, you're all set to jump into the market to purchase the tablet. In this article, a few handpicked brands have been explained that offer some outstanding tablets that will completely entice you with its features, keeping the cost secondary aspect in it. Let's dive into the list of 10 best cheap tablets that one must choose according to their requirements.
1. New Samsung Galaxy Tab A 8.4″ 2020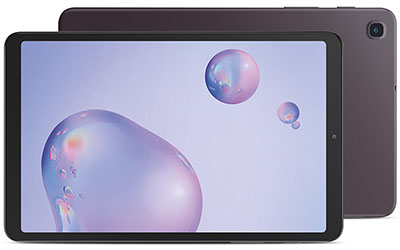 Samsung has recently announced about the upcoming release of yet another incredible Android based tablet that is going to take all by surprise.
It is the new Samsung Galaxy Tab A 8.4″ 2020. Along with the rich and ultra-advance features and specification of the tablet, another aspect that will be a pleasant surprise for all is the pricing of the product.
The manufacturer has aimed at fitting this device within the lower priced brackets so that all can have access and be benefited by its immense power and abilities.
Priced at approx. $279, it will be a great relief for many, who might have found it difficult so long to purchase the other expensive tablets that are available in the market. By launching the all-new Samsung Galaxy Tab A 8.4", Samsung will surely be able to win over larger market.
2. Samsung Galaxy Tab A 8.0″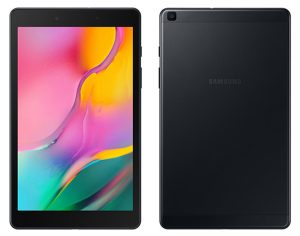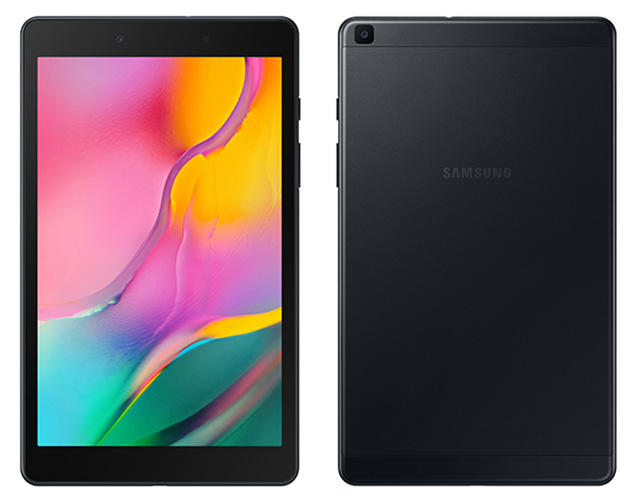 Samsung has always paid great heed on quality in all aspects. The company is also popular for its mind blowing products in every range. Galaxy Tab A 8.0″ SM-T290 offers users a great view due to its minimum bezel. Not just this, the tablet has a long list of features to offer.
From its metallic finish to being light in weight, the tab, indeed, is an awesome equipment. Due to this, the device can be carried anywhere without any hassle. This also makes it quite able to be used by anyone. Its quality display and sound give reason to every user to laud it to the great extent.
Delving deeper, this comes to light that the device becomes a perfect fit for anyone by presenting a couple of features viz. commendable built-in memory that can be expanded, 8MP rear camera with auto-focus and YouTube Premium for two months. The trigger that makes people cherish Samsung is its really long battery life. By charging it completely, one can use the device for around 13 hours. With all these aspects, the tab has fetched more than 5 stars from most of the users since it came in the market. No doubt, Samsung knows well how to please its customers.
3. Fire HD 10 Tablet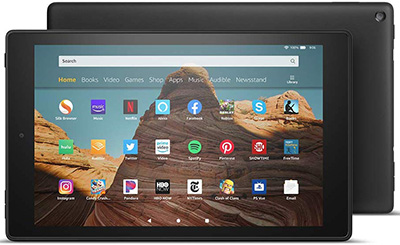 From technical details to looks, New Fire HD 10 tablet is a great equipment to possess. With FreeTime at no cost, parents can control the content they want their kids to watch. Owing to FreeTime Unlimited, users get the liberty to access 20,000 kid-friendly titles.
This way, tablet can be a great source to widen the mental horizon of children. Besides, the company has empowered the gadget with the well renowned voice control Alexa. Accomplish various tasks by just directing by voice commands.
Moreover, the company has especially taken care of the screen size with this model. It comes with 1080p full HD. Plus, 2.0 GHz octa-core processor makes sure the lag free experience every time. This configuration collectively does wonders for the users.
When it comes to battery life, the users need not seek charging provisions frequently. It can last up to whopping 12 hours. The tablet is available in two variants of 32 GB or 64 GB. In both the cases, the memory can be expanded up to 512 GB with a microSD card. 2 MP front and rear-facing cameras offering 720p HD video recording is like an icing on the cake. All in all, a complete package to make an imperishable impression.
4. Dragon Touch Max10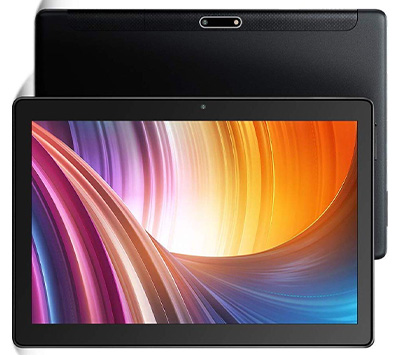 The world is expanding every second and so are the options for people to advance in their life. Due to sheer competition, companies are striving hard to offer gimmicks with amazing features at quite competitive prices.
Dragon Touch Max10 is a testimony of a quality product at reasonable price. Powered by a 64 bit Octa Core high performance processor with 2 GB RAM and 32 GB storage, the gadget is all set to surprise the users with its swiftness and efficacy.
Every age group can benefit a great deal with its amazing features. Android 9 Pie operating system makes the tablet worth buying.
Moving further, 10.1 inch 1920 x 1200 Full HD IPS G+G capacitive touch display will make users fall in love with it. Max10 from Dragon Touch is one of the most prominent devices from the company that is the reason for the company to flaunt.
To add to its efficiency, the company has provided dual speakers and a robust battery for remarkable experience. One is sure to have a better time every time while doing any activity from browsing internet to playing games or watching photos and videos. Last but not least, its catchy looks give a strong reason to the users to show off.
5. Amazon Fire 7 Tablet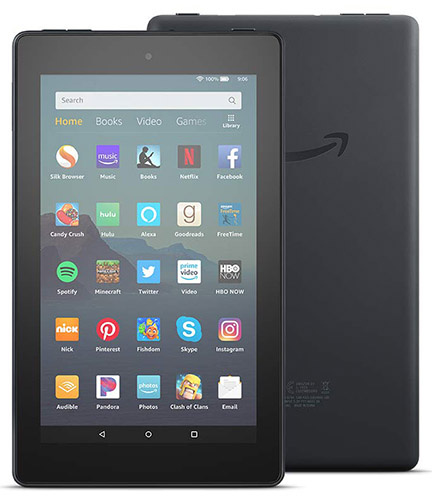 All-new Fire 7 tablet is one of the most affordable and best-selling tablet in the cheap gadget market. As compared to previous models of Fire tablets, the upgraded version is groundbreaking.
With 7" IPS display and spectacular design, All-new Fire 7 is the perfect example of mobility. It is so lightweight and classy that you'll keep admiring the engineers.
The tablet is available in some amazing colors such as Black, Twilight Blue, Plum, and Sage that are never seen before in the range of tablets. Whereas coming to the down line concerning the performance, well,
All-new Fire 7 tablet offers 1GB RAM and 16 and 32GB storage along with Amazon's unlimited cloud storage. More so the tablet is compacted with Quad core processor up to 1.3 GHz.
You will also come across Alexa, which is the core reason behind the popularity of All-new Fire 7 tablet, as it allows you to spend hands-free days by commanding Alexa. However, the battery is major concern as it runs only for 7 hours with continuous browsing or playing videos, which is comparatively less than a mere smartphone.
This is one downside of All-new Fire 7 tablet, but if you're using it for entertainment purpose, then battery shouldn't be a problem. You can download millions of apps for gaming, watching web series or movies, ebooks for reading, and a lot more. You can also stay connected with your dear ones with 2MP front facing camera of the tablet.
6. Samsung Galaxy Tab A 10.1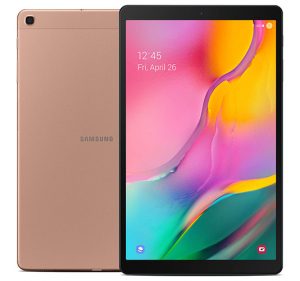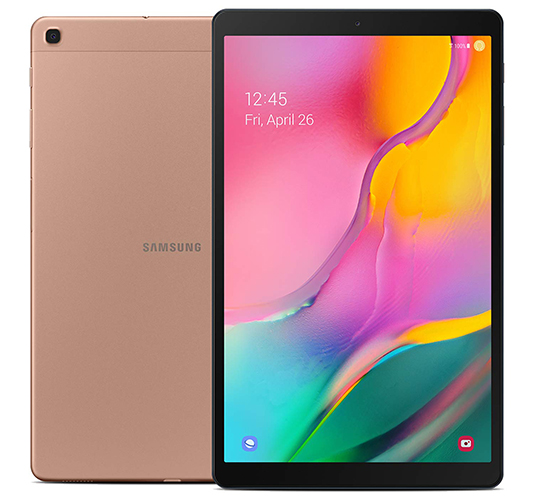 Samsung Galaxy Tab A 10.1″ is a groundbreaking tablet introduced by this company that too at affordable cost. Galaxy Tab A 10.1 has become way more popular due to innovations and features added to this gadget.
The design is of the tablet is so amazing that you'll be keep praising, be it, the sleekness of the tablet or lightweight. The full screen display of 10.1" makes you viewing experience one-of-a-kind. It is perfectly replaces you smart phone, enabling you to enjoy your favorite movie shows with family on this large screen tablet.
It is equipped with Dolby Atmos speakers, transforming your viewing experience into cinematic experience with amazing display and sound quality.
The tablet offers fantastic camera quality with 8MP rear camera and 5MP front-facing camera, undoubtedly, replacing your smart phone. You can stay connected with your loved ones via Skype calls and stay updated on social media by capturing moments and uploading it. Samsung Galaxy A 10.1 also provide you with kids mode features that alleviates the burden of parents, as they're so anxious about their kids in this technological age. With kids mode, parents can easily access or monitor the screen of their kids to keep an eye on their activities. No need to pay any extra amount for this feature.
The tablet offers 13 hours of battery life, which is beyond expectations for many of us. You can enjoy the tablet to the fullest without any hassle.
7. Lenovo Tab 4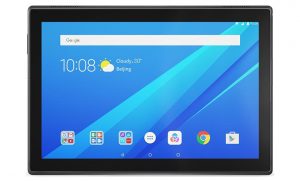 Lenovo Tab 4 another revolutionary gadget outshining in the cheap market increasingly. The 10.1" display along with Dolby Atmos front-facing speakers, Lenovo Tab 4 gives you amazing experience whenever you are on the go.
If you're planning to replace your desktop, then Lenovo Tab 4 is the right choice. With multi-user account setting, all you can do is switch to productivity mode and convert your tablet into a PC. You can add the Lenovo Bluetooth Keyboard to enhance your productivity that when you're on the go.
This Android tablet is recognized for its high performance as it is equipped with Quad-core Snapdragon processor at the speed of 1.4 GHz. The tablet lets you stay connected with your dear ones as it offers 5MP rear and 2MP front-facing camera with fixed-focus. Good news for parents!
Now you can handover the tablet to your kids without getting anxious about their activities. You can easily keep a track of their activities by turning the kids mode that provide your children with childhood content and you can monitor their activity as well.
Lenovo Tab 4 is the perfect gadget in today's modern family, fulfilling their needs of keeping an eye on everyone easily. The battery life of the tablet will complete surprise you because Lenovo Tab 4 offers 20hours of battery life. Well, at such a low price, so many features along with so much battery durability, Lenovo Tab 4 should hit your wish list.
8. Lenovo Smart Tab M10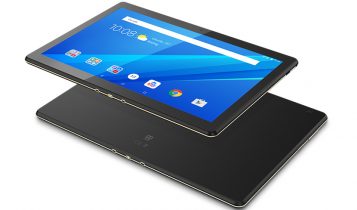 Lenovo Smart Tab M10 is an innovative tablet by Lenovo, which is why it has been awarded as the winner of "Best Innovation Award 2019".
Lenovo Smart Tab M10 is designed with great aspiration to provide a strong hold over the tablet as the backside of the tablet is quite wavy, making the surface harsh and powerful.
With 10.1" FHD display, Lenovo Smart Tab M10 offers brilliant picture quality. The tablet posses' two front speakers engineered with Dolby Atmos audio technology, giving you cinematic experience at the comfort of your home. The tablet is available in black only.
The amazing fact about Lenovo Smart Tab M10 is its collaboration with Alexa. Yes, now you can have a fun full day with Alexa. Connect to the dock and Alexa is all set to assist you, she can fill your room with music, play news for you, and a lot more. If you are a lazy kind of person, this smart tab is all what you need! More so, Lenovo Smart Tab M10 is 2-in-1 tablet that enables you to convert the tablet in a desktop anywhere you are.
The tablet offer 2GB RAM and 16GB storage along with Snapdragon Qualcomm processor, boosting the overall performance of the tablet immensely. The tablet runs on Android 8.0 Oreo that boasts a very intuitive interface for users, pre-loaded with various apps, empowering you to fall in love with this tablet. The battery of Lenovo Smart Tab M10 is 4850 mAh.
9. Fire HD 8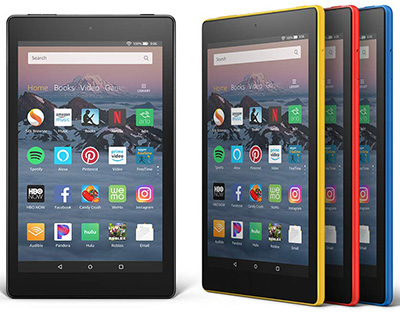 Fire HD 8 is the same series of the above-mentioned tablets as it is extremely affordable and a high-demand tablet. At a minimal budget, Fire HD 8 offers beyond the expectations features.
With 1280×800 HD 8" display, Fire HD 8 delivers luminous picture quality with less glare and more brightness. The tablet is very sleek and classy, providing great flexibility to the users due to its mobility. It is available in three intense colors that include Black, Red, Yellow, and Blue, breaking all the stereotypes colors of tablets.
The tablet is known for its powerful performance as it is equipped with 1.3GHz quad-core processor. If you compare Fire HD 8 with Fire HD 7 model, it offers 50% more RAM along with great space. The table offer 1GB RAM and standard 16GB ROM, providing expandable capabilities up to 400GB as it has a microSD card slot along with Amazon's unlimited cloud storage. Now you're free from the alerts like "storage full" as you can store infinity photos and videos.
At just $49, Fire HD 8 enables you to capture every moment or shoot videos by providing 2MP rear camera. More so, Fire HD 8 has been under 50 different situations so the tablet is free from spills, drops and everyday wear and tear. The tablet is ready to be with you for 10hours continuously, giving you the flexibility to go anywhere with this stylish, powerful, and amazing tablet without any hassle. The amazing aspect of Fire HD 8 is the Alexa obvious, giving hands-free day to users.
10. Vankyo MatrixPad Z1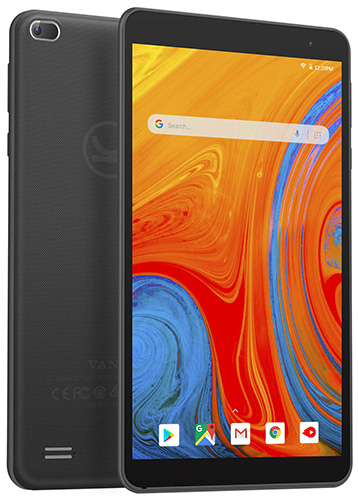 Vankyo is a new entrant in the cheap tablet market and became popular with its flagship product MatrixPad Z1. With 7" display, Vankyo MatrixPad Z1 has an aesthetic design that will mesmerize you completely.
The tablet is very sleek and lightweight that it easily fits in your back pocket of jeans, making it extremely portable. The IPS display quality will give you crisp, sharp and bright picture quality, enabling you to enjoy your favorite TV shows or movies on this amazing tablet.
Vankyo has introduced this tablet to make the lives of modern users comfortable and secure, so you'll find Eye health feature in the tablet that will protect your eyes from harmful rays.
The performance of the tablet is impeccable as it is equipped with energy saving and powerful Quad-core processor, providing 1GB RAM and 32GB storage onboard. It also offers a microSD card option up to 128GB.
The tablets runs on Android 8.1 Oreo go that is the lightest Android version with best interface, making the lives of users seamless. More so with this version edition you can eliminate unnecessary Google ads so that no pop-up could distract you from your work.
The tablet also possess Google Assistant that keep your fingers on rest mode. Vankyo MatrixPasd Z1 also offer 2MP front facing and rear camera to keep you connected with your loved ones via Skype calls. The tablet offers 8hours of battery life powered by 2500 mAH battery with continuous browsing and video playback.
Conclusion
Choosing a tablet completely depends on your usage as I've said before, but it's not going to be easy as there are countless cheap tablets available in the market. That's the reason I always suggest you to prepare a checklist first and jot down your requirements, most importantly your budget. Thereafter, plunge into the market for shopping your favorite gadget. I hope the above-mentioned handpicked tablets might help you to make quick decisions as with these tablets you just have to analyze your requirement that include battery life, display, cost, brand, etc.
As you can see there are tablets in the list that merely cost $49, which is not a big deal, then again features play a major role. If you're looking for a cheaper tablet with high end features, then Apple iPad and Lenovo Smart Tab E10 can be your ideal choice. Or else with minimal requirement and usage except this two, other tablets might help you greatly. But if you're seeking complete package of entertainment, then Samsung Tab A 10.1 is the best ever tablet you'll ever come across with such a low budget.