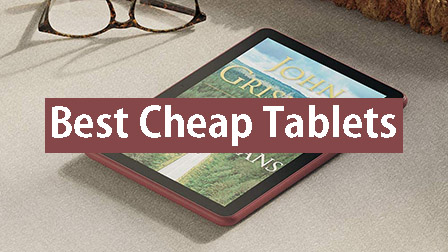 The best cheap tablets under $50 listed here will serve your basic tablet requirements like browsing, watching, etc… You can't expect a high performance tablet for under $50.
If you are keen to buy a good ebook reader or a standard video player and efficiently browse through popular sites and do not wish to spend a fortune on all these, then go for one of the cheap tablets. These tablets perform well and also provide standard functions and all these you get without digging a hole in your pocket. Yes, that's true.
Here, we shall be discussing the best cheap tablets of 2022 under $50 to help you make your choice. These cheap tablets are a great option when you think of buying a suitable digital medium for your kids to let them enjoy fun and exciting aspects along with carrying on their regular learning activities.
The only thing is that you need to be a bit aware of the specification and features that you get on a particular tablet before buying it. This is true for the cheap tablets too, as is the case while spending dollars in making an expensive tablet purchase.
The reason is simple. You should not repent after making the final decision. Thus, please check with the screen resolution, storage capacity, connectivity options, and battery life before zeroing on any one particular tablet.
Reminder: It is important to note that you should not hold very high expectations in terms of performance and features while going for a cheap budget tablet and that too under $50. It is in itself an astonishing fact that you are getting a tablet at this price and so be happy with that.

They are decent and perform well to meet the basic requirement. But, of course, don't compare them with the high-end products because that will not be very fair or logical. So, just check with the basic configuration of the cheap tablet and if you are satisfied that it can take care of all your necessities, then just go for it.
Best Cheap Tablets Under $50
Many cheap tablets under $50 are available in the market and on online digital platforms. But here, we have summarized details of 5 tablets that have amazing reviews to their credit and have evolved as the best choices in this category.
We have tried to cover all the most highly rated tablets to give you a clear picture. Again, don't expect extraordinary features and be open to welcome average specifications. So, just go through the below-given tablets and choose the one that best suits your need and budget.
1. Amazon Fire HD 8
Thinking that finding good-quality tablets under $50 is completely baseless in today's date.
Reliable brands like Amazon have their own version of the affordable and high-quality tablets that are worth the hype. The Amazon Fire HD 8 is one of them.
Featuring a compact 8" HD display, the tablet comes with 2x the storage than its predecessors with up to 64GB of internal storage, which is expandable up to 1TB with a microSD card. Also, this is the 10th Gen. release and is integrated with 2GB RAM for easy navigation and multitasking.
The tablet is powered by the 2.0GHz quad core processor and features up to 12 hours of battery life, which keeps productivity soaring through the roof. Paired with an USB Type-C charging, the model fully charged within 5 hours, which can be a little time consuming for some users.
As for compatibility, the tablet is compatible with all the latest streaming platforms like Netflix, Hulu, Instagram, TikTok and any of the latest social media platforms that you can possibly think of. And, by default, it supports Alexa too.
Reasons to buy:
Compact and portable design
Expandable storage
Superior multitasking
Reasons to avoid:
Display quality is not that great
Takes long to fully charge
2. Amazon Fire 7 12th Gen (2022)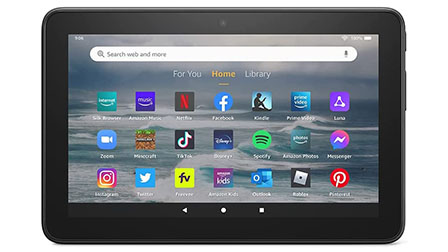 A very recent launch, the Amazon Fire 7 is the 12th Gen. launch from Amazon and comes with an affordable pricing and superior functionalities.
Featuring a slight redesign and 30% improved processing power, this is a tablet that supports productivity like no other.
The highlight of this tablet is the compact design, especially with the 7" touchscreen display with up to 32GB of storage. It comes with an expandable storage option of up to 1TB with a microSD card, which is quite promising too.
What sets this tablet apart from the rest is the stunning and responsive quad-core processor with up to 2GB RAM, providing 30% improved performance than the previous launches. The variety of app compatibility on this tablet further takes the cake because you can stream on your favorite streaming platform and also leverage the parental controls to ensure safe browsing for the kids.
Overall, the tablet is a decent purchase, especially for the affordable price range. However, we wouldn't suggest you rely on it for any professional needs.
Reasons to buy:
Responsive quad-core processor
Expandable storage
Decent battery life
Reasons to avoid:
Cheaper build quality
Not ideal for multitasking
3. Amazon Fire HD 8 Plus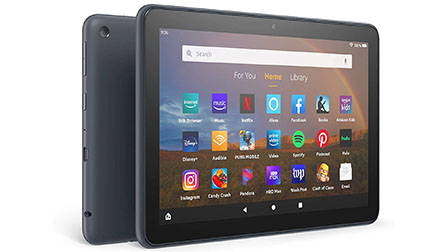 If you know about Fire HD 8, you might not notice much difference in terms of appearance in the Amazon Fire HD 8 Plus.
They are quite identical, so Amazon hasn't done much to the design part of these two tablets. But, the specifications in the Fire HD 8 Plus are slightly better.
Featuring an 8" display, the model features 2x the storage than the predecessors, with up to 64GB. It can be expanded up to 1TB with a microSD card support, which is great. Besides that, the model is also equipped with 3GB RAM, which is quite promising too.
Users get access to up to 12 hours of continued productivity, thanks to the amazing battery life. It supports Type-C charging and takes up to 4 hours to completely charge, which is again a downside to this tablet. As for the processor, the tablet is powered by a 2.0GHz quad-core processor.
It supports hands-free Alexa support for easy voice command navigation. Overall, the model is quite promising, not to mention that it is also compatible with most of the streaming applications and social media platforms that you can think of.
Reasons to buy:
Modern design
Improved storage configuration
Long-lasting battery
Reasons to avoid:
Display quality is not that great
Takes a lot of time to fully charge
4. Haehne 7″ Android 9 Tablet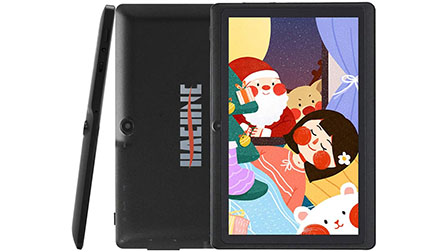 This is based on the Android 9.0 Pie version and is fitted with a brilliant 7-inch screen. The IPS HD display screen supports 1024 x 600 IPS resolutions.
It supports 1 GB of RAM and 16 GB of ROM that can be expanded to 128 Gb via a microSD card. So, you will always have enough space to keep all that is important and meaningful to you safe and organized.
It is powered by a 1.5GHz Quad-core Cortex-A50 64-bit processor that allows it to perform beyond expectation for the money spent on it. You can now stay connected with your friends and family with stable Wi-Fi and Bluetooth connectivity of this tablet.
Graphical display quality is very standard with good brightness and clarity and wide viewing angle. It also features an anti-glare function to help protect the eyes against the harmful light of the screen. Ergonomically designed to aid you sufficiently in all your work, Haehne 7″ Android 9 tablet sports a slim and compact getup and is highly portable.
Reasons to buy:
It is super affordable
The processor is stronger than other tablets on the list
Comes with a microSD card support with up to 128 GB of storage
It offers a 2-year warranty
Reasons to avoid:
Poor cameras
It has less RAM
5. Venturer Voyager 7-inch Tablet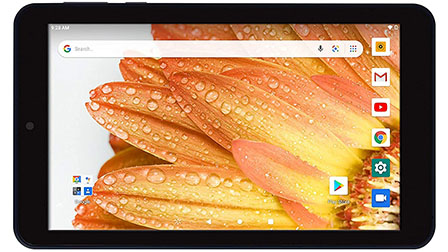 Another 7-inch tablet is making its way to our list of best cheap tablets under $50.
Voyager 7 by Venturer features a 7-inch IPS display with 1024 x 600 resolution. Again, 7-inch tablets are good for eReading. The screen size is just right so it is convenient to hold it in one hand.
Venturer Voyager 7-inch is powered by a quad-core processor and 2 GB RAM. It runs the Android 10 Go edition operating system. All Go edition operating systems are a part of Google's tablet-centric OS. The battery runs for about 5 hours on a single full charge. Venturer Voyager also features a USB Type C port for charging.
This tablet is perfect for children for educational purposes or as a family tablet to use it for your on-the-go needs. It can run YouTube, Netflix, and other streaming apps so that you can enjoy watching videos on them. Venturer Voyager also equips 2 MP front and rear cameras for video calling, capturing photos, and taking selfies.
The tablet comes with dual WiFi and Bluetooth. In addition, its USB Type-C port makes it convenient to transfer data and access web. It's a good buy as a cheap tablet with entry-level specs.
Reasons to buy:
Offers better RAM, processor, and good value for money
Comes with a microSD card support for extended storage capacity
It has a good display
USB Type-C charger and cable included in the box
Reasons to avoid:
Verdict
Thus, there are good options at your disposal to make your selection and come out wiser. These tablets are particularly good for kids and students as they involve very less investment.
Also, although cheap, some of them support extremely useful features like eye protection and child lock that add to their overall credibility.
There are cons of going for these tablets as you have to make certain adjustments and compromises concerning functions and possibilities. But, the biggest pro that goes in favor of these cheap tablets and which overshadows every shortcoming is their attractive affordability.
You are spending so little on them that you can experiment and compare them to finally select the best amongst them.
So, decide whether you want to spend heavily on digital gadgets or be on your guard and buy these decent performing tablets under $50 to make your purposes meet.