With tablets flooding the market, the competition is on never falling rise. You can witness a new variant of tablet being rolled out in market every now and then. Be it Samsung, Apple, Lenovo, Microsoft or any other tech firm, all of them are neck to neck to bring out the latest version of tablets with top notch configurations that will lure customers in buying them.

Among all these high end products, we have our very old companion, 7 inch tablets. Although, 7 inch tablets might not be a in-thing, yet manufacturers keep rolling them out in small quantity. Since, people substituted 7 inch tabs with smartphones, we saw very less of these tabs in the market.
Anyhow, 7 inch tablets do serve a lot of purpose and that is why we still spot them among wide variety of high end tablets. From being impressively portable to budget friendly, they are decently configured and would fit your requirements if you have some day to day tasks to do.
With many brands having a 7 inch tablet range, they are so reasonably priced that you might not even touch $100 mark. Below in this article, we'll enlighten you with both sides of 7 inch tablets and leave it on you to decide.
Why 7 inch tablets?

With plethora of tablets in market, people tend to opt for the most suitable product that fits their requirement and also budget. While 7 inch tablets were 2012 thing, recently we have seen a comeback. Due to the existence of diverse smartphones with features as good as any tablet, users find it a bit useless to buy a 7 inch tablet. Although, now that we witness a comeback, lets discuss some unique features that would provoke you to prefer 7 inch tablets.
i. Size
The most preferred feature in 7 inch tablets is the size. It is compact and portable; hence, you can easily put it in your backpack and carry it where ever you feel like. Also, due to being smaller in size, tech firms prefer keeping it light in weight to make it portable. So, if you like to travel or have an important presentation outside office, 7 inch tablet has to be your best choice. Since the 7 inch tablets are compact in size, it gets easy for users to hold it firmly and use it with one hand as well.
ii. Price
Talking about the price, because it is compact and a slightly less configured as compared to other tablets, 7 inch tablets are fairly priced. You can get your hands on most of the top 7 inch tablets at price less than $100. Hence, you get the decent featured tablet without stressing your budget much.
iii. Kid-Friendly
Another factor that makes it worth buying is that parents approve it for their kids. It costs less, very easy to carry and is compact enough that your kid can use it perfectly without any chances of dropping it. Also, the tablets are perfectly configured for the daily use and hence, makes it a perfect buy.
Limitations of 7 inch Tablet

Post discussing why you should prefer 7 inch tablets, let's have a look at other side of the coin. With wide range of tablets being rolled out in the market, the avid tablet users might not be very interested in preferring 7 inch tablets. Due to limited configurations and compact size, they feel it might not serve the purpose.
Also, with range of smartphones being available with more or less similar features and specifications, customers prefer buying a smartphone rather than a tablet. Below are some of the limitations that tag along with 7 inch tablets
i. Small Size
We know we used this exact same factor in our pros section, although it serves as both pro and con. Where many people prefer 7 inch tablets due to its size, others do not find it very useful. Since, It is not much fun to watch a movie or play some game on a small screen, 7 inch tablets does not serve the purpose. People prefer having a smartphone and at least a 10 inch tablet to meet both their purposes.
ii. Confined Configuration
This is one thing that everyone will agree to. You may find 7 inch tablets still running on Android 5 version whereas there are much more upgraded versions in the market. The storage capacity is decent but they could do better. All the specifications are decent but does not meet the high end needs of the users, hence, leaving them wanting for something extra.
iii. Better Options Available
Not only with tablets, but people compare 7 inch tablets with their smartphones as well. They prefer buying a smartphone rather than a 7 inch tablet that functions a wee less than their smartphones. Samsung and Apple have filled the market with some top-notch smartphones and tablets that urge people to go for them. Although you get 7 inch tablets at reasonable price with decent specifications, if you are a tech freak, you will find it really hard to settle for a 7 inch tablet.
10 Best 7-inch Tablets 2019
Now that you have inferred both pros and cons of 7 inch tablets, below mentioned are 10 best 7 inch tablets that can find a place in your 2019.
1. Samsung Galaxy Tab A 7.0"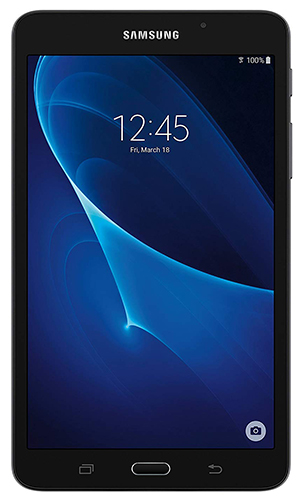 One of the handy 7" tablet that is so light weight that you can carry it anywhere and everywhere you want. Talking about the specifications, with Samsung Galaxy Tab A, you get a Quad-Core Snapdragon processor and with storage capacity of 8GB (internal). Though 8GB can be a wee less, the tab has expandable storage capacity up to 256GB. It also has 1.5GB RAM which drives a decent performance along with the top-notch processing system.
Also, the operating system that functions in Samsung Galaxy Tab A is Android 5.1 Lollipop which helps user to multi-task and performs impressively well. Coming to the most important feature that we look for – the battery life. Battery life is said to be equally impressive with 11 hours of battery backup.
With all these features, you get Samsung Galaxy Tab A 7.0" at nearly $100. Hence, it is undeniably one of the best 7 inch tablets that you must try.
2. All-new Amazon Fire 7 Tablet 2019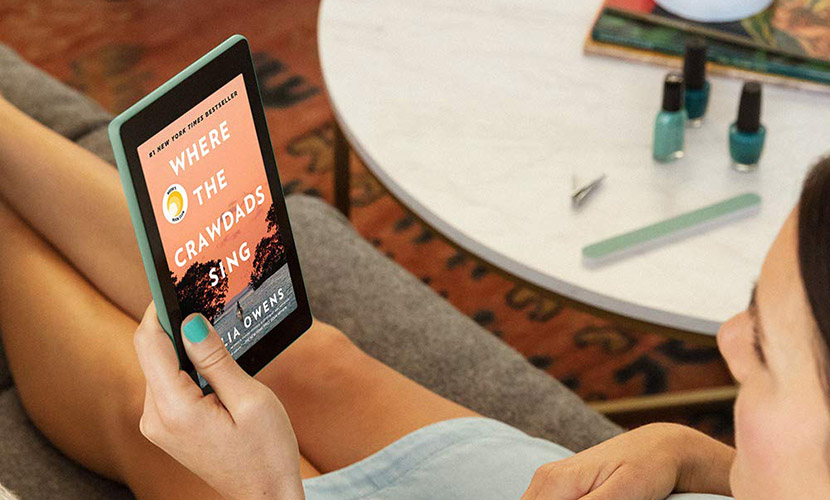 Amazon has upgraded its best-selling Fire 7 tablet recently. It offers 7inch IPS display with higher resolution along with great design and flexibility. Moreover, the tablet is available in four unique colors that include Plum, Black, Sage, and Twilight Blue, which is making it a bit tempting. As compared to the previous version, All-new Amazon Fire 7 tablet is more powerful in terms of storage and performance.
The tablet provides 1GB RAM along with 16GB or 32GB storage capability, which can be further extended to 512GB. Isn't it amazing? Now you can click as many pictures or download apps as much you want. However, the Quad-core processor is constant that offers a speed of 1.3 GHz.
The tablet also offer a camera of 2MP rear and front-facing so that you could stay connected with your family and friends. You can also enjoy hands-free day as the tablet is equipped by Alexa, enabling you to just order and your job is done.
Being so much advanced, the tablet somewhere lacks in battery backup as it provides 7 hour of battery life to users, which is less than the previous model.
3. Vankyo MatrixPad Z1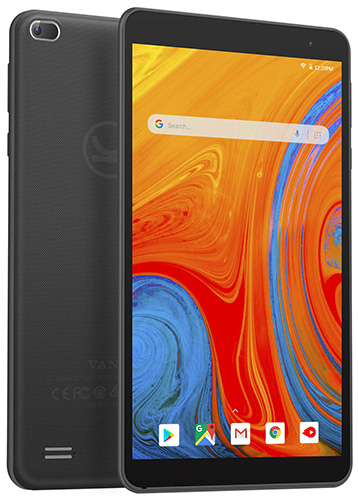 Vankyo has entered the tablet market with its flagship product MatrixPad Z1. This high-featured tablet with minimal prices is enticing customers to purchase it. With 7inch display, Vankyo MatrixPad Z1 is powered by true-to-life technology, providing higher vivid viewing experience to the users. Besides this, the company is more concerned about your eyes, so they added a feature Eye Health. Once you have switch on this mode, you don't have to worry whether you're using the tablet in the night of day.
The tablet is powered by Quad-core processor that allows you to quickly open up any app, play games without haggling and a lot more. Featuring Android 8.1 Oreo, Vankyo MatrixPad Z1 is an amazing tablet providing easy-to-use interface and keeping you contented with millions of apps available in Google Play store.
This tablet offers 1GB RAM and 32GB ROM along with an extension to your storage capabilities with a limit up to 128GB. Moreover, the tablet has low power consumption processor that enables you to save more battery life. So the battery life of the tablet is up to 8hours with reading, watching movies, etc.
4. Lenovo Tab 7 and Tab 7 Essential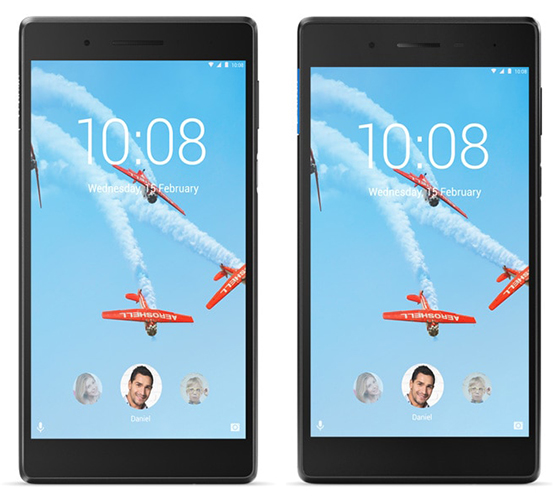 One of the most sought-after innovations from Lenovo, Lenovo Tab 7 and Tab 7 essential are compact and light weight tablets that fits in your pocket and is easy to carry around. The tab functions on Android 7.0 Nought OS which makes it one impressive piece to function as per user requirement. You also get a vivid display with resolution of 1024 x 600 pixels and IPS technology. The tab is decent fit for everyday tasks such as movie watching, web browsing and alike. You get Lenovo Tab 7 and Tab 7 essential with 1.3 GHz Quad-Core 64-bit Media-Tek Processor and 1 GB RAM. You get a seamless functioning and a decent user experience.
You might not be able to multi-task that well but the tab fits perfect for your day to day tasks without much lags. The play store supports latest apps and games if you wish to use some. In all, you get a decent tab under $100 which suits your basic requirements.
5. Samsung Galaxy Tab E Lite 7"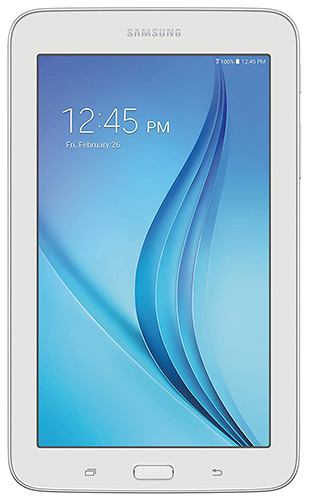 Samsung has always been the most trusted brand for smartphones or tabs. With Samsung Galaxy Tab E Lite, you get 8 GB internal memory that is expandable to up to 32 GB via microSD card. It weighs less than a pound and measures 7.6 x 4.6 inches that makes it pretty portable. Hence, you can carry it anywhere you like either to a trip or to work.
The 7 inch screen has 1024 x 600 pixels resolution which gives pretty impressive display quality that might enhance your user experience. Talking about battery life, Samsung Galaxy Tab E lite 7" has maximum battery run of 8 hours which can extend a decent amount of time for your web browsing and other day to day tasks.
In all, you get a decent sleek and compact Samsung Galaxy tablet under $100 which can more or less meet your daily needs of a tablet.
6. Lenovo Tab E7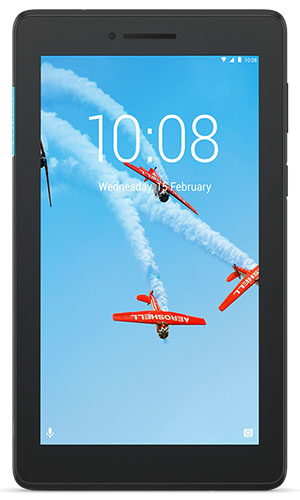 Lenovo has successfully established its foot in the laptop market and does fairly well when it comes to tablets. To be launched, Lenovo Tab E7, is amongst top 7 inch tablets that you must try. It runs Android v8.0 (Oreo) which helps is fast processing and multi-tasking. The device s supported by Quad-Core 1.3GHz Cortex A7 processor and 1GB RAM that further helps in accelerating your experience. One drawback that you might face is that there is no fingerprint scanner which you might find in most of the tablets rolling out in the market.
You get Lenovo Tab E7 with 16GB internal storage capacity that is expandable up to 128 GB. Hence, you get sufficient space to store your photos, videos and much more. Lastly, coming to the battery performance, the tablet is embedded with 2750 mAh battery which further enables user to have a sufficient amount of battery life to carry out daily tasks.
7. RCA Voyager Pro 7″ Tablet​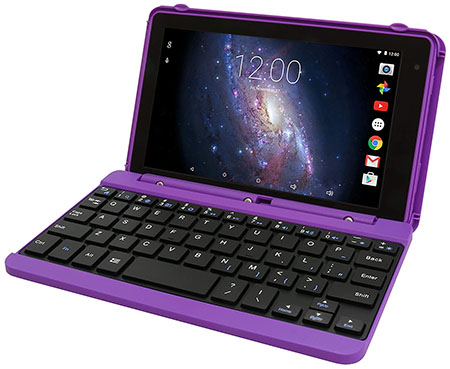 RCA Voyager Pro 7 comes with keyboard, hence, can be used as a laptop whenever necessary. You get a vivid display with 1024 x 600 resolutions that extend a sharp and bright picture quality. It runs on Android 6.0 Marshmallow, which could have been better as Android has rolled out upgraded versions. It weighs less than a pound so you get the advantage to carry it easily to work or travel.
One of the key features in this tablet is that you can use it as a compact tablet or a full-fledged laptop as per your requirement. Internal storage of RCA Voyager Pro 7" is 16 GB which is expandable to 128 GB via microSD card. The processing system used helps in enhancing the user experience with impressive performance while you watch movie, download any app from google play store or play any game. You might find it less compatible in comparison to other tabs due to the Android version used.
8. Fusion5 F704B Android 8.1 Tablet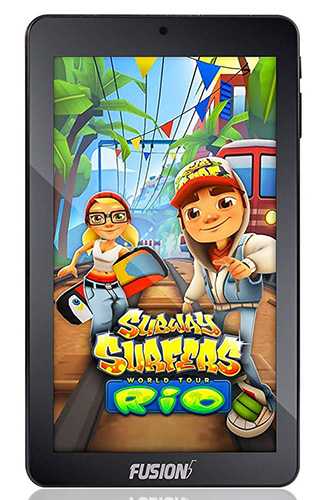 With upgraded version of Android, you get some amazing features in Fusion5 F704B tablet. 7 inch IPS technology screen that enhances your visual experience by extending a vivid display quality that you are ought to love. The display has 1024 x 600 pixel resolution which further adds to brightness and sharpness of picture. Quad-Core 1.5 GHz processor helps you multi task and Android 8.1 further extends an uncompromising experience while watching Netflix, playing games or using any apps. The rear panel of the tab is coated with scratch resistant material, hence, making it perfect for any type of use.
You get 1 GB RAM which enables users to carry out diverse functions, be it office work or playing games, it works perfectly well. Also, you get expandable memory storage of 128 GB via microSD card in order to store all your valuable things and never lose them. The best part is you get all these features with Fusion5 F704B for under $60.
9. ASUS ZenPad C 7.0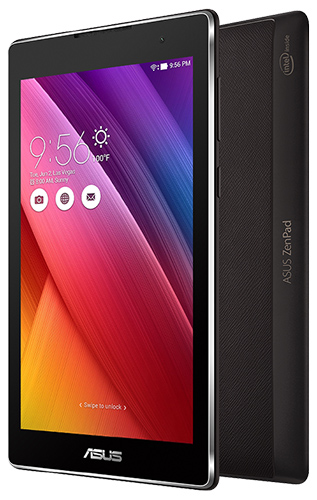 Asus being the leading tech firm in gadgets, you get Asus ZenPad C 7.0 with impressive features and ones that can urge you to try it out. You get the tablet with full 7" screen and a display resolution of 1024 x 600 pixels. Hence, you get an amazing picture quality for all your movies and pictures.
It is powered by 1.2 GHz quad-core processor along with 1 GB that helps you multi-task and further enhances the user experience. Asus ZenPad is imbibed with 8GB internal storage which is expandable up to 64GB using a microSD card. Here, you might find a slight drawback as you can have easily available tablets with better storage capacity. Another slight lag in the tablet is that it still supports Android 5.0 whereas you can get your hands on 7 inch tablets with upgraded Android versions. In all, ASUS ZenPad C 7.0 surely falls under top 7" tablets which you can get your hands on in a reasonable price.
10. Acer Iconia One 7 B1-7A0-K78B​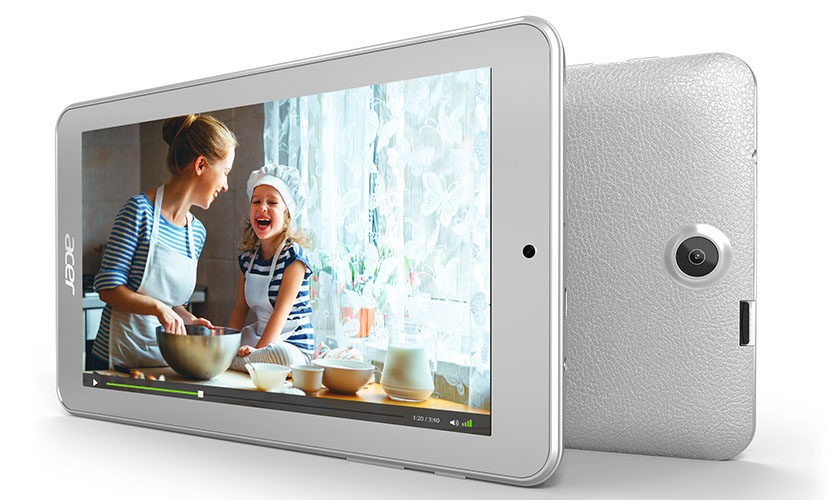 A 7 inch screen and an immersive display with 1024 x 600 pixel resolution is what makes Acer Iconia One 7 B1-7A0-K78B a must have tablet. With 16 GB storage capacity, you get enough space to store you pictures, music or a movie or two. Acer enables you to have amazing user experience with its quad-core processor and Android 7.0 Nougat. Now, we know you can find a tab with upgraded Android version but this one almost meets your requirements and functions equally well.
You get 7 hours battery life which further enables you to have a good sufficient time of web browsing or watching a movie. Acer Iconia is available for around $75, which is quite budget friendly.  In all, you get an amazing display quality in affordable range along with some well-functioning features. Although, you might have some performance issues here and there but in all, the product has successfully made its place in top 7" tablets.
Conclusion
All said and done, by now you might have a fair idea of how and about of 7 inch tablets. They are reasonable in their price and extends a decent configuration to fit your daily needs. Although, as said earlier, 7 inch tablets might not be well functional if you have some high end technical needs or you wish to play high graphic games.
They are not upgraded to the latest version of operating system which further hampers smooth functioning and multi-tasking. If you happen to have basic day-to-day tasks, it might suit you or if you wish to get a tablet for your kid, 7 inch tablets are the perfect buy.
They might be slightly less configured but they are compact, easy to carry and fits perfectly in hand. So, by now you must have made up your mind on which 7 inch tablet to buy or if it fits your set of requirements. Well, happy buying to you!