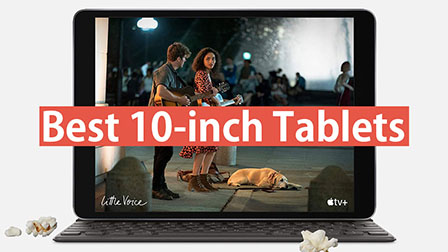 Are you looking for a big screen tablet for all your entertainment and other needs? We have short-listed the best 10-inch tablets including the cheaper as well as the most powerful ones.
Tablets with screen-size of 10.1-inches flooded the market with Apple's introduction of the first iPad with a display of 9.7-inches in 2010.
Right after the tablet computers' popularization with the iPad's launch, several Android tablet makers came up with a 10.1" tablet to rival iPad in the budget segment. Fast-forward to 2023, there are not many budget offerings from legacy OEMs of a 10-inch tablet.
Tablets were introduced soon after the smartphones, but their popularity sky rocket a decade ago. The main goal of tablets was to serve the users who seek bigger screens with desktop like features in a portable and compact-sized device. Since then the market is overflowing with thousands of tablets and hence, it has become difficult for the users to pick the best 10-inch tablet.
However, do you know why you need a tablet – for work or entertainment or everyday use? Answer to this question is very important! Being a user, it is vital to evaluate your needs first and then plunge into the market for further research and find the right tablet.
Why you need a tablet? Well, you might be looking for flexibility as managing your professional work on desktop does not provide you that portability.
May be you want a bigger screen than your smartphone to entertain yourself or play games endlessly. Maybe you want to use it on a daily basis or for studying purpose rather than carrying books all the way to college. All these things play a pivotal role in your research work.
You might come across big brands like Samsung, Apple, Microsoft, etc., that has been leading the tablet industry, but your budget along with your interest also matters here.
Finding a tablet with minimal cost, maximum features is something impossible as the features may fascinate you at some point. In such a scenario, preparing a checklist will be the right choice to jot down everything and stick to it anyhow.
Our Picks: Best 10-inch Tablets in 2023
There is huge demand of 10-inch tablet in the market. People get it for entertainment, on-the-go office works, travel partner, etc… So, if you're finding one, have a look at the short-listed best 10-inch tablets for 2023.
1. Samsung Galaxy Tab A8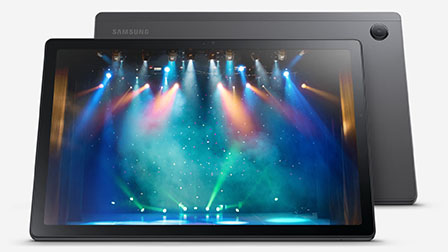 Samsung's classic Galaxy A series tablets are affordable compared with their S series counterparts.
They have some weaker specifications yet you will get Samsung's best and most authentic flagship experience.
Galaxy Tab A8 features a 10.5" LCD screen with 1200 x 1920 resolution. This offers a comfortable enough viewing experience whether it's for video calling, binge-watching, learning, or gaming. On top of that, this new Galaxy Tab comes with quad speakers and Dolby Atmos sound technology.
The tablet is powered by a Unisoc T618 Octa-core processor and runs Android 11 Operating system. About storage, it offers 3 GB/4 GB RAM and 32 GB/64 GB/128 GB onboard storage options. Its 7040 mAh lets you use the tablet seamlessly on the go.
All in all, Samsung Galaxy Tab A8 is the best overall buy for a 10-inch tablet category; that not only offers the best of Samsung but also falls in the mid-price range.
Reasons to buy:
More color options are available
Best Galaxy A series tablets
7040 mAh battery
Quad speakers and TFT LCD display
Reasons to avoid:
Gorilla glass protection is missing
Not for hard-core gaming
2. Apple iPad (10th Gen)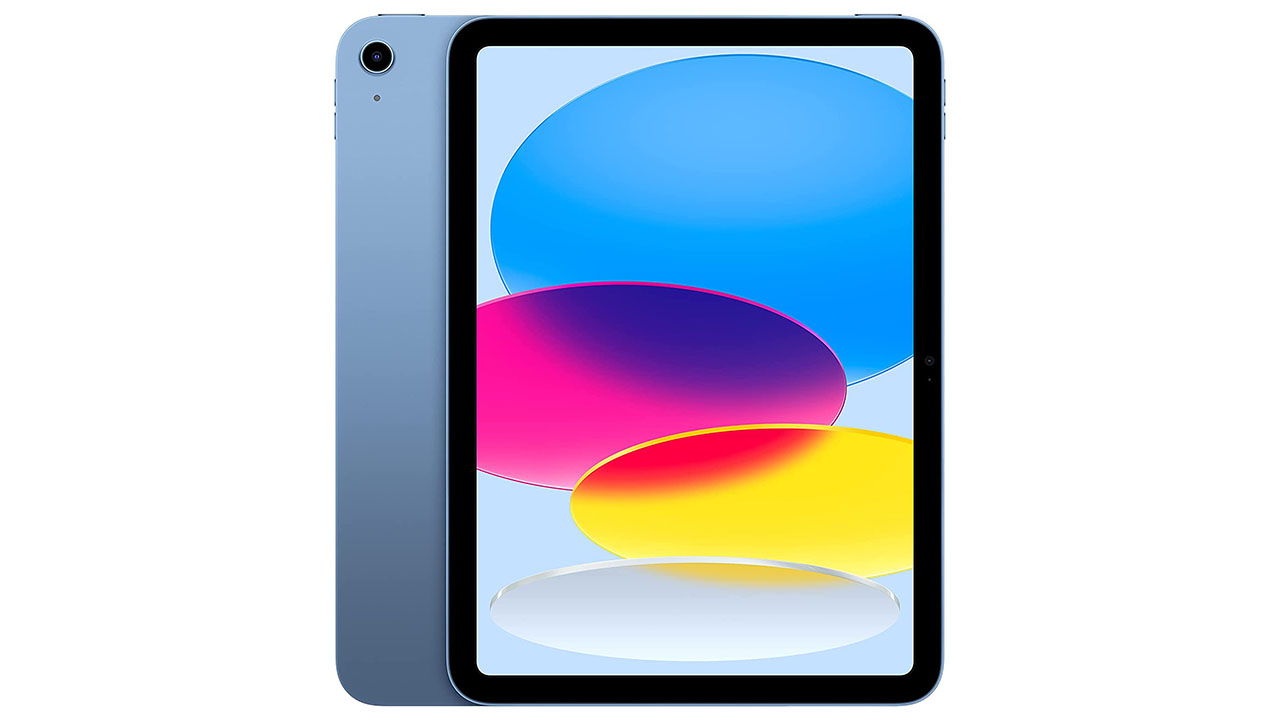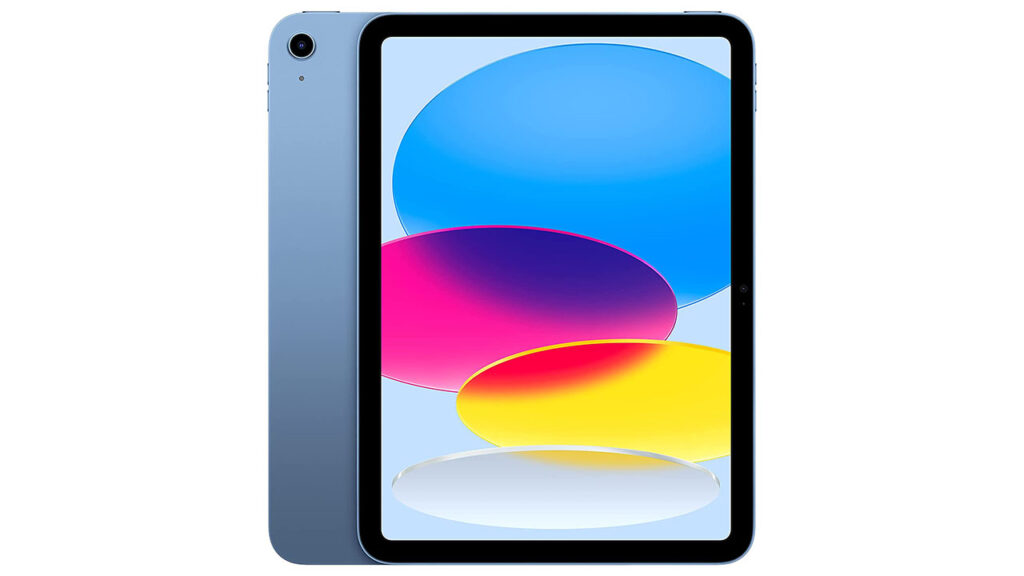 Apple has recently launched their 10th Gen redesigned iPad in four quirky color options.
But, its not just the colors that have caught the attention of the users, it is their first-time "all-screen" display that has made this a bestselling model.
Equipped with a 10.9" Liquid Retina all-screen display, the device takes creativity and content creation to the next level. Paired with the Apple Pencil, the iPad works effortlessly and without any delays. Additionally, the iPad is integrated with iPadOS 16 out of the box, which is another reason why it deserves all the praise.
Apple hasn't compromised on their camera settings, thanks to the 12MP wide back camera that makes taking photos and videos a lot more streamlined. Integrated with mics and landscape stereo speakers, your creative projects are never going to be delayed.
What puts the iPad (10th Gen) on the map is their powerful A14 Bionic chip for optimal performance, especially when it comes to tackling productivity and graphics-intensive projects. Ideal for taking notes on the go or editing photos for work, this iPad takes care of all your content needs.
Reasons to buy:
Premium, modern and lightweight design
Powerful and responsive performance
Comes with iPadOS 16
Reasons to avoid:
Price bump is quite high
Lacks Stage Manager access
3. Google Pixel Tablet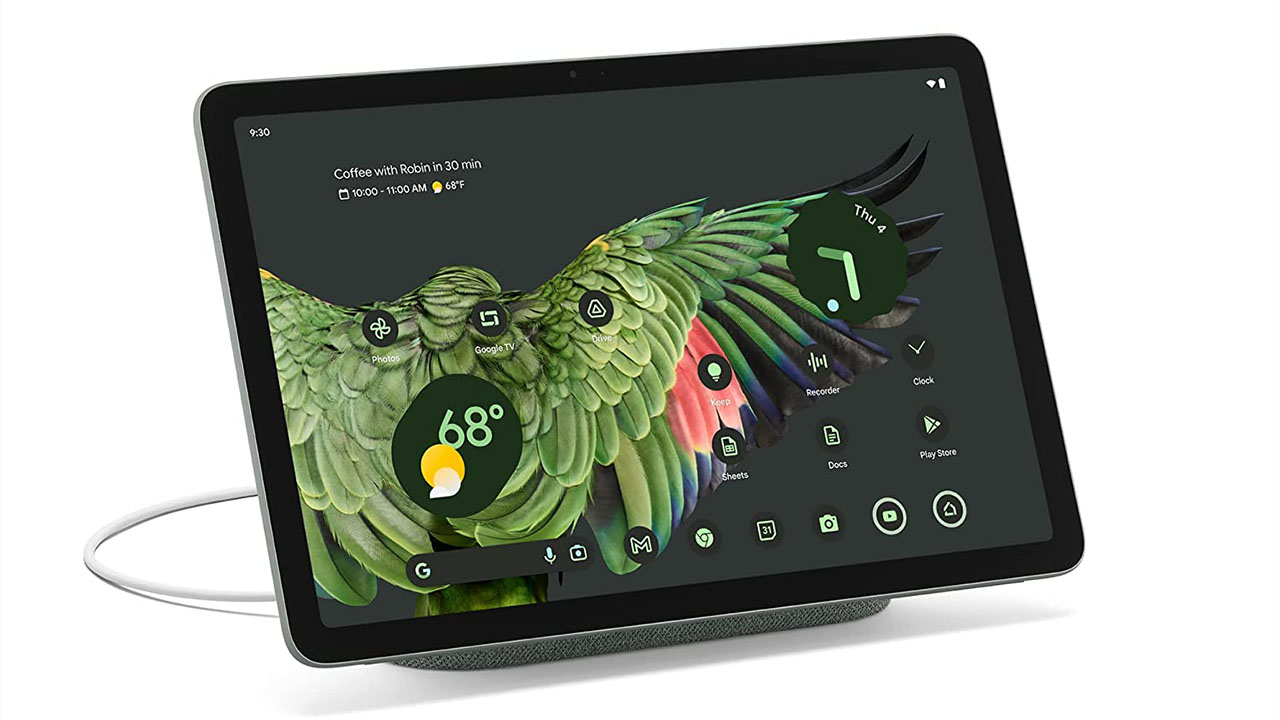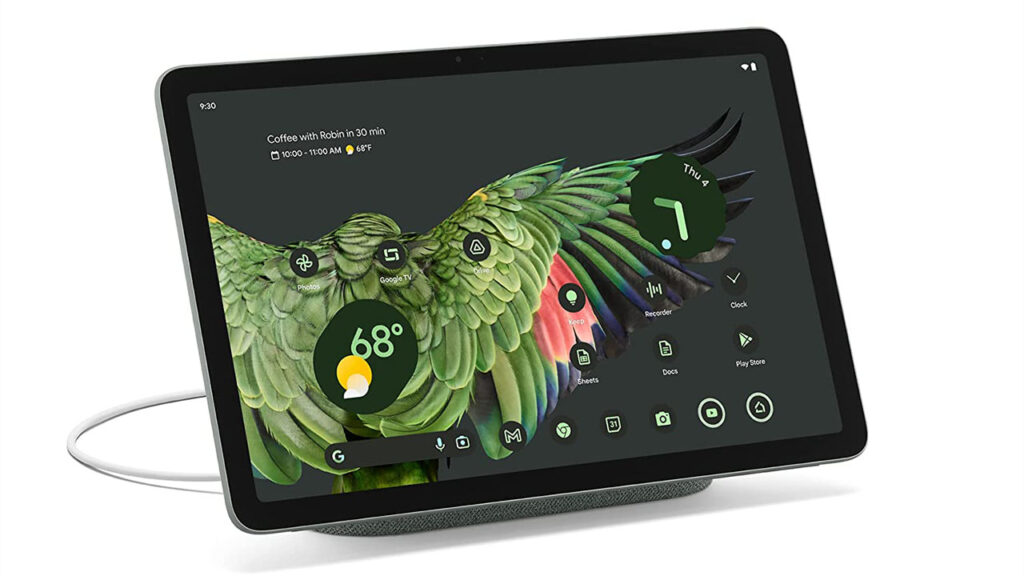 If budget isn't a constraint for you, the Google Pixel tablet is hands down one of the absolute best options in the market.
Starting from $499, the tablet is powered by the Google Tensor G2 for superior performance like no other.
This incredibly fast tablet is the first in the game to come with the G2 chip that offers access to Google AI for a fast and smooth user experience. From multitasking to split screen, the tablet offers it all and more.
Also, the Pixel tablet features Chromecast built into the tablet, making casting music and videos a lot easier. Furthermore, the smart home controls in this tablet are a feature worth considering. The tablet is equipped with a 10.95" LCD display with 1600p screen resolution.
Weighing under 500 gm, this tablet is easy to carry around and is ergonomically designed for a comfortable user experience. Coming to the internal specifications, the tablet features 8GB RAM with up to 256GB UFS 3.1 storage to keep all your work and creative inputs in one place.
The Pixel tablet also features dual cameras with 8MP setting on both sides, streamlining workflow like never before. Overall, with the price point and the features, this is hands down one of the best high-end tablets in the market.
Reasons to buy:
Sleek and premium design
Powered by G2 chip
Responsive display
Reasons to avoid:
RAM configuration could be better
Camera quality is average
4. Samsung Galaxy Tab A7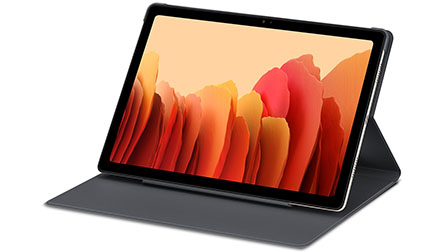 Samsung Galaxy Tab A7 comes at a very reasonable price point for the extraordinary performance it brings to the user.
This is a slim tablet with an excellent feature set, and it can quickly uncover many multitasking operations and daily usage applications.
Samsung partnered with Qualcomm to bring the Snapdragon 662 into the Galaxy Tab A7, and pairing it with 3GB RAM has given an edge to the users to even stream and play games at a good refresh rate.
Another impressive integration was the battery. The Tab A7 comes with a non-removable battery of 7040mAh.
So it's a binge-worthy tablet that can seamlessly connect with other Samsung devices and use the respective applications offered by Samsung. Surround sound effects are displayed with this tablet, all thanks to the Quad Speaker system that is tuned with Dolby Atmos' help.
Reasons to buy:
Ultra-wide screen TFT display
Stronger battery
It's good for entertainment with quad speakers and Dolby Atmos
Reasons to avoid:
Display sometimes look dim
Not an apt device for high-end gaming requirements
5. 11th Gen Fire HD 10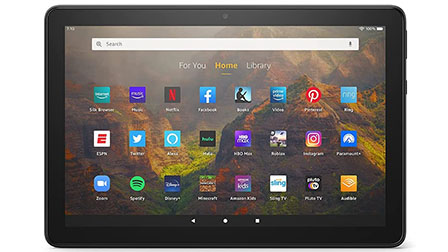 The Fire HD 10 starting from just $149 (with ads in the UI) and $164.99 for without ads, boasts a 10.1-inch display with a resolution of 1920 X 1200 pixels.
The display also offers a 10% brighter LCD panel than the outgoing model.
The tablet has the same SoC used in the last two generations, the Mediatek MT8183. The octa-core processor is based on a 12nm manufacturing node with four performance Cortex A73 cores, and four Cortex A53 cores.
The SoC is also coupled with a 3GB RAM with no other higher variant options. The storage comes with either 32GB or 64GB.
With a battery size of a rumored 6300 mAH, Amazon claims a battery life of around 12 hours. Furthermore, the tablet comes with a 5MP rear shooter, while the front shooter boasts a 2MP.
Amazon also offers a productivity bundle with a Bluetooth keyboard and a one-year Microsoft 365 Personal subscription.
Reasons to buy:
Great value for money, especially faster processor considering its price
3 GB RAM
Powered with Alexa Smart display
Reasons to avoid:
Aligns with Alexa ecosystem more
6. Lenovo Chromebook Duet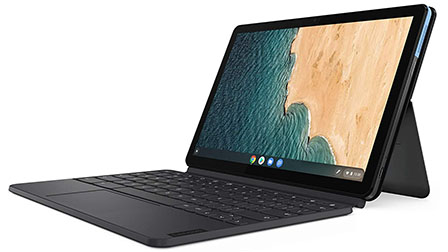 If you are particular about a budget ChromeOS tablet for everyday use, the Lenovo Chromebook Duet is a pretty hands-on option.
This is an unique 2-in-1 convertible device that features an immaculate functional design that enables you to make the most use out of your performance and productivity without any complications.
It is equipped with a mobile and compact 10" FHD IPS display with touchscreen and pen support.
The MediaTek Helio P60T Processor boots up and loads the applications in under 10 seconds, supporting your all day of productivity without any compromise.
The device is available in two different color options – the Ice Blue and the Iron Grey design with a sleek looking fabric texture stand cover for a comfortable support and user experience.
Users also get access to free 12-months Google One membership that further includes 100GB storage. It is integrated with 64GB eMMC storage with 4GB RAM configuration and runs on Chrome OS.
Reasons to buy:
It is super portable
Longer battery life
Falls into an affordable range
Reasons to avoid:
Headphone jack is missing
It slows down when multitasking
7. TCL TABMAX 10.4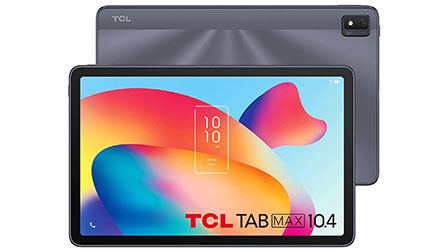 Tablets are becoming more and more mainstream in the market and the TCL TABMAX 10.4 is an option that never disappoints.
Priced around $260, the tablet is a pretty great investment for the price, featuring a stunning ultra-wide 10.36 FHD+ 2K display with 1200p screen resolution.
The combination of high-resolution audio further pairs with the stunning viewing experience on the tablet. Backed with NXTVISION technology, being on the tablet doesn't put an unnecessary strain on your eyes and reduces eye fatigue quite effortlessly.
As for the internal specifications, the model comes with 256GB built-in memory, which is expandable up to 512GB with microSD card. Ideal for business professionals and gamers, the TABMAX 10.4 is integrated with 8000 mAh battery, which supports all-day usage without any fail.
The tablet is powered by the latest Qualcomm Snapdragon 665 octa-core processor with Android 11 OS to keep you hooked to all your necessary multitasking needs.
Besides that, the model also packs in a stunning 8MP camera that enables you to stay connected over a video call or use it to capture images and videos.
Reasons to buy:
Premium and lightweight construction
2K display resolution
Expandable storage
Reasons to avoid:
Audio output isn't stereo-like
Processor could be more powerful
8. Microsoft Surface Go 3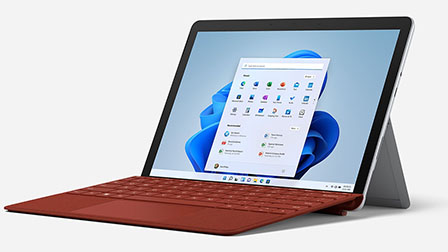 The Microsoft Surface Go 3 is touted as the most compact and portable convertible tablet for the users who want the convenience of a tablet but the superior performance of a laptop.
It is ideal for business professionals and students who don't want to compromise on their work experience, especially while they are travelling.
It comes with a choice between the 10th Gen. Intel Core i3 processor or the faster Intel Pentium Gold processor for the ultimate performance and productivity.
It weighs around 1.2 lbs that contributes to the laptop versatility. The 10 hours of battery life is another benefit you can't get the most out of this device.
The tablet is further backed with the built-in security with the latest Windows 11 OS and with the latest USB Type-C port. It is further equipped with a 10.5" PixelSense display with 3:2 aspect ratio with Corning Gorilla Glass 3 for enhanced protection.
Reasons to buy:
Powerful PC CPUs
It features 8 GB of RAM
It comes with Surface Pen
Packs a battery that lasts for 11 hours
Reasons to avoid:
Have to purchase keyboard separately and keyboard options are expensive
It's expensive
9. Apple iPad Air (5th Generation)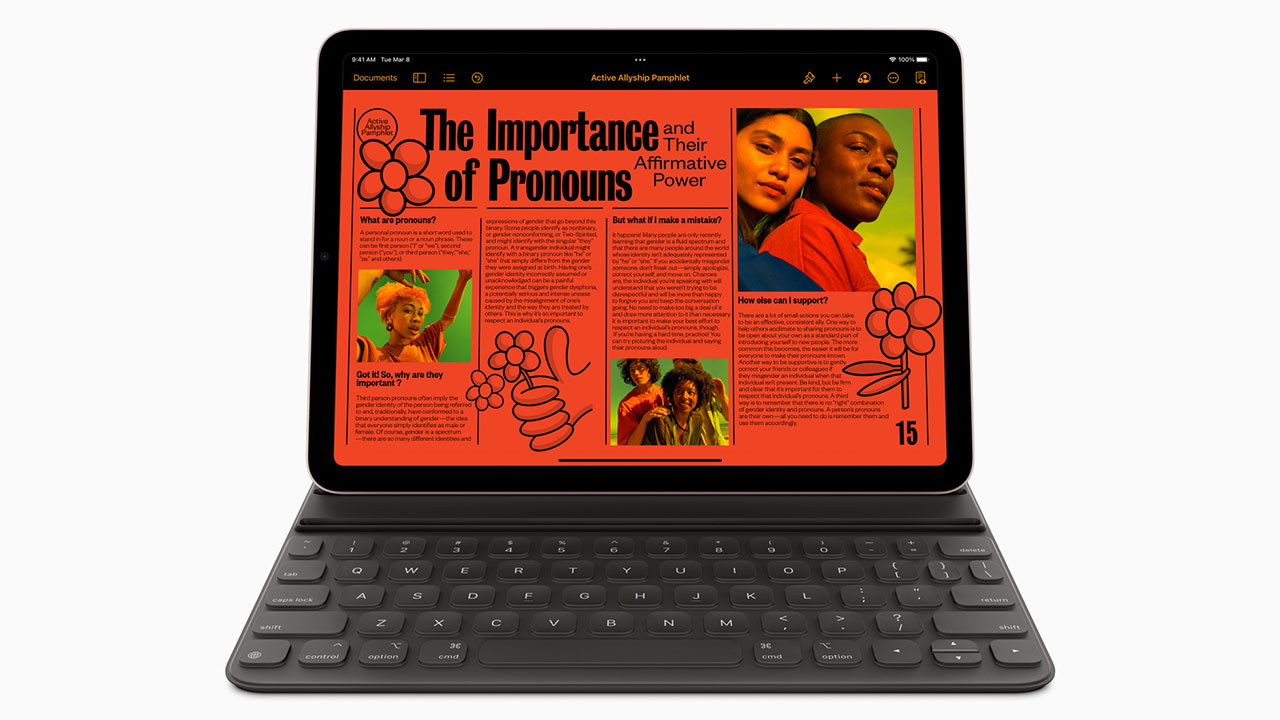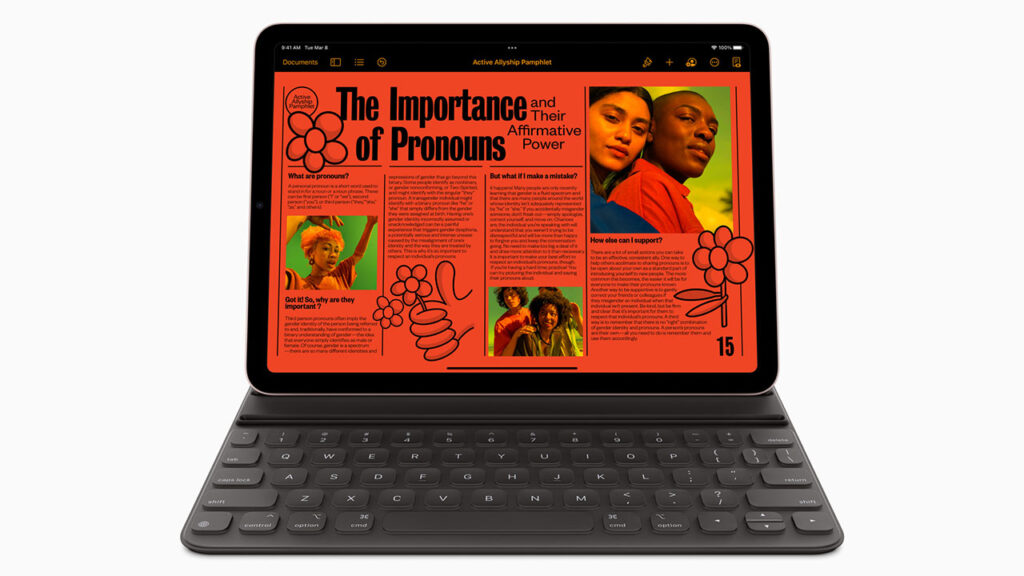 We live in a world where the concept of hybrid workflow and mobile workstations are on a rampant rise.
Having access to a 10-inch tablet like the Apple iPad Air 5 revolutionizes workflow and streamlines user experience.
Supercharged by the powerful M1 chip and featuring the much-coveted 12MP ultra-wide front camera with Center Stage, this tablet is one of a kind.
The iPad Air is equipped with a highly responsive and stunning 10.9" Liquid Retina display with a range of advanced functionalities like True Tone technology, P3 wide color gamut support and an anti-reflective coating. Powered by the 8-core M1 chips and 8-core GPU that enables smoother multitasking experience.
Featuring the 16-core Neural Engine that supports machine learning experience that takes the feasibility of editing and content creation to the next level.
The Center Stage specification in the iPad makes video calls centered and a lot more natural, even when you are constantly moving around in the room. Not just the front-facing, even the 12MP wide back camera is ideal for capturing images and videos in 4K resolution.
Reasons to buy:
Responsive processing power
Compact and aesthetic design
Stunning camera specifications
Supports 5G connectivity
Lightweight and portable
Reasons to avoid:
A little on the expensive end
Ports are quite limited
10. Lenovo IdeaPad Duet 3i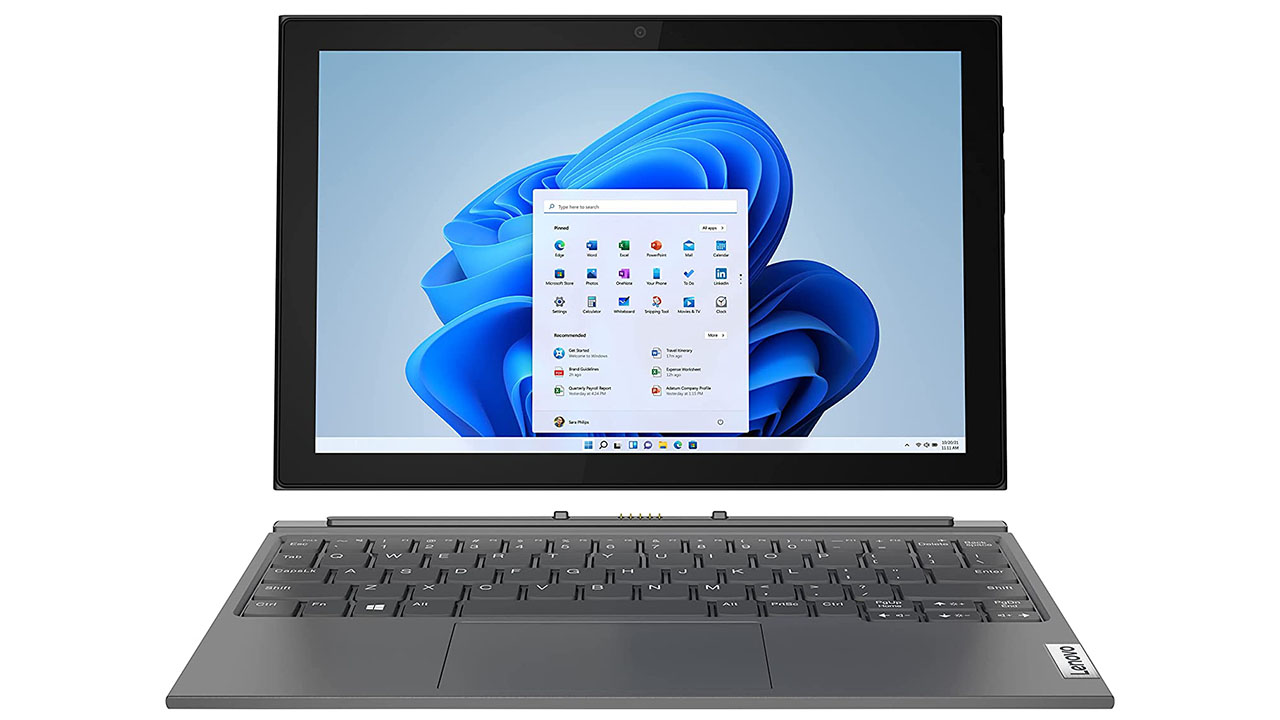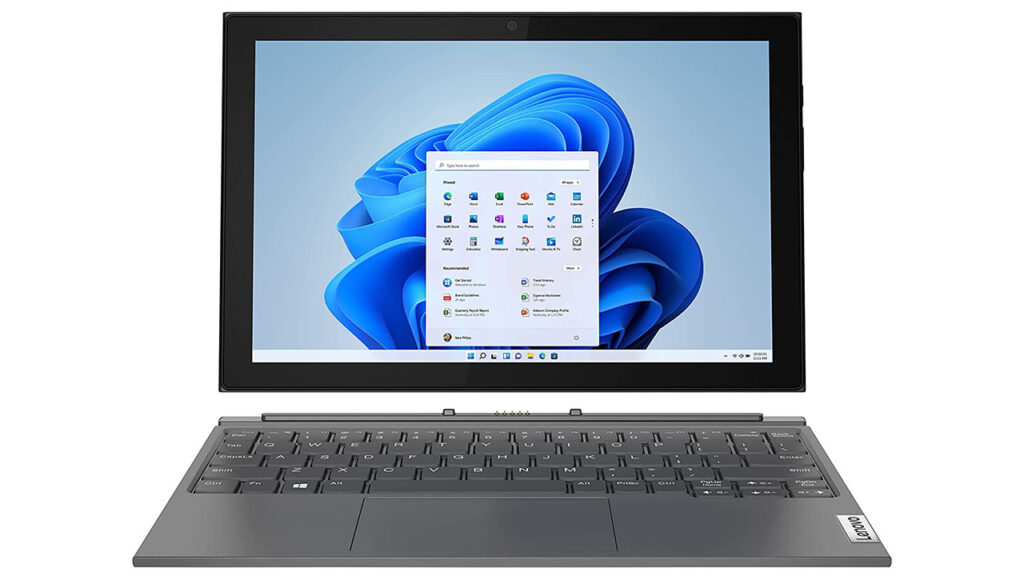 For the hybrid workers who are on the hunt for a mobile workstation, the Lenovo IdeaPad Duet 3i is a pretty great deal, thanks to the amazing design, aesthetic layout and the over the top functionalities with the Intel Celeron N4020 Dual-Core processor.
It is an entry-level tablet, which means that it is ideal for workflow and productivity but isn't the best for gaming or using intensive applications. The last thing you want is to overdo the processing power of this device.
As for the internal specifications, the IdeaPad Duet 3i is integrated with a combination of 4GB RAM and 64GB eMMC storage for the ultimate usability and multitasking.
Coming to the display configuration, the tablet is equipped with a 10.3" FHD touch display with 1080p screen resolution for enhanced color and clarity of the visuals.
When it comes to connectivity, the tablet is backed with Bluetooth 5.0 and 802.11AC for superior wireless connection. Also, it is backed with Intel UHD 600 graphics card and runs on the Windows 11 in S mode OS.
Reasons to buy:
Ideal for hybrid workflow
Superior RAM configuration
Responsive display
Reasons to avoid:
Storage is very less
Lacks optimal port selection
11. Lenovo Tab M10 Plus (3rd Gen)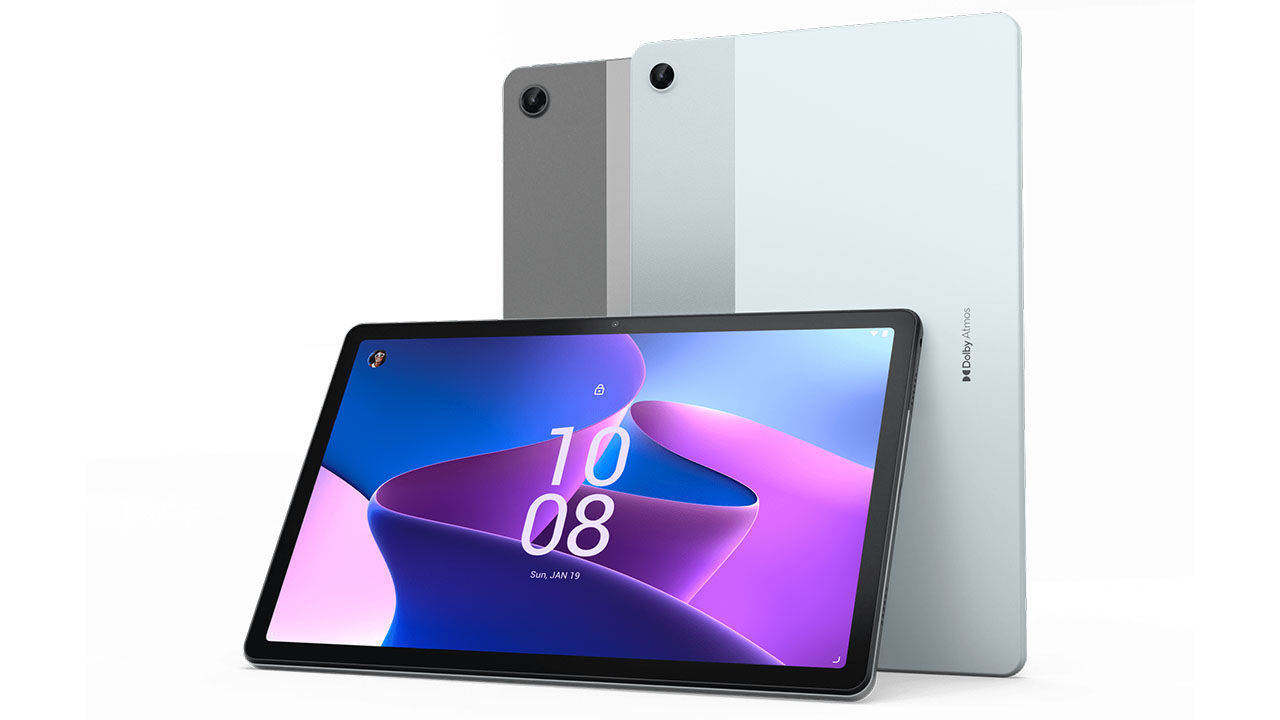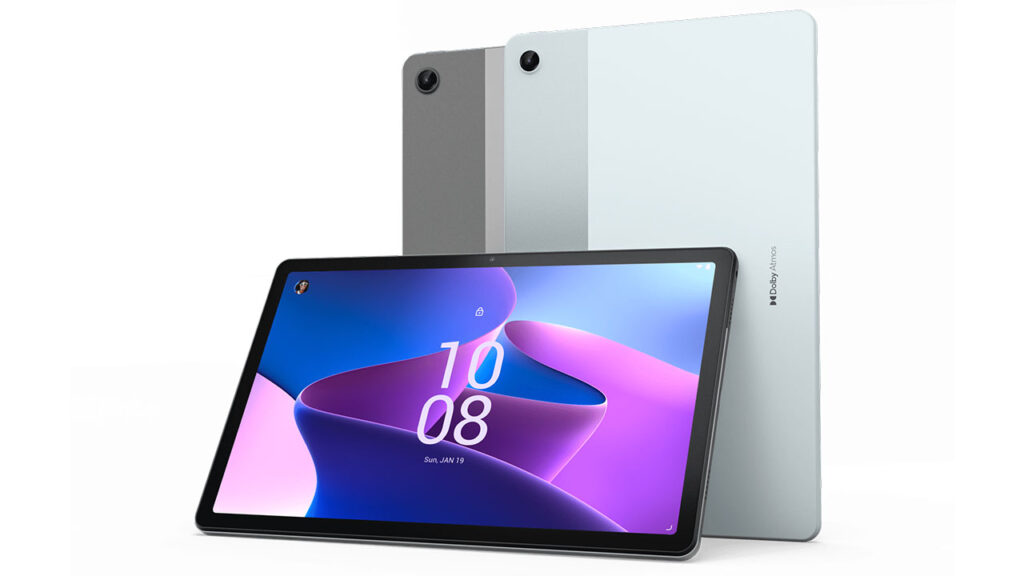 Buying a 10" tablet doesn't have to be a super expensive affair when you can streamline the same with the Lenovo Tab M10.
This budget-friendly yet high-quality tablet is equipped with a 10.6" FHD IPS display with 1080p resolution that makes streaming and watching videos seamless and uninterrupted.
Lenovo also prioritizes the design elements in the model, curating it in best interest of the students and users who are constantly on the go. The compact and lightweight design is further integrated with Lenovo's exclusive Instant Memo app that simplifies on-screen input without any hassle.
Furthermore, users can also indulge in a concentrated session of reading with the Immersive Reading Mode that ensures optimal protection against the harsh blue light emissions that come from continued reading on the device.
The Tab M10 Plus is powered by the latest Android 12 configuration that provides the users access to all the latest features, apps and functionalities with up to three years of security updates. Even the battery life in the tablet supports all-day productivity, which is a bonus.
Reasons to buy:
Lightweight and sleek design
Responsive 1080p display resolution
Integrated with immersive reading mode
Backed with Android 12 OS
Long battery life
Reasons to avoid:
Display isn't that vivid
Storage configuration could be better
12. Samsung Galaxy Tab S6 Lite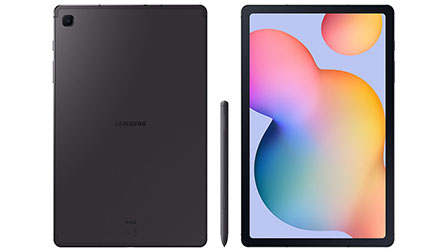 Extremely sleek in its outlook, Samsung Galaxy Tab S6 Lite oozes style. It surely adds to the personality of the user along with making every task easy and achievable. It is lightweight and compact to be a constant companion on the go.
Available in three equally impressive colors, it is the ideal digital tool for taking notes, highlighting texts, marking PDFs, and search between tags.
All of these wonderful functions are made possible by the inclusive magical S Pen, which opens up new avenues and helps to reach greater heights.
The S Pen does not require any charge and can efficiently attach magnetically to the tablet, adding to convenience and mobility. With 4GB RAM and 64/128 GB internal storage capacity that can be expanded to massive 1TB via microSD Card, nothing remains unachievable and beyond reach.
With a long-lasting battery life of about 13 hours, life gets simpler and easier. The battery can be quickly charged through the provide USB-C Type port, thereby, keeping geared up.
Reasons to buy:
It supports a flagship S pen input
Handy and helpful note-taking experience
Better screen
It has 4 GB RAM and large onboard storage in addition to 1 TB microSD card support
Reasons to avoid:
Fingerprint scanner and Samsung DeX is not available
13. Fire HD 10 Plus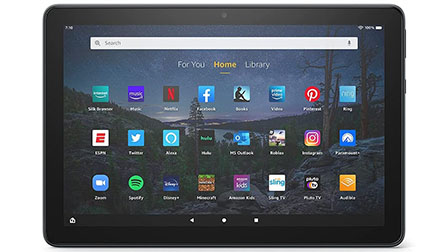 The Fire HD 10 Plus starts from just $179.99 (with ads in the UI) and $194.99 for without ads. The tablet also houses the same display as that of the HD 10.
While Amazon did not release the exact name of the SoC used, it is highly expected to be the same SoC from the Fire HD 10. It is also coupled with 4GB of RAM and offers storage with either a 32 GB or a 64 GB option.
The battery is also the same as that of the HD 10 and offers a claimed battery life of around 12 hours. Moreover, the camera specification is also the same.
The difference between the Fire HD 10 and the Fire HD 10 Plus seems to be the additional RAM and the Qi Wireless charging capability. The tablet supports a 15-W charging dock specially made for the tablet by Anker. Once the tablet is placed on the dock, it gets into the 'show-mode'. The 'show-mode' essentially turns it into an Alex-powered smart-display.
Just like for the Fire HD 10, Amazon also offers a productivity bundle with a Bluetooth keyboard and a one-year Microsoft 365 Personal subscription.
Reasons to buy:
Great value for money
Offers 4 GB RAM and 64 GB internal storage
Amazon offers more room for configuration which is helpful for strict budgets
It features an octa-core processor at such a low price
Reasons to avoid:
Amazon centric ecosystem which might not be suitable for you
14. ASUS Chromebook Detachable CM3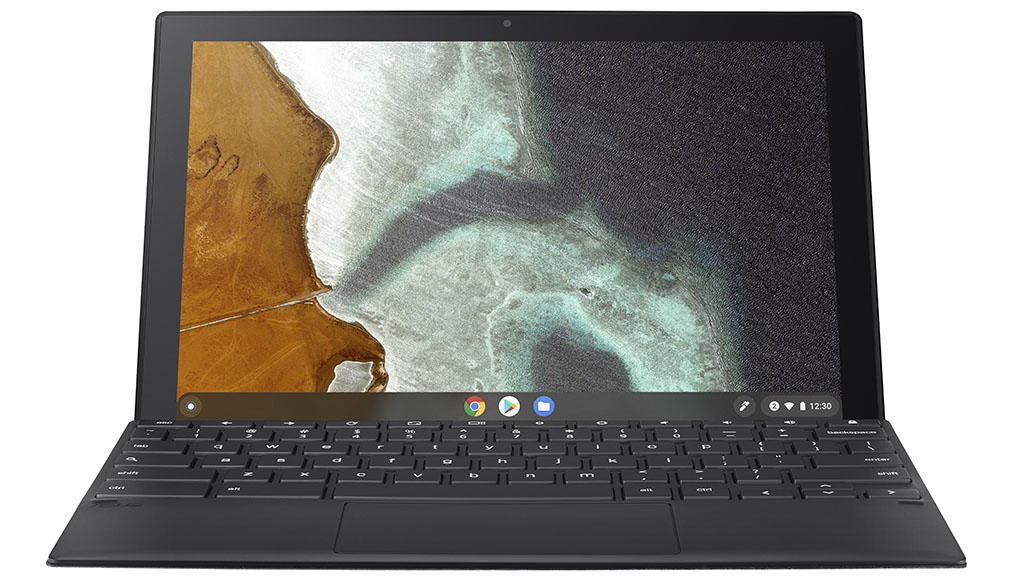 ASUS is hands down one of the most versatile devices when it comes to versatility and mobility.
If you are on a mission to bring out the absolute best user experience, Chromebook Detachable CM3 is hands down one of the best options that you won't regret splurging out on.
Paired with a horizontal-vertical stand, the device is powered by the MediaTek Kompanio 500 processor with Arm Mali-G72 MP3 GPU.
It is equipped with a functional 10.5-inch touchscreen LCD display with wide-view visuals and 16:10 aspect ratio. Also, it is backed with 320 nits brightness and optimal screen to body ratio for a snatched visual experience.
Bring all this together with the 128GB eMMC flash storage with 4GB RAM configuration for superior app management and data transfer. The device also features a highly responsive keyboard with 1.5 mm key travel for a comfortable typing experience. It runs on the Chrome OS.
Reasons to buy:
It's lightweight and has a longer battery life
Quite affordable with good value for money
Comes with a stylus and features an Octa-core Mediatek processor
Good portability and versatility
Reasons to avoid:
Doesn't come with any memory card slot for expandable storage
15. Teclast M40 Plus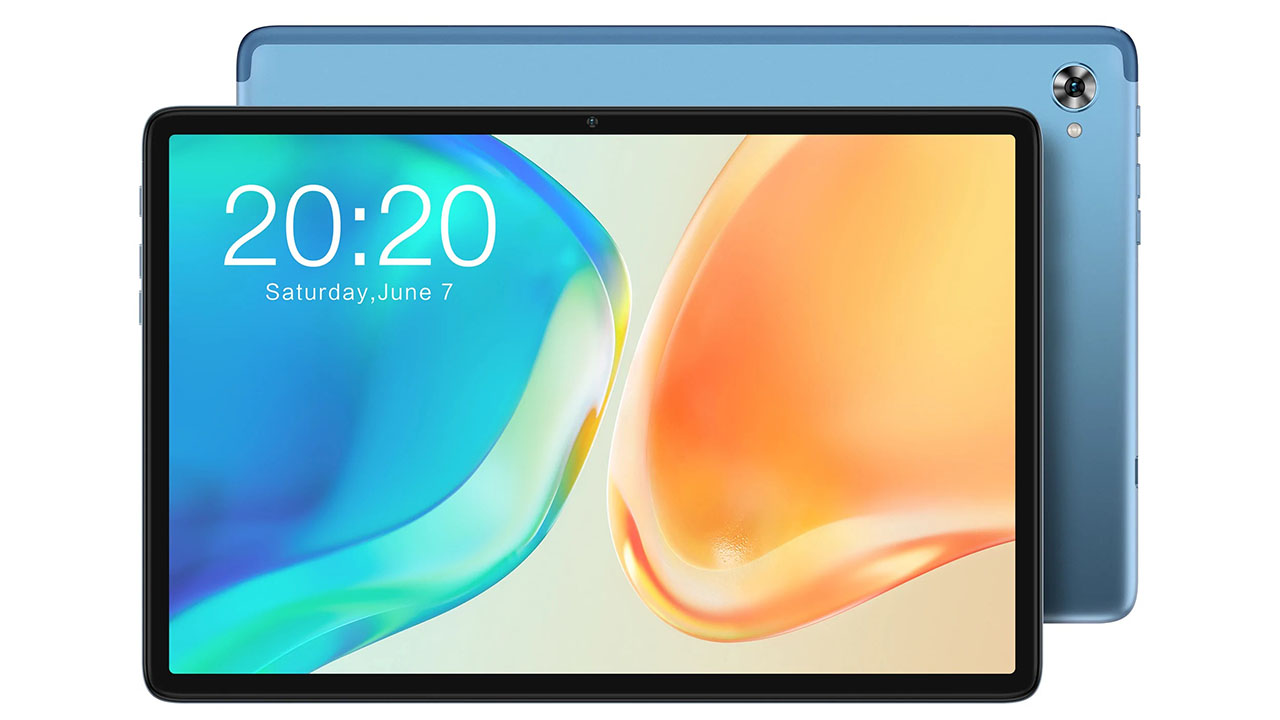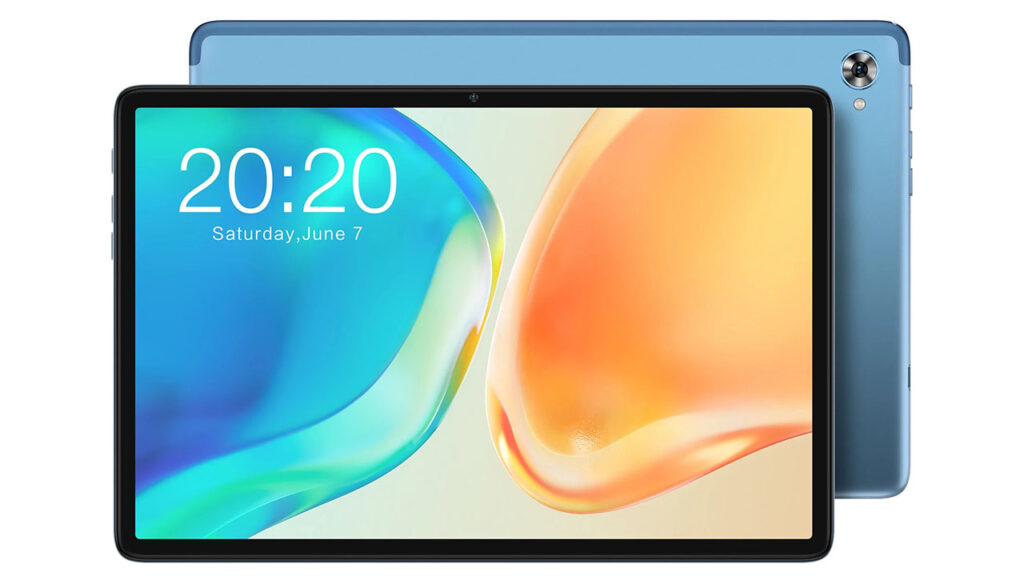 Although quite underrated, Teclast M40 Plus is one of the most affordable 10" tablets in the market.
This latest Android 12 tablet runs on a combination of 8GB RAM with 128GB internal built-in storage, which is expandable up to 1TB using microSD card. So, there is no reason you have to compromise on the storage.
Coming to the performance, the Teclast M40 Plus is powered by the octa-core MediaTek MT8183 processor with Mali-G72 graphics processor for the ultimate gameplay and usage.
It doesn't stop there though because the model runs on Android 12 and provides you with a diverse range of options when it comes to apps and gameplay.
As for the visuals, the M40 Plus is equipped with a 10.1" FHD display with 1080p screen resolution for high-resolution images and videos.
Not just that, the tablet is integrated with 8MP rear camera and 5MP selfie camera that keeps you connected with others via video calls and also enables you to capture the moments around you.
Also, the Teclast M40 Plus is integrated with Bluetooth 5.0 and AC dual-band wifi connectivity for high-speed data transfer and storage. If you are worried about productivity, the tablet is backed with 7000 mAh battery as well.
Reasons to buy:
Affordable pricing
Expandable storage up to 1TB
Powerful processor
Reasons to avoid:
Battery life doesn't last very long
Display resolution is average
3 Tips on choosing the best 10-inch tablet
Choosing a perfect 10-inch tablet is not going to be a cake walk. You will come across innumerable choices that will confuse you due to reasons like out of your budget or might lack features you want and a lot more.
However, that doesn't mean you should stress yourself over this, it is important to understand your requirement first and then jump into the market for hunting the tablet.
Remember, you're going to invest and use that device for years, so making smart choice is way more important. Follow these effective tips to make the right decision:
Tip 1: Android, Windows or iPad
Choosing the right operating system is always challenging as it require your utmost attention. You might be looking for a tablet that can fulfill daily requirements, or might be for entertainment and gaming or for office work. Therefore, it is crucial to pick the right operating system.
For instance, if you are working in an office and want to replace your desktop with tablet, then purchasing an Android tablet might be a wrong choice. You won't get quick access to Microsoft office like Word files, Excel sheets, and a lot more. Here Windows can work for you!

That's the reason when you purchase a tablet, keep in mind what is the purpose of the tablet? If you want to use mobile functionalities on a larger screen, then Android tablet are best for you as they can entertain you and keep the calling flexibility seamless.
However, if you want to replace your PC, then Window-based tablets are the right choice as it won't affect your working style and flow at all. And in case, you're fond of designing different photos or videos while exploring places, then iPad is all that you need!
Tip 2: With or without keyboard
Well, even this factor plays a pivotal role while choosing the perfect tablet. Once you decide the type of operating system you want to work on, and then come required accessories to maintain that efficiency. Again, it depends on you and your habits or flow you have already have maintained while working on gadgets.
If you are planning to buy a tablet to manage your documents or showcase immediate excel sheets, then purchasing it will complete set of accessories is important, which include keyboard specially. We all have hands on experience on keyboards and using touch-pad for such work may hamper your overall productivity.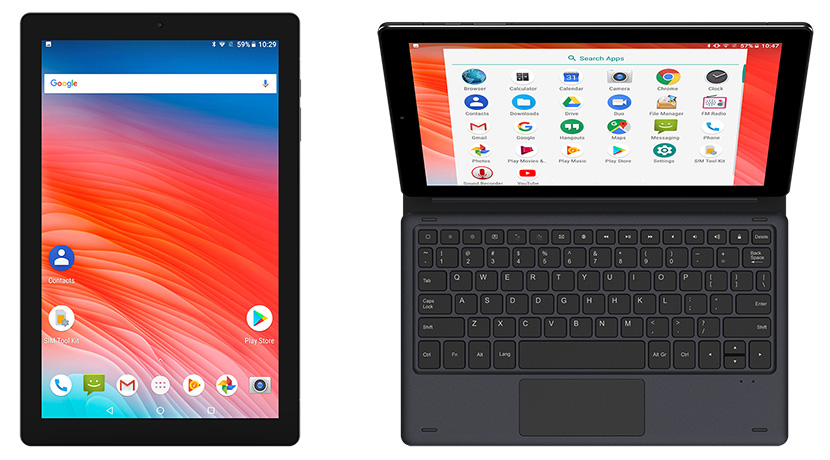 However, if you are buying a tablet for entertainment purpose, browsing internet, camera, etc., then keyboard is not required. As there are many 10-inch tablets that offer stylus as well, this is acceptable.
You can utilize the stylus for playing games, calling, jotting important notes, etc., and relax your fingers for a while. This is also a good deal to stay alleviate your burden of touching the screen of the tablet by using the stylus or pen instead. So remember, only for work related to documents, go for keyboard.
Tip 3: Price range
This is most vital part among all. Lastly, everything depends upon your budget; you can say it's the king of all tips. In case, you're an adventurer that likes to explore places, share images and content on social media, then spending on high budget tablet is a must. You need the best camera with exclusive features so keep your budget high for such kind of tablets.
However, if you want a tablet for daily use or official work, then spending on medium range tablets can be viable. If you require high processor tablets that can help you download innumerable games without stumbling, then purchasing mid-range tablet is an ideal choice.
In case, if you're fond of exploring new tablets or require a tablet for daily use to watch movies or videos, then you can go for cheaper tablets as well. Saying cheaper or highly affordable doesn't justify these tablets as some cheap tablets have amazing features and processors that might greatly help you.
But again brand is brand, it is important to choose the cheap tablets wisely otherwise it won't last as much a high price tablet will. So focus on the third tip more than others!
Verdict
If you're looking for daily-use tablet, then pick the cheapest tablet from the above list because for daily use you don't require major features – camera, gaming, video-play, 4G-enabled are enough.
But if you're looking for a tablet that can replace your desktop, then it is advisable to spend more and find something better in features as well as performance with powerful process, RAM and storage with appropriate operating system that you already have hands on. I hope the above list of top tablets and tips to pick the right one will help you in the purchasing process for sure.
So what are you waiting for? Adopt the above tips and shortlist your favorite two tablets, then compare it with each and pick the one that suits your pocket absolutely.