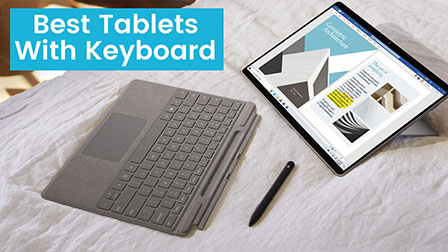 Are you looking for a 2-in-1 tablet-laptop with keyboard? Check out our list of best tablets with keyboard for 2021 that can fulfill your tablet and laptop requirement in one.
Tablets with keyboard enable you to experience the best of both worlds. They are perfectly designed to take advantage of a featured laptop and a tablet without having you to spend more or carry two devices every time.
Tablet computers fit into the niche category of hyper-mobile computing and serve functions that sit right between the functionalities of a smartphone and a laptop.
Standalone tablets have already blurred the line of usage for a plethora of people who don't necessarily need a laptop for their workloads. Tablets with detachable keyboards further narrow the line of functionalities between laptops and tablets.
Digital life has settled now, and the entire world is running on micro gadgets and screens, so it is time to upgrade to the brand new tablets with keyboard that are set to make our lives a lot easier. Multi-purpose tools are always a treat for both our professional as well as personal journeys.
These handheld devices just got a hell lot of better and faster with advanced hardware and accessories like a removable keyboard. Such 2-in-1 tablets with keyboard behave like a laptop but in a more user-friendly fashion. Some can also use a stylus to improve functionality. The customization and configurations to such hybrid tablets are many in the marketplace.
Two-in-one tablets out there are widespread, and it is no longer only Apple or Samsung that produce elite-level devices. Companies like Lenovo and Microsoft are amping up their tablet game to compete with other great competitors.
Newest versions of these multi-functional devices are coming with special keys on the keyboards, and many more applications are being developed to support multitasking user operations to provide a smoother workflow.
Tablets are also highly portable with minimum weight to carry along, and that is a huge upside for business professionals and even students.
Best Tablets With Keyboard 2021 (Top 10 Picks)
As mentioned earlier, the marketplace is swamped with dozens of two-in-one tablets with keyboard that have corresponding technical features, and it is paramount for buyers to select the perfect model that checks all boxes from speed to design.
Keeping that in mind, top tech companies continue to roll out new and upgraded versions of their tablet device lines. The processor and display are continually being improved, and each company is trying to hit multiple variants of the same tablet to help buyers under budget. So here are the ten best two-in-one tablets with keyboard that could potentially replace your working laptop.
1. Apple iPad Pro 2021 With M1 Chip
The iPad Pro lineup in recent years has gotten so powerful with Apple's A series' x chips, that it almost reached the stage of being a MacBook that has a touchscreen and runs iPadOS instead of the traditional MacOS.
The performance and the flexibility offered by the iPad Pro series have made it an obvious choice for users without the apparent reliance on MacOS apps.
Now, with the Apple Silicon M1 coupled with 8 or 16GB of RAM, the iPad Pro has gotten even more powerful beyond anything in its segment.
With the inclusion of the Mini-LED Liquid Retina XDR display on the 12.9" model, it can handle a peak brightness of 1600 Nits and a sustained brightness of 1000 Nits.
The inclusion of the M1 Chip also comes with the addition of Thunderbolt connectivity on its type-C charging port. This opens up a plethora of options for third-party docks and quick transfer of massive-sized files/contents with up to 40 GB/s of bandwidth.
The iPad Pro 2021 starts at $799 for the 11.9" model and $1099 for the 12.9" model.
While the detachable Magic Keyboard starts at $299, with the second-gen Apple Pencil available at $129.
2. Microsoft Surface Pro 8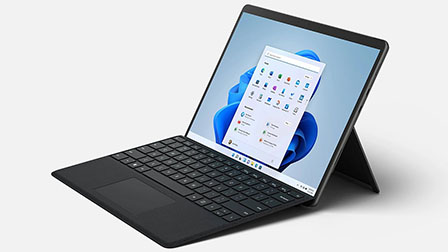 It is not every day that you come across a device that is compact, highly functional and aligns to all your work needs.
The Microsoft Surface Pro 8 is the fastest and most efficient Surface laptop designed till date. If you want the power of a laptop with the flexibility of a tablet, this is the device you need to opt for.
This tablet cum laptop works like a dream and is equipped with a 13" PixelSense flow display compact yet responsive display with 120Hz refresh rate that works for your heavy-duty work and for your personal projects too.
As for the performance of this beast, it is the first Surface laptop built on the Intel Evo Platform. It is powered by the latest 11th Gen. Intel Core processor that runs on the latest Windows 11 OS and comes with 32GB RAM configuration for superior functionalities. It is also backed with up to 1TB SSD of storage and is paired with a keyboard and Surface Pen 2 for superior productivity.
3. HP Chromebook x2 11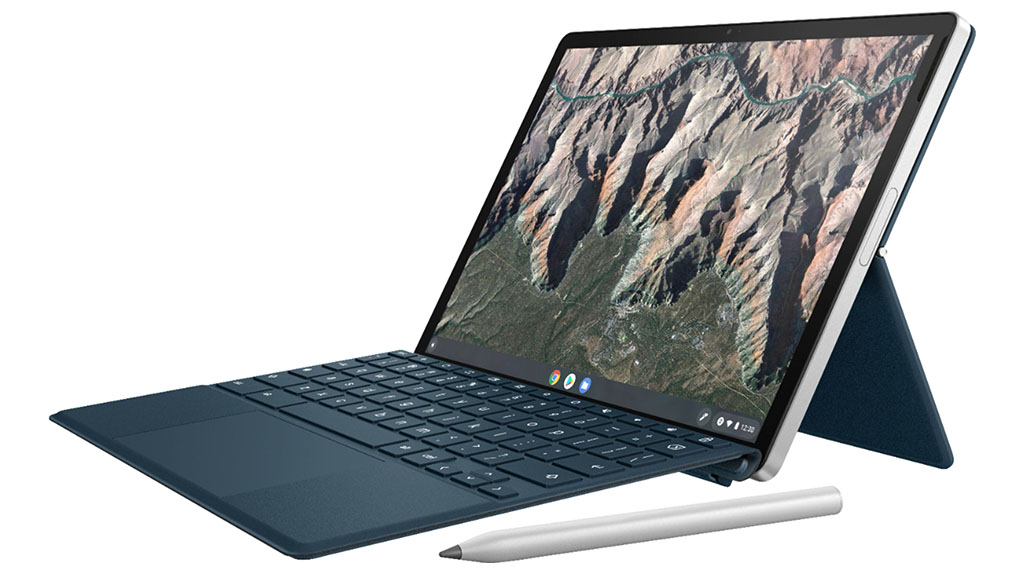 This 11-inch, first of its kind, detachable Chromebook comes with a full-sized lunar grey soft cover keyboard. HP Chromebook x2 11 is designed a hybrid device to fulfill your needs for work and to entertain while you're working from home during the pandemic.
Working with keyboard on HP x2 11 is quite convenient with in-built trackpad and it kickstand which allows you to position your system anywhere between 0 degrees to 170 degrees.
The device is powered with 8GB RAM and new Snapdragon 7c processor. Along with such a powerful combination of RAM and processor, it comes with a fingerprint unlock to keep your work secure.
With 64 GB internal storage, a microSD card, and 100 GB cloud storage by Google One, you don't have to worry about storing your creations.
It comes with Wi-Fi and 4G LTE connectivity, its detachable, and allows you to work with a stylus. Isn't that an all-in-one device you always wanted?
4. New Microsoft Surface Pro X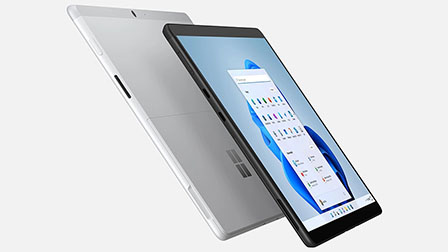 While we are on the topic of highlighting some good and latest Surface products, we had to include the New Microsoft Surface Pro X in the list.
This portable professional laptop is designed to match with your on-the-go lifestyle. Paired with the optional Gigabit LTE, this device performs beyond expectations and enables you to make the most out of your all-day productivity realms.
Like the Surface Pro 8, even this one is programmed with the responsive 13" PixelSense edge-to-edge touchscreen display with the signature 3:2 aspect ratio in the device.
Also, the custom-built processors in the device offer superior performance and productivity without any compromise. The device is backed with the host of Microsoft 365 apps for all-round productivity.
Coming to the storage and memory, the Surface Pro X is integrated with up to 512GB SSD of storage with up to 16GB RAM for tending to your consistent work load. The device weighs 1.7lbs, which is considerable comfortable to hold and travel with. It comes pre-loaded with the Windows 11 OS.
5. Samsung Galaxy Tab S7/S7+
The South Korean Multinational company is not going to back down from the competition, so they released flagship tablets called Tab S7 and S7+.
There is something exceptional going on with these two tablets. Samsung's Galaxy Tab S7 tablets are the best Android tablets with Keyboard. Few users find the 120Hz refresh rate extremely engaging, while others find the Super AMOLED display extremely attractive.
The S7+ is the real deal here, but make no mistake, the Tab S7 is no scrub in the marketplace. Samsung teamed up with Qualcomm to embed the Snapdragon 865+ in both of these tablets. The internal specifications along the lines of the processor come in both 6GB and 8GB dedicated RAM.
One can opt for different storage options that are ranging from 128GB to 512GB. The internal spec sheet like this is pretty impressive, and not only that, Samsung also provides a 13MP wide camera paired with 5MP ultra-wide camera. Users can reach the max potential of this camera system by using the 4K video recording at 30 Frames Per Second.
6. ASUS Chromebook Detachable CM3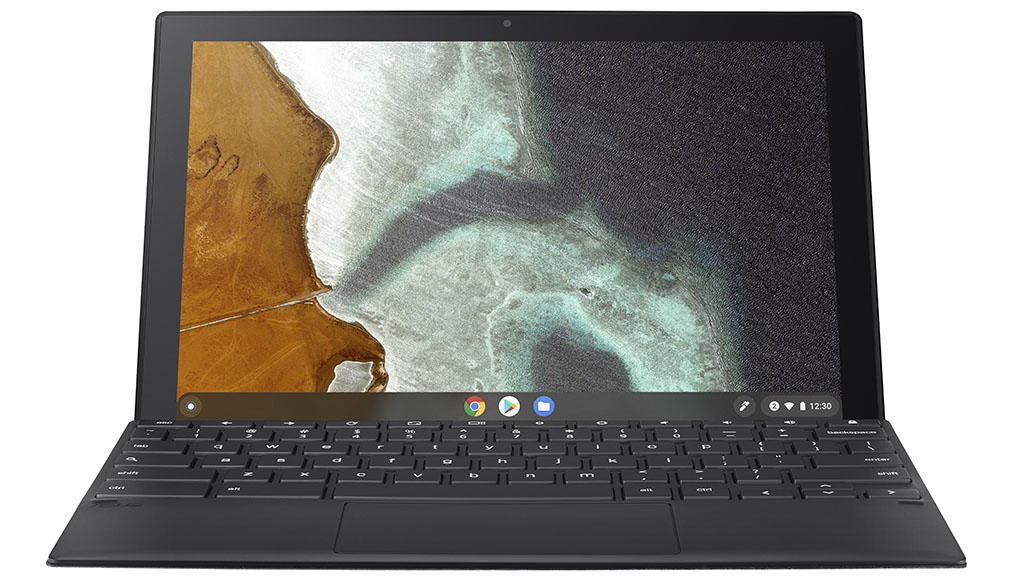 The detachable ASUS Chromebook Detachable CM3 combines mobility, performance, and versatility. It has a unique and elegant appearance, with an original vertical and horizontal bracket design that provides effortless navigation for learning, work, and entertainment.
Once you connect an ergonomic full-size keyboard to it, the ASUS Chromebook Detachable CM3 will transform into a laptop with ErgoLift design and 1.5 mm keystroke to improve work efficiency.
It can easily turn into a compact tablet, thereby allowing you to unleash your creativity with ease. Use folded notes for storing notes or drawings.
The attachments in the box include a 3.5 mm audio jack and a USB Type-C 2.0 port. In addition, the ASUS Chromebook comes with a 27 WH dual-cell lithium-ion battery, charged via a Type-C port or a 45 Watt power adapter.
This tablet combines the power of Chromebooks for end-users with the commercial features of Chrome OS for IT to protect, manage, and enhance your cloud workforce and provide excellent support to your business.
7. Apple iPad 10.2 (9th Generation)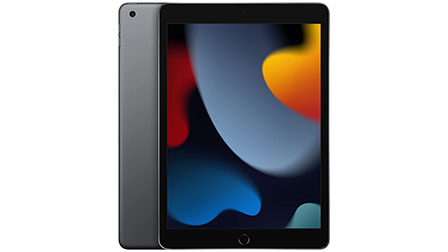 Not every person relies on the Apple iPad for their work needs, especially when they are dealing with mounds of data and heavy-duty applications.
But, Apple has been consistently improving their devices, so it isn't even a question that we had to include the Apple iPad 10.2 (9th Generation) in the list of best tablets with keyboard.
This one works like a dream and is hands down one of the most affordable iPads in the market at this point. Powered by the A13 bionic chip, the device is a lot more responsive and easier to work around with. It is also backed with a 20% faster GPU that delivers the performance that you need.
The device is integrated with up to 256GB SSD of storage and is equipped with a compact 10.2″ Retina display with 500 nits brightness. It runs on the iPad OS 15 and comes with all the latest applications.
8. Lenovo Tab P11 Pro
Lenovo's latest tablet, the Tab P11 Pro, has shown significant speed and internal performance upgrades.
Lenovo becomes the next company after Samsung and LG to incorporate a big 11.5″ OLED screen.
The dual tablet can provide crystal clear pictures, and users will be delighted to experience cinematic HDR video quality. The Tab P11 Pro's internal architecture is supported by a hyperfast Snapdragon 730G powered by Qualcomm.
The Snapdragon 730G is a very high-level processor that can handle extreme streaming and gaming applications without compromising response time. Lenovo is also providing two variants with different RAM storage capacities. One can get the 6GB RAM variants with an additional 50 Dollars.
Very few can beat the Tab P11 Pro, all thanks to the optional keyboard and uni-body Aluminum design in terms of productivity. The Tab P11 Pro is a laptop-class tablet with impressive UI and immersive background features such as JBL quad speakers tuned with Dolby Atmos.
9. Microsoft Surface Go 3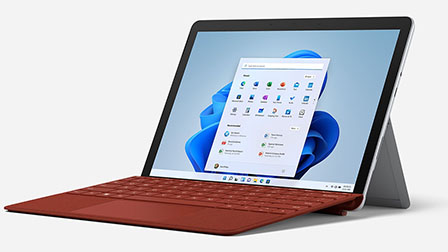 Next up on the list of good quality purchases has to include the Microsoft Surface Go 3.
This is hands down the most portable find on the list and is ideal for any kinds of every day tasks that you throw at the device.
The Surface Go 3 also comes preloaded with the latest Windows 11 OS to tackle all the latest functionalities that you'd generally come across.
Providing up to 11 hours of battery life, this device is equipped with a compact 10.5" touchscreen display with 3:2 aspect ratio that enables you to get it all done without any compromise. Also, it is backed with up to 10th Gen. Intel i3 processor with enterprise-grade security for superior performance and productivity throughout the day.
Also, it sports up to 128GB SSD of storage and up to 8GB RAM for the ultimate performance that you can possibly expect from this compact powerhouse.
10. iPad Air (4th Generation)
iPad Air is one of the most popular tablets in the last five-six years, and it has again resurfaced with upgraded internal components and buttery-smooth touch display.
And guess what? Touch ID is back in the iPad Air latest model. It is regarded as one of the safest and most secure authentication techniques. It's not only that; you also get to experience the latest A14 Bionic chip that enhances CPU and GPU by almost 40%.
The display is magnificent with True Tone effect and anti-reflective coating. No need to worry about their glasses anymore! The Apple Pencil and Magic Keyboard take the user interface to the next level by adding new gestures using the trackpad and other essential tools.
4th Generation iPad Air is a savage beast when it comes to gaming and 4K video editing or transferring. This two-in-one compatible tablet complements the iPadOS 14 and users have a wide variety of color and storage options.
Applications of Tablets With Keyboard
The main reason to purchase a two-in-one tablet is simple – increased productivity and portability, right? So the keyboard dock or a keyboard case helps you in those areas, and it makes the device indistinguishable from a clam-shell laptop.
Multitasking is the most prominent application when it comes to tablets with keyboard, and many Vanguards of this segment of the industry provide several modes to come up with the best possible slip-view screen. As the screen is divided into multiple portions, one can easily handle each app with the stylus or their fingers.
An assortment of Keyboard applications still wouldn't make up for a physical detachable tablet keyboard. Convertible tablets come with high-speed keyboards that allow users to type fast, and it is so responsive when navigating through multiple applications.
Keyboards lift up your comfort levels so much that you wouldn't mind working for an extra hour. The reason being the elevation that the removable keyboard provides and your wrists sit comfortably on the keyboard for longer stretches.
With new software touching the surface, these two-in-one tablets with keyboards are making proper integrations to bring out their highest potential. Echo show is one such example, where one can just plug the device in, and the app puts on a show for the audience. The best part – it can be set up anywhere and at any time.
With the right technology and apps, one can effortlessly share screens with other devices, and image insertion becomes a lot accessible. Applications can shape your style of presentations by emphasizing on essential subjects and removing unnecessary backgrounds.
There are also quite a lot of similarities to an actual laptop in terms of sound quality and picture sharpness. All thanks to the micro-architecture, that puts less pressure on your pockets but more on the functionality.
Verdict
The best two-in-one tablets with keyboard equipped with a well-designed keyboard is a treat for anyone, but the more important thing to address is to realign the requirements and choose the right fit. For extensive graphical and computing usage, one has got to go with iPad Pro. It is just a beast at everything, and with the upgraded Chip, it just got even better.
One can argue that Tab S7+ is also up there in the conversation, but the only thing we cannot compare is the magic keyboard offered by Apple to any others in the marketplace. For a real laptop-like experience, the best options out in there are Surface Pro X SQ2 model and Dell Latitude 7320 Detachable.
The lightweight laptop-like tablet works like a charm for any office tasks and entertainment applications. On the other hand, if your pockets are a little on-budget, then the best options to look out for are Surface Go 2 and iPad Air model.
Both Microsoft and Apple have put great efforts in producing high-quality hybrid tablets. For artistic and gaming users, it is better for you to take iPad Air that have excellent latency and control.