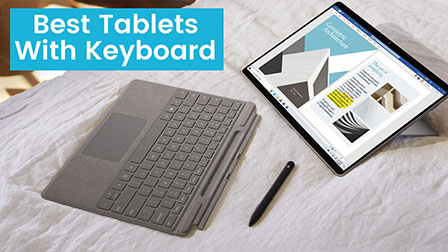 Are you looking for a 2-in-1 tablet-laptop with keyboard? Check out our list of best tablets with keyboard for 2023 that can fulfill your tablet and laptop requirement in one.
Tablets with keyboard enable you to experience the best of both worlds. They are perfectly designed to take advantage of a featured laptop and a tablet without having you to spend more or carry two devices every time.
Tablet computers fit into the niche category of hyper-mobile computing and serve functions that sit right between the functionalities of a smartphone and a laptop.
Standalone tablets have already blurred the line of usage for a plethora of people who don't necessarily need a laptop for their workloads. Tablets with detachable keyboards further narrow the line of functionalities between laptops and tablets.
Digital life has settled now, and the entire world is running on micro gadgets and screens, so it is time to upgrade to the brand new tablets with keyboard that are set to make our lives a lot easier. Multi-purpose tools are always a treat for both our professional as well as personal journeys.
These handheld devices just got a hell lot of better and faster with advanced hardware and accessories like a removable keyboard. Such 2-in-1 tablets with keyboard behave like a laptop but in a more user-friendly fashion. Some can also use a stylus to improve functionality. The customization and configurations to such hybrid tablets are many in the marketplace.
Two-in-one tablets out there are widespread, and it is no longer only Apple or Samsung that produce elite-level devices. Companies like Lenovo and Microsoft are amping up their tablet game to compete with other great competitors.
Newest versions of these multi-functional devices are coming with special keys on the keyboards, and many more applications are being developed to support multitasking user operations to provide a smoother workflow.
Tablets are also highly portable with minimum weight to carry along, and that is a huge upside for business professionals and even students.
Best Tablets With Keyboard 2023 (Top 10 Picks)
As mentioned earlier, the marketplace is swamped with dozens of two-in-one tablets with keyboard that have corresponding technical features, and it is paramount for buyers to select the perfect model that checks all boxes from speed to design.
Keeping that in mind, top tech companies continue to roll out new and upgraded versions of their tablet device lines. The processor and display are continually being improved, and each company is trying to hit multiple variants of the same tablet to help buyers under budget. So here are the ten best two-in-one tablets with keyboard that could potentially replace your working laptop.
1. New M2 iPad Pro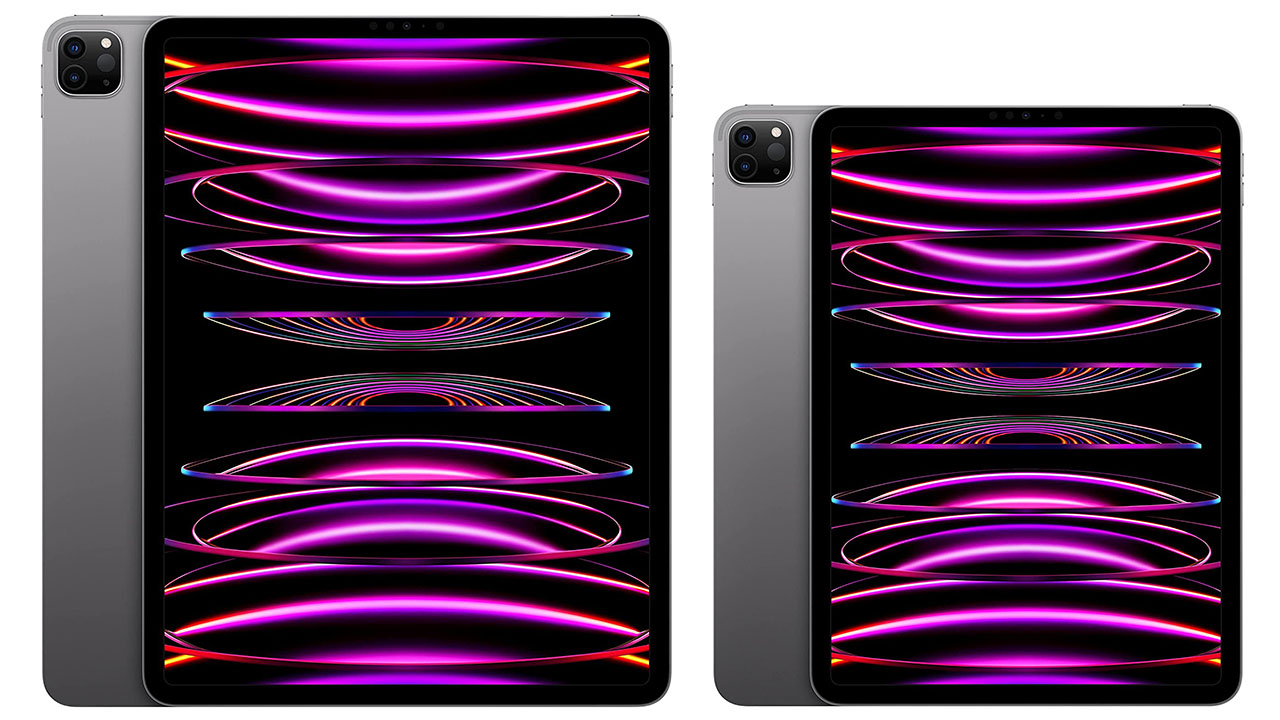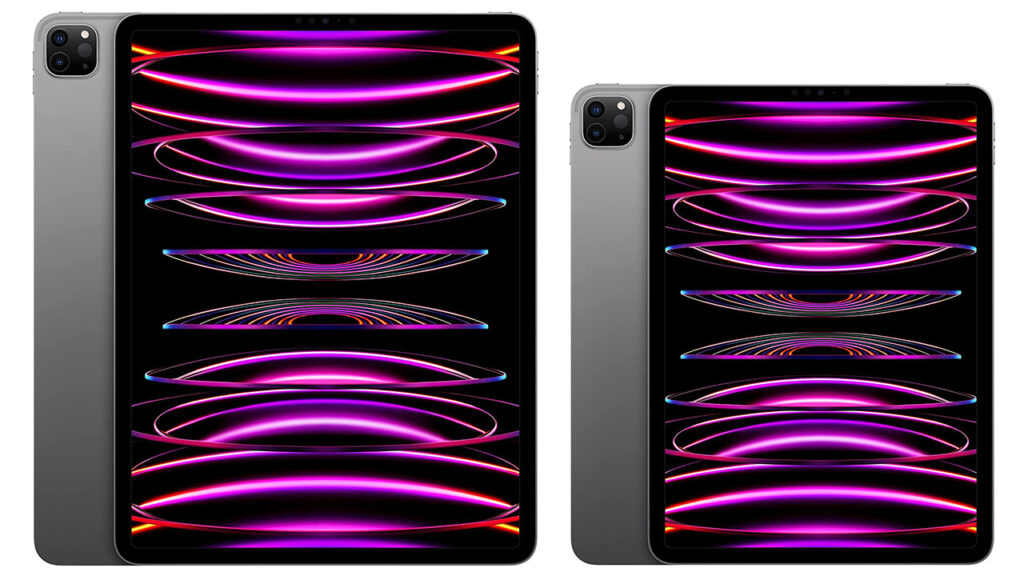 The latest M2 iPad Pro comes with Apple's M2 chip and is currently one of the most powerful tablets in the market.
The device also comes with the latest iPadOS 16 out of the box and is enabled by advanced hardware for powerful performance all throughout.
The iPad Pro is available in two display variants – the 11" and 12.9" Liquid Retina XDR display for stunning visuals, true-to-life color reproduction and optimal responsiveness like no other. The highlight of the new iPad Pro is the Stage Manager feature, which is expected to entirely transform the multitasking experience of the users.
Apple hasn't compromised on the connectivity features too since the iPad Pro supports Wi-Fi 6E for super-fast connectivity and data transfer within a blink. There is a Wi-Fi and cellular model that supports 5G network support too.
Reasons to buy:
Sturdy and stunning design
Comes with iPadOS 16 out of the box
Latest connectivity features
Reasons to avoid:
A hefty price point
Port selection is quite minimal
2. Microsoft Surface Pro 9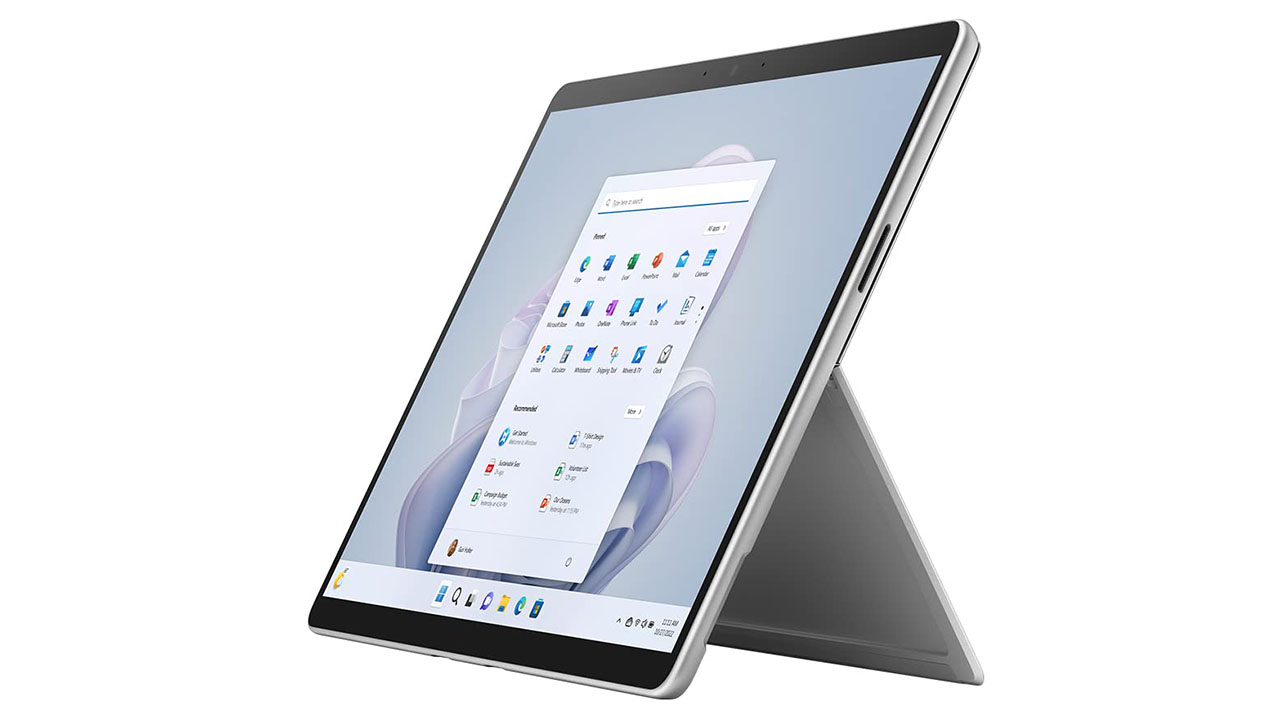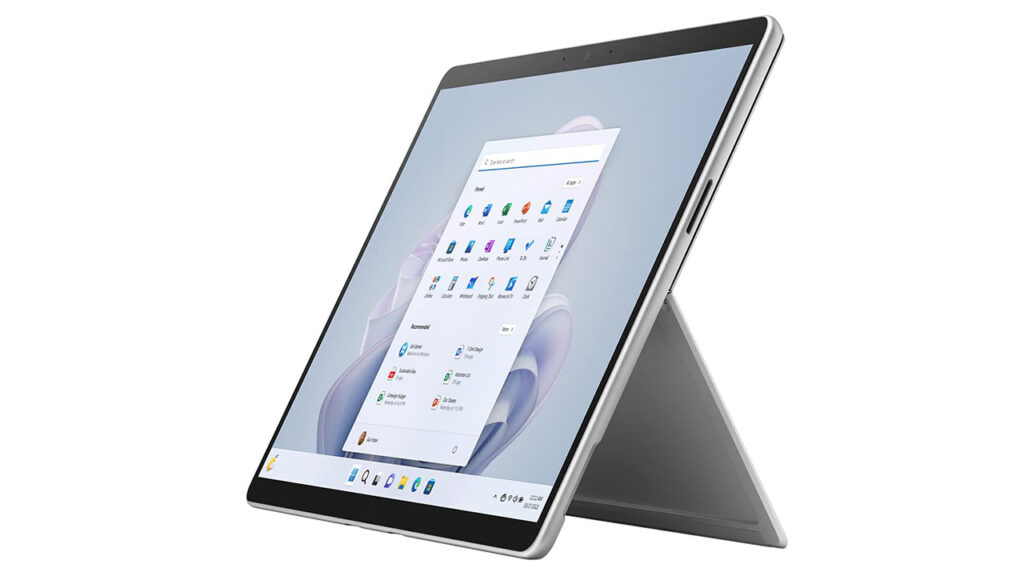 When it comes to convenience and productivity, nothing beats the Microsoft Surface Pro 9. This portable and compact tablet gives you the flexibility without compromising the performance.
Preinstalled with Windows 11 and 5G connectivity, this is hands down one of the best tablets with keyboard you can consider buying in 2023.
This 2-in-1 versatile device is powered by up to 12th Gen. Intel Core i7 processor with Intel Iris Xe graphics. It alternatively comes with the 5G variant with Microsoft SQ 3 processor. When it comes to the performance, the combination of up to 1TB SSD storage with up to 32GB RAM makes up for all the multitasking needs.
As for the visuals, the Surface Pro 9 is equipped with a 13" PixelSense display with 1920p screen resolution and up to 120Hz refresh rate for superior and responsive visual experience. The model is effectively lightweight and weighs 1.95 lbs, making it perfect for individuals who are consistently on the go.
Reasons to buy:
Premium design and build
Responsive performance
Long battery life
Reasons to avoid:
Extra money for type cover keyboard
Not the best for gaming needs
3. Samsung Galaxy Tab S8 | S8 Plus | S8 Ultra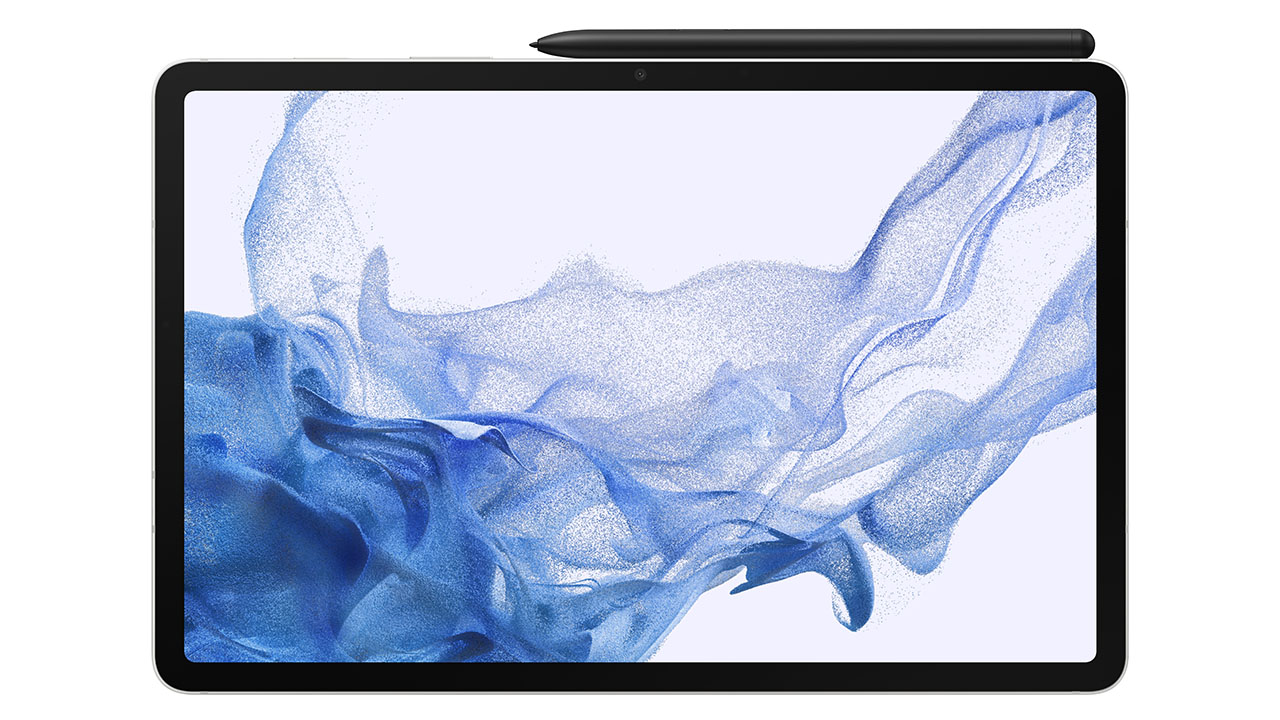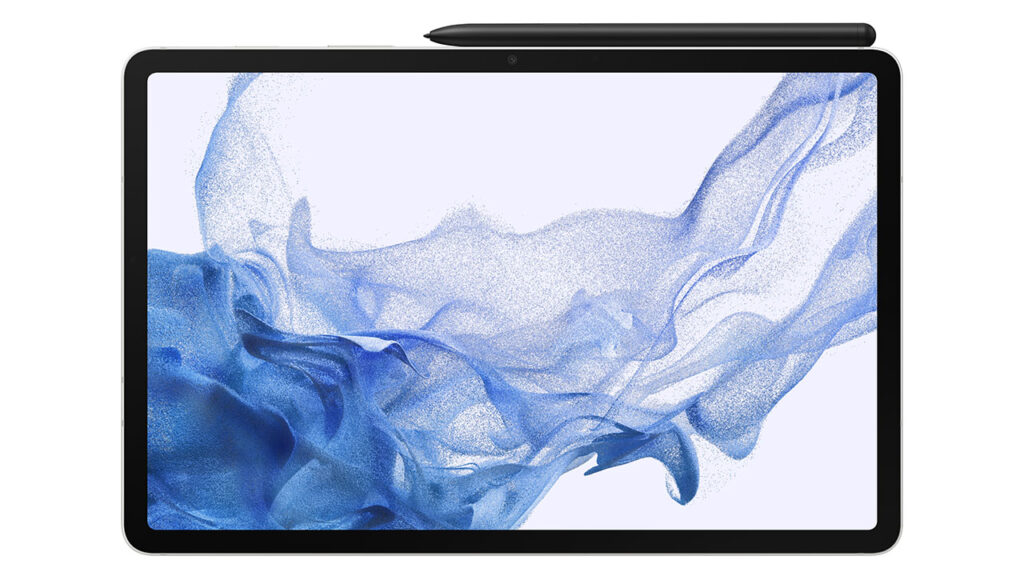 Samsung Galaxy Tab S8 series is the paramount choice when it comes to Android tablets. Galaxy Tab S8 and Galaxy Tab S8+ come with an optional Slim Keyboard Cover. It is equipped with a compact keyboard and protects the device as well.
On the other hand, the Galaxy Tab S8 Ultra offers an optional Keyboard Cover with Backlight. The key difference is that the S8 Ultra has a backlit keyboard with a trackpad included. One of the reasons why S8 and S8+ don't have a touchpad is their smaller keyboard size than S8 Ultra.
So wherever you go, you can just attach a slip on cover and use your S series tablet as a portable workstation. The devices are powered by Qualcomm Snapdragon 8 generation 1 along with RAM options ranging from 8 GB to 16 GB.
Galaxy tab S8 and S8+ are upgrades to S7 and S7+ respectively, whereas the S8 Ultra is the first of its kind premium tablet. S8 series tablets offer a stunning viewing experience with a 120 Hz refresh rate. However, different screen size options 11" TFT, 12.4" AMOLED, and 14.6" AMOLED in S8, S8+, and S8 let you choose what suits your needs the best.
Reasons to buy:
Powerful SoC and other specifications
Comfortable keyboard for working
Galaxy Tab S8 Ultra has a backlight on the keyboard
Best overall tablet choice as well
Reasons to avoid:
Slightly expensive
Galaxy Tab S8 and S8+ don't have a touchpad included
4. Lenovo Chromebook Duet 5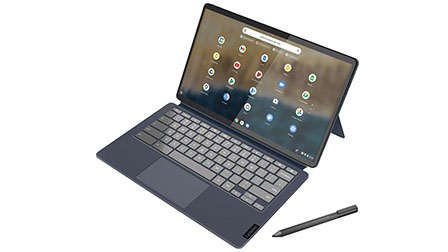 This Chromebook Duet 5 is a 13" tablet designed for a hybrid lifestyle perfect for work, education, and play.
Its keyboard snaps with the tablet whenever you want to covert your Chromebook into an ultra-portable workstation. It also has a convenient keyboard and a touchpad.
Lenovo Chromebook Duet 5 packs a Qualcomm Snapdragon SC7180 Octa-core processor along with 4 GB RAM. The good thing about Chromebooks, in general, is that they have a long-lasting battery and are not expensive. In the case of Lenovo Chromebook Duet 5, the battery lasts for 15 hours on a single charge. All in all, this slate surely eliminates the need for having a separate laptop.
It features a 13.3" OLED display with Full-HD resolution. With its 2 USB Type C 3.2 ports, you can connect to other devices as well which makes working convenient. Moreover, the slate comes with 256 GB onboard storage in addition to Cloud storage by Google One.
Unlike some other tablets, you don't have to buy a keyboard folio separately, so that's a plus. It also is compatible with stylus input. However, you'll have to buy it separately. Some of its other features and specs include quad 1W speakers, a 5 MP front cam with fixed focus CMOS, and an 8 MP rear camera sensor with Auto Focus.
Reasons to buy:
Comes with a Snapdragon SC7180 Octa-core processor
The keyboard is included with the Chromebook
Comfortable keyboard keys with a Trackpad
Easy to snap keyboard folio
Reasons to avoid:
The tabs gets slowed down while multitasking
5. New Microsoft Surface Pro X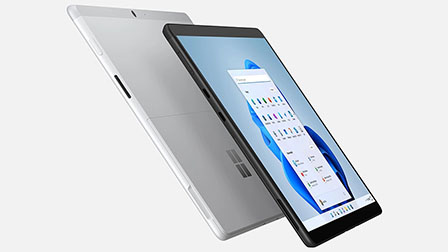 While we are on the topic of highlighting some good and latest Surface products, we had to include the New Microsoft Surface Pro X in the list.
This portable professional laptop is designed to match with your on-the-go lifestyle. Paired with the optional Gigabit LTE, this device performs beyond expectations and enables you to make the most out of your all-day productivity realms.
Like the Surface Pro 8, even this one is programmed with the responsive 13" PixelSense edge-to-edge touchscreen display with the signature 3:2 aspect ratio in the device.
Also, the custom-built processors in the device offer superior performance and productivity without any compromise. The device is backed with the host of Microsoft 365 apps for all-round productivity.
Coming to the storage and memory, the Surface Pro X is integrated with up to 512GB SSD of storage with up to 16GB RAM for tending to your consistent work load. The device weighs 1.7lbs, which is considerable comfortable to hold and travel with. It comes pre-loaded with the Windows 11 OS.
Reasons to buy:
Three different keyboard cover options
PC CPUs and high RAM
Reasons to avoid:
Have to purchase Keyboard covers separately
Keyboard covers are slightly expensive
6. Apple iPad 10th Gen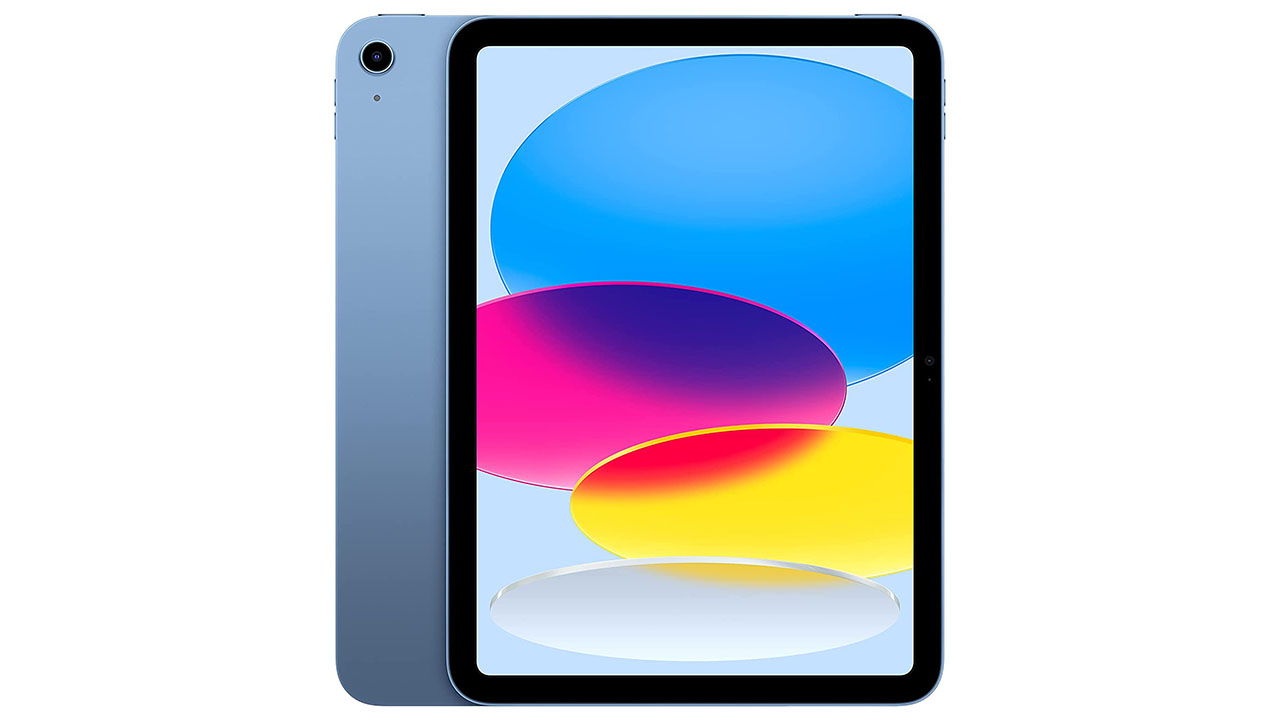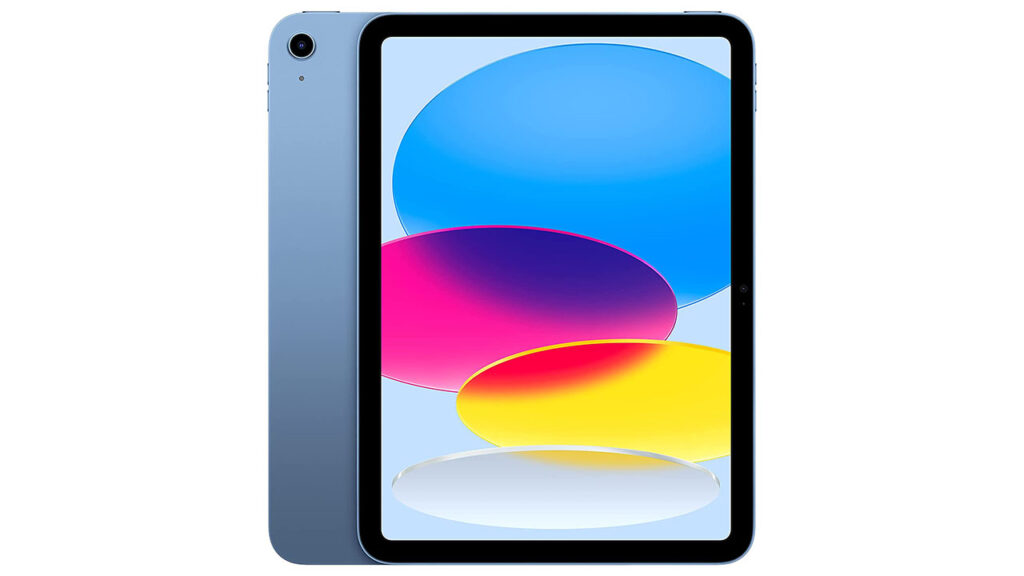 Its not every day that you come across a whole new and redesigned line-up of iPads in quirky and fun colors like red and yellow.
The redesigned iPad features some of the most unique colors but that's not all. The all-screen model is powered by the A14 Bionic Chip for faster performance and power efficiency like never before.
Like the iPad Pro, even this one comes in a Wi-Fi variant and a Wi-Fi and cellular variant with 5G support that enables you to stay connected even when you are on the go. Powered by 16-core Neural Engine and a responsive camera set-up, the new iPad is everything consumers have been looking for.
The model features an all-screen 10.9" Liquid Retina display for responsive visuals like never before. Also, if you are concerned about the keyboard, the model comes with incredible accessories, including the Magic Keyboard Folio to transform your tablet into a full-blown mobile workstation.
The redesigned iPad also comes with iPadOS 16 out of the box to support a plethora of amazing features and specifications, including updates to Messages, Mail, Safari, etc. The connectivity with USB Type-C port is pretty accessible too.
Reasons to buy:
Quirky and fun color variants
Comes with iPadOS 16 out of the box
All-screen display
Reasons to avoid:
Display is quite small for extensive work
Audio output is average
7. Lenovo IdeaPad Duet 3i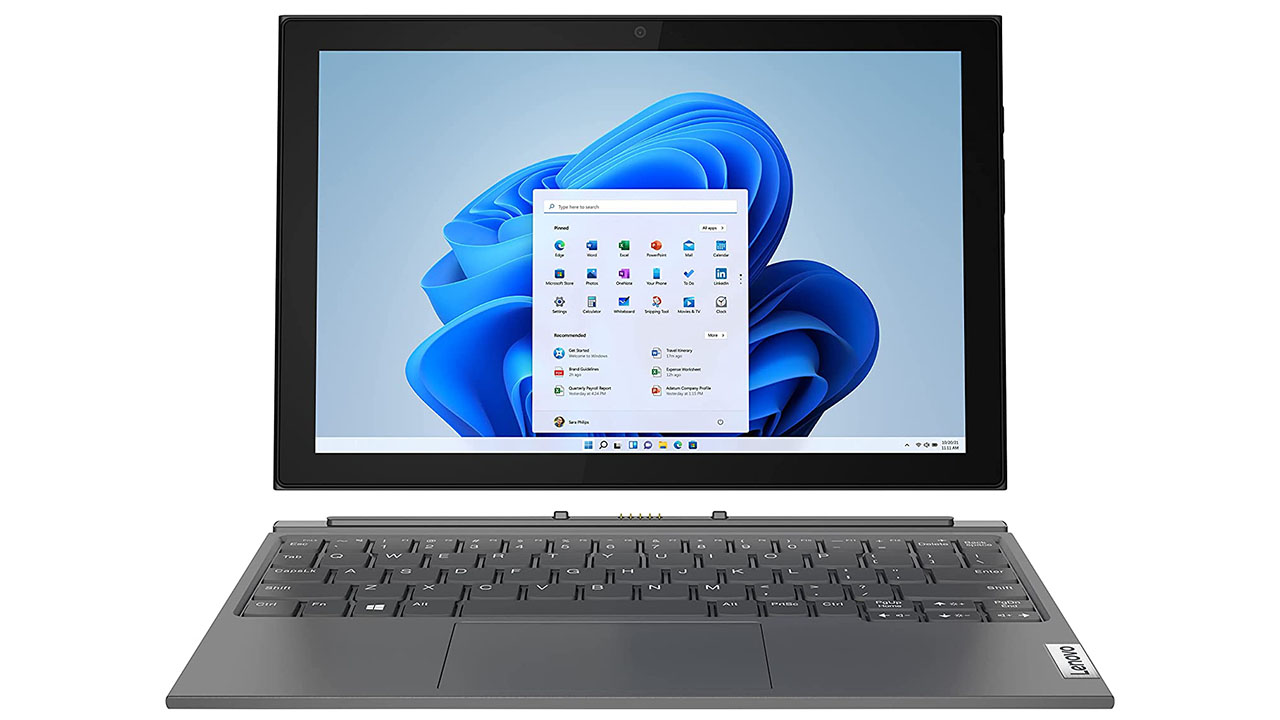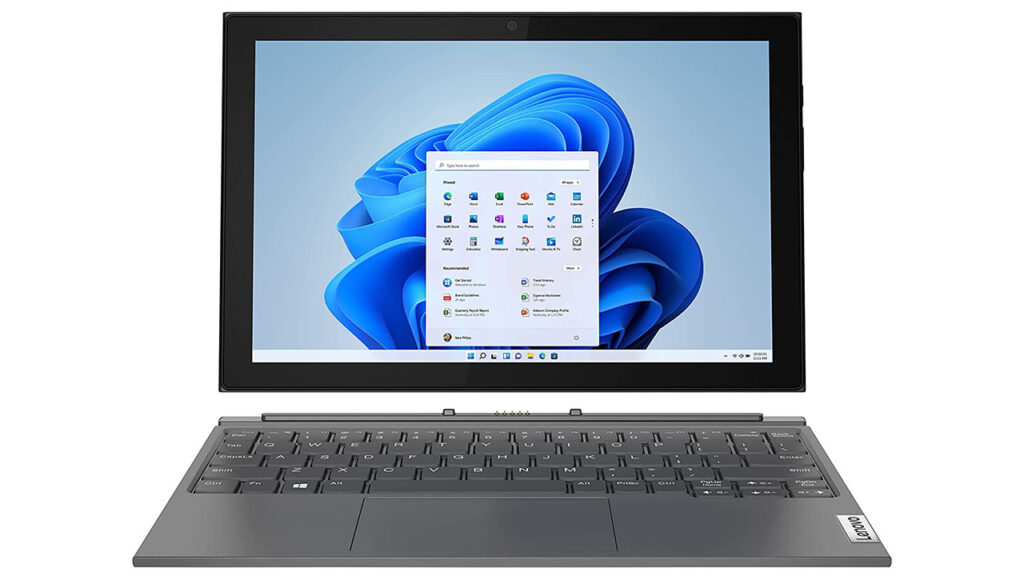 If you are fond of the concept of mobile workstation and need one when you are on the go, the Lenovo IdeaPad Duet 3i is a great option to explore.
Featuring a detachable keyboard, this compact tablet turns into a full-blown PC wherever you need one.
With an affordable price point, the IdeaPad Duet 3i packs a punch with the latest Intel Celeron N4020 Dual-Core processor, ideal for productivity and entry-level performance. This affordable tablet cum laptop works effortlessly in keeping you productive, irrespective of where you are at the moment.
Besides that, the tablet is also integrated with Intel UHD 600 graphics with 30Whr Li-ion battery for prolonged usage without any complaints. It runs on Windows 11 in S mode, which can be a little limiting with the features but overall, it is a decent purchase if you are constantly travelling.
What's great about this tablet is the 10.3" FHD touch display with 1080p screen resolution that renders crisp visuals and enhanced color reproduction. The product is bundled with a wireless mouse too for enhanced precision while working.
Reasons to buy:
Sleek mobile workstation set-up
Responsive display
Powerful performance
Reasons to avoid:
Port selection is disappointing
Wireless connectivity configuration could be better
8. Apple iPad Air (5th Gen)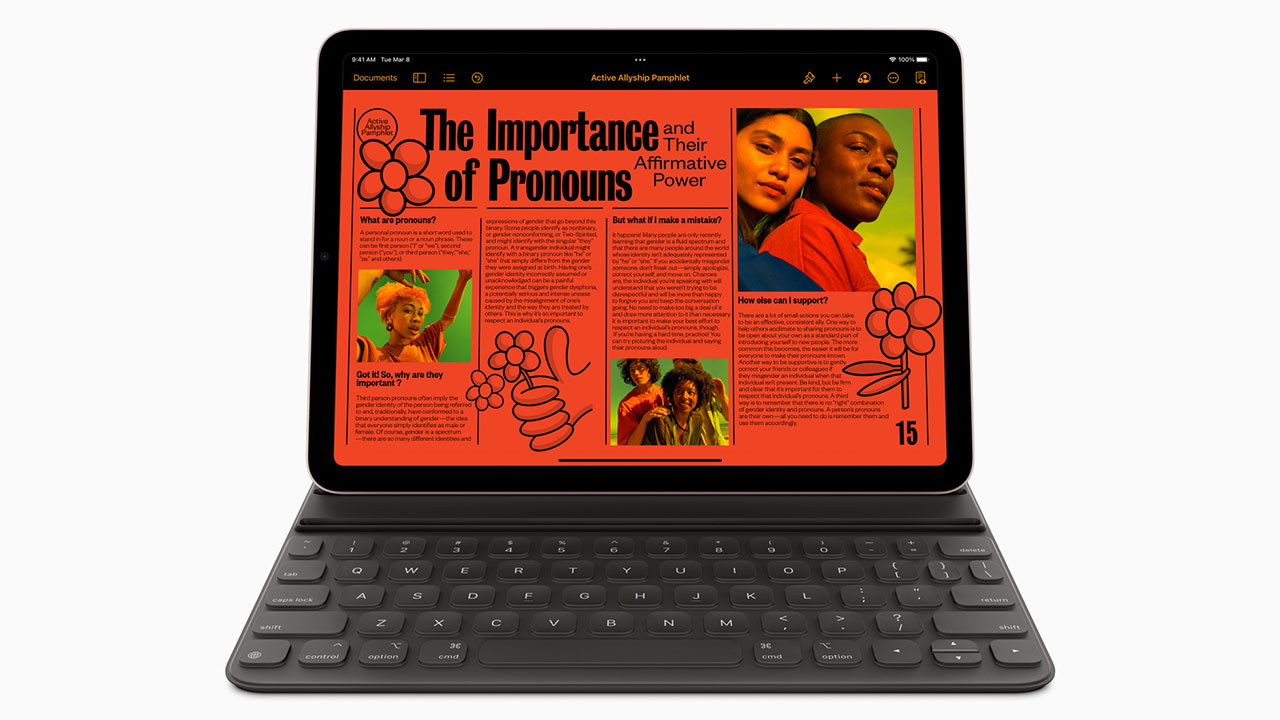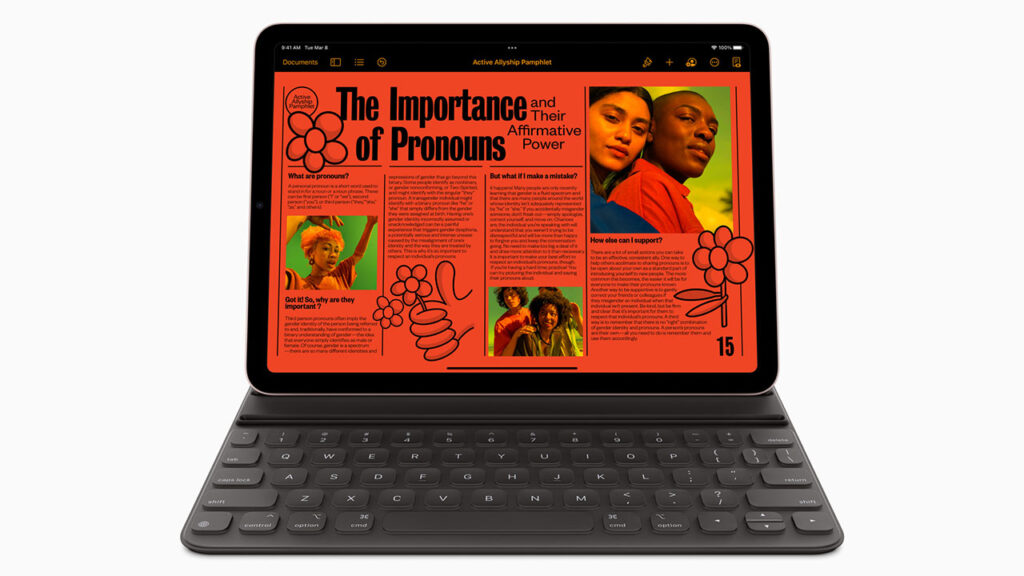 When talking about tablets, Apple's iPad is no doubt a front-runner. With the heightened functionalities and productivity features, the latest iPad Air is a beast packed into a 10" model.
Besides being powered by the latest M1 chip, the model is highly versatile. You can use it as a tablet for editing images, videos, creating content or you can attach it to an iPad compatible keyboard and turn it into a fully-functional laptop.
Available in five gorgeous colors, the iPad Air features an all-screen design with the 10.9" Liquid Retina display with True Tone technology and an anti-reflective coating. Apple also prioritizes security with the Touch ID placed on top of the device for easy access and unlocking experience.
Not just the standard applications, the combined processing power of the 8-core CPU and 8-core GPU plays right into the needs of the users. From editing applications to graphics-intensive applications, you can seamlessly master them both with this compact device. It is also backed with all-day battery life that caters to persistent productivity without any buffer.
Reasons to buy:
Modern and durable design
Available in five colors
Backed with True Tone technology
Supports 16-core Neural Engine
Optimal RAM management
Reasons to avoid:
Lacks Face ID
Display supports up to 60Hz
9. Microsoft Surface Go 3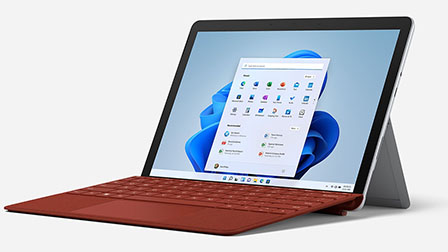 Next up on the list of good quality purchases has to include the Microsoft Surface Go 3.
This is hands down the most portable find on the list and is ideal for any kinds of every day tasks that you throw at the device.
The Surface Go 3 also comes preloaded with the latest Windows 11 OS to tackle all the latest functionalities that you'd generally come across.
Providing up to 11 hours of battery life, this device is equipped with a compact 10.5" touchscreen display with 3:2 aspect ratio that enables you to get it all done without any compromise. Also, it is backed with up to 10th Gen. Intel i3 processor with enterprise-grade security for superior performance and productivity throughout the day.
Also, it sports up to 128GB SSD of storage and up to 8GB RAM for the ultimate performance that you can possibly expect from this compact powerhouse.
Reasons to buy:
Inferior specifications compared to other Microsoft tablets
Keyboard has trackpads
The tablet is convenient for on-the-go needs
Reasons to avoid:
Have to buy the keyboard separately
The keyboards are expensive
10. Lenovo Tab P11 Pro (2nd Gen)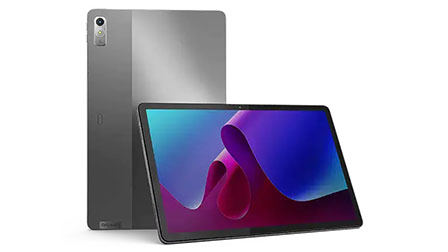 Not everyone wants to splurge thousands of dollars on a tablet with a keyboard. If you are on a stringent budget, we'd recommend checking out the Lenovo Tab P11 Pro (2nd Gen).
This one is under $350 but packs in some of the best performance with a 11.2" 2.5K OLED display that supports all the leading streaming platforms without any compromise.
The tablet is powered by Android 12 out of the box and will support up to three years of security updates to keep your device functioning optimally and without any hassle. Also, it will get updates up to Android 14 to never compromise on the efficiency and performance in the future.
The Tab P11 Pro is extremely lightweight and weighs 1.05 lbs, making it easier for the users to carry around wherever needed. The Thinkpad-inspired 2-in-1 keyboard comes with 12 dedicated function keys that offer optimum tactility and elevated user experience like no other.
As for the performance, the tablet is backed with an octa-core processor and Wi-Fi 6 certification for the ultimate all-day productivity. The four channel soundscapes in the tablet are supported by Dolby Atmos, so audio output will never be a disappointment.
Reasons to buy:
Lightweight and durable
Affordable price point
2.5K OLED display panel
Reasons to avoid:
Not that efficient performance
Battery life is average
Applications of Tablets With Keyboard
The main reason to purchase a two-in-one tablet is simple – increased productivity and portability, right? So the keyboard dock or a keyboard case helps you in those areas, and it makes the device indistinguishable from a clam-shell laptop.
Multitasking is the most prominent application when it comes to tablets with keyboard, and many Vanguards of this segment of the industry provide several modes to come up with the best possible slip-view screen. As the screen is divided into multiple portions, one can easily handle each app with the stylus or their fingers.
An assortment of Keyboard applications still wouldn't make up for a physical detachable tablet keyboard. Convertible tablets come with high-speed keyboards that allow users to type fast, and it is so responsive when navigating through multiple applications.
Keyboards lift up your comfort levels so much that you wouldn't mind working for an extra hour. The reason being the elevation that the removable keyboard provides and your wrists sit comfortably on the keyboard for longer stretches.
With new software touching the surface, these two-in-one tablets with keyboards are making proper integrations to bring out their highest potential. Echo show is one such example, where one can just plug the device in, and the app puts on a show for the audience. The best part – it can be set up anywhere and at any time.
With the right technology and apps, one can effortlessly share screens with other devices, and image insertion becomes a lot accessible. Applications can shape your style of presentations by emphasizing on essential subjects and removing unnecessary backgrounds.
There are also quite a lot of similarities to an actual laptop in terms of sound quality and picture sharpness. All thanks to the micro-architecture, that puts less pressure on your pockets but more on the functionality.
Verdict
The best two-in-one tablets with keyboard equipped with a well-designed keyboard is a treat for anyone, but the more important thing to address is to realign the requirements and choose the right fit. For extensive graphical and computing usage, one has got to go with iPad Pro. It is just a beast at everything, and with the upgraded Chip, it just got even better.
One can argue that Tab S7+ is also up there in the conversation, but the only thing we cannot compare is the magic keyboard offered by Apple to any others in the marketplace. For a real laptop-like experience, the best options out in there are Surface Pro X SQ2 model, Lenovo Chromebook Duet 5 and Samsung Galaxy Tab S8 Ultra.
The lightweight laptop-like tablet works like a charm for any office tasks and entertainment applications. On the other hand, if your pockets are a little on-budget, then the best options to look out for are Surface Go 3 and iPad Air model.
Both Microsoft and Apple have put great efforts in producing high-quality hybrid tablets. For artistic and gaming users, it is better for you to take iPad Air that have excellent latency and control.