Top 10 Best 2-in-1 Tablets With Keyboard 2020
Due to the digital generation creeping and settling in our lives, it is almost hard to survive without a laptop or a tab. It will not be very wrong to put it this way that the world is now running on tabs. From small presentations to imperative business dealing over Skype, there is hardly anything that doesn't require a digital device. Hence, a laptop or a tab is a need of an hour. But, we know carrying a laptop to wherever you travel is sort of a task, which is why the tech firms invented tablets, a smaller and handier version of laptops.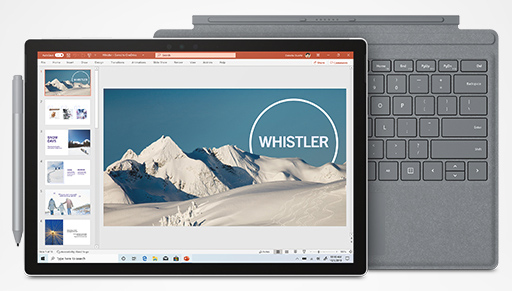 Tablets are one unique innovation that is bigger than a smartphone, smaller than a laptop and yet functions exactly like both. Sounds amazing, isn't it? While we were settling in the availability of tablets in our life, core business users found it a bit tough to work on tablets instead of laptops.
Then there was a new innovation of 2-in-1 tablets that are convertible. Hence, they come along with a keyboard and a stylus. It can be detachable or some different sort of functionality. Tech firms being in a tough competition rolls out some amazing configurations and specifications that can trigger any tech freak to just hop on and buy the respective product. With Apple and Samsung dominating the industry, they are by far the best manufacturers of tab and you just cannot overlook them. The only aspect where these tech giants lack is their pricing, the only factor that makes buyers reluctant and they settle for something else.
10 Best 2-in-1 Tablets With Keyboard 2020
While tablets are an 'in' thing now, the tech firms do not stay behind in rolling out innovative and upgraded versions of tabs every now and then. Hence, below are top 10 tablets with keyboard to help you get your hands on the best suitable 2-in-1 tablet.
1. New Apple iPad Pro 2020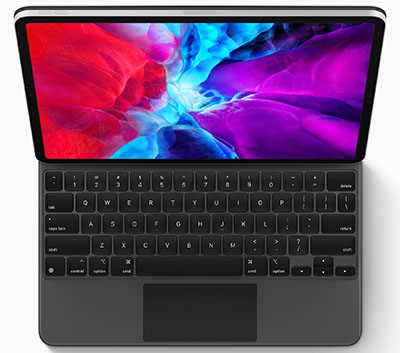 Everything is better and improved with the all new Apple iPad Pro 2020. It is built to reign the computing world owing to its never-like-before super rich and high performance driven features.
From impressive Liquid Retina display to advanced and improved Pro Cameras and LiDAR scanner, this tablet PC is here to transform every imagination into a striking reality. And when paired with the high utility accessories, it is ready to explore new heights.
As has been rightly said, in terms of the magical keyboard, that provides for a "floating cantilever design". This magical keyboard attaches effortlessly and magnetically to the tablet, thereby adding to its power and convenience. The keyboard offers the best-known typing experience to users with advanced track-pad support. It comes with proper front and rear protection. There is also a USB-C port charging option.
2. New Microsoft Surface Pro X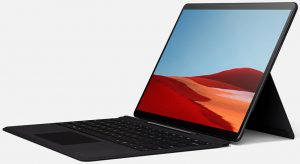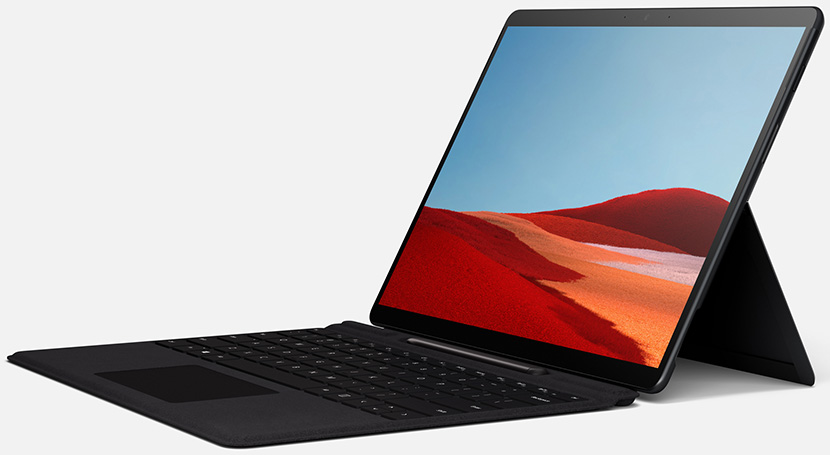 Microsoft Surface Pro X is a newly launched tablet that boasts 13" PixelSense display, providing virtually edge-to-edge screen and making the viewing experience one-of-a-kind.
The tablet is engineered with some great features, beginning from connectivity choices. It boasts two USB C ports for better connectivity. Converts into a PC with the help of kickstand and removable cover that consists of signature keyboard. It is very powerful as it allows you to enjoy next gen graphics by providing 8GB and 16GB RAM and storage up to 128GB, 256GB, and 512GB.
The exciting fact about Surface Pro X is it's equipped with Microsoft SQ1 processor, which is the newly launched processor by the brand. This processor is as powerful as Intel's 8th Gen Core-i7. More so, the tablet is ultra-slim and lightweight that makes it a perfect choice of on-the go customers.
Surface Pro X can provide you the battery life of 13 hours with continuous browsing and surfing. The tablet offers you Windows 10 as your operating system, making it an amazing 2-in-1 tablet across businessperson and designers as well.
3. New Apple iPad 10.2″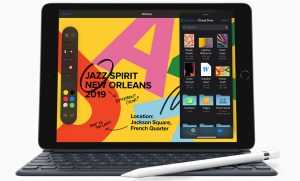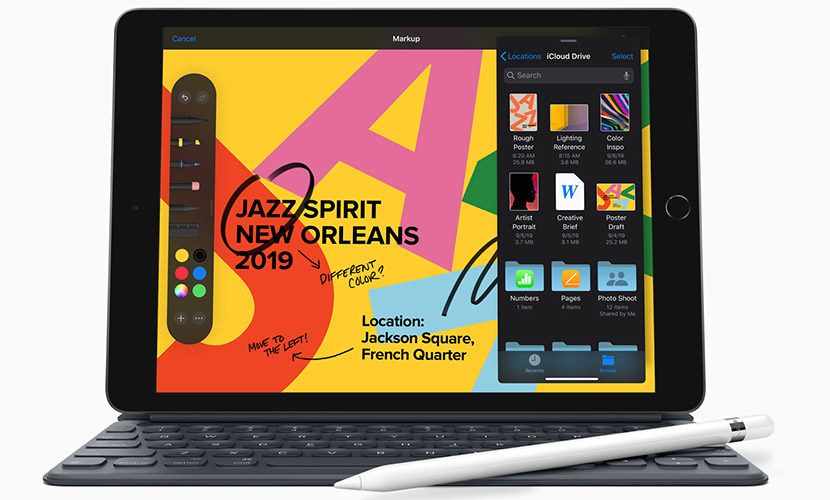 The new Apple iPad boasts 10.2" (2160 x 1620) IPS display with 500nits brightness. It is quite smarter than the previous versions as the new iPad is versatile and can easily get connected to smart keyboard. In addition, the retina display offer deep contrast and high quality images, which makes the viewing experience quite amazing.
The awesome keyboard enables you to convert your iPad into a desktop in no time. It also boasts a full touch screen and has a pen, which is perfect for artists. You can easily boost the inner creativity and draw, sketch or design something exceptional on the all new Apple iPad 10.2".
iPad is available in three colors, which is Silver, Gold, and Space Gray. The iPad can provide you storage of 32GB and 128GB equipped with A10 Fusion Chip with 64-bit architecture embedded in M10 co-processor. You can also reap benefits of 8MP rear and 1.2MP FaceTime HD front-facing camera to connect with your loved ones.
Enjoy hands-free day with Siri that can perform maximum tasks for you such as reading new headlines, weather forecast, and a lot more. The iPad can work for up to 9 hours with its 32.4 watt-hour battery.
4. Samsung Galaxy Tab S6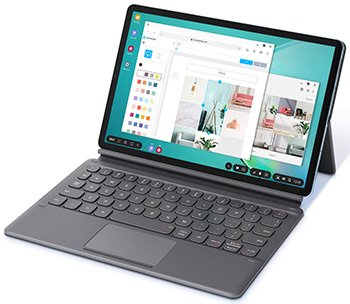 Samsung Galaxy Tab S6 is the best tablet that you'll ever come across. With so many exciting features, this tablet can be your perfect on-the go partner due to lightweight and thickness. Samsung Galaxy Tab S6 is very sleek just 5.7mm thick that enable you to hold with great ease.
The tablet boasts 10.5" Super AMOLED display, providing you with amazing picture quality with bright colors and deep contrast. The tablet is available in three beautiful and classy colors, which includes Cloud Blue, Mountain Grey, and Rose Blush that adds grace to your personality. Check out the below points in favor of Galaxy Tab S6.
Redesigned S Pen
Samsung Dex
Bixby
Split View
Dual Camera
Huge RAM+ROM
Up to 15 hours Video Playback
Samsung Galaxy Tab S6 has a very productive pen that starts charging as soon as you attach to the backside of the tablet. It is very powerful and enables you to encounter any challenge that comes your way. As it runs on Android 9 Pie, Samsung Galaxy Tab S6 is one-of-a-kind tablet with incredible user-interface.
There are lots of great features, but before you buy, just check out below points,
Book Cover Keyboard not included with price (Buy Separately)
Starting price is a bit high (Comparing iPad Air)
The tablet has Snapdragon Qualcomm processor, which makes it unbeatable in terms of performance along with options of 6GB RAM and 128GB ROM and 8GB RAM and 256GB ROM. The tablet has the ability to run 15hours flawlessly with durable battery coupling with continuous browsing and video playback.
5. New Microsoft Surface Pro 7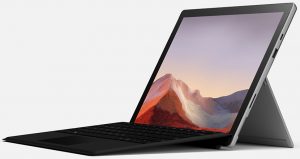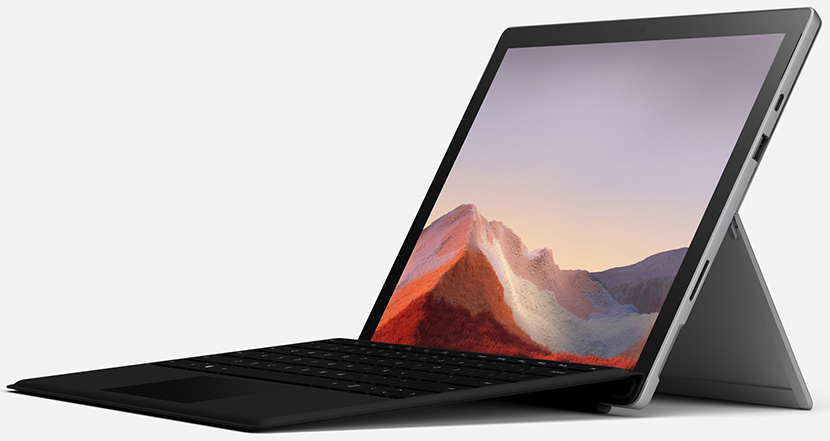 Microsoft Surface Pro 7 is an awesome tablet that perfectly meets the modern office's needs. This on-the-go tablet is 12.3" in size with touchscreen display and is ultra-light and slim. You can take this 2-in-1 tablet anywhere you want because the kickstand and removable type cover boasts the signature keyboard.
Experience the tablet and desktop in just seconds as per your convenience. Surface Pro 7 also provides you a powerful pen that allows you to take down crucial notes or draw something unique. More so, the display light conditions automatically adjust whether you're under the sun or moon.
You have three choices in this smart tablet with regards to RAM and ROM as it offers 4GB, 8GB, and 16GB RAM as well as 128GB, 256GB, 512GB or 1TB storage to the users. This makes the tablet more of a handy and lightweight laptop. Moreover, you have choices in processors as well that includes 10th Gen. Intel Core i3, i5 and i7, depending on your usage. The tablet is not only flexible to carry, but it also offers some flexible choices in the hardware. Boasting Windows 10, Surface Pro 7 can stay with you up to 10.5 hours.
6. Microsoft Surface Pro 6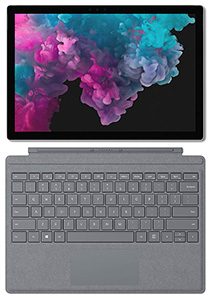 As the critics claimed it to be, Microsoft Surface Pro 6 is the best 2-in-1 tablet available, and you probably need not bother to look for anything else. With many tech firms ruling the market, Microsoft has indeed made its place with Microsoft Surface Pro 6.
The reviews say for itself about this tab, runs seamlessly, and has undeniably best user-experience so far. The design looks amazing, and configuration suits us quite well. Yet, what the dilemma is? Now, after having the reviews, all we wonder is, is Microsoft Surface Pro 6 worth the digit it is estimated for?
Below are some pros and cons of Microsoft's new model to help all the prospective buyers to have an insight;
3:2 Display
Amazing Design and Build quality
A fine multi-tasking performance
Enduring battery life
Now that we have discussed some important pros about Microsoft Surface Pro 6, there are some drawbacks that is associated with the respective tab. Now as we know, Microsoft has been a pioneer in offering windows in our laptops since long back. It happens to be our trusted source of user-friendly experience when it comes to buying a laptop. Hence, what makes it less of a worth while we get to buy a 2-in-1 tablet.
Let's know the cons of one of the best 2-in-1 tablet:
Windows 10 still needs some improvement
Expensive
No USB C
Imperative details about Microsoft Surface Pro 6 conclude here. The tab is quite highly priced as it might not fit in the budget of a common 9-to-5 job person. The range starts from $799 and reaches around $2099. Now, all that we wonder is, is it worth it? Well, that's for you to decide. As you might have read the important pros and cons of this new tab, you can now very well infer if Microsoft Surface Pro 6 fits your suitability and pocket simultaneously.
7. Samsung Galaxy Tab S4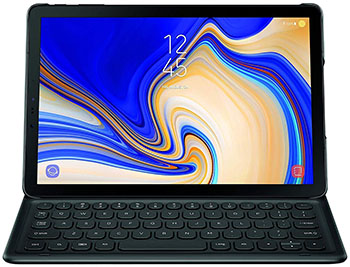 Samsung's new flagship model, Samsung Galaxy Tab S4, is said to be lighter than ultra book even after being inclusive of a keyboard and pen. Samsung being another leading tech firm in the market, has its own share of successes when it comes to smartphones and tabs.
The strategy that revolves around Samsung Galaxy Tab S4 is that Samsung has ensured to offer a full desktop like feel with individual windows and improvised multitasking feature termed as Samsung DeX. With such immersive experience at hand, like every other tab, Samsung Galaxy Tab S4 has its share of pros and cons involved.
Lets have a look at some of the vital features of the tab that might trigger tech freak in us to buy it:
Excellent battery life
Amazing Design
Vivid Display
Samsung DeX is just out-right awesome for multitasking
Lightweight
USB-C fast charging port
With noting down some imperative pros of this tab, we know that drawbacks exist. Well, is anything ever perfect? Without getting dramatic anymore, Samsung Galaxy tab also tags along its share of cons with itself. While pros might trigger you to buy, cons might help you think twice.
Have a look at some drawbacks of Samsung Galaxy Tab S4:
Needs to buy a keyboard and mouse separately
The above factor adds to the already high ranging cost
Face scanner is sometimes a hit and often a miss
Concluding everything, Samsung Galaxy Tab S4 is a fine model with amazing design, well quality build and an intense user friendly experience. The price of this tab starts from $649 and ranges up with the specifications of model. Now, the prices might be low as compared to the tech rivals, it is still an over the budget product as for what it offers. The tab might have great configurations, yet it might not feel very worth it.
8. Microsoft Surface Go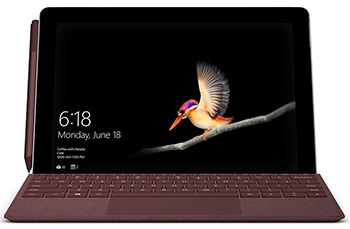 Microsoft's smaller and easy on go laptop is finally rolled out, with Surface Go, Microsoft aims to tell people what a Windows tablet is capable of.
It is running successfully in the market and somehow leading it. With a decent memory storage, Microsoft is here to give a tough competition to its tech rival, Apple or Samsung. The tab is inbuilt with some amazing features that'll help you have an immersive experience of this respective tab.
Now, like all the tabs, even Microsoft Surface Go is inclusive of some pros and cons. The pros and cons might influence your decision for better. Pros are:
Decent Price
Strong Graphics
Amazing Design
Vivid Display
Excellent Speakers
Because, everything tags along some cons, Microsoft Surface GO has some too. Despite of some awesome features, there are few drawbacks that might dwindle your decision to buy Microsoft's latest flagship model.
Some of the cons that comes along with Microsoft Surface Go are mentioned below. Let's have a look.
Accessories have to be bought separately
Could have been better configured
Now you might have a well informed decision as in to buy or not. The tab is small and light in weight which makes in easy to carry, yet sometimes you might get a congested feel while you are working with Microsoft Surface Go on your laps. The keyboard keys are very closely placed. Hence, it might not offer you a very free feel while you work. All in all, while you get Microsoft Surface Go in a decent price starting from $399 and increases with enhanced specifications. Now, if the tab fits your suitability criteria, what do you await? Get hands on the solid Microsoft Surface Go now.
9. Apple iPad Air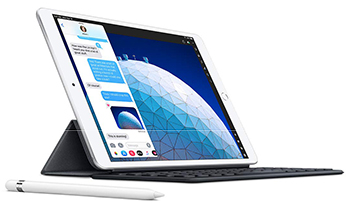 Apple has always been dominating the market with its incredible smartphones and tablets. You will see amazing groundbreaking innovation in every smartphone and tablet introduced by Apple, but Apple iPad Air adds more power.
This mid-size tablet of 10.5 inch outfitted with Retina display along with True technology deliver absolute stunning picture quality. It is very sleek and lightweight, accompanying extreme portability.
Some of the key-points of iPad Air:
Up to 256GB of storage
500 nits display
Comes in 2 models – WiFi & WiFi+Cellular
Weighs only 1 pound
Typically, Apple introduces powerful technologies to more people than ever before and that's the reason the tablet is equipped with A12 Bionic chip with Neural Engine. By leveraging machine-learning, iPad Air changes your experience the way you view images, play games and other activities. To add more to these features, you can easily edit a video and create a presentation, design a 3D model and do a lot amazing stuff.
Things to look before you buy:
A bit expensive (add-on smart-keyboard is also pricey)
Nothing new in Design
No Face ID
With 8MP back camera and 7MP front-facing camera, Apple iPad Air can be your partner in crime when you're on your vacations as it will enable you to capture every moment easily. More so, the tablet comes with Apple pencil that focuses primarily on responsiveness, precision, and natural fluidity for -making your writing, drawing, sketching or signing experience one-of-a-kind. You can also utilize the full-size keyboard with your iPad Air, converting it into a desktop.
Running on iOS operating system, Apple iPad Air puts everything you require within a swipe or tap on the screen. Featuring easy-to-use interface, multitasking, and command over the large screen, enable you to enjoy Apple iPad Air to the fullest.
The tablet also offers 10 hours battery life with continuous browsing, which is a phenomenal factor for many users. It also provides you with better connectivity speed- be it in Wi-Fi, data network, etc.
10. HUAWEI MediaPad M5 Pro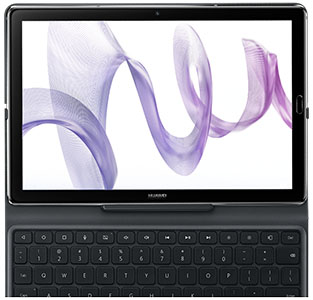 The stylish, curved edged Huawei MediaPad M5 Pro is a recent addition to the list of best 2-in-1 tablets with keyboard 2020, and it is worth knowing about its excellent features and other important performance aspects.
Huawei MediaPad M5 Pro promises the best digital experience in its 10.8" high-resolution screen. ClariVu algorithms further enhance viewing quality and clarity by eliminating haziness and darkness. It also provides Eye Comfort Mode to ensure comfort and safety for the eyes of viewers. The display adjusts to the surrounding light automatically.
The utility of the gadget increases manifold when worked upon by the highly sensitive and creative Huawei M- Pen. The Pen allows the users to enjoy a smooth, lag-free, and naturally flowing writing experience. The 4096 levels of pressure sensitivity of the pen makes it powerful enough to capture and depict every detail on the screen in the highest perfection.
The device is engineered for high-level performance and is hence powered by a 7500 mAh battery. With its Quick Charge technology, the tablet gets fully charged within 2.9hours. Smart Power-Saving technology further enhances the overall capacity of the device.
The tablet also delivers high-resolution sound quality being tuned by Harman Kardon Audio. Its quad-core speakers along with powerful amplifiers produce an immersive sound effect.
Verdict
These were the top 10 best 2-in-1 tablets with keyboard. The convertibles, as they are known to be, are next gen tablets that are designed to extend a dual experience of tab and a laptop. Now, it is no hidden fact that the market is rule by top notch tech firms such as Apple and Samsung. It gets hard for a tab to reach to the bar set by these two brands. Since, they are high in configuration and offer a user-friendly experience; their prices reach sky as well.
Also, other tech firms such as Lenovo, HP, HUAWEI, and many alike are catching up in the race and are certainly able to offer somewhat similar experience as others. Although, the consumer buys product on basis of his trust on the brand and credibility the brand has built for itself. Therefore, it gets hard to convince an Apple user to buy any pad other than iPad when he goes to buy.
Summing it all, there are plethora of tech firms in the market, from high range tabs to the affordable ones, there isn't a shortage of options to choose from. With variety so vast, you get to have a wide prospective of what do you need and how much worth do you comprehend it to be. That is a little dilemma that we've tried to eliminate with specifications of top 10 2-in-1 tablets with keyboards. Happy Shopping Folks!