If you've been looking for a medium to really explore your creative skills – whether you're a beginner or a pro – a decent drawing tablet is the device for you. Apart from creative exploration via a drawing pen and numerous features and tools to play around with, there are tons of things a drawing tablet can do, such as connect to other devices and easily help transfer files, browse the internet for inspiration, etc. But what's even better than a regular drawing tablet is a standalone drawing tablet – one that doesn't require connection to a computer.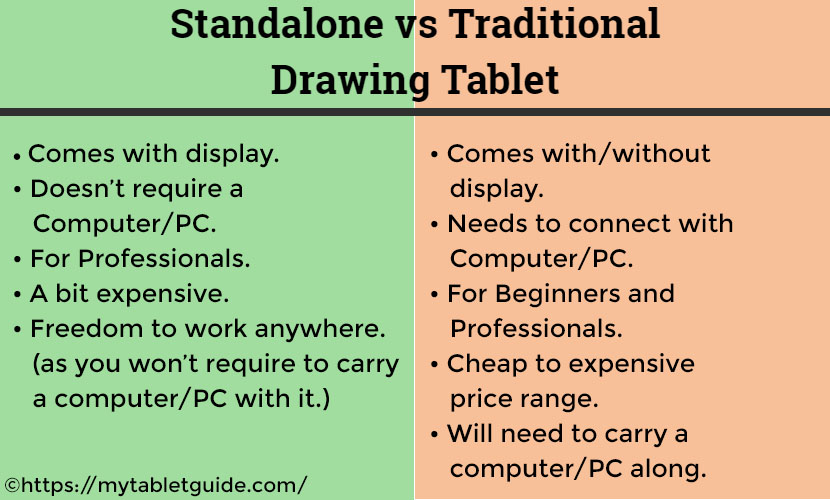 There are innumerable advantages of a standalone drawing tablet and they're not as common as you'd think. For one, they're easily portable so you can use them on flights, cars, trains and literally anywhere you go.
Unlike a traditional drawing tablet that connects to a PC, a standalone drawing tablet comes with a pen-enabled screen and functions like a computer too. While it might be slightly on the expensive side, the device is bound to give users a superior drawing experience.
Now, when you actually go to purchase a standalone drawing tablet that gives you the freedom to draw on-the-go, you might not be able to tell it apart from a regular drawing tablet since both devices have their own screen.
For the uninitiated, we're here to help you understand exactly what a standalone drawing tablet does (apart from being able to function without a computer) and how it's different from a regular tablet.
What is a Standalone Drawing Tablet?
Both, a standalone drawing tablet and a regular drawing tablet, can have touch screens but the major difference between the two is that a regular tablet needs to connect to a computer to be able to function.
On the other hand, a standalone drawing tablet can function without connecting to a computer since the device has features of a drawing tablet and a computer combined.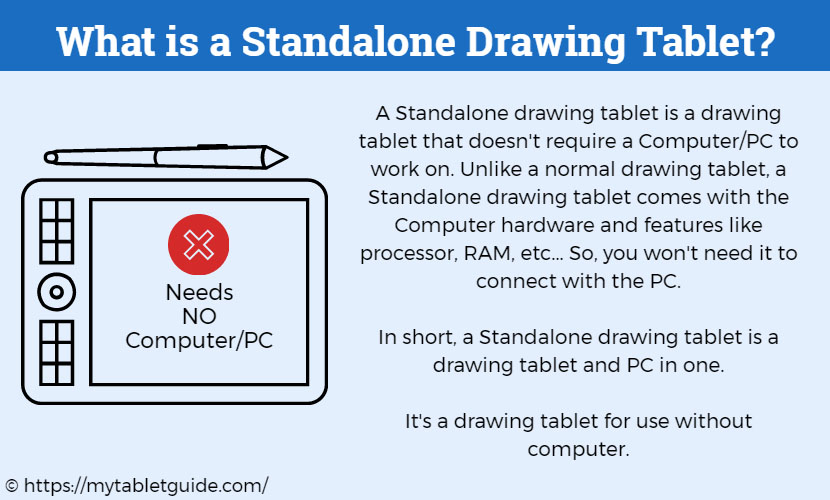 While you may assume that if a drawing tablet is a touch screen one, it's a standalone tablet. Whereas most tablets with their own screen aren't standalone ones and still need the support of a computer to function.
The computer essentially provides the hard disk with all the necessary software required for the drawing tablet to work such as Adobe Illustrator, Photoshop etc. If a drawing tablet is extremely expensive, it's likely to be a standalone one. We've listed out all the standalone tablets worth purchasing in 2023.
Best Standalone Drawing Tablets For 2023
The main purpose of a standalone drawing tablet is for you to be able to have freedom of expression, no matter where you go. Imagine you're camping on the mountains and you wish to capture the picturesque and beautiful landscapes around, and even have the talent for sketching it out.
But the lack of a computer that can connect to a regular drawing tablet is bogging you down. This is where the standalone drawing tablet steps in. It requires no additional PC to connect to and is completely portable, fuss-free, effective and extremely easy to use.
So, now that you're convinced, we've rounded up the ten best standalone drawing tablets you can consider purchasing in 2023. Because it's always wise to make an informed investment. Remember, before you check out these standalone drawing tablets, keep your requirement and budget in mind.
1. Wacom MobileStudio Pro – For Professionals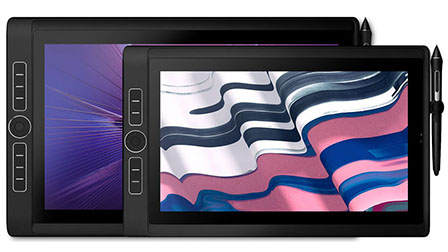 The Wacom MobileStudio Pro tablets – Pro 13 (13.3-inch display) and Pro 16 (15.6-inch display) – come with a whole studio of creative tools such as a precise pen, an incredible display and enhanced computing power to enable the functioning of leading creative software simultaneously.
Its long-lasting battery life will also boost creativity as well as productivity, to help you express your creativity freely without disrupting your work flow. The ultra HD resolution of 3840×2160 pixels gives extreme clarity for detailed drawings.
The color gamut coverage ratio goes up to 85 percent Adobe RGB. The Pro Pen 2 that comes with the standalone drawing tablet is pressure sensitive with 8192 levels of pen pressure and also has tilt technology to support various angular movements.
Some productivity boosters in the device are its Express Keys, on-screen controls and time saving settings. The standalone tab is compatible with Windows 10 and also with Windows and Mac when connected to the devices.
2. Huion Kamvas Studio 16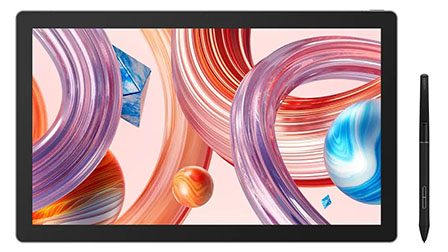 The bestselling Huion Kamvas Studio 16 is a cutting-edge device designed to meet the needs of the digital artists and creative professionals.
Featuring a 15.6" display, Kamvas Studio 16 is designed with an elaborate and spacious canvas to let the artist's creativity free flow.
If you are wondering about the resolution, the display boasts a high resolution of 1920×1080, making way for the creation of crisp, detailed and immersive visuals on the drawing tablet.
Not just that, it is integrated with full lamination technology and anti-glare etched glass for a visual feast.
As for the stylus, it is powered by the PenTech 3.0+ technology that's battery-free and supports 8192 levels of pressure for a smoother and responsive drawing experience.
The new pen, PW550S, also features a pencil-like body and comes with tilt support, felt nibs support, and natural pressure sensitivity.
Moving ahead, the multi-touch sensitivity in the Kamvas Studio 16 augments the user's productivity and efficiency.
The 10-point capacitive touch screen enables the users to leverage and try out different functions and gestures to boost work efficiency. It is also integrated with Shortcuts in the Quick Menu section in the taskbar.
Coming to the powerhouse in the tablet, Kamvas Studio 16 is powered by the Intel Core i7-1165G7 processor with Intel Iris Xe graphics. It comes with Windows 11 Pro out of the box for the ultimate productivity experience.
3. Huion Kamvas Studio 24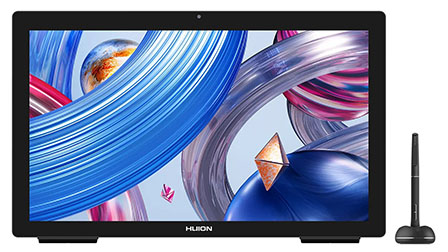 Touted as a high-performance standalone tablet in the market, the Huion Kamvas Studio 24 is a leading electronic device for the professional artists and creatives.
The highlight of this innovative device is the 23.8" display with an immersive resolution of 2560 x 1440.
This standalone workstation not just streamlines your creativity but also makes gameplay and editing a lot smoother and efficient.
The device runs on the Intel Core i7-12700F processor alongside the NVIDIA GeForce GTX1650, which streamlines productivity and efficiency to the next level.
As for the internal specifications, the Kamvas Studio 24 comes with 32GB RAM and Windows 11 Pro out of the box for superior multitasking experience. It also enables the users to split screen to further maximize productivity.
Coming to the display, the Kamvas Studio 24 is equipped with a 2.5K QHD resolution that renders the most alluring and captivating graphics. Also, the color gamut coverage reaches 99% sRGB, making editing, creation and productivity a lot smoother.
The device comes with digital pen PW550, which is powered by the PenTech 3.0+ technology for linear pressure sensitivity for a realistic drawing experience. It also features a slimmer pencil-like body for an ergonomic drawing experience.
Whether you're a professional digital artist, a graphic designer, or a photographer, the Huion Kamvas Studio 24 is the ultimate tool for bringing your creative visions to life.
4. Apple iPad Pro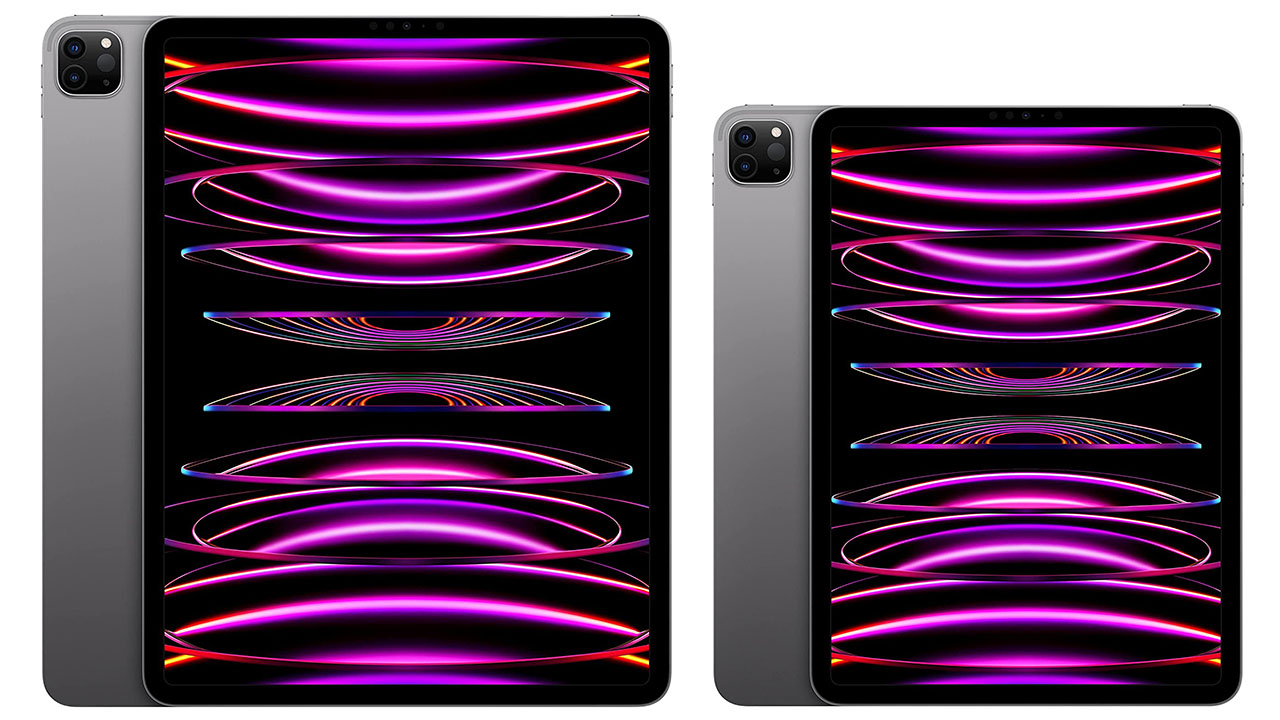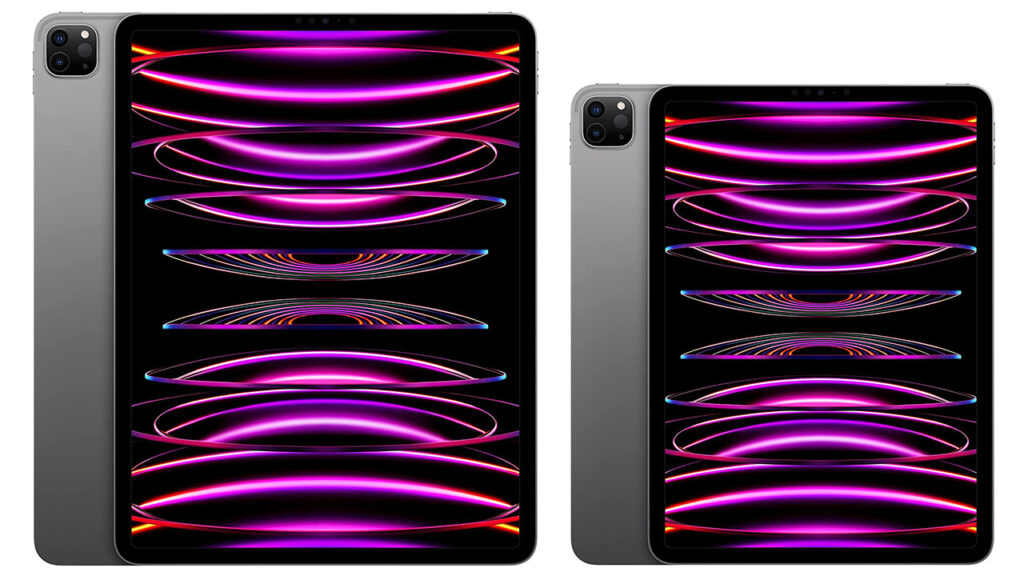 Drawing tablets are a breakthrough for every content creator and artist who want the convenience of a mobile workstation with a powerful processor.
Amidst all the available options, the new Apple iPad Pro is no doubt one of the best in the market now.
Powered by the latest Apple M2 chip, the device renders astonishing performance with next-gen connectivity and heightened responsiveness in running some of the most intensive apps. It is available in two display variants – the 12.9" Liquid Retina XDR display and the 11" Liquid Retina display for enhanced portability.
Furthermore, the new iPad Pro comes with iPadOS 16 out of the box that enables users to expand their ways of work. With new desktop-class app support and multitasking ability, this iPad Pro is everything you need to manage all your creativity demands.
The performance of this device doesn't just stop there. Apple has equipped the new model with a 12MP ultra-wide front facing camera for capturing important moments in images and videos. Backed with Center Stage, you are never going to go out of focus during a video conference call.
5. Simbans PicassoTab XL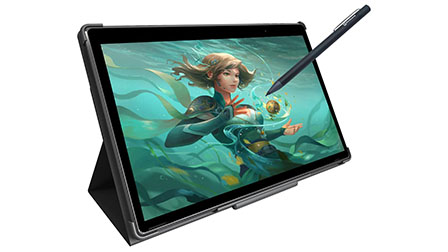 Designed for beginner artists and creators, the Simbans PicassoTab XL is hands down one of the most popular standalone drawing tablets in the market that pushes your artistic drive and allows you to simplify your drawing experience with a single device.
This all-in-one package comes with all the devices you'd need to sort out all your drawing needs, especially with the 11.6" tablet and a pressure-sensitive pen. It also comes with a pre-installed drawing app so all you need to do is plug and play. Also, the brand adds a few additional accessories worth $70 in the kit.
Compared to the standard standalone drawing tablets, the Simbans PicassoTab XL is equipped with an 11.6" HD IPS display that offers 30% expanded screen area to get all your work done seamlessly. Additionally, it is integrated with a 64GB disk that allows you to draw and save them using all the free apps available in the tablet.
The PicassoTab XL runs on Android 11 and is more or less compatible with every Play Store application that you'd need to simplify and streamline your drawing experience. Additionally, it is backed with Wi-Fi certification for seamless wireless connectivity.
If you are worried about durability and product assurance, the tablet is backed with 1-year warranty with optimal customer service.
6. Samsung Galaxy Tab S8 | S8 Plus | S8 Ultra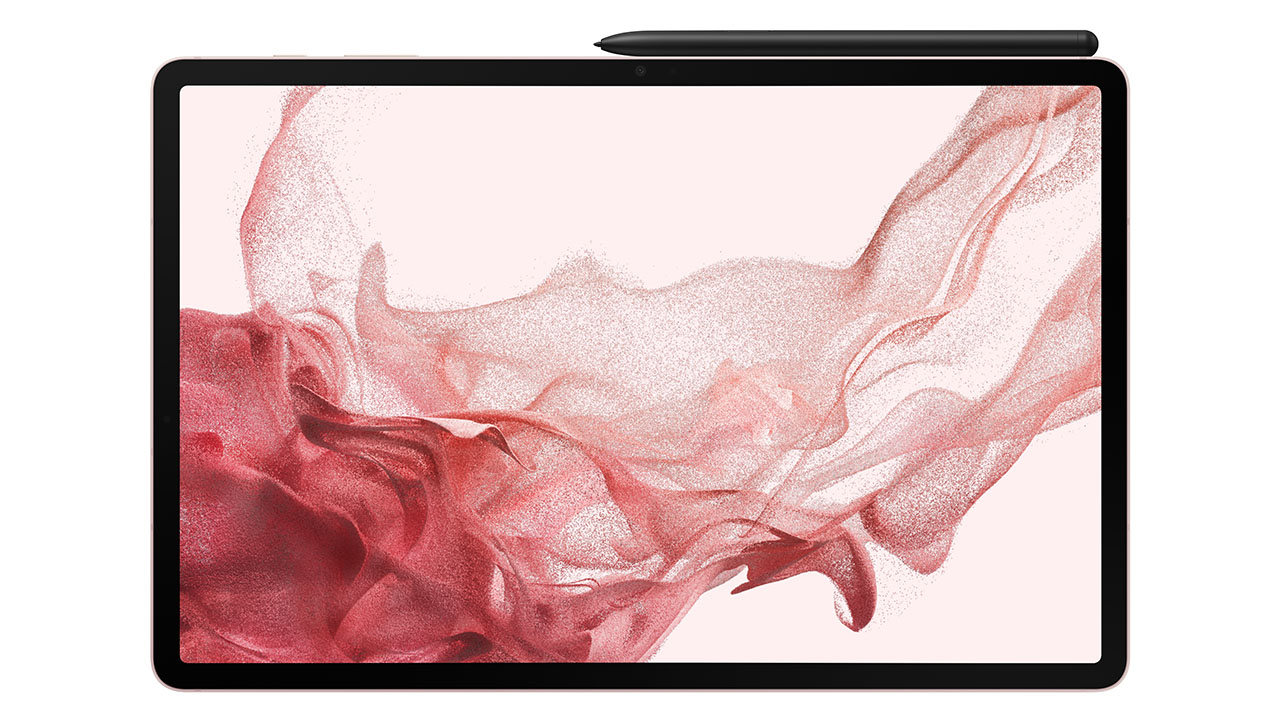 The Galaxy S8 series tablets have everything you need in standalone drawing tablets.
All three of them possess the power to run high-end software, thanks to their Octa-core Qualcomm SM8450 Snapdragon 8 Gen 1 processor.
About RAM, it ranges from 8 GB to 16 GB as well. These tablets come equipped with a microSD card support of up to 1 TB so you can go with a variant that has 128 GB onboard storage.
With Tab S8, S8 Plus, and S8 Ultra, you get to choose from 11″ TFT LCD, 12.4″ Super AMOLED, and 14.6″ Super AMOLED Display respectively. All three of them feature a 120 Hz refresh rate, however.
The S8 series of tablets come with an S pen included. The new improved one lets you draw, write, or doodle with 'near-zero' latency and a better than ever response rate. Moreover, Samsung has made the S pen experience in the S8 series more real.
The battery capacities for Tab S8, S8+, and S8 Ultra are 8000 mAh, 10,090 mAh, and 11,200 mAh respectively. Apart from that, the key difference is the price and some features. Galaxy Tab S8 and S8+ are upgrades of S7 and S7+ whereas the S8 Ultra falls in a premium range.
7. Apple iPad 10th Gen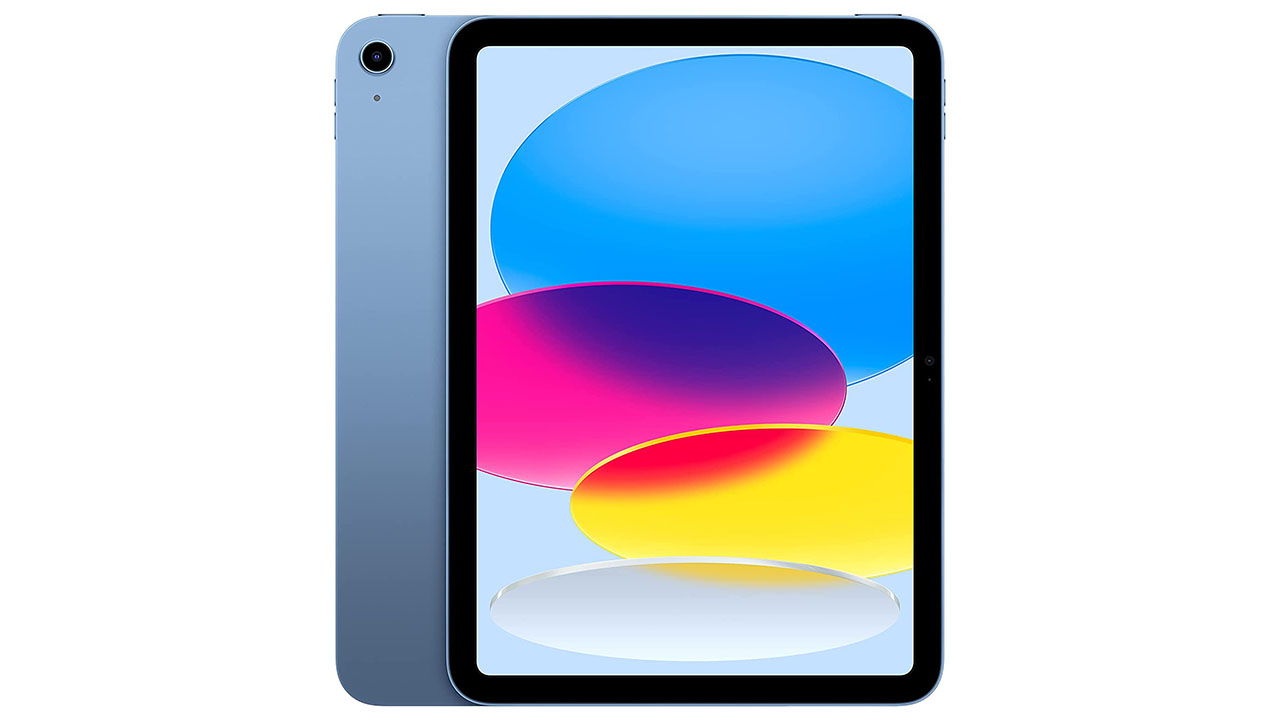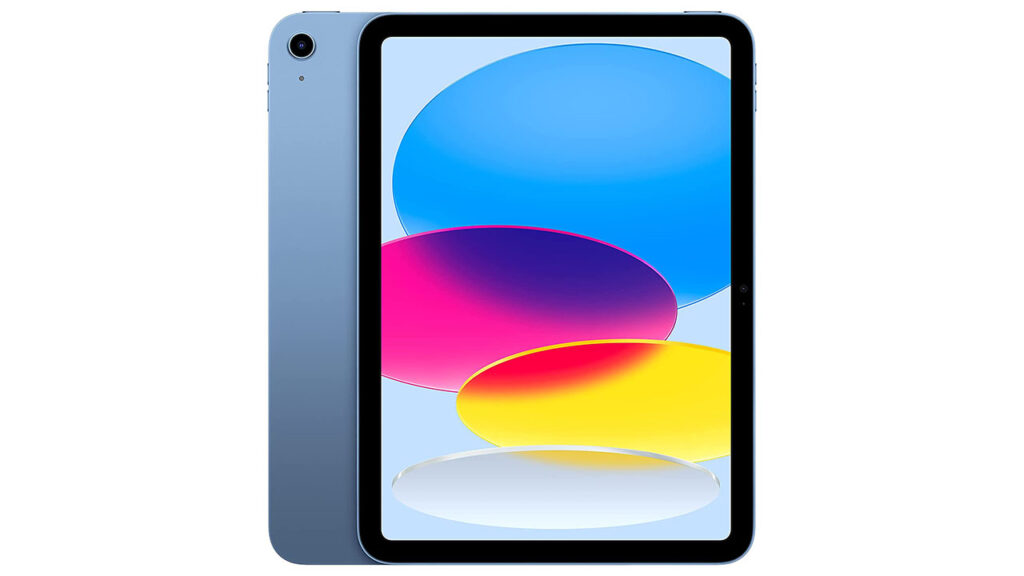 It is not every day that Apple releases a brand new and redesigned Apple iPad with an all-screen display.
The new 10th Gen. iPad is now available in four different colors but the highlight of this new model is the all-screen display that enables creators and artists to have a larger canvas to express their creativity.
The model is powered by the A14 Bionic chip for effortless and responsive performance like no other. Equipped with a 10.9" Liquid Retina display, the redesigned iPad provides users with a powerful way to create, multitask and get things done on the go.
Given that it's a recent launch, it isn't surprising that the iPad 10th Gen. comes with iPadOS 16 out of the box for all the latest features. It streamlines smoother user experience and allows you to multitask while working on different apps at the same time.
From doodling to taking notes, the responsive display caters to all your creativity needs when paired with the advanced Apple Pencil.
8. Apple iPad Air 5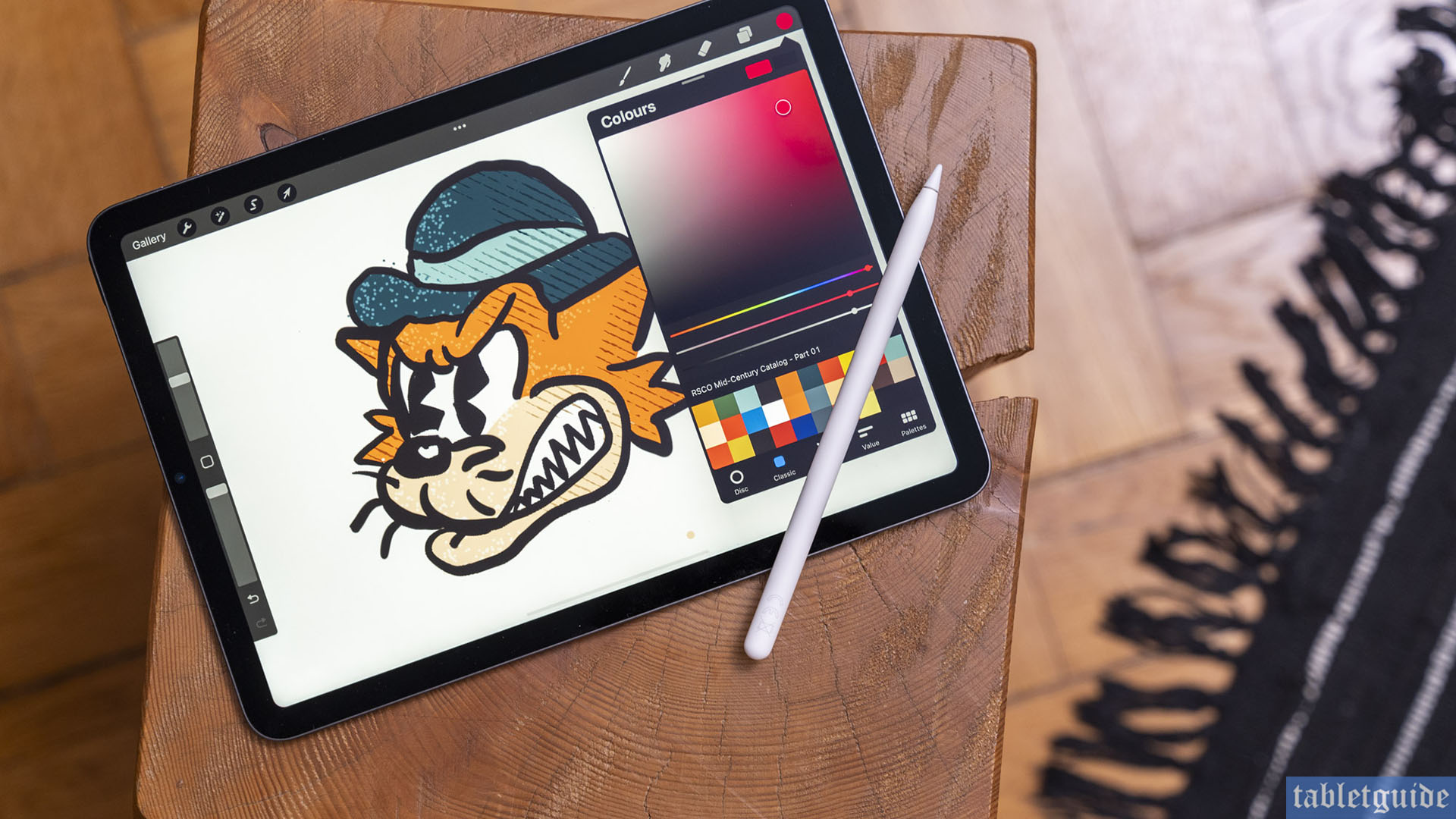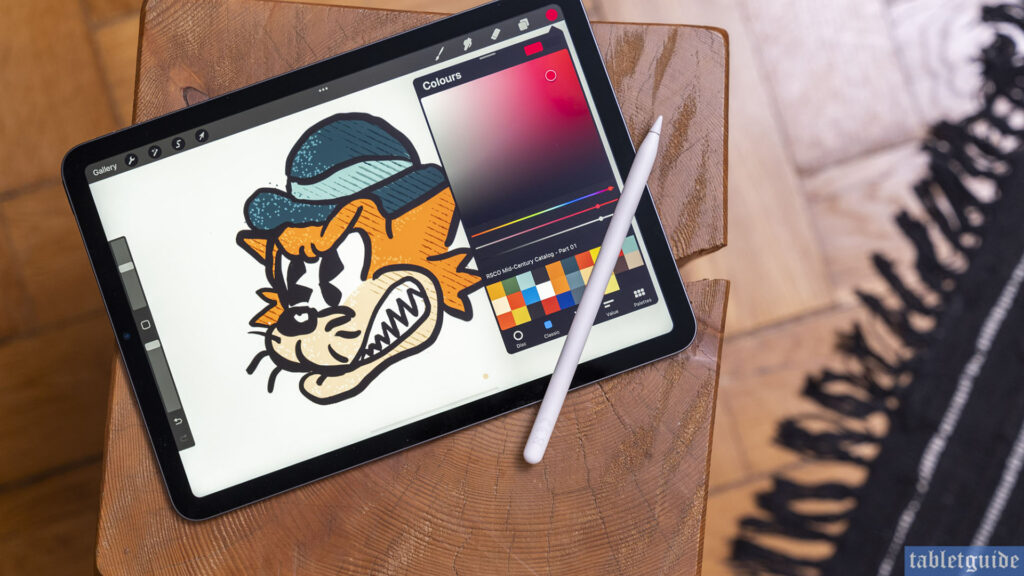 The new 5th Gen. iPad Air has got better than ever with the new Apple M1 chip. The M1 chip is the best SoC by Apple and was available only in iPad Pro.
That said, with a 60% faster device and 16-core neural engine, the 5th Gen iPad Air works great as a standalone drawing tablet.
What's more promising is it's price. Apple didn't increase it's price with better processor and cameras. It feature a 10.9-inch retina display with 2360 x 1640 resolution, 500 nits brightness, True Tone, and P3 wide color.
iPad Air 5th Gen is compatible with Apple Pencil 2nd generation. However, you have to purchase it separately including other accessories like Magic Keyboard. With faster than ever iPad Air, you can use apps like Procreate, uMake, and much more.
You can even draw your own social media selfie filter using iPad Air or create and render in 3D. However, you can always use standard drawing and graphic designing apps.
Whether or not you want to use iPad Air 5th Gen professionally, its other features and specifications make it a perfect tablet for all round needs. For example, a Wacom or Huion standalone tablet won't be a good fit for gaming, photography, video calling, etc.
9. Simbans PicassoTab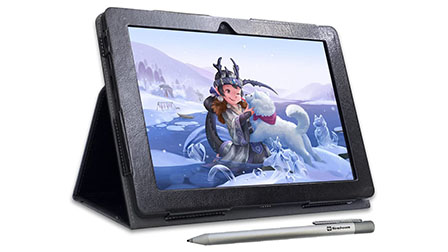 Looking for a versatile, standalone tab that can tackle all your drawing and workflow? The Simbans PicassoTab is the perfect pick with a stunning and durable design and affordable price range.
Pre-installed with all the important drawing and animation apps, the device is more of a plug and play kind of device.
Besides the tablet and the pressure-sensitive pen, the package comes with four bonus products, including durable and water and dust resistant tablet case, Drawing Glove, universal power adaptor and pre-installed screen protector.
Coming to the tablet itself, the Simbans Picasso tablet is powered by the MediaTek Quad-core processor, which streamlines multitasking and usability, especially when you are working with a graphics-intensive application. As for the display, the tablet is equipped with a 10" HD IPS display that renders crystal-clear visuals without any distortions.
As for the internal specifications, the tablet is integrated with 64GB built-in storage to keep all your artwork saved in one place. Furthermore, it is enabled with Wi-Fi connectivity for seamless data transfer. When it comes to the I/O ports, the Picasso tab is integrated with a USB Type-C port that caters to all your needs.
10. Microsoft Surface Pro 9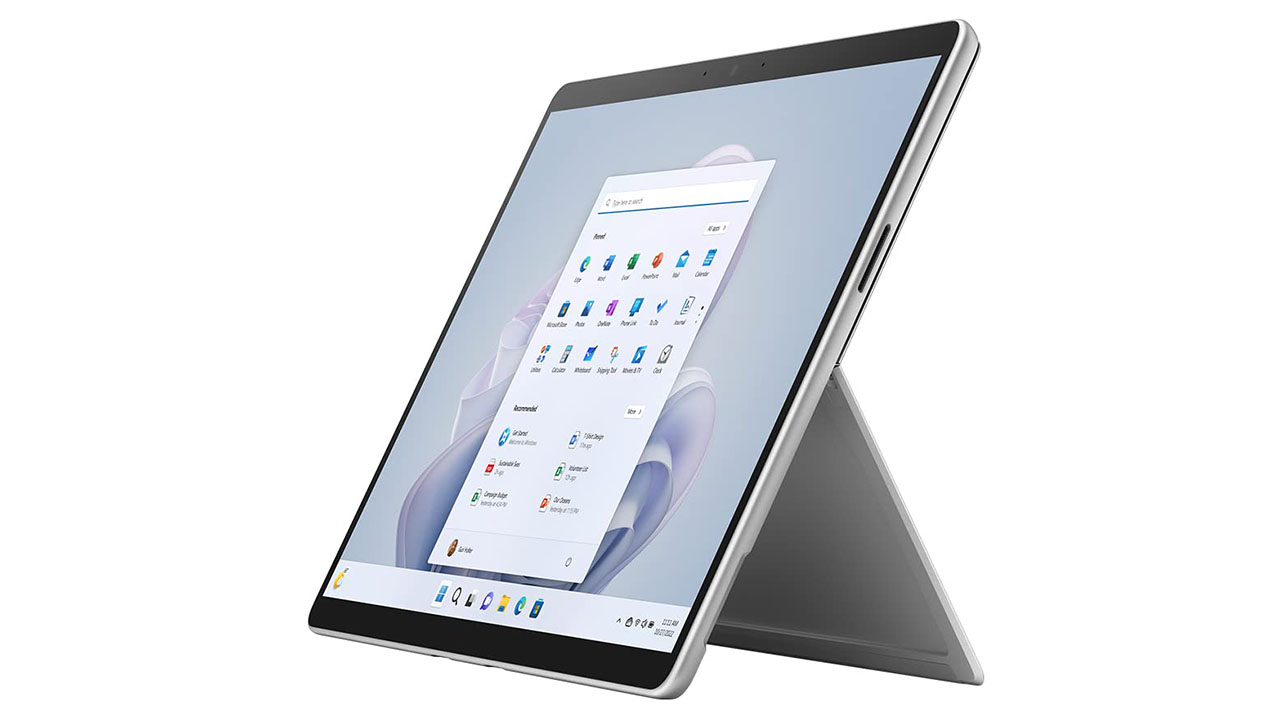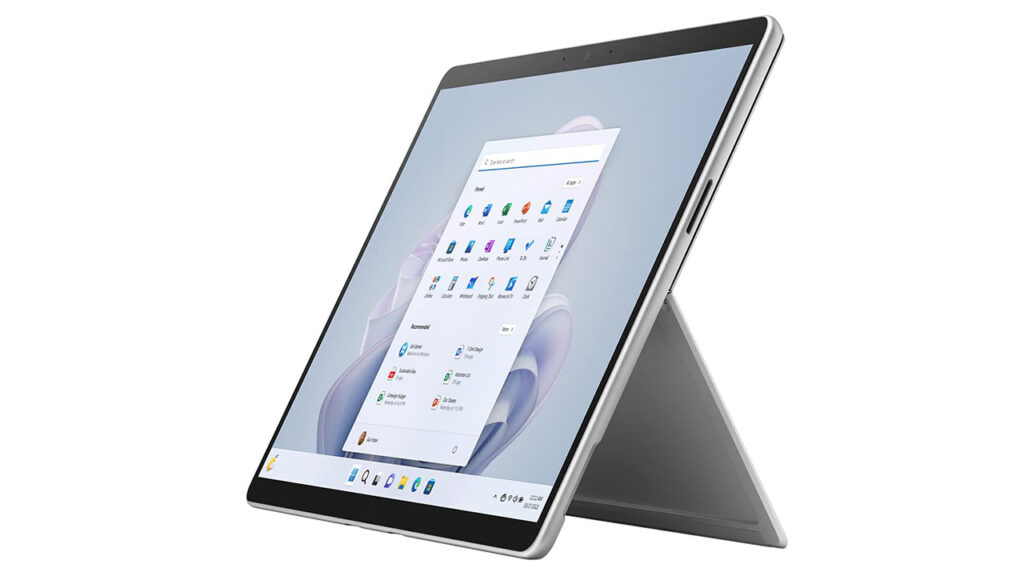 Microsoft's Surface series is one of their bestsellers and rightfully so. The launch of the new Surface Pro 9 came after a lot of wait but was definitely worth it.
The device comes with a flexibility of a tablet but the power of a laptop, packed into one.
Featuring a stunning 2-in-1 convertible design, the device can be switched from a drawing tablet to a PC in a matter of seconds. What stands out in the model is the 13" PixelSense touchscreen display that renders smoother visuals and takes your creativity up a notch.
The model is available in two variants – the Intel and Microsoft variants. The Intel variant is powered by the 12th Gen. Intel core processor while the Microsoft variant is powered by the Microsoft SQ 3 processor with 5G support.
As for the battery life, a single full charge lasts up to 19 hours with moderate usage, making it ideal for all-day productivity. It is also built on the Intel Evo platform, so there is no compromise on the performance, responsiveness and battery life.
The End Note
In order to be able to explore your creative capabilities to its maximum potential, a standalone drawing tablet is highly recommended since it comes with a host of latest features and advanced technology.
Even if it may be priced at a slightly higher range, it gives you the freedom to connect to the internet, pen down your ideas and sketch on-the-go. Most of the above listed tablets are easily portable and enable you to work from anywhere at anytime.
However, before you purchase a standalone drawing tablet, ensure to make a note of what it is that you are looking for most. Once you've listed out your requirement, it will be easier to pick a tablet basis your priority. This will also boost your productivity along with your creativity and ensure efficient outcome.