Are you planning to purchase a Pen tablet for drawing to make your work more seamless? With the plethora of Pen tablets in the market, it is uneasy to pick the right digital platform that could perfectly fit your requirement.
Shifting towards digital drawing from hand-drawing can be daunting, especially for the beginners. And things can become more vulnerable if you end up buying an inadequate digital graphics tablet because further, you won't be able to trust digital platforms.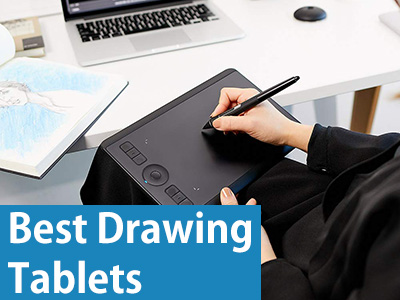 Before deciding on the Pen tablet, make sure that you evaluate your skills and needs. Thereafter, prepare a checklist and then hunt for the right tablet, which is actually made for you.
Don't forget to include your budget in the checklist so as to purchase the Pen tablet that offers maximum features in a minimum budget!
Over the years, drawing tablets has evolved dramatically. Be it the design of the tablet, express-keys, pen, and handiness while carrying the tablet. Thus, making the right choice can be devastating for your mind as there are so many brands offering graphics tablets in the market.
If you are looking for the trending Pen tablets with the best features and price, then we've got you covered! In this article, we'll share top 10 best Pen tablets for drawing, accompanying their key specifications along with pros and cons in order to give you a brief overview of every tablet. So that once you jump into the competitive market, you have an idea of the top Pen tablets and make the right choice as per your requirement.
Best Pen Tablets For Drawing 2021 (Top 10 Picks)
Lots of graphics tablet brands are there in the market like Wacom, Huion, XP-Pen, Gaomon, UGEE, Parblo, etc… and each of those brands have lots of pen tablet models. And that makes it difficult and confusing for us to choose the perfect one that best values our spending. To make it easy for everyone, we have researched and listed down the top 10 best Pen tablets for drawing in 2021.
1. Wacom Intuos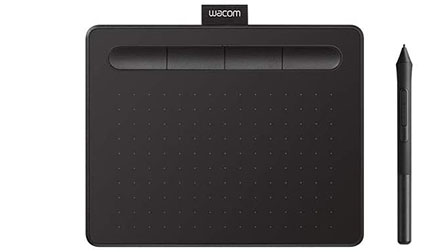 Wacom Intuos is one of the best pen tablet that is available at a breakthrough price with powerful and robust features.
It is specifically designed for the first-timers as it provides you with greater flexibility to draw, write and paint seamlessly with its 4k-sensitive pen. This innovative pen gives you a realistic experience, making your art more elegant and beautiful.
S: 6.0 x 3.7 | M: 8.5 x 5.3 inches Active Area
4 Customizable Press Keys
4096 levels Pressure Sensitivity
Wacom 4K Pen
2540LPI Resolution
More so, Wacom Intuos is available in striking color – whether you are in the office or in your drawing room, you can carry this sleek and ultra-stylish tablet everywhere. The large active area allows you to stretch your creativity to the edges of this amazing graphics tablet as per your convenience.
Wacom Intuos aims to deliver you a better experience as it offers a unique pen holder with four express keys, enhancing your productivity by allowing you to work freely.
However, Wacom Intuos is available in four models, so if you are planning to choose the Bluetooth model, then connecting your desktop will make the transfer of files between your computer and tablet hassle-free.
In addition, Wacom Intuos offers a wide range of drawing software that allows you to utilize the one that seems comfortable to you. You can also add software, if any, by paying a certain amount.
If you are a Corel Painter, then Wacom Intuos is all that you need! It offers award-winning painting features along with high-tech brushes that make your paintings more real to people and eye-striking.
2. Huion Inspiroy Keydial KD200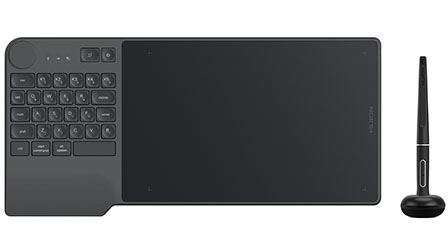 The innovative and inspiring Huion Inspiroy Keydial KD200 is one of the best pen tablets for 2021 and there are valid reasons to support the same.
The design of the tablet has made it win several prestigious international awards that stand as a testimony to its popularity and high demand.
8.9 x 5.6 inch Active Area
5 Programmable + 23 Standard Keys + 1 Dial Controller
8192 levels Pressure Sensitivity
PW517 Battery-free Pen
5080LPI Resolution
It's a dream device for creatively inclined professionals with the seamless integration and tuning of the tablet with the dial controller and the keyboard. KD200 means increased flexibility and freedom from the hassle of handling a separate keyboard.
Designed to heighten operational efficiency and productivity by minimizing confusion, this pen tablet from Huion is your answer to all the problems. It is the first tablet to support flawless in-built Bluetooth 5.0 connectivity and take art to a new level.
It's digital pen, PW517, is based on battery-free technology and PenTech3.0 and is developed for the best digital drawing experience. 8192 level of pressure sensitivity and the ability to create perfect stokes even in the tilted position makes it the best choice for artists.
3. Xencelabs Pen Tablet Medium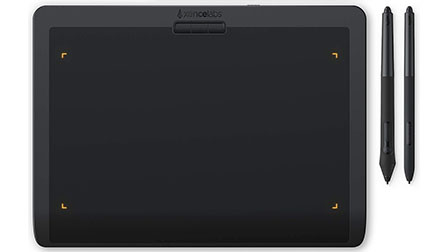 Designed with the ultimate aim of delivering seamless creative abilities to artists, Xencelabs Pen Tablet Medium is one of the best pen tablets that you can surely go for.
A look at the tablet will convince you about the amount of attention that has gone into making it comfortable and user-friendly by keeping functions and operations minimal and simple.
10.33 x 5.8 inch Active Area
8192 levels Pressure Sensitivity
Thin Pen and 3-Button Pen
It is very slim and sports an ergonomic-friendly profile to make sure not to cause stress during a longer duration of usage. It comes with two different pens with varying sizes to make the working experience more unique with a thoughtful touch.
The pens are fully customized with the help of three programmable buttons and there is also an eraser button. The correct pressure sensitivity of the pen allows them to meet the tablet screen and gives you better control over your art and creation. It also includes an innovative quick Key remote that helps to conveniently use 40 programmable shortcut keys.
4. XP-Pen Deco mini 7W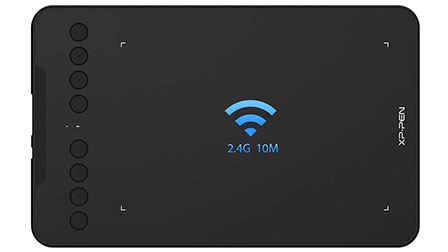 Another worthy product in this category is the XP-Pen Deco mini 7W. It is very sleek and compact and it adds to the overall productivity and potential of the users.
Its portability meets with stable and powerful 2.4 GHz wireless connectivity to enhance the freedom and mobility of the users. It comes with an efficient Battery-Free Passive Stylus P05D that makes every idea turn into a reality.
7.0 x 4.37 inch Active Area
8 Shortcut Keys
8192 levels Pressure Sensitivity
P05D Battery-Free Passive Stylus
5080LPI Resolution
It can perform with great accuracy and without any interruption. It gives every digital art a distinctness of its own by making every line and stroke visible. The pen works effortlessly on the surface of the tablet without any lapse to ensure the best experience.
Extensive battery life along with the availability of USB-C Port and easy compatibility with the latest platforms and software gives XP-Pen Deco mini 7W an edge over the others.
5. Wacom Intuos Pro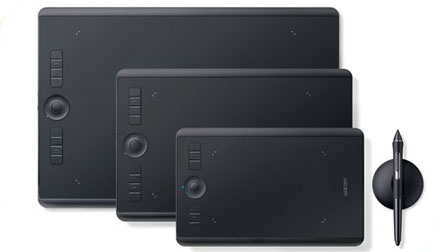 Wacom is undoubtedly a leading brand when it comes to graphics tablets. But recently launched Wacom Intuos Pro is setting a new professional standard in the drawing tablet sector.
According to Wacom manufacturers, Intuos Pro is the handpicked pen tablet they've ever introduced in the market to date. Featuring Wacom Pro Pen 2 and the compact design of the tablet, giving you a large area makes it one-of-a-kind.
S: 6.3×3.9 | M: 8.7×5.8 | L: 12.1×8.4 Inch Active Area
8 Customizable Press Keys
8192 levels Pressure Sensitivity
Wacom Pro Pen 2
5080LPI Resolution
Wacom Pro Pen 2 gives natural and precise work, which is unmatchable! You can also consider the pen as your hand extension because of its incomparable responsiveness and sensitivity, giving you complete control to turn your creative imagination into reality on this digital graphics tablet.
The pen is exclusively made to give you a seamless experience so that you could work dedicatedly towards your passion. However, the Wacom Intuos Pro is offered in two sizes
Medium, which gives you great portability and easiness to carry this tablet wherever you go.
Large, which gives you great space for working as you are drawing on your desktop.
Wacom Intuos Pro offers a wide range of accessories, especially for the beginners, who first want to try on a paper and then move to the digital world.
Wacom Intuos Pro offer customizable keys alongside multi-touch gestures, allowing you to work more proficiently. More so, downloading drivers on Wacom Intuos Pro is very easy and seamless as well. You'll find no haggle in the process. Tablet is extremely compatible with Windows and MacOS, providing you connectivity options as like Bluetooth, USB, etc.
6. XP-Pen Deco 01 V2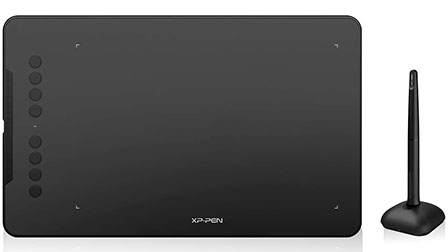 Being available at most of the e-commerce sites, XP-Pen Deco O1 V2 proves the efficacy of the gadget. The company has been providing the customers with plenty of mind blowing features.
XP-Pen Deco 01 V2 is highly compatible with vast options of marvelous designer programs viz. Photoshop, SAI, Painter, Illustrator and Clip Studio.
10 x 6.25 inch Active Area
8 Customizable Press Keys
8192 levels Pressure Sensitivity
P05 Battery-free Pen
5080LPI Resolution
This is a great present to the artists who want to excel in their career as artists and painters. A great help to designers who love to hone their skills in the field. This big and brilliant tablet offers a drawing area of 10 x 6.25 inch along that enable you to work seamlessly.
The digital pen of XP-Pen Deco 01 V2 offers 8192 pressure levels that enable you to design easy strokes and lines. Thanks to 8 fully customizable express keys, this creates a convenient work platform for designers.
Apart from all these magnificent options to provide, the gadget has a great deal of other options to offer. XP-Pen Deco 01 V2 has now adopted High Tech IC that allow you to make smoother lines and the Deco lights up on the end of the drawing area, so you can also create designs in darkness.
7. One by Wacom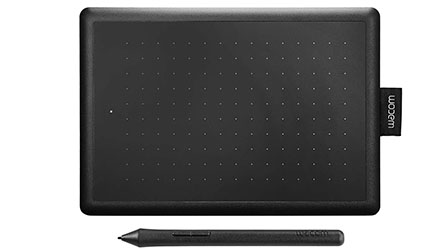 Featuring advanced electro-magnetic pen technology, One by Wacom is one of the top sellers presently.
The ergonomic and battery-free stylus offers amazing pressure sensitivity for smooth drawing experience. The device comes with two size variants of small and medium.
S: 6.0 x 3.7 | M: 8.5 x 5.3 Inch Active Area
2048 levels Pressure Sensitivity
Wacom LP-190K Pen
2048LPI Resolution
The small size of One by Wacom is compact and portable making it suitable for small workspaces, whereas the medium size is designed to provide more drawing area.
With a USB cable, this device connects easily with Mac or PC supporting OS x 10.10 or above and Windows 7 or above. This device is also compatible with many designing software like Adobe Photoshop, Corel Draw, Manga Studio, Clip Studio Paint, and more.
Starting for around US$60, this product is a good steal for beginners and a useful tool for video editing and basic designing requirements. The product also comes with a 1-year warranty but it may vary depending on your location.
8. XP-Pen Deco mini 7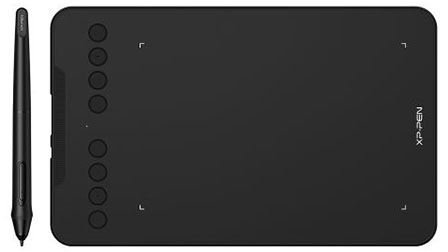 XP-Pen Deco mini 7 is a compact drawing pen tablet with an active area of 177.8 x 111.1 mm and 8 customizable ExpressKeys.
The device is further accompanied by a battery-free passive stylus P05D supporting 60 degrees of tilt action and pressure sensitivity level of 8192.
7 x 4.37 Inch Active Area
8 Express Keys
8192 levels Pressure Sensitivity
Battery-Free P05D Passive Stylus
5080LPI Resolution
The device comes with a USB-C port for easy connection with iMac, MacBook Pro, and Windows. It is compatible with Windows 7 and later versions and OS X 10.10 and later versions. The Deco mini 7 also is compatible with more than 20 advanced software including Photoshop, SAI painter, Corel Draw, Krita, Medibang, Fire Alpaca, and Blender 3D.
The XP-Pen Deco mini7 is now available on the official website for US$50 with 18 months of manufacturer warranty. With assured brand quality, this product is quite affordable given its features making it a good choice for beginners as well as seasonal designers.
9. Huion Inspiroy H640P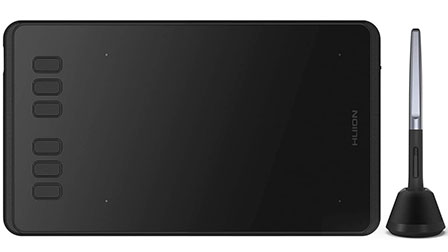 Huion is a leading company that offers exceptional graphics tablets to the market. However, Huion Inspiroy H640P is proving to be the finest tablets ever than before.
Huion Inspiroy H640P is designed with great elegance and is 8mm thick, which is thinner than a smartphone along with the 6.3 x 3.9-inch display area.
6.3 x 3.9 inch Active Area
6 Customizable Express Keys
8192 levels Pressure Sensitivity
PW100 Pen
5080LPI Resolution
The durable surface of the tablet is very smooth, enabling you to turn your imagination into the reality that too without any hassle. Such a convenient size for the creation and 6 customizable keys gives you great flexibility and comfort while drawing, sketching or writing.
The pen of the Huion Inspiroy H640P is very admirable because pen is the only thing that often designers look for. And Huion has just nailed this part! Huion Inspiroy H640P introduces the newest generation of electromagnetic technology in their pen, which can do wonders for your creativity!
This battery-free pen keeps you away from unnecessary stress of charging again and again. The 8192 levels of pen pressure sensitivity give you the feel of natural experience while drawing or sketching.
More so, the pen is extremely is lightweight- just 16g- made up of wearable silicone for a gentle feel. The pen is also equipped with dual buttons, which again gives you the ability of customization.
Huion Inspiroy H640P offers very responsive trajectory induction technology so that your every moment of handwriting will be efficiently displayed on the screen in no time. Like other tablets, Huion Inspiroy H640P is also compatible with top operating systems Windows and MacOS.
10. GAOMON M1220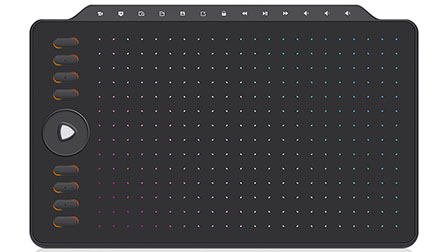 If you are a fan of pen tablets, then GAOMON M1220 will surely make a difference to you.
Its smart and handy styling coupled with innovative technology and features makes it one of the best pen tablets for drawing. Artists can pour all their ideas and concepts on the surface of the tablet and give them the exact desired shape.
10.17 x 6.36 inch Active Area
8 Shortcut + 13 Multimedia Keys + Touch Ring
8192 levels Pressure Sensitivity

Artpaint AP32 Pen

5080LPI Resolution
This is made possible by the high accuracy and fluidity of the battery-free Artpaint AP32 digital pen. The pen supports ±60° degree tilt function and 8192 levels of pressure sensitivity that allows the creations to retain naturalness to them.
The pen comes with a nice pouch for safe storage. Users will love the complete lag-free navigation of the pen that supports 266 points per second report rate. 13 function keys, 8 express keys that can be programmed and a touch ring to use as a redial menu make for a complete package to enhance the overall effectiveness of the device.
What to look for in a Pen tablet?
This entirely depends on the consumer; however, we've highlighted some common, yet important features that one should take into account while deciding on a Pen tablet for themselves.
Working Area
The working area is considered as the foremost factor while choosing the Pen tablet. This area is very important as your artwork will be reflected on the screen. So it is vital that the working area of the tablet suit the needs of the artist.
Generally, an artist prefers to work on a large screen, but some love the flexibility and that only a small size tablet can provide. Fortunately, there is a mid-sized tablet as well that might suit the needs of everybody!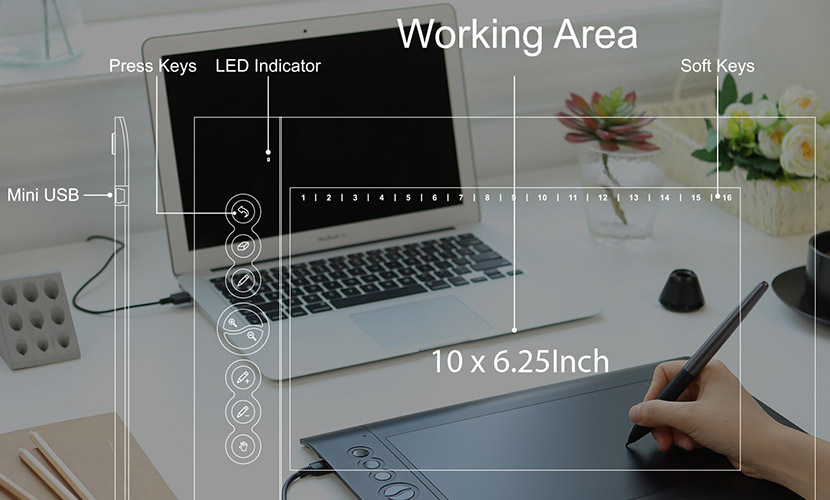 So it completely depends upon your choice whether you are always on the go, or you stay at one place or you are a beginner. Once you understand your own habits and way of working, only then you can pick the right working area for drawing, sketching and painting.
Pen
Another crucial aspect that designers should take into account is the pen. The pen is the core part that helps you perform well, boosting your overall work efficiency. So it is advisable to check whether the pen gives you comfort and ease while drawing, sketching or painting.

Then comes pressure sensitivity, you have to check the pressure sensitivity of the pen from a wide range of options as it helps you to create thin lines, thick lines, fine details and everything that you require to make your art one-of-a-kind. When you get high-pressure sensitivity, the pen will give you a more natural feeling.
OS/Software Support

Many tablets offer top designing software that is ready to install in your desktop when you are setting up the tablet in order to make the transition of designers from sketchbook to system much seamless. It can be Adobe or some other application, depending upon your tablet service provider.
This ultimately saves you money as you don't have to make unnecessary purchases for third-party software. But it is advisable to ensure that your tablet is compatible with the operating systems- Windows and MacOS.
Press Keys
Most of the Pen tablets offer express-keys, which is an extension to your hand. You can customize these keys as per your convenience for scrolling up and down, zooming in and out, and a lot more. However, how many press keys you'll get completely depends on the brand that you'll choose, but commonly there are 4 express keys that companies usually provide.
These keys are an efficient way to save the time of designers as it helps you switch through features, settings, and more instantly, make your whole experience seamless and streamlined. However, your memory should sharp enough to memorize the function of each key in order to make your artwork more efficient.
Conclusion
Researching the best Pen tablets for your project should not only be capable enough to satisfy your needs, but it will also make your overall experience full of pleasure. Make sure you don't overlook the small differences in each tablet as it can make a big difference. However, the above-mentioned are my hand-picked tablet along with their features, pros, and cons in order to give an appropriate idea, which will best suit your needs.
Ideally, choosing a reliable, fast, and affordable Pen tablet for drawing is not easy as there's so much of competition in the market. You may get in turmoil while looking at the wide range of tablets. But I hope the above tablets will help you get through the situation seamlessly.
Every tablet has something unique to offer, but they'll also have their own downsides. Therefore, it is recommendable that when you are about to purchase a new tablet, you go through our reviews and specifications in order to understand what best suits your needs.
Now keep all your stress and worries aside when it comes to purchasing the best Pen tablet. You can note down the name of the above-mentioned tablets, their key specifications, pros, and cons, and make the right choice as per your requirement and convenience. This will not only save you time but also money as you don't end up making a regretful decision.