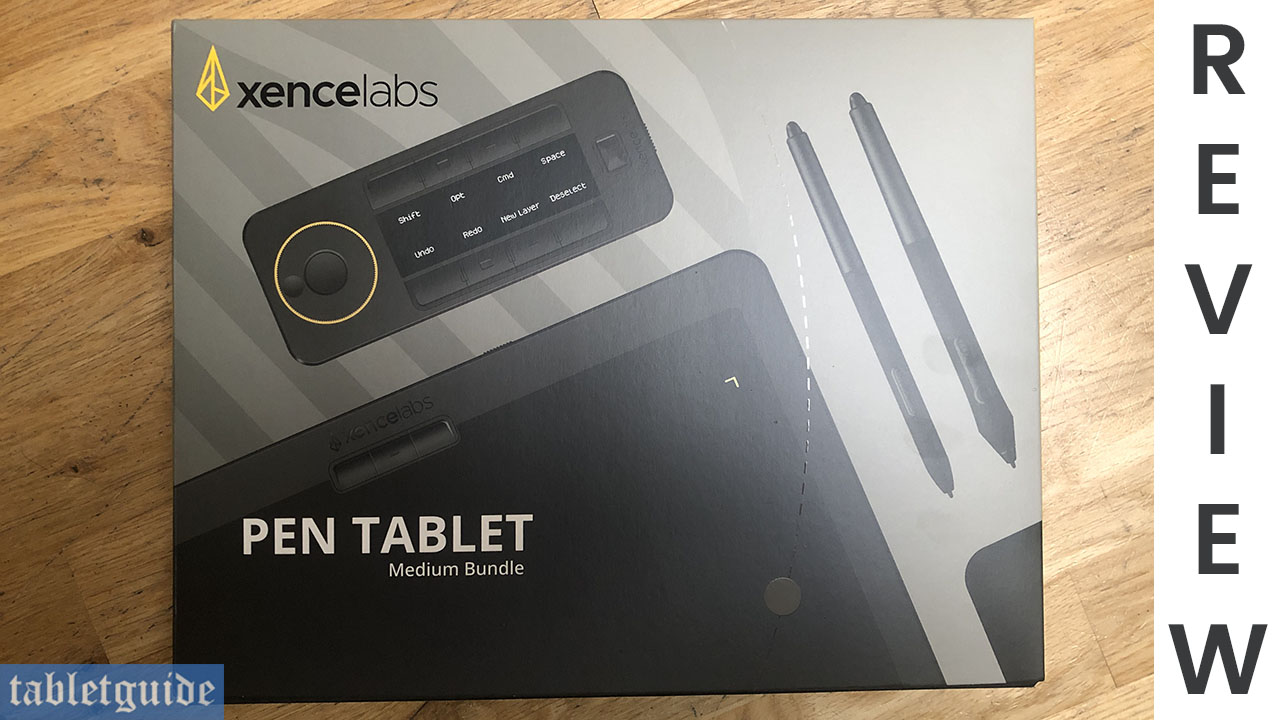 Once upon a time, if you wanted to purchase a decent graphics tablet, there was really only one brand to turn to… Wacom.
Fast forward a few years and the market is littered with companies all vying for your hard earned designer pennies… from XP-Pen to Gaomon, Huion to Ugee and others, there's a tablet of various sizes and functionality to suit your needs and budget.
One of the latest entrants into this now crowded arena is Xencelabs (pronounced 'sense-labs'!). Apparently made up of some ex-Wacom employees, they released their first tablet not too long ago and it's this one we are taking a look at; the Xencelabs Pen Tablet (Medium Bundle).
In the box:
Quick Keys Remote, Carry Case, Pen Case, 3 Button Pen, Thin Pen, 6 Standard Nibs, 4 Felt Nibs, Nib Extracting Ring, USB-A to USB-C Adapter, Dongle, Cable L, Drawing Glove, Quick Guide / Thank You Card, Triangle Sticker and a Warranty Card.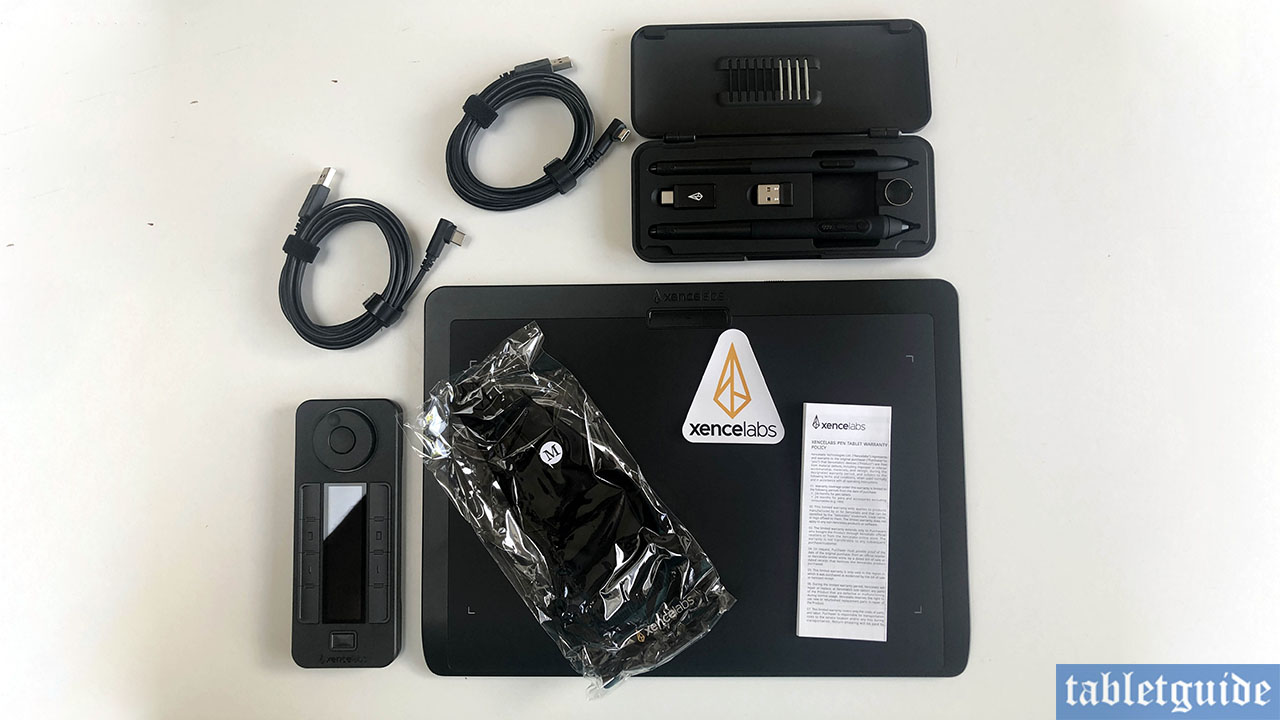 Everything about this product is sleek… from the box design, with its angled images of the contents therein and its cool looking black and yellow colour scheme aesthetic, to the way you slide out the black inner box to its flip top lid revealing the goodies inside, it just feels and looks… sleek. 😊
I liked the large 'Thank You' card that's greets you on opening up the box – turn it over and you get a quick overview on setting up the device and where to get the drivers.
Taking the tablet out from its protective sleeve is when you first realise just how premium this thing actually is… its slightly heavier than it looks but the build quality is superb. Same goes for the Pen Case.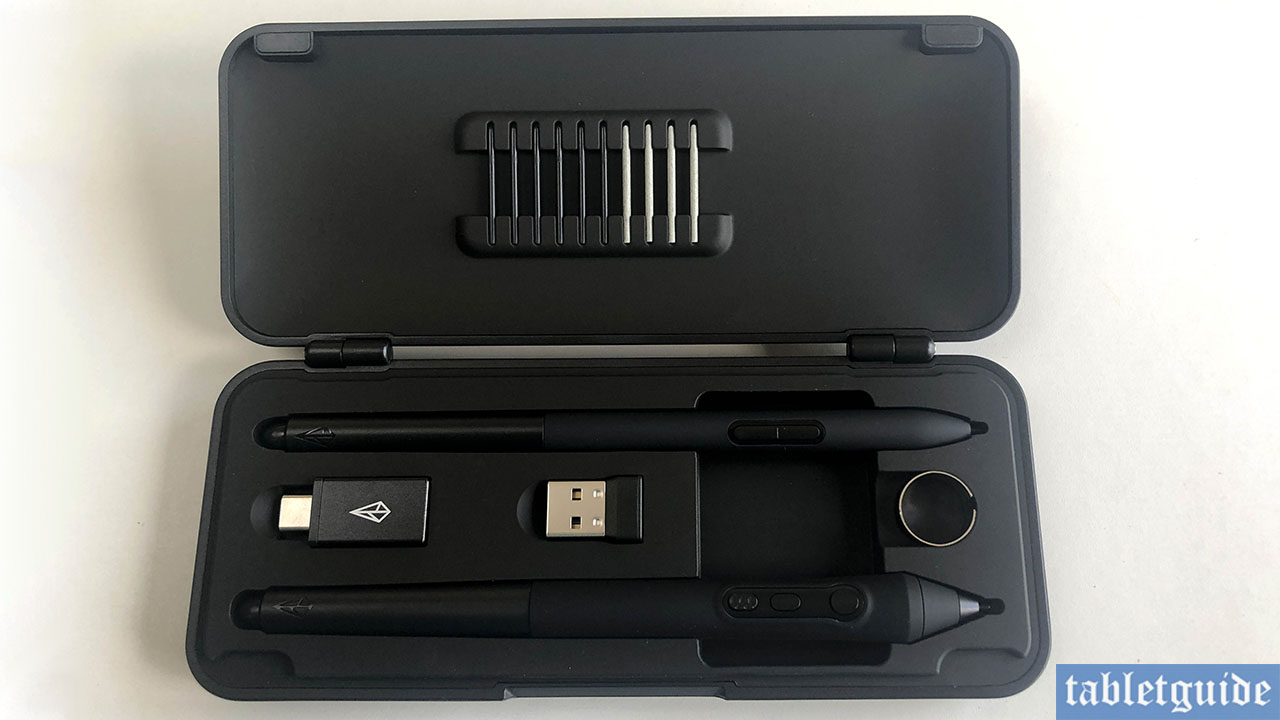 It has a really nice… sleek (that word again!) feel to it and just feels 'expensive'! Inside you get two, count 'em, two pens – one thin, one normal sized with the latter having three buttons and the former coming with the more customary two buttons – all fully customisable in the driver software.
Both come with an 'eraser' on the top and they too feel really nice to hold – these guys have really done their homework on this product – great stuff.
You have two choices for connection: USB-C or Wireless – both worked flawlessly.
Another nice touch is the addition of a protective 'pouch' to carry this tablet and its accessories to and from the office, café or pub etc in pristine condition – it has a large flap at the front with the Xencelabs logo displayed there – perfect for showing off you're a proud owner of one! 😊
The coolness doesn't end there! A 'Quick Keys' device is also provided, enabling you to switch between up to 40 (programmable) shortcut keys toggle through application/software/app-specific functions like Zoom In/Out, Add New Layer, Adjust Brush size and more – it makes working in something like Photoshop effortless!
So – down to business:
The Xencelabs Pen Tablet Medium Bundle is a comprehensive digital art solution that promises to elevate your creative workflow to new heights.
Combining a sleek and responsive pen tablet with a range of innovative features, this bundle aims to cater to the needs of both professional artists and aspiring enthusiasts.
In this review, we'll explore the key aspects of the Xencelabs Pen Tablet Medium Bundle and assess its performance, functionality, and overall value.
Design and Build Quality:
The first impression of the Xencelabs Pen Tablet Medium Bundle is its sturdy and ergonomic design. The tablet boasts a generous working area of medium size, in 16:9 format matching most monitor sizes.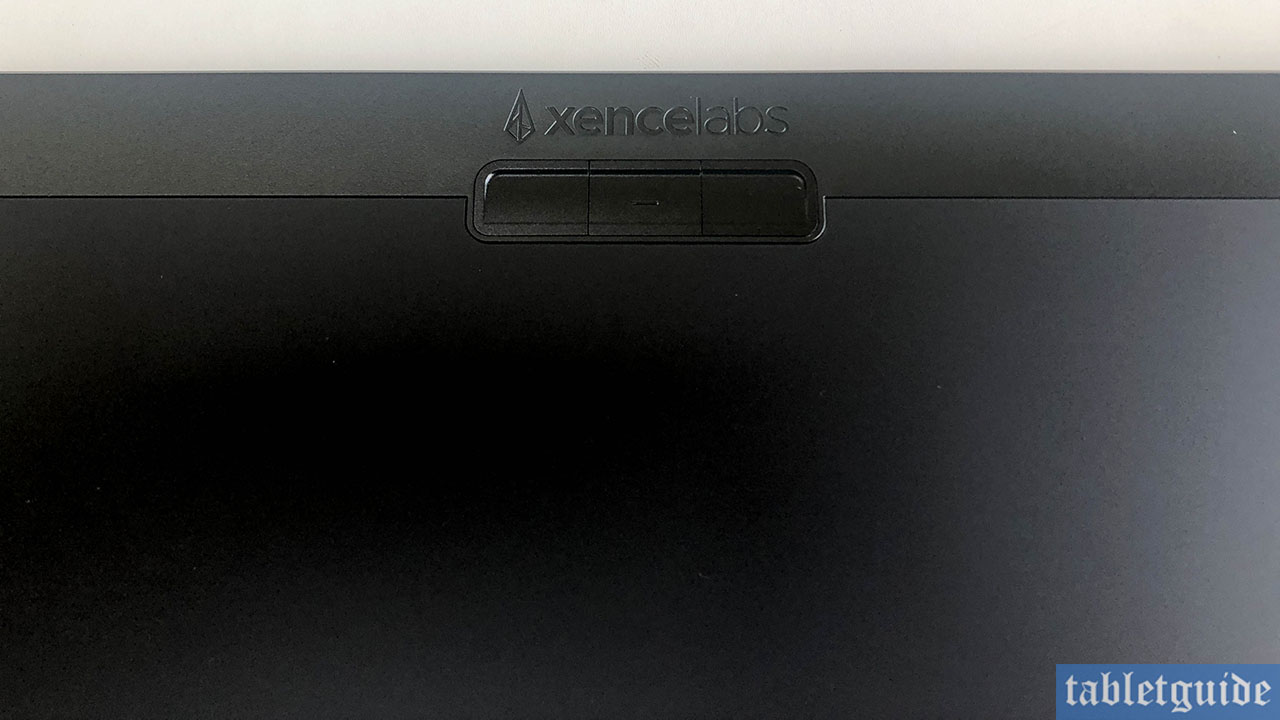 The matte finish and well-placed three top shortcut buttons contribute to a premium (sleek!) look and feel. The curved palm rest at the bottom ensures that drawing for hours on this won't hurt your wrists!
Pen Performance:
One of the standout features of the Xencelabs Pen Tablet Medium Bundle is the pen's exceptional performance. With 8,192 levels of pressure sensitivity and impressive tilt recognition, the pen provides an incredibly accurate and natural drawing experience.
It effortlessly captured the subtlest nuances of my strokes, allowing for precise control and detailed artwork. It really felt like the pen slid over the tablet surface with ease.
As you'd expect, lines tapered off nicely, even when drawing quickly or 'flicking' with the pen and pressing harder created thicker strokes and vice versa – as with other devices, I prefer to draw with the felt nibs – it just feels 'smoother'. The build quality of the pens too is fantastic.
Tablet Features and Functionality:
The Xencelabs Pen Tablet Medium Bundle is equipped with a host of features:
Quick Keys Remote:
The Quick Keys Remote is fab. Its OLED display and physical dial allow you to create up to 40 shortcuts per application and group sets of related functions like sketching, colouring, drawing and editing etc.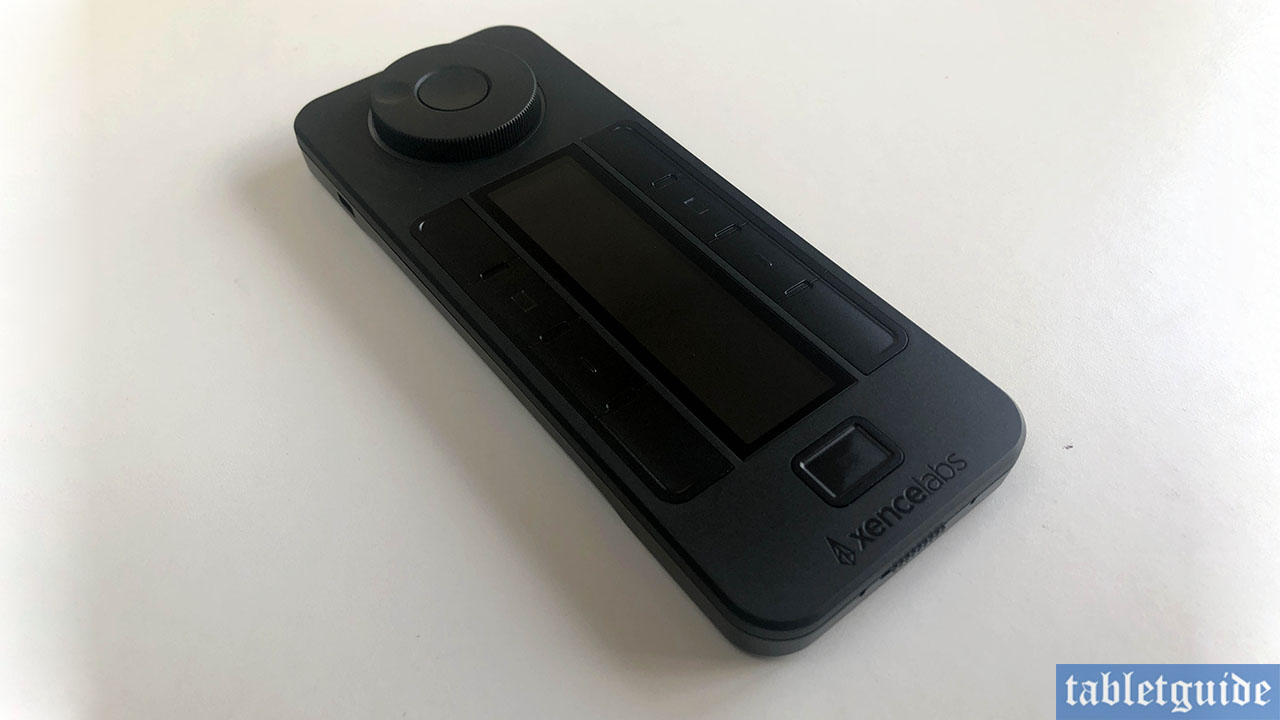 Again, the build is of high quality and its about the size of a mobile phone. Using the programmable dial you can quickly shift between actions like 'Zoom', 'Layers' & 'Brush Size' etc. There's a nice 'feel' to both the dial and the button.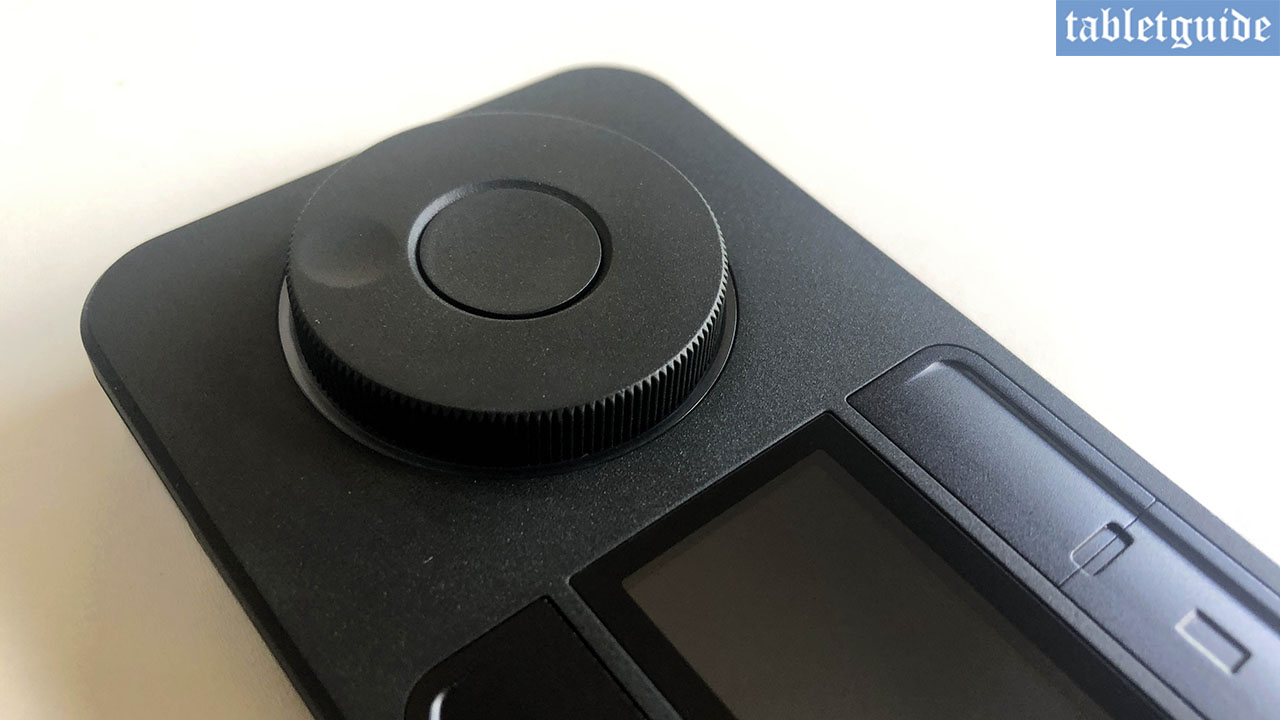 The OLED display makes it a cinch to remember what keys are assigned to which shortcut and you can even change the dial colour (like the tablet) to help identify what function or App you're in!.
The text and symbols can be read both horizontally or vertically. It also boasts an adjustable 'Sleep Timer'. You can use it either wired or wireless.
The remote should work for 25-53 hours with a 1.5 hours charging time and is compatible with both Right-hand or Left-handed users! 😊
Driver Software:
The Xencelabs driver software is nicely designed and simple to navigate. Whether you have just the tablet, or the tablet and remote key combo, each device was picked up and/or detected with no problems.
Here you can adjust both pens pressure sensitivity (this is where having two pens is a cool idea – each one can have different pressure settings depending on how you like to work i.e. one can work as a thick brush, the other a light pencil feel).
You can change this either via the scroller from 'Soft' to 'Heavy', or in the 'Advanced Settings' section whereby you simply press down/scribble on the tablet until you find the sweet-spot to your preference.
Both pen buttons can be customised to your hearts content, but the default settings do the job e.g. the thicker pens top button is 'Undo', the middle button is 'Double click' and the bottom button is 'Right Click' (the top is 'Eraser'!).
Battery life for each device is displayed, so if you're running out of juice, simply plug in the device for a top-up.
The corner lights of tablets drawing area can be customised – there's 8 colours to choose from, all of which can be dimmed/brightened. The 3 buttons along the top of the tablet can also be customised here.
You can have different settings for each different app i.e. you can have certain settings for Photoshop, but maybe a different setup for Illustrator or Clip Studio Paint etc – the skys the limit!
The Quick Key Remote can also be customised here. You can have up to 5 'sets' of different key shortcuts, so for example you can have one lot set up for drawing, another set for painting or photo editing etc.
It's a simple task to update the shortcuts as the driver software makes it so easy to do with the picture of the Quick Key Remote on top of each relevant numbered shortcut – that'll make sense once you see it in action!
If you make a complete hash of things or get confused by what you've done (there's a lot to change!), you can reset everything back to default with the handy 'Reset' button.
User Experience:
Using the Xencelabs Pen Tablet Medium Bundle is great for artists/designers of all levels. The tablet's surface provides an immersive drawing experience, accurately translating what I drew onto the screen.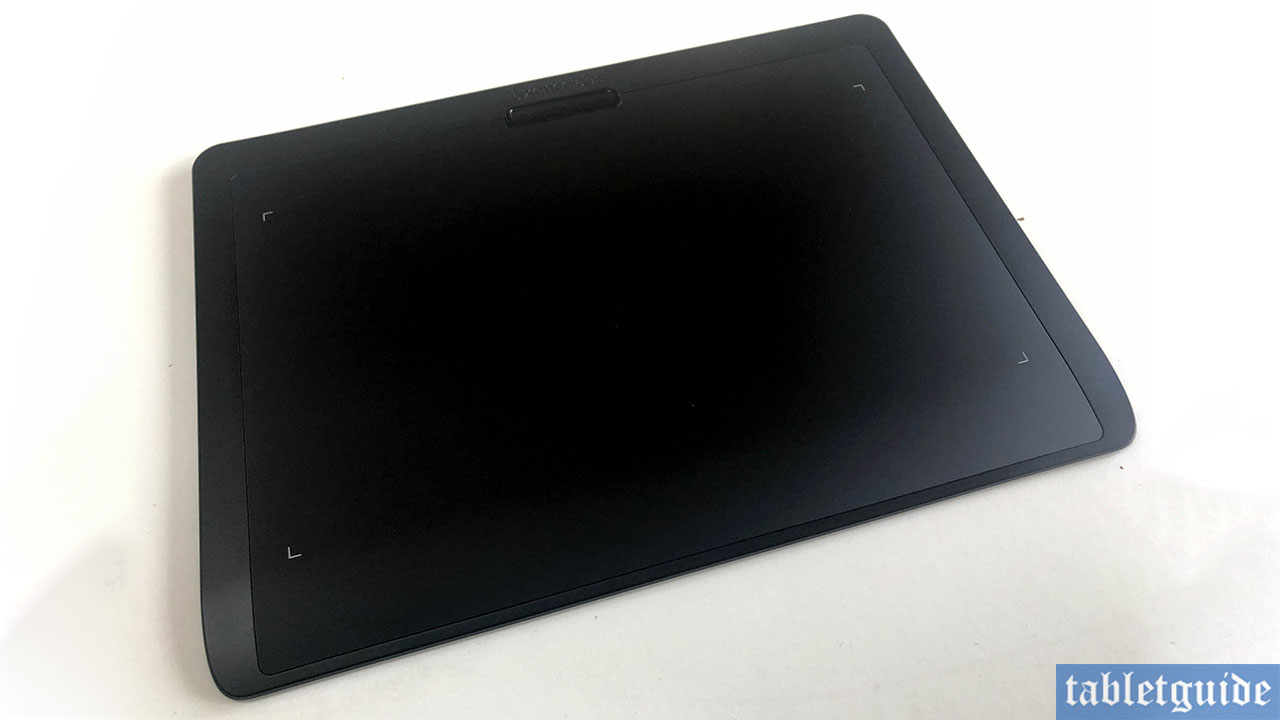 The shortcut buttons and touch ring on the Quick Key Remote enable effortless access to frequently used commands, reducing the need to switch back and forth between the tablet and keyboard.
The bundle's intuitive interface and user-friendly design make it accessible even to those new to digital art, while professionals will appreciate its advanced capabilities.
Value for Money:
The Xencelabs Pen Tablet Medium Bundle offers excellent value for its price point. Priced competitively within the mid-range segment, it delivers performance and features that rival higher-priced alternatives (I'm looking at you Wacom!).
The inclusion of the Quick Keys Remote adds value by expanding customization options and enhancing workflow efficiency.
Moreover, the bundle's durable build quality and reliable performance make it a worthy investment for artists looking to upgrade their digital art setup. You won't regret buying (or using!) this in a hurry!
Conclusion:
The Xencelabs Pen Tablet Medium Bundle is a powerful and versatile digital art solution that caters to the needs of artists across various skill levels.
Whether you're a professional seeking a reliable and feature-rich tablet or an aspiring artist looking to dive into the world of digital art, the Xencelabs Pen Tablet Medium Bundle is an option worth considering… you could say it makes total 'xence' to purchase it! 😊
System requirements:
Windows 7 or later, Mac OS X 10.12 or later, Linux; wireless or cable connection requires USB Type-A port (includes Type-C adapter). It comes with a 2 Year Warranty.
At the time of this review, Xencelabs has unleashed a new 24" Pen Display to the market and already has received rave reviews by those who have used/tested it.
As mentioned at the start of this review, there is so much choice out there now for digital creatives than before, but with products like this coming out from Xencelabs, it's exciting times ahead for the creative community!