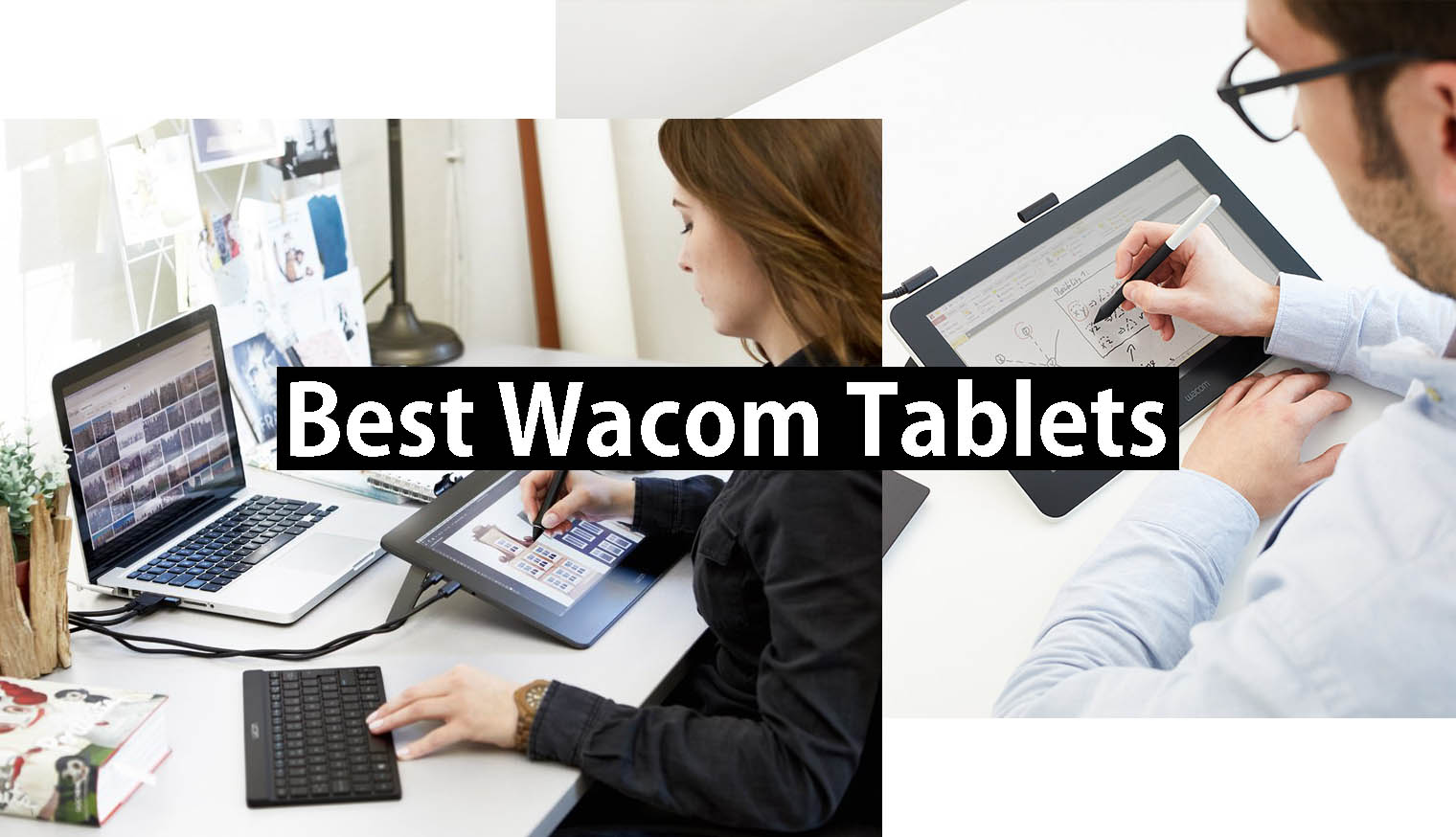 Graphics tablets are a necessity for 3D artists and designers to draw and interact with the computer using a pressure-sensitive pen, which is far more accurate and natural than using a mouse or track-pad. Besides, a comfortable and efficient graphics tablet can completely transform the work experience and art quality.
Wacom has addressed the needs of its consumers by offering a diverse range of premium graphics tablets for digital artists to transform their creativity and imagination.
Wacom Pen tablets, Pen displays and Pen computers offers numerous features to enhance the designing experience and bring out the best in you.
Nevertheless, when it comes to selecting the right product it can be quite overwhelming to come across various options with different features and price ranges. This article will provide you a quick walk-through and help you find your perfect designing product.
But before glancing through the products, it is important to understand your requirements. Identifying the required key features can easily help to narrow down options and choose the right product. Another crucial factor to take into consideration before settling for anything is your workspace. Once you have these sorted you'll be able to find the right product quickly.
Best Wacom Tablets 2023
Wacom graphics tablets are a perfect blend of sleek design and advanced technology you can wish to get in 2023 making it the go-to choice of professionals across the world. Digital art, films, special effects, fashions, and more have been created using the premium range of Wacom products.
Whether you are a beginner, student, or seasoned designer, with Wacom's premium series you will be able to find the right product to enhance and upgrade your artwork.
Diving right into Wacom's fantastic range, we have the Wacom Pen tablets series. It offers 3 different options to choose your best fit. Next up is the Wacom Pen Displays collection which features 4 different variants.
Another excellent product available to us in 2023 is the Wacom Pen computers featuring Wacom MobileStudio Pro with its powerful new features. To help you select the right product we will discuss all of these in detail below.
Wacom Intuos For Beginners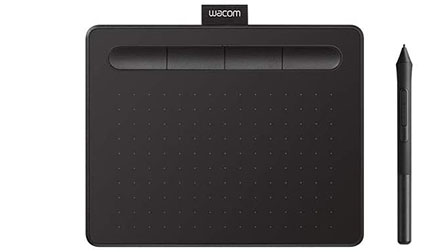 Wacom is a pioneer brand when it comes to tablets, so it isn't surprising that the brand has gone above and beyond to create something that caters to the needs of every year – beginner and advanced.
If you are considering getting one for entry-level usage, the Wacom Intuos is a great one to start with. Available in two different sizes, this graphics tablet features a refreshed and vibrant design.
Besides the tablet, the highlight of this device is the pen that comes with it. Working with the pen feels natural, thanks to the 4K pressure levels and ergonomic design. The pen has battery-free operation as well. Also, the tablet is backed with 4.2 bluetooth connectivity for responsive performance.
Buying and configuring the tablet also provides the users easy access to four creative applications, including Corel Painter Essentials 8, Corel Aftershot 3, Boris FX Optics and UDM Paint Pro. The tablet is also compatible with Chromebook, enabling you to expand your creativity to the next level.
Whatever drawing style, this graphics tablet and pen can accommodate your art and flair without imposing any restrictions.
Reasons to buy:
Available in two size variants
Easy set-up and compatibility with Chromebook
Ergonomically designed
Reasons to avoid:
Takes time to adjust to using it
Not scratch-resistant
Wacom Intuos Pro For Learners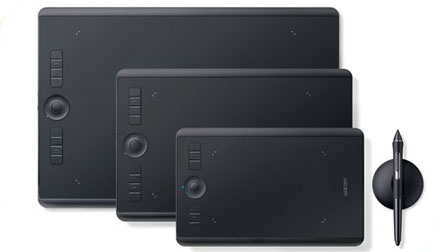 When it comes to drawing tablets, nothing beats Wacom as a brand. It has been around for years now and if you are taking that creative leap in 2023, invest in the Wacom Intuos Pro.
The tablet offers more creative control, especially when paired with the Wacom Pro Pen 2.
Designed for professionals, the Intuos Pro is built with premium and durable materials that have undergone rigorous testing to ensure that the device is durable and holds its integrity well. The functionalities are quite diverse in this tablet, offering users to choose from a variety of personalization options.
The highlight of this Wacom tablet is the Pro Pen 2, which offers improved precision and improved performance with a slimmer hold and grip. The tablet also comes in Paper Edition, which feels and performance much like you are using a pen and paper instead of a digital tablet.
Since creativity is subjective, Wacom has also designed and released the Intuos Pro in three size variants, all of which come with 8,192 pen pressure levels and Bluetooth connectivity for easy usage.
Reasons to buy:
Premium and durable construction
Available in different sizes
Paper-like interface
Reasons to avoid:
A little pricey
Lacks good grip in the pen
Wacom Cintiq 16 For Proficient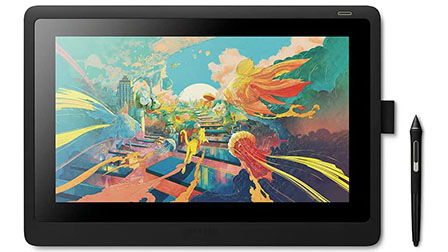 If there's one best pen display tablets for professional users, the Wacom Cintiq takes the crown.
Besides the affordable pricing, what stands out in this tablet is the compatibility. Not just for creators, the tablet is ideal for students or existing Wacom users who wish to upgrade.
It is available in two display variants – the 15.6" and 21.5", both of which are here to streamline your creative session and provide you with a blank canvas to showcase your creativity. The screen in the tablet is equipped with an anti-glare film and features a full HD display for crisp and clear visuals.
The Wacom Pro Pen 2, which comes with the Cintiq 16 deserves a special mention, thanks to the amazing EMR technology, ergonomic design and optimal pressure point. The pen draws the power directly from the tablet, so there's no need to worry about charging it.
Additionally, the tablet is integrated with smart touches and is built to last. The detachable pen holder in the tablet is amazing for users who are continually on the go and prioritize portability.
Reasons to buy:
Budget-friendly pricing
Battery-free pen
Silent operation
Reasons to avoid:
Lacks 4K display
Lacks touch capability
Wacom Cintiq Pro 27 For Professionals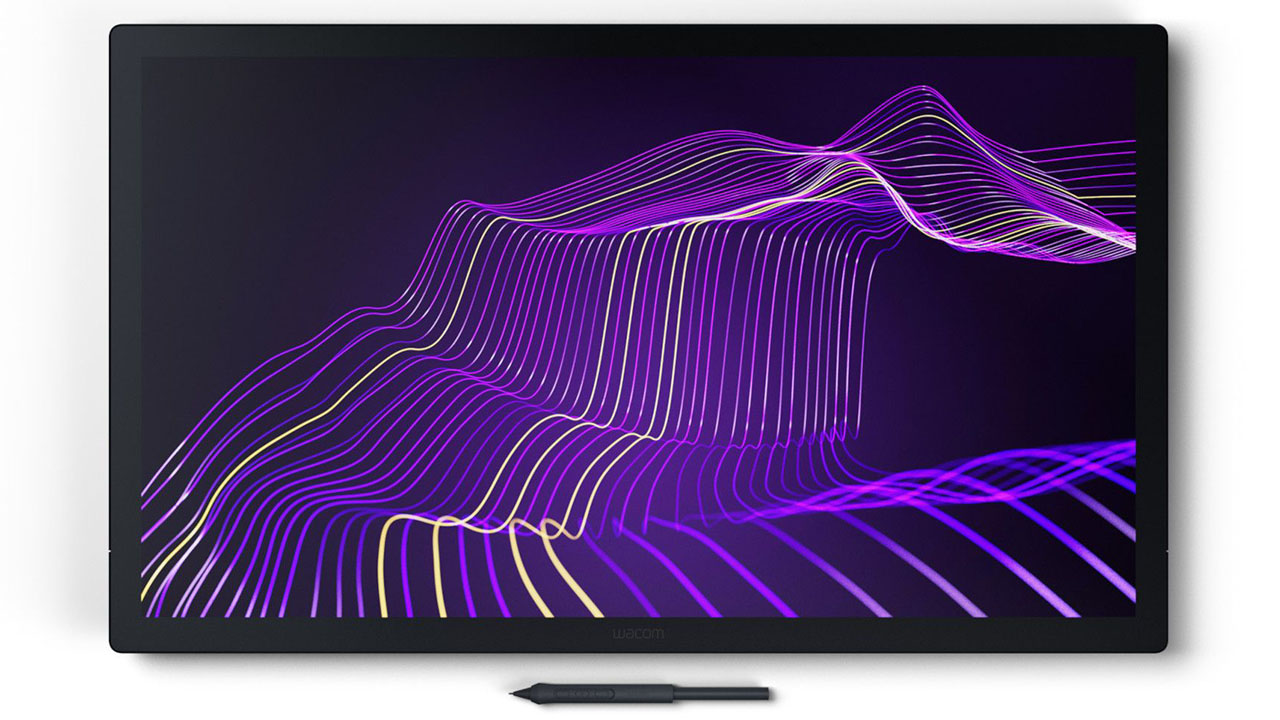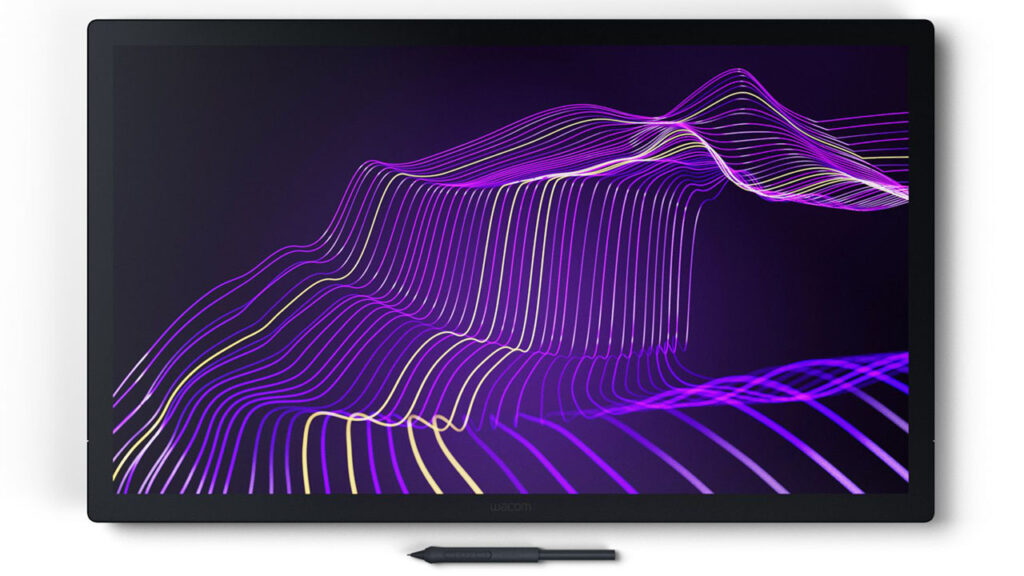 Wacom Cintiq Pro 27 is exclusively designed for the creative professionals who don't want to compromise on their user experience.
The tablet provides users with an effortless, responsive and harmonious user experience.
What sets this pen display apart from the rest is the stunning and responsive display. Featuring 99% Adobe RGB and 98% DCI-P3 coverage, the display provides realistic accuracy, especially with the color tones and appearance. The display also has 4K support with 120Hz refresh rate.
Furthermore, the Cintiq Pro 27 has a super slim bezel with an innovative design that accommodates the ExpressKeys without taking up extra space. The tablet comes with Wacom Pro Pen 3, which morphs its usage according to the user's needs.
Featuring a customizable weight and optimal grip thickness, the tailor-made approach of this pen is immaculate, especially when it comes to rendering an unforgettable creative experience. The tablet also supports intuitive multi-touch gestures to give you the creative freedom to draw and create with your hands.
Reasons to buy:
Ergonomic design
4K display
Multi-touch gestures
Reasons to avoid:
Not scratch-resistant
Lacks anti-glare coating
Wacom MobileStudio Pro for Traveling (PC not required)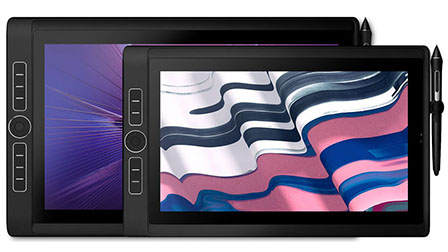 Are you one of those creative professionals that draw their inspiration from their surroundings? If yes, chances are that you are consistently on the go.
The Wacom MobileStudio Pro is designed for such users who want to break free and have the freedom to create what they want, wherever they want.
Ideal for remote working or for working while you are traveling, the MobileStudio Pro works as a standalone pen computer. It is available in two size options – the 13.3" and 15.6" model. The best thing about device is the availability of upgradeable RAM with backdoor access for easy set-up.
Also, the MobileStudio Pro is backed with Intel i7 chip that allows you to take over 2D and 3D applications on the go and without any compromise at all. The 15.6" model is also integrated with NVIDIA Quadro graphics while the 13.3" variant features the staple Intel Iris Plus graphics.
Overall, the device is versatile and gives you the freedom to be creative and draw with a flair like you have never experienced before. Paired with the Wacom Drawing Glove, you will never once complain about the drawing experience.
Reasons to buy:
Stunning 4K display
High-quality and responsive stylus
Macro button support
Reasons to avoid:
Brightness in the display isn't optimal
Bulky design
Standing Out Features of Wacom Tablets
There are some trademark features of Wacom tablets which makes it stand out from others in the market. One such feature is Wacom's premium battery-free Pen technology which brings out the finest details on the tab.

Wacom's Pro Pen 2 is engineered to provide a smooth flow that feels like drawing on a canvas with the paintbrush. Along with a comfortable grip, the Pen is loaded with pressure-sensitivity up to 8192 levels, great tilt response, and lag-free tracking.
The Pen is also customizable to further ease your workflow. You can assign specific keystroke or scrolling option to the buttons provided at the side of the Pen. The buttons can also be customized to carry out different functions for different applications minimizing the hassle of going to settings over and over again.
The screen technology of Wacom graphics tablets is also quite innovative. The tablets are designed to deliver flawless performance through its thin etched glass technology which helps in parallax reduction. Additionally, the special bonding agents bring the screen and LCD impeccably close so that each stroke delivers precision at every corner.
Another amazing feature of the Wacom tablet is the "ExpressKeys". Although some power users may not get fascinated by it, these amazing array of buttons along the edge of the Wacom tablet can turn out to be very useful.
The ExpressKeys can be easily customized to perform different functions from different applications such as display toggle, precision mode, and pan/scroll. Moreover, if you need a quick reminder of your ExpressKeys functions, there is ExpressView to help you out. Just rest your finger on the button and you will be able to see an overlay of all the keys on the screen.
Wacom vs Huion vs XP-Pen
When it comes to exclusive graphics designing products, Wacom is not alone. There are other competitors in the market like Huion and XP-Pen with a variety of alternatives. This section is to help compare these graphics tablet producers and further ease your process to pick the right product.
Wacom is the oldest market manipulators offering premium designing products but when it comes to price range it is on the higher end compared to Huion and XP-Pen.
The budget restraints often compel beginners to go to for cheaper options offered by Huion and XP-Pen with features more or less close to Wacom products. However, Wacom tablets continue to be the preferred choice of professional artists and serious designers.
Wacom tablets are famous for their smooth drawing experience whereas XP-Pen is known for offering numerous features at a pocket-friendly budget. Huion on the other hand offers basic graphics tablet functionality at a very low price attracting students and occasional designers.
In terms of display, Wacom provides a flawless work experience but if your requirement is a good tablet with more drawing area and shortcut keys then you may as well opt for the XP-Pen product range.
Nonetheless, when it comes to the built quality, Wacom tablets are relatively superior to XP-Pen and Huion as they can withstand drops better and last longer. According to some professionals, Wacom tablets are also much more scratch resistant compared to other competitors boosting the lifespan of the product.
The Pen or stylus of Wacom and XP-Pen is quite efficient with similar performance quality. While advertising stylus companies tend to focus on pressure level to prove performance quality but it is often not true.
Wacom stylus offers 4096 levels of pressure sensitivity whereas some models of Huion and XP-Pen features 8192 levels of pressure sensitivity but the actual performance quality of the stylus is not so different. However, one noteworthy feature of Wacom is that all its stylus is built with electromagnetic resonance technology developed by Wacom itself.
Therefore, they are battery-free unlike Huion or XP-Pen giving you the freedom to create without disruption. Although some Huion and XP-Pen models do offer battery-free stylus, Wacom still leads the way with its excellent pen technology.
Regardless of which company or product you choose, one crucial aspect is their customer support and services. If the customer support is poor, chances are you will struggle and end up frustrated with the product. But this may again vary depending on your location.
Wacom has a phone support system for most of the countries across the world and 24/7 online chat services. Huion offers customer support via email, Skype, or chat but their availability will depend upon China Standard Time working hours.
Depending upon your location and time difference it may take some time to connect with them or receive a response. XP-Pen has a similar support system and you can connect with them via email or connect between 10 AM-6 PM and 6 PM-2 AM Pacific Standard Time.
Verdict
Recommended by professionals, the Wacom products are known for excellent output and durability. Since Wacom is the oldest and has been developing graphics tablets for a long time they have overcome the 'bad batches' of components. Wacom has stepped up the game with reliable parts from good manufactures to offer nothing but best to its consumers.
The main feature of Wacom tablets is the organic tablet design which makes one feel like working on real paper with a pen.
With ExpressKeys utility and other unique features you just need to play around with settings to personalize the tablet for optimal work experience. Some consider Wacom to be conservative when it comes to features but the quality and drawing experience offered is unmatched.
You can opt for any Wacom tablet product to deliver the performance you are seeking. It functions smoothly without any bugs or issues. The drivers are also updated regularly for your convenience. Overall it is an excellent deal considering the legacy, durability, and product support.
You won't regret spending some extra bucks on it as the Wacom products are meant to act as catalysts to boost your creativity and put together the most exciting ideas on the go.
FAQs
1. What's the best Wacom tablet to buy?
If you are looking for a Pen Tablet then Wacom Intuos Pro M is best, as it works best for beginners as well as professionals. And, if you are looking for a Pen Display, Wacom Cintiq 16 would be an ideal option.
2. Which Wacom tablet is best for beginners?
Wacom Intuos is the best Wacom tablet for beginners. It's cheap as well as comes with all the features that a beginner will require. Also comes in two different sizes – small and medium to choose from. Wacom has a great customer support with 24/7 online chat for any queries and issues with the tablet.
3. What's the best Wacom tablet for photographers?
Wacom One is the best Wacom tablet for photographers. Photographers need to edit their captured images and so they will need a Drawing tablet with screen or a Pen Display. Wacom One is affordable (starts at $399.95) and comes with Wacom One Pen, 60 degrees tilt support, 4096 pressure levels and 2540 LPI resolution.
4. What's the best tablet for drawing 2023?
Drawing tablets are of three different types – pen tablets, pen displays and standalone drawing tablets. Wacom Intuos Pro is the best drawing pen tablet for beginners, Wacom Cintiq is the best drawing pen display for professionals and Wacom MobileStudio Pro is the best standalone drawing tablet for high-end graphics designing and animation.
5. Wacom vs Huion – which one is better?
Wacom tablets are for professionals as well as for the ones with higher budget while Huion tablets are a lot cheaper than Wacom tablets and are for beginners as well as professionals. Wacom tablets deliver better performance, display resolution, build quality and technical support than Huion.