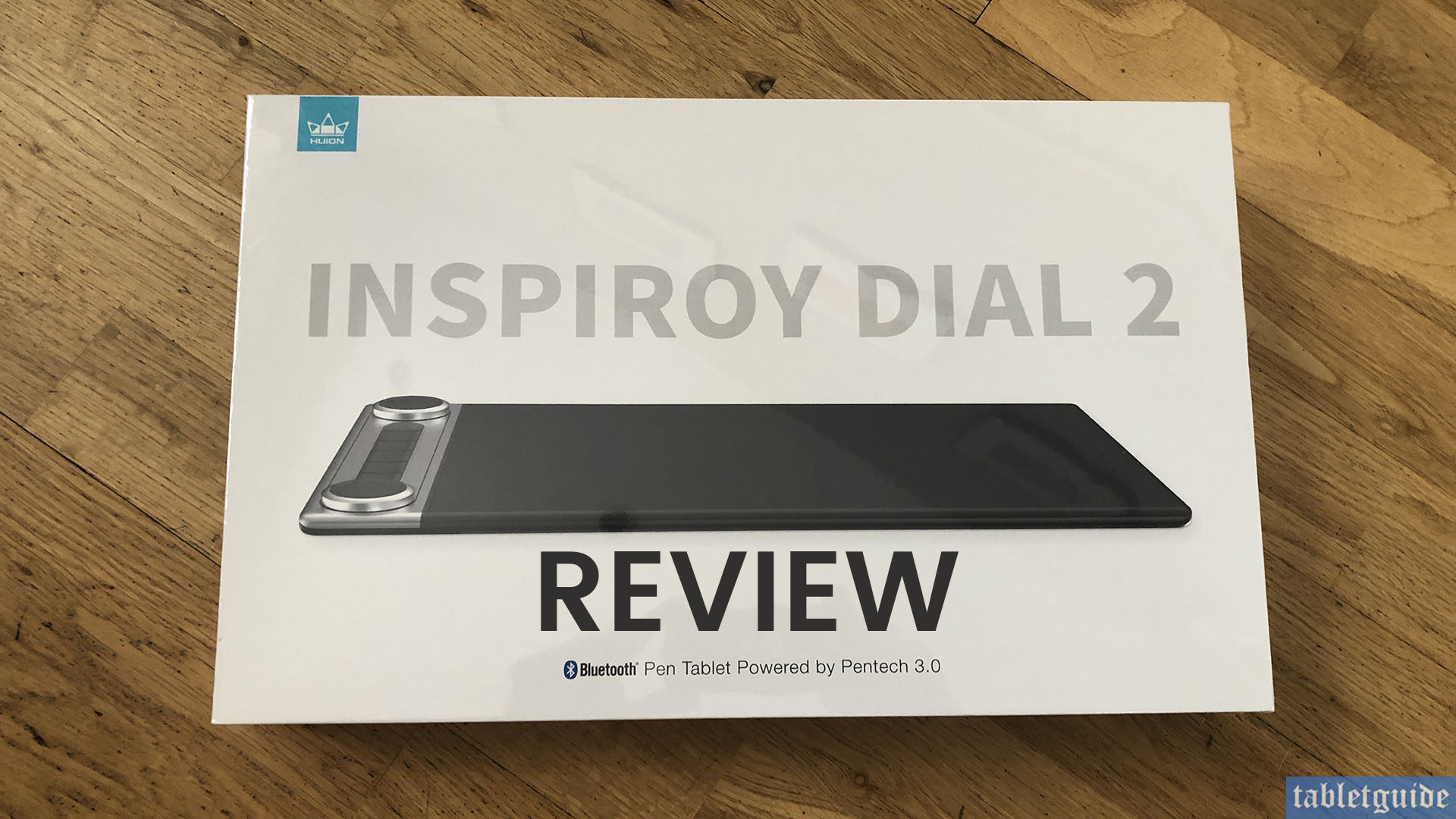 Huion has just released a brand new, updated version of their popular Inspiroy Dial pen tablet called…yep, you've guessed it – the Huion Inspiroy Dial 2! What sets this apart from the original device I hear you say? Well, it has two – count 'em – two dials, as opposed to the one on the older tablet!
Does this mean it's twice as good? Well read on, as today we are reviewing the Inspiroy Dial 2!
Huion have produced some great tablets and devices over the years and this one looks like it will continue that tradition… 😊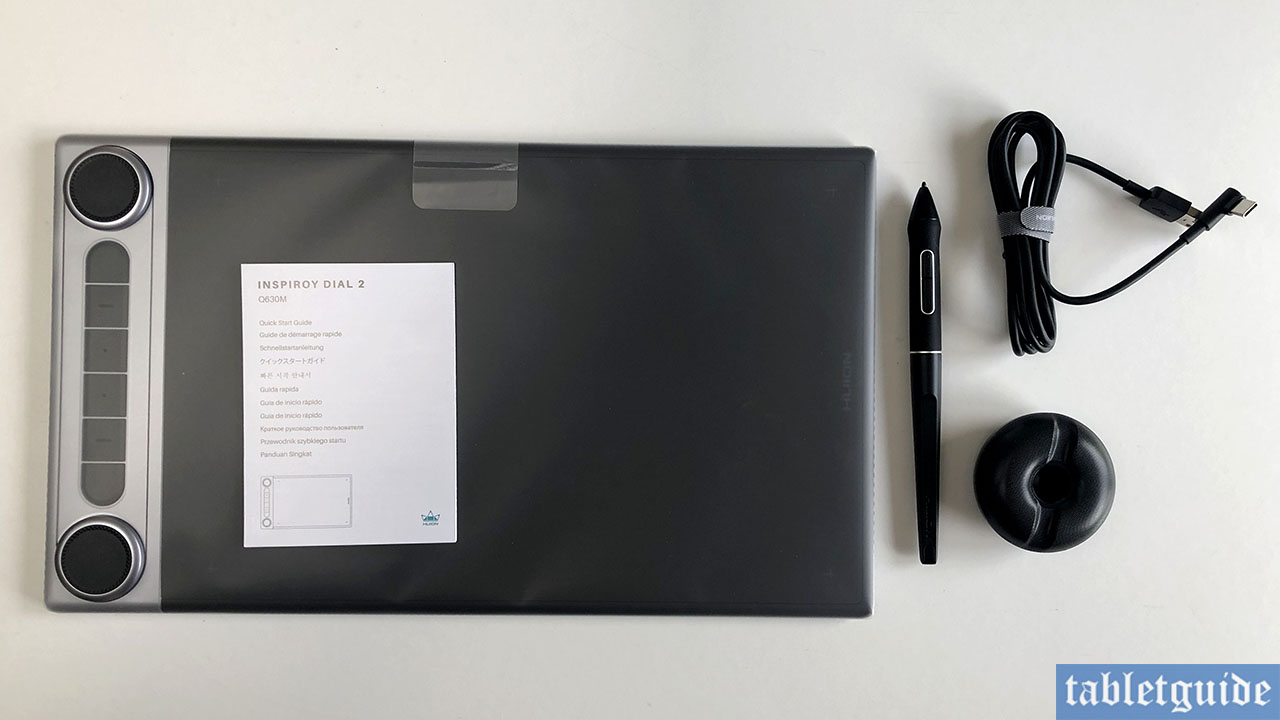 Housed in a now familiar white box with the top and bottom sections 'almost-but-not-quite' meeting in the middle to reveal the cool blue 'neon' inner section, are the following items:
Huion Inspiroy Dial 2 pen tablet
Battery-free Pen (PW517)
USB-C Cable
Pen Holder
Standard Nib x 5
Felt Nib x 5
Nib Clip
Quick Start Guide
There is no stand with this pen tablet, so you'll have to purchase this separately. (You might want to order a cleaning cloth too, as one isn't provided, to keep those grubby finger marks away!)
The first thing you'll notice is the weight of the device when taking it out of the box – it's only 710g and being 356.6mm x 207mm x 8mm in size, it's great for transporting around from home to office in your laptop bag. The drawing area is 10" X 6" which is a decent enough size to work on.
The Inspiroy Dial 2 pen tablet is quite the 'cool' looking device with its aforementioned two dials sitting at the top and bottom of the left sides metal looking (i.e. plastic!) vertical section, separated by the tablets 6 shortcut keys.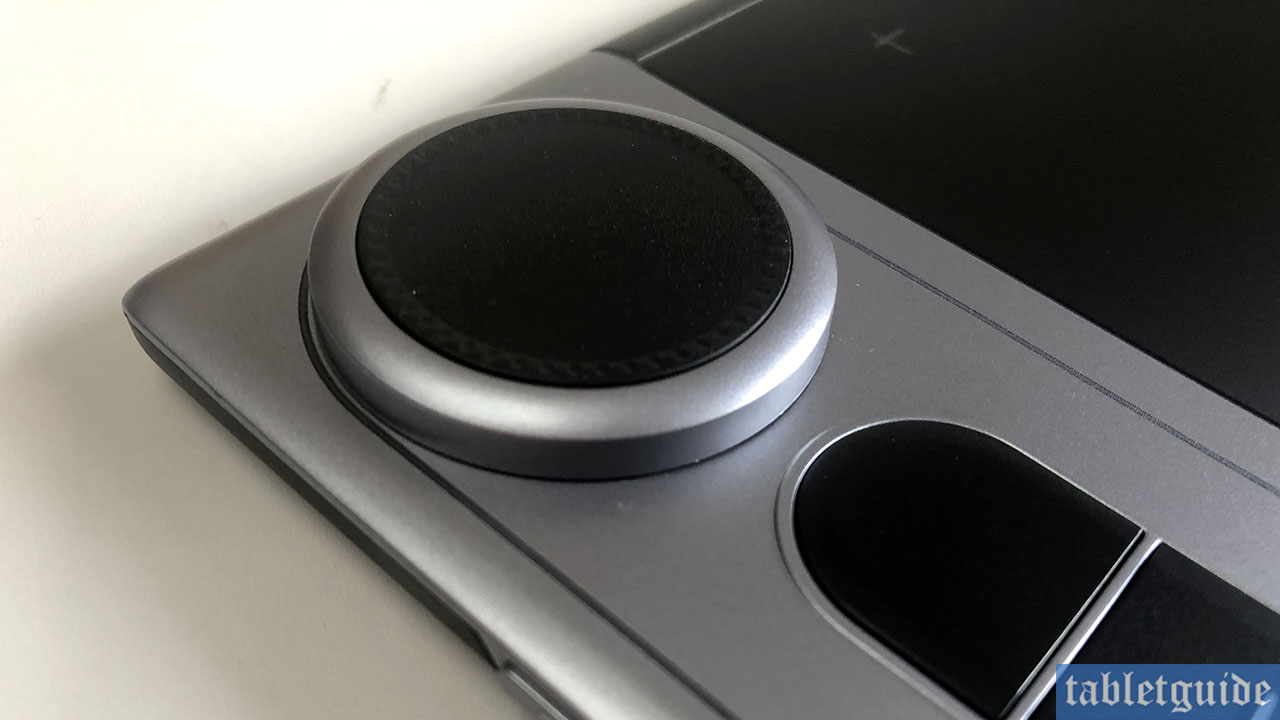 The purpose of these dials and keys is to make things simpler (and faster!) for the busy designer/illustrator by making their favourite keyboard shortcuts available at the press of a button… or the rotation of a dial!
For instance, you can use the top dial for zooming in and out of the canvas, changing brush sizes, scrolling up and down (including when viewing web pages!) and using the bottom dial for other tasks like controlling volume, play next song and vice versa…
Each dial can be assigned up to three different functions. To access/switch the the various functions you simply press down the middle of the dial! The dials have a nice 'feel' to them when rotated too.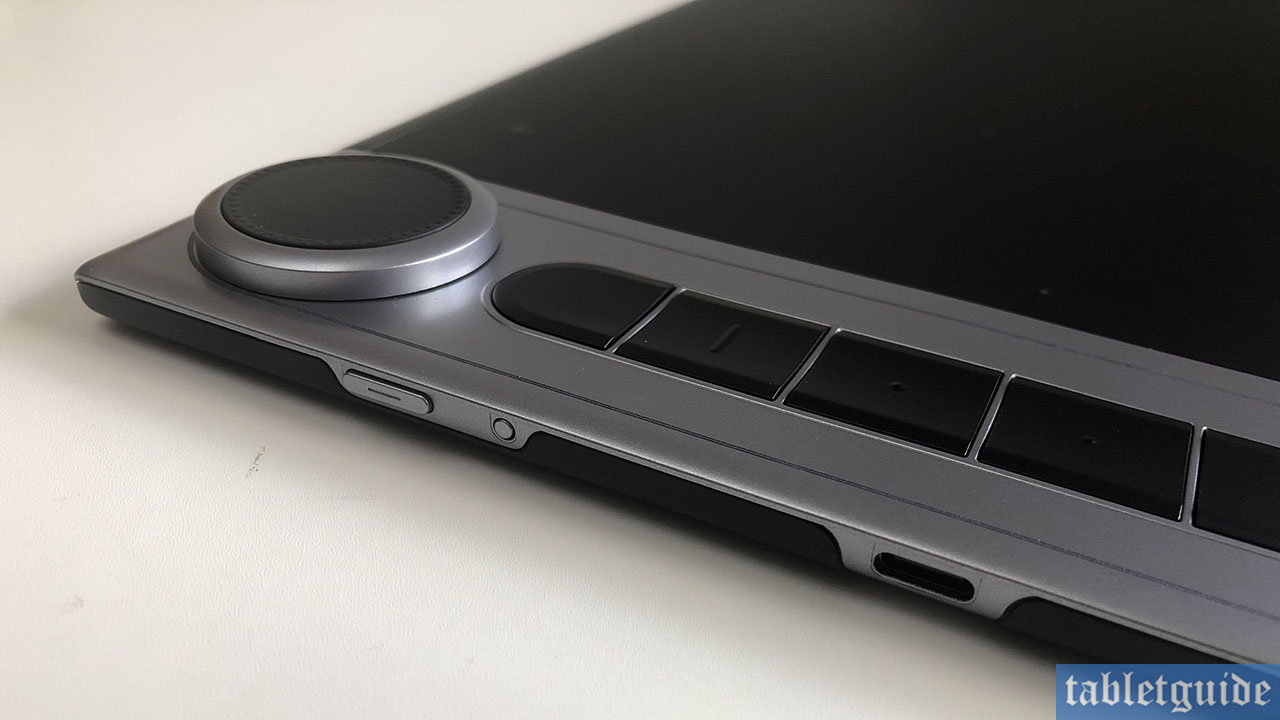 Flip the tablet over to its left side and you are presented with the Power Button, Bluetooth Button and the USB-C charging port. Huion claims the battery should last 18 hours on a full charge. It should take round 2.5 – 4.5 hours to charge.
Overall, the build quality of this tablet is great – it really does feel (and look!) like a premium device.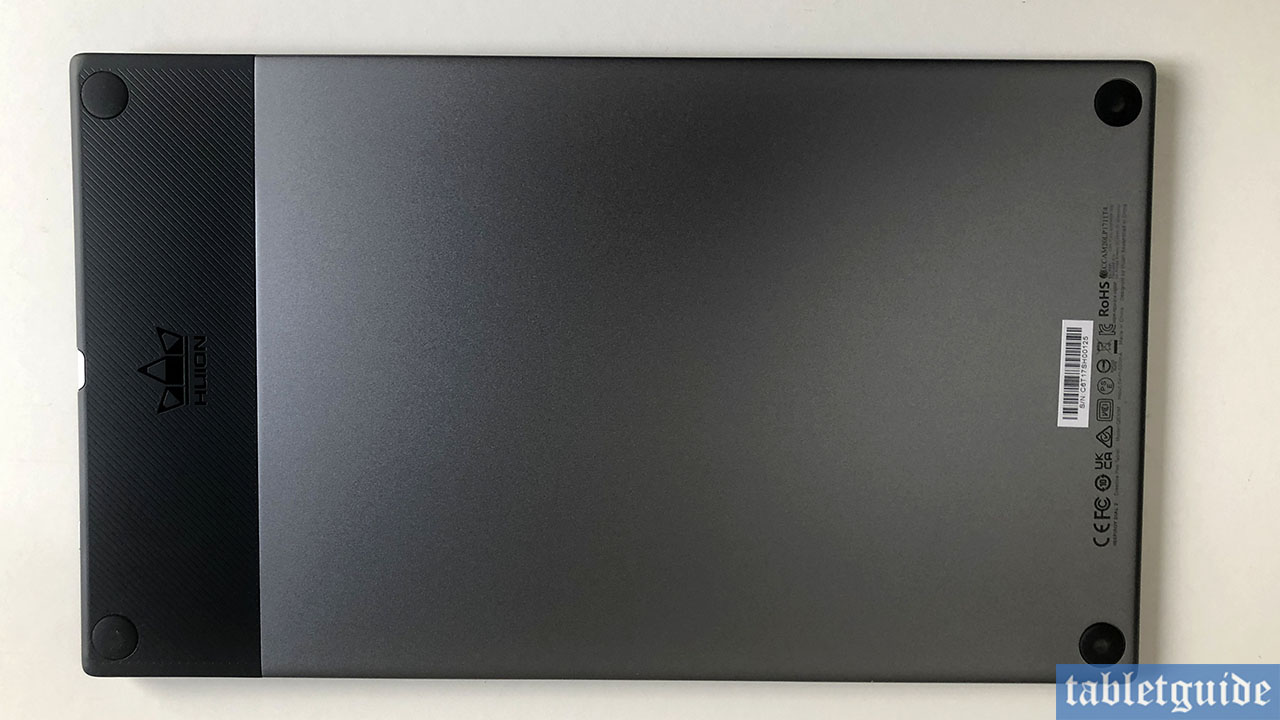 Once you've removed the plastic envelope/protective sleeve, before you connect the tablet to your device of choice, head over to Huion website and download the software drivers. Once installed, it's time to plug in the USB-C cable and/or connect via Bluetooth if your system is set up for that. As usual, this went as smoothly as you'd expect. (You can use the tablet whilst it is charging).
Next up is the pen! The pen is Huion's (still fairly) new PW517 with PenTech 3.0 technology. It too is nicely designed and feels comfortable in the hand when drawing.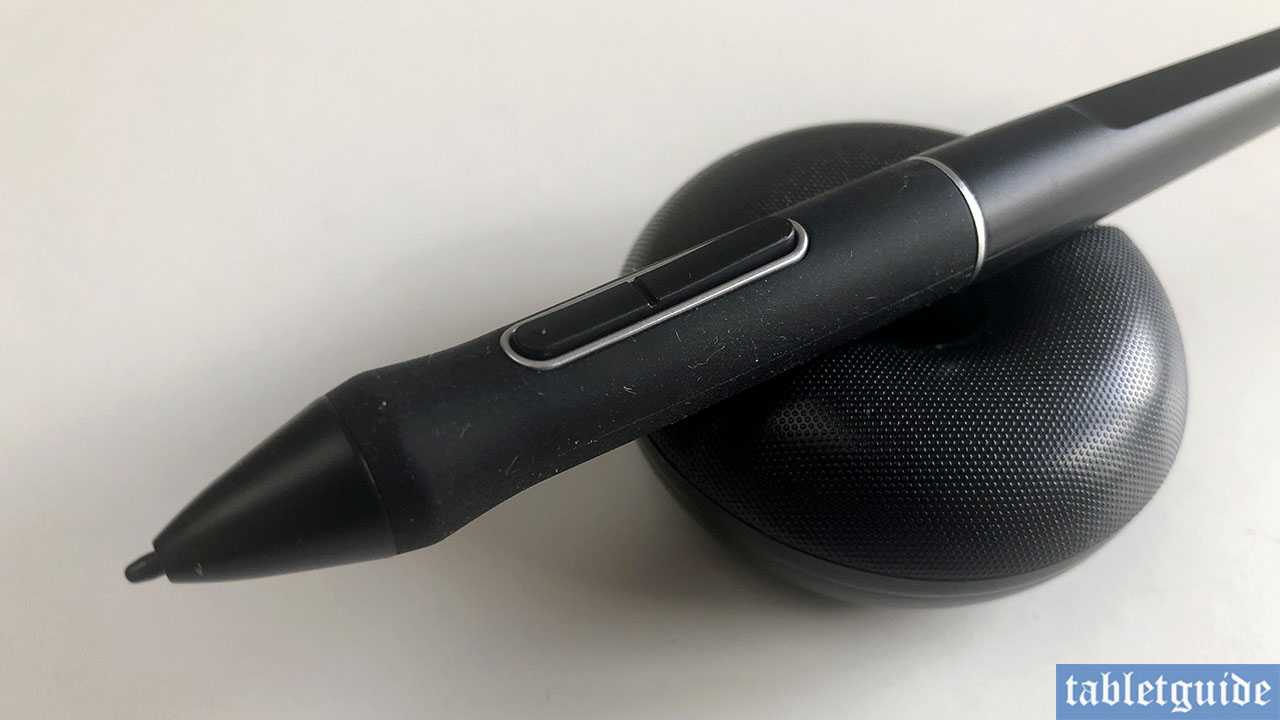 It has a nice rubber grip around the 2 customisable buttons, is battery-free, supports 8192 levels of pressure sensitivity and 60° degrees of Tilt. This new technology is supposed to aid the drawing experience as it 'features a much shorter retraction distance and provides a more accurate and natural writing experience'…
In layman's terms, I think it means the nib doesn't go in and out so much when you draw anymore! The tablets surface 'friction' has been increased by 20% to give a better paper-like texture when scribbling away also.
That said, the first thing I do is swap out the standard nib and swop it over for the felt one – the drawing experience is sooooo smooth and velvety – it feels like you're drawing with a real felt tip pen/marker! The tablets surface also seems quite 'scratch-resistant'' too, although time (and a lot of use!) will tell just how much…
If you do need to make any changes or updates to the pen or dials, then the next step would be to fire up the driver software. If you've read or watched our previous Huion reviews, then you'll be familiar with its layout.
It's logical and simple to navigate and it's here you can change the functionality of the dials, re-assign shortcut keys, change/customize the pen pressure, update the pen buttons, view the battery life, change the orientation (great if you're a left-handed user!) and check for software updates etc. – stuff like that! 😊
I never tend to mess with the settings too much, only maybe playing around with the pen pressure options. I don't actually press too hard down when I draw, so I prefer a somewhat 'lighter' touch/feel.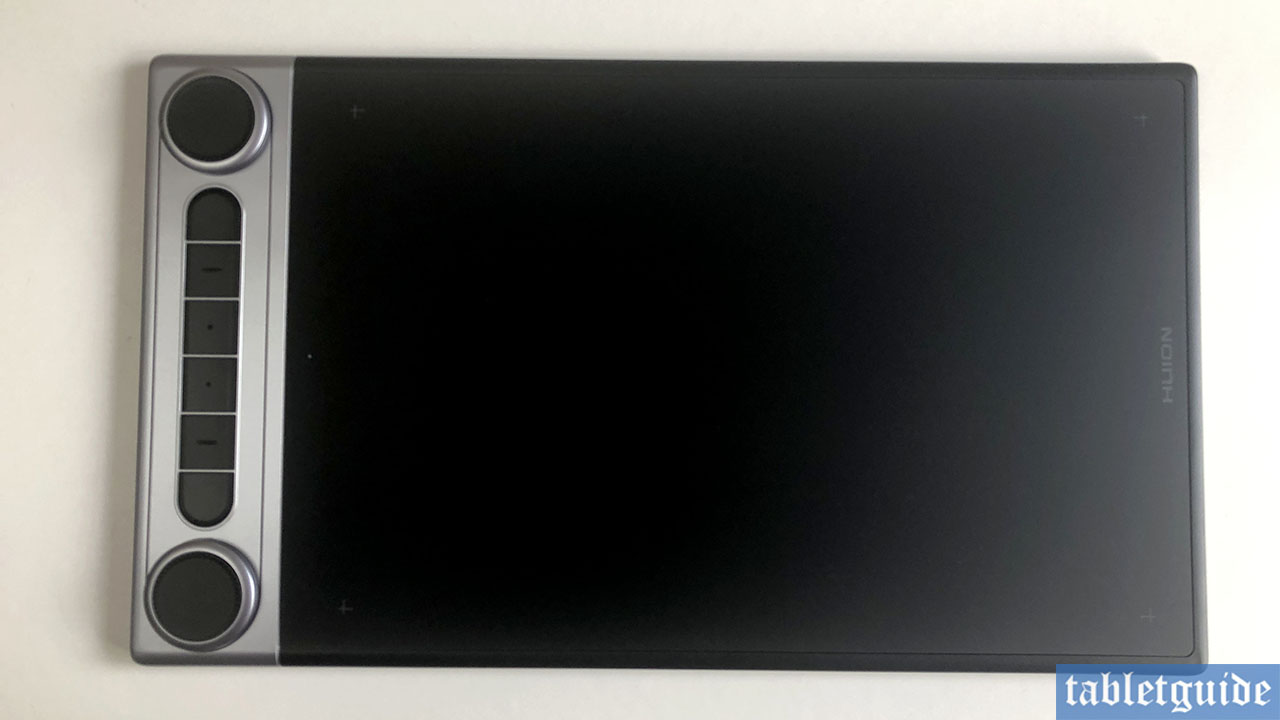 I also don't really use shortcut keys that much, but it is nice to have a quick 'Undo' close to hand! I do use the dials though – its great being able to change the brush size quickly and accurately.
This is a great tablet to draw with. I didn't experience any lagging or jittering and the pen strokes/lines tapered off really nicely. You can produce some quality cartoons and illustrations with this, no problem at all. The Bluetooth range is said to be 5-10m, but I'm not sure who'll be sitting that far away from the monitor, let alone having a desk that large haw haw… 😊
The actual 'drawing area' is designated by four chevron-type icons – stay within those and you cant go wrong! You'll also notice a small LED on the left side of the tablet, half way down.
After 15 minutes of non-use, the tablet goes to 'sleep' to save battery life.
Once again, this is another recommend pen tablet from those clever people over at Huion – novices or professionals will achieve great results with the Inspiroy Dial 2!
The tablet is compatible with Windows 7/8/8.1 (Wired), Windows 10 64bit (Bluetooth), macOS 10.12 or later, Chrome OS 88 or later (Wired), Android 6.0 or later (Bluetooth) and Linux.
The Inspiroy Dial 2 works with all the usual creative software like Adobe Photoshop, Adobe Illustrator, Corel, GIMP, Clip Studio Paint, Blender, ZBrush, Krita, etc…
I look forward to seeing the Inspiroy Dial 3 and 4! Erm… would that even work? 😊