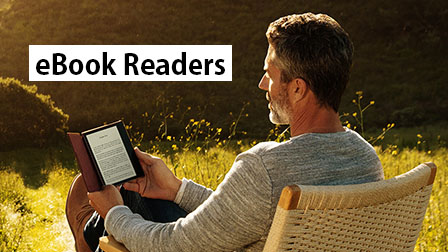 Why eReaders when you can read e-books on your phone and tablets? Well, if you ask it to your bibliophile friend who is always drowned in their reading tablet, you'll exactly get to know why. If you're too looking for buying an eReader, don't worry, we've got you covered.
Apps like Kindle, Kobo, Apple Books, Nook, etc. are available on smartphones and tablets. But what makes reading tablets so enjoyable and absolutely convenient is its features. Ebook readers are one hundred percent distraction-free and provide a natural book reading experience unlike LED screens of tablets which can strain your eyes.
They come with an Internet facility but that's just for browsing through an eBook store like Kindle, Kobo, Apple Books, or Audible. Meaning, you won't get any notifications of your work emails, social media, phone calls, or literally anything that distracts you from reading.
In addition, ebook readers are equipped with e-ink technology that enables the screen to act like a real paper. That way, your eyes won't be strained and you can read on the tablet in bright direct sunlight as well.
Plus, you can access a zillion ebooks from across the globe. Not to mention its long-lasting battery and ability to store thousands of ebooks on it. However, there are multiple things to consider before getting an eReader. Read on to know.
Best eReaders (Reading Tablets) in 2023
Kindle, Kobo, Onyx, and Nook are the best players in the eReader tablet world. They all have their pros and cons. So, it doesn't matter at what rank we have placed them on our list, they are the best eReaders for 2023. So choose the one that completes your checklist and falls within your budget!
Also, always keep in mind where you are going to get your eBooks from. This is because some platforms like Amazon and Kobo have copy protection on their eBooks. Meaning, you won't be able to read them cross-platform. However, Onyx allows you to download all competitors' apps and lets you read books from all ecosystems.
1. Kindle Paperwhite (11th Gen)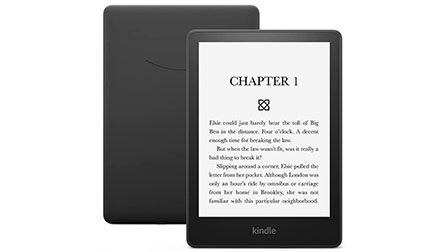 The first on our list is Amazon's Kindle Paperwhite 11th Generation. This is the top model of Kindle on the market right now.
Kindle Paperwhite comes with a 6.8-inch screen with E ink technology and has thinner borders than its predecessors.
Its pixel density is 300 PPI which is great for reading. It comes with an IPX8 rating for protection against water splashes and accidental immersions. That makes it good for outdoor usage.
Kindle Paperwhite features white light and warm amber color settings for reading comfortably day and night. You can also schedule when the light changes. It has a USB type C port for charging and connecting it with the PC. The battery lasts up to 10 weeks.
It also offers Bluetooth so that you can connect your wireless headphones or speakers to listen to audio-books on Audible. Check out their ad-supported, Kindle Unlimited variants on Amazon.
Reasons to buy:
Better pixel density of 300 PPI than the basic Kindle tablet
It comes with IPX8 protection against water splashes and occasional immersions.
It features new white light and warm amber light settings which were not present in the 10th generation Kindle Paperwhite.
Its Bluetooth connection lets you listen to audio-books via wireless headphones and speakers.
Reasons to avoid:
It only supports Kindle ecosystem and can't install third-party apps to read ebooks.
2. Kindle Scribe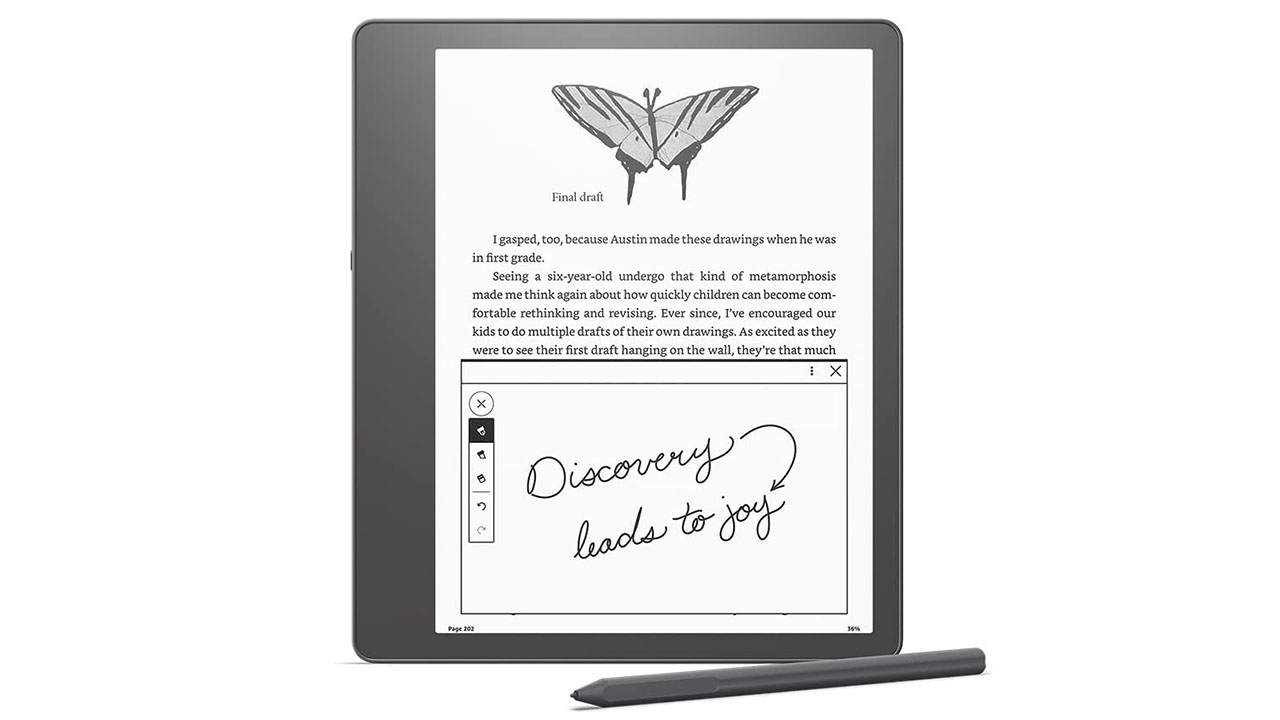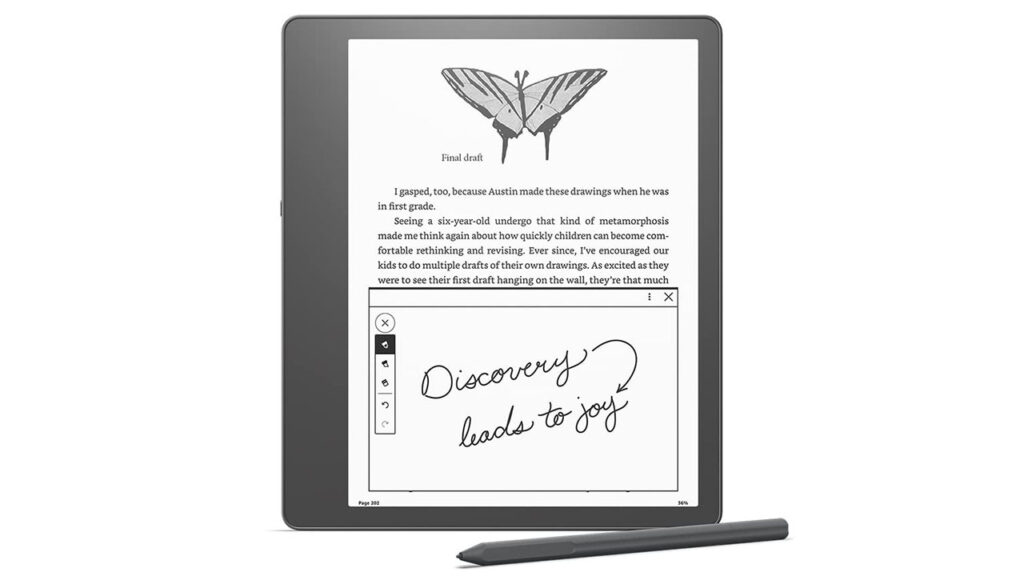 Next up on the list is Kindle Scribe, which is your all-in-one device for reading e-books, highlighting them and also taking notes – all at the same time.
The device is equipped with a responsive 10.2" 300 ppi Paperwhite display with a premium pen for effortless user experience.
The device comes pre-programmed with a variety of notebooks, journals and lists templates that allow you to take notes, plan your day and even journey right in the device. Also, users can review documents and simultaneously take notes digitally on Kindle Scribe.
It also supports easy exporting of the created PDFs, files and documents via email, making your life a lot more organized and easier than before. The expansive and high-resolution display has adjustable light settings, especially with the warm light support that reduce strain on your eyes.
As for the availability of e-books to read from, you have thousands of available e-books in the library that you can browse through and read without any limitations. It comes with an USB-C charging port, wherein a single time charge can power the device for months of reading and writing.
Reasons to buy:
Multi-functional use
Comes with pre-programmed templates
Months of battery life
Reasons to avoid:
Not the most compact design
Quite pricey
3. Kobo Elipsa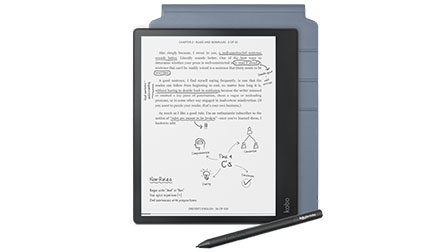 The next up is Elipsa by Kobo. If you're looking for an eReader tablet that also lets you take notes, mark your books, and share files conveniently, you can buy Kobo Elipsa.
Since this tablet features a stylus technology, it will cost you more than a simple eReading tablet like Kindle Paperwhite 11th Gen.
Kobo Elipsa features a 10.3-inch touchscreen with Carta 1200 E Ink technology and dark mode. The bigger size is convenient for using it as a notebook. Moreover, it comes with a sleep-on cover that lets you place your tab in a comfortable angled position. Elipsa has the ability to convert your handwritten notes into clean typed texts as well.
It comes with Dropbox so that you can easily share eBooks and documents with your colleagues or classmates conveniently. It offers 32 GB of onboard storage. That can hold too many eBooks at a time. Kobo Elipsa features Bluetooth for listening to audio-books too.
Reasons to buy:
It also supports a stylus for note-taking and writing
Conversion from handwritten notes to text is possible
It comes with 32 GB of onboard storage plus Dropbox cloud space
Bigger screen of 10.3-inch and a sleep cover to position the tab for an excellent writing experience
Reasons to avoid:
It only supports the Kobo ecosystem
4. Kindle Oasis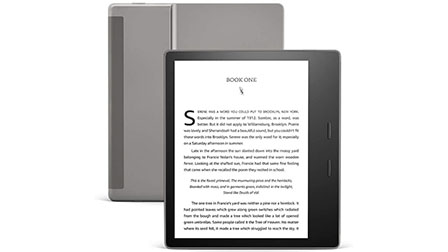 Kindle Oasis is the most premium eReader by Amazon. If price is not the concern, you should definitely choose Kindle Oasis over other Kindle models for a smooth and stunning reading experience.
It is packed in an Aluminum chassis and that gives that premium finish to it. Amazon has designed it specifically for reading purposes, unlike Kobo and Onyx eReaders.
The screen size is 7 inches, slightly larger than the Kindle Paperwhite. To make the device super convenient, Kindle Oasis features two-page turn buttons on the side and auto-rotating screen.
Apart from that, it lets you switch to listening to Audiobook when you're tired of reading with its Whispersync. It also comes with an IPX8 rating for protection against water and accidental immersion. Not to mention its white light to warm light setting, auto-adjusting brightness, and access to the Amazon Kindle ecosystem.
Reasons to buy:
A premium 7-inch screen perfect for an immersive reading experience
Auto-adjust brightness as well as bright and amber light scheduled time settings
Two convenient buttons on the side for single-handed reading and page turning
It lets you switch to listening to the book when you wish to discontinue reading using Whispersync.
Reasons to avoid:
It's expensive considering its premium features
Only supports Kindle ecosystem
5. Onyx BOOX Nova Air C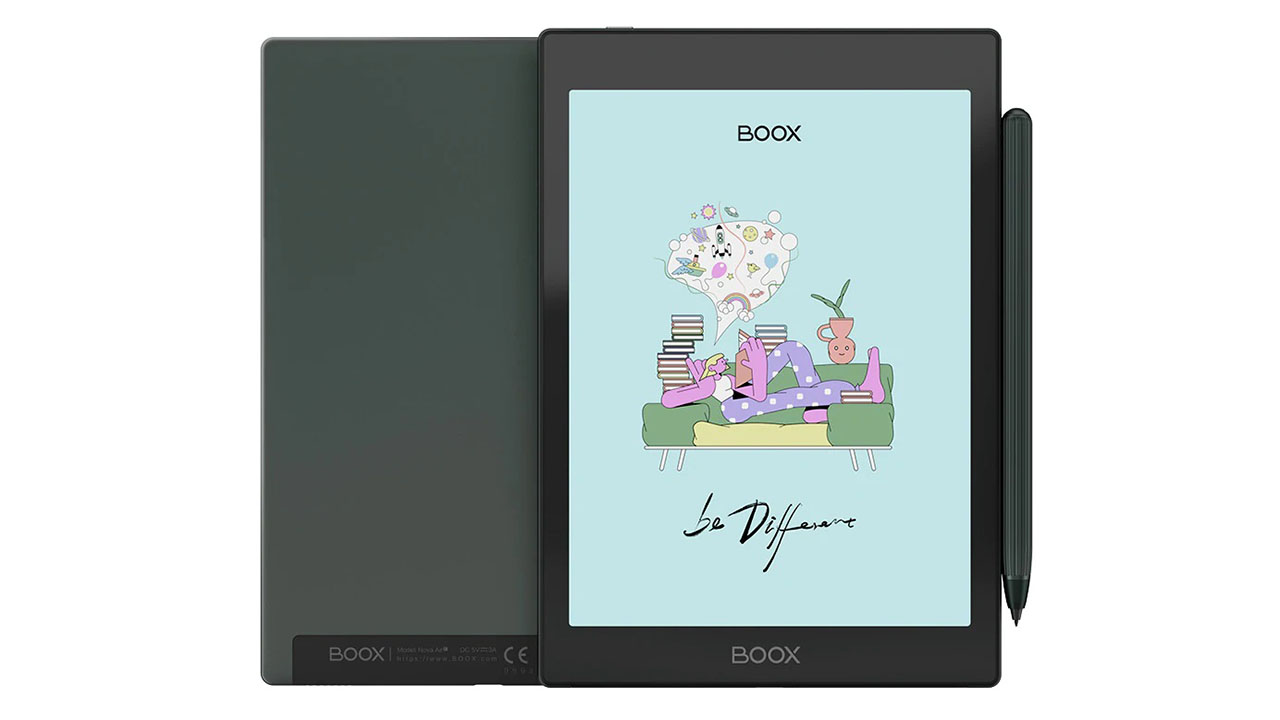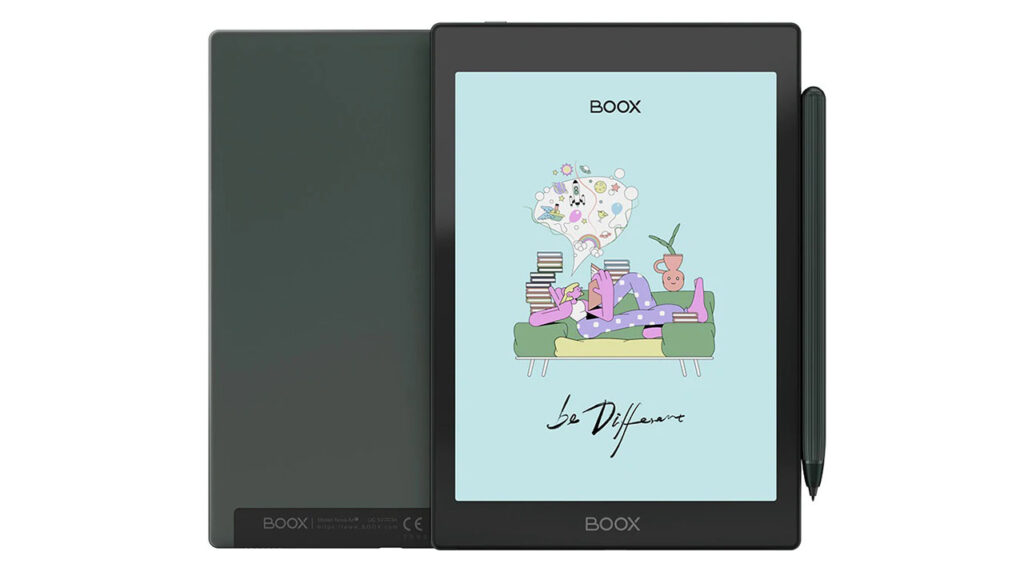 If you don't want to go the standard route and buy a Kindle for reading e-books, the Onyx BOOX Nova Air C is a great alternative.
It is equipped with a compact 7.8" display with lighting system and double touch control.
What makes this e-book reader worth the buck is the combination of color and contrast enhancement. This ensures a more effortless and comfortable reading experience for the users. Not just that, this is one of the few e-book readers that feature a durable yet thin metal body for optimal durability.
The display is covered with an Asahi protective glass to prevent scratches and ensure long-lasting usage. It runs on an octa-core processor and features 3GB RAM for effortless reading without any buffer in between.
Also, the device supports Wi-Fi and Bluetooth connectivity for seamless data transfer as needed. If needed, users can take handwritten notes on the device too. If you want a device that enables you to read e-books on the go and manage documents, this is it.
Reasons to buy:
Thin and lightweight metal body constructions
Supports Wi-Fi and Bluetooth
Ideal for taking notes too
Reasons to avoid:
Smaller display size
Quite pricey
6. Kobo Clara HD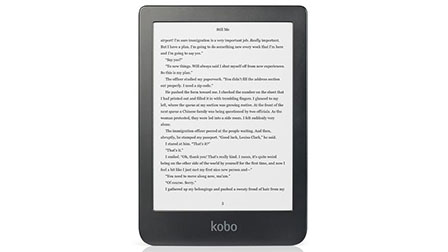 The next on our list is Kobo Clara HD, a 6-inch reading tablet. Unlike Kobo Elipsa, this tablet doesn't come with stylus support or doesn't have a big enough screen for taking notes.
Nevertheless, you can choose from over 50 font sizes and 12 font types for reading.
And with adjustable margins, you can type notes, highlight passages, and access a built-in dictionary. The tablet offers brightness and temperature settings for diverse lighting conditions. However, like other eReaders, you can definitely read on its anti-glare display under direct sunlight.
Kobo Clara HD's battery will last for weeks on a single full charge. Moreover, it has 8 GB onboard storage and connects with a PC using a MicroUSB.
Reasons to buy:
A 6-inch display that offers a perfect reading experience
It lets you choose from over 50 font sizes and 12 font styles.
Comes with brightness and color adjustments.
Reasons to avoid:
It only supports Kobo ecosystem
Does not support stylus for writing and note-taking unlike Kobo Elipsa
7. All-new Kindle 11th Generation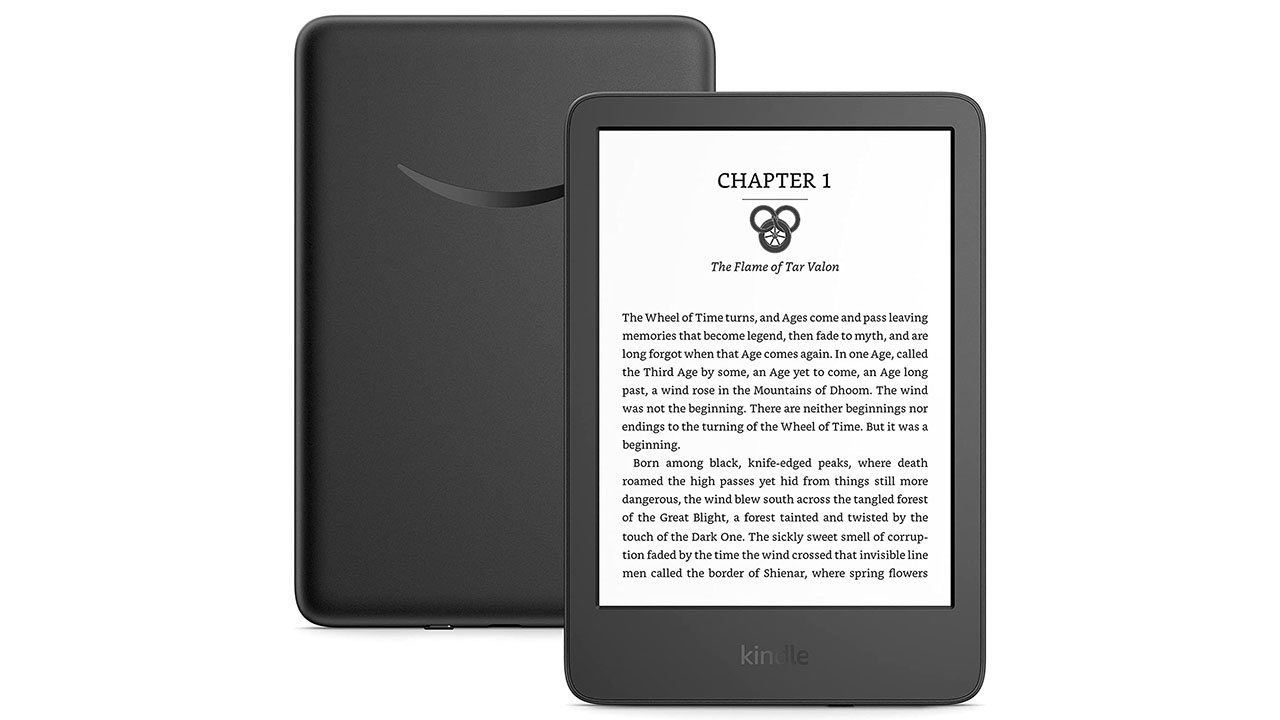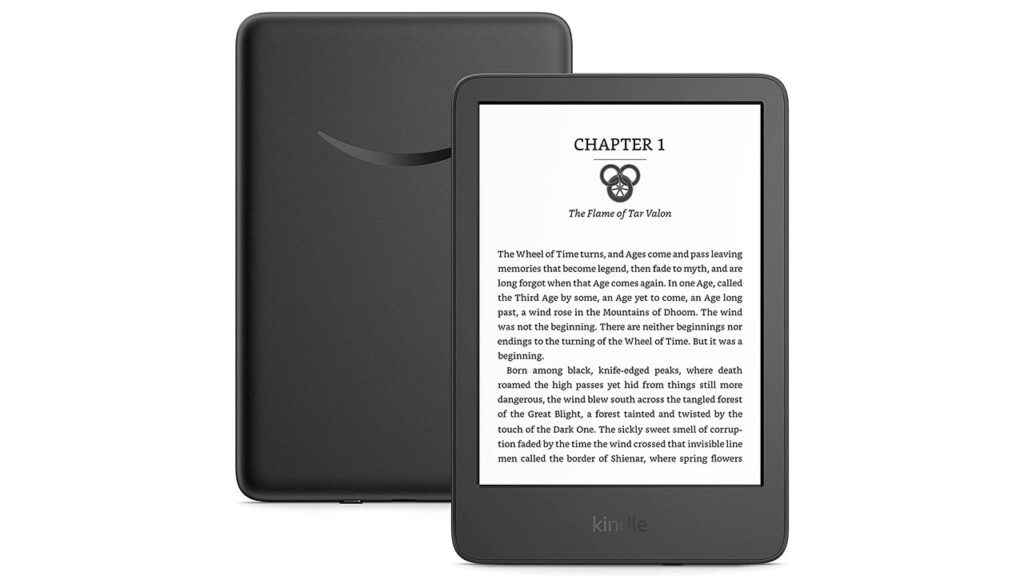 When it comes to talking about e-book readers, Kindle is a name that stands out from the lot.
Amazon has revolutionized the concept of e-book reading with their Kindles and the new Kindle 11th Generation definitely lives up to all the hype and expectations.
This is the lightest and the most compact Kindle designed till date and boasts a stunning 300 ppi high-resolution display for comfortable reading experience. The highlight of this e-book reader is the paper-like display, which makes it feel like you are reading directly from a book.
That said, it features a glare-free display with adjustable front and light dark mode for adjustable the screen's readability depending on your comfort. An ideal distraction-free device that allows you to engage in your favorite e-books without needing to worry about getting side-tracked by unnecessary emails and notifications.
When it comes to prolonged usage, Kindle has completely transformed the user experience with up to 6 weeks of battery life with a single charge. Also, the device supports up to 16GB storage to store thousands of books without any hassle.
Reasons to buy:
Premium and lightweight design
Paper-like display
Optimal battery life
Reasons to avoid:
Front-lighting isn't that great
Lacks self-adjusting lighting
8. PocketBook InkPad Color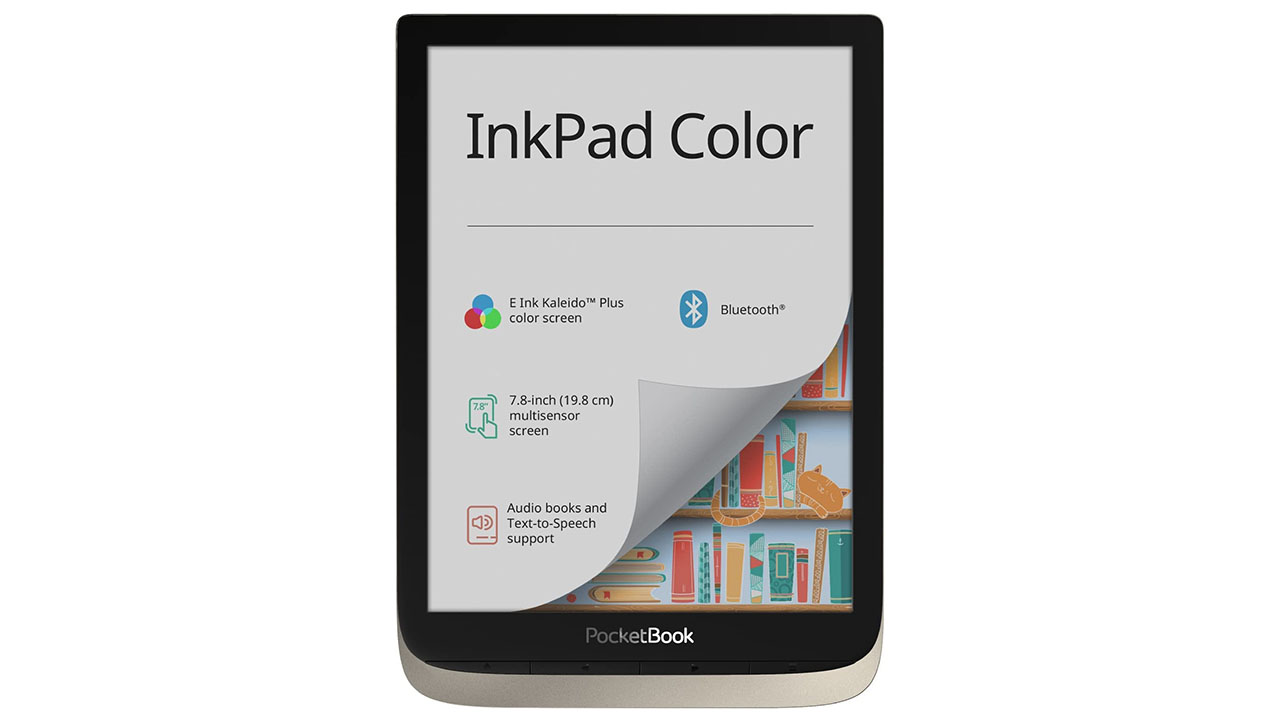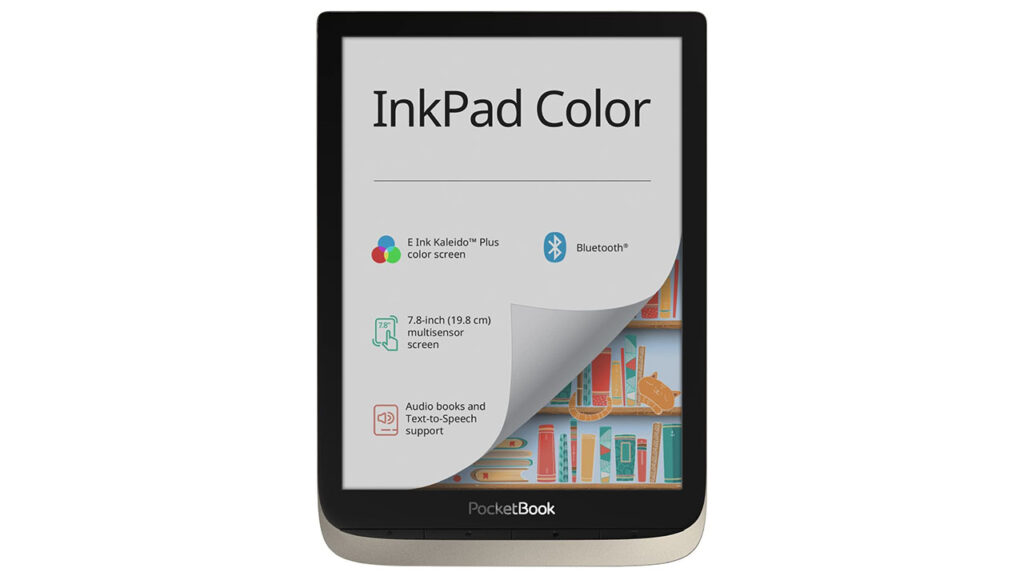 If you are a bibliophile that likes reading in their free time, the PocketBook InkPad Color is a leading eReader you can consider buying in 2023.
A lot similar to Amazon's Kindle, the model comes with a variety of premium features that you can use to stay hooked to your favorite books digitally.
The standout feature in this model is the E-ink new Kaleido color screen, which provides users a mix between 4096 colors that offer optimal color vibrancy in the display, especially when you are reading books with illustrations.
Besides that, the InkPad Color also enables you to read a variety of categories of books, including the ordinary comics and fiction books too. As for the display, this e-book reader is equipped with a 7.8" display with a premium visual experience. The display is also eye-friendly, glare-free and energy efficient.
Not just standard reading experience, the PocketBook Inkpad Color supports audiobook and music too and that too in a few different formats. Also, the device has a unique text-to-speech function in 16 different languages. As for the connectivity, the device supports Bluetooth wireless connectivity.
Reasons to buy:
Durable and sleek design
Integrated with the new Kaleido color screen
Supports text-to-speech feature
Reasons to avoid:
A bit pricey
Has limited connectivity options
9. Kindle Paperwhite Signature Edition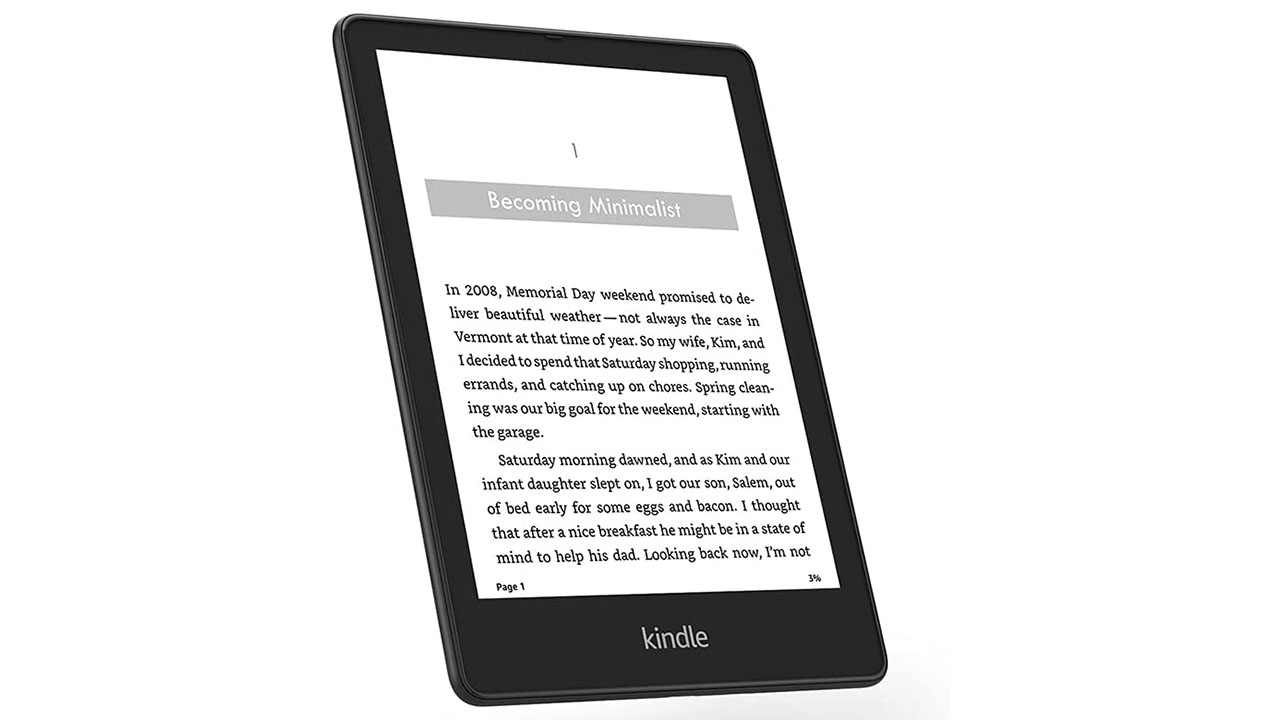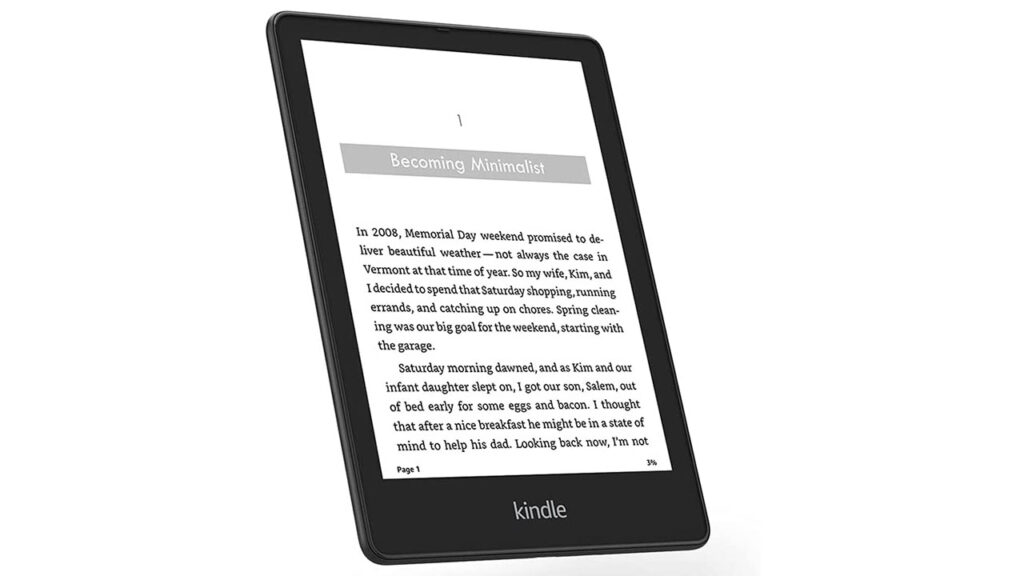 While we are on the topic of kindle and e-book readers, the Kindle Paperwhite Signature Edition is another one worth mentioning.
This is a more premium and exclusive version of the standard Kindle Paperwhite as it comes with wireless charging, auto-adjusting front light and a whopping 32GB storage.
Ideally designed for comfortable and book-like reading experience, the Signature Edition is equipped with a high resolution, front-flush design, 300 ppi glare-free display that allows you to read your e-books anywhere, even under the direct sunlight.
The device also comes with two charging options – the standard USB-C charging port or the Qi wireless charging and the battery lasts for up to 10 weeks. So, a single charge ensures that you can use the Kindle for over 2 months.
As for the adjustable light settings, the Signature Edition supports adjustable warm light and also comes with auto-adjusting front lights for a more comfortable reading experience. Paired with Audible subscription, users can also turn their e-books into audio-books to listen on the go.
Reasons to buy:
Premium design
Comes with dual-charging support
2+ months battery life
Reasons to avoid:
A little overpriced
Front light auto-adjusting could be better
10. Kobo Libra 2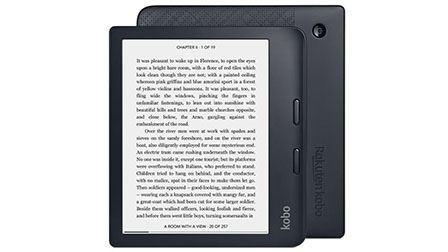 The last on our list is Kobo Libra 2. If you are willing to stick with the Kobo ecosystem, this is an alternative to Kobo Clara HD.
However, Libra 2 is slightly better than Clara HD. The tablet is available in two different colors and features a 7-inch anti-glare screen.
Unlike Kobo Clara HD, Libra 2 has two programmable buttons for page-turning. The rest features are the same. It offers 300 PPI pixel density with 1264 x 1680 resolution and Dark Mode. In addition, Libra 2 has 32 GB onboard storage for storing thousands of books.
You can also access audio-books on the Kobo ecosystem and read on the free Kobo app. Also, Libra 2 comes equipped with ComfortLight PRO. That allows readers to adjust brightness and blocks blue light for the best reading experience.
Reasons to buy:
Features a 7-inch display for the perfect one-hand reading experience
It has two buttons for page turning
It comes with a 300 PPI pixel density
Adjustable brightness with its ComfortLight PRO feature
Slightly better than its alternative Kobo Clara HD
Reasons to avoid:
It only supports Kobo ecosystem
It's slightly expensive than its alternative Kobo Clara HD
Things to look for in eReaders
I believe, you now have a clear idea of why to get a reading tablet and may want to go ahead and buy one. But that's not all. There are certain factors that you need to know about which will help you choose the right eReader ultimately.
Let's dive in.
Color
You may have seen that Kindle and other eReaders are monochromatic, meaning they only use Black and White colors. However, some of the new reading tablets now feature colors as well, thanks to E Ink Kaleido or E Ink Kaleido Plus technologies.
So what's better, a monochromatic eReading tablet or a colored one? Well, if you ask us, we will recommend you stick with the monochromatic one. Why? Because the color technology in E ink is new and the colors it shows are not as vibrant and punchy as a standard tablet with LED or OLED technology.
So, it won't be an extraordinary reading experience if you choose to go with color eReader. Nevertheless, if you read more comics or magazines than books, you may want to choose the colored ones, but again, it won't match the color quality of an iPad.
Brightness
EReaders with the least price tag do not come with lights, meaning, the screen won't show any text unless you're seeing it under bright light. This is similar to reading a printed book. However, most ebook readers come with in-built lights on the screen that lets you read even in the dark.
So, before you decide to buy an ebook reader, you should check whether it's backlit or not. The brightness levels are not strikingly high that it will wake up your partner sleeping beside you at night. They are just enough to make the e ink text readable.
Size
The most common size of ebook readers is 6 inches. The tablet companies maintained that size for eReaders but then the latest Kindle Paperwhite and Kobo Libra featured a 7-inch screen. Also, Onyx has launched eReader tablets up to 13.3 inches as well.
The reason why reading tablets were of 6-inch size is they are perfect for one-hand holding. Considering that, anything beyond 7 inches is not feasible for one-hand use. But as tech evolved, these tablets also started featuring note-taking and writing. Hence, a bigger screen won't be much of a problem.
In fact, a bigger screen for note-taking is more convenient. All in all, it's really up to you that how big the eReader tab you want depending upon its features.
Type
All eBook readers feature the same e-Ink technology. Considering they work more or less in a similar way. Some eReaders are only for reading purposes. For example, Amazon's Kindle. It doesn't come with stylus support. You can access to Kindle store and download as many books as its storage allows.
Whereas tablets like Kobo Elipsa features stylus support and let you take handwritten notes and also share files quickly using Dropbox. In a nutshell, such tablets act like a notepad and book.
However, if you're sure that you want a tablet for only reading, we suggest you go with the one that is meant only for reading. That way, you'll save extra money because any additional technology makes a tablet too costly.
Verdict
The year 2023 is going to open the doors to high-end tablets and eReaders are not excluded. We have handpicked the top reading tablets of 2023 for you to choose the best. If you prefer the Kindle ecosystem, we recommend you go with Kindle Paperwhite as its price point is fair and offers the latest tech.
However, you won't get stylus support on any Kindle devices. That said, you have to move to Kobo or ONYX BOOX if you want stylus support for writing and note-taking too. Kobo Elipsa and ONYX BOOX Note 5 are options for you in that case. Kindle Scribe is the most premium among tablets with a stylus.
And Kobo Libra 2, Kobo Clara HD, and ONYX BOOX Nova Air C are options for reading purposes only in addition to Kindle devices. So, go through their reviews and see what suits your budget and needs.
Also do not forget to consider factors to look for when buying an eReader. That will help you to choose from our top picks.