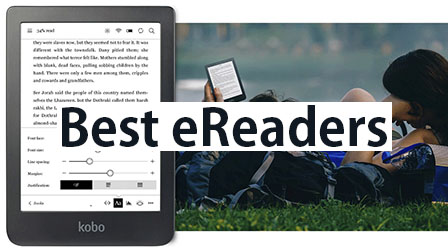 Why an eReader when you can read e-books on your phone and tablets? Well, if you ask it to your bibliophile friend who is always drowned in their reading tablet, you'll exactly get to know why. If you're too looking for buying an eReader, don't worry, we've got you covered.
Apps like Kindle, Kobo, Apple Books, Nook, etc. are available on smartphones and tablets. But what makes reading tablets so enjoyable and absolutely convenient is its features. Ebook readers are one hundred percent distraction-free and provide a natural book reading experience unlike LED screens of tablets which can strain your eyes.
They come with an Internet facility but that's just for browsing through an eBook store like Kindle, Kobo, Apple Books, or Audible. Meaning, you won't get any notifications of your work emails, social media, phone calls, or literally anything that distracts you from reading.
In addition, ebook readers are equipped with e-ink technology that enables the screen to act like a real paper. That way, your eyes won't be strained and you can read on the tablet in bright direct sunlight as well.
Plus, you can access a zillion ebooks from across the globe. Not to mention its long-lasting battery and ability to store thousands of ebooks on it.
However, there are multiple things to consider before getting an eReader. Read on to know.
Things to look for in eReaders
I believe, you now have a clear idea of why to get a reading tablet and may want to go ahead and buy one. But that's not all. There are certain factors that you need to know about which will help you choose the right eReader ultimately.
Let's dive in.
Color
You may have seen that Kindle and other eReaders are monochromatic, meaning they only use Black and White colors. However, some of the new reading tablets now feature colors as well, thanks to E Ink Kaleido or E Ink Kaleido Plus technologies.
So what's better, a monochromatic eReading tablet or a colored one? Well, if you ask us, we will recommend you stick with the monochromatic one. Why? Because the color technology in E ink is new and the colors it shows are not as vibrant and punchy as a standard tablet with LED or OLED technology.
So, it won't be an extraordinary reading experience if you choose to go with color eReader. Nevertheless, if you read more comics or magazines than books, you may want to choose the colored ones, but again, it won't match the color quality of an iPad.
Brightness
EReaders with the least price tag do not come with lights, meaning, the screen won't show any text unless you're seeing it under bright light. This is similar to reading a printed book. However, most ebook readers come with in-built lights on the screen that lets you read even in the dark.
So, before you decide to buy an ebook reader, you should check whether it's backlit or not. The brightness levels are not strikingly high that it will wake up your partner sleeping beside you at night. They are just enough to make the e ink text readable.
Size
The most common size of ebook readers is 6 inches. The tablet companies maintained that size for eReaders but then the latest Kindle Paperwhite and Kobo Libra featured a 7-inch screen. Also, Onyx has launched eReader tablets up to 13.3 inches as well.
The reason why reading tablets were of 6-inch size is they are perfect for one-hand holding. Considering that, anything beyond 7 inches is not feasible for one-hand use. But as tech evolved, these tablets also started featuring notetaking and writing. Hence, a bigger screen won't be much of a problem.
In fact, a bigger screen for notetaking is more convenient. All in all, it's really up to you that how big the eReader tab you want depending upon its features.
Type
All eBook readers feature the same e-Ink technology. Considering they work more or less in a similar way. Some eReaders are only for reading purposes. For example, Amazon's Kindle. It doesn't come with stylus support. You can access to Kindle store and download as many books as its storage allows.
Whereas tablets like Kobo Elipsa features stylus support and let you take handwritten notes and also share files quickly using Dropbox. In a nutshell, such tablets act like a notepad and book.
However, if you're sure that you want a tablet for only reading, we suggest you go with the one that is meant only for reading. That way, you'll save extra money because any additional technology makes a tablet too costly.
Best eReaders For 2022
Kindle, Kobo, Onyx, and Nook are the best players in the eReader tablet world. They all have their pros and cons. So, it doesn't matter at what rank we have placed them on our list, they are the best eReaders for 2022. So choose the one that completes your checklist and falls within your budget!
Also, always keep in mind where you are going to get your eBooks from. This is because some platforms like Amazon and Kobo have copy protection on their eBooks. Meaning, you won't be able to read them cross-platform. However, Onyx allows you to download all competitors' apps and lets you read books from all ecosystems.
1. Kindle Paperwhite (11th Gen) 2021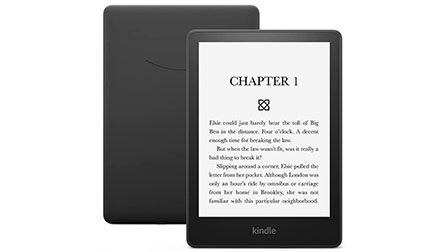 The first on our list is Amazon's Kindle Paperwhite 11th Generation. This is the top model of Kindle on the market right now.
And probably there won't be a new Kindle in 2022. Kindle Paperwhite comes with a 6.8-inch screen with E ink technology and has thinner borders than its predecessors.
Its pixel density is 300 PPI which is great for reading. It comes with an IPX8 rating for protection against water splashes and accidental immersions. That makes it good for outdoor usage.
Kindle Paperwhite features white light and warm amber color settings for reading comfortably day and night. You can also schedule when the light changes. It has a USB type C port for charging and connecting it with the PC. The battery lasts up to 10 weeks.
It also offers Bluetooth so that you can connect your wireless headphones or speakers to listen to audiobooks on Audible. Check out their ad-supported, Kindle Unlimited variants on Amazon.
Pros:
Better pixel density of 300 PPI than the basic Kindle tablet
It comes with IPX8 protection against water splashes and occasional immersions.
It features new white light and warm amber light settings which were not present in the 10th generation Kindle Paperwhite.
Its Bluetooth connection lets you listen to audiobooks via wireless headphones and speakers.
Cons:
It only supports Kindle ecosystem and can't install third-party apps to read ebooks.
2. Kobo Elipsa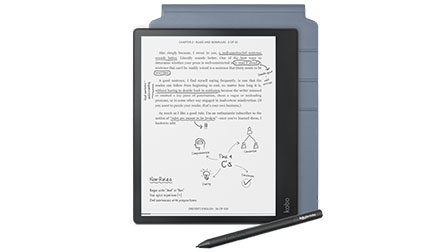 The next up is Elipsa by Kobo. If you're looking for an eReader tablet that also lets you take notes, mark your books, and share files conveniently, you can buy Kobo Elipsa.
Since this tablet features a stylus technology, it will cost you more than a simple eReading tablet like Kindle Paperwhite 11th Gen.
Kobo Elipsa features a 10.3-inch touchscreen with Carta 1200 E Ink technology and dark mode. The bigger size is convenient for using it as a notebook. Moreover, it comes with a sleep-on cover that lets you place your tab in a comfortable angled position. Elipsa has the ability to convert your handwritten notes into clean typed texts as well.
It comes with Dropbox so that you can easily share eBooks and documents with your colleagues or classmates conveniently. It offers 32 GB of onboard storage. That can hold too many eBooks at a time. Kobo Elipsa features Bluetooth for listening to audiobooks too.
Pros:
It also supports a stylus for notetaking and writing.
Conversion from handwritten notes to text is possible
It comes with 32 GB of onboard storage plus Dropbox cloud space.
Bigger screen of 10.3-inch and a sleep cover to position the tab for an excellent writing experience.
Cons:
It only supports the Kobo ecosystem.
3. Kindle Oasis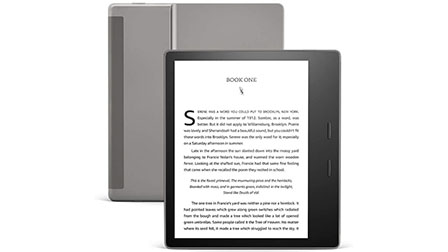 Kindle Oasis is the most premium eReader by Amazon. If price is not the concern, you should definitely choose Kindle Oasis over other Kindle models for a smooth and stunning reading experience.
It is packed in an Aluminum chassis and that gives that premium finish to it. Amazon has designed it specifically for reading purposes, unlike Kobo and Onyx eReaders. The screen size is 7 inches, slightly larger than the Kindle Paperwhite. To make the device super convenient, Kindle Oasis features two-page turn buttons on the side and autorotating screen.
Apart from that, it lets you switch to listening to Audiobook when you're tired of reading with its Whispersync. It also comes with an IPX8 rating for protection against water and accidental immersion. Not to mention its white light to warm light setting, auto-adjusting brightness, and access to the Amazon Kindle ecosystem.
Pros:
A premium 7-inch screen perfect for an immersive reading experience
Auto-adjust brightness as well as bright and amber light scheduled time settings
Two convenient buttons on the side for single-handed reading and page turning
It lets you switch to listening to the book when you wish to discontinue reading using Whispersync.
Cons:
It's expensive considering its premium features
Only supports Kindle ecosystem
4. ONYX BOOX Leaf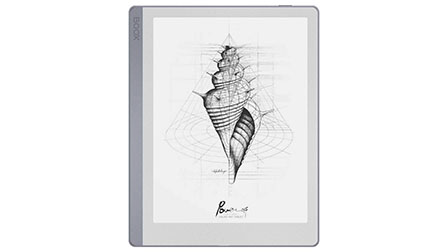 If you want to try an eReader tablet for reading purposes other than Kindle, ONYX BOOX Leaf is perfect for you.
It is also a cheaper alternative to Amazon's Kindle Oasis. Both devices are premium and offer similar features.
It is a 7-inch tablet. ONYX has named it Leaf because it's too thin which makes it quite easy to carry around and read on it. It weighs about 170 grams and is 5.59 mm thin. And its battery has a 2000 mAh capacity.
ONYX BOOX Leaf has white and warm light which lets you read comfortably depending upon whether it's a day or night. The tablet also autorotates the screen. It comes with a magnetic protective cover that weighs about 100 grams.
Its magnetic cover has two buttons for turning the page. ONYX BOOX also claims that one can access Kindle and Kobo apps and read books available there. The tablet has 2+32 GB storage which means, you can store thousands of books in it. Not to mention its speakers for listening to audiobooks.
Pros:
It features screen color adjustment and auto-rotating display.
Has a 7-inch display perfect for eReading
Supports Audio Books
It comes with a 2+32 GB storage
The tablet works on Kobo and Kindle Ecosystem as well.
Cons:
It's costlier than its Kindle alternative, Kindle Paperwhite.
5. Kobo Clara HD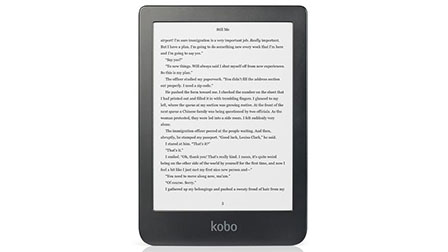 The next on our list is Kobo Clara HD, a 6-inch reading tablet. Unlike Kobo Elipsa, this tablet doesn't come with stylus support or doesn't have a big enough screen for taking notes.
Nevertheless, you can choose from over 50 font sizes and 12 font types for reading.
And with adjustable margins, you can type notes, highlight passages, and access a built-in dictionary. The tablet offers brightness and temperature settings for diverse lighting conditions. However, like other eReaders, you can definitely read on its anti-glare display under direct sunlight.
Kobo Clara HD's battery will last for weeks on a single full charge. Moreover, it has 8 GB onboard storage and connects with a PC using a MicroUSB.
Pros:
A 6-inch display that offers a perfect reading experience
It lets you choose from over 50 font sizes and 12 font styles.
Comes with brightness and color adjustments.
Cons:
It only supports Kobo ecosystem.
Does not support stylus for writing and notetaking unlike Kobo Elipsa
6. Kindle 10th Generation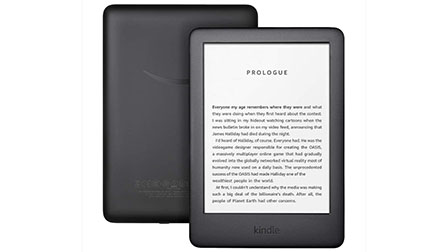 Kindle 10th Generation is another tablet on our list of eReaders. This tablet is the most basic device of the Kindle series.
That said, it comes with a low price tag. If you have a very limited budget, you should definitely go with it.
The major difference between other Kindles and Kindle 10th generation is the pixel density. While Kindle Paperwhite and Kindle Oasis have 300 PPI, this tablet has a 167 PPI glare-free display.
It surely means that this Kindle has a lower quality display, however, the text with 167 PPI on a 6-inch display looks just perfectly fine. In a nutshell, lower PPI doesn't mean it will be hard on your eyes at all.
Kindle 10th gen, like other Kindles, comes with Audible support, to switch seamlessly between Audiobooks and eBooks. Not to mention, its Bluetooth connection to pair with speakers and earphones. It has adjustable brightness, 8 GB of internal storage, and an optional Kindle unlimited subscription.
Pros:
A 6 -inch display for an apt reading experience.
Supports Kindle Audible and Bluetooth to pair the tab with Wireless headphones and speakers.
The best budget choice in Kindle.
Cons:
It has 168 PPI pixel density which is lower compared to other premium Kindle devices like Kindle Oasis and Kindle Paperwhite.
It only supports Kindle ecosystem.
7. Kobo Sage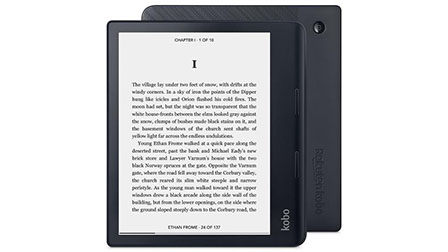 Here's another Kobo tablet on our list. Kobo Sage is a reading tablet with stylus support.
Meaning, it lets you write on it and mark your eBooks with it. It is an alternative to Kobo Elipsa.
The major difference between Elipsa and Sage is the screen size. Kobo Sage has an 8-inch display whereas Elipsa features a 10.3-inch screen. Moreover, with Kobo Sage you can buy a stylus and sleep on the cover separately, whereas, with Kobo Elipsa, you get the stylus and sleep cover included.
This means that Kobo Sage offers more flexibility with buying options. Also, a smaller screen size means saving a few more bucks. All in all, if you don't want to spend too much on an eReader tablet with stylus support, you can go with Kobo Sage.
Pros:
Comes with stylus support for writing and notetaking as well
It features a 10.3-inch screen which is perfect for eWriting
Offers more personalization and inferior features than Kobo Elipsa to save money on additional premium features.
Cons:
It only supports the Kobo ecosystem.
8. ONYX BOOX Note 5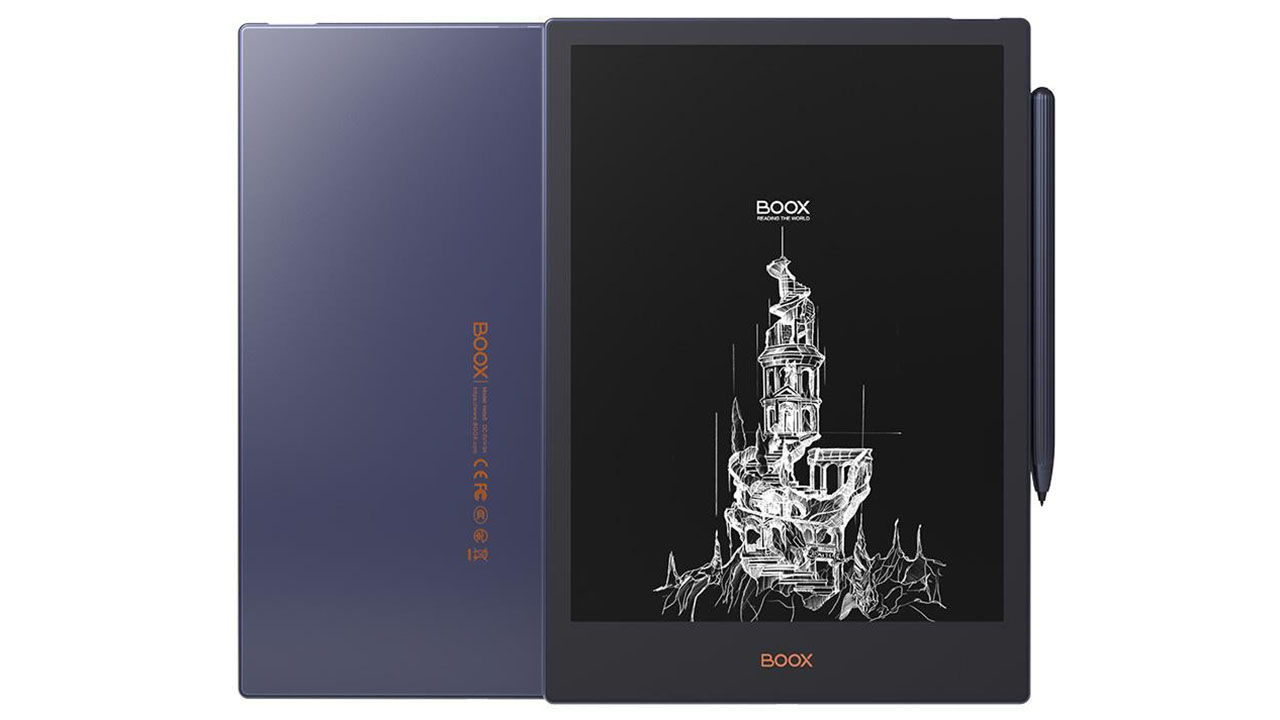 Here's one more tablet by ONYX BOOX. We are pretty sure that ONYX BOOX Note 5 will hit booming sales in 2022. It's available to pre-order on their official website. This is one of the most advanced reading slates with stylus support on the market.
It has a 10.3-inch display with HD Mobius flexible Carta screen and flat cover-lens. It offers 4 GB RAM and whopping 64 GB onboard storage with an advanced octa-core processor. You may be wondering the reason behind such high-end specs.
Well, some of its stunning features require more RAM and a better processor for a smooth working experience. ONYX BOOX Note 5 features horizontal and vertical split screens for multitasking. Not only that, it lets you use most third-party note-taking apps to read over 17 formats of eBooks. And not to mention its 5 GB free cloud storage.
The tablet comes with a protective sleeve and an optional magnetic case. There are different stylus tips available as well. Dual speakers, Bluetooth and Wifi, and fingerprint security make it the most advanced tablet of the year 2022.
Pros:
It comes with a premium 10.3-inch screen with HD Mobius flexible Carta screen and flat cover-lens
Offers stylus support and works on advanced stylus options like multiple tips and much more.
Features Whopping 4 GB RAM and 64 GB onboard storage + 5 GB cloud storage
It provides a fingerprint security.
Lets you listen to audiobooks with the help of Bluetooth.
Supports third-party apps like Kindle and Kobo.
Cons:
It's costly as it's a premium device.
9. NOOK GlowLight 4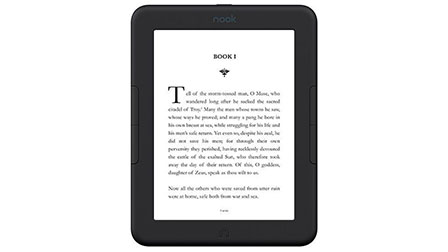 This is quite affordable and a great eReader with basic features. NOOK GlowLight 4 features a standard 6 inches screen with 300 pixels per inch.
Like other basic eReaders, it also features a built-in glare-free and fingerprint-resistant lens for comfortable reading.
NOOK's paperlike reading experience is better with brightness and temperature settings (night mode). The best thing about NOOk GlowLight 4 is its 32 GB storage and free cloud storage for all purchased books on Nook cloud.
Unlike the basic Kindle devices, NOOK GlowLight 4 has page-turning buttons so that's a plus if you choose to go with this one. Also, it's easy to sync with the Nook Reading App by simply signing up and picking up where you left from.
The tablet features a USB type C port and comes with an in-built anti-glare screen protecting cover.
Pros:
An affordable alternative to Kindle Oasis
Features a 6-inch screen perfect for reading
Comes with a 32 GB onboard storage free cloud storage on NOOK app
It features convenient page turning buttons.
Cons:
It only supports NOOK ecosystem, which means you can't read your Kindle books on it.
10. Kobo Libra 2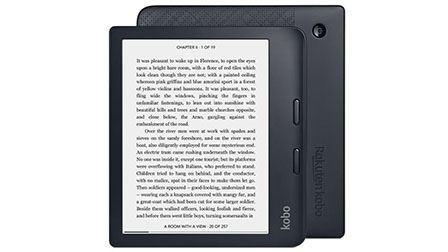 The last on our list is Kobo Libra 2. If you are willing to stick with the Kobo ecosystem, this is an alternative to Kobo Clara HD.
However, Libra 2 is slightly better than Clara HD. The tablet is available in two different colors and features a 7-inch anti-glare screen.
Unlike Kobo Clara HD, Libra 2 has two programmable buttons for page-turning. The rest features are the same. It offers 300 PPI pixel density with 1264 x 1680 resolution and Dark Mode. In addition, Libra 2 has 32 GB onboard storage for storing thousands of books.
You can also access audiobooks on the Kobo ecosystem and read on the free Kobo app. Also, Libra 2 comes equipped with ComfortLight PRO. That allows readers to adjust brightness and blocks blue light for the best reading experience.
Pros:
Features a 7-inch display for the perfect one-hand reading experience.
It has two buttons for page turning.
It comes with a 300 PPI pixel density.
Adjustable brightness with its ComfortLight PRO feature.
Slightly better than its alternative Kobo Clara HD
Cons:
It only supports Kobo ecosystem
It's slightly expensive than its alternative Kobo Clara HD.
Conclusion
The year 2022 is going to open the doors to high-end tablets and eReaders are not excluded. We have handpicked the top reading tablets of 2022 for you to choose the best. If you prefer the Kindle ecosystem, we recommend you go with Kindle Paperwhite as its price point is fair and offers the latest tech.
However, you won't get stylus support on any Kindle devices. That said, you have to move to Kobo or ONYX BOOX if you want stylus support for writing and notetaking too. Kobo Elipsa, ONYX BOOX Note 5, and Kobo Sage are options for you in that case. ONYX BOOX Note 5 is the most premium among tablets with a stylus, whereas Kobo Sage is the most affordable.
And NOOK Glowlight 4, Kobo Libra 2, Kobo Clara HD, and ONYX BOOX Leaf are options for reading purposes only in addition to Kindle devices. So, go through their reviews and see what suits your budget and needs.
Also do not forget to consider factors to look for when buying an eReader. That will help you to choose from our top picks.
Stay tuned with us and let us know if you have any questions!