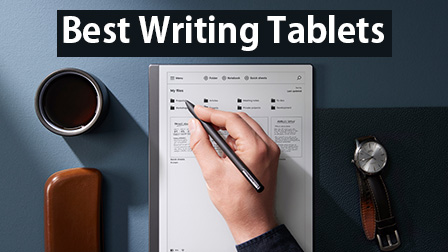 A good writing tablet comes in handy when inspiration strikes. However, If you're not sure which tablet you should go for, don't worry, we've got you covered. Some tablets are designed specifically to meet the needs of writers.
A tablet is a computing solution falling somewhere between a smartphone and a pc. From graphic designing to working in extreme weather conditions, there are all sorts of suitable tablets available. So when choosing a tab, you should be specific about your primary requirements.
Writing tablets should have a fast processor and a good refresh rate for a smooth writing experience. This is quite important because any kind of lag while writing will ruin your creative mood and you will end up being more frustrated. In short, the tablet should be able to match the swiftness of your fingers.
Compatibility with the keyboard is another feature it should have. Earlier, tablets used to support a keyboard through OTG, but nowadays new tablets attach to keyboards through magnetic touch contact featuring NFC. Some tablets also have a pogo pin for attaching the keyboard to the tab. All in all, it's up to you what works better for you.
The keyboards of tablets are smaller in size compared to those of laptops or computers. That said, you should consider the form factor of the keyboard when purchasing a writing tablet. More or less, the keyboards are the same but if you do not like something in particular with any keyboard, you shouldn't ignore that.
Another crucial feature is a stylus and related functionality. If you want to take quick handwritten notes, the tablet should come with a stylus or at least compatible with it so that you can buy a stylus separately.
The tablets that have made it to our recommendations are compatible with a stylus, and better yet, come with a stylus included. But again, not all styluses are equal. Some need to be charged, some don't; some attach with the tablet via magnetic contact for charging while some don't. It completely depends on your preferences as to what to choose.
A few styluses have replaceable pen tips for better writing and drawing experience. So, you might want to consider this fact while choosing a writing tablet. Tilt angle, response rate, pressure sensitivity, programmable buttons, palm detection, eraser tip are some other features of a stylus you might want to consider before buying a writing tablet.
While writing and keeping your notes safe in a tablet, it is crucial to ensure that the tablet has enough storage that matches your requirement and has fingerprint or facial recognition features for security. Tablets these days have improved battery performance for long-lasting use on a single charge. This way, you can write endless stories on your tablet without interruption.
If you're not sure what you need to look for, don't worry, we have considered all the factors and have made a list of recommendations for you. Just go through all of them and choose the one which matches your budget and needs the most.
Best Writing Tablets For 2021
What's a more joyous and satisfactory feeling than pouring your heart out on paper without even the slightest discomfort? The tablets we have chosen for you have all you need for your writing needs.
However, you shouldn't overlook other features as well. See which additional features can fulfill your needs and wants, and fits your budget as well. That's the writing tablet you should buy.
We have gathered the best picks for writing tabs for you and shared our reviews. At the end of the article, I'll tell you which tablet I'd select if I needed a writing tablet.
1. Samsung Galaxy Tab S7/S7+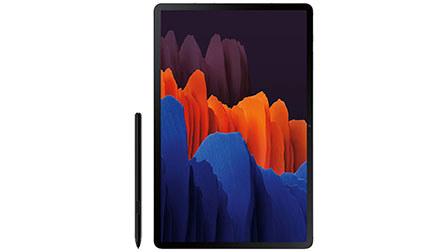 The first on our list is Samsung Galaxy S7 and S7+. Both tablets are pretty much similar with a few key differences including, display size, type, screen resolution, and colors.
Both tablets are good, so you can choose either of two considering your budget, features, and convenience.
The tablet comes with a flagship S pen included and an optional keyboard. The S pen features ultra-low latency of 9ms and features quick air controls for presentations, camera, etc. It attaches to the back of the tablet via magnetic contact for charging and storage.
The book cover keyboard provides Samsung's standard DeX (Desktop Experience) for a seamless writing experience along with a touchpad. It also has 16 intuitive function keys including Android specific keys and Samsung DeX key.
The Galaxy Tab S7/S7+ comes with Samsung Notes and Office apps. Moreover, handwriting to text, notes synchronization, and dark mode are some additional writing features you'd want to consider. It has Qualcomm Snapdragon 865+ processor and 6GB/8GB RAM.
2. Apple iPad Pro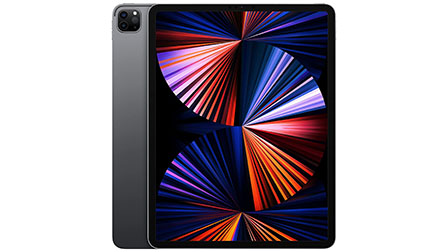 The next up is the Apple iPad Pro 2021 powered with its M1 chip. Not for just writing, it is an all-round tablet for all your needs including professional graphic designing, gaming, video shooting, etc. The M1 chip makes it one of the fastest tablets of its kind.
Unlike most other tablets, you have to purchase an Apple Pencil separately. Apple claims that with an Apple Pencil, iPad Pro is the world's best note-taking device. You can edit documents, create hand-written notes, and fill text fields with the utmost convenience.
You can either get an Apple Magic Keyboard or the Smart Keyboard Folio for an immersive writing experience. The key difference between the two is that the Magic Keyboard has an in-built trackpad while Smart Keyboard Folio doesn't. Its backlit keys make it possible to write in any light conditions.
If storage capacity is the problem, don't worry, you can even get a whopping 2TB storage now as well. The XDR display, 10 hours of usage on a single charge, 8GB/16GB RAM, and built-in apps make it a perfect writing tab.
3. Boogie Board Blackboard Writing Tablet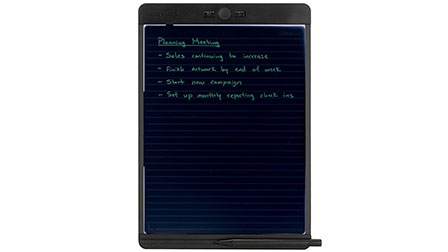 Blackboard tab by Boogie Board is a tablet just for your writing needs. It actually is a semi-transparent surface that allows you to write on it and erase.
When you're done writing or drawing, you can simply scan it using the Blackboard app on iOS and Android and store it.
You can clear the entire screen by just pressing a single button and features a real erasing experience. You have to press and hold the erasing button while erasing so that you do not accidentally erase anything.
It works on a replaceable battery that lasts about 5 years so that you won't have to worry about charging it. You can use Blackboard for drawing and tracing as well due to its semi-transparent surface. Blackboard also features lines and grid templates for a better writing experience.
4. Microsoft Surface Pro X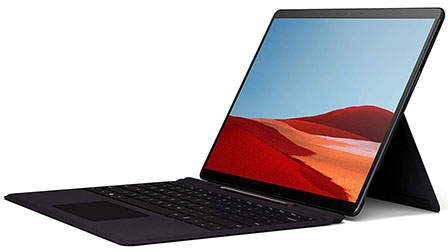 Many workplaces have employed Microsoft Surface tablets for their employees. With additional accessories, Microsoft Surface Pro X becomes the best Microsoft Surface writing tablet.
The tablet's 13" display with ultra thin bezel design provides you more working space. The Surface Pro X works on Microsoft SQ processors and 8GB or 16GB RAM. This is quite alright for your writing needs.
The Surface Pen doesn't come bundled in. So, you'll have to purchase it separately. The Surface Pro X comes with Windows 10 Home and Microsoft 365 (free trial) which makes the storage, security, and sharing of documents quite easier. You also get a free upgrade to Windows 11 with this tablet.
The battery lasts about 15 hours on a single charge so that you can worry less about the battery and can write endlessly at one go. Their Surface Pro Type Covers are basically a keyboard and a back cover for tablets. It does include a touchpad, however, you can also get a separate Surface Arc Mouse.
5. Samsung Galaxy Tab S6 Lite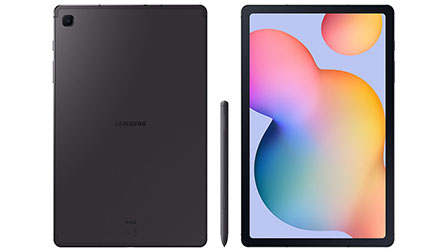 The next on our list is Samsung Galaxy Tab S6 Lite. If Galaxy Tab S7/S7+ is out of your budget, you can go with the S6 Lite.
Its 7040 mAh battery lasts for about 13 hours and provides an uninterrupted writing experience.
Like Galaxy S7, this tab also comes with the flagship S pen included. The storage capacity is 64GB / 128GB and 4GB RAM. If you compare it with S7/S7+, the storage capacity and RAM are a little less. Also, the processor Galaxy S6 Lite has is Exynos 9611 Octa Core and not Qualcomm Snapdragon, unlike S7.
You will have to purchase a Bluetooth keyboard separately for writing purposes. All in all, it offers you the Samsung Galaxy Tab feel but a little less than S7.
6. Apple iPad Air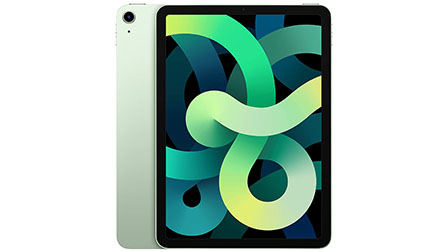 Next up is the Apple iPad Air. Definitely, no matter what tablet from Apple you get, it will serve all your writing needs and wants. But again, with iPad Pro, you get superior features and specifications.
So, if your budget can't accommodate iPad Pro, the next Apple tab you can go with is iPad Air.
Like other iPads, it supports Apple Pencil for taking notes, crafting handwritten articles, short stories, marking documents, and filling text inputs whenever needed. It works on an A14 Bionic chip which makes the device super fast and offers smooth operation.
It can be connected to Apple Magic Keyboard so that you can write seamlessly and have an in-built trackpad with it. You get to choose from five different color options. So choose the variant that vibes with you! It also has a fingerprint scan so that you can keep your work safe on the device.
7. reMarkable 2
reMarkable 2 is a paper tablet that works on a completely different concept. It has a canvas display unlike LED or LCD displays of general-purpose tablets.
The canvas display is similar to the display of kindle tablets. The digital ink simply reflects the light instead of illuminating a zillion minuscule pixels.
Simply put, reMarkable 2 is a paper given some superior digital powers. The tablet is twice as fast as its predecessor. That said, it responds quicker to the strokes of the stylus. When you write on it, it gives the same feeling as writing on real paper with a pen.
With reMarkable 2, you can also write on any pre-existing document. Meaning, you can edit any PDF documents or put your signature on any important documents without needing to print them out. It can also convert your handwritten notes to text.
All in all, if you're looking for a distraction-free writing tablet, reMarkable 2 is the best choice for you. Moreover, you can also use it as an E-reading tablet.
8. Apple iPad 10.2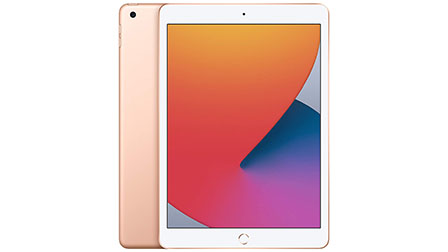 Another Apple tablet has made it to our best writing tablets list. The iPad 10.2" tablet features its flagship A12 Bionic chip and a neural engine with 64-bit architecture. It has a Retina display and TouchID for security.
Like other Apple tablets we have included on our list, it works seamlessly with Apple Pencil. Draw your imagination on the screen or just write your entire novel, you can secretly put all your documents on iCloud.
However, iPad 10.2" doesn't support Apple Magic Keyboard. That said, you won't get a trackpad along with the keyboard it supports. Again, if you want to get an iOS device but you have a low budget, iPad 10.2" is the perfect choice to go with as it features all typical functions of Apple.
9. Royole RoWrite 2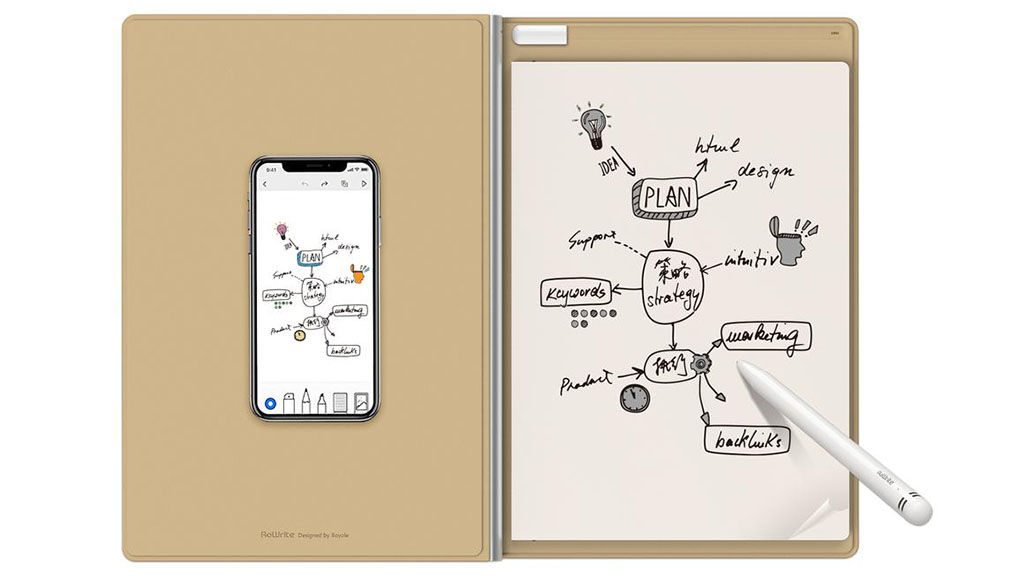 This is a completely new sort of writing technology. With Royole RoWrite 2 you can write on real A5 papers with the stylus it comes with and can sync those notes and writing pieces on your digital device.
The tablet comes with an indentation where you're supposed to place the stylus for charging. It comes in a padfolio structure and has a notebook of real pages. So whenever you take this padfolio, you can write, draw, take notes, and sync them in a digital file using their app simultaneously or later.
If you're a person who loves to write on real paper but is also a fan of technology, this is a perfect note-taking tablet for you. Its price is under 100 USD, considering that, the price point is quite reasonable and all can afford it.
RoWrite 2 tablet is pretty much different than the one we have on the list, reMarkable 2. However, it completely depends on your preferences whether you want to go with a tablet that offers digital paper or real paper!
10. Microsoft Surface Go 2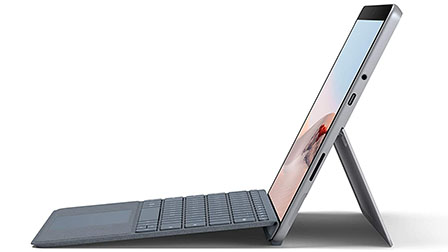 The last on our list is Microsoft Surface Go 2. If you're intrigued with Microsoft tablets but don't have a budget for a Surface Pro X tablet, the Surface Go 2 is the way to go. It is 64% faster than its predecessor the Surface Go.
It has a battery life of 10 hours for a seamless writing experience. Its 10.5" PixelSense display is compatible with the Surface Pen.
However, you have to purchase it separately. Surface Go 2 has enterprise-grade security and Hello Face sign-in so that whatever you write is safe and secure.
It comes with 4GB or 8GB RAM and works on Intel processors unlike Microsoft SQ processors in Surface Pro X. It also offers a free upgrade to Windows 11 Operating System and is compatible with a portable keyboard with a trackpad.
Conclusion
I hope our list has helped you out with selecting the writing tablet perfect for you. If I want an iOS device, I'd surely go with an iPad Pro. It features the best combination of features and specifications of Apple that makes the tablet perfect for any needs including writing.
However, if you don't need such a high-end device but still want an iOS tablet, you can go with iPad Air and iPad 10.2". The same goes for Android tablets. The best writing tablet working on Android interface, Samsung Galaxy S7/S7+ is the ultimate device. And if you don't want and need the extra features you can always save money by choosing the Galaxy Tab S6 Lite.
Microsoft Surface tablets are suitable for workaholic people. Its convenient design lets you work immersively. If you prefer to work on the Windows platform, you should choose any of the two Surface tabs we added to our list.
Lastly, if you do not need an Internet connection to research-and-write and want a distraction-free creative writing tablet, Blackboard, reMarkable 2, and Royole RoWrite 2 are the best bet for you. This digital ink and paper technology is new and innovative, and RoWrite 2 has nailed it with creating digital documents from writing on real A5 papers.
Conclusively, all tablets we have included are currently the best writing tablets on the market. So choose a tablet that matches your needs without hesitation!