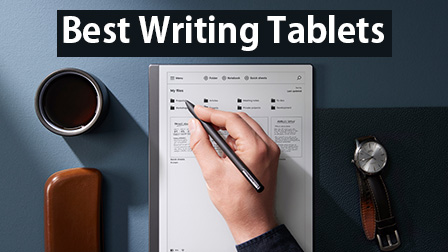 A good writing tablet comes in handy when inspiration strikes. However, If you're not sure which tablet you should go for, don't worry, we've got you covered. Some tablets are designed specifically to meet the needs of writers.
A tablet is a computing solution falling somewhere between a smartphone and a pc. From graphic designing to working in extreme weather conditions, there are all sorts of suitable tablets available. So when choosing a tab, you should be specific about your primary requirements.
Writing tablets should have a fast processor and a good refresh rate for a smooth writing experience. This is quite important because any kind of lag while writing will ruin your creative mood and you will end up being more frustrated. In short, the tablet should be able to match the swiftness of your fingers.
Compatibility with the keyboard is another feature it should have. Earlier, tablets used to support a keyboard through OTG, but nowadays new tablets attach to keyboards through magnetic touch contact featuring NFC. Some tablets also have a pogo pin for attaching the keyboard to the tab. All in all, it's up to you what works better for you.
The keyboards of tablets are smaller in size compared to those of laptops or computers. That said, you should consider the form factor of the keyboard when purchasing a writing tablet. More or less, the keyboards are the same but if you do not like something in particular with any keyboard, you shouldn't ignore that.
Another crucial feature is a stylus and related functionality. If you want to take quick handwritten notes, the tablet should come with a stylus or at least compatible with it so that you can buy a stylus separately.
The tablets that have made it to our recommendations are compatible with a stylus, and better yet, come with a stylus included. But again, not all styluses are equal. Some need to be charged, some don't; some attach with the tablet via magnetic contact for charging while some don't. It completely depends on your preferences as to what to choose.
A few styluses have replaceable pen tips for better writing and drawing experience. So, you might want to consider this fact while choosing a writing tablet. Tilt angle, response rate, pressure sensitivity, programmable buttons, palm detection, eraser tip are some other features of a stylus you might want to consider before buying a writing tablet.
While writing and keeping your notes safe in a tablet, it is crucial to ensure that the tablet has enough storage that matches your requirement and has fingerprint or facial recognition features for security. Tablets these days have improved battery performance for long-lasting use on a single charge. This way, you can write endless stories on your tablet without interruption.
If you're not sure what you need to look for, don't worry, we have considered all the factors and have made a list of recommendations for you. Just go through all of them and choose the one which matches your budget and needs the most.
Best Writing Tablets For 2023
What's a more joyous and satisfactory feeling than pouring your heart out on paper without even the slightest discomfort? The tablets we have chosen for you have all you need for your writing needs.
However, you shouldn't overlook other features as well. See which additional features can fulfill your needs and wants, and fits your budget as well. That's the writing tablet you should buy.
We have gathered the best picks for writing tabs for you and shared our reviews. At the end of the article, I'll tell you which tablet I'd select if I needed a writing tablet.
1. Kindle Scribe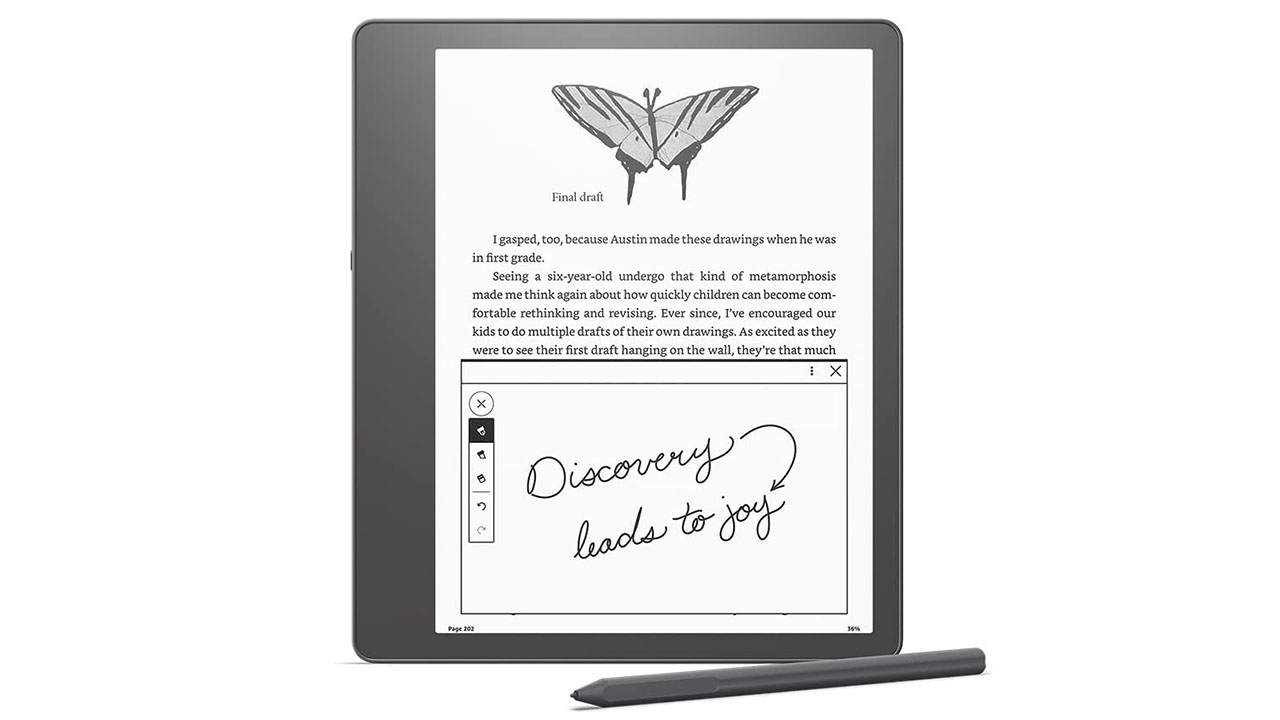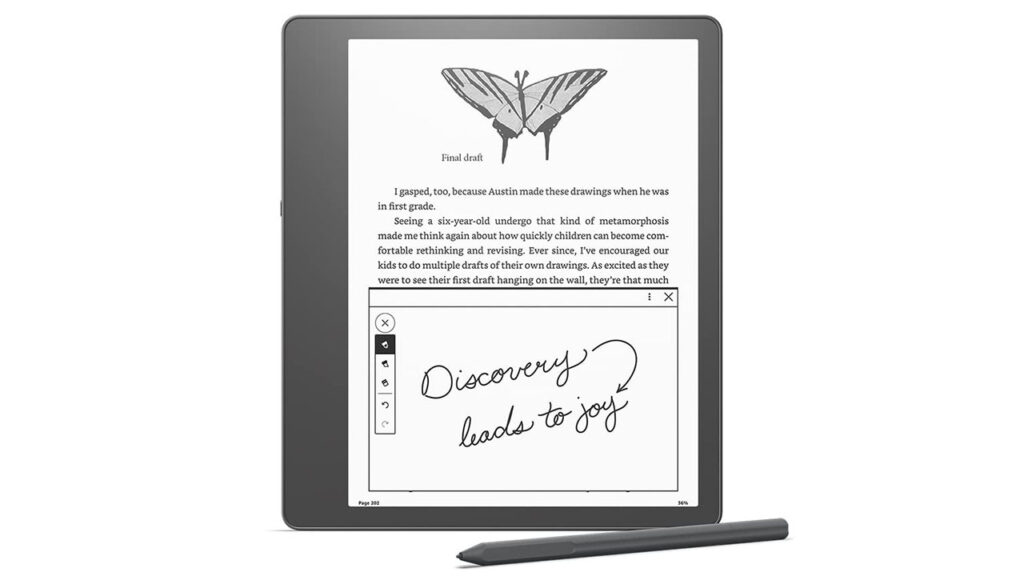 Wouldn't it be so nice to have a tablet that supports e-reading and writing? Well, that's what the Kindle Scribe is designed for.
It allows users to read and write as naturally as you want without any hassle. It is equipped with a responsive 10.2" 300 ppi glare-free Paperwhite display that makes you feel like you are reading directly from a book.
With easy access to the Kindle Store, taking notes on the Kindle Scribe is effortless and uninterrupted. Also, the written notes in the device are automatically organized for easy access in the future.
Not just that, the Kindle Scribe also comes with pre-programmed templates like lined paper, checklists, grid paper, etc. that are here to streamline your life and user experience like no other. You can also take notes and review varying documents digitally and in real-time with easy access to the Kindle app.
The large and high-resolution display also supports adjustable warm light and auto-adjusting front light for a personalized reading experience. It also comes with a USB-C charging port that support months of reading and writing.
2. Samsung Galaxy Tab S8 | S8 Plus | S8 Ultra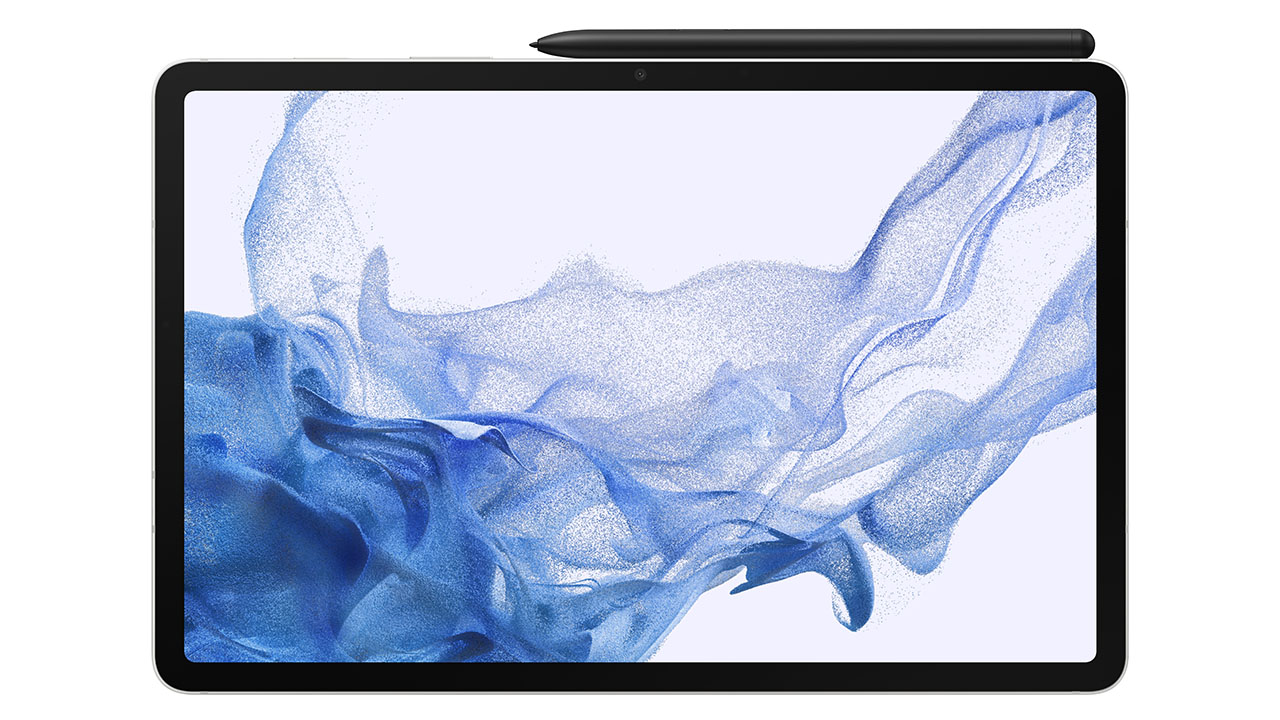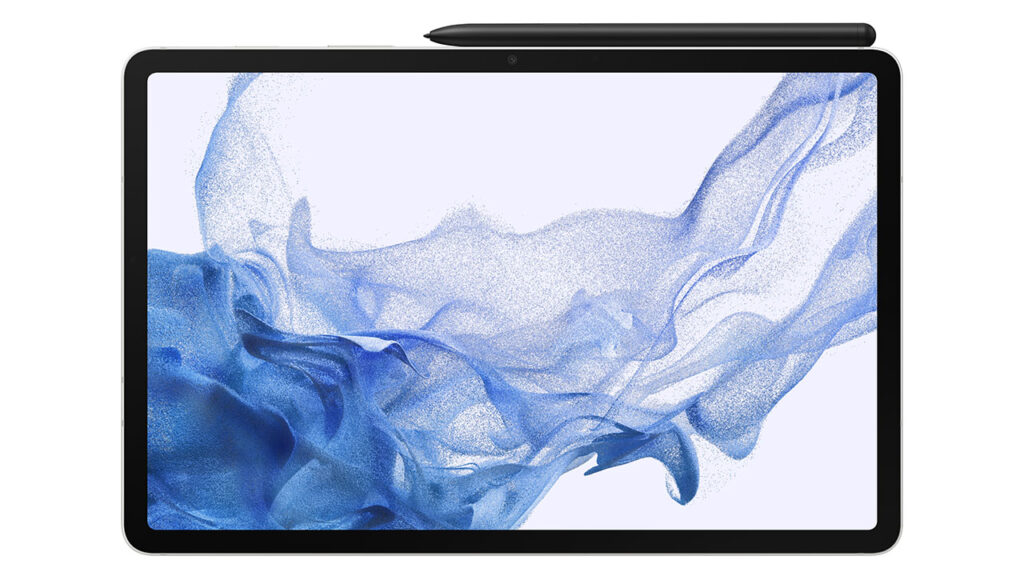 Android tablets have a bad rep to them but the Samsung Galaxy Tab S8 series could change that for good.
A successor to the Tab S7 series, the models are a breakthrough, especially for users on the hunt for a tablet with larger display. This is one of the best competitors for the staple 5th Gen. iPad Air.
The largest of the three, S8 Ultra is equipped with a 14.6" display, which overshadows a lot of the other available tablets in the similar price range. Integrated with a responsive AMOLED display in the S8 Ultra, the Tab S8 is equipped with an LCD display panel, which is equally bright and responsive.
Featuring a combination of high processing power with the Qualcomm Snapdragon processor and up to 16GB RAM that supports elegant and power-efficient functioning of the device. The model is powered by the Android 12 OS for access to all the latest applications and functionalities.
If you are looking for a premium writing tablet that streamlines creativity and content creation, the Galaxy Tab S8 series is hands down the best pick in the market.
3. Onyx BOOX Note Air 2 Plus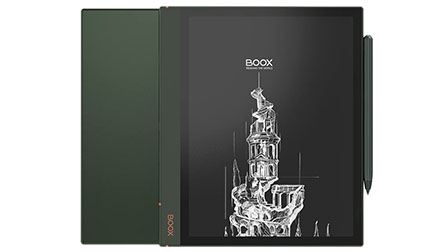 A leading e-book reader and writing tablet in the market, the Onyx BOOX Note Air 2 Plus is a great choice for extensive readers who don't want to avail a Kindle.
Featuring a large and high-resolution 10.3" display, the model is built with a thin metal case and supports dual-touch control.
The stunning E Ink Carta display comes with color-temperature adjustment to accommodate the visuals according to the surroundings. It runs on Android 11 OS, and is upgradeable. So, not only can you use the basic reading and writing functions, the tablet has access to Google Play to download any app of choice.
With the additional Wi-Fi and Bluetooth connectivity, data transfer and export has never been easier. Also, the battery life in the writing tablet is quite extensive, further adding to the benefits. The body of the tablet is made with amazing quality aluminum-magnesium alloy that ensures durability but also keeps the device lightweight.
Additionally, the display is covered in an Asahi protective glass that prevents scratches and any prominent damage on the display.
4. Huion Note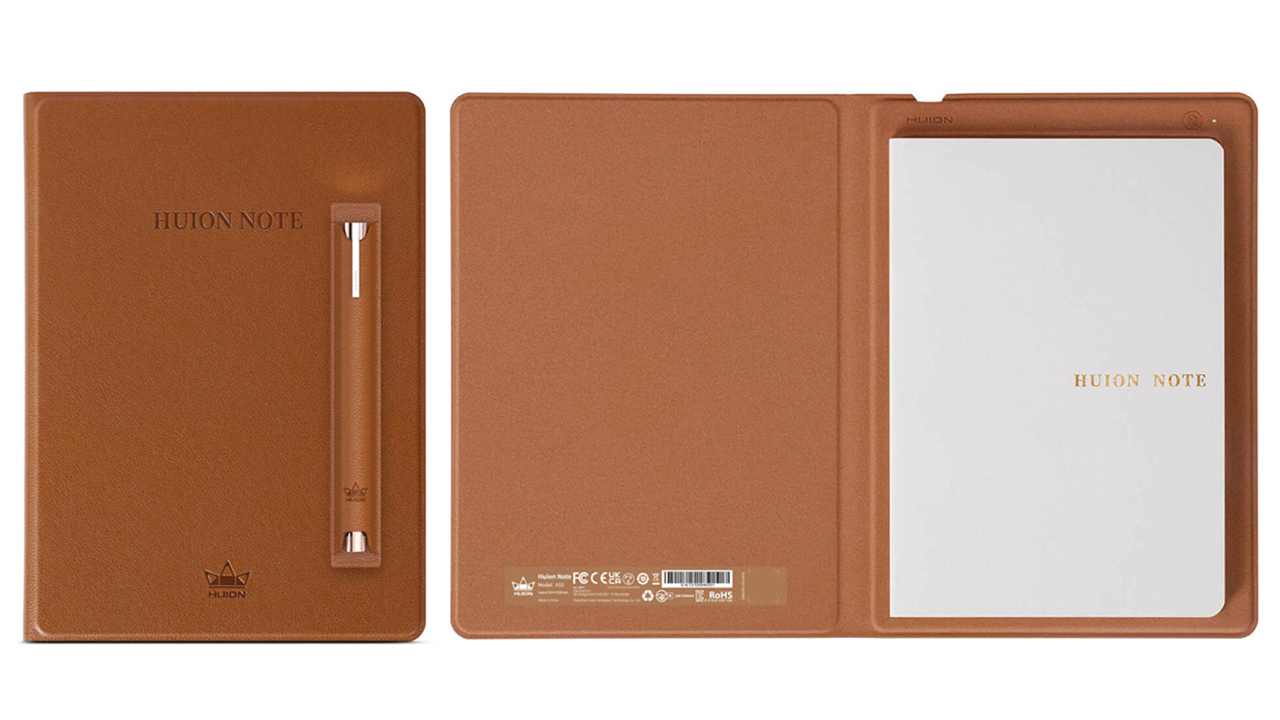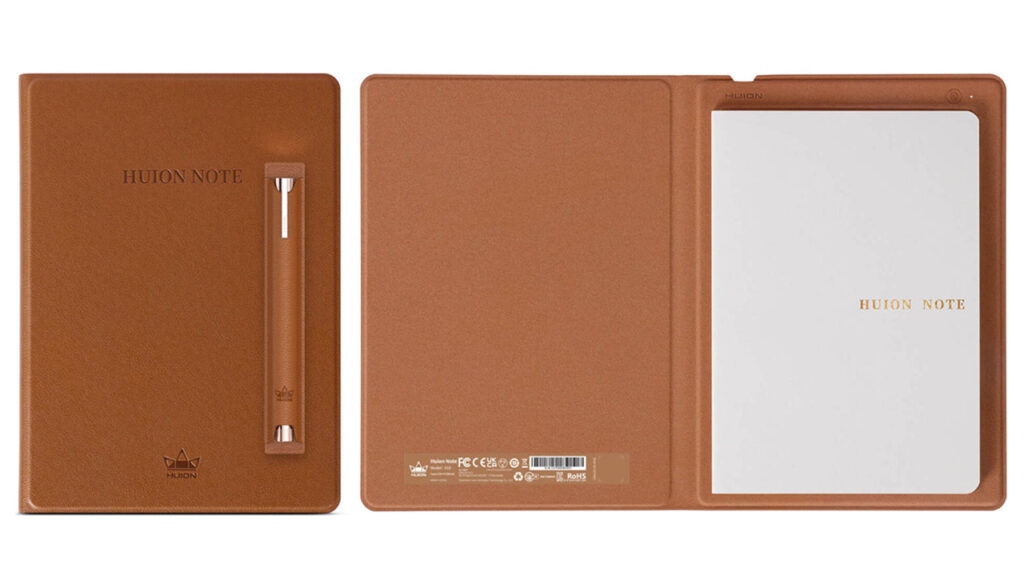 When it comes to writing tablets, Huion is a brand that stands out on the top. Huion Note is a leading bestseller that supports writing synchronization, one-click PDF share, and document management – all packed into one device.
This smart digital notebook is like no other. This delicate A5 notebook comes with 50 pages of replaceable inner papers, much like what you'd find in a standard notebook. The outer cover of the notebook is made with a high-quality and tensile spunlace leather material for extra durability.
But, the best part about using Huion Note is the real-time writing synchronization. Everything you write on the Huion Note can be directly synced on the app on the smartphone for digital copy. Once synced, users can share their handwritten notes to team members and other users in real-time.
Huion Note also supports voice and note recording, especially when you are taking consistent notes without a break. These make a good investment for business professionals and students who want to record their meetings and classes digitally.
5. Onyx BOOX Tab Ultra C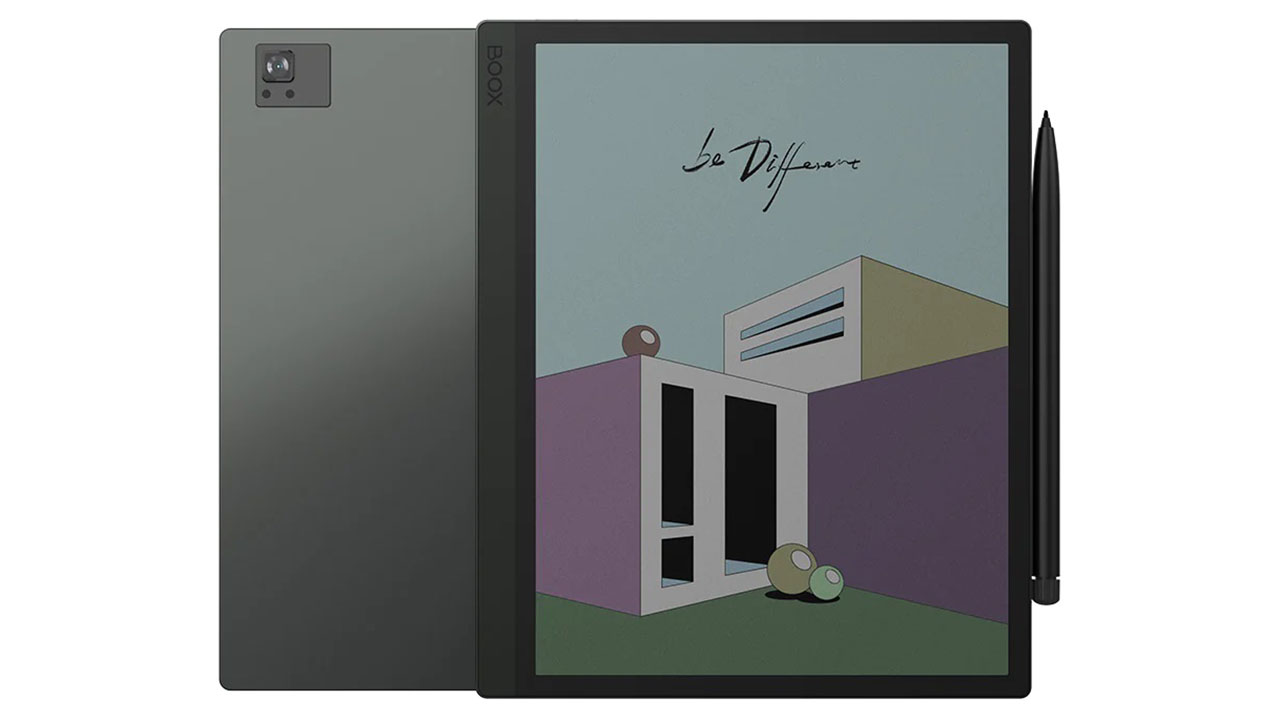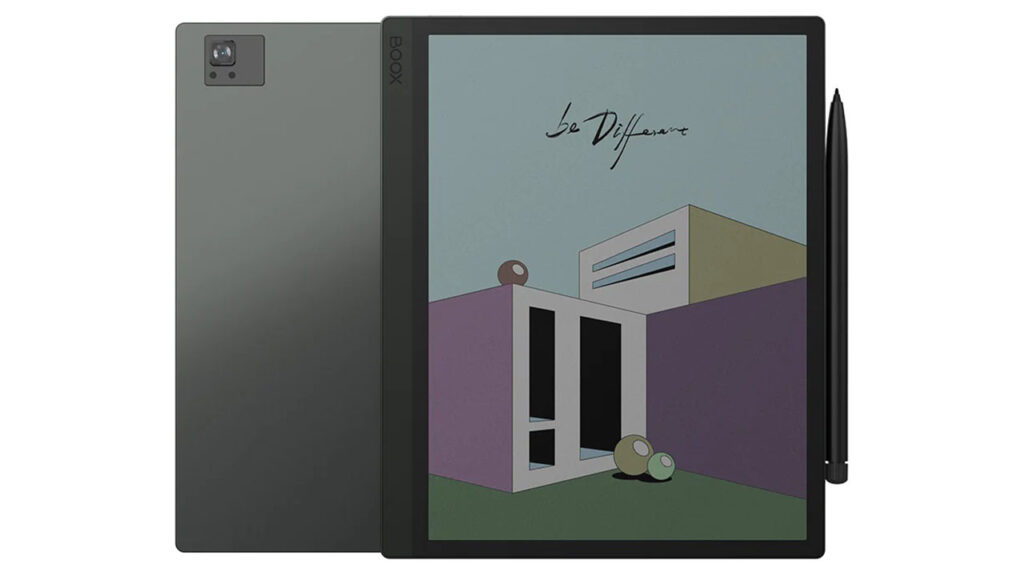 With productivity being a priority, looking for comprehensive and useful devices is the need of the hour.
Among them, one that stands out is the Onyx BOOX Tab Ultra C.
Integrated with the new Kaleido 3 screen, the soft and soothing color tones and resolution of the device makes the whole user experience stand out for the better.
The highlight of this device is the combination of GPU and BOOX Super Refresh Technology that offers an immersive ePaper screen and improved efficiency. Every tap, swipe and pinch are responsive and backed with multiple refresh modes that offer improved productivity with reduced latency.
Coming to the screen, the BOOX Tab Ultra C features an HD color ePaper screen that lets you highlight and pinpoint different key points in your document for a more organized workflow. Integrated with 4GB + 128GB storage configuration, your documents can be stored in one place and without any compromise.
Furthermore, the writing tablet from Onyx supports 24 digital formats, spanning from PDF to HTML. This ensures that you can engage in any kind of document without any compromise.
The extent of in-build features for annotation is also diverse. Also, the tablet runs on Android 11 OS and an octa-core CPU for the ultimate performance.
6. Kobo Elipsa 2E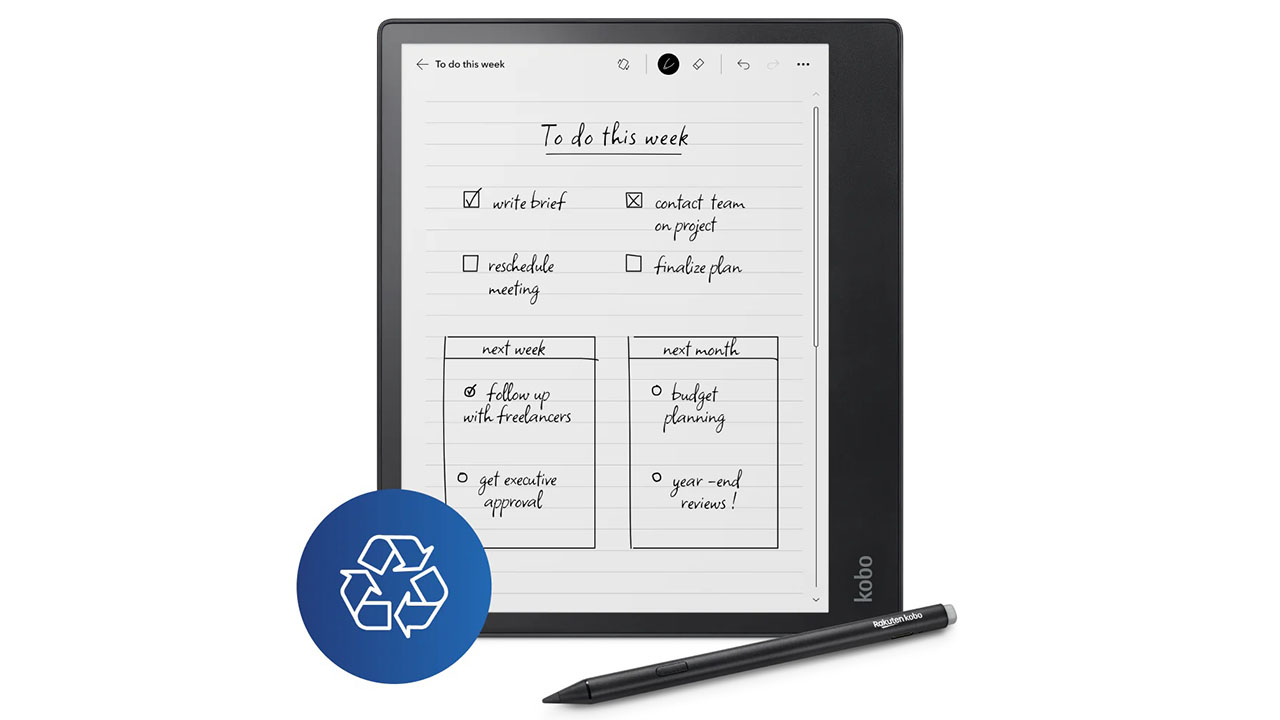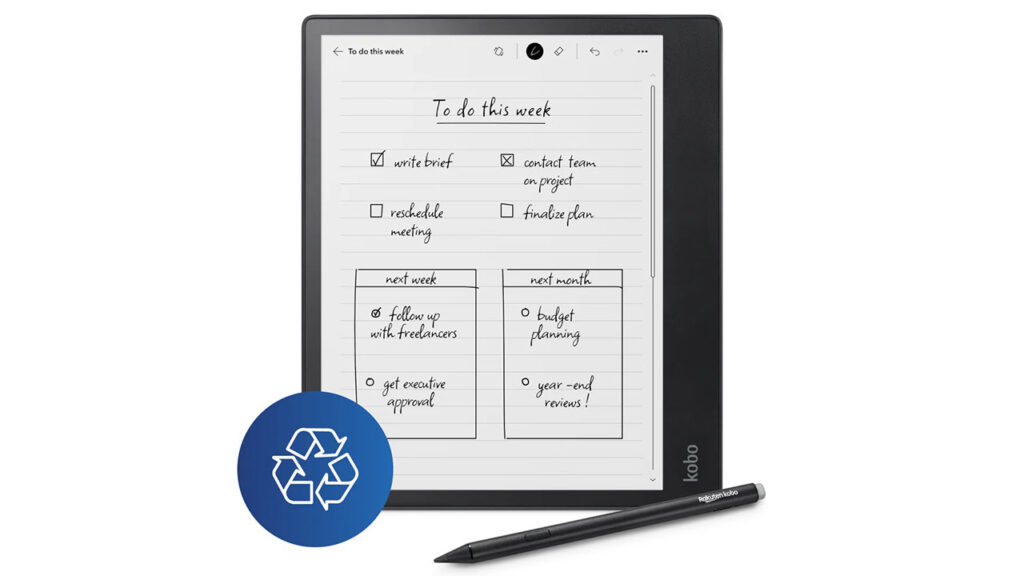 Priced under $400, the Kobo Elipsa 2E is another popular and functional writing tablet that deserves a special mention.
Designed for creators and professionals that prioritize productivity and focus. The tablet is bundled with the Kobo Stylus 2 that offers an improved note-taking experience.
As for the display, the tablet is equipped with a 10.3" touchscreen display with ComfortLight PRO, ensuring that the visuals are comfortable on the eye. It also reduces the Blue light emission. Integrated with 32GB storage configuration, you can carry this tablet with ease and store all your favorite documents in one place.
When it comes to the build, the Kobo Elipsa 2E is made with ocean-bound plastic, prioritizing sustainability in the long run. The Notebook feature in the tablet mimics that of original pen and paper, streamlining your note-taking experience.
Coming to the Kobo Stylus 2, this wireless stylus is ergonomically designed for a faster writing experience and is rechargeable so you can use it anywhere that you take the device.
The stylus is integrated with all the relevant functionalities, including an eraser on the top and a separate highlighter button for annotating the notes.
7. Boogie Board Blackboard Writing Tablet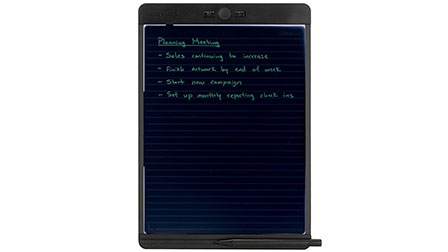 Blackboard tab by Boogie Board is a tablet just for your writing needs. It actually is a semi-transparent surface that allows you to write on it and erase.
When you're done writing or drawing, you can simply scan it using the Blackboard app on iOS and Android and store it.
You can clear the entire screen by just pressing a single button and features a real erasing experience. You have to press and hold the erasing button while erasing so that you do not accidentally erase anything.
It works on a replaceable battery that lasts about 5 years so that you won't have to worry about charging it. You can use Blackboard for drawing and tracing as well due to its semi-transparent surface. Blackboard also features lines and grid templates for a better writing experience.
8. Apple iPad Air (5th Gen)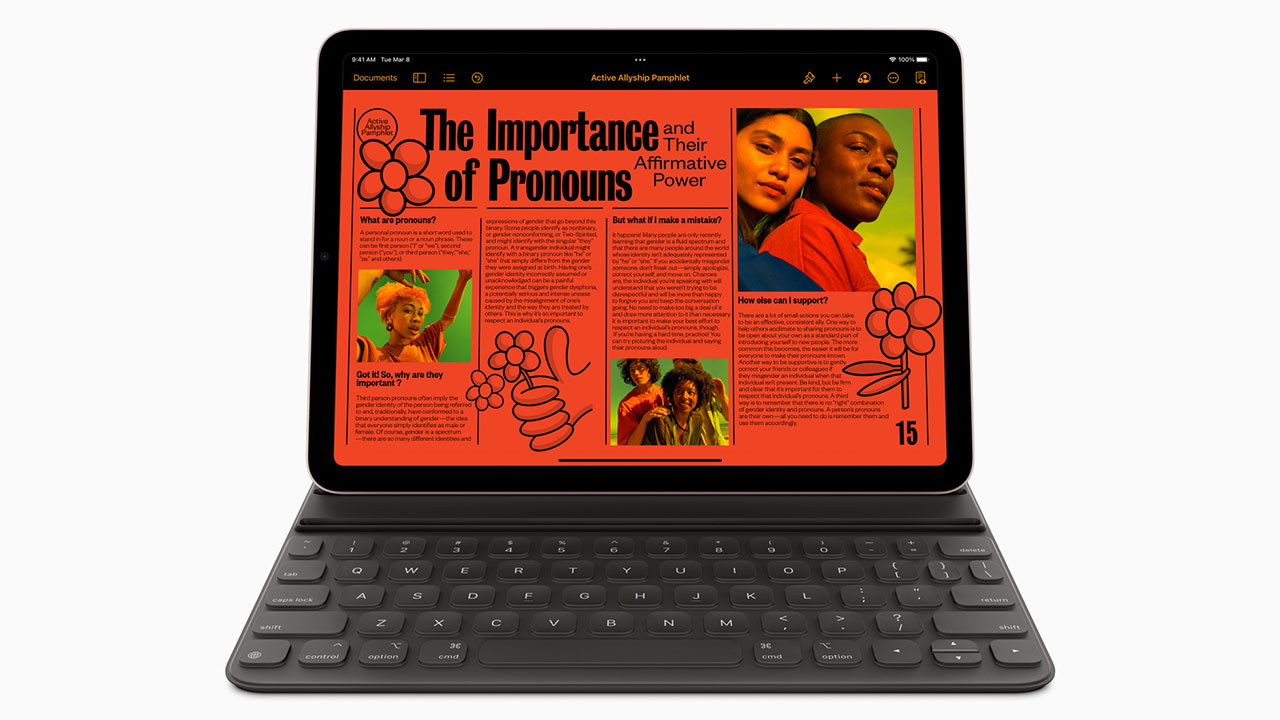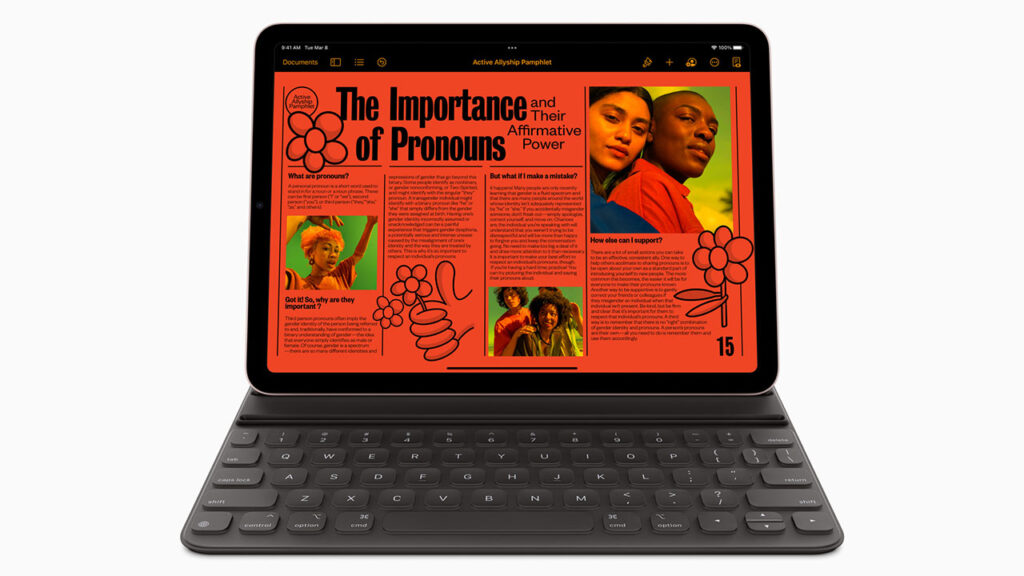 All-rounder tablets are hard to get your hands on. However, the Apple iPad Air 5th Gen makes it a reality, especially with the refreshed design and the list of specifications that the model features.
The tablet is powered by the 8-core M1 chipset that streamlines writing and content creation experience for the users.
Available in five stunning colors, the model comes in four variants with varying RAM and storage configurations. The 64GB and 256GB variants are no doubt the bestsellers, especially with the 5G connectivity options. The model is equipped with a 10.9" Liquid Retina display with True Tone technology for crisp and vivid visuals.
Another highlight in this model is the combination of the 12MP front-facing camera with Center Stage that works with the subject's movement to keep them in the frame. The tab runs on the iPad OS 15 and is upgradable to the 15.3 version, which is a bonus. Featuring an all-aluminum build, the model is lightweight but durable at the same time.
9. reMarkable 2
reMarkable 2 is a paper tablet that works on a completely different concept. It has a canvas display unlike LED or LCD displays of general-purpose tablets.
The canvas display is similar to the display of kindle tablets. The digital ink simply reflects the light instead of illuminating a zillion minuscule pixels.
Simply put, reMarkable 2 is a paper given some superior digital powers. The tablet is twice as fast as its predecessor. That said, it responds quicker to the strokes of the stylus. When you write on it, it gives the same feeling as writing on real paper with a pen.
With reMarkable 2, you can also write on any pre-existing document. Meaning, you can edit any PDF documents or put your signature on any important documents without needing to print them out. It can also convert your handwritten notes to text.
All in all, if you're looking for a distraction-free writing tablet, reMarkable 2 is the best choice for you. Moreover, you can also use it as an E-reading tablet.
10. Onyx BOOX Tab Ultra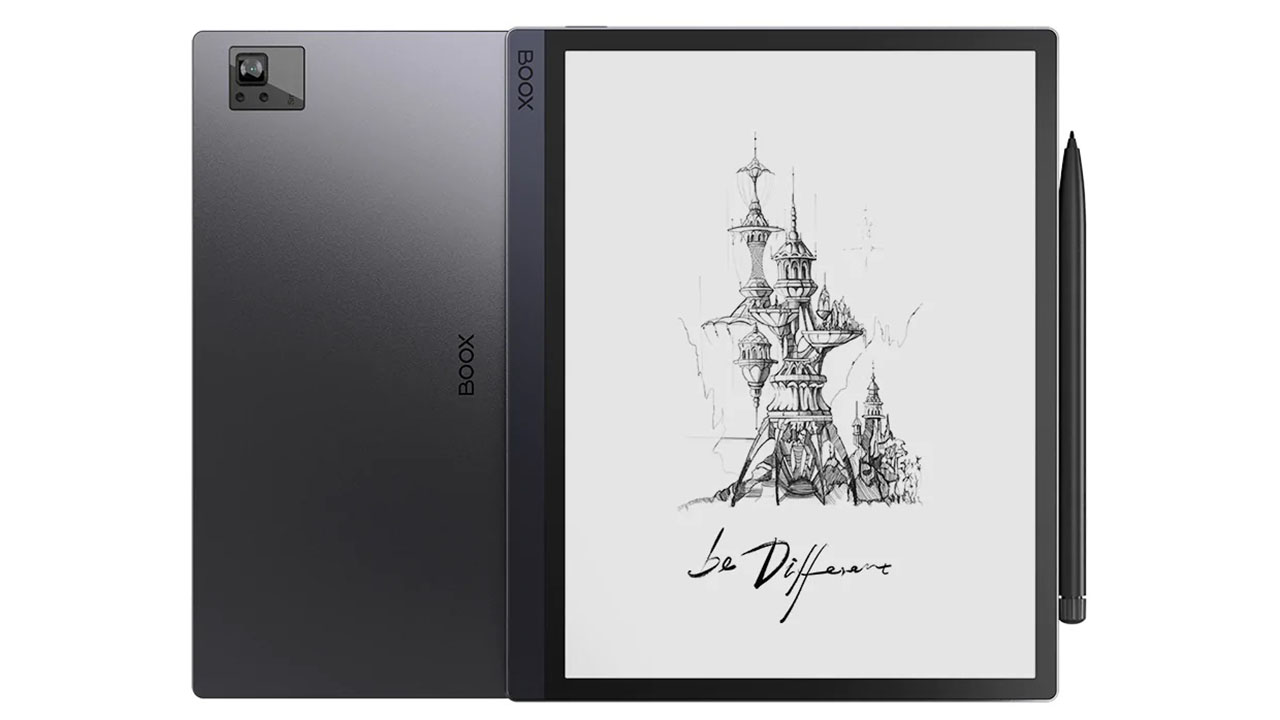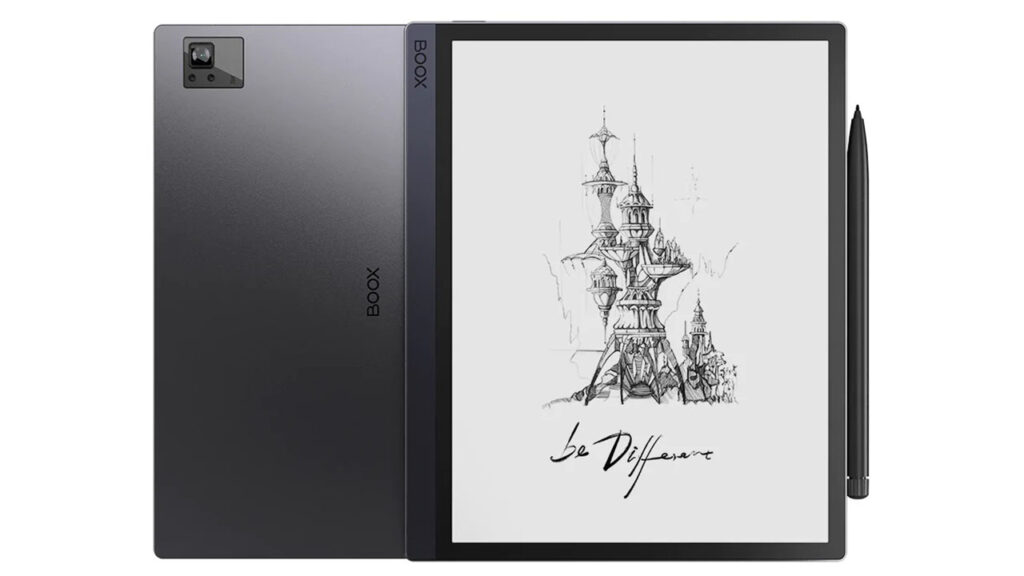 With hybrid work life and mobile workflow becoming more and more mainstream, there is a steep demand for writing tablets.
If you are considering buying one in 2023, the Onyx BOOX Tab Ultra is no doubt one of the absolute best options in the market.
Programmed with Android 11 OS, this tablet offers faster refresh, clearer screen and powerful and responsive performance. The highlight of this writing tablet is the stunning crystal clear ePaper screen, which is backed by the BOOX Super Refresh technology for a comfortable viewing experience without straining your eyes.
The functionalities don't stop there at all. The tablet is integrated with a 16MP rear camera for clear and faster document scanning in no time at all.
Gesture and button support streamline navigation in the tablet as well. Additionally, the tablet comes with a magnetic stylus and a keyboard for convenient performance. Overall, this 10.3" writing tablet in phantom black color and thinner bezels never disappoint.
Conclusion
I hope our list has helped you out with selecting the writing tablet perfect for you. If I want an iOS device, I'd surely go with an iPad Pro. It features the best combination of features and specifications of Apple that makes the tablet perfect for any needs including writing.
However, if you don't need such a high-end device but still want an iOS tablet, you can go with 5th Gen. iPad Air. The same goes for Android tablets. The best writing tablet working on Android interface, Samsung Galaxy S7/S7+ is the ultimate device. And if you don't want and need the extra features you can always save money by choosing the Blackboard by Boogie Board.
Microsoft Surface tablets are suitable for workaholic people. Its convenient design lets you work immersively. If you prefer to work on the Windows platform, you should choose any of the two Surface tabs we added to our list.
Lastly, if you do not need an Internet connection to research-and-write and want a distraction-free creative writing tablet, Blackboard, BOOX Note Air 2, reMarkable 2, and Royole RoWrite 2 are the best bet for you. This digital ink and paper technology is new and innovative, and RoWrite 2 has nailed it with creating digital documents from writing on real A5 papers.
Conclusively, all tablets we have included are currently the best writing tablets on the market. So choose a tablet that matches your needs without hesitation!