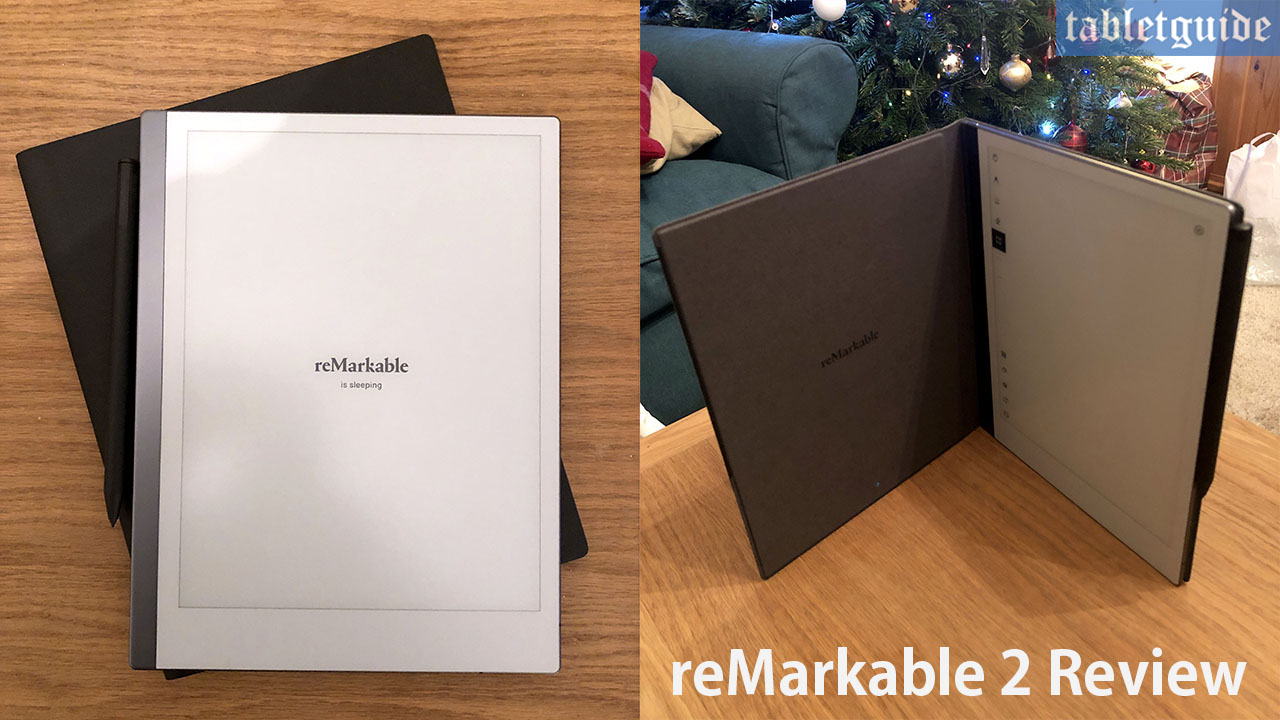 Today we're going to look at the reMarkable 2 Paper Tablet from… reMarkable!
This devices primary function(s) is to take handwritten notes, read and review documents.
It doesn't offer all the bells and whistles of a tablet like the iPad for instance, but you can read PDF's and eBooks with it. What it does, it does brilliantly – let's take a look…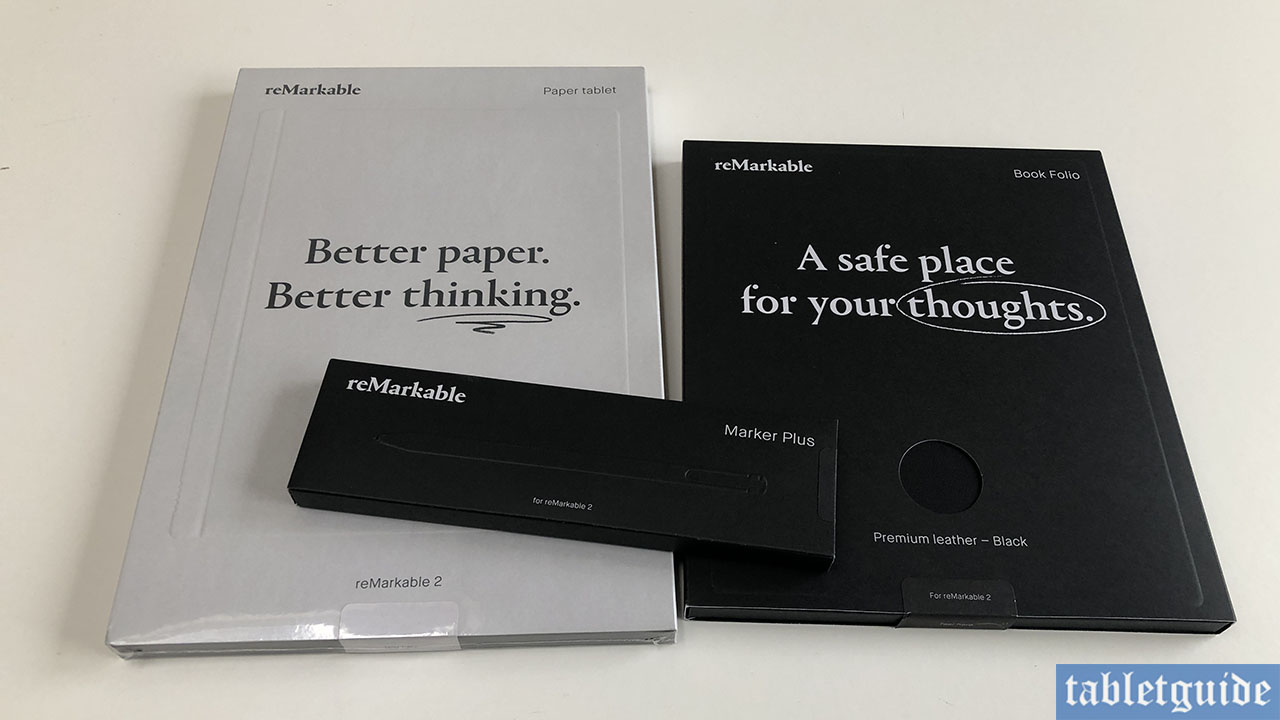 Available separately, we have for review the reMarkable 2 tablet, a 'Book Folio' (available in three colours: Black leather, Brown leather and Gray polymer weave) and the black 'Marker Plus' pen/stylus. (Note: the tablet does actually come with a grey 'standard' pen/stylus included, but there is no eraser on the top – you have to erase via the software function). All items are very well packed away in some very nicely designed and premium feeling packaging.
Here's the specs:
Tablet:
Size: 7.36" X 9.69" X 0.19" (it's very thin!)
Weight: 403.5g
Resolution: 1872 X 1404 (226ppi)
Battery Life: 2 weeks
WIFI Connection
Storage (Internal): 8GB
Supports PDF and ePub
Charging Cable: USB A to USB C
RAM: 1 GB LPDDR3 SDRAM
Processor: 1.2Ghz Dual Core ARM
Marker Pen:
Color: Grey
Weight: 15g
Magnets: Yes
Marker Pen Plus:
Color: Black
Weight: 19g
Magnets: Yes
Built In Eraser: Yes
Sliding the tablet out of the box and holding it for the first time, you realise just how a well made this tablet is – it has a real 'expensive' feel to it. On the top left is the power button – flip it over and the bottom left houses the USB C port for charging (a cable is provided).
On the reverse are four round, raised rubber 'feet' to keep the tablet from moving on your desk.
At only 403.5g, it's very light and you'll have no issues holding it for long periods of time.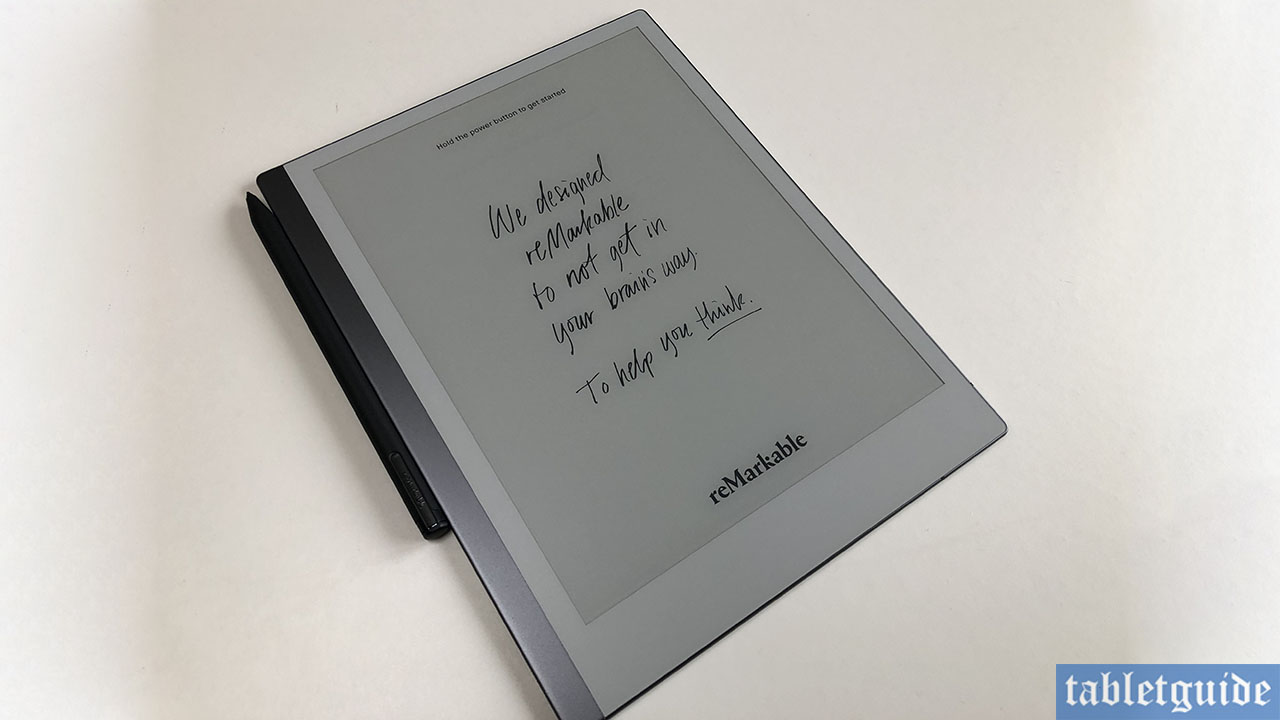 Whichever magnetised pen you use, both can be attached to the front, side and back of the tablet, although the side is the strongest connection.
That said, even when the tablet is housed within the protective folio/cover, the pen still sticks out along the edge somewhat and can be easily knocked off – so beware! (The tablet also is 'magnetised' to the inside of the portfolio cover!).
I'm coming at this review from the perspective of a designer/illustrator/cartoonist rather than a 'marketing' type person who regularly takes notes(!), but I have to say the feeling of drawing on paper with this thing is incredible! When using the pencil, it feels like you're actually using a real pencil – it even SOUNDS like you're using a real pencil!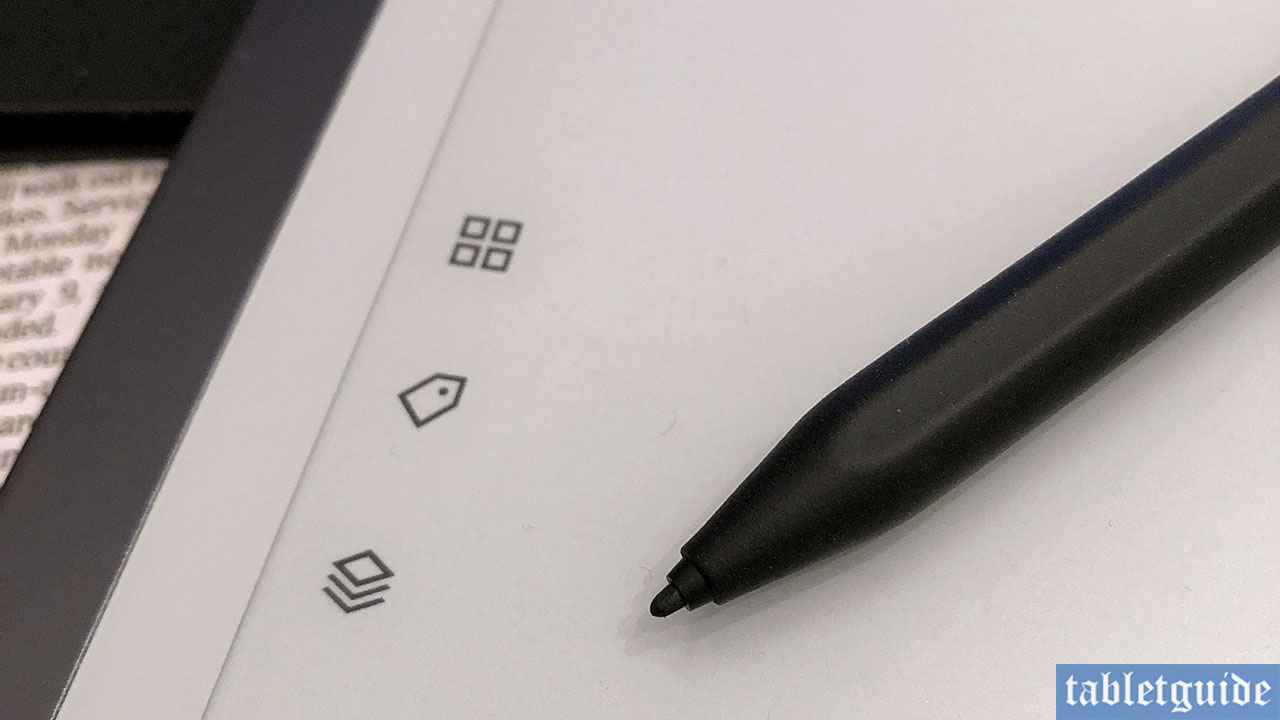 I've used, reviewed and worked with many tablets and devices over the years, but this is something else! I had a great time drawing with this! Also, due to a recent software upgrade, the tablet now supports 'Pinch-N-Zoom'.
I can see it being a nice addition to my workflow i.e. sitting in front of the TV sketching something up, emailing over to myself/main PC and continue refining the SVG artwork in Adobe Illustrator – cool! 😊
The Marker Plus pen is nicely weighted and feels good to use. Tilt is supported and works fantastically with the 'Pencil' tool. It's battery-free so won't need charging.
The protect 'Folio' cover is made from leather and is really sturdy and should protect the tablet very well. It's a nice, snug, magnetised fit.
Most people looking to purchase this will be for its type capabilities and functionality and it obviously does a great job of that! As long as your handwriting is fairly legibile, it has no problem turning your notes into editable text. The highlighter has a nice way of aligning itself to the text when you draw over it.
Down the left side of the tablet screen is a (hideable whilst you work!) menu section whereby you can choose the following options – from top to bottom:
Pen/brush types: Ballpoint, Fineliner, Marker, Pencil, Mechanical Pencil, Paintbrush, Highlighter and Calligraphic.
Next menu section contains Stroke choices: Thin, Medium, Thick. Colours: Black, Grey and White and Exported Colours for the highlighter (this isn't a colour device – it also isn't backlit, which also helps with the battery life).
Eraser section: This is where you'll be heading to erase all, parts and sections of the page with the supplied pen. If you have ordered the 'Marker Plus', simply turn it over and 'rub out' what you don't want!
Selection Tool: Select all or parts of the page to move, resize and/or delete.
Undo/Redo.
Page Management: This is where, using the menu bar across the top of the page, you can tag pages, email pages, convert pages to text, email pages, move pages, duplicate and delete etc.
Tag Section: Tag pages for future reference/search.
Layers/Template Section: Just like Photoshop etc, you can add and delete layers to your work. Here you can also browse through and add one of the many page templates/backgrounds provided i.e. storyboards, checklists, planners and a wide variety of lines etc.
The last tab give you access to set up a new page, Notebook settings and to change to 'Landscape' mode should you so wish.
The Page menus and Navigation system are easy to understand and navigate – there's no unnecessarily complicated UI here. It's easy to use. Swipe down and you are presented with a section to add and delete new Folders and Pages/Sheets etc – simple.
Press on a page for a few seconds to select it and once you have registered an online account with reMarkable, it makes it easy to then email your work with the click of a button. Once you have the Desktop (or Mobile) app installed, it makes it easy to transfer PDF's etc to and from the tablet for viewing and editing.
reMarkable has an online service called 'Connect' which provides unlimited Cloud storage and instant file accessibility across your devices and a 3 year protection plan for a small monthly fee. If you don't subscribe, only files used and synced online in the last 50 days will continue to be stored in the Cloud.
As previously mentioned, this isn't an 'all singing and dancing' multimedia device – you can't watch movies on it, browse the web for trousers or catch up on your Socials… But it does brilliantly what it was designed to do – Notetaking.
That said, it's also great for drawing and sketching too – it really does live up to its name…