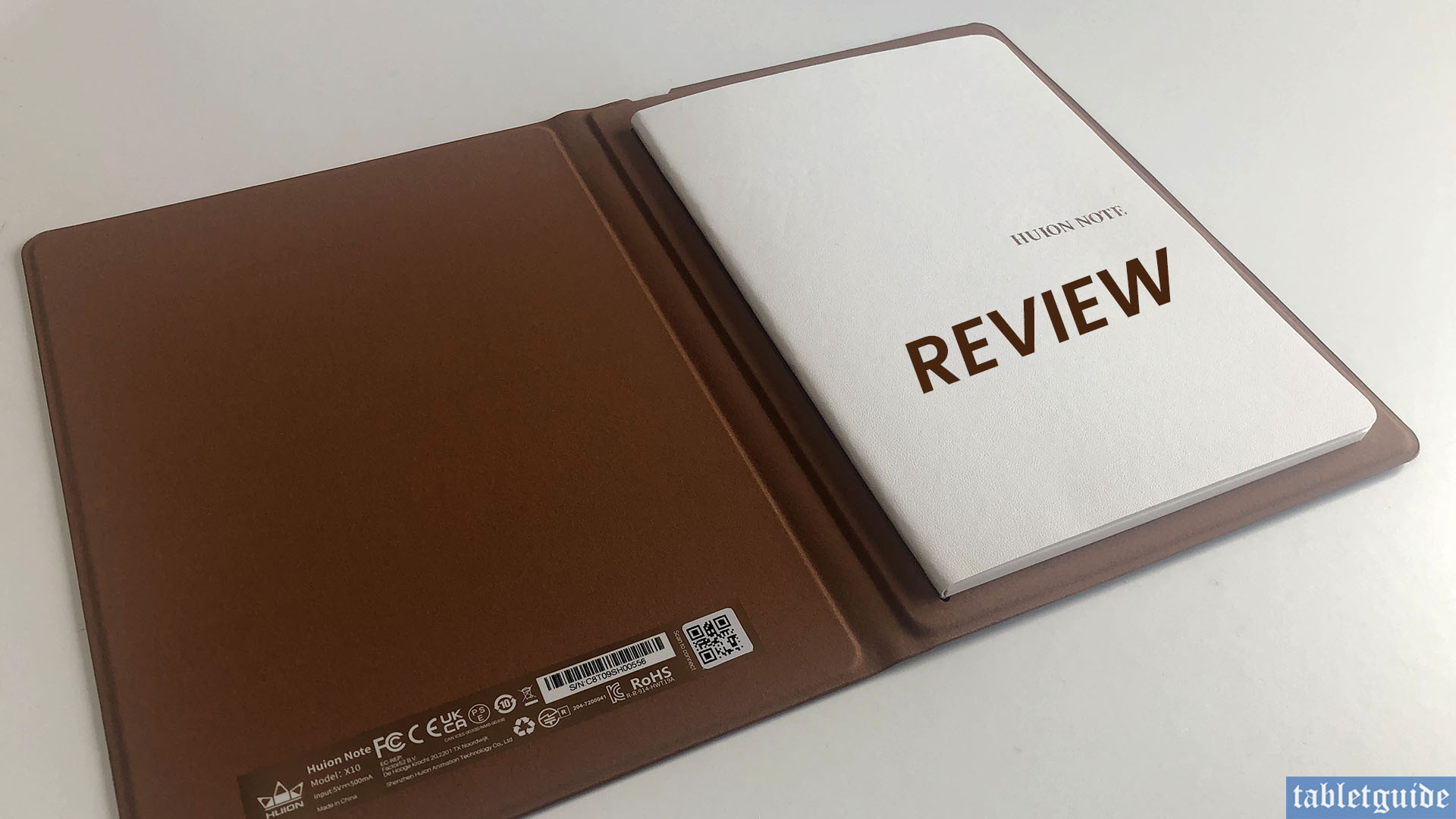 Something a bit different review-wise this time… it's the new HUION Note X10 that we take a look at today! Although it is in a sense/can be used as a 'graphics tablet', its actually more than that – lets dive in…
The HUION Note X10 is actually an A5 'digital/smart notebook' which can be used to digitise your handwriting or sketches and incorporates 'one click' sharing of your documents, whether they are PDF, JPG or even video and also utilises offline storage and document management. Intriguing! 😊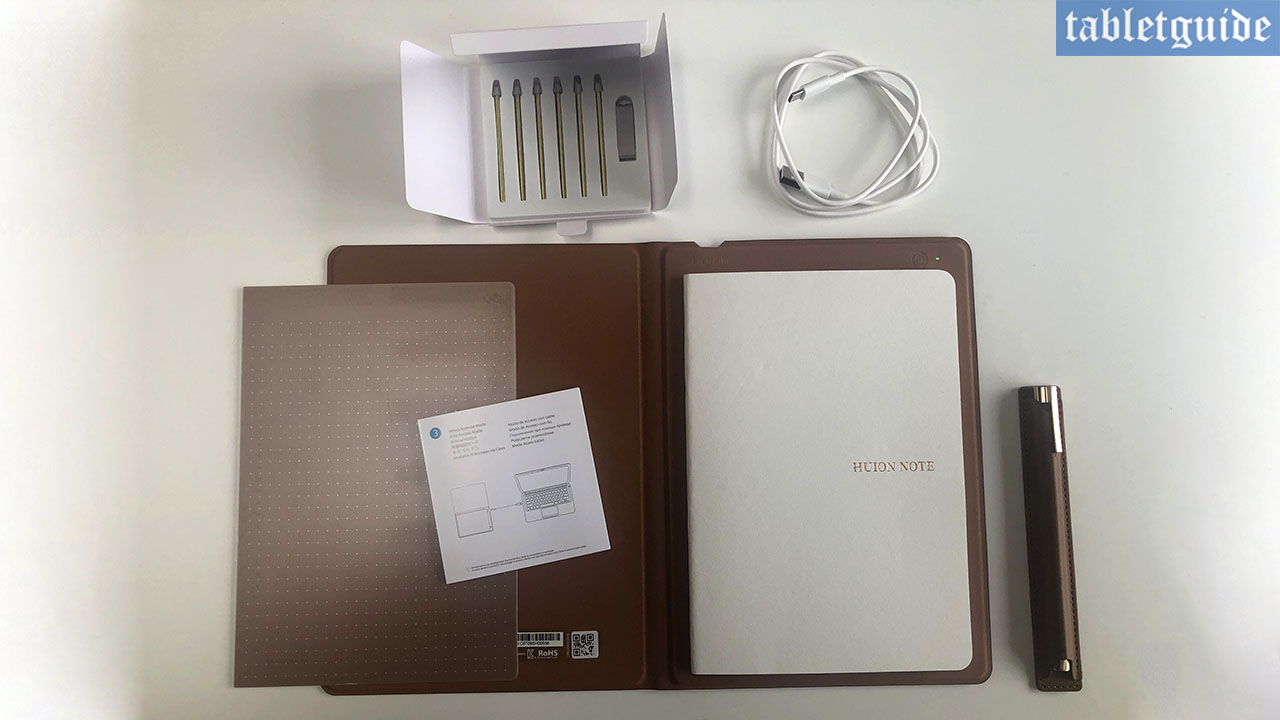 Neatly packaged in a plain white box (except for the brown horizontal strip 2/3rds of the way down with the with the text 'HUION Note' emblazoned in gold leaf, which itself sits under the HUION logo near the top of box, it too in gold leaf!) are the HUION Note A5 notebook with 50 sheets of paper, the 2nd generation Scribo Pen (incorporating HUION's new PenTech 3.0 technology) with a magnetic pen sleeve, USB cable, QuickStart Guide and four Ballpoint Refills, two Pen nibs and nib extractor tool.
The notebook itself is made of/covered in a brown 'spunlace leather' material which houses the (removable and replaceable) A5 paper notepad.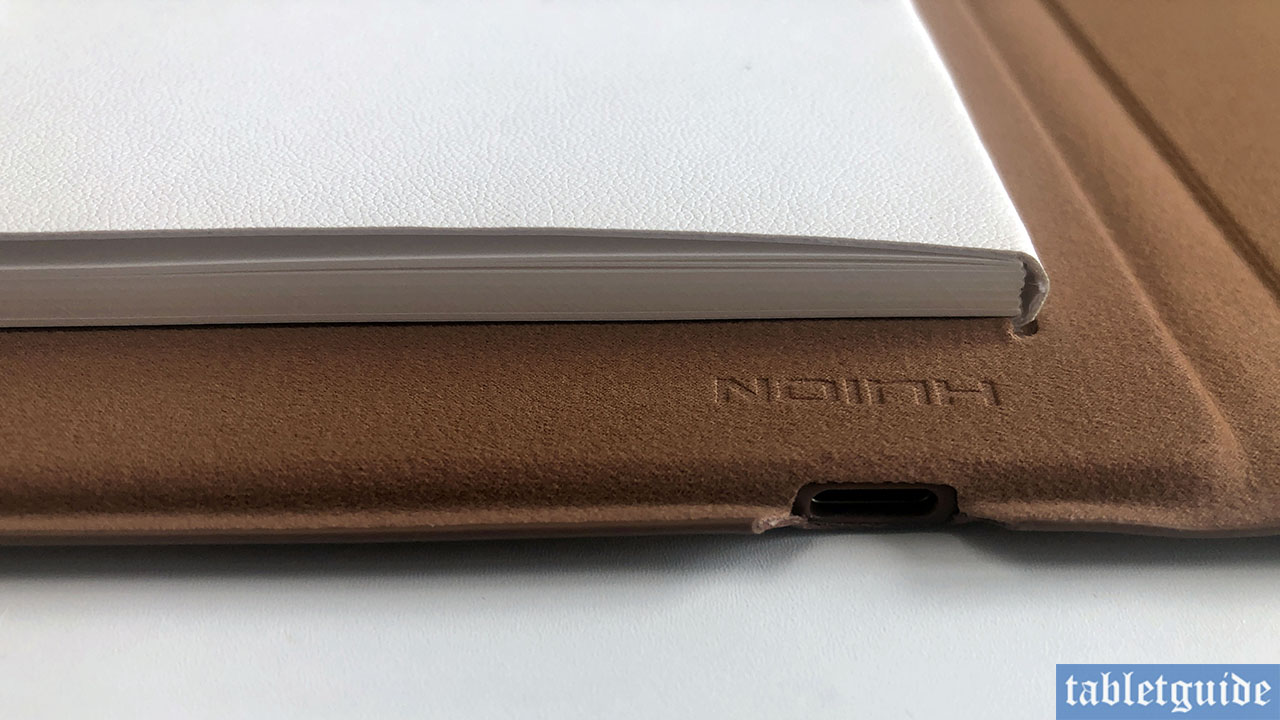 On the top of the right-hand side along the edge is a USB-C port for connecting the notebook to an external device i.e. laptop, PC etc via a wired connection for charging, or also using as a more traditional graphics tablet (once you've removed the paper notepad and replaced it with the supplied brown card or 'panel') – pretty cool!
On the top right of the notebook's inner cover is a small LED which changes colour depending on the status of the device.
To the left of the LED is a just-about-visible button for creating a new page in the accompanying app – more on that in a bit. Closing the notepad, shuts it down and saves the battery.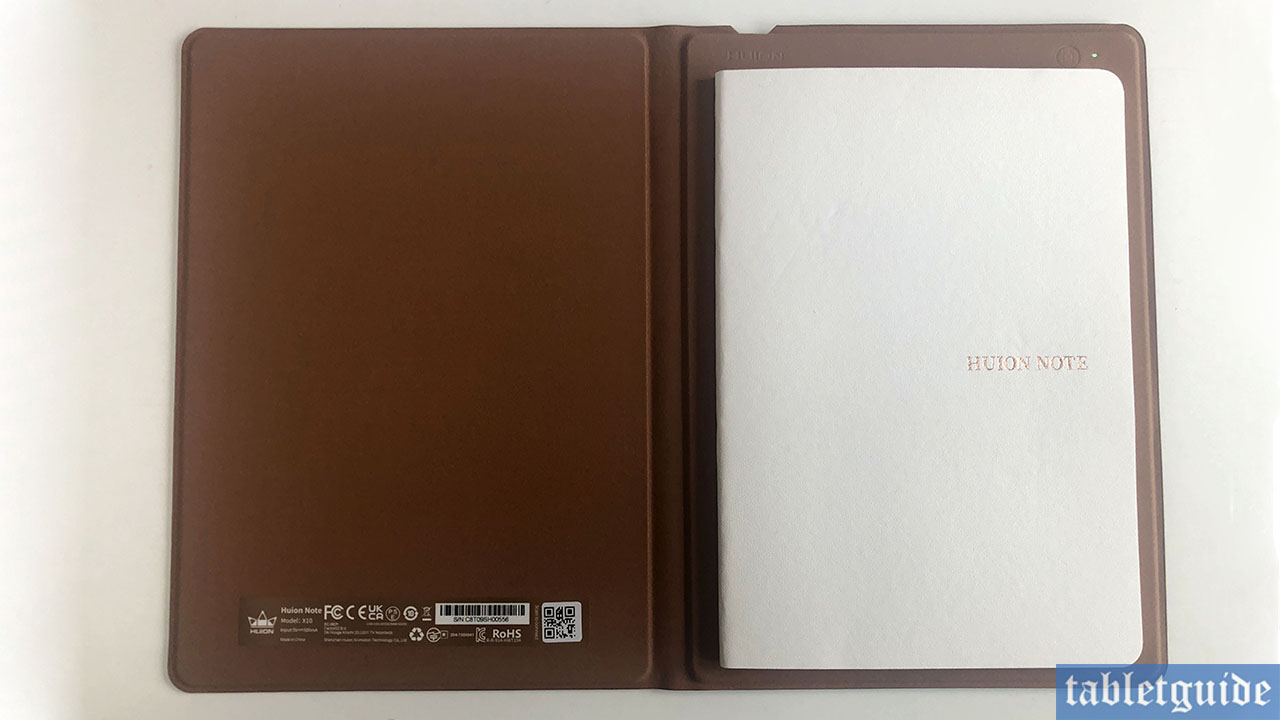 Also supplied is a magnetic pen holder which conveniently sticks to the front of the notebook, but be aware it isn't the strongest connection. The Huion Note is perfect for carrying around in your bag, satchel, briefcase, big pockets(!) etc as it weighs only 433g.
For this test, I used my trusty, but getting-on-a-bit iPhone, so once I'd emptied the box of its contents, it was time to install the Huion Note app on my device.
If you're going to make use of the graphics tablet capability of this device, you'll need to install the (desktop) drivers for this on your PC and/or Mac. If you have already installed a Huion driver, that should suffice as it will be detected automatically – at least it did for me.
I connected my notebook to the app via Bluetooth (and the blue LED lit up), turned to a new page in the book and started scribbling. Whatever you write in ink on the page is duplicated on the phone – pretty cool!
You can draw, take notes, etc and a digital notebook is created which can be further edited in the app – you can add additional text, use different coloured highlighters, add an image, erase – it even has a 'lasso' tool!
Every line you create is in vector format, so you can export these and re-edit in PDF format. Voice recording is also supported, so you can also share in that way too!
The app has quite a few useful functions – you can change the paper-type from blank to lined, or a to-list or weekly planner etc – even change the paper colour.
Although you can add a new page by pressing the button on the notebook itself, the app gives you the option to do the same. There's also an option to switch between 'editing' mode and 'browsing' so you don't accidentally draw on the screen whilst scrolling through your notes etc.
You can also change the brush size and colour too. It has all the useful options you'll need for that important meeting! Once the meeting is over you can then export and/or share with colleagues as either a PDF, JPG or even as a MP4 video (and audio)!
The supplied A5 paper notebook contains 50 pages – when these have run out, you can either order a replacement from Huion (which will be available soon at the time of writing late 2022) or use your own, provided they are under 10mm in thickness.
Another feature of the Huion Note is that you can actually use it as a graphics tablet. Remove the book and swop it over with the provided brown card to draw on and as long as you have the Huion driver installed on your computer, you can continue to create.
Whilst not the same experience as working on a professional or 'proper' graphics tablet, this is a nice addition and works well enough.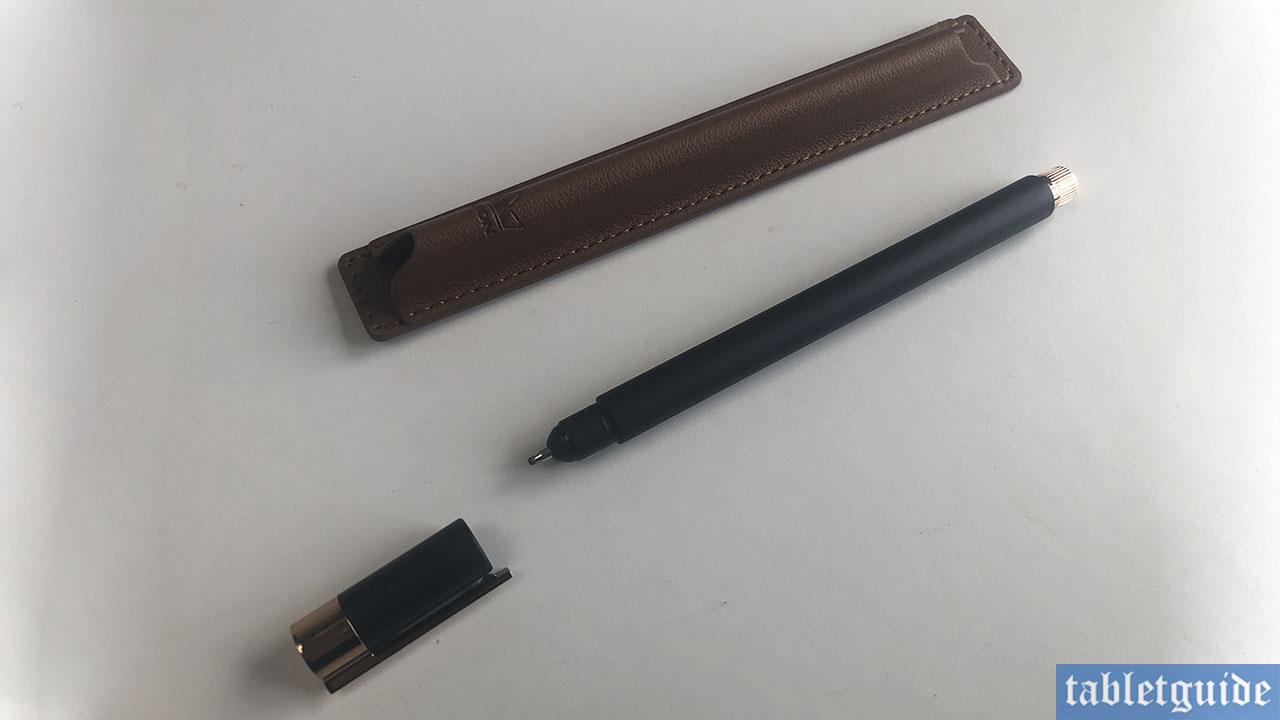 The pen is Huions 'Scribo 2' which incorporates their new 'PenTech 3.0' technology used in their other drawing devices.
This pen more resembles a traditional pen for writing, rather than the pens supplied with their other tablets used primarily for drawing, as obviously it contains ink.
It too supports 8192 levels of pressure sensitivity, supports 60 of tilt, has a sensing height of between 10-12mm. It's nice and light and felt nice enough to write and draw with.
One thing to note; remember to swop nibs out depending on what you about to do i.e. writing on paper with the ink nib, or drawing on the card (in graphic tablet mode) – in my haste to play/test the drawing capabilities, I left the ink nib in and now have scribbles all over my brown card/panel – doh! 😊
The driver software will be familiar to Huion users and has all the usual bells and whistles. You can change pen pressure/sensitivity manually or via the supplied 5 pre-sets from 'soft' to 'hard', adjust the working area, check for software updates etc. and jump to the Huion store/website.
There is also a handy battery life icon in the lower right side letting you know when its time to charge to notebook. You should get around 18 hours of use before needing to recharge (when used via Bluetooth and not the cable), which itself takes roughly 4 hours.
I can see this being quite useful in those marketing meeting type scenarios and it represents quite good value considering the cost. As usual from Huion, the build quality is very good and should last a long time with a bit of TLC.
It's nice you can use your own paper pad too. The fact it can 'double-up' as a graphics tablet too is a quite compelling reason to buy if you're a designer/illustrator bogged down with all those many meeting with various clients and teams!
The Huion Note is out now and works with the following operating systems: