The most awaited Chromebook Duet 2-in-1 is finally here. Considering that, you have now three best slates working on Chrome OS in 2020 to choose from. In this article, I am going to tell you the difference between Lenovo Chromebook Duet 2-in-1, Lenovo 10e Chromebook, and Google Pixel Slate. You may have many questions about the processors, performance, camera, display, and so on. Don't worry, read on, we have the answers.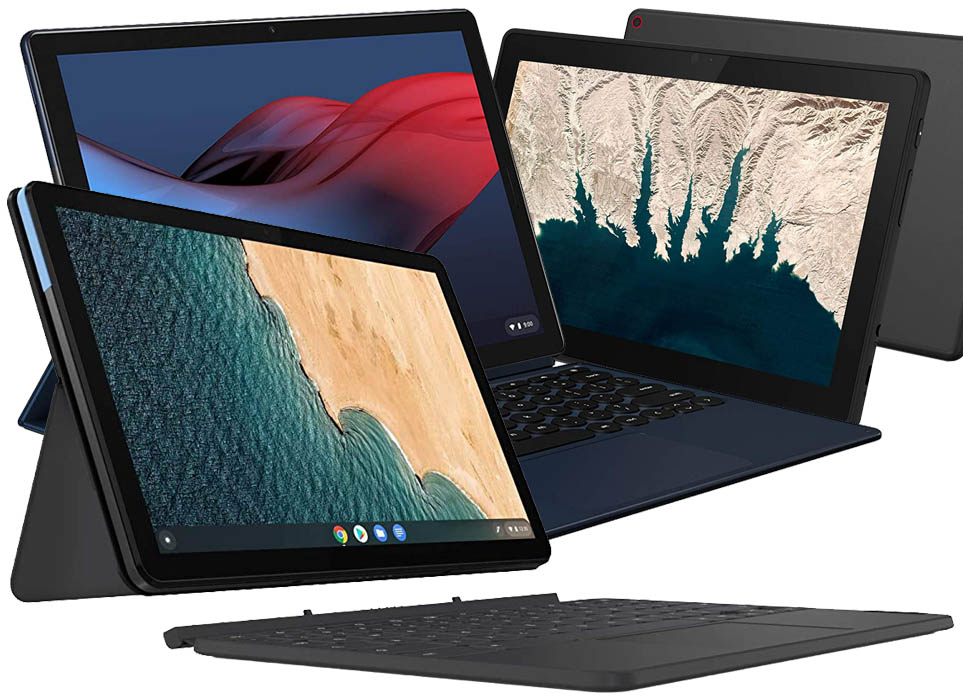 Key Differences in Chromebook Duet, 10e Chromebook, and Pixel Slate
In this section, I have included all the specifications and features and how different they are in these devices. This will help you to understand them and help in choosing the right tablet that meets your needs.
Display
To start with, both Chromebook Duet and 10e Chromebook are quite similar. Both the devices have 10.1 inches Full HD IPS display with 1920×1200 resolution and 70% NTSC color. The display features 400 nits, a brightness factor which is pretty good.
On the other hand, Pixel Slate has a 12.3 inches screen with 3000×2000 resolution and 72% NTSC color. All in all, you get a bigger and better display in Google Pixel Slate.
Stylus
All three tablets support stylus input. But you have to purchase those separately. In Chromebook Duet and 10e Chromebook, you will have universal stylus input support. That said, you can use any stylus or pen that can be run on USI.
Google offers a pen to be sold separately which is available in two different colors. The pen runs on a battery and can be used on Pixel Slate and Pixelbook.
Camera
Well, again, both Chromebook Duet and 10e Chromebook has almost the same camera performance. The front camera is 2MP with fixed focus and the rear camera is 8MP with auto-focus. The camera quality is overall good but not recommended for professional video shooting. Both 10e Chromebook and Chromebook Duet are good for general use and or students.
The camera of Pixel Slate is better than both the Lenovo devices. Its front cam is 8MP with f/1.9 aperture and can click the photos of 1.4μm pixel size. The front cam also known as 'Duo Cam' captures wide-angle photos. Whereas the rear-facing camera is 8MP with f/1.8 aperture and can click photos of 1.12μm pixel size. It also comes with the Auto-focus feature. Both the front and the rear camera can shoot videos of 1080 Pixel resolution at 30 fps.
Memory, RAM, and Performance
New Lenovo Chromebook Duet has 4GB RAM and 64GB internal storage. The tablet runs on Chrome OS and has MediaTek Helio P60T Octa-Core processor, which is great! Also, you will get a free 12 months membership of Google One which will give you 100GB of cloud storage.
While 10e Chromebook launched in January 2020 comes with 4GB RAM and 32GB internal storage. It has MediaTek 8183 processor which is a Quad-core processor with 1MB cache memory. It is obvious that New Chromebook Duet has a better processor and more internal storage, making it a superior tab in terms of performance.
Whereas for Pixel Slate, you get three choices for a combination of RAM, processor, and the internal storage. The variant with 64GB internal storage has 8GB RAM and 8th Gen Intel Core m3 processor. The variant with 128GB storage has 8GB RAM and 8th Gen Intel Core i5 processor. And the variant with 256GB storage has 16GB RAM and 8th Gen Intel Core i7 processor.
Clearly, Pixel Slate has more internal storage and RAM than both the Lenovo devices. Moreover, the processor being used in the Pixel Slate is of a computer's. On the other hand, both Chromebooks have a smartphone or a tablet processor. However, Chromebook Duet has one of the best processors of Smartphones.
Dimensions
The dimensions of Lenovo Chromebook Duet are 9.44″ x 6.29″ x 0.29″ and when you attach the keyboard, dimensions are 9.64″ x 6.66″ x 0.71″.
Whereas the dimensions of Lenovo 10e Chromebook are 9.8″ x 6.5″ x 0.37″. And the dimensions of Google Pixel Slate is 11.45″ x 7.95″ x 0.27″.
Ports
Lenovo Chromebook Duet comes with USB type C and a 5-point POGO pin to attach a keyboard. The box also contains an earphone jack to USB C converter as it doesn't have a 3.5 mm audio jack. You will get a keyboard with this device, hence, you won't need to purchase it separately.
And 10e Chromebook has one USB type C port and a 5-point POGO pin to attach a keyboard. However, you have to buy a keyboard separately. There's one 3.5 mm audio jack. Whereas Pixel Slate has two USB C ports and has an accessory connector for a keyboard.
Battery
Both Chromebook Duet and 10e Chromebook have a similar 31.5 WHr battery capacity that runs about 10 hours on an ideal use. Whereas Pixel Slate has 48 WHr battery that can run about 12 hours. Well, Pixel Slate has high-end computer processors and definitely need a stronger battery.
Keyboard with Touch-pad
One thing I like about the new Lenovo Chromebook Duet is it comes with a detachable keyboard. Whereas you need to buy a keyboard to run on a 10e Chromebook and Google Pixel Slate. With Google, everything is pricey and it's cheaper to buy a keyboard for 10e Chromebook.
Verdict
Lenovo Chromebook Duet is an updated and better version of Lenovo 10e Chromebook launched this year. A good thing about this tablet is it comes with a detachable keyboard that was not the case in the 10e Chromebook. Also, it has more storage and a pretty much better processor which makes it a superior tablet.
Lenovo Chromebook Duet
Lenovo 10e Chromebook
Google Pixel Slate
MediaTek Helio P60T Octa-Core
MediaTek 8183
8th Gen. Intel Core m3, i5 or i7
10.1" (1920x1200) FHD IPS 400nits
10.1" (1920x1200) WUXGA IPS 400nits
12.3" (3000x2000) LCD
4GB LPDDR4X
4GB LPPD4X
8GB or 16GB
64GB eMCP
32GB eMMC
64GB, 128GB or 256GB SSD
Rear: 8MP | Front: 2MP
Rear: 5MP | Front: 2MP
Rear: 8MP | Front: 8MP
Up to 10 hours
Up to 16.5 hours
Up to 12 hours
Chrome OS
Chrome OS
Chrome OS
Starts at $279.99
Buy at Best Buy
Starts at $269
Buy at Amazon
Starts at $499
Buy at Amazon
Basically, 10e Chromebook was designed for students especially. During this lock-down and quarantine time, the schools are closed and there is a spike in the sale of affordable tablets with the utmost features which are helpful for students.
10e Chromebook will do fine but if you are able to spend a few more bucks, you should definitely go with Lenovo Chromebook Duet. You will get a keyboard and overall better performing tablet at a very cheap and affordable price.
Whereas Google Pixel Slate is a high-end tablet similar to Surface series tabs from Microsoft. Definitely, Pixel Slate is a better performing tablet than both the Chromebook slates. But it is costly compared to both the Lenovo devices.
If you're the person who shoots short videos, podcasts or runs high-end software like Photoshop, Adobe illustrator, you might want to go with Pixel Slate. The value for money is good. However, if you're just looking for a classroom tab, I would go with a budget choice of Lenovo Chromebook Duet or 10e Chromebook that has an IPS display for such a lower price.