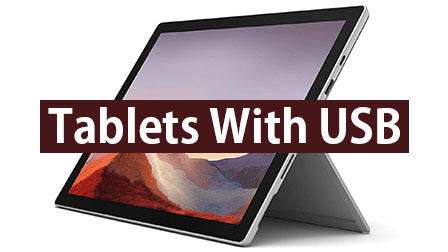 The best tablets with USB ports can be of great use to photographers, videographers, editors, etc… They can connect their camera and video devices to easily transfer huge files on the go.
Personal Computer started a revolution in the early 90s. Since then we have seen the emergence of compact desktop computers, portable laptop devices and finally the mobile phone.
Each of these devices were designed keeping in mind a specific requirement and a specific set of users. For example, the desktop computer was designed for the regular office guys, who mostly worked from offices.
The portable laptops were designed for marketers, executives and CxO who most travel a lot and have computing needs on the go. Mobile phone was an accidental entrant when manufacturers figured out that a mobile phone can be used to perform a lot of other functions apart from calling and text messages.
Though Tablet PCs were around since the late 90s, they came into limelight with the launch of the Original iPad in 2011. The iPad was then deemed as a device category in between the mobile phone and the laptop computer. It had a larger screen than a regular smart phone, yet it did not have a keyboard or a track-pad.
However, 9 years later, tablets have grown into powerful devices that can easily be your primary device and an ideal laptop replacement. It carries the flexibility of using the device either as a tablet or attach the keyboard and turn it into a laptop when needed.
Importance and Use of USB Port in Tablets
Tablet computers were initially intended for videos, surfing the internet, editing documents, spreadsheets and presentations. They had storage more or less equivalent to present day smart phones. But, slowly people liked the tablet experience and manufacturers took notice.
With slight modifications, a tablet can do a lot more tasks than it was originally built for. This led to a lot of new tablet manufacturers jumping into the bandwagon and the existing manufacturers went back to the drawing boards to design something that could truly utilize the power that lay beneath the tablet.
One of the major reasons tablet devices were not able to match up to a laptop, was that a laptop had a keyboard while a tablet did not have an inbuilt keyboard. This is now a problem of the past and a lot of powerful and modern tablets come with a detachable keyboard.
But most manufacturers sell the keyboard as an accessory and many people may not be willing to spend that much right away. Many users may not also be using the external keyboard extensively and this is where the USB ports comes handy. You can easily connect a cheap external keyboard through the USB port and get your typing done as and when necessary.
One of the other reasons why you must have the USB port is for external storage devices. Many users might have multiple devices like say a laptop, a tablet and a smart phone. Transferring and sharing data between them should work seamlessly.
Tablet PCs don't have a large storage by default and hence you might frequently need to plug in a USB pen drive to transfer data to and from the device to maintain storage. So, today people have multiple devices but they need a unified storage medium for all of them.
Part of the problem is solved with the emergence of cloud storage. But an external storage device is useful as you can access your files without wasting your data and larger files will take longer to download over the internet.
Another scenario where you might need a USB port is when you take some large videos or files on a pen drive and share it with your friends even when the device is not present with you when you meet your friend.
Photographers and Videographers cannot use a tablet as their primary device without the USB port. They frequently transfer photos and videos to and from the camcorder and tablet.
Another real-life application of the USB port is when your mobile phone battery dies down. You can connect the mobile phone with the tablet to charge the device when you urgently need power and do not have a power source handy.
In an office setup, you might need to connect a printer or scanner to your tablet. You might argue that most scanners and printers today support wireless communication standards and hence this is not much of a utility when it comes to having an USB port.
But many Government agencies today understand the need for data security and prevention of data theft. So, wired connection is not only faster but also secure and hack-proof.
Some designers, coders and gamers understand the load their activities might be putting on a tablet PC. So, they connect device coolers to prevent the device from early breakdown and overloading the device.
Gamers might also want to connect consoles and other peripherals on to the PC and the USB port does their job. We also have friend over at home and decide to watch a movie. That is when we miss an external speaker as the inbuilt speakers are not powerful enough for many people.
10 Best Tablets With USB Ports 2021
USB ports in a tablet can be helpful in connecting various personal devices like mobile-phones, USB data devices (pen-drive, hard-disk, SSD, etc…) and other external devices.
We have listed below all-type of USB tablets, from low-end to high-end. People with normal usage can go with a good budget one while users like photographers who need to connect their camera as well as edit pictures on the same tablet can go with iPad Pro, Microsoft Surface Pro, Samsung Galaxy Tab S6 or other powerful tablet with USB port.
1. Apple iPad Pro 2021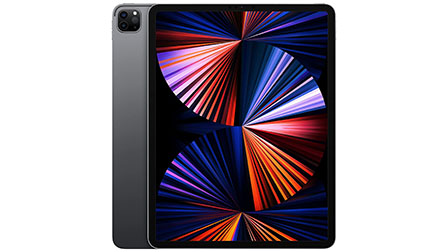 With Apple iPad Pro 2021, everything gets better and superlative. It is one of the best tablets with USB ports 2021.
It is prepared to deliver everything in blazing 5G wireless speed along with its glorious XDR display. It gets its incredible power and abilities to perform as the fastest device from the M1 chip.
It offers 50% faster CPU performance and 40% faster graphical performance. It is available in two variants.
The lavish 12.9-inch model comes with Liquid Retina XDR Display, which makes everything on it grand and splendid and the 11-inch model also supports Liquid Retina Display.
Based on iPadOS 14, Apple iPad Pro is the next-generation technological wonder that will let you achieve all and with ease. On purchase of the Apple iPad Pro, you will get a USB-C Type charge cable and 20W USC-C Type Power Adapter along with it for the fastest connection and charging possibilities.
2. Samsung Galaxy Tab S7/S7+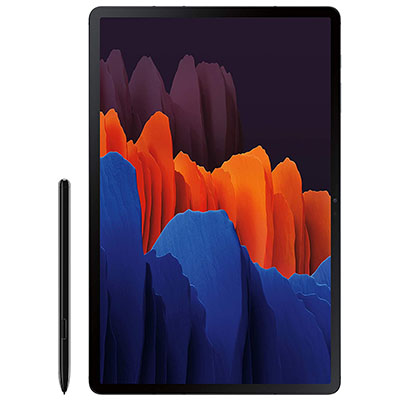 Powered by the most capable and fastest processor, Qualcomm Snapdragon 865 Plus chipset, Samsung Galaxy Tab S7/S7+ has brought a breakthrough in computing technology by an amalgamation of all great features in them.
Both the Samsung Galaxy models come in different display sizes and are majorly similar in their overall functioning and operation except a few. These next-generation tablets are 5G enabled and are way faster and responsive than the previous release.
As has been asserted by the manufacturer, Samsung Galaxy Tab S7/S7+ is meant for everything bigger, better, and brighter. From brilliant, expansive display to world-class audio to extreme smoothness in navigation, everything aspect of these tablets is worth praising.
Every feature and specification has been thought after to guarantee maximum productivity and efficiency while at the same time not compromising on the comfort element. The tablets will leave users amazed at their user-friendliness and portability.
Designed sleek and ultra-modern, these Samsung tablets can help you carry all your potential with you owing to their easy mobility.
The high-end performance is matched with a long-lasting battery life that can last for as long as 14 hours. Availability of USB-C Port further increases the reliability factor as it helps in easy charging when needed.
3. New Microsoft Surface Pro X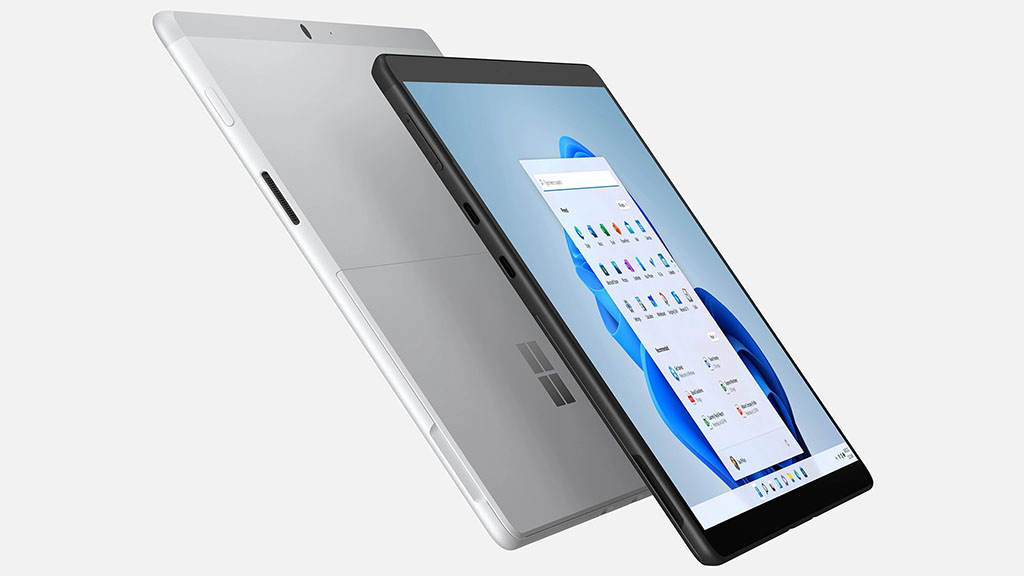 Designed for the traveling users, the New Microsoft Surface Pro X is here to support your hybrid work lifestyle with the portable, sleek and lightweight design.
It is programmed with the optional Gigabit LTE configuration with the preloaded Windows 11 OS for keeping you ready for work on the go.
The device is powered by the custom-made Microsoft SQ1 and SQ2 processors that delivers uninterrupted octa-core performance.
Backed with the unlimited Microsoft 365 Office access further supports work and elevates productivity. The device is designed with an adjustable kickstand that supports comfortable work experience too.
The Surface Pro X is equipped with an edge to edge 13" Pixel Sense touch display with 3:2 aspect ratio that makes viewing documents and other media files comfortable.
It comes integrated with up to 16GB RAM and up to 512GB SSD of storage for efficient data transfer and faster bootup experience.
4. Microsoft Surface Pro 8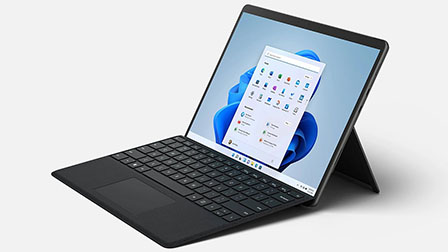 The Microsoft Surface Pro 8 was launched after a host of negotiations and a lot of wait.
If you are on the hunt for a highly functional device that combines the power of a laptop with the ease of work like a tablet, this is the one convertible laptop you can blindly rely on.
The device comes pre-integrated with the latest Windows 11 OS for easier workaround.
The device is powered by the latest 11th Gen. Intel Core processors for handling intensive workloads and promoting seamless multitasking with ease.
It also supports all-day battery life with fast charging functions for staying connected throughout.
It is also integrated with the much needed Thunderbolt 4 ports for streamlining the ultimate productivity setup for the users.
The Surface Pro 8 is equipped with an edge-to-edge 13.3" PixelSense flow touch display with 3:2 aspect ratio and 120Hz refresh rate. The device is integrated with up to 32GB RAM and up to 1TB SSD of storage.
5. ASUS Chromebook Detachable CM3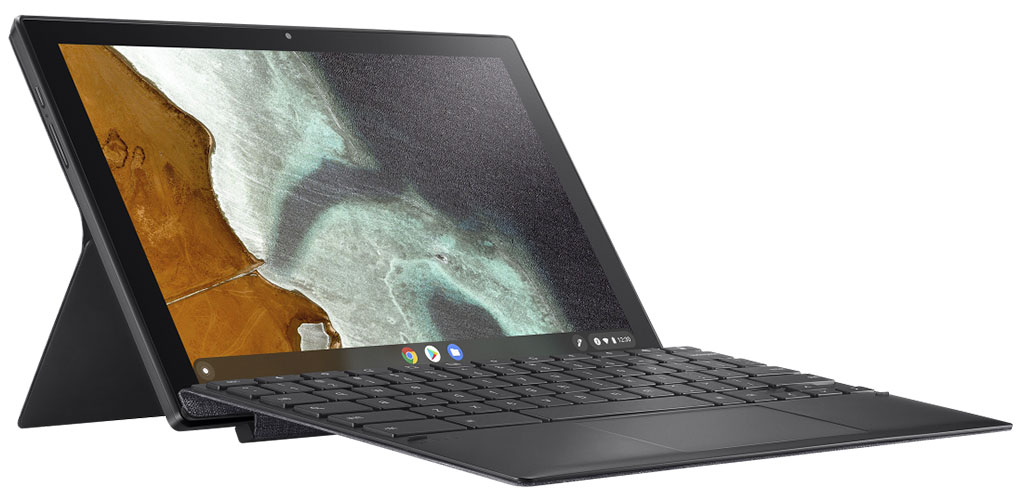 Available on Amazon
This is yet another important tablet that needs to be discussed in this category of best tablets with USB Port. Powered by a 2.0 GHz ARM MediaTek 8183 Processor, the 10.5-inch ASUS Chromebook Detachable CM3 stores immense power within its fashionable, sturdy and compact body.
It offers high versatility and mobility along with increased productivity. It can transform into a laptop by attaching the detachable keyboard and magnetic flex-angle stand cover so that you can use it at your convenience. And on detaching the stand cover and the keyboard, it is ready to perform as a tablet.
ASUS Chromebook Detachable CM3 has a limitless storage capacity and also the battery life is amazing. This means effective work with lesser interruption. On a single charge, you can get 12 hours of performance. Plus, with the 45W adopter, charging was never more easier and faster.
6. Lenovo Chromebook Duet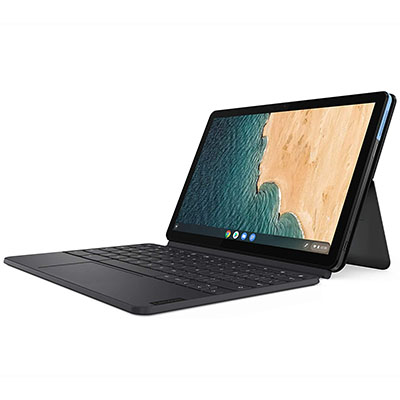 Another important tablet with USB Ports that need to be mentioned here is Lenovo Chromebook Duet. With prices starting at around $250, the 2-in-1 Lenovo Chromebook Duet is styled to increase mobility and efficiency.
You can use it as a laptop or a tablet depending on your need. All you need to do is to attach or detach the easy-going, magnetic, full-fledged responsive keyboard. With just eight seconds of booting time, you are always active and focused.
It features a 10.1-inch FHD display with 1920 x 1200 resolutions with a thin bezel running around it. USB-C to 3.5mm adaptor is included in the package.
With almost 10 hours of battery life and based on Chrome OS, Lenovo Chromebook Duet is sure to give tough competition to the other products in the given price range.
It is ideal for users who do not wish to spend a fortune on tablets but at the same time offers great performance without much compromise.
7. Apple iPad Air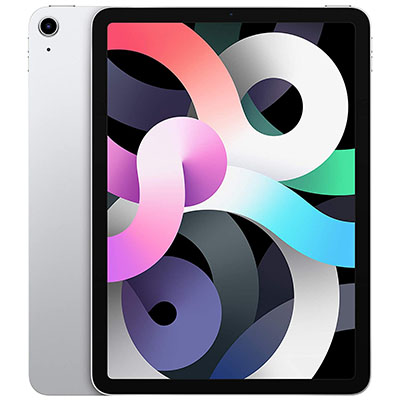 You will love this amazing Apple iPad Air for the high level of versatility and ease of operation that it guarantees. Apple iPad Air is a dream come true with all its immense capabilities and potential-packed within its sleek exterior.
Available in five equally appealing colors, Apple has something to go with every personality. It is indeed a complete package in itself and aims at making every creation outstanding and amazing.
It is powered byA14 Bionic that delivers it with immense abilities and potential and makes it way faster and better than the previous model. And the unique Neural Engine makes it suitable for two times faster machine learning experience power.
It is based on iPadOS 14 that makes it the ideal smart device for aspiring minds. With both Wi-Fi and LTE connectivity options that make the tablet 60% faster, users can stay well-connected and within the necessary nexus all the time without losing on anything important.
It also supports USB-C type connectivity options to help establish a quick connection with other essential devices like cameras and displays. iPad Air sports a brilliant, gorgeous 10.9-inch display that supports helpful features like Liquid Retina Display.
When you match this incredible Apple product with other sophisticated Apple accessories like the pencil and the smart keyboard, you will be amazed at the richness of functionality.
8. Microsoft Surface Go 3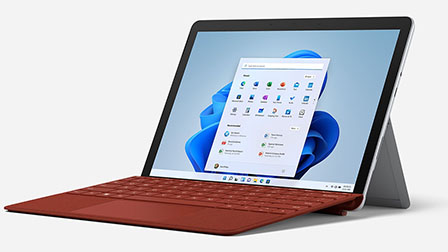 In a world where data transfer and management has taken a front seat, having access to a high-quality tablet with USB ports is a must.
Amidst all the available options, the Microsoft Surface Go 3 is a steal, especially with the features and the price point it comes with.
The convertible laptop is hands down one of the most portable options that you can get your hands on.
The device comes with a choice between the latest Intel Pentium Gold processor or the 10th Gen. Intel Core i3 processors.
You also get up to 8GB RAM, which is enough to support multitasking and seamless work productivity throughout the day.
Pair that with the lightweight design and the detachable kickstand and you won't ever have to complain about the ergonomics.
The Surface Go 3 is equipped with a compact and tangible 10.5" PixelSense display with 1080p screen resolution and 10-point multi-touch user experience.
Also, you get the Corning Gorilla Glass protection on the exterior. And, the device runs on the latest Windows 11 in S mode.
9. Microsoft Surface Book 3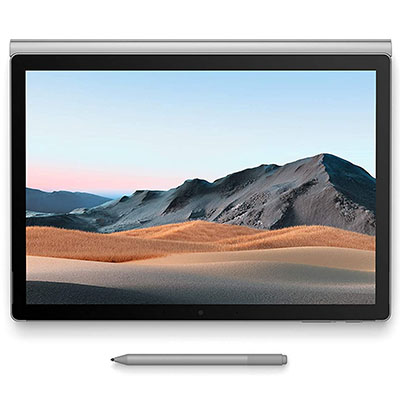 Designed to deliver the best by catering to the most demanding tasks, Microsoft Surface Book 3 is a vision in itself.
It is available in two different sizes of 13.5-inch and 15-inch for enthusiastic buyers to choose from. It aims to combine operational flexibility and versatility with endless potentiality.
You can use it as a laptop, or a table, or even as a portable complete studio, and here lies the true essence of Microsoft Surface book 3. Its prices begin from $1599.99, and thus explains the fact that it is a regale in its approach.
Being powered by the 10th Gen Intel Core processors, Microsoft Surface Book 3 is more than 50% faster than the previous model, which is Surface Book 2.
The latest NVIDIA GTX GeForce GPU and 2TB of storage with 32GB RAM account for the milestone graphical representation and flawless service in terms of speed and fluidity.
17.5 hours of battery life keeps this Surface Book 3 always ready to perform without any unwanted interruption.
The cutting-edge accessories like a full-fledged keyboard and Surface pen or surface dial from Microsoft further add to the craftsmanship of the users. It supports USB-A and USB-C Type option for quick and reliable connectivity.
10. HP Chromebook x2 11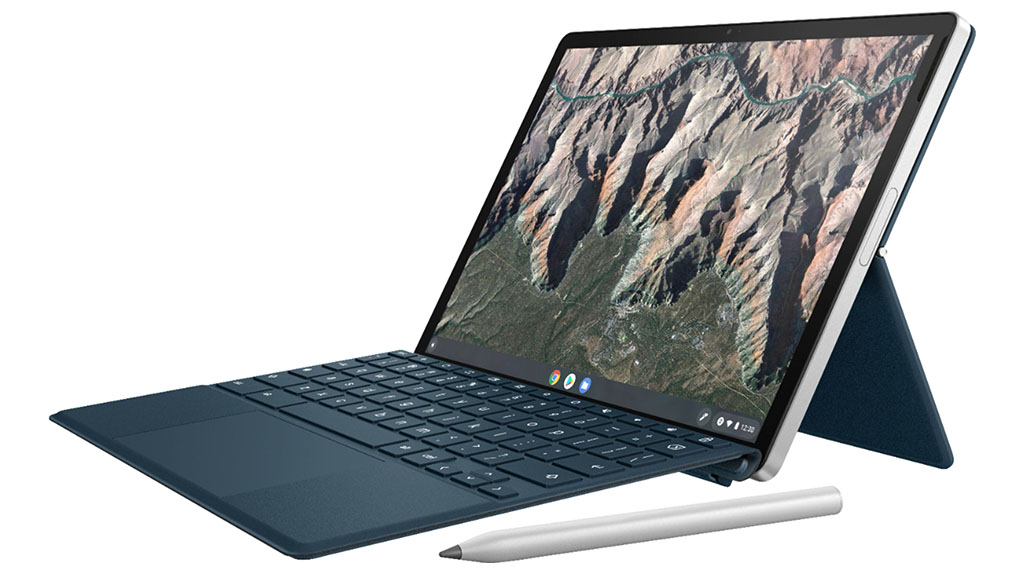 If you are a trusted HP user and you rely on the Chrome OS more than Windows, the HP Chromebook x2 11 is a pretty great choice with a range of USB ports for seamless connectivity.
Besides the lightweight design, the device is programmed with two cameras for easier communication and connectivity.
The tablet is powered by the latest Qualcomm Snapdragon 7c processors that is compatible with all the work applications like Microsoft Office, Google Workspace, etc.
The compact 2K touch display is further backed with 1440p screen resolution and 3:2 aspect ratio that makes browsing a lot more comfortable.
The integrated fingerprint sensor ensures optimal security, especially when you are logging into the device. The Chromebook comes with the ENERGY STAR certification and EPEAT Silver registered for enhanced power efficiency.
Verdict
Just like laptops replaced a majority of desktop computers, the coming few years can see the laptop being replaced by equally or sometimes more powerful tablet PCs. One of the downside of tablets, when they first arrived onto the scene was that you could not extensively type on them.
But with removable and ultralight keyboards, this problem is a thing of the past. Apple definitely leads the pack with the iPad and iPad Pro series of tablets, but we are seeing some really spectacular competition coming from the likes of Microsoft, Samsung and Google.
Emergence of ultralight processors along with portability features like USB Type C connectors have enabled manufacturers to design thin and powerful tablet devices.
Surprisingly, with all this power the battery life is commendable and an average tablet PC now delivers around 12 hours of battery life depending on the usage and software.
Major operating systems like Android, Windows and iOS have launched optimized UI specially focused for tablet devices.
Competition in the tablet market is heating up. If you are looking to buy a tablet computer and confused about which one to buy, give a thought to these 10 devices. These are definitely the best tablets with USB ports in US today.