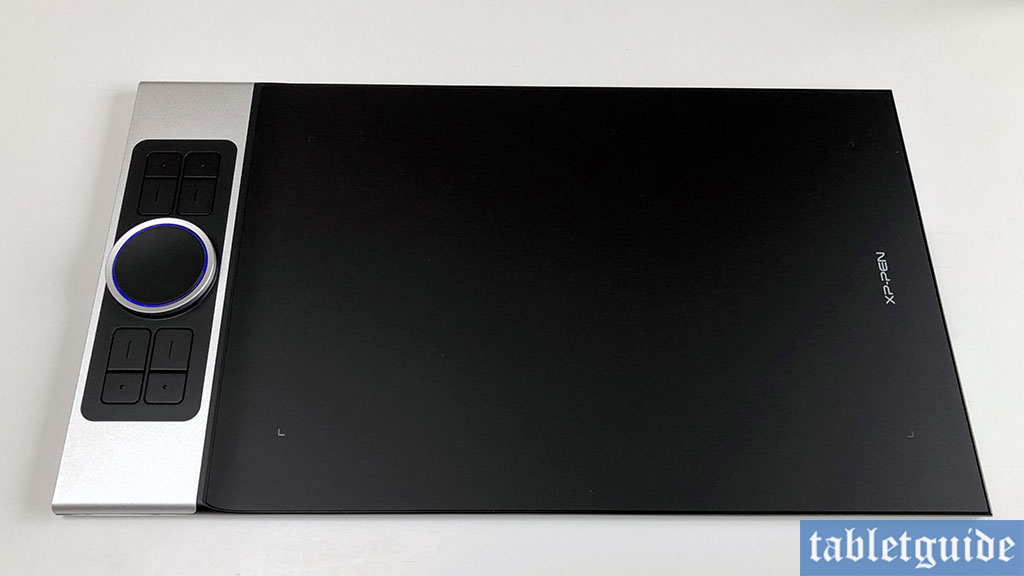 How time flies! It seems like only a year ago (Editor: it was!) that we were celebrating XP-PEN's 15th Birthday Anniversary by reviewing a slew of specially themed/boxed graphics tablet goodies and now here we are, 12 months later, celebrating their 16th! Brings a tear to my eye… 😊
To get the party started, we're going to be looking at the newly released XP-Pen Deco Pro MW Pen Tablet.
This tablet actually comes in two sizes: 'Small' and 'Medium' sizes and it's the latter we have here in the studio…
Available at Official XP-Pen Store
The original Deco Pro M Pen Tablet actually came out a few years ago and was an instant hit with the design and illustration market – in fact, it won two awards; 'red-dot award 2019' and the 'Good Design Award 2018', so as the old adage goes "If it ain't broke, don't fix it… just add Bluetooth' haw haw!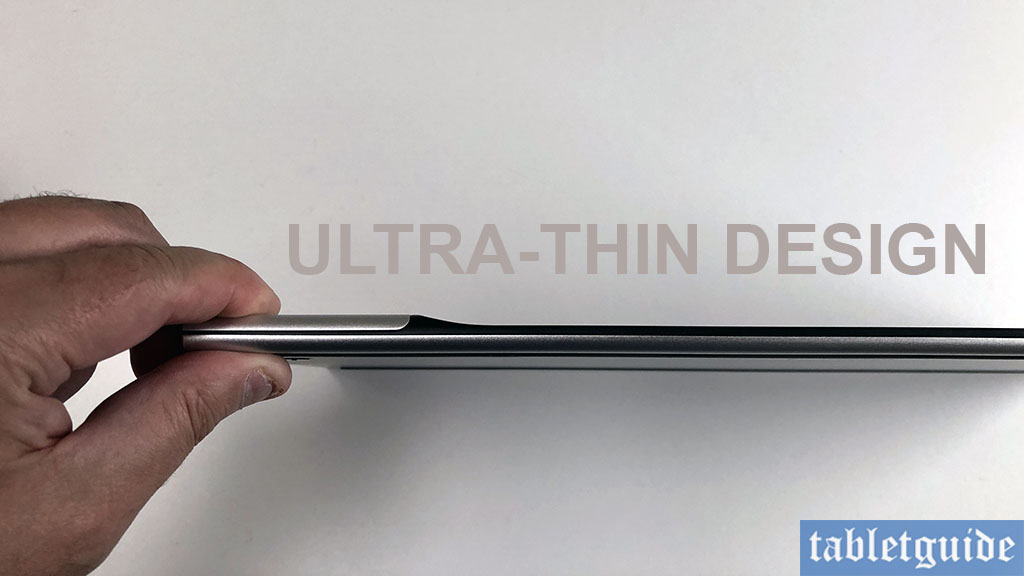 It really is a nice looking and performing tablet, but let's start at the beginning – or with the box anyway…
Housed in a (very sturdy!) white box, proudly displaying not only the two design award logos, but also a full shot of the device itself, is the tablet, the pen (inside a pen holder with 10 spare nibs), Bluetooth receiver, Drawing Glove, USB-C to USB-C cable, Warranty Card, USB Adaptor, USB-A to USB-C cable and Quick Guide.
To keep things all nice and tidy (and safe, presumably!) everything except the pen holder is tucked away divided into two small flat boxes.
As previously mentioned, this is an updated version of the Deco Pro M – it's the Deco Pro MW, with added Bluetooth capabilities. The tablet dimensions are 399.7 X 227 X 16.5mm with an 'Active/Drawing Area' of 11" X 6".
This drawing area on the front of the tablet is designated by 4 small 'corner' icons that light up when the pen is within the 10mm sensing range.
The dial wheel too has some small, neat looking LED's within the inner rim which adds to the already cool looking design. They are quite subtle and not 'in your face' so as to not distract you when working – a nice touch.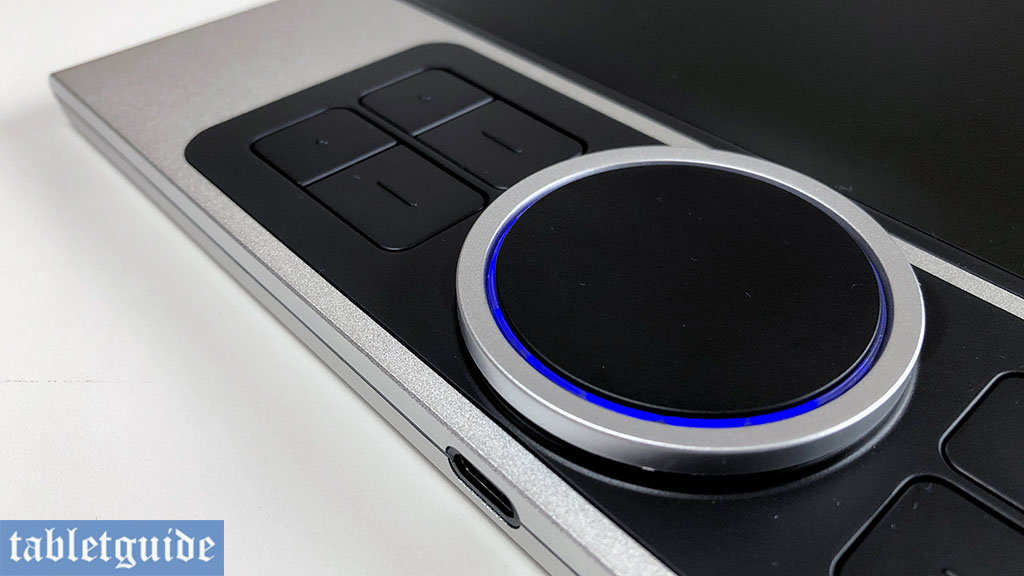 XP-Pen Deco Pro MW is lighter than it looks, but feels and looks like a premium device with its metal back and casing; on the left of the tablet are the 8 shortcuts keys with the dual wheels i.e. 'Mechanical' and 'Virtual' sitting in the middle, dividing them into 4 on top and 4 below.
The functionality of the keys and wheel can be changed/edited/configured in the Driver Software. Flip the tablet over and you'll find the two rubber strips for keeping the tablet on the desk and an 'On/Off' switch for, you guessed it, turning the tablet 'On' and 'Off'. More on that in a bit…
If you know your tablets, you'd think this was an early prototype for the Innovator 16 tablet as both share a similar design.
The pen also matches the sleek design of the tablet combining both a black and silver look. It has an anti-slip black rubber covering around its 2-button functionality area and is battery-free.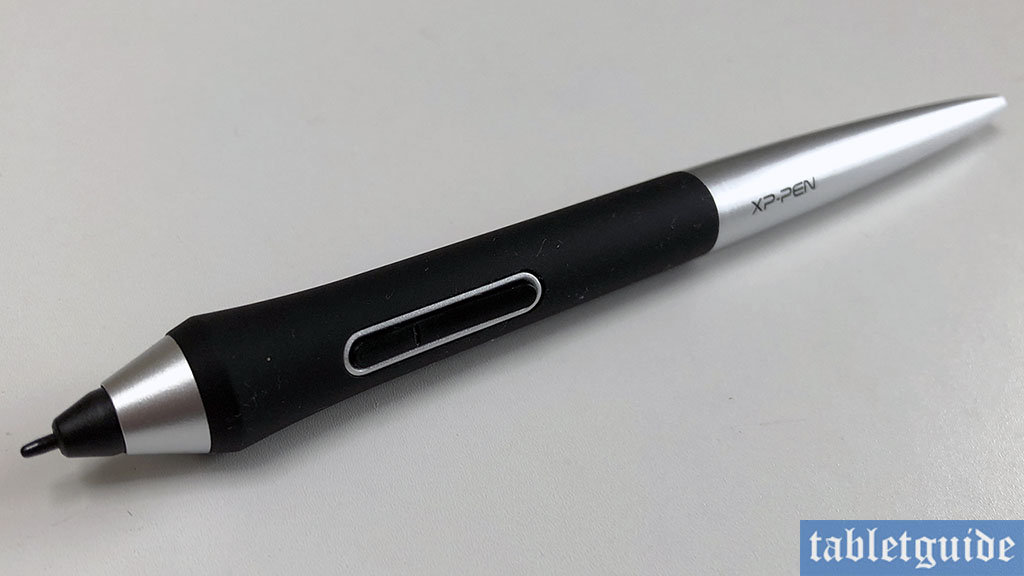 As is now standard across these devices, the pen supports 8192 levels of 'pressure sensitivity' and 60-degree tilt. It feels really comfortable to hold and use – I really like the look of it!
The cylindrical 'tube' that houses the pen also is home for not only the 10 spare nibs, but also the Bluetooth Receiver – another handy feature is the top/lid can also be used as a pen holder to stop it dropping on the floor when not in use!
To get going, visit XP-PEN's website to download the latest drivers for this device. As usual, make sure you uninstall any older drivers (or other brand software drivers you may have on your system like Wacom etc as this may cause conflicts).
Whilst you wait for the download to finish, you can make the most of this time by peeling off the protective sheet/covering from the tablets screen – there's a handy little sticker top left of the device ready to peel back…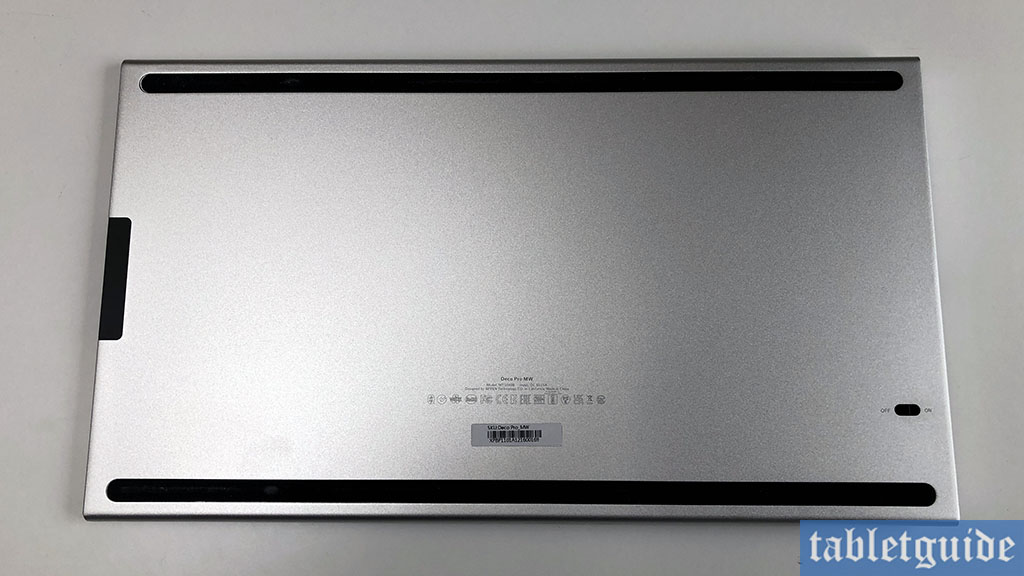 As usual, my weapon(s) of choice to test the XP-Pen Deco Pro MW was Adobe Photoshop on a Windows 10 PC. A quick few scribbles to start as we want to make sure pressure sensitivity works and… viola! We needn't have worried!
By varying the pen pressure on the tablet, both thick and thin lines were produced with ease. Depending on what type of illustrator you are i.e., heavy or light handed, you can configure the pressure sensitivity in the Driver Software by moving the dots around in the graph until you get the right 'feel' you're looking for in the 'Pressure Sensitive Adjustment' box.
Whilst on the subject of the Driver Software, here's what else you can do; if you have a multi-monitor set-up, you can map the tablet to all screens so that what you draw appears on all monitors at the same time or just to whatever one screen you wish.
This is a much more beneficial way of working as you can have, say, your email (or a reference image) in one screen and work away in Photoshop on the tablet on another screen – much better! Or, if you are left-handed, rotate 180 degrees (so that the keys and wheels are on the right side!).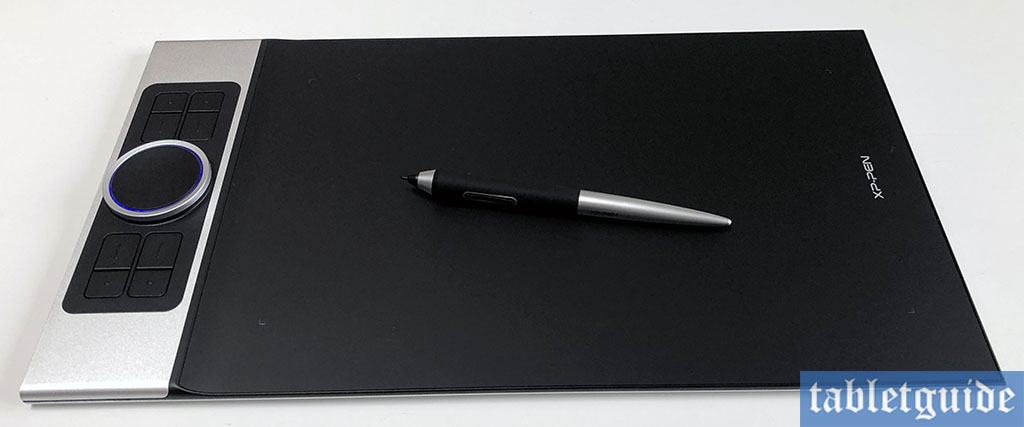 The pen button functionality can also be changed in the Driver software. Personally, I tend to leave 'as-is' as 'Eraser' and 'Right Click' work out of the box for me – but you can mix it up as you wish. Same goes for the shortcut, or express keys.
The default functions of: K1: Keyboard 'B', K2: Eraser, K3: Eyedropper, K4: Hand Tool, K5: CTRL+S (Save), K6: CTRL+Z (Undo), K7: Control Panel and K8: Switch Roller function should work well for anyone, but again, you can change things around if you want – same goes for the 2 dials, but using them for 'Zooming' and changing 'Brush Size' was good enough for me.
You can even set the 'Touch' (the inner black 'wheel') to act as a 'Mouse' – isn't technology wonderful! There's also a setting to turn off the lights of the tablet… which leads us back to the tablet itself…
As previously mentioned, you can turn the tablet 'On' and 'Off' via the switch on the back. Working wirelessly via Bluetooth should give you around 10 hours worktime – the Driver Software has a handy little 'remaining Battery' icon to make sure you finish your masterpiece before you run out of time! 😊 Simply charge up the XP-Pen Deco Pro MW again via the USB-C cable – whilst charging, the LEDs flash blue, red etc to indicate charging – this should take around 2 hours.
Drawing on this tablet felt fab. I love not only the look of the pen, but how it feels in the hand and how 'smooth' it feels when gliding over the tablet.
This device will really impress your colleagues in the studio/family members at home(!) when you bring this out. Lines and strokes produced onscreen tapered off nicely, dependant on pen pressure, and will bring great results whether you're creating a 'simple' cartoon image, or a more detailed, painted masterpiece with different brushes.
This is a great device for drawing 'on the go' as you can connect to a compatible mobile device (see XP-PEN's website for a full list) via the OTG adaptor and work away at the bottom of your garden or the coffee shop.
In fact, fans of ibisPaint (iOS) will be pleased to know the Deco Pro MW is compatible with this App! 😊
XP-PEN are knocking these devices out of the park and are great value for money. The functionality of this tablet is matched by it's good looks and comes thoroughly recommended.
The Deco Pro series supports Windows, Mac OS, Android, Chrome OS and Linux systems. It's compatible with most drawing and design software, including Photoshop, SAI, Painter, Illustrator, and more.
The Bluetooth connection/functionality is available on Windows 10 and Mac OS X 10.10 (or later); the wireless receiver or wired connection is available on Windows, Mac OS, Android, Chrome OS and Linux systems.
At the time of writing, if you hurry, XP-PEN is having an 'Anniversary Sale', so you may be lucky enough to get it somewhat cheaper than usual – now isn't that a nice reason to celebrate too – Happy Birthday XP-PEN – cheers!
Related: