First of all, Happy Birthday XP-Pen!
It's now 15 years since XP-Pen was founded (way back in 2005!) and began producing graphic drawing tools for the design industry, now in over 100 countries. So, to celebrate this anniversary, they have released 3 special limited-edition branded products… the Deco mini 4, Deco mini 7 and the Innovator 16 which we are reviewing here.
The outer packaging on this tablet is all-over blue with a bright, colorful illustration of two artists surrounded by their new creations… presumably made with this tablet! The new slogan for this campaign 'Identify Your Color' sits below a large numerical reminder of XP-Pen's 15th year on the right-hand side.
As mentioned earlier, these 3 new products are 'limited-edition' packages and this particular product comes with a couple of nice 'extras' to differentiate from the regular version of this tablet. But more on that later…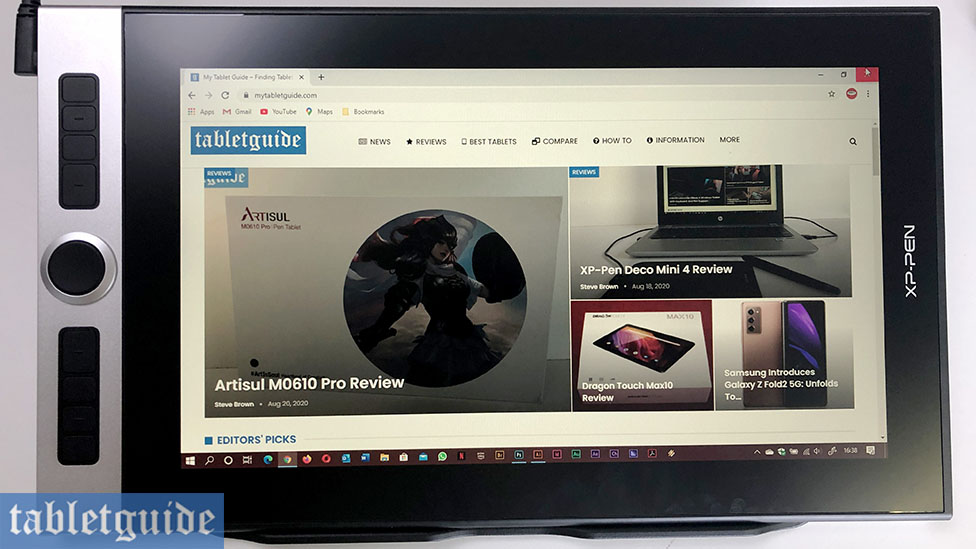 On opening the box, you are presented with the 15.6" Innovator display… and, wow, is this thing thin! At only 9mm high, it's hard to believe this tablet is actually a pen display and not a 'normal' graphics tablet! Build quality feels great and looks luxuriously expensive with its all metallic back and front left strip housing the 8 (customizable) shortcut keys and dial wheel.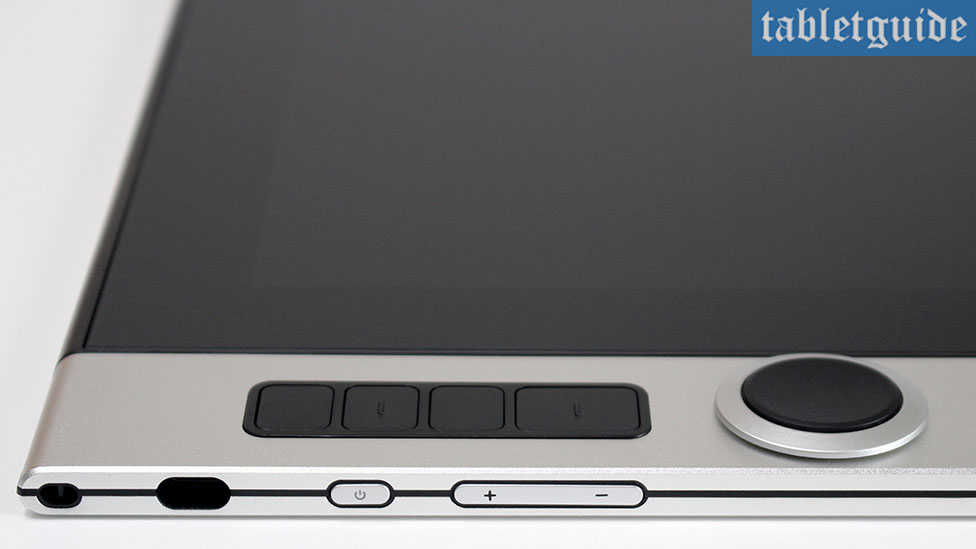 Running down the left side of the tablet, in order, is a small hole/notch (or 'Charm hole' according to the User Guide), presumably for tethering/securing the unit to your desk, USB-C socket, On/OFF power switch and brightness control/switches.
This is a 1920×1080 (16:9) tablet with a working area of 344.16×193.59mm. It's a laminated display with 125% sRGB / 92% Adobe RGB / 88% NTSC color accuracy.
Buy at XP-Pen Store | Use Code: 'INSPR141'
Digging deeper into the box, you get a nice sturdy black plastic tube containing not only the 2 button pen/stylus, but a handy supply of extra pen nibs (This tube safely protects the pen, but if you wish, you can use the lid as a separate pen holder on your desk so that you can draw away at a second's notice!), USB power cable, USB extension cable, microfiber cleaning cloth, drawing glove (you don't want to smudge that lovely screen!) and a USB power adapter with several plugs to choose from, depending on which country you reside in, a tablet stand and the usual Quick Guide and Warranty booklets.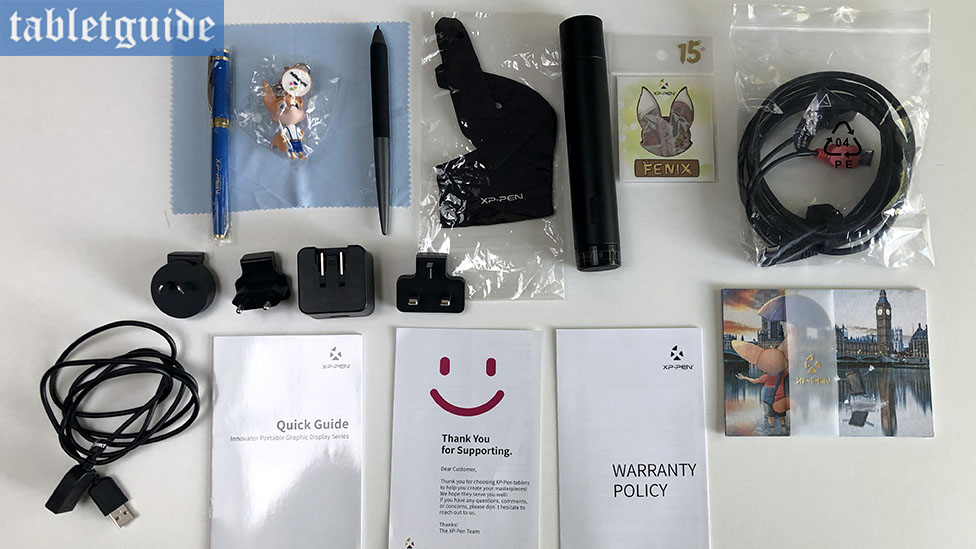 Also included is a Fenix (XP-Pen's mascot character!) sticker pack, a selection of postcards depicting Fenix on his travels. As previously mentioned, the extra goodies included in this limited-edition pack are a rather nice blue XP-Pen traditional type pen (with actual ink!) and a cute little Fenix character keyring, adorned with an XP-Pen logo/tag for attaching to…. whatever you want, I guess!
Moving on to the pen stylus now and this feels too very nice to hold. It's a nice new sleek design and isn't too light or heavy – for me, it was perfect. It's battery-free, supports 8192 levels of pen pressure and 60° of tilt.
The monitor stand is a rather basic affair being plastic and only able to support the tablet at one angle, but as the back of the tablet doesn't actually have any rubber feet, it does the job well enough. (If you prefer a higher drawing angle simply shove a few books underneath.)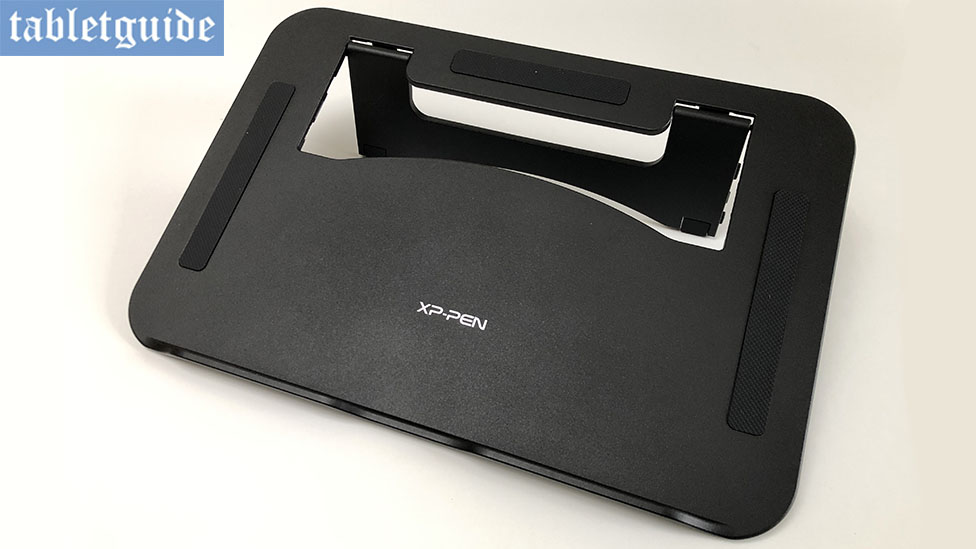 Installing the drivers is simple enough – just go the website, plug in the tablet, download and install and you should be up and running.
Turning on the tablet you are greeted with a few seconds of the XP-Pen logo before going to your desktop. Straight out of the box the colors are great. Everything about this tablet is great so far, but the proof is in the pudding… or, in this case, the drawing…
This is a fully laminated screen, meaning there's minimal/no gap between the glass and the screen display, which, in turn, reduces 'parallax' (the space between where your pen nib touches the screen and where the 'ink' is shown) and it feels fantastic to draw on – it's so silky smooth just scribbling a few test lines – amazing.
I'm lucky(?) enough to work in a darkened studio, so screen glare/reflection isn't an issue for me anyway, but it does have a matt screen/protector which will reduce it somewhat.
Using this on a Windows PC in Adobe Photoshop and Adobe Illustrator just felt superb – no lagging whatsoever, every stroke and line reproduced perfectly. The 'under the hood' functionality of this pen display works just as great as the tablet looks on the outside. This tablet is compatible with all the 'big guns' of the creative software world like the rest of the Adobe suite, Clip Studio Paint, Corel Draw, Painter, Toon Boom Studio, ZBrush and the other maybe not so well known as Krita, SAI, Artrage etc – in fact, it's a great general mouse replacement all round!
Pen pressure sensitivity adjustments and re-assignment of the shortcut keys are a simple and quick task to undertake in the driver software. Personally, I always leave the pen button/switch at the default i.e. top button for Pen/Eraser mode and the bottom button acting as 'Right-Click', but it's always a good idea to perhaps change the pen pressure setting to suit your way of drawing.
If you are lucky enough to have a multiple monitor set-up, you can configure which one of these – if any – you want the tablet to 'map' to.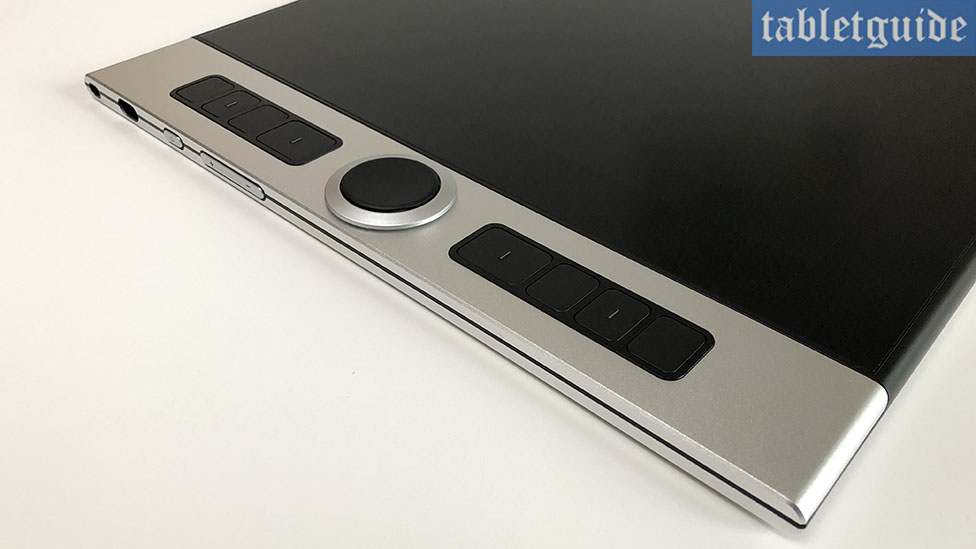 The 8 shortcut/express keys default settings are probably fine for everyone as they are by default i.e. the top button opens the driver software and the rest are set up for the most commonly used keystrokes when drawing away such as 'Spacebar', 'Save'. 'Undo' etc, but again – you can change these should you so wish. Same goes for the scroll wheel – I prefer to use this for zooming in/out and increasing/decreasing brush sizes. If you make a mess of your settings, hitting 'Default' puts it back to factory settings. Want to check for a driver update? Then click on the XP-Pen logo and you're taken to the website.
In summary, I'm really impressed with this tablet. The build quality, looks and functionality are really going to get the competition to up their game.
If you want to save a bit of money, you can order the 'normal' version of this tablet that comes in a white box without all the 15th Anniversary branding etc., but you won't get the additional little gifts of the keyring or 'traditional' pen – just make sure that if you DO get the blue anniversary version that it's the BLACK pen that you need to use on the tablet…!
I can't wait to see what XP-Pen will be bringing out for their 20th, (or even next year!) as this will take some beating!
Once again, have a Happy Birthday XP-Pen! (I'm going to double check the box just to make sure I didn't miss any cake…!)
The Innovator Display 16 supports Windows 10/8/7 and Mac OS X 10.10 (and higher).