The ultra-portable XP-Pen Deco mini 7 graphic tablet is a slightly larger version of its younger sibling, the Deco mini 4. Measuring 260.2 x 162.2 x 9.3mm (with an active area of 177.8 x 111.1mm (7.03" x 4.37") and weighing only 307g, this tablet is perfect for designing (and designers!) on the go.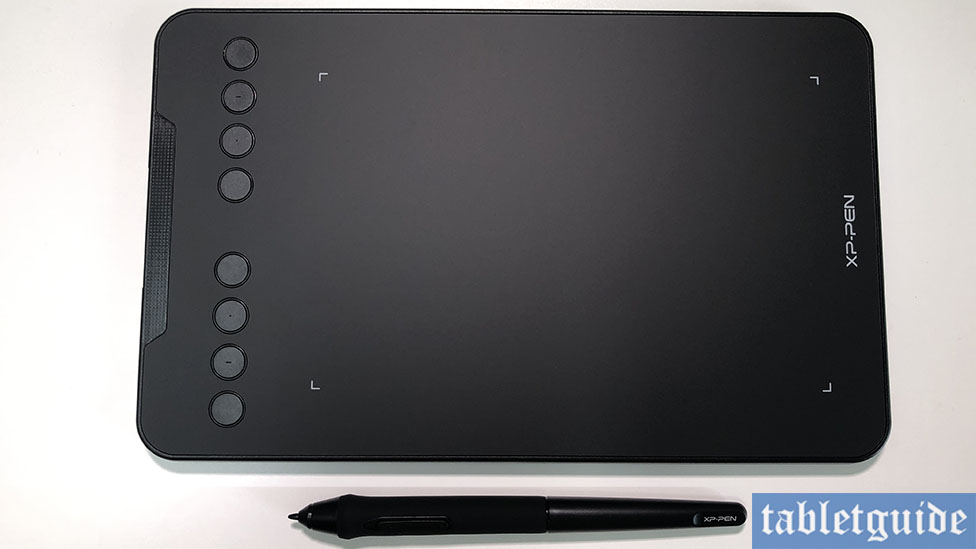 All the usual suspects are included in the box: tablet (kind of a sure thing really…!), battery free pen/stylus, spare nibs, nib extractor, USB – USB-C cable, USB adapters (x2), Warranty Card, Quick Guide, 5 postcards of Fenix (XP-Pen's mascot!) on his travels and a sticker pack all enclosed in a newly designed/themed blue '15th Anniversary Edition' box, phew! (By the way – Happy Birthday XP-Pen!)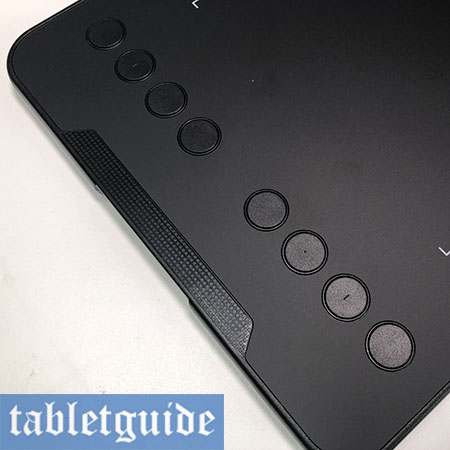 As with most XP-Pen products, the design quality of the tablet is great and its looks cool too.
The left side of the unit is where you'll find the 8 customizable shortcut keys/buttons with the XP-Pen logo over on the far right – the drawing area is designated by 4 small white chevron/corner icons.
On the left side too is where you'll plug in the cable… or at least one end of it(!) – the other you'll plug into either your Mac, Windows PC or compatible Android device…
The pen too feels like a quality build and has 8192 levels of pen pressure sensitivity – perfect for getting those nice variable pen strokes when creating your masterpiece! It also battery-free and supports 60 degrees of tilt so you can shade away to your hearts content just like a real pencil!
It works with all the major creative software packages like Adobe Photoshop Adobe Illustrator (in fact all the Adobe CC stuff), SAI, Corel Painter, Corel Graphics Suite, Clip Studio Paint, GIMP, Medibang, Krita, Blender 3D etc – in fact, even if your aren't 'creating' as such, it makes a great replacement for your mouse in everyday tasks.
As with all graphic tablet installations, you have to uninstall any previous tablet/older drivers before heading over to XP-Pen's website to download and install the drivers for this particular unit.
With everything plugged in and installed as it should be, it's now time to put this thing through its paces…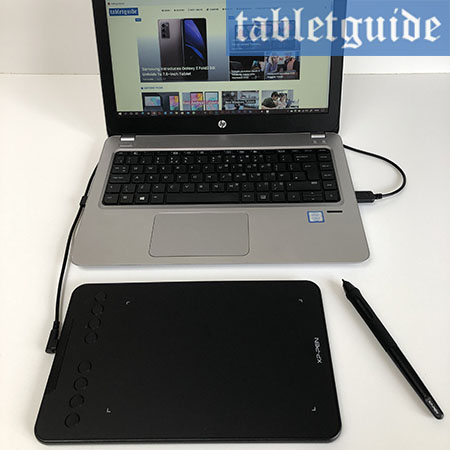 After firing up Photoshop (Windows) and trying a few basic scribbles, it felt fantastic – the pen seemed to 'glide' so smoothly over the tablet and the resulting strokes on screen were perfect.
There wasn't a hint of any lagging and the pen pressure worked perfectly. Lines tapered off neatly and curves looked good.
The pen not only looks good, its great to hold, is very light and feels really comfortable in the hand.
Although made of plastic, the area surrounding the 2 button/rocker switch has some kind of rubber type skin or covering (roughly half the pen!) – it really does feel nice to the touch.
The aforementioned 2 button switch gives out a nice small click when pressed; by default, the bottom switch acts as a mouse 'right click' and the top button switches the pen setting from 'pen' to 'eraser' mode… drawn a line you don't like? Switch to 'eraser' mode and rub it out – impressive stuff so far! (A small white LED nestled in the middle of the buttons lights up when the pen is close enough to be sensed and/or in range of the tablet.)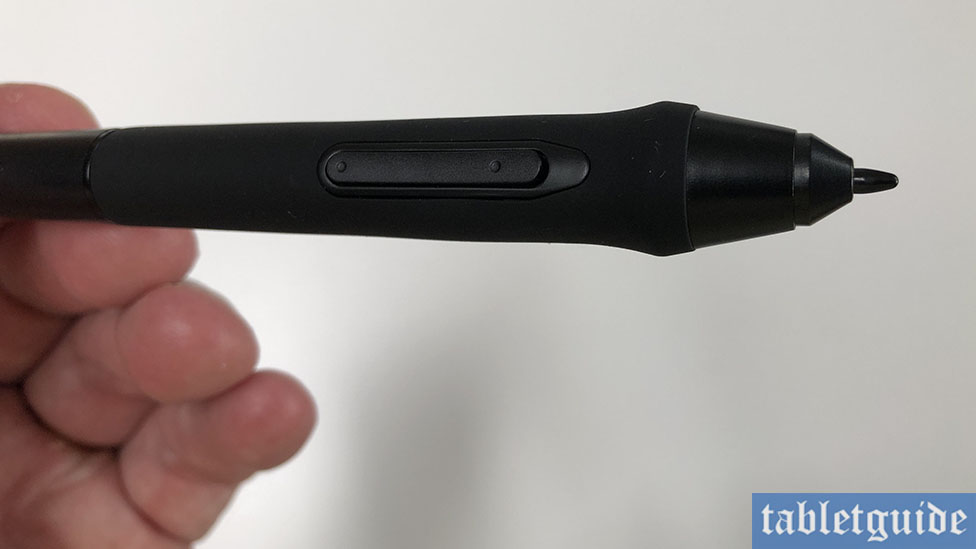 The 8 shortcuts keys running vertically down the left side also have a nice feel when pressed – you can change these to suit your own preferences, but out of the box they probably do everything you'd need to do initially… need to change a pen or tablet setting?
Hit that top button and you're presented with the driver software – it's here you can adjust the pen pressure, change the pen button functionality, set the work area etc – if you have a multiple monitor set-up, you can set which monitor the pen and tablet will work with.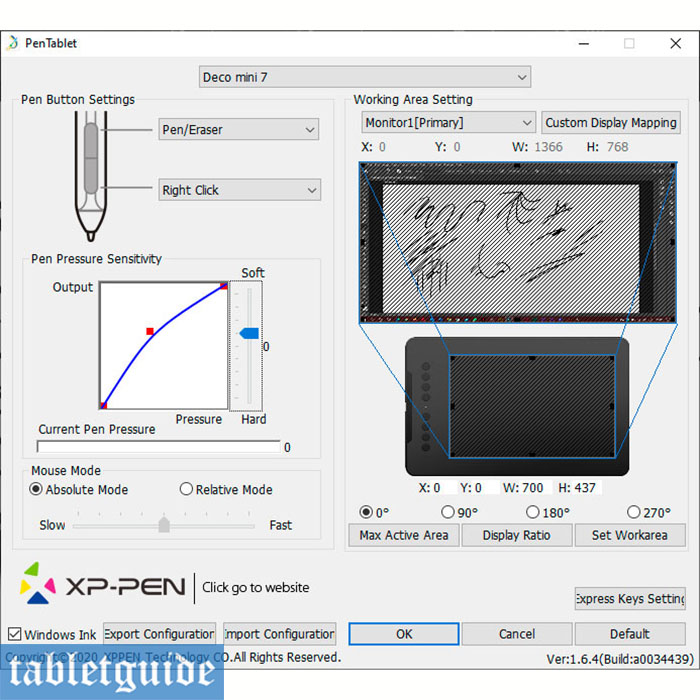 If you mess up the settings, there's no need to panic as hitting 'Default' will set everything back the way it was initially. There's also a handy (logo) link taking you to XP-Pen's website so you can check for any driver updates.
Other buttons to help speed up the drawing/design process include 'Undo' (CRTL-Z), Spacebar (enabling you to drag the 'artboard' around the screen and 'Zoom In/Out' etc.
Another function of this tablet (which seems to be getting more popular!) is that by using one of the supplied USB adapters, you can actually plug this into any compatible Android 6.0+ tablet or smartphone and draw on that!
For a better user experience using this functionality, ideally you need to rotate the Deco mini 7 round 45 degrees so that the drawing area better represents the screen you are viewing. (Whilst on the subject of rotation, any left-handed designers out there will be glad to know that this tablet can be used perfectly well by them – just turn the unit around – the USB-C cable can be plugged in either also for a tidy desk set-up!)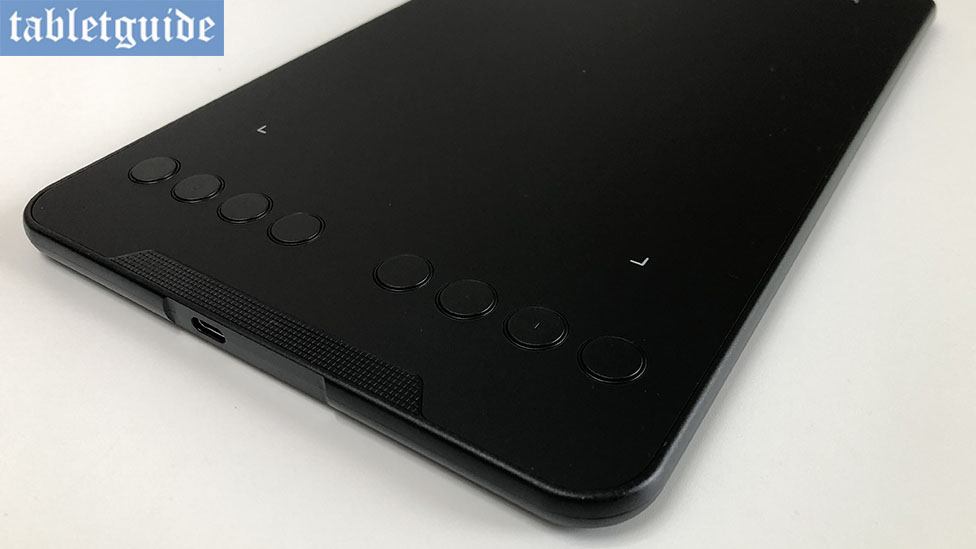 For years there was only ever really one name synonymous with graphic and pen tablets and that was Wacom. Nowadays there are many different companies like XP-Pen, VEIKK, Huion, Artisul etc who manufacture tablets at a variety of sizes (and prices!) which is great for the consumer as although Wacom products are still the 'gold standard' they come with a premium price to match.
These smaller, lesser known companies are coming out with some seriously competitive products, with a much lower price to match and having used/reviewed a few new XP-Pen released products recently, surely it won't be long before they are seen and revered as much as Wacom currently are. This is another decent, small to mid-sized tablet that does everything a designer or illustrator could want and comes highly recommended for its price.
The XP-Pen Deco mini 7 is compatible with Windows 10/8/7, Mac OS X 10.10 (and higher), Android 6.0 (and higher).