Does size matter? You'll have to look elsewhere for the answer to that – we review graphics tablets here on this site… that being said, we are taking a look at the new HUION Inspiroy RTP-700 Creative Pen Tablet, the largest of HUION's three newly released devices…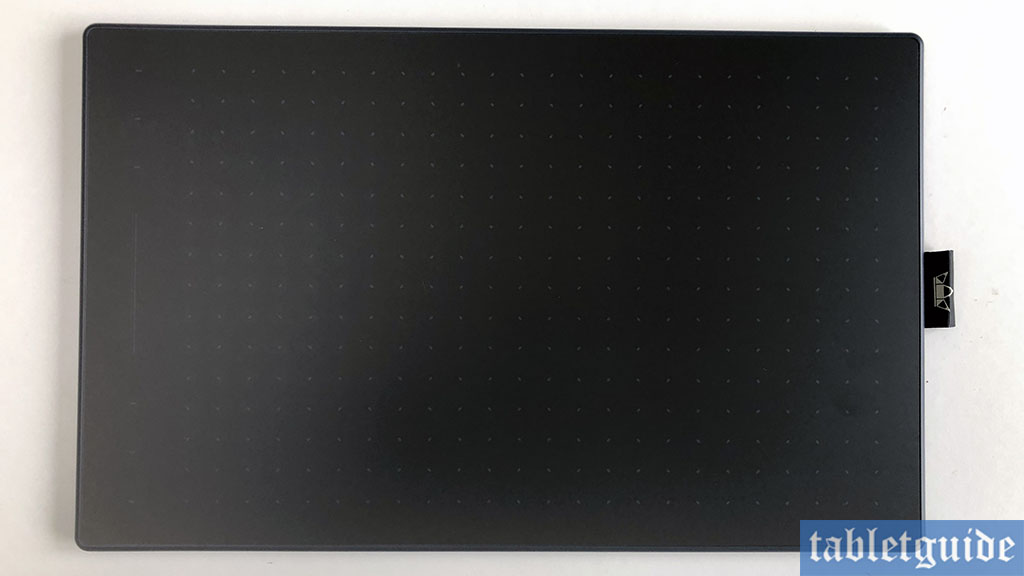 HUION have been busy recently releasing new tablets throughout the year, with the RTS-300 (small) and RTM-500 (medium) tablets hitting the market the same time as this RTP-700 (large) which we are looking at here…
If you've read the other reviews first, you'll have some idea of what to expect; Packaged in the same, albeit bigger, HUION branded white box with its coloured swirly lines…erm… swirling over and under an image of the tablet, you get, in no particular order: the latest PW400 battery-free pen stylus, spare pen nibs, Quick Start Guide, pen holder USB-C cable, OTG adaptor and last, but not least, the all important tablet itself, the RTP-700.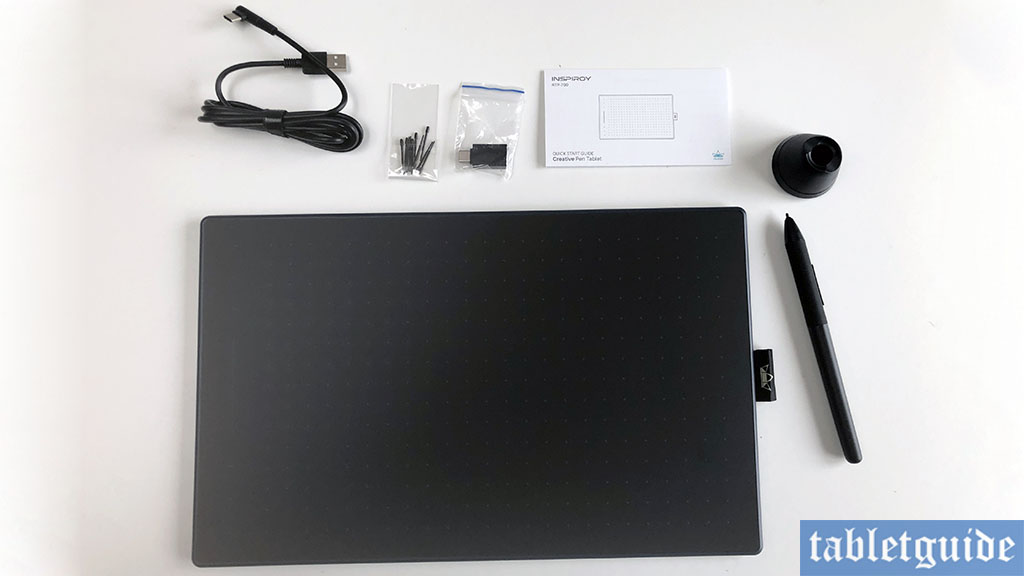 Available in two colours, 'Cosmo Black' and 'Twilight Blue', this pen tablet certainly looks the part – it's very stylish! Like it's smaller siblings, it has what HUION call 'starry texture sheet' across the tablet surface, which they claim not only enables a 'pen-on-paper' drawing experience (it does feel nice!), but also an 'anti-fingerprint' function (like the other too, it didn't work for me – after plugging it all in and pressing a couple of shortcut keys, there was a few black smudges along the tablets left side…maybe I need a doctor? 😊)
This is a nice size device to draw on. The work area of 11" X 6.875" sits within a 345.6mm X 214.8mm overall tablet size. From top to bottom along the left side are the 6 touch keys and touch strip.
These can be disabled in the driver software (in case you 'accidentally' keep pressing them I guess?), but although not usually a fan of tablet shortcuts, I actually found these quite useful. They are totally flush with the tablets surface and overall, the whole thing looks cool!
Although a large tablet, it weighs only 637g and is easy enough to transport around being only 8.5mm high. On the right-hand side of the tablet, is a small ribbon, adorned with HUION's logo for keeping the pen in its place. To be honest, I'd use the pen holder instead.
HUION's new PW400 pen, with its new appearance, is shared across all three new tablets. As previously mentioned, it's battery-free, supports 8192 levels of pressure sensitivity and 60° of tilt – perfect for all those shading fans out there.
The pen resolution is 5080 LPI, with a report rate of >300PPS and accuracy of .3mm – will all that make you draw better? Probably not – practice will! 😊
Huion RTP-700 is available online at Official Huion Store
The pen too is very light and feels nice to hold with its anti-slip silicone grip around the 2 buttons. The 2 buttons by default are 'Right Click' and 'Eraser', but you can re-assign these in the driver software.
Should you get the urge to draw on your (Android only!) smartphone or tablet, simply use the provided OTG adaptor and you'll be good to go. It ever so slightly feels like drawing through treacle, but it's quite satisfying the way the line appears onscreen.
It feels like this on every device I've used like this, so I guess it's down to the technology need to make this work, rather than anything to with the tablet. It just feels a tad slower than drawing on a PC/Mac/Laptop etc…
If you're left-handed, don't worry, this tablet should still be on your 'wants list'. The USB-C cable can be plugged in either way round and you can rotate the settings in the driver software.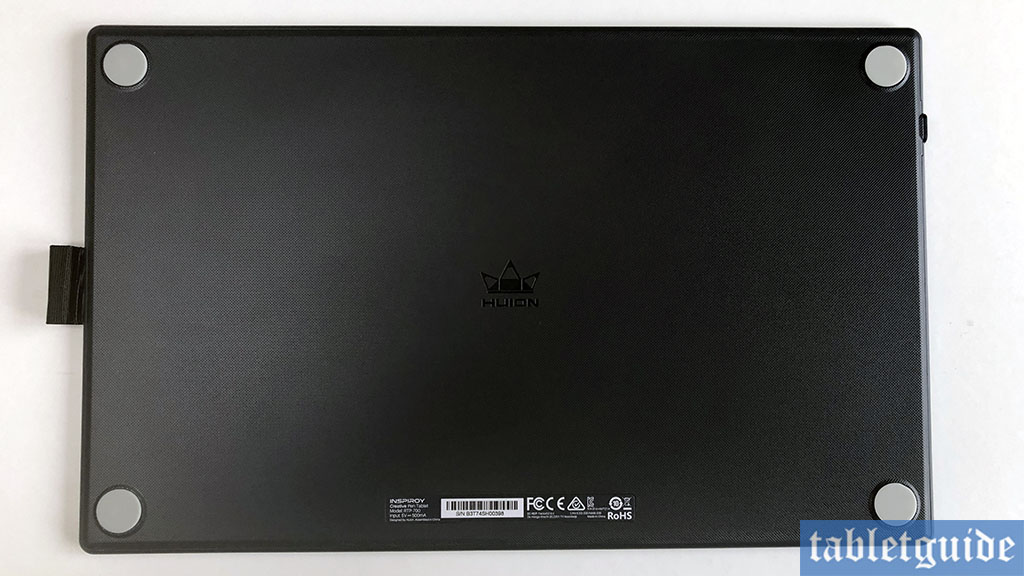 As expected, you can use this tablet with all the major programs and applications from all the leading creative software companies like Adobe, Corel, Clip Studio Paint, Krita, etc on Windows 7 (or later), MacOS 10.12 (or later) and Android 6.0 (or later).
I used Photoshop CC on Windows for the accompanying video review/illustration and had no problems at all with this tablet. Pen pressure worked perfectly and the linework tapered as expected. Although made of plastic, the tablet feels very sturdy to work on.
The touch keys and strip are starting to win me over! Using these became second nature in my time using this tablet and certainly sped up the illustration process. The RTP-700 has 6 shortcut keys, as opposed to the 4 on the RTM-500, so I kept forgetting about the extra ones!
The same driver software is shared across the three tablets, but each device is 'detected' once plugged in and the relevant options are displayed for that device.
You can adjust pen pressure, re-assign keys, back up your settings, check for software updates and even change the UI colour! Although the novelty of that is wearing off somewhat after all these reviews! 😊
HUION (and also XP-PEN) are producing some pretty cool products now at a really competitive prices, seriously giving Wacom a run for their money.
You may like:
You no longer need to spend a fortune on getting kitted out with the latest and greatest digital art equipment. The hardest decision you'll need to make now is what one to get? 😊
Out of the three tablets I recently reviewed, I think this was my favourite to use. Maybe size does matter after all…! 😊
Huion Inspiroy RTP-700 Specifications

Dimensions
13.61 x 8.457 x 0.335 inch (345.6 x 214.8 x 8.5 mm)
Active Working Area
PC: 11 x 6.875 inch | Android: 3.87 x 6.875 inch
Keys
6 Programmable Touch Keys and a Touch Bar
Pen
PW400 Battery-free Pen
Pressure Levels
8192 levels
Pen Resolution
5080LPI
Tilt
±60°
Report Rate
>300PS
Reading Height
10mm
Interface
USB-C
Compatibility
Windows 7 or later, macOS 10.12, or later Android 6.0 or later
Weight
637 gram