The Huion Inspiroy RTM-500 Creative Pen Tablet sits in the middle of the newly released trio of tablets. The smaller RTS-300 we've reviewed elsewhere on this site, but today it's the aforementioned RTM-500 that goes under the spotlight…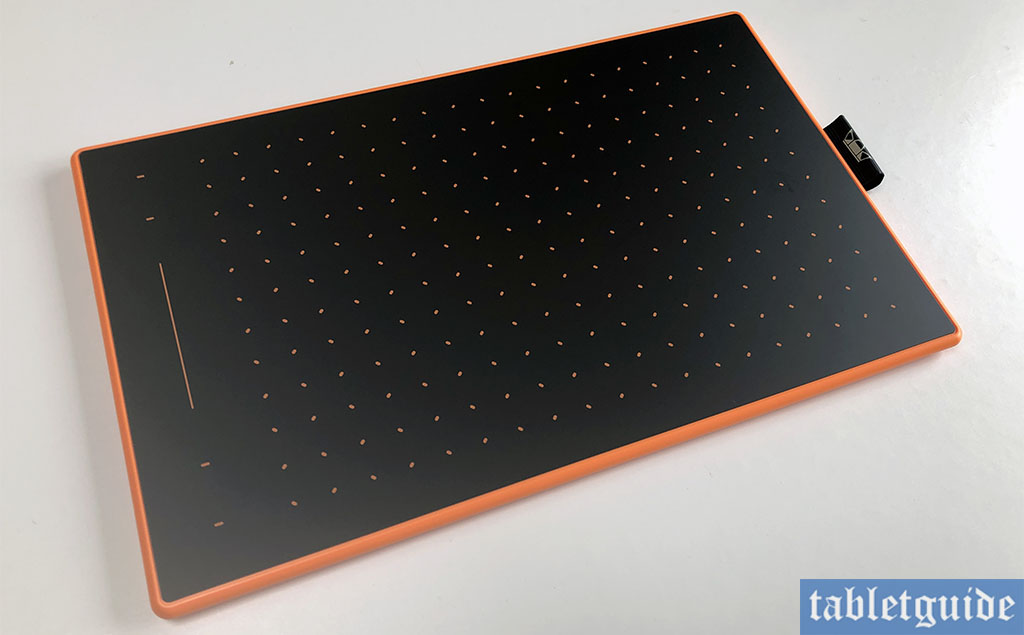 Although seen (by me anyway!) as the medium sized tablet of this group, the Huion Inspiroy RTM-500 has more in common with its larger sibling, the RTP-700 (review to follow for that one!) as it looks pretty much identical, barring the physical dimensions of course…
Housed in another nicely designed white HUION box, with its now recognizable swirly lines leading the eye to the image of the product inside, is the tablet (which goes without saying really…!), the new PW400 battery-free pen, a pack of spare pen nibs, pen holder, USB-C cable, Quick Start Guide and a small OTG adaptor for using the tablet with a compatible Android device – more on that later…
The tablet is available in two colours – 'Cosmo Black' and 'Solar Orange'. The specs are the same for both, with the colour being the only difference. It's the latter here in the studio we get to play with…
Dimension-wise, the work area of the tablet is a nice 8.7" X 5.4", with an overall size of 288.3mm X 178.2mm. These things are getting thinner and thinner; this one is only 8.4mm high!
Weighing only 415g also, this is a good size for transportation and won't take up much space on even the most cluttered desktops. Although initially I wasn't too sure about the colour, the thin orange bezel around the tablet grew on me the more I used it.
All three tablets in this range come fitted with what HUION are calling a '(starry) texture sheet', which they claim enables a 'pen-on-paper' drawing experience.
Although I did enjoy a very smooth drawing experience, I can't say the 'anti-fingerprint' function works as well – just taking it out of the bag and plugging it in to my laptop was enough for my grubby fingerprints to show up in the corners! It could just be me, I guess… 😊
An interesting feature of this tablet is the 'Touch Strip'. Sitting in the middle of 4 touch keys on the left side of the tablet (if you are right-handed!) is a, well, thin orange 'strip' (obvs. Really…) that acts like a touchpad when you draw – move your finger up and down and it will zoom in and out your onscreen artboard etc – cool!
All four keys and the strip itself are totally flush to the tablet surface and you'd be forgiven for thinking they are simply part of the surface 'starry' design!
Moving on to the pen, this is HUION's new PW400 stylus. It has a slightly different look to other HUION pens, but supports the usual 8192 levels of pressure sensitivity, 60° of 'tilt' and has a 5080 LPI pen resolution, with the usual 2 buttons. It's very light, but feels nice to hold. The 'anti-slip silicone grip' around the buttons feels nice too!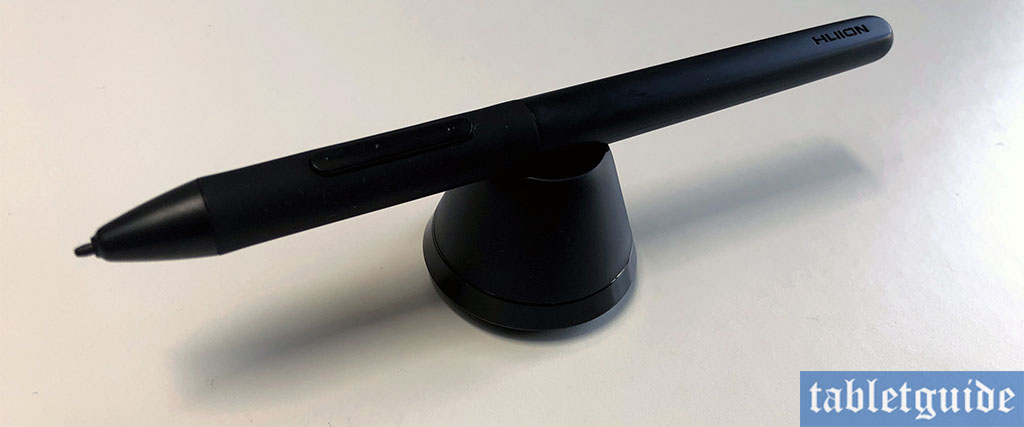 How does it perform, I hear you ask? In a word… 'great'! Once the drivers were installed, I plugged the tablet into my laptop, fired up Photoshop and started scribbling away…
Pen pressure worked fine – variable line widths, as expected, were produced by pressing lighter/harder on the tablet. The pen felt comfortable in the hand and I can see no problem using this for hours/days/weeks etc at a time!
Huion Inspiroy RTM-500 is available online
Personally, I don't tend to use any tablet shortcuts keys (after being so used to actual keyboard shortcuts), but I did find myself using the ones on the Huion Inspiroy RTM-500.
The top two were especially handy for increasing/decreasing the brush size and the 'touch strip' worked like a charm zooming in and out the artboard view.
Strangely, I didn't really use the bottom two keys – being able to adjust brush size, zoom in and out on the tablet and using the pens buttons was enough for me! You can of course change the key functions in the driver software to totally customise the tablet to work what's best for you and the way you work.
Like a lot of recent tablets hitting the market now, by using the supplied OTG adaptor, you can now plug the tablet into a compatible Android device – phone or tablet – and doodle away.
This is great if you like creating 'on the go', or drawing on a phone, but it's not something I will be doing on a regular basis. Drawing on a tablet is fine, but give me the biggest screen size possible!
There are plenty of drawing apps available for download for this type of thing – Adobe Draw was one I used for a bit, but that will be discontinued soon to be 'replaced' by Adobe Fresco. One thing to note is that the whole of the tablets work area will not be available.
If you're a left-handed designer or illustrator, you're going to like this tablet. USB-C cable connection make it so simple to use once you're rotated the tablet round – you can make further adjustments in the driver software.
Speaking of the software, it's nice and simple to navigate and use. You are presented with the options to re-assign functionality, or even turn off express keys and touch strip, map and/or rotate the work area to your screen, re-assign pen buttons, adjust pen pressure sensitivity, back up your settings and visit Huion's site for updates etc – you can even change the colour of the UI – so many options, so little time…! 😊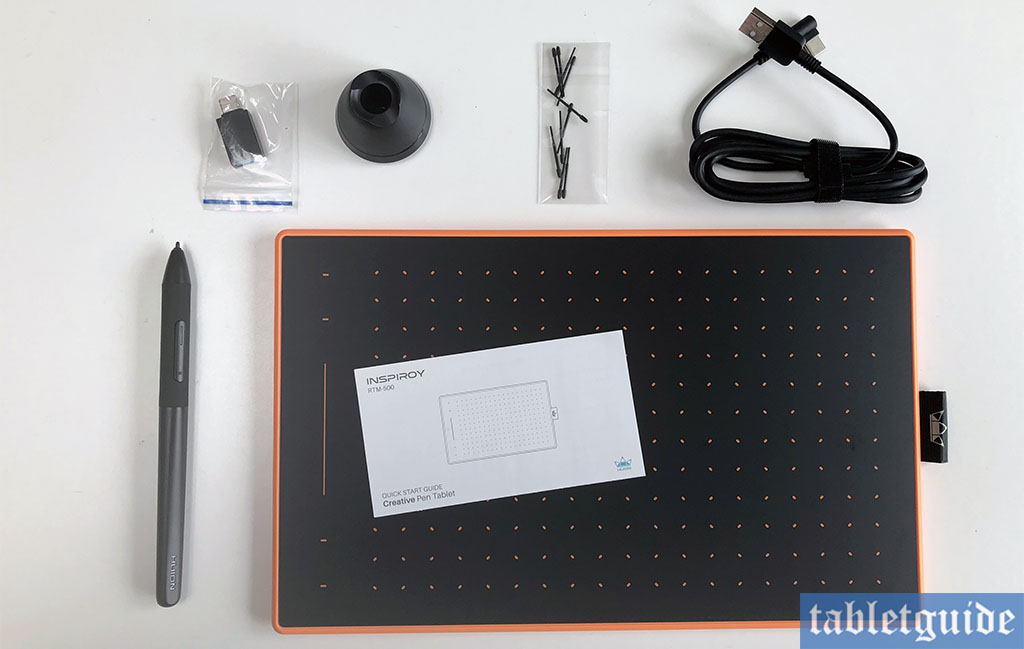 It's a crazy time to be a designer or illustrator – amateur or professional! – with so many options out there now for graphics tablets etc, you really are spoiled for choice.
With so many screen and tablet sizes available, some with express keys some without, the ability to draw on the screen itself, different resolutions, colours, brands etc it can be quite daunting.
HUION are one of those brands that have been around for a good while now and are always innovating, so you can't really go wrong with one of their offerings.
I enjoyed using this tablet and have no problems recommending it.
The Huion Inspiroy RTM-500 is available now and works with Windows 7 (or later), MacOS 10.12 (or later) and Android 6.0 (or later). I prefer drawing from 09.00am (or later)… 😊
All the usual creative software apps are supported like Adobe Photoshop and Illustrator (and the rest of the CC apps!), Corel, GIMP, Painter, Krita, Clip Studio Paint etc.
On second thoughts, don't buy this – I could do without the competition haw haw… 😊
Related Reviews: