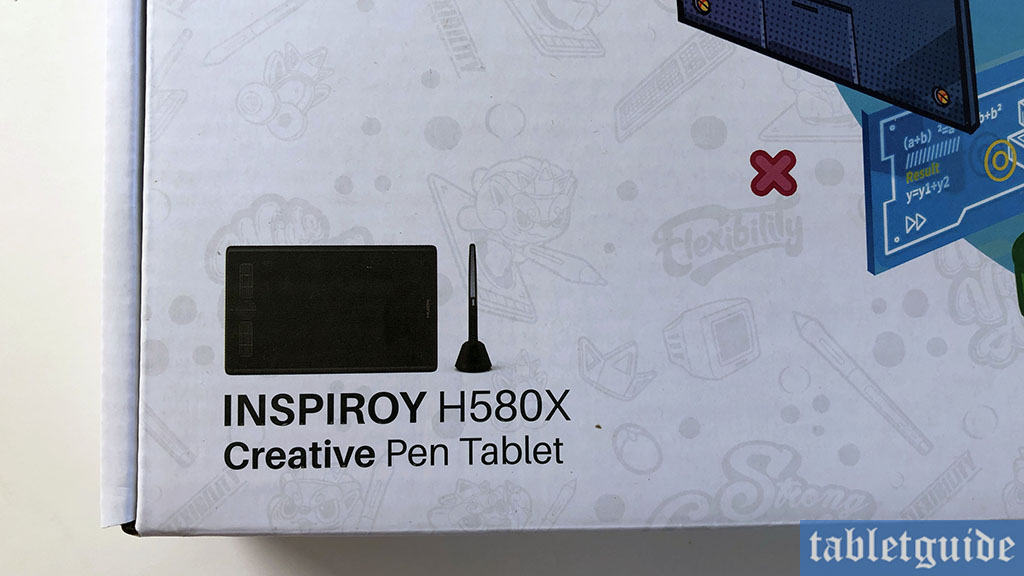 Here at MyTabletGuide we're still celebrating HUION's 10th Anniversary by reviewing their recently released, brand new trio of graphic tablets, the Inspiroy H610X, H580X and H420X. We've already had a look at the H610X (which you can read here) but today it's the turn of the 'middle one' of the group, the Huion Inspiroy H580X.
Like it's larger sibling, the Huion Inspiroy H580X tablet comes housed in a nice sturdy white box with a brightly illustrated picture of their mascot character 'Leon' scribbling away on what is presumably a HUION tablet – he must have got one for his Birthday. 😊
Inside the box, as you'd expect, we find the tablet, pen, pen holder (which includes spare pen nibs inside), USB-C to USB-A cable, USB-A to USB-C adaptor (for use with compatible phones and tablets) and the Quick Start Guide.
This tablet is the 'middle' of this new Inspiroy range, size-wise anyway, as it has a 8×5-inch designated drawing area, taking up 74% of the overall devices size – the actual dimensions of the tablet are 276.7 x 170.6 x 8mm. It's black, made of plastic and weighs only 343g – it's size and weight make it perfect for slinging it your laptop bag for transportation.
It's a nice-looking tablet with its gold colored HUION logo and drawing area chevrons on the front, offset with the 8 shortcut keys on the left. Blink and you'll miss it is a small LED light – this activates on the pen touching (or registering on) the tablet surface or when one of the shortcut keys are being pressed. Flipping it over reveals the four rubber feet for traction on your desk.
The eight shortcut keys are used to help you in the creative process by replicating the most commonly used keyboard shortcuts whilst you draw i.e. 'Undo', 'Save', 'Zoom In' etc and are customizable in the driver software should you wish to make any changes.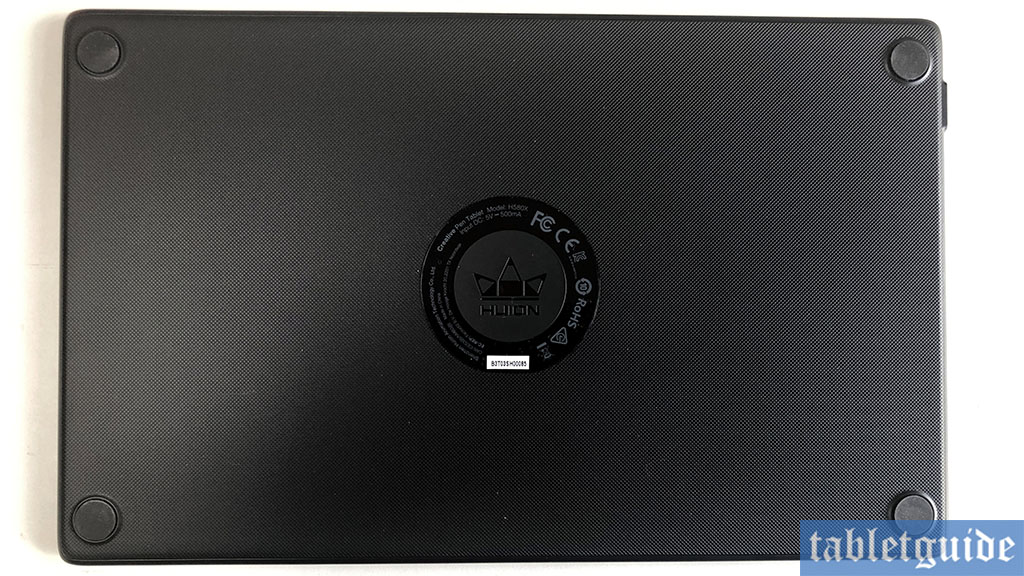 Moving onto the pen, its HUION's PW100 which is battery-free, supporting 8192 levels of pressure sensitivity, 60° of 'tilt' with a sensing height of 10mm – this is the distance the pen has to be from the tablet surface before it can be 'registered' – all pretty standard features nowadays. It's quite light and has a nice rubber 'grip' around the rocker switch. This switch has two functions which also can be changed in the driver software – I tend to use them for 'Eraser' and 'Right Click'.
Before using the tablet, its best to uninstall any previous tablet driver software, head on over to HUION'S website and download the latest drivers from there – the days of getting a CD included in the box are now becoming a distant memory!
It's a simple matter of plugging in the USB cable into both the tablet and your PC/Mac/Phone/Android device and you should be good to go.
When using this device with your Android tablet, it should be noted that only roughly a third of the left side of the drawing area will function – it represents the portrait orientation of your device.
Available Online at Official Huion Store
The H580X, along with pretty much device from HUION, is compatible with a wide range of creative software and apps – everything from Adobe Photoshop, Adobe Illustrator (in fact the whole of the Adobe CC apps), Corel, Clip Studio Paint, Krita etc. For this review I used Adobe Photoshop on PC and Adobe Draw on an Android tablet.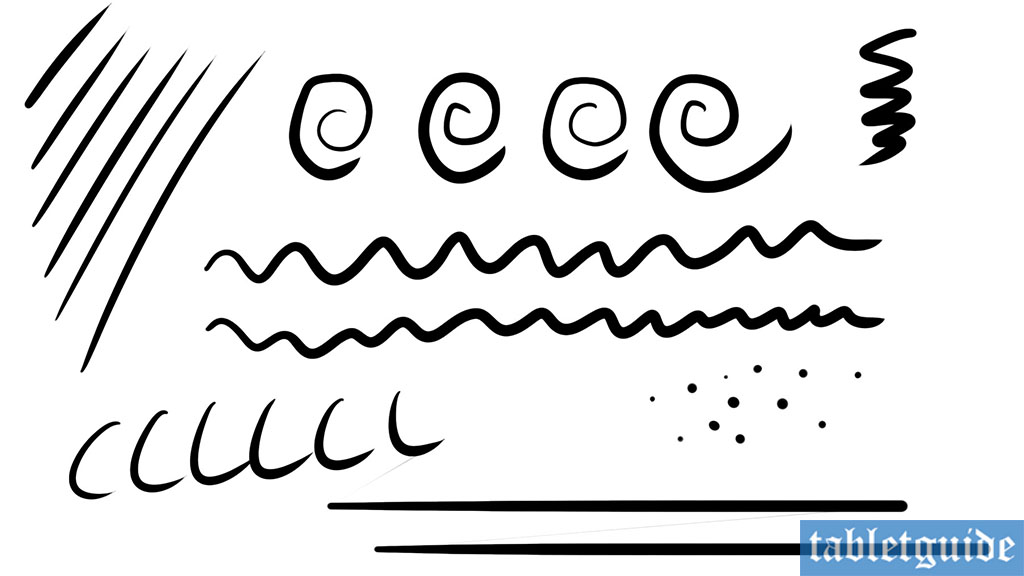 In the accompanying video to this review, for a change, I used a more simple, quick cartoony style of art to showcase how well the pen pressure works. And it worked perfectly. I changed the pen pressure setting slightly in the settings as I like a 'lighter' touch, but it was great. Lines tapered off nicely and overall, it felt good to use.
According to HUION's website, this tablet has a 'paper-like surface' and it did feel great to draw on. There was no 'scratchy' feel while using the tablet and I actually think I prefer using this size, rather than the larger H610X, to illustrate and work with as your wrist/hand don't have to move as far – perfect for the lazy artist! Speaking of wrists, both the top and bottom of the tablet have a nice ergonomic curved edge to them so as not to 'dig in' to your wrist while drawing – perfect for those long hours into the night slogging away. 😊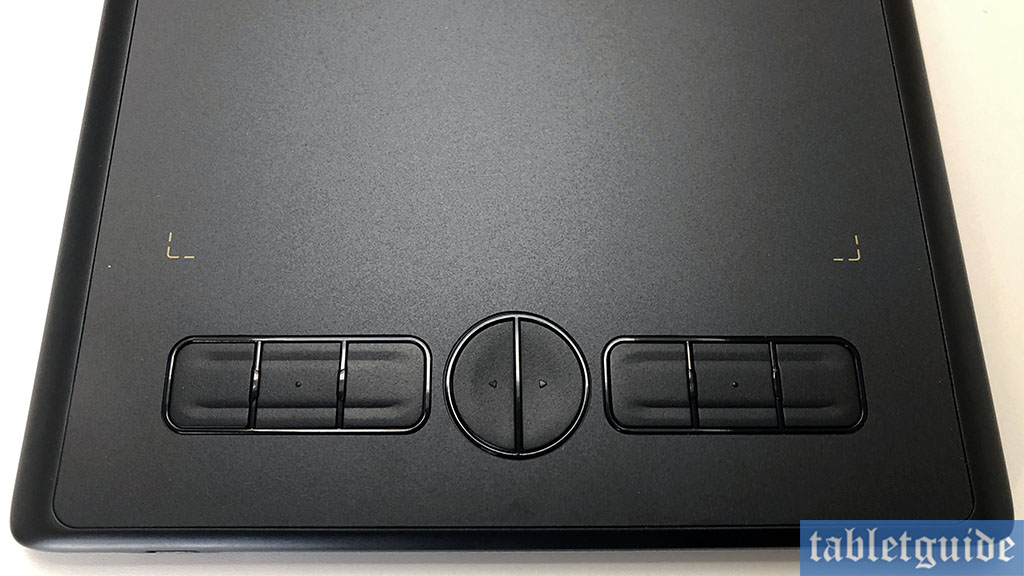 The shortcut keys worked as expected, but I still tend to use my actual keyboard when working for things like 'Undo', 'Save' etc – old habits die hard! That said, it's nice to be able to 'Zoom In' and 'Zoom Out', increase/decrease brush size etc at the touch of a button. Like the H610X, I'm not sure how long they will last if your heavy handed – they do feel a bit plasticky and fragile, so I'd go easy on them.
As an iPhone owner I was unable to test the tablet out on a smartphone, but it worked perfectly on my Android tablet. After firing up Adobe Illustrator Draw, I was scribbling away in no time – again, you can see this in the accompanying video. The lines appeared onscreen ever so slightly 'slower' behind the pen (to me, anyway…), but it felt quite satisfying to use all the same! If you're one of those designers who think they're cool drawing away in coffee shops, then this feature is right up your street (as long as it has a coffee shop…) 😊
The tablet can be flipped over and used by both left and right-handed users and the necessary changes can be made in the driver software to reflect this. This is where USB-C is ideal as the cable too can be 'flipped' or reversed accordingly.
The driver software for the Huion Inspiroy H580X is the same for the H610X and H420X – it is detected automatically. Its here you can change the pen pressure, re-assign the pen buttons functions plus those of the shortcut keys, change the rotation, map the tablet to your screen, backup your settings, link to HUION'S website etc… you can even change the colour of the UI!
My 'go-to' tablets of choice for design and illustration work are the larger 22" pen displays whereby you draw on the screen (think iPad), but this too is a great size to work on and can recommend it to anyone on a budget, or those who just prefer smaller devices generally. (I started out many moons ago with a Wacom Graphire – remember them? – so I'm used to also working on smaller tablets!). 😊
It's getting harder and harder to choose a graphic tablet nowadays with so many sizes, colours, resolutions and manufacturers etc, but if this is your first time, you can't really go wrong with a HUION device, so this would be a good choice – you can always upgrade and/or get a larger one as you progress.