Huion added three new pen tablets to its Inspiroy series – H420X, H580X and H610X – priced at $24.99, $49.99 and $69.99 respectively. All the three pen tablets are compatible with Windows, macOS, Android and ChromeOS devices.
Huion Inspiroy H420X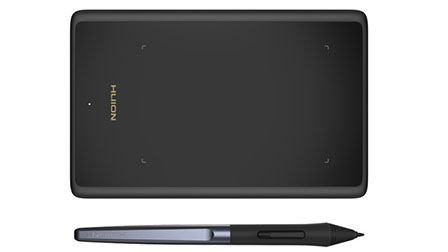 With just a thickness of 7mm, Huion Inspiroy H420X is sure to make a big difference. It has been unveiled at Huion's 10th anniversary to mark the special occasion.
It is designed to be extremely compact and is light in weight with a narrowed palm rest that causes no extra fatigue to the hands even during long hours of usage.
It is ergonomically designed to sport a full cover panel that not only aids in smooth drawing but also adds to the handiness of the product. With Huion Inspiroy H420X within your reach, you can never miss the creativity aspect.
It is always ready for you to use in a way that suits you the most. Connect it to a laptop or any other Android device. You can also establish a connection with the phone via Type C cable and use this pen tablet in phone mode. Enjoy ultimate freedom with the stylus that works on battery-free EMR technology and provides 300PPS Report Rate.
With an 8192 level of pressure sensitivity, the pen works flawlessly on the screen to produce exact lines and shading. With support for 0°, 90°, 180° and 270° rotation for left-handed and right-handed users, it offers equal opportunity for all.
Huion Inspiroy H580X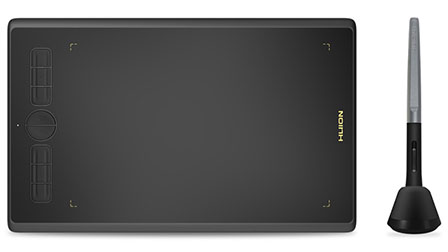 Inspiroy H580X is extremely fashionable in its styling and is also very compact and lightweight to remain true to its purpose. But within a sleek body, it stores great potential to let every creative mind use it in its best manner.
With the working space making up for 74% of the total area of the pen tablet, more space is provided to the users to enhance their flexibility and freedom.
There are 8 numbers of useful programmable soft keys on the left side of the panel that the users can use dynamically for efficient operation. Use this amazing pen tablet to realize all your tasks on its full covered panel that provides for a paper-like natural working surface while navigated with the battery-free digital pen.
PW100 is the digital pen compatible with Inspiroy H580X that offers a flawless, professional working experience for users. USB-C Port helps to connect the pen tablet with other peripherals. Inspiroy H580X is compatible with ChromeOS, macOS, Android, and Windows.
Huion Inspiroy H610X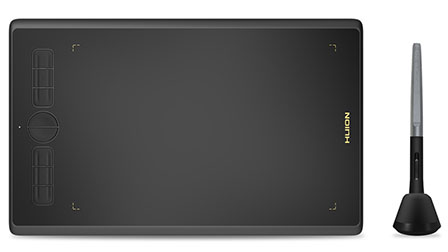 Huion Inspiroy H610X is engineered to give shape to every inspiration and imagination. It sports a classic yet stylish design and is very compact and portable.
It is just 8mm in thickness and is very lightweight. With 77% of the working area, artists are granted more space to use the pen with complete freedom and flow.
8 programmable keys make things manageable with the option of using the most used function via a single keypress. The pen tablet is designed to house a fully covered panel that offers a natural, paper-like feel while working on the surface.
Like H580X, Inspiroy H610X is also workable with the battery-free technology-based PW100. The pen develops perfect sync with the surface of the pen tablet to create everything with great accuracy and ease. It supports 220PPS Report Rate and ±60° Tilt Support.
It also provides for an 8192 level of pressure sensitivity. You can establish a connection within the pen tablet with other devices with the use of a USB-C Port. Inspiroy H610X will not only help you create all that you want but can also conduct your important online classes and video conferences.
Pen Tablet Reviews