The Parblo Ninos (M) drawing tablet is one of two new tablets from Parblo available not only in two different sizes i.e. the small (S) measures 6"x4" whereas the medium (M), which I am reviewing here, is 9"x5", but in three color variants: 'Tender Green', 'Clay Pink' and 'Dark Night Black'.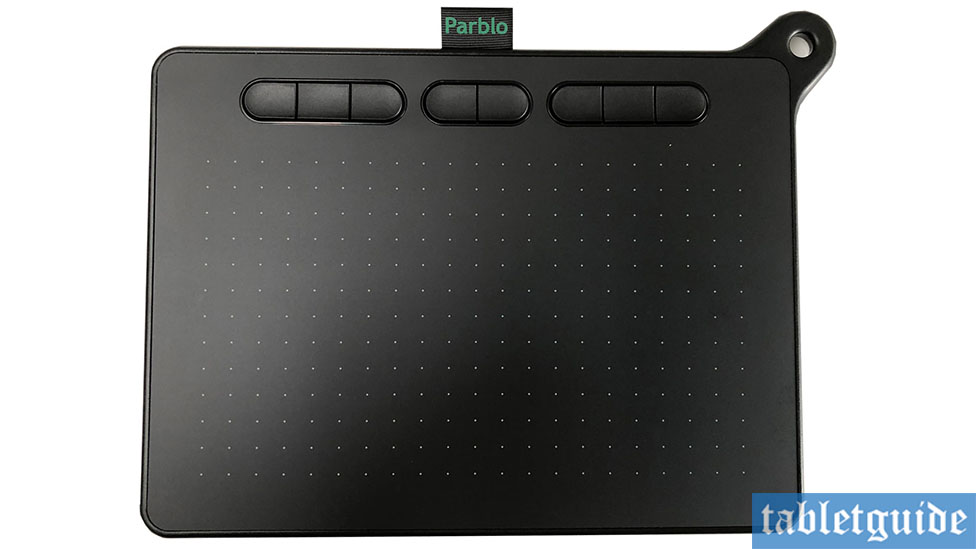 According to the blurb on their website, Ninos is named from niños in Italian, which means 'boys' or 'children', so presumably this tablet is targeted/suited for any young budding artists and/or designers out there… then again, if you are constrained by a small budget, this could also be the tablet for you whatever your age! 😊
First of all – I know what you're thinking… 'what IS that thing on the corner of the tablet?' It's actually for hanging the tablet on a hook after use! I've never seen one of these before either and I'm still not sure what to make of it… handy if you have a hook near your desk I guess (although you need to make sure you put the pen in the holder the right way round – it may fall on the floor once hung up! )😊
Inside the brightly illustrated box are the tablet, USB-C cable, spare pen nibs, nib extractor tool, 2 USB adapters (for Android phone/tablet use), User Guide and (1 Year) Warranty Card.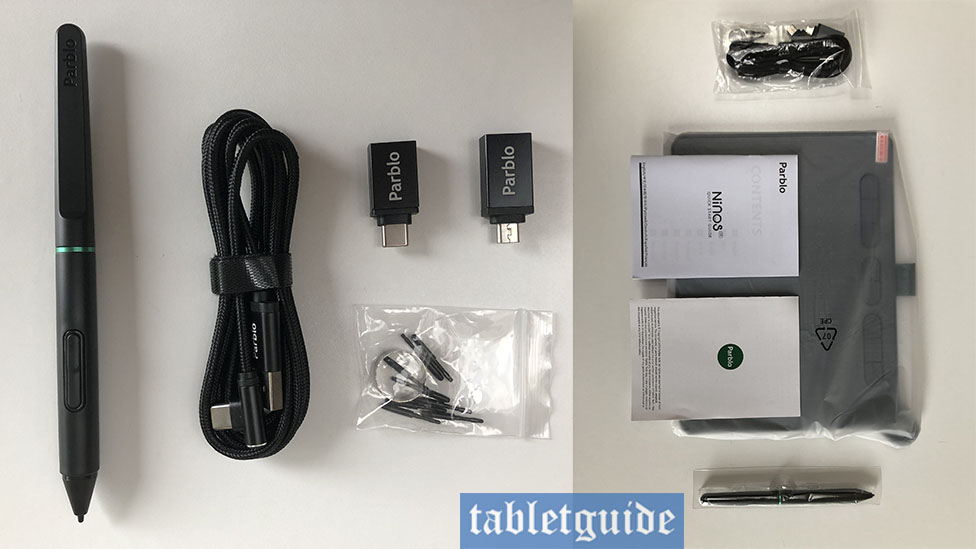 After removing my previous tablets software drivers from my test machine (always a good idea!), I headed over to the Parblo website and downloaded the drivers for this device and proceeded to install and then… oops…blocked!
It seems my Windows 10 machine didn't like the look of these drivers as Windows Defender blocked it from running as it viewed it as a potentially dangerous app! Installing as 'Administrator' eventually got round this issue, but the developers over at Parblo may want to look into this as it may cause concern for some 'not so experienced' PC users!
Another slight niggle on installation was the 'Bowser' button… pretty sure it should read 'Browse', but in any case, it installed without a hitch…
The tablet was picked up by Windows once plugged in via the USB cable, so now to put it through its paces…
Watch Parblo Ninos M Unboxing and Review Video
The pen is extremely light, but comfortable enough to hold and use. It has 8192 levels of pressure sensitivity and is battery-free. It also supports 60° of tilt. It's a 2-button pen and by default the bottom button toggles between 'pen' and 'eraser' mode whilst the top button acts as 'right click' – these can be modified in the driver software should you so wish.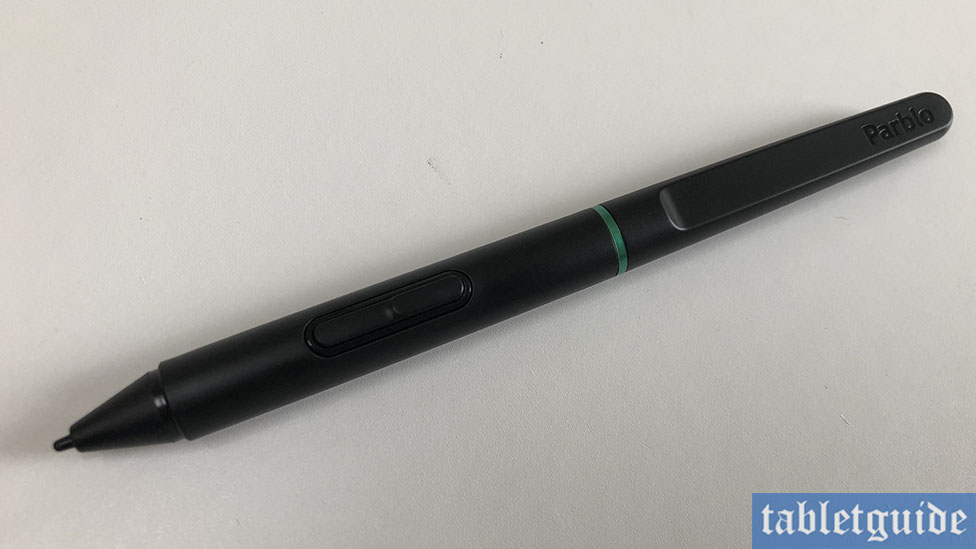 The tablet itself is 9"x5" with rounded corners and is quite thin at only 8.7mm high. Sticking out of the top of the tablet is a handy pen holder, adorned with the Parblo logo.
The 8 express/shortcut keys horizontally adorning the tablet are by default as follows: K1 opens the driver software, K2 zooms in, K3 zooms out, K4 increases brush size, K5 decreases brush size, K6 Undo, K7 New Canvas and K8 is Save.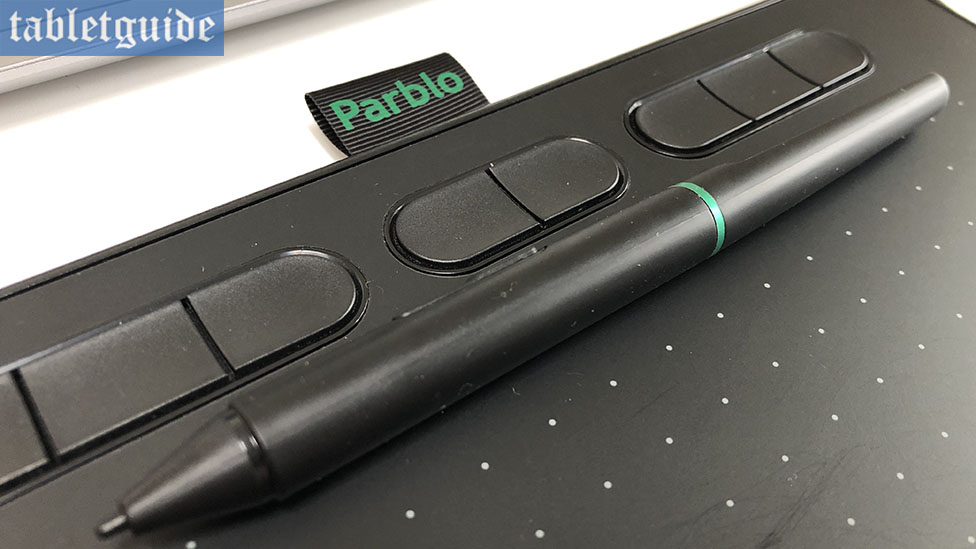 The actual software is straightforward and easy to use, divided into four separate sections and it's here you can change/update the settings based on your needs i.e. if you are left-handed, or want to change the pressure sensitivity of the pen etc.
If you are lucky enough to have a multi monitor set-up, you can map this tablet to the relevant screen. Should you have any problems, there is a handy link to 'Technical Support' in the 'About' section of the software.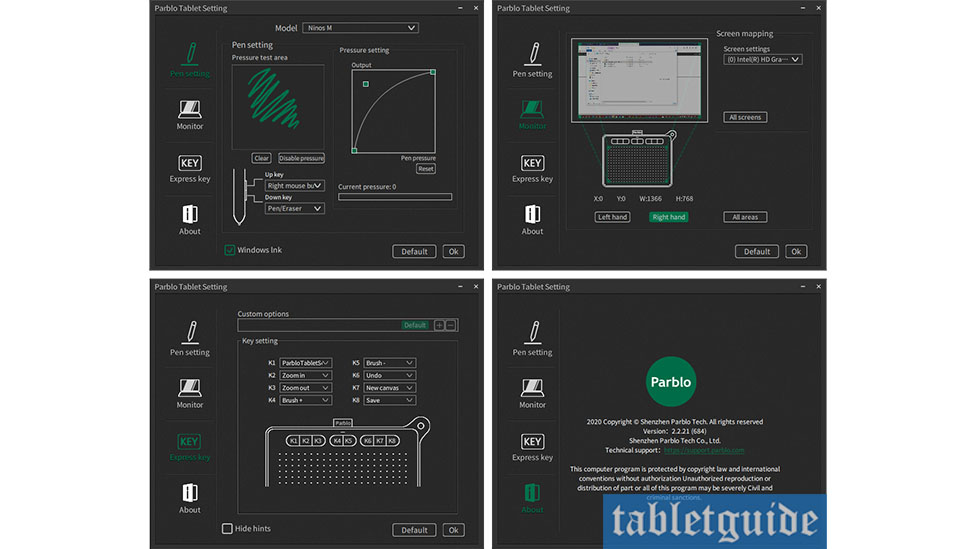 The pen needs only to be 10mm away before it is 'read' by the tablet – a little blue LED lights up to inform you this connection has been made.
Drawing with this tablet was actually better than I expected it to be! Although a somewhat 'scratchy' sound is produced whilst in use (it is, after all, just plastic!), the lines produced in Photoshop tapered off really nicely and is ideal for cartooning etc.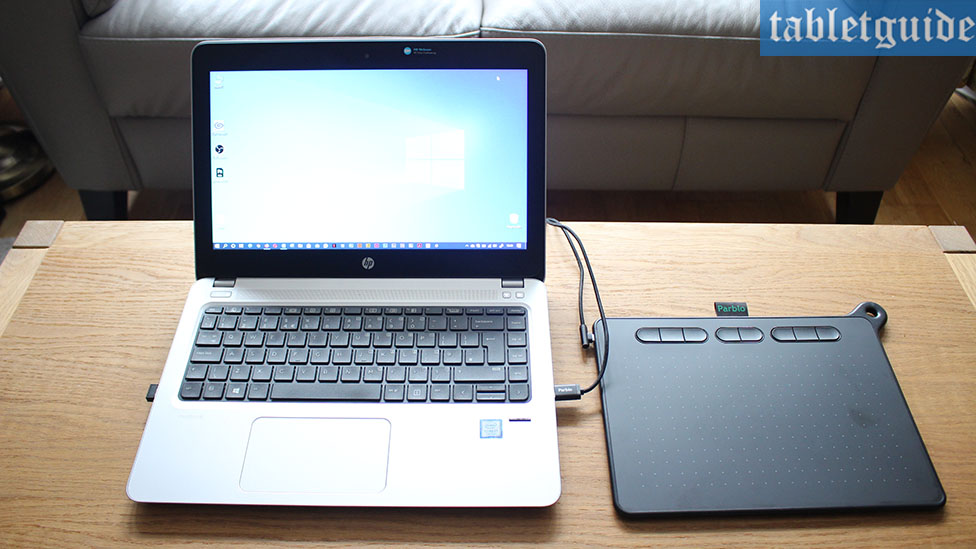 Pressure sensitivity worked with no problems and I was able to vary the width of the line as expected. The tablet worked well in Illustrator too, but you have to create a new 'calligraphic brush' first and change the Angle / Roundness / Size from 'Fixed' to 'Pressure'. Of course, most other software packages are supported like SAI, Painter, Clip Studio Paint, Krita etc.
As with most tablets now, you can use this with any Android compatible phone or tablet by using one of the supplied USB adapters – you'll have to turn the tablet around into 'portrait' mode to make the most of this option.
All in all, this is a decent enough, no-frills tablet – it does exactly what it's supposed to do and considering the price, that's all you can ask for, right? 😊
Still not sure about that 'hook'…
The Parblo Ninos (M) tablet is available to buy now and is compatible with Windows 7 and above and Android 6 and above.
Related: