Welcome to another tablet review – this time I'm taking a look at the recently released new 2020 HUION Kamvas 22 drawing tablet with screen…
The Kamvas 22 is one of two new large 22" (well actually 21.5"!) pen display screens from HUION – the other is the slightly more expensive, but fully laminated Kamvas 22 Plus… but today we're focusing on its slightly cheaper sibling…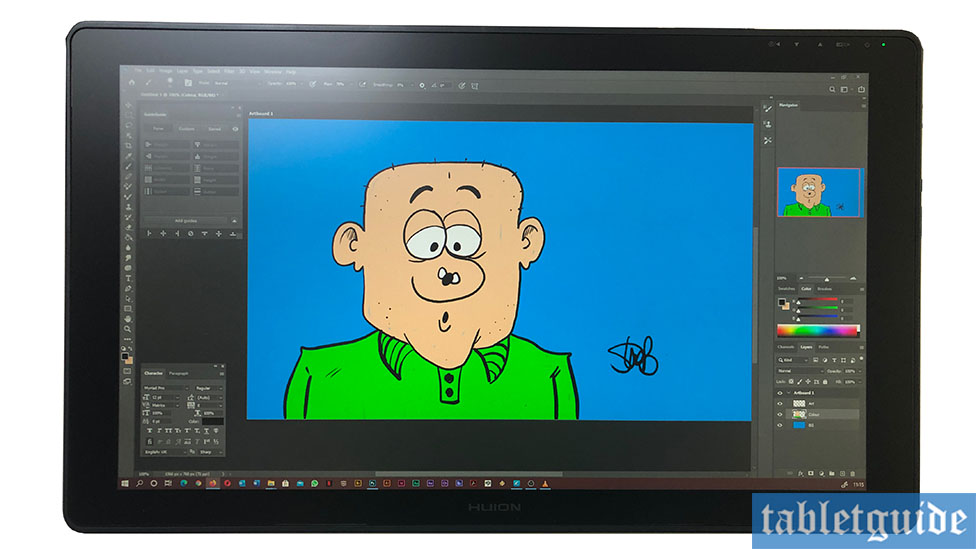 For the benefit of those who don't know: this isn't a standalone drawing tablet! Before you can draw on this device, you need to plug it into your PC, Mac, Laptop (or even Android device – more on that later!) for this to function correctly.
Once you have your favourite drawing/creative app running, say like Adobe Photoshop, you're good to go and can start drawing! (Well, once you've installed the drivers – but you knew that right… right?) 😊
First impressions… it's certainly big! The box itself is nicely designed, predominantly white with a nice eye-catching illustration of what looks like some futuristic city in the jungle!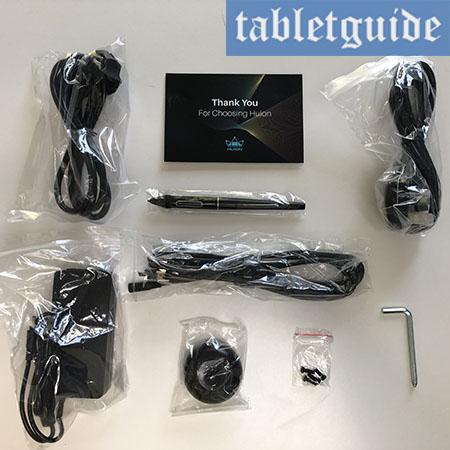 One thing I thought was a nice touch, albeit small in the scheme of things, was that on opening the box flap, before accessing the goodies inside, you're immediately presented with a little 'Thank You For Choosing HUION' card (which also has links to Customer Support and Contact Details), rather than having it buried in plastic bag with the other paraphernalia… as I said, small, but I liked it… (I'm not crying, you're crying…!)
In the box time: 22" Pen display, adjustable stand (which you need to affix yourself with the supplied allen key), battery-free pen, 10 spare pen nibs, pen nib remover, pen holder, 3-in-1 cable, power adapter and AC cable, cleaning cloth, Quick Start Guide, Warranty Guide and the Artist Glove (impress your friends!)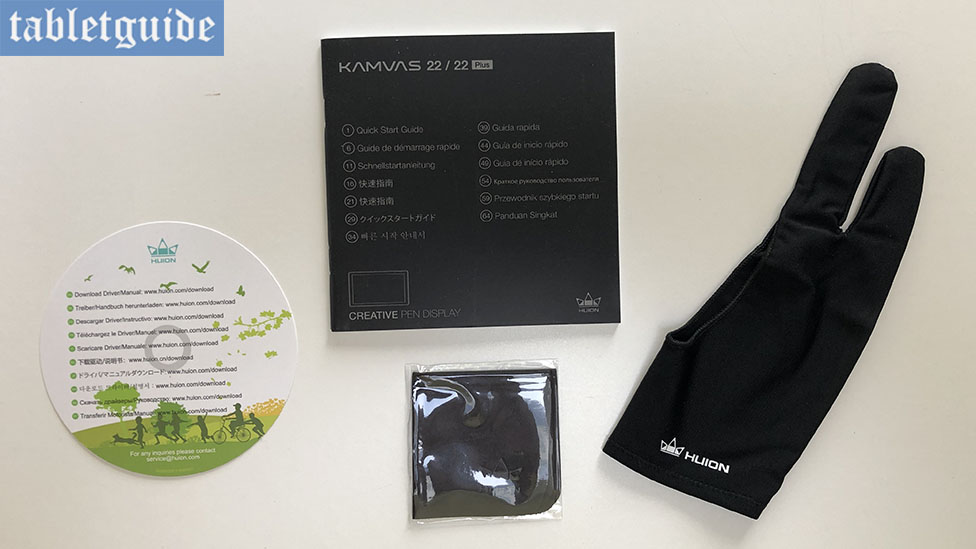 Fixing the stand to the back of the monitor is a cinch – it's a simple 4 screw affair, but here's a tip: do it BEFORE you take off the screen protector as you'll need to lay it down flat before you start!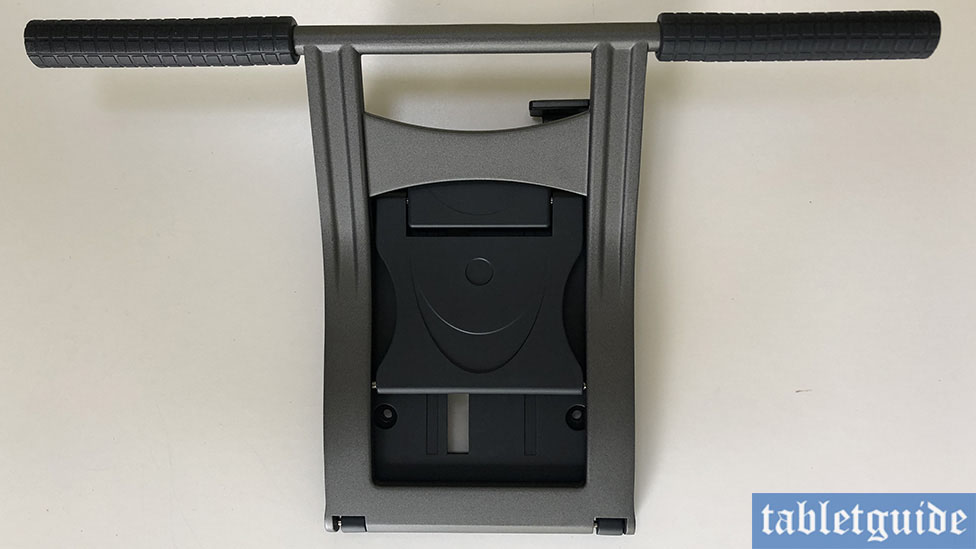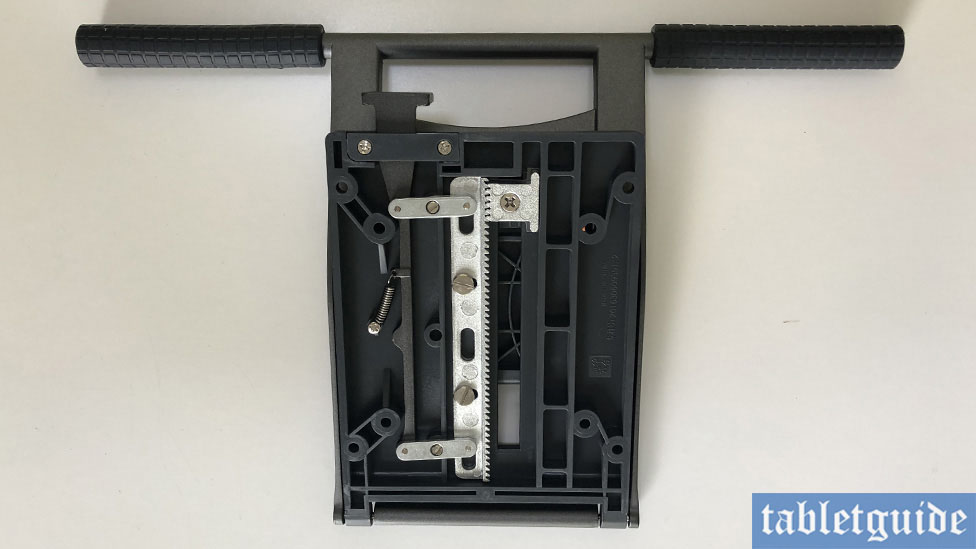 The stand is quite sturdy, plus the addition of two rubber feet on the underside of the display will ensure this won't move around the table/desk once you start drawing. It's also fully adjustable (from 20° to 80°), meaning that you can lower (or raise!) the display to whatever angle feels most comfortable to use.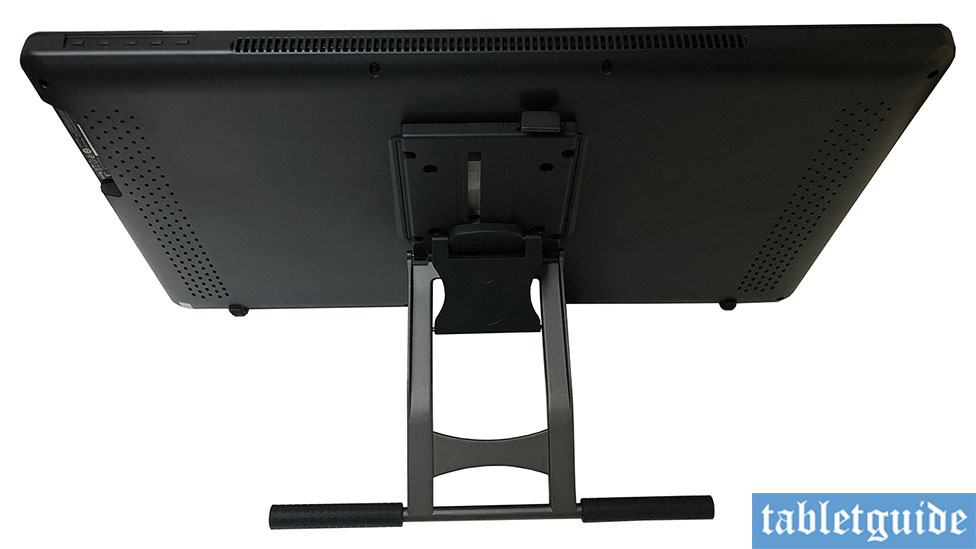 It's a full HD 1920×1080 (16:9) resolution display which, in these days of 4K etc, still works very well on this size of tablet. It's an IPS LCD display and while not fully laminated like the Kamvas 22 Plus, I had no problems at all drawing on this with issues of parallax etc. It is a 16.7M (8bit) color display with 120% sRBG color gamut with an active working area of 476.64 x 268.11 mm (it says here…!). It also has a viewing angle of 178°.
The anti-glare matt film and etched glass makes it easier to work in bright light conditions i.e. if you're too near a window or under too bright a light!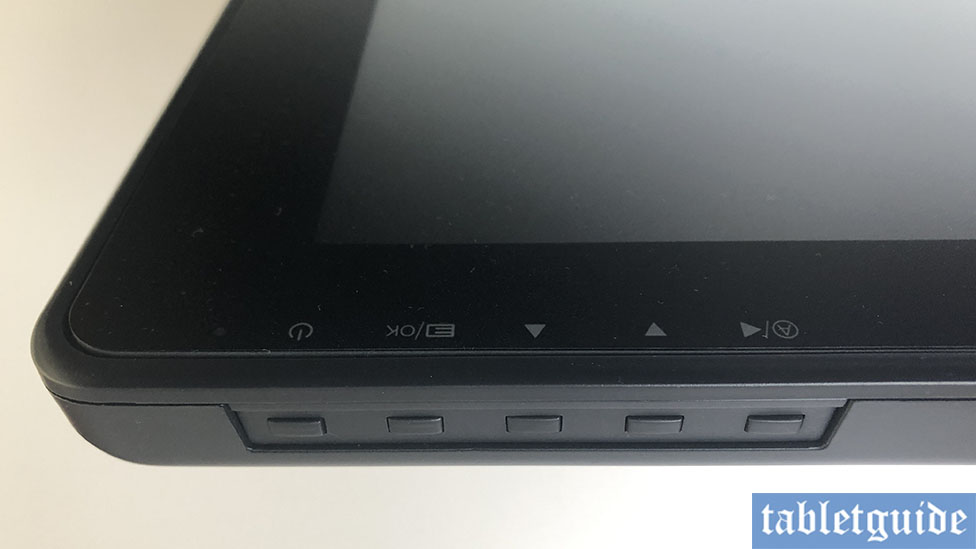 If you're a fan of shortcut/express keys, you'll have to look elsewhere as this display doesn't have them. The design is nice and minimal with only small icons top right in front of where the power and function buttons are nicely tucked away. It's these you'd use to adjust brightness, color, sharpness etc and use the other onscreen display menus.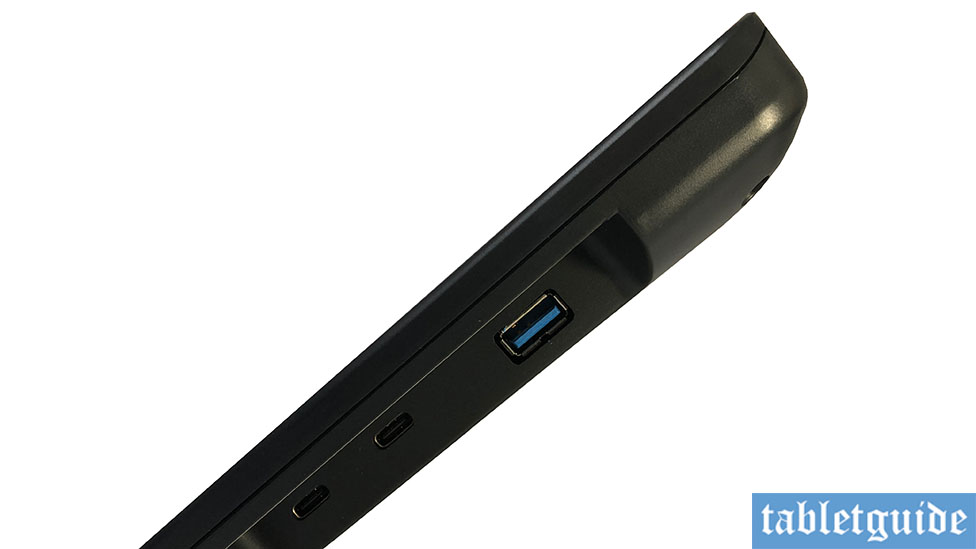 A nice addition tucked away on the right of the screen alongside the connections is a USB(A) port – very handy to plug in your files and carry on working, rather than faffing around trying to reach over or to the side to access a laptop or PC USB port.
On the back of the unit are vented slots to dissipate the heat so it doesn't overheat during use.
Once you've plugged in the 3-in-1 cable, it's time to visit the HUION website and download the latest drivers – as usual, you'll need to uninstall any previous or older drivers on your system first.
Watch HUION Kamvas 22 Hands-on Review Video
The driver software is simple to navigate and browse, divided up into four sections. The 'Press Key's' section is kind of redundant for this tablet as there are no express keys on this model – I presume this driver software is shared across a variety of HUION tablets and not exclusive to this one.
Next up is 'Digital Pen' – it's here you can change pen pressure/sensitivity should you wish. 'Windows Ink' is enabled by default for Windows/Office etc apps.
'Work Area' is up next where you can calibrate the monitor. Another setting you can change here, depending on how you like to work, is 'mapping' the monitor – you can have both your laptop and the Kamvas 22 display the SAME screen and/or application or as two separate monitors e.g. Photoshop for drawing and your favourite movie playing in the background while you work!
Finally, the 'About' section is where you can check for software updates, follow the links to HUION'S website or simply revert everything back to its 'default' setting.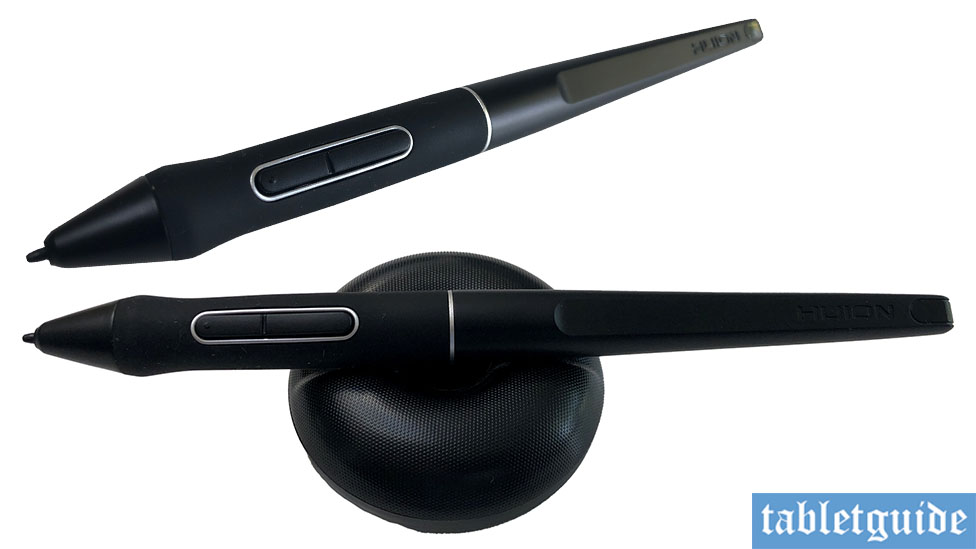 As previously mentioned, the pen is plastic, battery-free and also feels a lot lighter than it looks, but it has a nice 'feel' to it. It's a '2-button' pen and out of the box, by default, the top button acts as 'Right Mouse Click' and the bottom 'Eraser'.
The pen utilities what HUION call it's 'PenTech 3.0' technology: better stability because of it's lower-positioned pen nib (well it was certainly low enough to reach my screen anyway… 😊) and, like most other recent pen displays, supports up to 8192 levels of pressure-sensitivity and 60° of tilt support.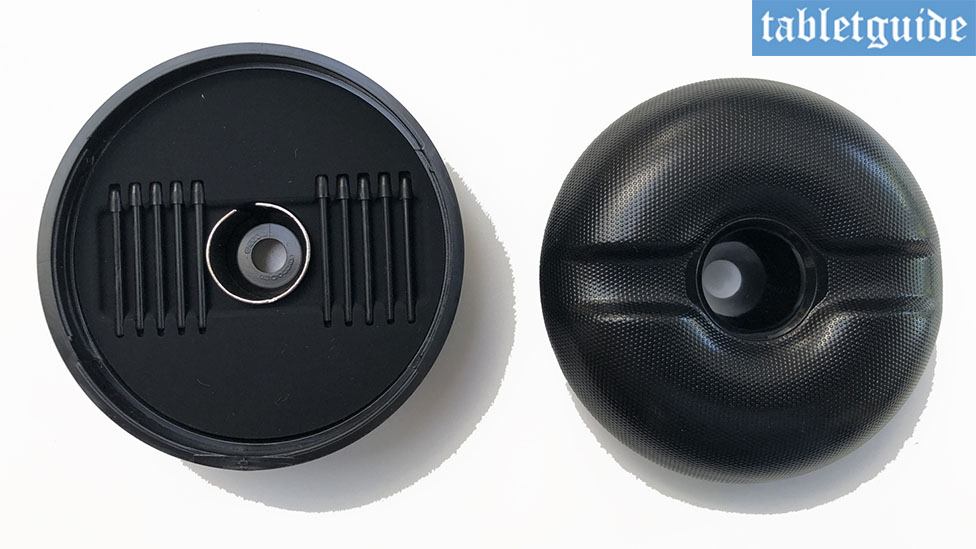 For the purposes of this review my weapons of choice were Adobe Illustrator and Photoshop on Windows 10.
Out of the box, colors, brightness etc were good, but can easily be changed, so for this review I left them as-is…
Lines drawn with this device tapered off nicely and I experienced no lagging at all. Drawing felt smooth and with the addition of the glove, my hand glided over the screen with ease! The pen is 'registered' by the screen from 10mm away, so you don't have to touch the screen when you 'right click' with the pen button.
To get a variable line in Adobe illustrator, you'll need to create a new 'calligraphic brush' and change the setting from 'Fixed' to 'Pressure', but once you have done that, nice variable lines appear all dependent on how hard you press!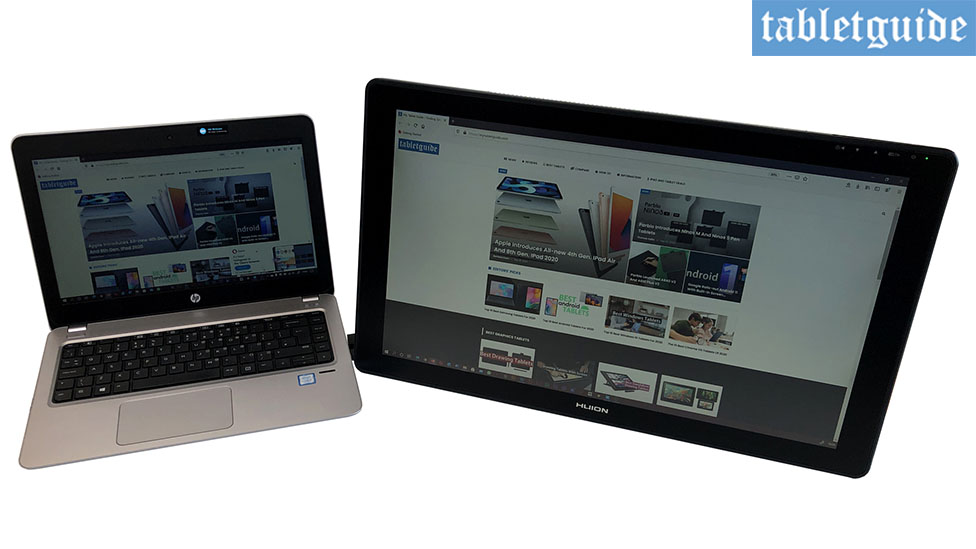 The largest tablet I'd drawn/worked with previously was 16" so this was quite an experience! It does take up quite a bit of desk space, so you need to make sure you have the room – especially if using with a laptop! 22" may not sound too large, but when you're sitting so close to something like this, it really does feel huge!
Related:
I was impressed with this display and its functionality – drawing on this felt superb and the USB on the side is also a cool feature. It's actually the first HUION device I've had the pleasure of using. As a multi-disciplined web/graphic designer, illustrator, video editor etc myself, I can see this being used on a daily basis in my little Studio set-up.
This display is compatible with Windows 7 or later, MAC OS 10.12 or later, plus compatible Android devices. (Note: you will need a USB-C to UBC-C cable for this functionality which only comes supplied with the Kamvas 22 Plus.) Check out the list of compatible Android devices and instructions on HUION'S website.
You can use this display with all the usual creative software like the Adobe CC Suite, Corel, Clip Studio Paint, GIMP, Krita, Medibang etc.
Right, back to the drawing board… erm… 22" pen display… 😊