Welcome to another tablet review – this time I'm taking a look at the recently released new 2021 HUION Inspiroy Keydial KD200…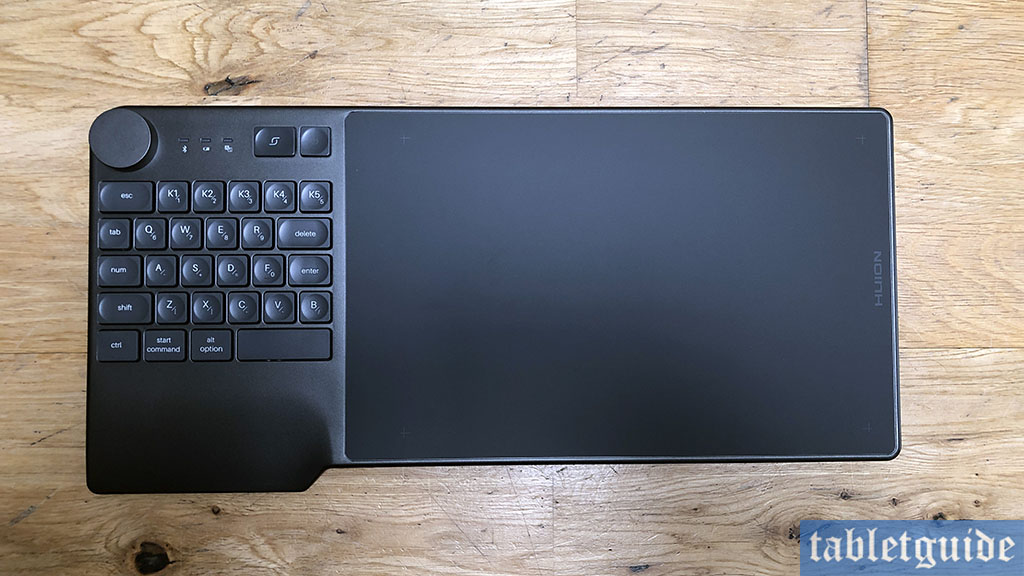 Now this is something you don't see every day – a graphics tablet with a built-in(on?) keyboard (and dial ring!) – it actually looks quite cool, so let's see if it works as good as it looks… (speaking of looks, this device has already won a few awards such as the 'Golden Dot Award' in Taiwan, the 'Good Design Award' in Japan plus the 'Red Star Award' in China – so congratulations HUION! 😊)
The 'cool design' is also carried over into the packaging – the box is a nice matt black colour with 'Inspiroy Keydial' emblazoned across it in glossy lettering. The HUION logo and iconography are a 'luminous', bright blue which is also repeated in a thin line around the sides of the box – it really does have a 'premium' feel to it…
Opening the box and you're presented with a nice 'Thank You' card/flyer from HUION for purchasing the device (always a nice touch!) which also has handy links and/or QR Codes to HUION's Social Media sites and information on how to claim your Warranty.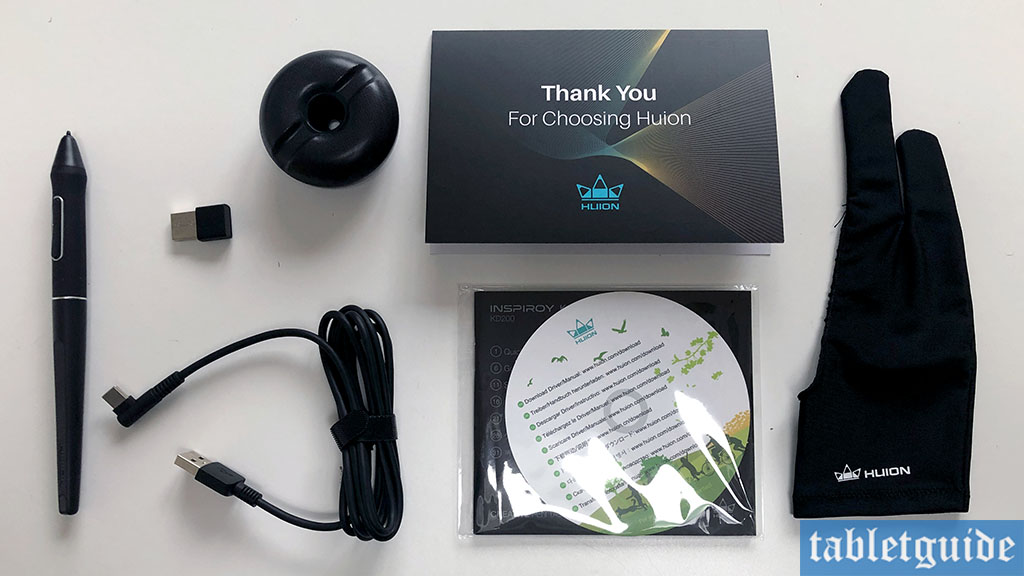 Dig through the rest of the box and you'll find the tablet, (battery-free) pen, pen holder (including 10 spare pen nibs), pen nib extractor tool, USB-C cable, Bluetooth receiver, Quick Start Guide and a drawing glove.
The tablet itself has a nice sleek design, with the dial control top left and a 'mini-keyboard' positioned below. To the left of the dial are three small LED indicators, 'Menu/Enter' button and 'Power' Button. It has a 'metal gray' coloring and is only 8.5mm thick/high, with a workspace of 226mm X 142.88mm. Actual/overall dimensions are 394.5mm X 187.7mm. It's also fairly light weighing 650g. Flip it over and you'll see the four rubber feet to keep it still on your desk.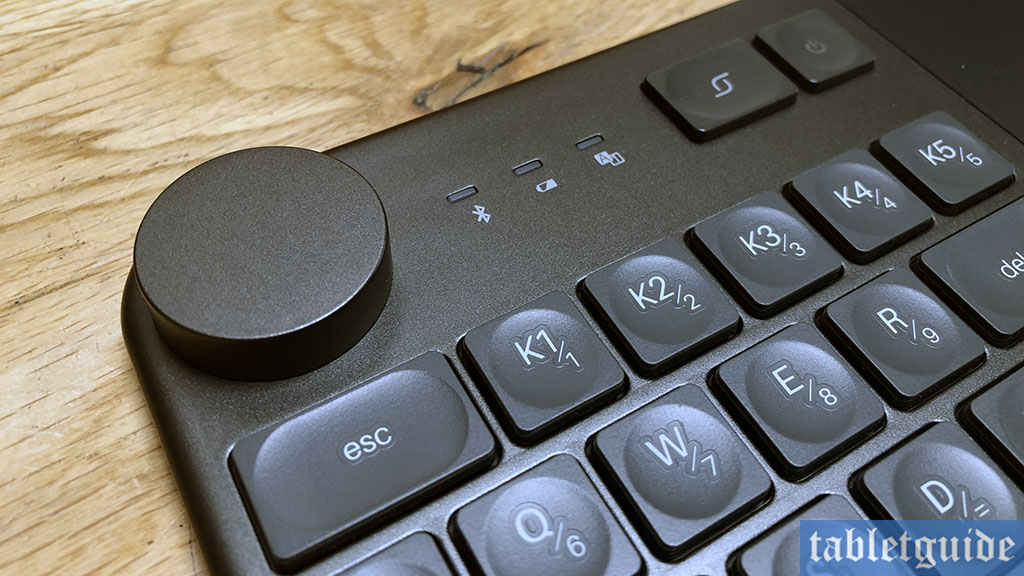 Underneath the keys is a nice sloping area/palm rest, so it won't dig into your wrist when hammering those keys! On the right is the drawing area, which is anti-scratch and anti-fingerprint due to the applied 'texture sheet'.
As you'll no doubt gather from the images and video, this tablet is aimed at 'right-handed' users due to its design and at the time of writing, I have no idea if HUION will be producing one for the 'lefties' out there… 😊
Another innovation of this device is it can be connected via Bluetooth 5.0 technology! Plug in the receiver to your laptop/PC etc and voila! Instant wireless drawing*! When I tried this, it worked perfectly and I was scribbling away in seconds once that blue light lit up! It supposedly has a 10m range, so make sure you have good eyesight if you work that far away from your screen… 😊
(According to the HUION's website, you can also now connect to wirelessly compatible Android tablets and phone without an OTG adapter, but being an Apple device(s) owner, I was unable to test this out, but it's something to bear in mind perhaps…)
You can use it with the supplied USB-C cable if you wish, but this predominantly for charging the tablet – charge time is between 1.2 – 3 hours and should give you 18 hours battery life/drawing time, with a standby time of 6 months – perfect for those long lunch breaks! 😊
The pen, as you would expect these days, is battery-free, supports 8192 levels of pressure sensitivity, 60° of 'tilt' and needs only to be 10mm from the tablet surface to be registered. For the 'data-heads' out there, this pen is the PW517 and uses HUION's PenTech3.0 technology. When drawing with this pen, I found it nicely 'weighted' and felt great to hold and use.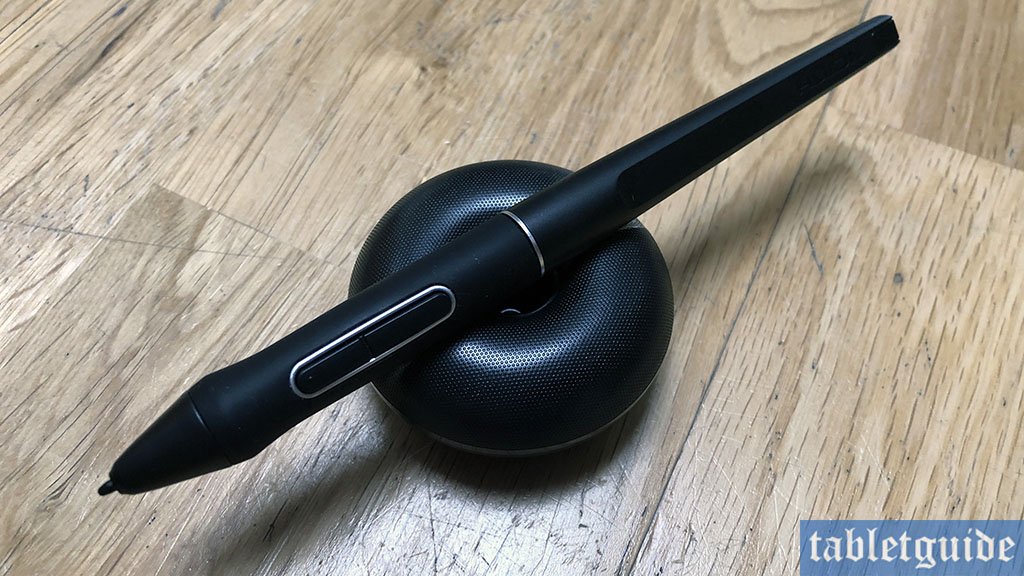 There's an 'anti-friction silicone grip' around the button area, which felt nice to the touch. The 2 buttons are customizable should you wish to change the default settings of 'Eraser' and 'Right Mouse Click'. The drawing experience with this tablet was superb. There was no 'scratchy' type feeling – the pen glides across the tablet with ease and felt totally natural.
The lines produced onscreen tapered nicely at the ends as expected and even when scribbling away really fast i.e. coloring in… there was no lagging at all. Line widths varied as expected with the pen pressure working perfectly. When not in use, you simply plop the pen into the penholder to protect the nib. (The unit also 'powers down' after a period of inactivity to preserve battery life).
Being a designer and illustrator for some time now, I kinda have my way of working with these tablets and, to be honest, I kept finding myself reaching for my laptop keys for certain shortcuts. It was hard to fight that 'muscle memory' when using this device! The dial was no problem as this is featured on many other graphic tablets I've used, but I found myself looking away from the screen often to see what keystrokes I needed to use – it seems odd not having a full-size keyboard at my fingertips!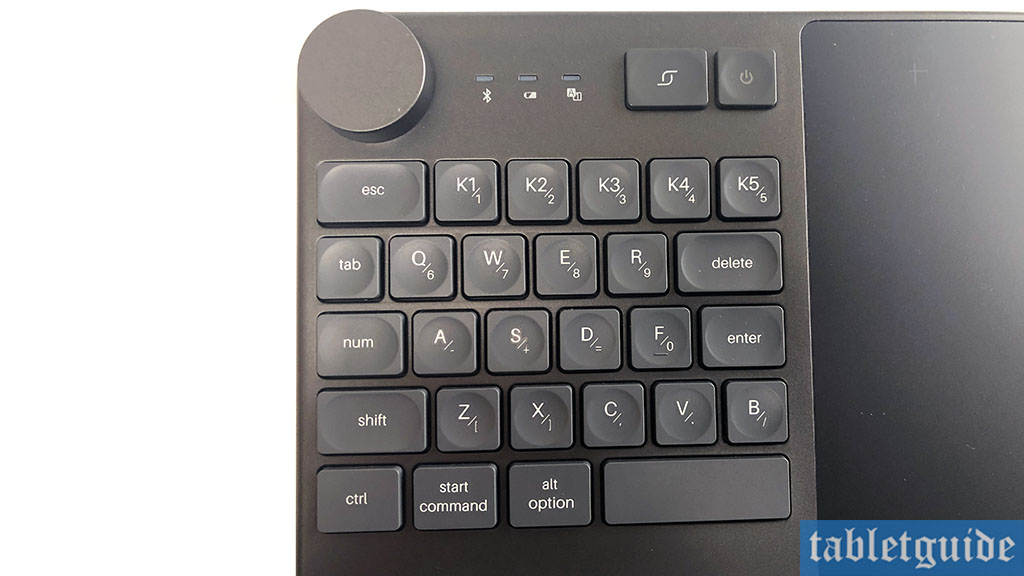 The 'Menu' button was handy for changing the 'zoom' functionality etc and there's a handy onscreen tip showing exactly what will be used next time you rotate the dial i.e. brush, zoom canvas etc.
It's nice to see something different and a bit of innovation regarding these devices, so kudos to HUION for that. Hopefully they have something planned for the left-handed designers and artists out there too going forward.
Related:
The design and look of this graphics tablet is really good – I really like it – it will certainly look cool on your desk and is very portable – especially useful if you are a freelancer (or will be again once we've gotten rid of this virus!) and being 'wireless' obviously has all the advantages that come with it i.e. no cables, you can move the tablet around, have it on your lap etc, but I wonder just how many people will still initially reach out to their laptop to 'Undo' any mistakes they make! Practice makes perfect I guess…! 😊
The HUION Inspiroy Keydial KD200 is out now for Windows 7/8/8.1 (Wired and Dongle), Windows 10 64bit (Bluetooth) Mac OS 10.12 or later, Android 6.0 or later.
*Bluetooth receiver is suggested for connection with PCs running on Win7, Win8/8.1 or a Win10 32bit operating system.