Huion inspired many creatives in the industry with their imaginative designs. The Inspiroy Keydial KD200 is a unique pen tablet that uses a limited number of keyboard keys. Well-known institutions across the globe gave its international design awards. The pen tablet is a simple two-element drawing device with a minimized keyboard and dial controller.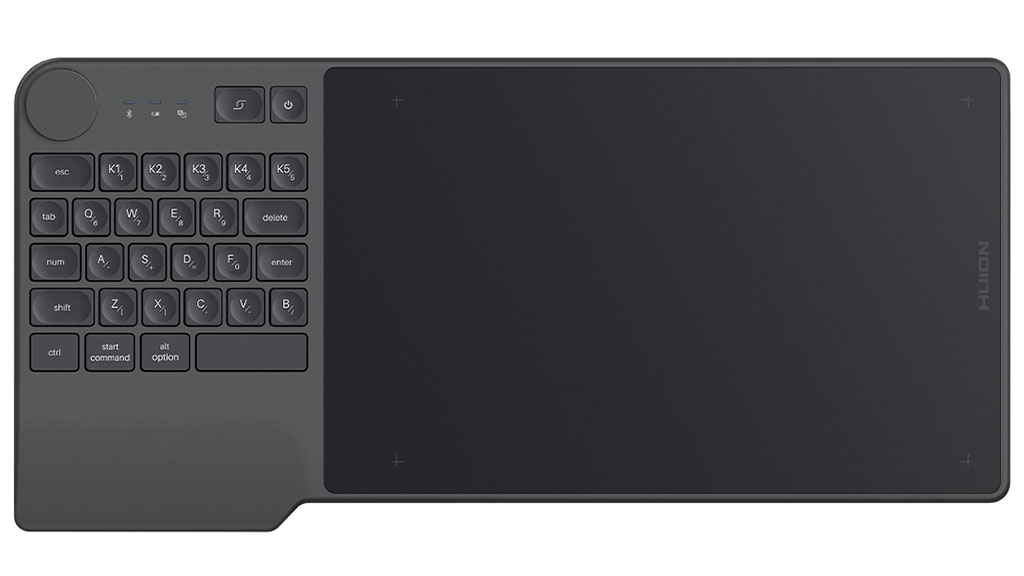 The keyboard element comes with programmable press keys, which can take continuous inputs, and users can use different combos or shortcuts to execute a particular function on editing software. The dial controller is responsible for adjusting the canvas's size, and it is also a navigation tool to go up and down pages.
HUION Inspiroy Keydial KD200 Specifications

Weight
650g
Dimensions
394.5 × 187.7 × 8.5 mm
Working Area
PC Mode: 226 x 142.88 mm (8.9 x 5.6 inch)

Android Mode: 142.88 x 80.37 mm

Keys
5 Programmable + 23 Standard + 1 Dial
Pen
PW517 Battery Free Electromagnetic Resonance
Pressure Sensitivity
8192 Levels
Pen Resolution
5080 LPI
Tilt
±60 degrees
Reading Height
10mm
Report Rate
>220PPS
Accuracy
±0.3mm
Interface
USB-C
Wireless Connectivity
Bluetooth 5.0
Communication Distance
5-10 m
Battery
1100mAh (up to 18 hours)
OS Compatibility
Windows 7/8/8.1 (Wired and Dongle)

Windows 10 64bit (Bluetooth)

macOS 10.12 or later

Android 6.0 or later
Creativity now has no limits, and creators can explore new art styles with the latest Inspiroy Keydial KD200. On-the-go implementation is possible with this pen tablet because it frees users from carrying a PC-like keyboard.
With the latest Bluetooth 5.0, it will be easier to establish a more comprehensive network connection. Even the tablet shows no restrictions, and artists can use it in any position to enjoy the overall drawing experience.
Buy Huion Inspiroy Keydial KD200
In terms of compatibility, the Inspiroy Keydial KD200 allows devices on different platforms such as Windows, Android, and macOS. The Windows space is suggested to go with the 64-bit architecture to get a more responsive and snappy feel when connecting with the PC system. The Mac operating system would be ten or later versions of it.
These pen tablet features are mind-blowing, but it also has a significant form factor. The drawing or working surface gives the tablet a compact layout, making the whole process smooth to operate.
It doesn't require any complicated steps to follow, so it is highly user-friendly, and even artists who are at an early stage in their career will find the tablet extremely efficient. Creative workers will easily blend into their new pen tablet work station, as it is a lot less demanding and uses very little space.
Another critical aspect of the drawing tablet is the digital pen. For the KD200 model, the digital pen used would be a battery-free PW517 with a good number of features associated with it. The pressure sensitivity levels are at 8192, which means it is a top-notch drawing pen in response time.
The digital pen is also equipped with a tilt function or support that can go up to 60 degrees in either direction. The tilt feature creates different brush effects that look natural without lagging.
Huion has recently developed PenTech 3.0 technology into the battery-free digital pen. The PW517 comes with an anti-friction silicon grip to have a superior hold while drawing on the tablet surface. The pen also has a 10mm sensing height, making the drawing highly accurate and detailed.
The pen tablet's drawing surface has a paper-like texture because users can feel the friction of the digital pen. It is also scratch-resistant with smooth finishing and doesn't allow fingerprint smudges.
In terms of battery life, every creator will be pleased to know that this pen tablet supports almost 18 hours continuously. With 1100mAh capacity and 2 hour average charge time, the KD200 can thrive under any battery conditions.
When speaking about compatibility for drawing and design software, the Inspiroy Keydial KD200 supports all the major operating systems' mainstream applications. The pen tablet can be customized with different accessories such as Pen Nibs, stand, and tablet case. Huion has included many adjustable options on their website.