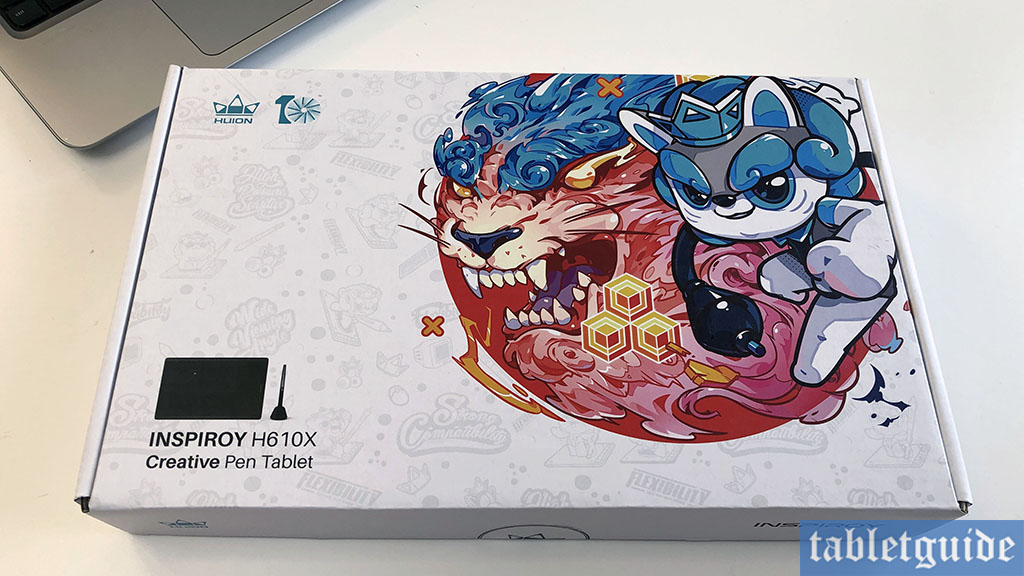 First of all, I want to wish a Happy 10th Birthday to HUION! 😊
Yep, unbelievably, it's been 10 years since HUION unleashed it's first product to the creative industries and they are still going strong! To celebrate this landmark, there's all sorts of events and competitions going on over on their website, plus they have just released 3 new devices; the Inspiroy H420X, H580X and the H610X Creative Pen Tablets… which is where we come in! Today we're going to be taking a look at the largest of the 3 new devices, the 10" Huion Inspiroy H610X…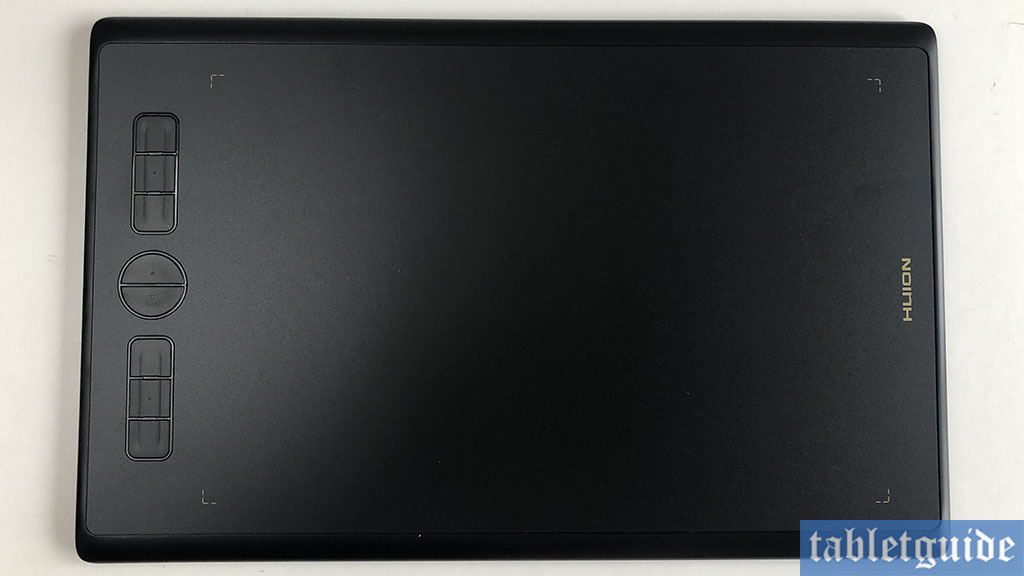 Housed in a brightly designed box featuring HUION's mascot character 'Leon', are the following goodies: the H610X tablet, the battery-free digital pen (PW100), pen holder, 8 replacement nibs (contained within the pen holder!), USB-A to USB-C cable, a USB adaptor and a 'Quick Start Guide'… unfortunately, I couldn't find any Birthday Cake or a Balloon… (I checked twice!)
Buy Huion Inspiroy H610X at Official Store
The tablet itself is made of plastic and its dimensions are 324.5 x 205.6 x 8mm – this thing is really thin! It's very light weighing a mere 515g and is black in colour, apart from the gold coloured HUION logo and 'chevrons' which designate the 'work area' of the tablet, which is another term for the actual drawing area which they list as 10" X 6.25" inches, so I'll let you work that out in MM!). Flip it over and you're presented with the four rubber feet in each corner.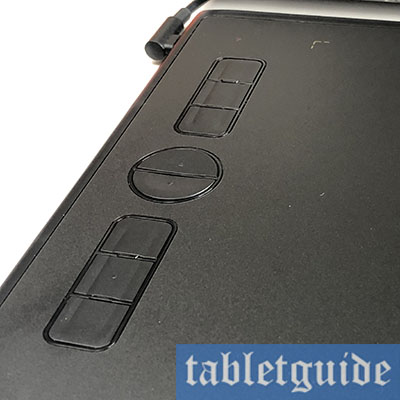 The drawing/work area takes up 77% of the overall size of the tablet and housed down the left side are the 8 express, or shortcut keys.
These help in the design and/or illustration process by having your most used/favourite keyboard combinations literally at your fingertips (yes, I know a computer keyboard is having them 'at your fingertips' too, but, c'mon, poetic license and all that…besides now they are even closer!) – these are fully customisable in the software.
As is common nowadays, no software/driver CD is provided in the box – you have to visit the HUION website and download and install the software before you plug the tablet in and start scribbling away, but you knew that, right…right? 😊
The driver software is a 'one size fits all' application for these 3 new devices – if you are lucky/rich enough (or have enough desk space!) to have all 3, you can 'choose' which device you have plugged in to your computer using the 'Drop down' menu – quite handy so you don't need to keep installing/uninstalling the software each time you change tablets for instance…
The software is also where you can 'map' your tablet to your screen(s), change the pen button settings, pen pressure (more on that in a second), plus there's handy links to the HUION website to check for updates etc – you can even change the colour of the UI – they've thought of everything!
Once the drivers are installed, tablet plugged in and you've customised things the way you want, it's time to put this thing through its paces! But before we do – a quick word about the pen! The pen is a 2 button, battery-free stylus which supports 8192 levels of pressure sensitivity, 60° of tilt with a reported >220PPS report rate.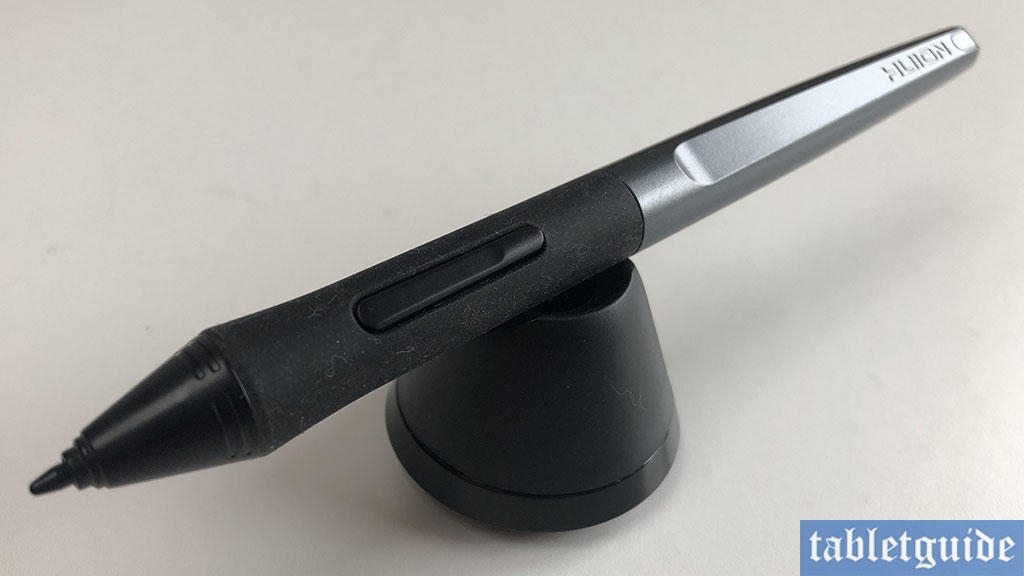 As previously mentioned, you can change the 'pen pressure' to suit the way you draw… depending if you are light or heavy handed using the pen, you can adjust the pressure so you get a nice variable stroke onscreen. It's nice and light and feels good to hold and use, especially with the rubber grip section around the buttons. When not in use, you can insert the pen nib-down into the pen holder, or sideways dropping it onto the handy little 'grooved' top.
The surface of the tablet is supposed to be 'paper like' when drawing… it did have a nice and smooth 'feel' to it when drawing admittedly, but if you make a mistake, try not to screw it up and throw it away… always 'CRTL+Z' 😊
The buttons worked as expected, but felt slightly 'plasticky' when depressed, so I wouldn't go too hard on them.
As you'll see if you watch the accompanying video, I was able to quickly draw and paint a sketch with no issues at all. Lines tapered off nicely and the pen pressure worked effortlessly. I experienced no noticeable lagging and enjoyed the whole drawing experience – 10 years of manufacturing these things has definitely paid off! 😊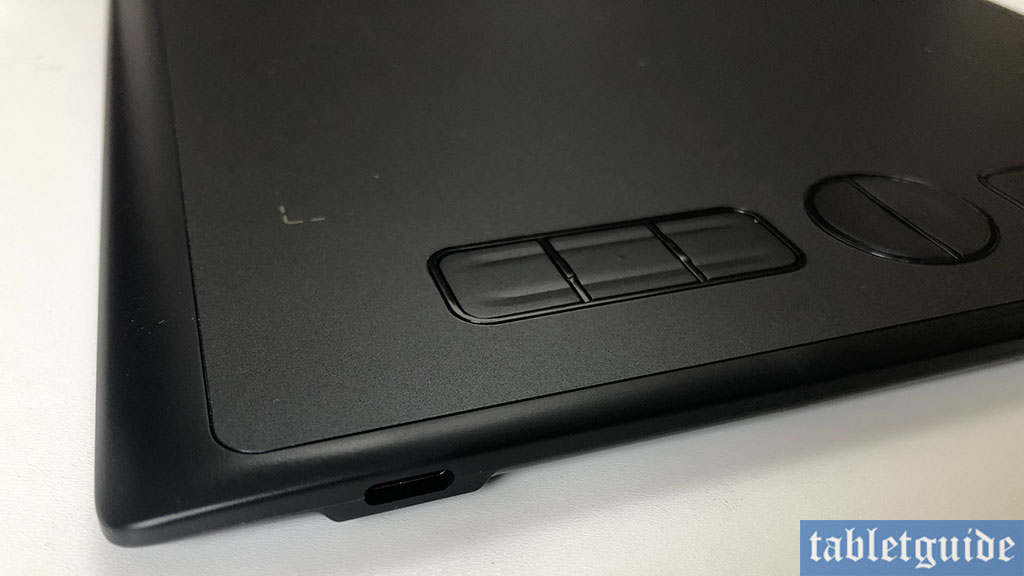 It's a nice size tablet for your desk and also for your laptop bag should you need to take it with you between the home and office (or at least when we can do that again!).
As with most newer tablets like this, you can use it with your compatible Android smartphone (or ChromeOS) device. Again, as you can see in the video, I had no issues using Adobe illustrator Draw on my Android tablet with the Huion Inspiroy H610X – I simply connected the two and was drawing away immediately.
It's not something I'd personally use for any length of time myself, but I'm sure there's many creatives out there who will benefit from this functionality. (One thing to remember when using it this way is that not all the drawing area will be available, only the left side (roughly a third) will work to match the portrait orientation of the phone/tablet.)
The Huion Inspiroy H610X is compatible with all the usual major creative apps like Adobe Photoshop, Illustrator etc, (in fact all the CC apps), CorelDraw, Painter, SAI, Clip Studio Paint, GIMP, Krita, as well as doubling up as a mouse for Office type tasks etc (less RSI!) on Windows 7 or later, macOS 10.12 or later, ChromeOS 88 or later and Android 6.0 or later.
HUION now have so many products available now, there's one for every budget, desk size and design task. If you want a simple, inexpensive, medium size graphics tablet, then this may be what you need.
That's it from me – all that's left is to raise a glass to HUION and to look forward to seeing what else they have coming in the next 10 years – cheers! (Hic!)