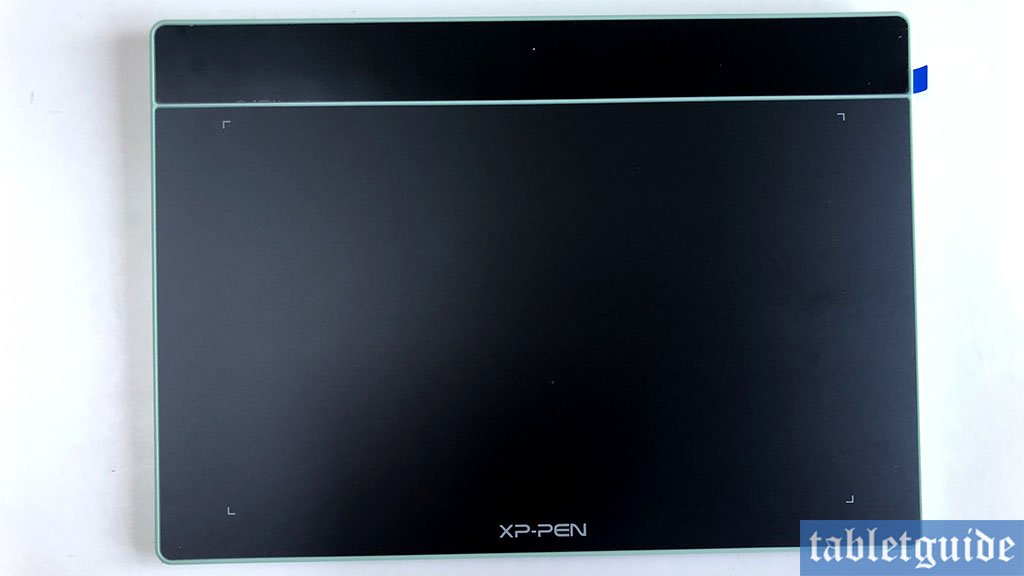 The 'Deco Fun' is a newly released pen tablet from XP-PEN. Available in three sizes – Deco Fun XS, Deco Fun S and Deco Fun L (small, medium and large basically!) plus in four colour variants of Classic Black, Space Blue, Carmine Red and Apple Green, it's the latter today we're taking a look at. (The specs are the same throughout, but please note 'Tilt' is not supported on the smallest Deco Fun XS).
Housed in an attractively designed white box adorned with a cartoon version of the tablet is the good stuff – the actual tablet, the P01 stylus/pen, 10 spare pen nibs, pen-clipper (or nib extractor tool!), USB-C cable, Quick Guide and a Warranty Card.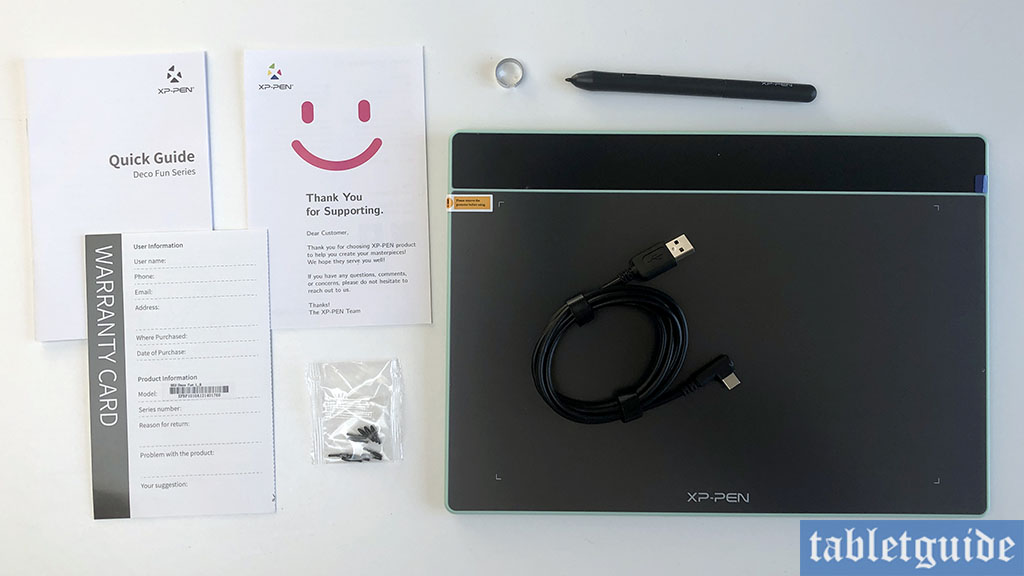 As previously mentioned, the tablet I'm looking today is the 'Apple Green' colour – these new pastel-coloured devices seem to match the newly released iMacs… hmmm – coincidence? 😊
The dimensions of this tablet, being the largest of the four, are 315 X 222.9 X 12.55mm, with an 'Active Area' of 10" X 6.27". It's nice and light and easily transportable in your laptop bag.
Along the top is a roughly 1" glossy black strip which contains a 'blink-and-you'll-miss-it' small white LED which illuminates when the tablet is reading the pens signal (the pen needs only to be 10mm away from the tablet surface to be recognised). Flip it over and the four rubber feet are revealed in all their glory.
Turning our attention now to the pen, it's XP-PEN's P01 model – it's black, plastic, battery-free and quite light. It's a 2-button stylus, which, by default, activates the 'Pen/Eraser' mode and 'Right Click' functionality from top to bottom.
It supports 8192 levels of pressure sensitivity (you'd be hard pressed to find one that isn't these days!) and 60° of tilt. For the more technical types out there it has a resolution of 5080LPI with a report rate of ≥220RPS. The nib seems to have some 'play' to it when pressed, but it didn't affect anything drawing-wise.
As usual, before plugging in, remove any older software drivers from your machine, head on over to XP-PEN's website and download the latest ones for your device. Once installed, simply use the USB-Cable to connect the devices and you're done and good to go.
Before you start scribbling away, it might be a good idea to adjust the pen and tablet settings in the driver software. Depending on how hard – or light – you like to press down, you can adjust pressure sensitivity here and/or the 'hardness' from soft to hard etc. If you're lucky enough to have a multi-monitor setup, you can map the tablet to whichever screen suits, set rotation etc.
This fairly new software UI is nice and bright and easy to navigate (although there isn't as much to see and adjust here as there would be if the tablet had shortcut/express keys!), but one thing I've noticed with this version is that whenever I make a change or adjust a setting, clicking 'OK' does not actually close or shutdown the dialog box – you have to click the 'X' in the top right corner.
You may like:
I've noticed this recently on a few of the latest new releases from XP-PEN – it's not really a big deal I guess, but it's something you don't really expect.
How does it perform you say? Actually… great! 😊 I had no problems with its size; 10" X 6.27" is a nice size to draw on and work with and it performed without any glitches. The pen felt nice to hold and use and slid across the tablet very smoothly.
Pressure sensitivity worked as expected and scribbling away on a couple of cartoon type heads produced nice and tapered lines and strokes. A quick click on the top button turns the pen into an eraser so any mistakes or erroneous lines can quickly be removed.
I used Adobe Photoshop and Illustrator on a Windows 10 PC for some quick illustration scribbles (as you'll see in the accompanying video) and had no problem producing variable cartoon type lines – although you will need to create a new 'calligraphic' brush in Adobe Illustrator first and change the setting to 'Pen Pressure' to get the most out of it!
A cool feature of this tablet (and many more in the market now) is that you can now plug this into a compatible Android device (with the supplied USB adaptor) and draw on that! Being an iPhone owner, I couldn't test it out on a smartphone, but on my Android tablet it worked perfectly! (For best results, rotate the pen tablet to better represent the portrait orientation of the device/screen you're using).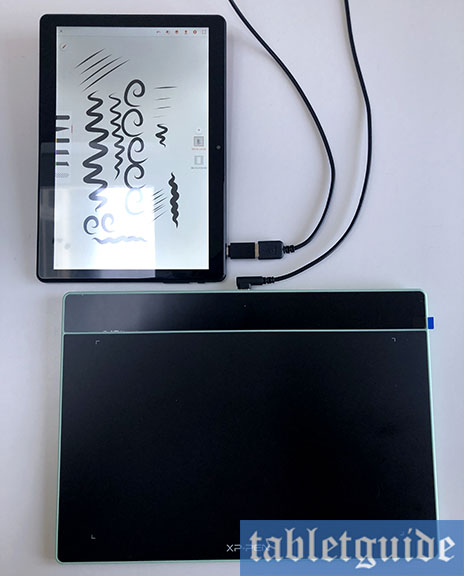 I used Adobe Illustrator Draw on a Google Android tablet and it worked without any issue.
There was an 'ever-so-slight' lag, but it didn't affect the drawing experience – it may have been an issue with my tablet, who knows – but it was fine!
Drawing on a phone isn't really for me to be honest, as I prefer drawing on a large pen display tablet, but it has its fans and may be a dealbreaker to some!
Buy XP-Pen Deco Fun:
Additionally, purchasing this pen tablet entitles you to some free software.
After creating an account with XP-PEN you certify the products serial number (on the back!) and you get an activation key to download and use free 'ArtRage Lite' software and 'Explain Everything', a digital whiteboard type application.
Overall, it's a nice, bright and inexpensive pen tablet that does exactly what it should… and isn't that exactly what you want? 😊
The XP-PEN Deco Fun is out now and is compatible with Windows 7/8/10, Mac OS X 10.10 (or later), Android 6.0 (or later), ChromeOS 88 (or later) and Linux.
It supports most digital working, remote education, drawing, and animation software including Microsoft Office, Zoom, Skype, Adobe, Corel, SAI, GIMP etc.