Well, here we are again – it's time for another tablet review! HUION have recently just released a trio of new 'Creative Pen Tablets', the Inspiroy RTS-300, RTM-500 and the RTP-700. They vary in size (S/M/L) and features, so today we shall start with the smaller of the three, the RTS-300…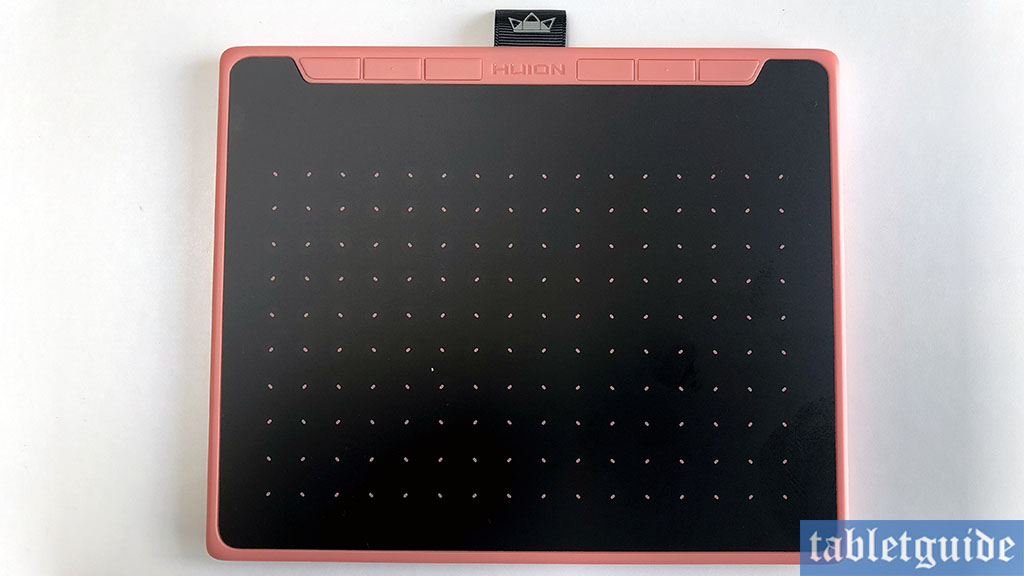 The tablet is housed in the now-familiar, stylish HUION packaging with its colored swirly lines and plain white box – very nice!
The tablet comes in two flavors/colors; 'Cosmo Black and 'Blossom Pink' – it's the latter we have here in the studio to play with.
Along the top of the tablet are 6 small shortcut/express keys which are fully customizable in the driver software. At the very top of the tablet, adorned with the HUION logo, is a small 'ribbon' to presumably hold your pen!
I couldn't actually fit mine in over halfway, but in any case, there is a proper pen holder supplied. Flip the tablet over and in each corner is where you'll find the 4 rubber feet to keep your tablet desk-bound.
As well as the tablet, you'll be glad to hear the box contains the new HUION PW400 battery-free pen, 10 spare pen nibs, pen holder, USB-C cable and the Quick Start Guide.
If you've never used one of these before (where have you been?), basically you plug it into a compatible device like a PC, Mac or Android device and it enables you to 'draw' by magically duplicating your brush strokes on to the screen! Well, it's actually a bit more technical than that (electromagnetic resonance anyone? 😊), but doesn't sound as much fun…
The pen is HUION's new PW400 design, which they claim that the 'brand new appearance ensures a comfortable grip and the advanced pen technology makes drawing with it as natural as a real pencil…' Well, it's very light in the hand and has an 'anti-slip silicone grip' which feels nice in the fingers when drawing.
As with most devices of this ilk now, it doesn't need charging, supports 8192 levels of pressure sensitivity and 60° of tilt. It looks like quite a 'straight' pen, but there is very small taper outwards towards the pen nib – all in all, it's a nice pen. It's a 2-button pen, which, yep, you guessed it – can be reconfigured in the driver software to suit your needs. 'Eraser' and 'Right Click' works for me…
Installing the software was a simple matter of heading over to HUION's site and choosing the relevant model. As always, make you sure you uninstall any older tablet driver software (or that of any other brand!). Plug in the USB-C cable and it's time to create, draw, design or whatever you bought this for! 😊
I've tested quite a lot of tablets over time and never really had a bad experience with one and I'm glad to see this Huion Inspiroy RTS-300 carries on that tradition! Pen pressure sensitivity worked as expected straight out of the box with a few test scribbles – the harder you press, the thicker the line – perfect! By using the shortcut keys, it's easy to increase/decrease brush size as you work.
Left-handed designers and illustrators can take to the streets and celebrate as they too can use this tablet with its keys located at the top. (One of the nice things about USB-C cables is that they can plugged in and used any way round!) In the accompanying video to this review, you can see just how the tablet performed.
The tablet surface is covered with a 'texture sheet' which according to HUION is not only 'anti-fingerprint' but feels like drawing paper. Well, I have to say, drawing on it was indeed lovely and smooth and the pen does glide across the surface with ease (but does make a slight 'scratchy' sound – although hardly noticeable really), but I did notice a huge big fingerprint on the tablet, so take that claim with a pinch of salt (just don't get your fingers on it after doing that…!) 😊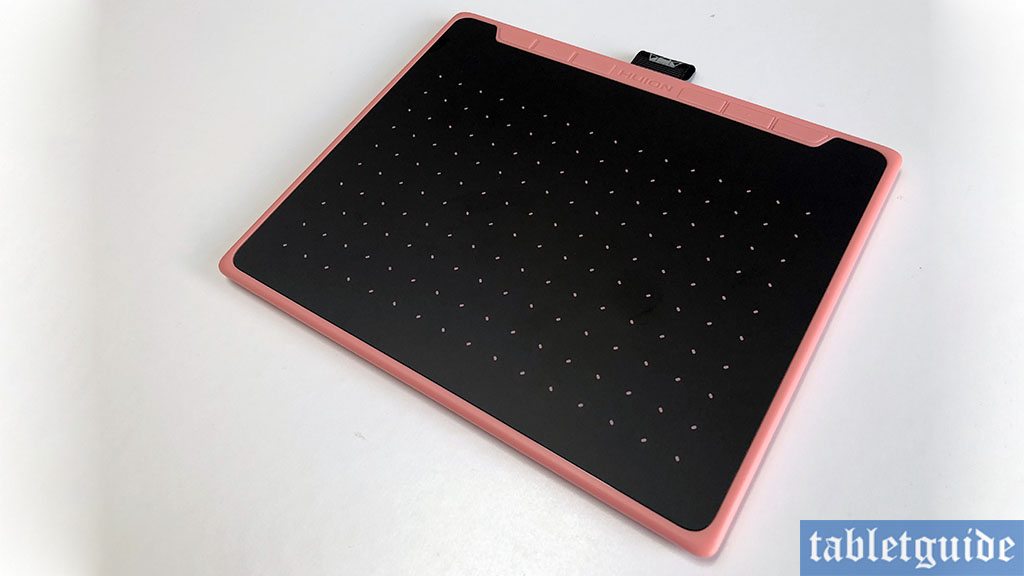 Huion Inspiroy RTS-300 is quite a small tablet and very light, so portability isn't an issue – in fact, one of the main selling points of this device is that you can use it on the go; using the supplied OTG adaptor, you can plug the tablet into a compatible Android tablet and/or phone and continue working in your favourite coffee house!
I was able to use it perfectly with Adobe Draw (which is about to get discontinued – thanks Adobe!) on an Android tablet – there did feel like an ever-so-slight-lag of a millisecond or two(!), but I've noticed this in every tablet I've plugged into an Android device – I guess it's down to the tech involved.
Related Reviews:
That said, it was quite satisfying 'feeling' the lines follow the pen stroke onscreen. One thing to note is, when using it on a phone for instance, only roughly a third of the tablets surface will register – think of it as being the same 'area' of the portrait orientation of the screen.
You can configure these settings in the driver software. The software is straightforward and simple to navigate through. You can change the settings of the 6 express keys (and the two on the pen), map the tablet to your devices screen, rotate it by 90°, 180° or 270°.
Pen pressure is simple to adjust – you drag the curved line in the 'Pressure Sensitivity Adjustment' box on the left and draw in the right 'Pressure Test' box until it feels 'right' to you. Other Tabs enable you to back up your settings, a handy link to HUION's website etc – you can even change the colour of the software UI! Decisions, decisions… 😊
If you're perhaps a student, new to digital art, on a budget or simply want a small pink graphics tablet(!) then this is what you'll need. It works with all the top creative apps and programs like Adobe Photoshop, Adobe Illustrator (in fact ALL the Adobe apps where you'd use a mouse!), SAI, Krita, MediBang, Sketchbook, Corel etc on Windows 7 (or later), MacOS 10.12 (or later) and Android 6.0 (or later).