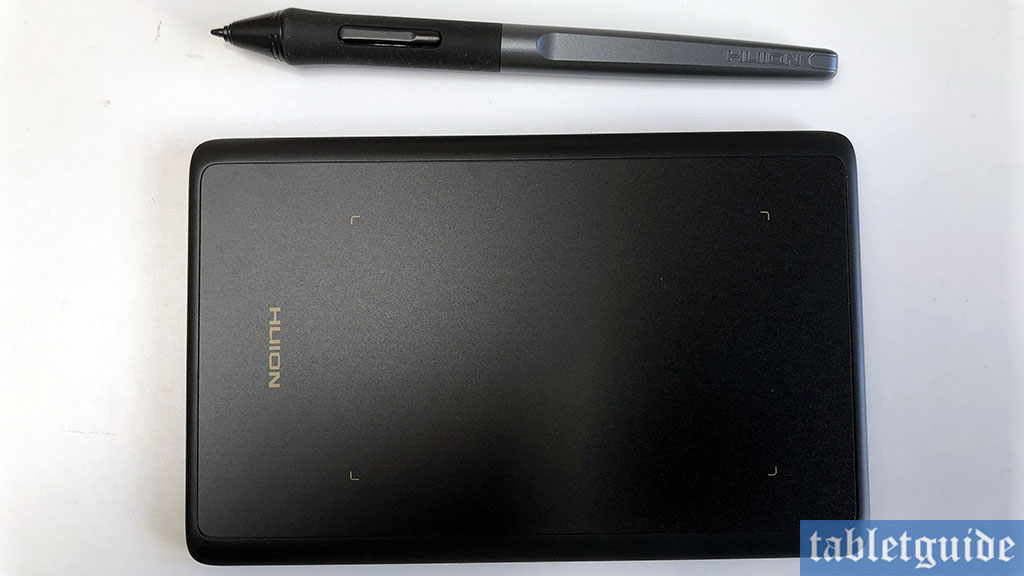 'All good things come in threes' as the saying goes and we're about to put that to the test with this final review of HUION's recently released H420X graphics tablet, one of three (and the smallest!) of their new Inspiroy Creative Pen Tablet range (celebrating their 10th Anniversary), the other two being the H610X and H580X which we have already reviewed.
Huion Inspiroy H420X is indeed the smallest of the bunch with the dimensions of 172.01 X 109.6mm and a height of only 7mm – in fact, the only other tablet roughly this size can be found in your medicine cabinet.
Inside the yet another nice and brightly designed box is the tablet, pen, pen nib clip, 8 replacement nibs, USB cable and a Quick Start Guide.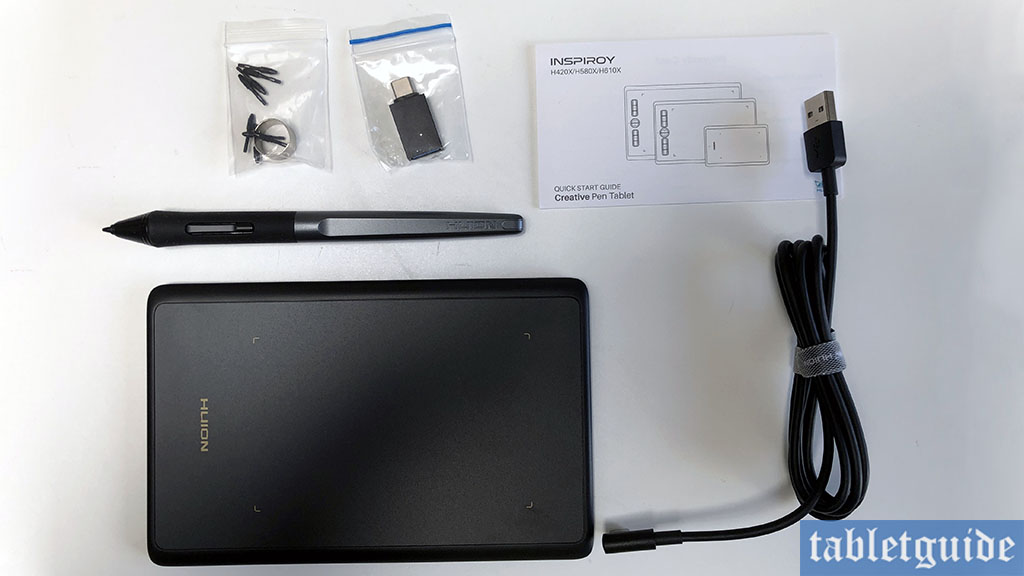 Getting back to the tablet, it's black, made of plastic and weighs only 105g. It's actual 'work area' is 4.17" X 2.6", designated by 4 golden coloured chevrons with the HUION logo on the right – obviously at this size it has no shortcut/express keys like its larger siblings the H580X and H610X.
It has what HUION calls a 'narrowed palm rest to release hand fatigue', which basically means it has a sloped edge that doesn't dig into your wrist whilst drawing!
The tablet supports 'multi-angle rotation' which in laymen's terms means you can turn it around to use at any angle – especially handy if you're left handed or using this device to draw on a phone or tablet – the 'portrait' orientation will feel more natural drawing on these devices.
Moving on to the pen, it's HUION's PW100 – it's battery-free, supports 8192 levels of pressure sensitivity and needs to be only 10mm away from the tablet surface to be registered.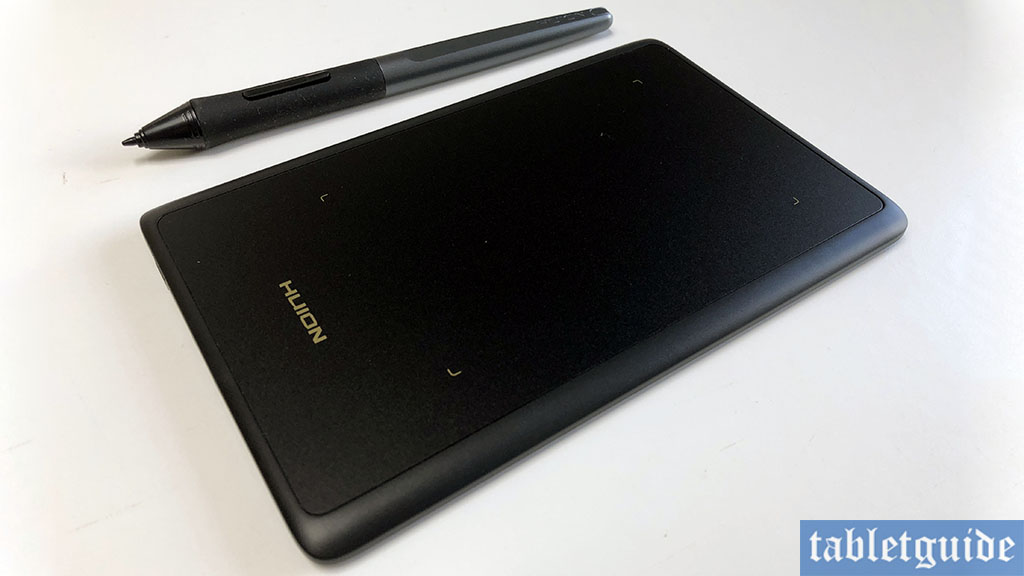 For the more technical savvy artists out there it has a pen resolution of 5080LPI, a report rate of > 300 PPS and an accuracy of +/- 0.3mm. Tilt is not supported. It's a 2-button pen which can be configured to your preference in the software.
I tend to keep it as 'Eraser' and 'Right Click' modes as I use my traditional keyboard for shortcuts when working.
After testing, reviewing and using (and enjoying!) the two larger models in this range I was interested in seeing how something this small functions! I realise I'm probably not the target audience(!) for this tablet, but I can see it being perfect for children as their first tablet as they dip their feet into the waters of design and illustration.
Already having the drivers installed (the H610X, H580X and this H420X all share the same drivers) it was time to plug in and have a scribble.
As I generally work on a large 'pen display' i.e. I draw/work on a screen, I'm used to moving my drawing hand all over the place to access screen menus whilst creating, but with this tablet my wrist barely left the desk!
Even though it has a 'narrowed palm rest', I did find my hand resting on the bottom right corner of the tablet whilst drawing – for the sake of this review it was fine, but I don't think it would be that comfortable to use for months on end as my 'No.1' tablet – again, this isn't targeted at me, but that said, I was able to quickly illustrate (as you'll see in the accompanying video!)
Rotating the tablet and drawing on an Android device felt more comfortable with my hand resting alongside its longer edge. As with the other tablets in this range, it does have a nice 'feel' to it as the pen glides over the surface – there's no 'scratchy' feel to it.
Lines produced on screen had a nice tapered look to them and the pressure sensitivity worked perfectly, as you'd expect from a brand like HUION. Depending on how you like to draw (light or heavy-handed!) you can adjust the pen sensitivity in the driver software.
Speaking of the pen, it felt nice in the hand and familiar as I've used this model quite a few times now! Note that the H420X does not come with a pen holder, so you'll need to be careful this doesn't roll off your desk when not in use!
The aforementioned driver software is simple and straightforward to navigate through. In addition to configuring the pen buttons and pressure (there's a small box for you to scribble on as a test whilst you adjust the sensitivity) it is here you can map the tablet to your devices screen, check for software updates, link through to HUION's website, back up your settings etc – you can even change the colour of the UI! 😊
All in all, this is a solid little tablet, but I'm not sure it's one I'd like to work on in my day-to-day routine, having been spoilt over the years using many larger tablets with all their bells and whistles! But I can see this being perfect for use in the classroom (and in the office for short periods!) and for those on a tight budget.
HUION do have a range and size of tablet for every budget and task and are of a high quality, so whatever model of this 10th Anniversary trilogy of tablets you choose, you are going to get your money's worth!
So, a continued Happy 10th Anniversary Birthday to HUION – we look forward to seeing what else you produce in the next ten years!
Huion Inspiroy H420X is compatible with Windows, macOS, Android and ChromeOS.