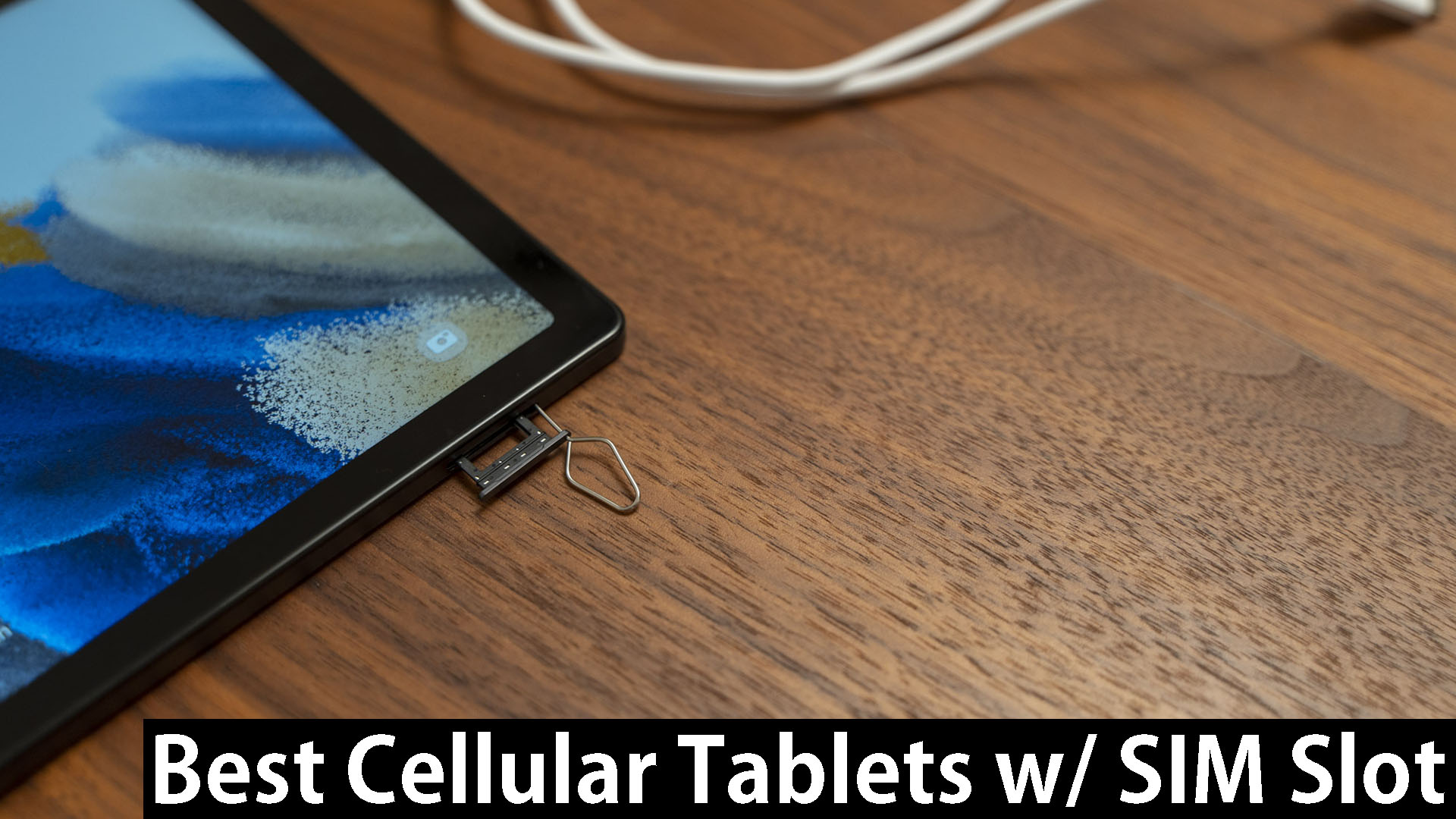 There is an abundance of tablets in the market, and every day new one is introduced. But, how do you know which one is the right one for you? Cellular tablets with SIM card slots are all-in-one gadgets that allow you to engage in countless activities.
From reading, playing, doing your personal and professional tasks, studying, making phone calls, and also indulging in binge-watching movies and other entertainment activities, these electronic slates with SIM card slots are a perfect device for on-the-go tasks.
If you are an artist, it also allows you adequate space to let you unleash your creative juice. Tablets are a whole lot of fun handsets that you can use as both a phone and a PC/laptop.
Whether you are buying a tablet for personal recreation, that is listening to music, watching videos/movies, gaming, or browsing, or for professional purposes and office work, or for your kids' online classes, choosing the best tablet can be a challenging affair.
It is important to select the right screen size, a good processor that allows good speed, and a battery life that can last for a long on a single charge. However, it is still not easy to find the best tablet even if you consider all these factors when you start hopping for a good tablet.
The range of tablets from companies like Apple, Samsung, and Lenovo is very impressive, and almost every season, the tablet companies introduce a new one to meet the growing demand. If you are looking for a tablet with excellent features, this post will help you find the right tablet to meet your needs and budget.
Best Cellular Tablets With SIM Card Slot 2023
If you are looking for a portable handset that you can carry anywhere and anytime for all your work, then the good news is that top-tier tablet companies have unveiled an oversupply of options for you.
Apple, Samsung, and Lenovo, all three global tech giants, are giving tough competition to each other in launching innovative tablets for their worldwide customers.
Tablets are great possessions and a companion for people these days, as they allow you to talk, text, work, and play anywhere and anytime you want. And tablet manufacturers are only looking for possibilities that can meet all your demands.
1. Apple iPad 10.9 (10th Gen.)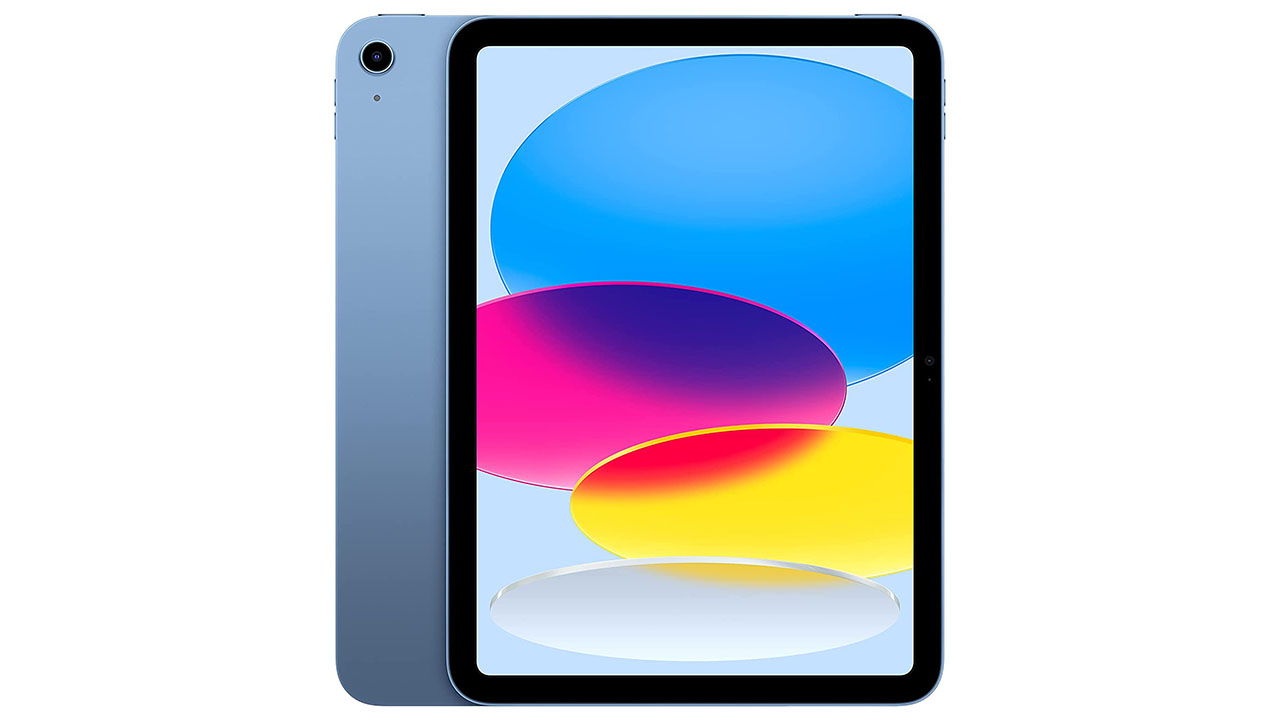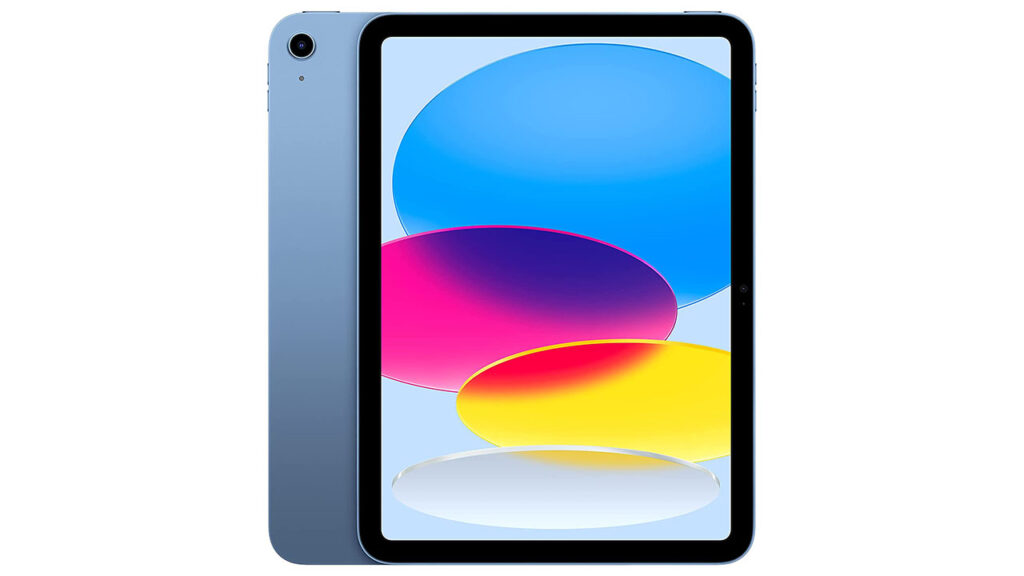 For the users looking for a more compact iPad that they can comfortably carry around with them and get work done, the Apple iPad 10.9 (10th Gen.) is a pretty great choice to explore.
Featuring an all-screen design, this redesigned iPad features a more modern and intuitive design and layout.
Backed with iPad OS 16, everything you might want in a compact iPad is all available in this model without any compromise at all. It enables users to run multiple apps side-by-side and without any buffering. Also, the model is available in two storage variants – 64GB and 256GB.
As for the display, the iPad 10.9 is equipped with a 10.9" LED backlit multi-touch enabled display with IPS technology with True Tone technology with 500 nits brightness. Also, the mode runs on A14 Bionic Chip, which is always a benefit.
Coming to the cellular features, the iPad 10.9 is Wi-Fi 6 and 5G enabled for comfortable video and audio calling support.
Reasons to buy:
Available in multiple vibrant color options
Superior and responsive performance
Optimal cellular connectivity
Reasons to avoid:
Accessories are expensive
Higher starting price
2. Samsung Galaxy Tab A8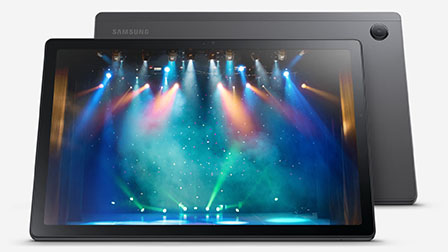 Beautifully designed, Samsung Galaxy Tab A8 is among the best affordable Android tablets on the market today.
Perfectly designed for entertainment, gaming, and other personal and professional uses, the tablet comes with a sturdy body, and a sleek new design, making it appealing to the buyers.
With a wide display, a thin bezel, and high-quality speakers, Galaxy Tab A8 makes for a perfect device for media streaming.
The 10.5-inch tablet with a vibrant display of resolution 1920×1200 (WUXGA) TFT and 4 GB RAM, 64 GB ROM (expandable), allows you seamless connectivity, streaming movies, browsing social media, phone calls, and video chatting.
You can also experience an immersive screen with brilliant clarity and Dolby Atmos surround sound, ideal for an entertainment and cinematic setup.
Samsung Galaxy Tab A8 allows you to create and customize a galaxy of devices to help you work seamlessly across devices, enabling more possibilities. With premium power backup, a thin, lightweight design, and excellent storage and speed, the device can be the most ideal purchase in its price range.
Reasons to buy:
Dolby Atmos surround sound
Seamless connectivity
Value for money
Reasons to avoid:
3. Samsung Galaxy Tab S8 | S8 Plus | S8 Ultra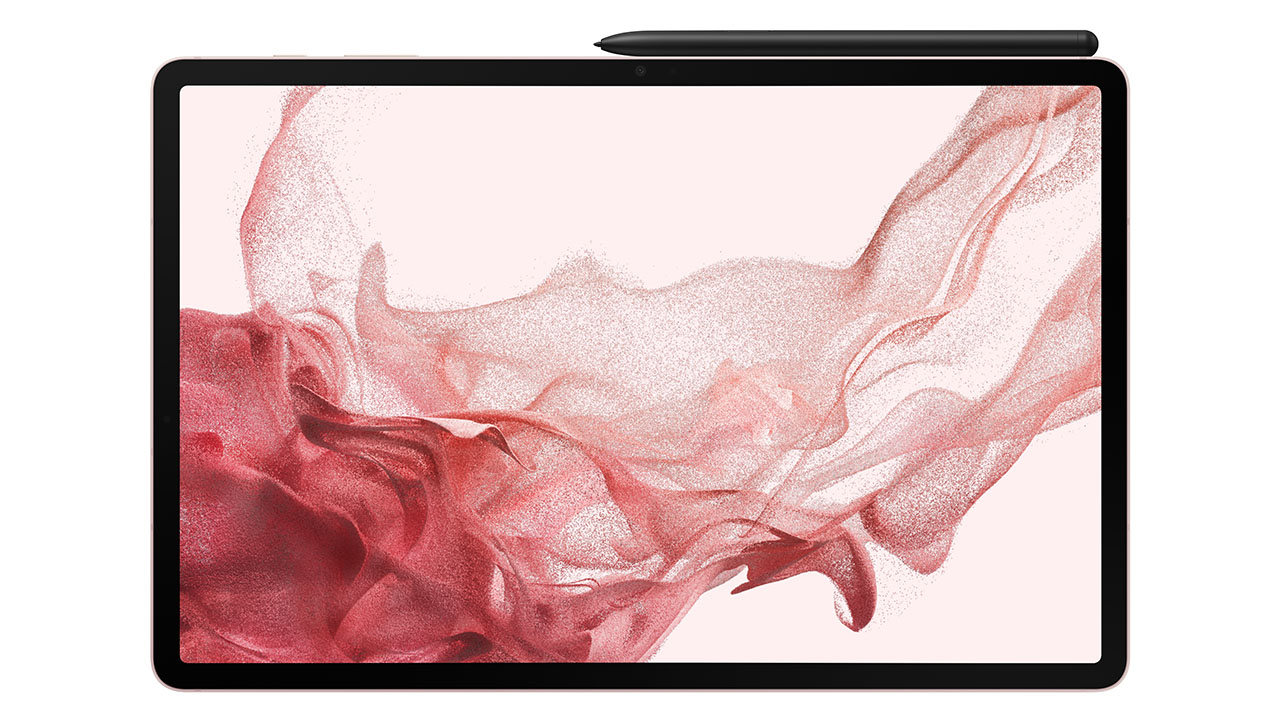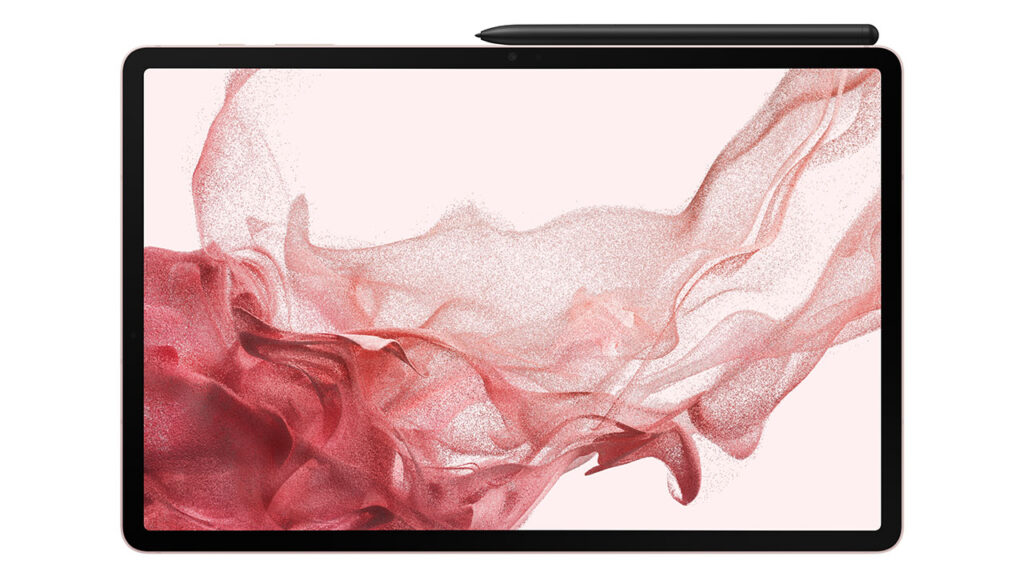 The ultimate S8 series of tablets with an ultra-large screen comes with an S Pen to add colors to your life.
The S8 series of tablets from Samsung allows you to locate more with ample screen size. The tablets also feature ultra-wide cameras to capture the most beautiful moments of your life.
With multi-window workflows, the possibility of doing more in lesser time increases. All three tabs S8, S8 Plus, and S8 Ultra are a space for limitless possibilities.
Galaxy Tab S8 Ultra in Graphite comes with a screen size of 14.6″, Galaxy Tab S8 Ultra in Silver sports a display of 12.4″, and Galaxy Tab S8 Ultra in Pink Gold comes with an 11″ display screen. The different tablet models allow you to pick the one that perfectly suits your needs.
Backed by Qualcomm Snapdragon chip-set Galaxy Tab S8 Ultra with dual camera Super AMOLED Display, Wi-Fi 6E, battery capacity of 11,200mAh, up to 16GB (RAM) + 512GB Memory & Storage space, and 12MP + 12MP (Ultra Wide + Wide) Dual Front Camera is an ultimate pick for both personal and professional use.
Galaxy Tab S8 Plus is a next-level tablet experience. Available in Graphite, Silver, and Pink Gold color, this 12.4″ Super AMOLED Display tablet with Wi-Fi 6E (5G optional), 10,090mAh of battery support, up to 16GB (RAM) + 512GB memory and storage, and 12MP Ultra-Wide Front Camera, the device offers a PC like an experience and is an ultimate piece in its price range.
Galaxy Tab S8 is an all-in-one solution whether you are indoors or outdoors. Available in graphite, pink gold, and silver, the 11" LTPS LCD display from Samsung is handy and perfectly designed for a life on the go.
Featuring Wi-Fi 6E and supported by 8,000mAh Battery and up to 8GB (RAM) + 256GB Memory & Storage space and 12MP Ultra-Wide Front Camera, this device is a powerful tool that you can carry anywhere you want.
Qualcomm Snapdragon processor gives impressive performances and you can engage in endless entertainment. In short, all S8 tablets from Samsung are a perfect fit for your lifestyle.
Reasons to buy:
Qualcomm Snapdragon processor
Good RAM
Wi-Fi 6E
12MP Ultra-Wide Front Camera
Long battery life
Reasons to avoid:
4. Apple iPad Pro (M2 Chip)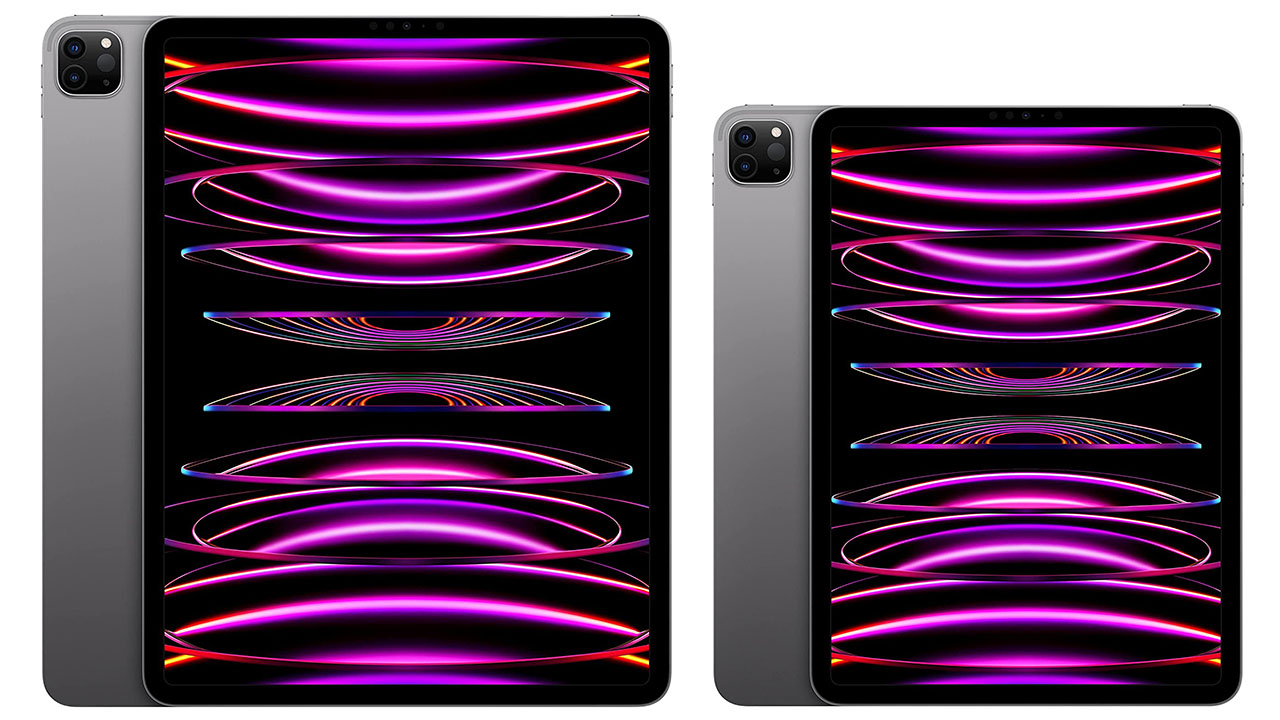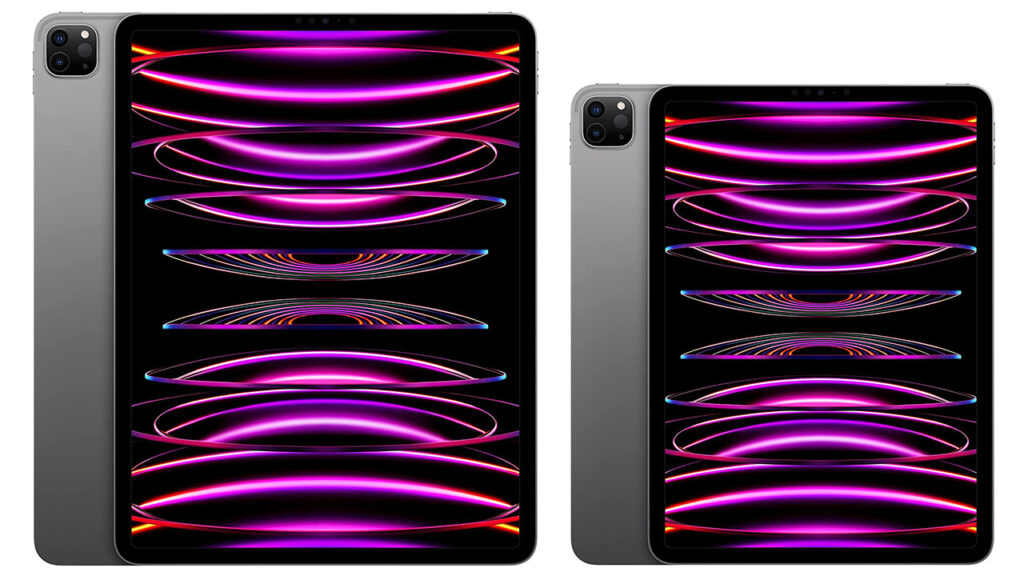 The use of tablets has revolutionized the concept of mobile workstation. Instead of having to rely on multiple devices, a single cellular tablet like the Apple iPad Pro (M2 chip) takes care of all the needs, be it work or taking calls.
Powered by the new M2 chip, the new Apple iPad Pro promises astonishing performance with advanced displays. Users get to bask in next-gen performance with the 8-core CPU and 10-core GPU configuration in the model.
Coming to the display, the iPad Pro is equipped with a 12.9" Liquid Retina XDR display panel with 1,000,000:1 contrast ratio for the ultimate visuals and vivid color reproduction. It is also integrated with 1000 nits brightness, which adds to the benefits further. Alternatively, there is a smaller 11" Liquid Retina display model too.
As for the cellular aspect in this iPad, it supports Facetime audio and Facetime video enabled over Wi-Fi or a cellular connection. It is a 5G-enabled model.
Reasons to buy:
Sleek and aesthetic design
Comes in two size options
Powerful performance with M2 chip
Reasons to avoid:
Quite pricey
Lacks certain ports and connectivity options
5. Microsoft Surface Pro X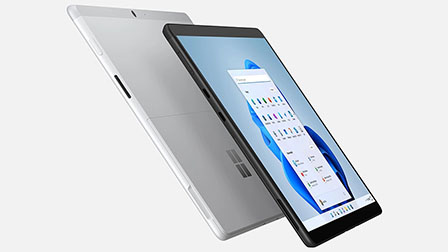 As human beings, we often prioritize comfort but optimal performance. The Microsoft Surface Pro X offers the best of both worlds.
You get the convenience of a tablet with the performance of a laptop – all in one.
Available in two color variants – Platinum and Matte Black, the tablet doesn't await anyone's introduction. The highlight of this tablet has to be the edge-to-edge PixelSense touchscreen display that elevates the performance and user experience to a whole another level.
A unique feature that comes with the Surface Pro X is the Eye Contact feature, an AI-driven functionality that adjusts your gaze while you are attending video calls. This ensures that you are always looking at the camera.
Weighing around 1.7 pounds, the cellular tablet is 7.3 mm thick and is the perfect companion for when you are traveling. The premium accessories, including the Surface Pro X Keyboard or Surface Pro X Signature Keyboard with Slim Pen are sold separately.
Integrated with fast LTE connectivity, establishing cellular network in the device is very simple. Furthermore, the device supports all the Microsoft Office apps to keep your productivity in check. Pair that with 15+ hours of battery life and there's nothing you'd have to complain about.
Reasons to buy:
Modern, ergonomic and lightweight design
Responsive processor
Fast LTE connectivity
Reasons to avoid:
6. Apple iPad mini (6th Gen.)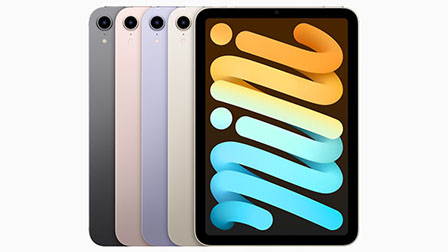 Apple iPad Mini 6th Gen is an excellent device with some very amazing modifications.
This mini-sized mega-power tab is backed by the A15 Bionic chip-set and some very sturdily built features.
With its very small screen size of 8.3 inches Liquid Retina display, true tone, vivid colors and sharp text, Apple's iPad mini 6th Gen will make many heads turn for its very appealing appearance. The all-in-one tablet is perfect for all routine tasks, gaming, entertainment, movies, and more.
The device is a class apart when it comes to photo editing and drawing. Also, it brings to you some very advanced apps, and brilliant content, and gives you a platform to let your creativity flow.
Apple's iPad mini 6th Gen is supported by a super-fast 5G and WiFi 6 connectivity. This mini device is very powerful and is a complete package for those looking for a tablet that offers movies/music streaming multiplayer games, and an easy interface to connect to your loved ones. In short, it is a portable powerhouse.
Reasons to buy:
A15 Bionic chip
Handy and lightweight
Super-fast 5G and WiFi 6 connectivity
Liquid Retina display
Reasons to avoid:
Cellular model is expensive
7. Samsung Galaxy Tab A7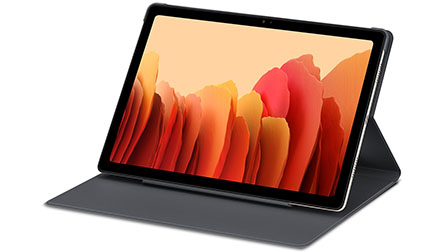 Launched on September 2020, the Samsung Galaxy Tab A7 is a 10.4-inch touchscreen display tablet with a resolution of 2000×1200 pixels.
Powered by an octa-core Qualcomm Snapdragon 662 processor and supported by 3GB of RAM and up to 64MB of built-in storage (expandable up to 1TB with a microSD card), Samsung Galaxy Tab A7 is among the top tablets in the market today and is grabbing buyers' attention.
The device is perfect for those looking for immersive entertainment while on the go and allows you to do more of what you love.
Slim and stylish in design, Tab A7 with its 5MP front-facing camera allows you to swap between video calls and entertainment without any hassle, while the 8MP main camera is brilliant in capturing photos and videos with greater details.
Moreover, the Dolby Atmos surround sound allows a premium entertainment experience. The 7040mAh battery life is just a perfect one for long-hour usage.
Reasons to buy:
Budget friendly
Slim and lightweight
8MP main camera
Good battery life
Reasons to avoid:
8. Apple iPad Air (5th Gen.)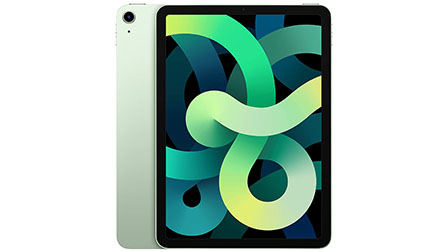 The iPad Air (5th generation) is a minorly upgraded version of its predecessors. However, it continues to win hearts as the best sub-flagship tablet one can buy.
As with its previous models, Apple's usual process to maintain powerful processors in their decently built hardware is not new.
However, in the case of the iPad Air (5th Gen), it has truly kicked off well. Along with incorporating laptop-tier silicon to the iPad Pro line, the sturdy M1 processor in Apple's thin and lightweight body, Apple surely surprises its admirers. However, it is not that easy with any sophisticated tech product.
Supercharged by the Apple M1 chip, the 10.9-inch Liquid Retina display also features a super-fast 5G connectivity speed.
Moreover, Apple iPad Air (5th Gen) also comes with a 12MP Ultra Wide front camera to offer you an excellent photography and videography experience. The Apple Pencil and Magic Keyboard add more style and class to the already classy device.
Available in 5 gorgeous colors, iPad Air makes reading, drawing, writing, watching, or creating an immersive experience. The tab boasts advanced technologies like True Tone, an anti-reflective coating, and P3 wide color.
Reasons to buy:
Apple M1 chip
Super-fast 5G connectivity
Liquid Retina display
12 MP camera
Apple Pencil and Magic Keyboard
Thin and lightweight
Reasons to avoid:
9. Samsung Galaxy Tab A7 Lite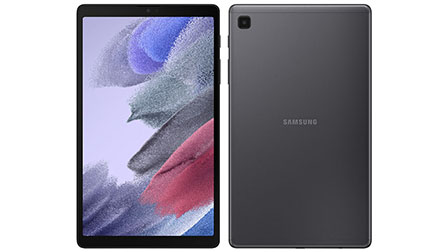 The 10.4-inch Samsung Galaxy Tab A7 Lite is a slim, lightweight device with endless possibilities for entertainment and fun.
The ultra-widescreen display of the tablet combined with Dolby Atmos surround sound Quad Speakers makes it a perfect tool for cinematic setup and entertainment shows.
Molded in a slim metal body, the tab offers 3 GB RAM, 32 GB ROM (expandable), and Wi-Fi+4G. Its front-facing camera gives you a feeling of talking to your family and friends from the same room, while on video calls.
Moreover, with its super-fast processor, long battery life, and up to 64MB of built-in storage space, you will enjoy movie, music, and video streaming to the optimum level.
The 10.4-inch ultra-widescreen display of the Samsung Galaxy Tab A7 Lite makes stream and browse as fluid as the flow of water. The size and the lightweight make the tablet a perfect working tool to carry anywhere you go.
Reasons to buy:
Thin and lightweight
Sturdy design
Affordable
Reasons to avoid:
10. Lenovo Tab M8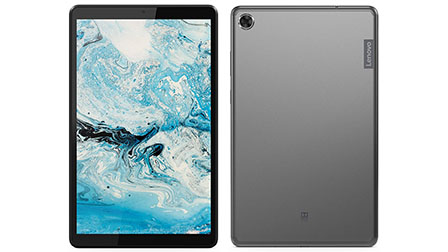 Launched in August 2019, the Lenovo Tab M8 tablet is an 8-inch touchscreen display tablet with a resolution of 720×1280 pixels.
Very handy and tech-savvy, this tablet is powered by a 2GHz octa-core MediaTek Helio A22 processor and is supported by 3GB of RAM and 32GB of inbuilt storage space.
Backed by a battery life (5000mAh) that lasts over 12 hours of long session use, the Tab M8 by Lenovo is based on Android Pie. When it comes to optics, the tab features a 5-megapixel camera on its rear side and a 2-megapixel camera on the front, decent for capturing selfies.
The lightweight tablet weighs 305.00 grams and measures 199.10 x 121.80 x 8.15mm (height x width x thickness), making it perfect for on-the-go work. The Tab M8 was launched in two colors, iron grey, and platinum grey colors. Coming to its connectivity, the Tab M8 offers Wi-Fi 802.11 a/b/g/n/ac and GPS.
Reasons to buy:
Economical tablet
Light and handy
Reasons to avoid:
2GHz octa-core MediaTek Helio A22 processor
5MP rear and 2MP front cameras
11. Samsung Galaxy Tab S7 FE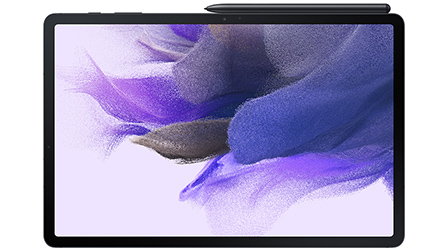 The Samsung Galaxy Tab S7 FE is a perfect choice for those looking for an Android tablet allowing tasks more than just recreation.
Samsung Galaxy Tab S7 FE has combined the best of the flagship Tab S7 series to bring its price down for the majority of people by maintaining most of the exceptional features.
However, it comes with a less-powerful chip-set to keep the price reasonable. Therefore, it is a great option for those looking for a tablet that can manage most of the tasks at an affordable price.
Tab S7 FE offers the entire Galaxy Tab experience, allowing you to use it as an alternate workspace. It comes with an S Pen stylus, enabling writing notes, sketching, signing, scrolling, and annotating easier.
The tablet comes with a plethora of shortcuts ideal for multitasking. It is backed by a long-lasting impressive large battery with a 10,000mAh capacity. The tablet is very much more appealing than its iOS counterparts. However, don't expect it to take the place of your laptop or PC.
Reasons to buy:
Within affordable range
Good battery
S Pen stylus
Sturdily built
Dual stereo speakers
Reasons to avoid:
Verdict
The tablet market had dipped ever since smartphones with big screens occupied the market. However, the pandemic gave them a new leash of life when people felt their need for various tasks.
Smartphones were not comfortable enough for several tasks, and laptops were not portable enough to move around and work, then, tablets re-emerged and were found more suitable for such tasks.
Also, people found a new love in tablets for entertainment and leisure activities too. The bigger screens of tablets allow you countless activities and also to connect to people personally and professionally.
All the tablets discussed above are from top tech companies in the world. So, little would be there any question about their quality and performance. However, every individual may have a different need to suit their personal and professional requirements.
Here is when you will need to decide which one suits you best. While Apple iPad(s) have always been true love for people for their unrivaled quality, performance, and style, they come very expensive and may not fit into everyone's pocket.
However, if you are okay to shell off some extra amount for Apple and find iOS tablets more comfortable, then Apple tablets are the best for you. However, you may have to compromise with the screen size most of the time.
Samsung tablets are not too far behind in quality, looks, and performance. They are easier on the pocket if compared to Apple. You will find a wide range in Samsung, designed to serve all types of users. Samsung tablets are best for those comfortable with Android OS and do not want to invest a bomb on tablets. The quality and performance of Samsung tabs have never been disappointing.
Lenovo has a small market for its tablets, yet if you want a cheap, elegant-looking, and decently working tablet that can allow you to do all your work, then Lenovo can emerge as a great catch.