Are you planning to purchase a drawing tablet to make your work more seamless? With the plethora of drawing tablets in the market, it is uneasy to pick the right digital platform that could perfectly fit your requirement. Shifting towards digital drawing from hand-drawing can be daunting, especially for the beginners. And things can become more vulnerable if you end up buying an inadequate digital drawing tablet because further, you won't be able to trust digital platforms.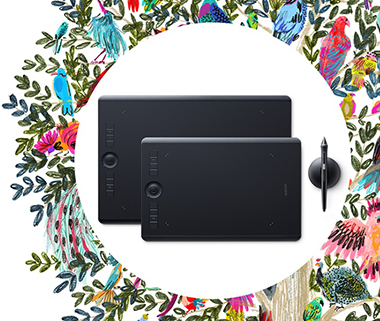 Before deciding on the drawing tablet, make sure that you evaluate your skills and needs. Thereafter, prepare a checklist and then hunt for the right tablet, which is actually made for you. Don't forget to include your budget in the checklist so as to purchase the drawing tablet that offers maximum features in a minimum budget!
Over the years, drawing tablets has evolved dramatically. Be it the design of the tablet, express-keys, pen, and handiness while carrying the tablet. Thus, making the right choice can be devastating for your mind as there are so many brands offering drawing tablets in the market.
If you are looking for the trending drawing tablets with the best features and price, then we've got you covered! In this article, we'll share top 10 drawing tablets for digital artists, accompanying their key specifications along with pros and cons in order to give you a brief overview of every tablet. So that once you jump into the competitive market, you have an idea of the top drawing tablets and make the right choice as per your requirement.
But first, let's understand the core features of a drawing tablet, which plays an important while drawing, painting or sketching on the tablet. And every digital artist should take these aspects strictly into consideration while purchasing to avoid unnecessary difficulties that designer might across in the near future:
What to look for in a drawing tablet?
This entirely depends on the consumer; however, we've highlighted some common, yet important features that one should take into account while deciding on a drawing tablet for themselves.
1. Working Area
The working area is considered as the foremost factor while choosing the drawing tablet. This area is very important as your artwork will be reflected on the screen. So it is vital that the working area of the tablet suit the needs of the artist. Generally, an artist prefers to work on a large screen, but some love the flexibility and that only a small size tablet can provide. Fortunately, there is a mid-sized tablet as well that might suit the needs of everybody!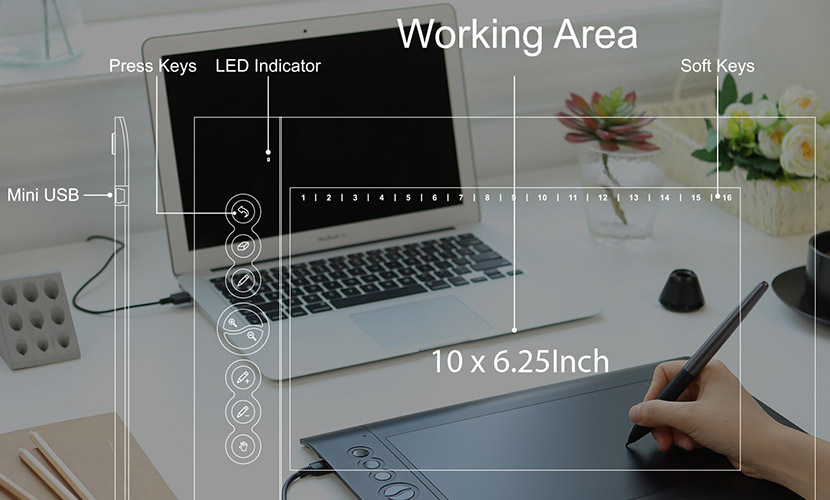 So it completely depends upon your choice whether you are always on the go, or you stay at one place or you are a beginner. Once you understand your own habits and way of working, only then you can pick the right working area for drawing, sketching and painting.
2. Pen

Another crucial aspect that designers should take into account is the pen. The pen is the core part that helps you perform well, boosting your overall work efficiency. So it is advisable to check whether the pen gives you comfort and ease while drawing, sketching or painting. Then comes pressure sensitivity, you have to check the pressure sensitivity of the pen from a wide range of options as it helps you to create thin lines, thick lines, fine details and everything that you require to make your art one-of-a-kind. When you get high-pressure sensitivity, the pen will give you a more natural feeling.
3. OS/Software Support

  Many tablets offer top designing software that is ready to install in your desktop when you are setting up the tablet in order to make the transition of designers from sketchbook to system much seamless. It can be Adobe or some other application, depending upon your tablet service provider. This ultimately saves you money as you don't have to make unnecessary purchases for third-party software. But it is advisable to ensure that your tablet is compatible with the operating systems- Windows and MacOS.
4. Press Keys

Every drawing tablet offers express-keys, which is an extension to your hand. You can customize these keys as per your convenience for scrolling up and down, zooming in and out, and a lot more. However, how many press keys you'll get completely depends on the brand that you'll choose, but commonly there are 4 express keys that companies usually provide. These keys are an efficient way to save the time of designers as it helps you switch through features, settings, and more instantly, make your whole experience seamless and streamlined.
However, your memory should sharp enough to memorize the function of each key in order to make your artwork more efficient.
10 Best Drawing Tablets 2019
Now, as per the above mentioned factors, we have short-listed the best drawing tablets you can consider buying in 2019. Have a look at it.
1. Wacom Intuos

Wacom Intuos is one of the leading drawing tablets that are available at a breakthrough price with powerful and robust features. It is specifically designed for the first-timers as it provides you with greater flexibility to draw, write and paint seamlessly with its 4k-sensitive pen. This innovative pen gives you a realistic experience, making your art more elegant and beautiful.
Wacom Intuos Specs
Working Area
Small: 6.0" x 3.7"
Medium: 8.5" x 5.3"
Pen
Pressure Sensitivity
Wacom Pen 4K (LP-1100K)
4096 levels
Keys
4 Customizable ExpressKeys
OS Compatibility
Windows 7 or later
MacOS X 10.11 or later
Battery
Non replaceable Li-ion on Bluetooth models only
Starting Price
Intuos S (CTL4100): $79.95 | Amazon
Intuos S BT (CTL4100WLK0): $99.95 | Amazon
Intuos M BT (CTL6100WLK0): $199.95 | Amazon
More so, Wacom Intuos is available in striking color- whether you are in the office or in your drawing room, you can carry this sleek and ultra-stylish tablet everywhere. The large active area allows you to stretch your creativity to the edges of this amazing drawing tablet as per your convenience. Wacom Intuos aims to deliver you a better experience as it offers a unique pen holder with four express keys, enhancing your productivity by allowing you to work freely.
However, Wacom Intuos is available in four models, so if you are planning to choose the Bluetooth model, then connecting your desktop will make the transfer of files between your computer and tablet hassle-free. In addition, Wacom Intuos offers a wide range of drawing software that allows you to utilize the one that seems comfortable to you. You can also add software, if any, by paying a certain amount.
If you are a Corel Painter, then Wacom Intuous is all that you need! It offers award-winning painting features along with high-tech brushes that make your paintings more real to people and eye-striking.
Pros: Pen is highly sensitive, enhances overall productivity, unbelievable abilities for image retouch and freehand drawing, no need for charging as it offers 15 hours of battery life.
Cons: Pen is not much flexible as compared to a mouse, beginners will find it tough in their initial stage.
2. Huion H610PRO V2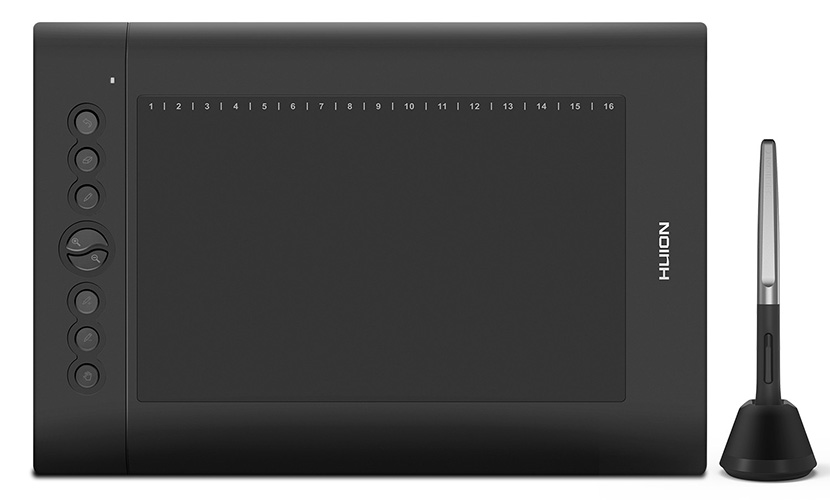 Huion H610PRO V2 is one of the best drawing tablets introduced by this company that aims to provide exceptional user-experience. Huion has put all the efforts to make this tablet innovative ever than before. Huion H610PRO V2 has been packed with a magical pen that actually allows you to do miracles, incorporating the latest EMR technology the all new PW10o pen works continuously without losing your zeal while drawing or sketching.
| | Huion H610PRO V2 Specs |
| --- | --- |
| Dimensions | 353 x 245 x 10mm |
| Working Area | 254 x 158.8mm (10 x 6.25") |
| Express Keys | (8 Hard + 16 Soft) Customizable Keys |
| Pen | PW100 Battery Free |
| Tilt Function | Yes |
| Pen Pressure & Resolution | 8192 Levels & 5080LPI |
| Report Rate | 233PPS |
| Sensing Height | 10mm |
| Price | Check it on Amazon |
With 223 PPS boosts fast report speed while recording with any delay in your work. More so, Huion H610PRO V2 introduced a matchless pen holder as well that primarily enhances the flexibility and portability, for which, it is loved the most. It also offers tilt functions, boosting your user-experience. You can attach the holder with your desktop, eliminating the anxiety of losing your pen.
Besides the magical pen, even the touch keeps you motivated alongside 8 shortcut keys. It allows you to customize the drawing the tablet in whatever you want as per your convenience. Huion H610PRO V2 offers the display size of 10 x 6.25", giving you a huge space to work and showcase your creativity with great ease. The back side of the tablet is also strong, free from spills and dust, which makes Huion H610PRO V2 powerful. Huion H610PRO V2 provides a great compatible with popular operating systems like Windows and Mac OS along with popular drawing apps like Photoshop, Illustrator, Clip Studio, Paint Tool Sai, and a lot more.
Pros: Reasonable price, battery-free stylus, lightweight and easy to carry and whether you are left-handed or right-handed this tablet is suitable for everyone.
Cons: Delicate USB ports (you need to take care), due to the plastic surface area while drawing you may hear noises created by this tablet, buggy drivers and no wireless options.
3. XP-Pen Artist 15.6 Pro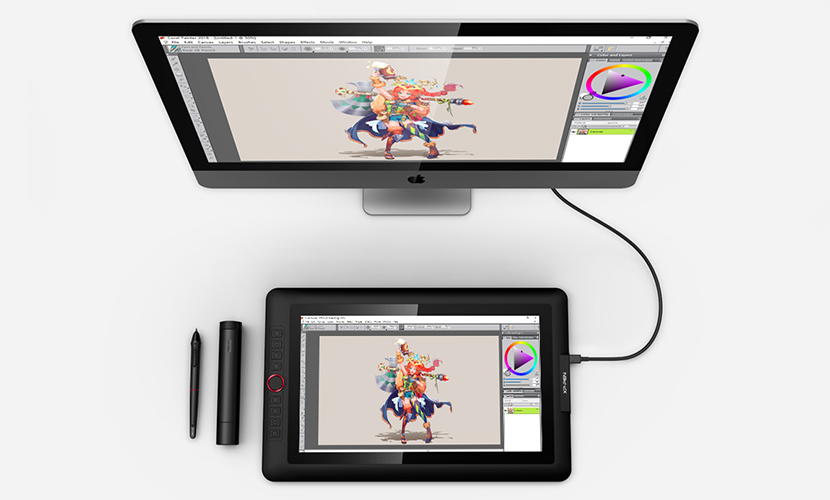 XP-Pen Artist 15.6 Pro is a masterpiece launched by the company, helping designers or artists across the world to step into the digital room. This tablet has revolutionized the tradition drawing models that include pen display design as in the XP-Pen Artist 15.6 Pro you'll find a red color dialer alongside 8 shortcut keys. This dial helps you to zoom in and out, scroll up and down, enabling you to be more creative in your work. You can design or draw as per your convenience as everything is available at your fingertips with the help of shortcut keys.
XP-Pen Artist 15.6 Pro Specs
Working Area
13.55" x 7.62"
Pen
Pressure Sensitivity
P05R Battery Free
8192 levels
Keys
8 Shortcut Keys
1 Roller Wheel
OS Compatibility
Windows 7 or later
Mac OS X 10.10 or later
Price
Check it on Amazon
XP-Pen Artist 15.6 Pro offers a unique pen that tilts according to your needs, boosting your overall efficiency as you can naturally transit between lines and strokes without any hindrance. More so, the pen is extremely sensitive, reaching 8,192 pressure sensitivity that gives you a natural experience while sketching or writing, increasing accuracy, fluidity, and control. The pen is outfitted with customizable shortcut buttons, boosting your performance.
The display size of this Pro version is 15.6" and is very sleek along with smart features. With such an immense display and features like smart-screen brightness, which easily adjusts as per your preference is absolutely stunning. The tablet handy and easily fit in your bag packs, giving you maximum portability and enjoy your work on XP-Pen Artist 15.6 Pro.
Featuring anti-glare film, which is replaceable, makes your experience more amazing. This tablet offers exciting accessories and is highly compatible with the latest operating systems of Windows and Mac OS.
Pros: Available at a competitive price, big display, amazing pen, customizable short-cut keys, and no driver bugs.
Cons: No key for adjusting the contrast or gamma of the tablet and efficiency of the pen gets hampered when the tablet is connected to the desktop.
4. Wacom Cintiq 16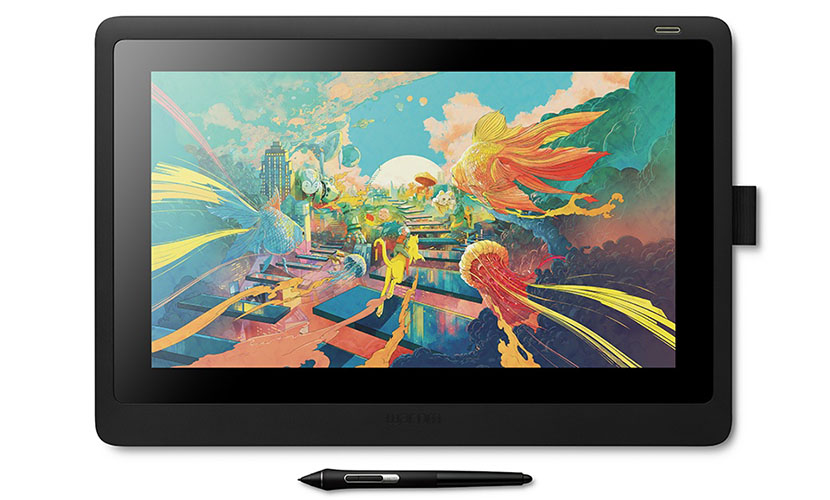 If you are starting your journey as an Illustrator, then Wacom Cintiq 16 is all that you need! The innovative pen display of Wacom Cintiq 16 can push you to become more proficient over time as an artist. This flagship product is created to maintain harmony as the Wacom Pro Pen 2 and Wacom Cintiq work together to deliver great efficiency to the users, helping them to be more productive.
Wacom Cintiq 16 Specs
Working Area
13.6" x 7.6"
Pen
Pressure Sensitivity
Wacom Pro Pen 2
8192 levels
Keys
ExpressKeys + Touch Ring on optional ExpressKey Remote
OS Compatibility
Windows 7 or later
Mac OS X 10.12 or later
Price
Starting at $649.95 | Amazon
This drawing tablet offers full HD display and anti-glare film that gives you a brighter and sharper screen without affecting your eyes. Now you can work all night on Wacom Cintiq 16 to create something unique! The 13.6" x 7.6″ working area of the Wacom Cintiq 16 provide you great comfort while working because as a beginner working on a digital platform might hamper your efficiency.
Wacom Cintiq 16 has reduced its parallax that gives you complete control to take cursor at whatever point you want, ultimately giving you a natural experience. In addition to such a stunning display, the Pro Pen 2 also creates many opportunities for the beginners. This battery-free pen, equipped with Electro Magnetic Resonance Technology, designed to maintain your balance between rubber, the weight of the tablet, and position of buttons- to boost your creativity and enthusiasm as a beginner.
Wacom Cintiq 16 is very powerful as it is manufactured with scratch resistant material to make it robust and delicate at the same time. The tablet offers great connectivity and amazing accessories to boost your creative sessions, allowing you to take in the first project.
Pros: Reasonable tablet, the display resolution is good, pro pen 2 works like a pro, compatible and offers great connectivity to the users.
Cons: No shortcut keys and initial activation of the pen is a bit tough.
5. Parblo A610 Plus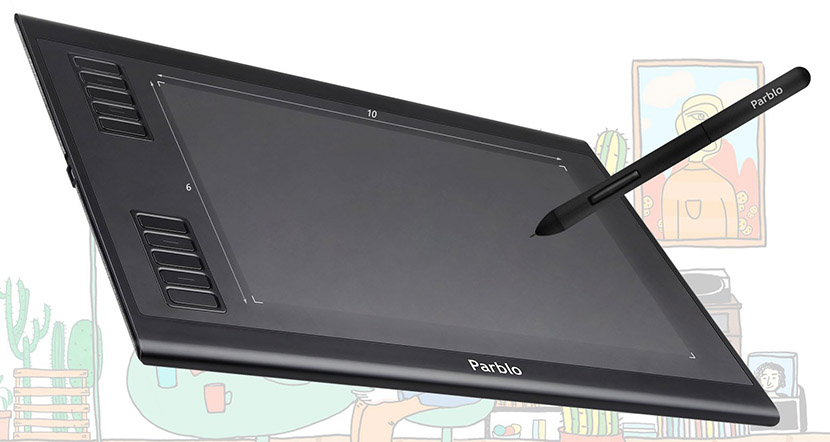 Parblo A610 Plus is the finest drawing tablet that you might ever come across. Parblo is a prominent name in the gadget industry that aims to serve clients better with efficient products. Parblo A610 Plus became popular in no time as this tablet bashed the traditional drawing tablets that had a back of plastic or aluminum. Parblo A610 Plus indeed introduced fashion cloth back design, which is absolutely stunning and catchy at the same time scratch-resistant.
Parblo A610 Plus Specs
Working Area
10" x 6"
Pen
Pressure Sensitivity
Smart Passive Pen
8192 levels
Keys
10 Customizable Express Keys
OS Compatibility
Windows 7 or later
Mac OS X 10.11 or later
Price
Starting at $69.99 | Parblo
Moreover, similar to other tablets Parblo A610 Plus has not forgotten the ritual of providing users with customizable keys that lets you achieve mouse clicks, navigation function or modifiers. Unlike other drawing tablets, Parblo A610 Plus offers an advanced USB Type-C connection that enables you to charge and transmit data seamlessly.
The 10″ x 6" is the display size, which is quite large allowing you to draw or paint without any hassle. Reaching to the most important part of drawing tablets is its pen- as it boosts your skills- Parblo A610 Plus offers highly sensitive pen with a pressure of 8,192, giving you natural touch while drawing, painting or writing on this tablet. Parblo A610 Plus is highly compatible with top operating systems and top drawing software like Adobe Photoshop, SAI, Paint, and a lot more.
So if you are looking for a pocket-friendly drawing tablet that gives you features of Intuos Pro you'll be amazed by Parblo A610 Plus. It offers an amazing range of accessories to the users along with the tablet.
Pros: The tablet is quite handy, lightweight and affordable and the pen gives you a natural feeling.
Cons: Haggles a bit when used on Windows 10 and the manual is not written in proper English, which again becomes difficult to understand about the tablet.
6. Huion Inspiroy H640P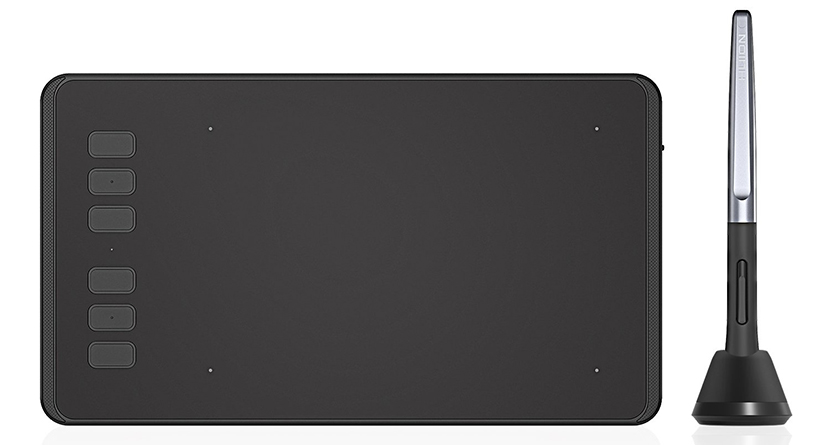 Huion is a leading company that offers exceptional drawing tablets to the market. However, Huion Inspiroy H640P is proving to be the finest tablets ever than before. Huion Inspiroy H640P is designed with great elegance and is 8mm thick, which is thinner than a smartphone along with the 6.3 x 3.9-inch display area. The durable surface of the tablet is very smooth, enabling you to turn your imagination into the reality that too without any hassle. Such a convenient size for the creation and 6 customizable keys gives you great flexibility and comfort while drawing, sketching or writing.
HUION Inspiroy H640P Specs
Working Area
6.3" x 3.9"
Pen
Pressure Sensitivity
PW100 Battery Free Pen
8192 levels
Keys
6 Customizable Express Keys
OS Compatibility
Windows 7 or later
Mac OS X 10.11 or later
Price
Starting at $49.99 | Amazon
The pen of the Huion Inspiroy H640P is very admirable because pen is the only thing that often designers look for. And Huion has just nailed this part! Huion Inspiroy H640P introduces the newest generation of electromagnetic technology in their pen, which can do wonders for your creativity! This battery-free pen keeps you away from unnecessary stress of charging again and again. The 8192 levels of pen pressure sensitivity give you the feel of natural experience while drawing or sketching. More so, the pen is extremely is lightweight- just 16g- made up of wearable silicone for a gentle feel. The pen is also equipped with dual buttons, which again gives you the ability of customization.
Huion Inspiroy H640P offers very responsive trajectory induction technology so that your every moment of handwriting will be efficiently displayed on the screen in no time. Like other tablets, Huion Inspiroy H640P is also compatible with top operating systems Windows and MacOS.
Pros: Cheap, great for beginners, offers high-quality features, very durable, the response rate is excellent, and the pen is very responsive.
Cons: Downloading drivers is challenging, some programs don't work well with the pen.
7. Wacom Intuos Pro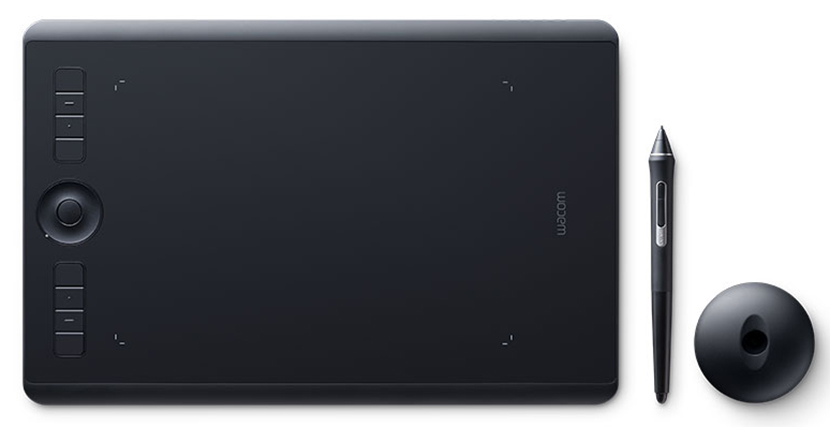 Wacom is undoubtedly a leading brand when it comes to drawing tablets. But recently launched Wacom Intuos Pro is setting a new professional standard in the drawing tablet sector. According to Wacom manufacturers, Intuos Pro is the handpicked pen tablet they've ever introduced in the market to date. Featuring Wacom Pro Pen 2 and the compact design of the tablet, giving you a large area makes it one-of-a-kind.
Wacom Intuos Pro Specs
Working Area
Medium: 8.7" x 5.8"
Large: 12.1" x 8.4"
Pen
Pressure Sensitivity
Wacom Pro Pen 2
8192 levels
Keys
8 Customizable Express Keys
OS Compatibility
Windows 7 or later
Mac OS 10.10 or later
Price
Check it on Amazon
Wacom Pro Pen 2 gives natural and precise work, which is unmatchable! You can also consider the pen as your hand extension because of its incomparable responsiveness and sensitivity, giving you complete control to turn your creative imagination into reality on this digital graphics tablet. The pen is exclusively made to give you a seamless experience so that you could work dedicatedly towards your passion. However, the Wacom Intuos Pro is offered in two sizes- medium, which gives you great portability and easiness to carry this tablet wherever you go- large, which gives you great space for working as you are drawing on your desktop. Wacom Intuos Pro offers a wide range of accessories, especially for the beginners, who first want to try on a paper and then move to the digital world.
Wacom Intuos Pro offer customizable keys alongside multi-touch gestures, allowing you to work more proficiently. More so, downloading drivers on Wacom Intuos Pro is very easy and seamless as well. You'll find no haggle in the process. Tablet is extremely compatible with Windows and MacOS, providing you connectivity options as like Bluetooth, USB, etc.
Pros: Offers flexibility in choosing the right size that fits your needs, Eliminated the need for the wireless kit as it supports Bluetooth, and you can draw on paper by switching to paper edition pen.
Cons: Problem with installation while getting started for the first time (proper guidelines missing).
8. XP-Pen Deco 01

XP-Pen is a front runner company providing one of the finest drawing tablets that too at a very pocket-friendly rate. However, XP-Pen Deco 01 is a unique tablet unleashing a big screen of 10 x 6.25" working area with round shape 8 express-keys, giving you more space to draw, write or sketch. The back design of the XP-Pen Deco 01 is overflowing with square-shaped design and sides as well, which represents retro fashion in the modern generation. Besides the design, the XP-Pen Deco 01 is extremely thin, just 8mm, which makes it lightweight and easy to carry.
XP-Pen Deco 01 Specs
Working Area
10" x 6.25"
Pen
Pressure Sensitivity
P03 Passive Pen
8192 levels
Keys
8 Customizable Express Keys
OS Compatibility
Windows 7 or later
Mac OS X 10.10 or later
Price
Starting at $59.99 | Amazon
The tablet is packed with a full bond drawing film that enables you to create anything seamlessly on the tablet surface, which seems to be real. Moreover, if you want to work in the dark, no need to switch on the lights because XP-Pen Deco 01 lights up the end of the drawing area so you can create with great enthusiasm and spirit.
Featuring true-to-life technology and 8192 pressure sensitive, XP-Pen Deco 01 offers an impeccable pen to the artists. It easily modifies, creates and navigates with all sorts of brushes and pens. The pen gives you natural feeling and it includes no battery, so can be in the game until you achieve the desired results. The pen stand offered by XP-Pen in Deco 01 automatically replaces the nibs of the pen.
Like other popular drawing tablets, XP-Pen Deco 01 is also compatible with top operating systems- Windows and MacOS- and many major drawing software that include SAI, Photoshop, Illustrator, Clip Studio, etc.
Pros: The tablet is very light and portable, suitable for both left and right-hand designers and battery-free stylus.
Cons: No scroll wheel option for zoom in and out and does not offer a stand.
9. GAOMON PD1560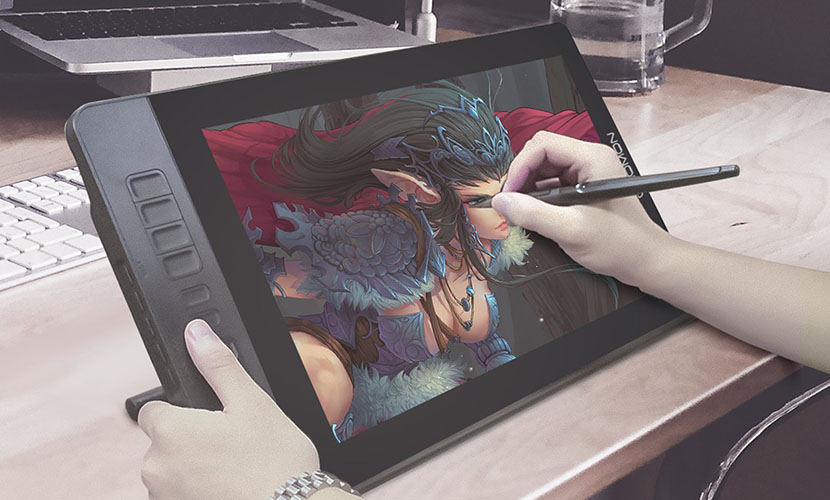 GAOMON PD1560 is a top-notch drawing tablet that offers a huge screen of 15.6" and 10 express keys for customization, which ultimately help designers to be more efficient in their work. Breaking the stereotypes the 10 express-keys allows you to work according to your habits and convenience. And the huge tablet is extremely lightweight and slim that easily fits in your bag. The screen is very brighter and all the color performs well on the GAOMON PD1560, which makes it more amazing. Now you can take this tablet anywhere you want and let your imagination or thoughts flow on the tablet.
GAOMON PD1560 Specs
Working Area
13.55" x 7.6"
Pen
Pressure Sensitivity
ArtPaint AP40
8192 levels
Keys
10 Customizable Express Keys
OS Compatibility
Windows 7 or later
Mac OS 10.11 or later
Price
Starting at $359 | Amazon
The pen introduced in the GAOMON PD1560 offers 8192 pressure sensitivity accompanying 5080 LPI resolution and 233PPS report rate, which gives you high precision and accuracy while drawing on this tablet. Your flight can be delayed but lines will never!
The digital pen is wireless offering two buttons that allow you to switch between brush and eraser easily. You can create unlimited things as holding the pen is also quite comfortable and easy. GAOMON PD1560 also offers embedded single-interface to get rid of the hassles of the signal wire falling off. GAOMON PD1560 also provides you a strong and highly adjustable stand to place your tablet on it and work comfortably. If you are beginner this stand will prove to be of utmost importance for your work.
GAOMON PD1560 has robust drivers that support MacOS and Windows. It is also compatible with top drawing software like SAI, Clip Studio, Photoshop, Paint, CDR, and a lot more.
Pros: Large screen allows you to shift menus aside and concentrate more on your art, Pen is highly efficient, and the touch is very smooth and good accessories.
Cons: Removing the adjustable stand can be painful as you have to remove screws.
10. UGEE M708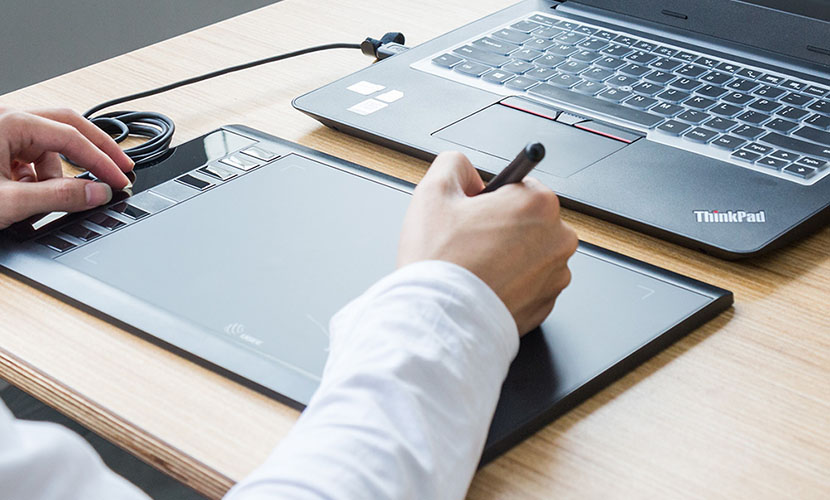 No matter whether you are a beginner or a professional designer or an amateur designer, UGEE M708 proves to be a great platform for every type of professional! UGEE M708 features 10 x 6" screen along with 8 express-keys that allows you to draw on the smooth of this tablet that too without changing your habits. As the keys are highly customizable that enables you to draw, zoom in and out, scroll up and down- whether you are left-hand user or right hand- customize the keys as per your convenience. The large screen of UGEE M708 provides seamless and natural drawing experience to the professionals. This eventually increases the efficiency and productivity of the artists.
UGEE M708 Specs
Working Area
10" x 6"
Pen
Pressure Sensitivity
P50S Battery Free Pen
8192 levels
Keys
8 Customizable Shortcut Keys
OS Compatibility
Windows XP/Vista/7/8/10
Mac OS X 10.8 or later
Price
Starting at $59.99 | Amazon
UGEE M708 has also introduced battery-free stylus for the users, providing you the pressure sensitivity of 8192, which is adequate for every designer. You can draw precise and accurate lines applying a lot of pressure to the pen. So drawing with high pressure will give you thick lines and putting less pressure will give you sharp lines. UGEE M708 provides an efficient pen that is the perfect partner for retouching any image on the tablet surface as the screen offer great sensitivity with every touch.
UGEE M708 is highly compatible with the top operating systems- Windows and MacOS- along with top designing software that includes SAI, Paint, Photoshop, Clip Studio, Illustrator, Autodesk MAYA, etc. The tablet is, undoubtedly, very lightweight that gives you higher portability.
Pros: Offers a PenSigner feature that allows you to sign the documents on the tablet only, a high sensitivity of the pen adds it to the big brands like Wacom and highly affordable.
Cons: No tilt sensitivity in the pen, poor packaging quality, issues while downloading drivers in the tablet, and the pen doesn't have an eraser.
Conclusion
Researching the best drawing tablet for your project should not only be capable enough to satisfy your needs, but it will also make your overall experience full of pleasure. Make sure you don't overlook the small differences in each tablet as it can make a big difference. However, the above-mentioned are my hand-picked tablet along with their features, pros, and cons in order to give an appropriate idea, which will best suit your needs.
Ideally, choosing a reliable, fast, and affordable drawing tablet is not easy as there's so much of competition in the market. You may get in turmoil while looking at the wide range of tablets. But I hope the above tablets will help you get through the situation seamlessly.
Every tablet has something unique to offer, but they'll also have their own downsides. Therefore, it is recommendable that when you are about to purchase a new tablet, you go through our reviews and specifications in order to understand what best suits your needs.
Now keep all your stress and worries aside when it comes to purchasing the best drawing tablet. You can note down the name of the above-mentioned tablets, their key specifications, pros, and cons, and make the right choice as per your requirement and convenience. This will not only save you time but also money as you don't end up making a regretful decision.