Welcome to another tablet review – this time I'm taking a look at the recently released pen display tablet from HUION, the Kamvas 12 – another addition to the ever-expanding Kamvas range.
The Kamvas 12 comes in two colors; 'Starfish Orange' and 'Cosmo Black' – I went with orange, but both specs are exactly the same.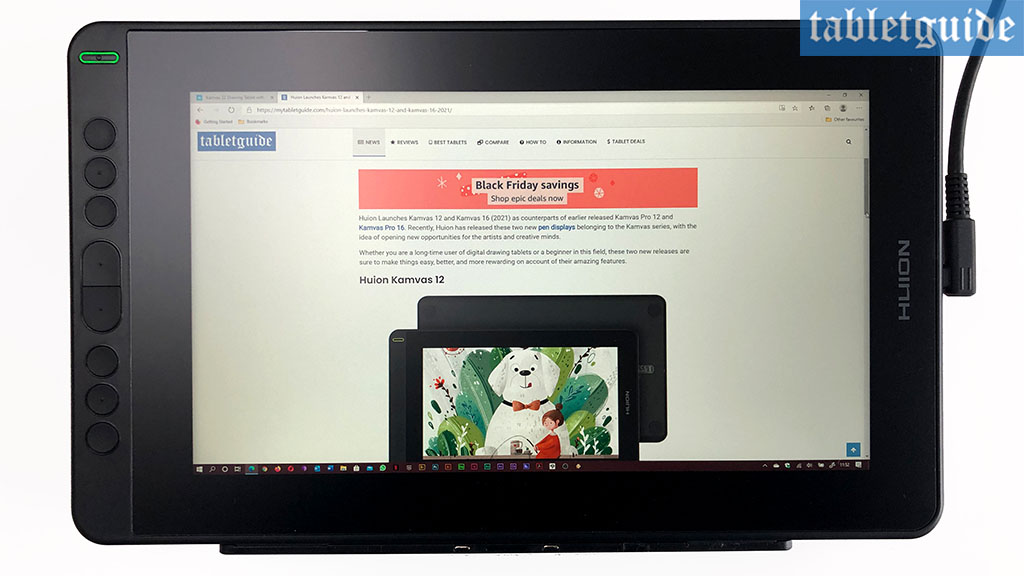 Talking of specifications, let's get the technical bits out of the way before we dive in with all the good stuff! This is a 12" Pen Display, with an actual 'drawing area' of 11.6". In order to use this, you need to plug it into an external compatible device like a PC, Laptop or Mac etc or even an Android phone – it isn't a standalone drawing tablet! One of the cool features is that it doubles up as a more 'traditional' graphics tablet i.e. by default, it acts as a screen for you to draw on (think iPad!), but by turning off the screen, whilst you draw on the tablet, you will have to look at the monitor of the device it is plugged into – best of both worlds!
The screen is an IPS LCD FULL HD, 1920×1080 (16:9) resolution and is fully laminated. It is also covered with an anti-glare matt film to reduce, yes, you guessed it, any glare on the screen in use. It is capable of displaying 16.7m colors, has a color gamut of 120% sRGB and comes with a 170° viewing angle – perfect if you enjoy drawing slightly from the side… 😊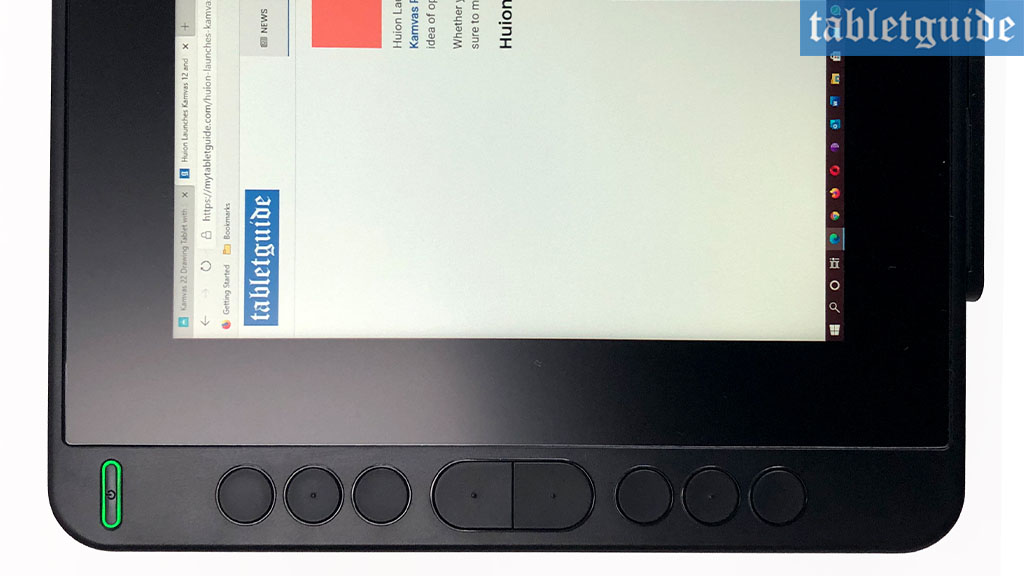 Down the left of tablet, in order, are the Power Button and 8 programmable press or shortcut keys. On the actual right side of the tablet are the USB-C ports for connection. Flip the tablet over and you're presented with the 4 'anti-slip mats', conveniently located in all four corners…
Just as important as the screen is the pen… The pen is battery-free, supports 8192 levels of pressure sensitivity and supports 60° of 'tilt', which basically means the harder you press the more varied the line will be produced and you can use it for producing a 'shading effect' respectively. (Think of it like tilting a pencil).
The pen only needs to be within 10mm of the screen for it to be registered/recognized by the tablet. The 2 buttons on the pen are also (re)programmable should you want to change the default (top) 'Right Mouse Click' and (bottom) 'Eraser' modes.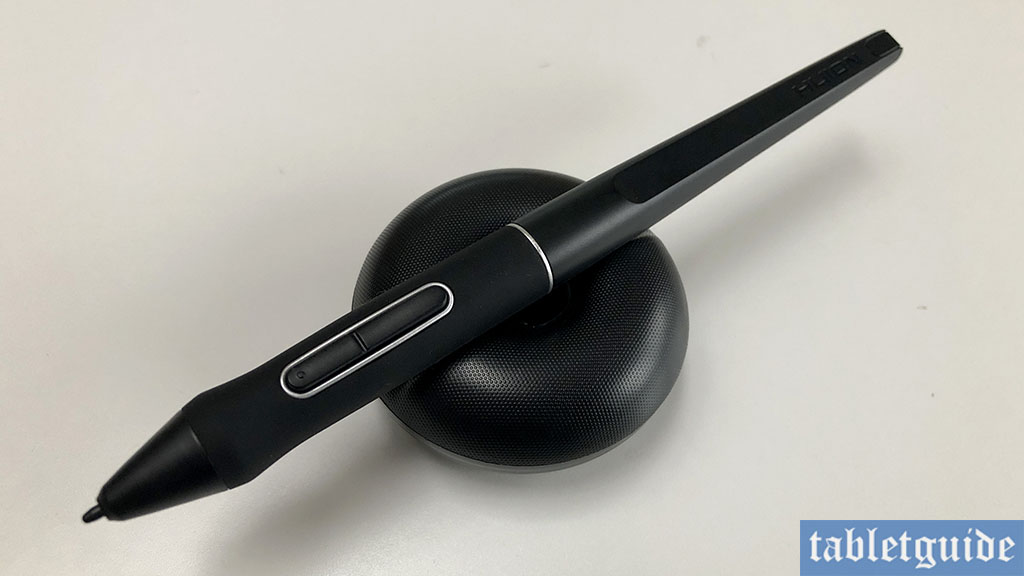 Accompanying these two all-important pieces of the graphics display puzzle are the Pen Holder (which contains 10 replacement pen nibs and Pen Nib Clip for removing old nibs), 3-In-1 Cable, USB Extension Cable, Warranty Card, Thank You Card, Quick Start Guide, Cleaning Cloth, Artist Glove and an ergonomic, adjustable stand. Although not physically in the box, it comes with a 1 Year Warranty…😊
As usual with these devices you need to uninstall any older drivers you may have on your system to avoid any conflicts and then pay a visit to HUION's website to choose the software for your nice and shiny new tablet.
Once I had the driver software up and running it was time to plug the pen display into my laptop with the 3-in-1 cable. Straight away Windows detected the device, so it was then time to start looking at the driver software pen settings.
You can adjust the pen sensitivity to your liking – I prefer a 'harder press' on the tablet to achieve a thicker line, so I tend to drag down the curved line in the 'Pressure Sensitivity Adjustment' box. (Dragging up, obviously, means the opposite!) and have a quick scribble in the 'Pressure Test' box.
Watch Huion Kamvas 12 Pen Display Review
Other settings can made here: if you have a multi-monitor set-up, you can either have both your monitor and pen tablet display exactly the same image and/or desktop, or, as I prefer, have the tablet work as a 'second monitor' i.e. both displaying different content – Photoshop on my Kamvas 12 and Outlook Email on my laptop for instance.
Personally, I tend to use my laptop and/or PC keyboard for any 'shortcuts' I need whilst drawing i.e. 'CRTL+Z' for 'Undo', 'CRTL+N' for 'New Document' etc, but if you prefer to use the 8 shortcut keys these are fully customizable here too in the software.
A handy tip: pressing both 'middle keys' (K4 & K5) for three seconds brings up the tablets OSD to changing brightness, contrast etc.
The pen is nice and light and felt quite comfortable in the hand. It's a 2-button pen – again both customizable – but I always tend to keep them default settings.
After creating a new Photoshop document, I tried a few test scribbles and the line weight varied nicely with no problems or lagging. Slightly contradicting what I said earlier(!), the express/shortcut keys I do use on these tablets are for zooming in and out and increasing and decreasing the brush size – this really does help to speed up the drawing process.
I've used a few HUION tablets now and once again this one does not disappoint. It's well built and looks cool too – that funky orange color has grown on me! The stand is adjustable to several levels depending on the way you work and both the tablet and stand will fit nice and snugly into a laptop bag for easy transportation.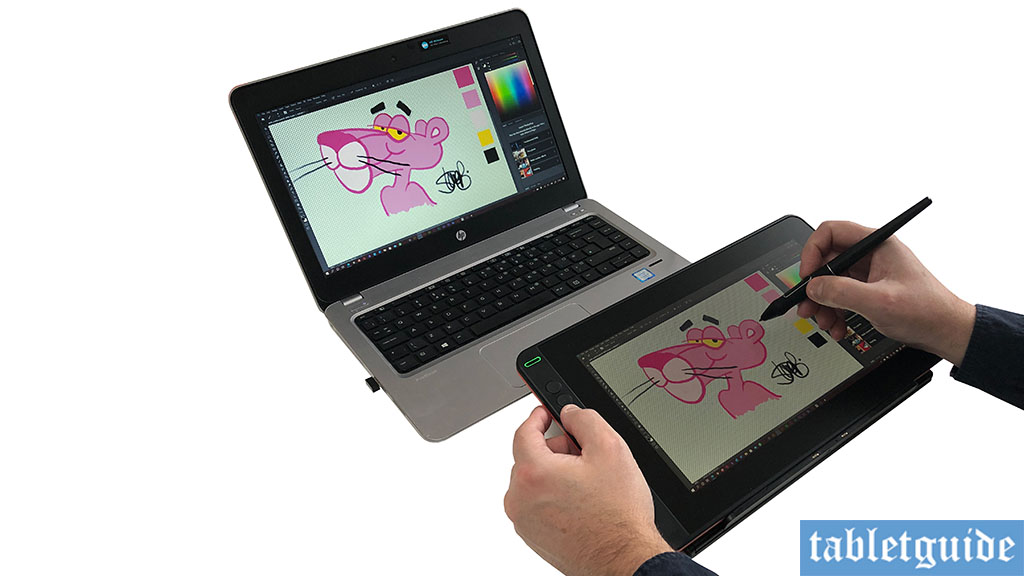 The drawing experience with this tablet was, as expected, great. 12" is a nice size to work with a 1920×1080 resolution and the screen is nice and bright. The driver software is easy and straightforward to work with and navigate – it's always cool to have something work properly straight out of the box!
Related:
As this is a fully laminated screen, there is no 'gap' between the pen nib and the resulting line you see on your screen. For some people this is a deal breaker, but to be honest, these gaps are so small, whatever tablet you use, laminated or not, you get used to it. That said, fully laminated tablets are now becoming the norm across all budget ranges.
As mentioned previously, one of the features of this tablet is that it can be used as a 'traditional' graphics tablet. Switching off the screen turns off the… erm… screen(!), so that now you can look up at your main display whilst you are drawing on the tablet, which is a cool option.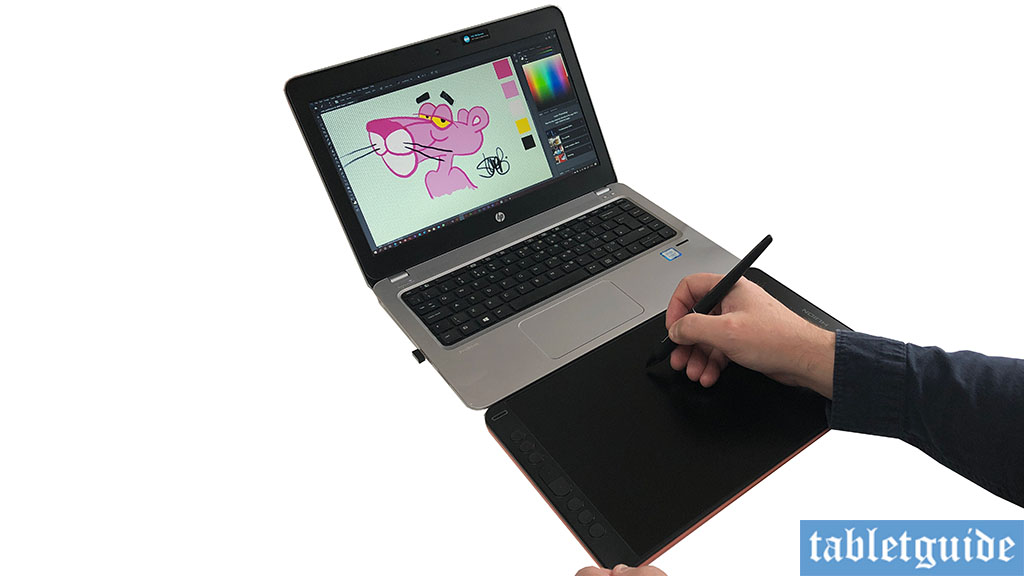 This is a great time to be a creative (well, all things virus, aside…!) as there are now so many decent graphic and pen tablets on the market (from a variety of brands/manufacturers) for all price ranges. HUION continue to knock out these awesome tablets and long may they continue to do so. This is another recommended tablet. Watch out Wacom – they're coming for ya! 😊
The Kamvas series comes in so many sizes and variants, you're sure to find one that suits your needs, whether it's budget, desk space or portability!
The HUION Kamvas 12 is available now for Windows 7+, Mac OS 10.12+ and compatible Android devices (USB3.1 DP1.2). So buy it! 😊