Here we are again with another new tablet from XP-PEN – the Artist 12 Pro 'Line Friends' Edition… actually this is one of three new special 'Line Friends' tablets, the other two being the" Star G640 (6"x4) and the Deco 01 V2 (10" x 6.25") Drawing Pen Tablet.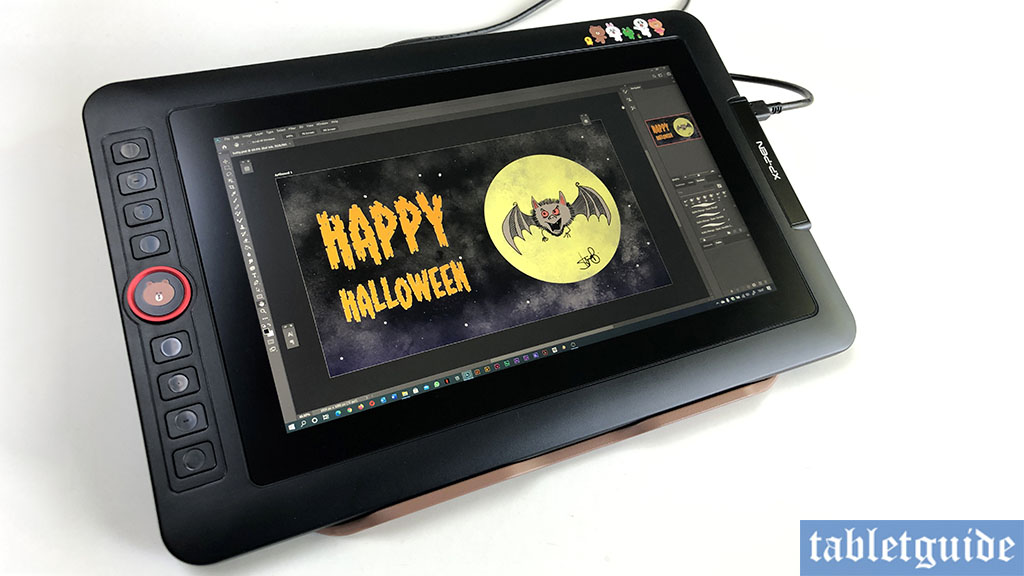 These tablets are a special 'Line Friends' Edition of existing tablets. For those who don't know, Line Friends are characters are used in various products such as animation, games, cafes, hotels and theme parks, created by South Korean designer Kang Byeong Mok, based on the stickers from applications of Naver Corporation and the messaging app Line.
Hey! Wouldn't it be great to see a whole range of pen and graphic tablets based on other comic and movie franchise branding and characters – imagine Star Wars, Marvel, DC Comics character tablets… or even sports i.e. soccer/football teams, baseball etc – how about it XP-PEN if you're reading this? You're Welcome! (Don't forget my cut heh heh!) 😊
The Artist 12 Pro comes in a nice blue box with three of the cute Line Friend characters taking centre stage; CONY, BROWN and SALLY (although BROWN doesn't seem to be to happy to be there…!)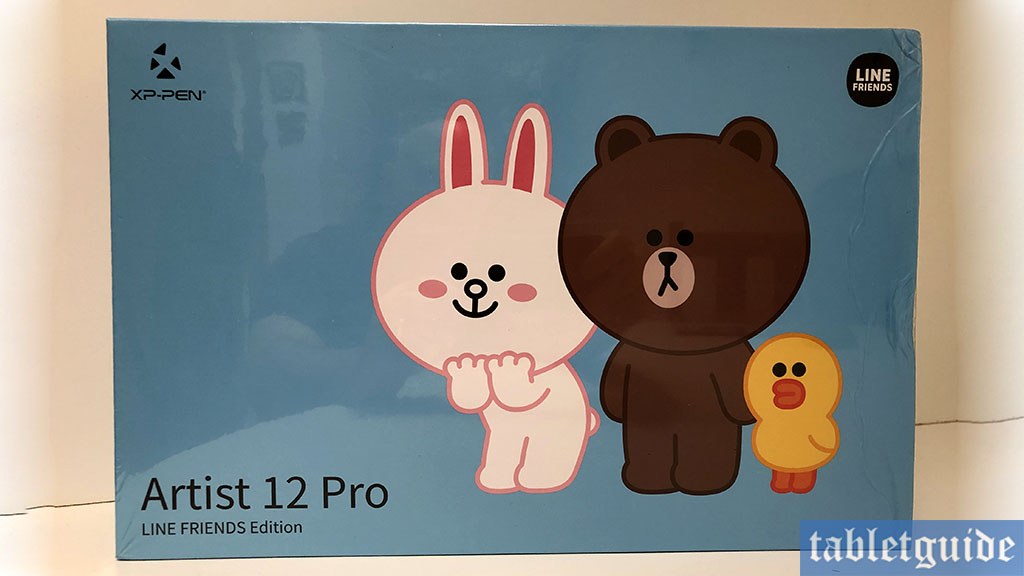 Inside the box are these assorted goodies: the tablet, stand, pen (contained in a plastic tube, which not only houses the eight spare nibs, but the lid doubles up as a handy pen holder for your desk), 3-in-1 cable, USB extender cable, cleaning cloth, drawing glove, Quick Start Guide, Warranty Guide, power adaptor and several plugs for use, dependant on which country you reside in.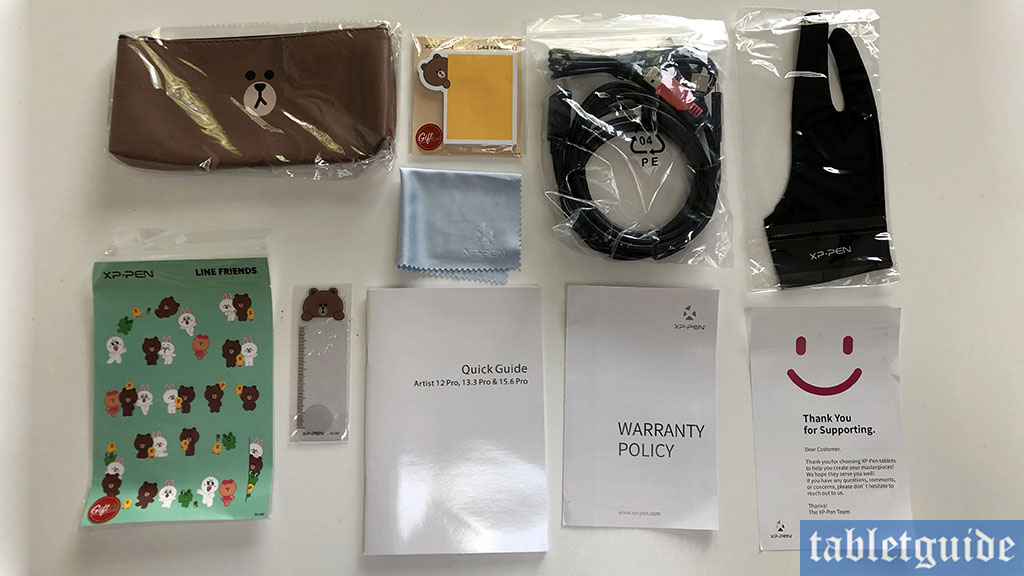 As this is a special edition type tablet, there's also some 'gift' items supplied like a large tote bag, pen case, bookmark, post-it notes, character stickers – all high in the cute-factor with BROWN branding – even the stand is colored brown with his face looking up at you!
All in all, it's a nice package and a cool idea – just imagine, as mentioned I earlier, if other tablets could be released as special editions with Darth Vader, Spiderman etc colours and logos – I'd be first in line! 😊
Buy at Official XP-Pen Store | Use Code: INSPR141
The tablet has a nice build quality feel to it and with its rounded corners looks a cool piece of kit. Top right are small versions of the Line Friends watching you as you draw.
A quick visit to XP-PEN's website for the drivers, cable all connected, it's time to get testing!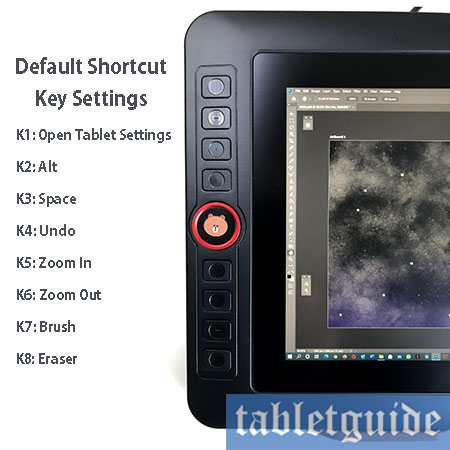 Down the left side of the tablet are the eight shortcut keys which, in order, by default, are set as follows: Open Tablet Settings, Alt, Space, Undo, Zoom In, Zoom Out, Brush and Eraser. These of course, are fully customizable if you wish to change or update them.
Sitting in the middle of these keys, is the now instantly recognizable XP-PEN's 'red-dial' for zooming and scrolling. Down the actual right side of the tablet, under the XP-PEN logo recess is the USB-C socket, two buttons for increasing/decreasing brightness and (illuminated) power button.
The tablet sits snugly on the stand (or BROWN's face!) and although the stand isn't fully adjustable, it won't move around your desk due to its rubber feet. To adjust the height further, you're going to need a book or something to place underneath.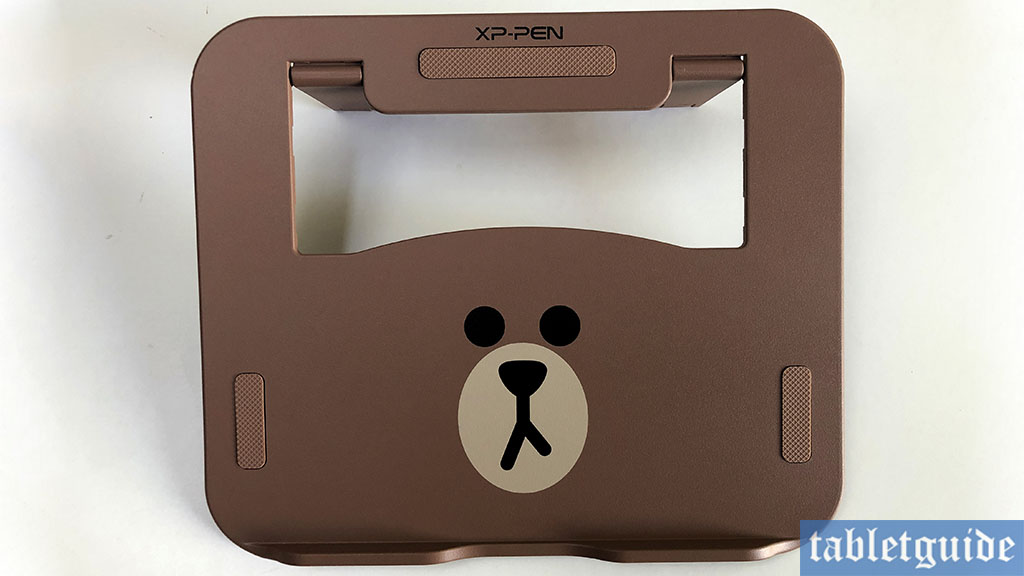 The pen is battery-free, very light and feels nice in the hand. It's a two-button pen as you would expect with 'Right Click' and 'Pen/Eraser' functionality – again, you can customize these in the driver software, as you can the pressure sensitivity. It supports 8192 levels of pressure sensitivity.
The driver software itself is straightforward and simple to navigate through. You can adjust display settings, calibrate your tablet, map your monitor, change express keys etc – if you mess things up, hitting 'Default' resets all to 'out of the box' settings. If you get stuck, there's a handy link to XP-PEN's website for additional help.

This is a full HD 1920×1080 display with a 178° viewing angle. Being fully laminated, there's absolutely no parallax. It's capable of displaying 16.7 million colors in a 256.32mm X 144.18mm display area. It also supports 60° of tilt.
Drawing on this tablet, as with all other devices from XP-PEN I've used, was a pleasurable experience. Lines tapered nicely as expected and pen pressure worked like a charm. With no parallaxing, the 'ink' appeared from straight under the pen just as it would in real life. I was able to sketch and draw just as I would using traditional pen and paper.
There was no lagging when quickly crosshatching etc. The express keys have a nice 'feel' to them when pressed and made zooming in and out of an illustration simple – I personally still prefer to use my keyboard sitting next to a tablet, but they are a great aid in content creation.
It's getting hard to see how graphics tablets can improve now as surely they have reached their peak?
Although this tablet seems to have been marketed at beginners according to the blurb on the website, this is perfect for any user of any level of experience – especially those that need to lug their device around i.e. from office to home etc – a 12" tablet like this easily fits into your laptop bag with your laptop and accessories.
Watch XP-Pen Artist 12 Pro LINE FRIENDS Edition Review Video
As you would expect, all the usual creative software programmes/apps are supported like Adobe Creative Cloud Suite, Clip Studio Paint, Krita, MediBang Paint, Corel, Gimp, Blender etc. The XP-Pen Artist 12 Pro also works with web conferencing, broadcasting or online learning software including Zoom, XSplit, Twitch, Idroo, Microsoft Teams, ezTalks Webinar, Udemy, Scribblar, DingTalk and more.
XP-PEN Artist 12 Pro (LINE FRIENDS) Specifications

Dimensions
351.52 x 225.38 x 12.9 mm
Display (Active Area)
11.6-inch (256.32 x 144.18 mm)
Display Resolution
1920 x 1080 pixels
Color Gamut
72% NTSC
Shortcut Keys
8 Keys + 1 Roller Wheel
Response Time
14ms
Viewing Angle
178°
Pen
Battery-free Stylus
Pen Pressure
8192 levels
Tilt
60 degrees
Pen Resolution
5080LPI
Report Rate
≧200
Accuracy
±0.01inch
Reading Height
10mm
Interface
USB
Compatibility
Windows 10/8/7 or higher and Mac OS X 10.10 or higher
XP-PEN celebrated their 15th Anniversary this year with a range of special edition displays and tablets and continue to push forward with new ideas and products like these co-branded tablets. I look forward to reviewing a special edition DC Comics Batman 22" Pen Display… (hint, hint XP-PEN! 😊)
The Artist 12 Pro is compatible with Windows 10/8/7 (32/64bit), Mac OS X 10.10 and higher.
Related: