Huion finally integrated their graphic tablets with Chrome OS. Many other brands like Wacom have already received their Works with Chromebook certificate, so it was time to explore the functionality of Huion graphic tablets with Chromebooks. They believe such integration can help teachers, students, and professionals working from home.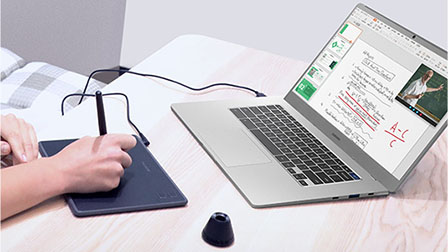 Huion is one of the best choices for graphic tablets with its high LPI and resolution. Graphic tablets from Huion have outstanding pen resolution, and it is way more Wacom models.
It may not be the most important factor when using a Chromebook because almost all models of Huion meet the requirements of beginners and experts. Chrome OS cannot be considered an upgrade to Mac or Windows, but it does increase the convenience and comfort of users.
Huion graphic tablets are now compatible with more than sixty Chromebooks available in the market, and these users are usually not expert or professional graphic artists.
As Chromebooks are widely accepted, Huion looks to target that audience of teachers and young student learners. They can use these graphic tablets for many daily applications like online learning for students and tutoring for teachers.
One thing Chrome OS cannot provide is powerful drawing software that can compete with Adobe. Even if there is not high-level software for creatives, one can always use the in-built Chromebook software called Clip Studio Paint. Many companies manufacturing Chromebooks are now pairing such software that is capable enough to meet general education requirements.
List of Huion Tablets Compatible With Chrome OS
Online learning will now be more fun and easier to access with Huion graphic tablets. You need to plug in your graphic tablet to your Chromebook, and you are all ready to go. Professionals will likely enjoy the Chrome OS experience with their graphic tablet because these devices have the ability to provide a natural and pen-on-paper experience.
Chrome OS makes it easy to connect and establish online conferences, so teachers will not have an issue with sharing their ideas and keeping the students stay productive. Chromebooks also make it easier to annotate PDFs and take required notes. As Huion tablets are now fully compatible with Chrome OS, users can use pen sensitivity levels and other drawing features.
Important Update: Any Huion drivers or plugins won't be required for Chromebooks. Huion tablets will act as Plug and Play for Chromebooks.
To avail the pen pressure sensitivity for your Chromebook, you are required to first install the necessary OS drivers from the official website of Huion. When you land on their website, take a look at the driver section, and you will see an option for Chrome OS. You need to select your Huion graphic tablet model and try to download the drivers for your Chromebook.
Drawing tablets for Chromebooks usually don't deal with high graphics and performance because the RAM is not high enough to perform those operations. But with Chrome OS compatibility, one can still engage in basic drawing and editing works.
As the target audience for these tablets are students and other online professionals, it is expected that they won't use them to their full potential. Lightweight graphic tablets work well with Chromebooks, and it is best when used for educational purposes.
Some of the best tablets compatible with Chromebook are Inspiroy H420X, H580X, H610X, H430P, H610PRO V2, and H1161. These tablets are also Android supported, so if one doesn't carry their Chromebook outdoors, they can simply take out their Android device and start working. In the case of pen display, Huion integrated the Chrome OS for three of its most popular models, and they all belong to the Kamvas Pro series.