Here's exciting news for all you Wacom lovers. And the news is that Wacom Intuos Small CTL4100 is now compatible with Chrome OS.
As per the official announcement made by Wacom on 9th June 2021, Wacom Intuos Small, the non-wireless model, will come with Chromebook Certification, as was received by One from Wacom earlier during this year only.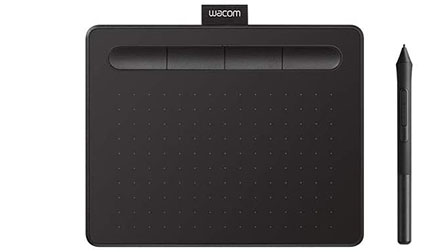 This indicates that Chromebook users will have impressive Wacom Intuos Small to use to fulfill their need and requirements. This collaboration of Wacom tablets with Chromebooks will offer an enriching and rewarding experience for the users.
All the digitally based creative and drawing applications that the Wacom pen tablet is known for can work seamlessly work in the Chromebook platform.
In the present scenario, Chromebook has brought in proven solutions that have aided the educational sector immensely. It has also given a new meaning to the whole concept of home-based work by making every aspect convenient and manageable.
As per the words of Faik Karaoglu, Wacom's Branded Business's Executive Vice President, Wacom is aiming in aligning more of its devices with Chromebook to enable Chromebook users to make the most of Wacom's innovative and fluid pen technology and intuitiveness.
He further asserts this move on the part of Wacom will open new avenues for artists and creatively inclined users, who can now utilize their potential to the fullest to give shape to all their dreams and aspirations by making use of the finest drawing and painting applications.
Easy and Hassle-free connection: You can easily connect the wireless version of Wacom Intuos Small with any Chromebook that supports a USB-A connection, and is based on the latest Chrome OS. Yes, you do not need any driver to establish a connection between these two.
Super Support for Best Creative and Educational Application: Wacom Intuos offers a great opportunity to explore and use amazing features in Chromebook. On purchase of Wacom Intuos, users can enjoy and have access to an exciting package of software applications along with a free subscription to Clip Studio Paint Pro for 3-months.
You can also use extremely efficient educational apps like Collaboard, Limnu, Kami, and Explain Everything that is specially tailored to make learning fun and interactive.
Compatibility and Efficiency: Further expanding its horizon, Wacom Intuos Small is also compatible with other important platforms other than Chrome OS, which includes Mac, Windows, and selective Android gadgets.
The patent Wacom Technology that is used for a range of tablet surfaces performs independently, without causing any interference on-screen pens that are based on Universal Stylus Initiative that comes with Chromebook and are also available as accessories.
Some Key Points to Remember
Please remember that for the Chrome OS, the function of ExpressKeys is not available right now. It is supported on other Operating Systems like Mac and Windows.
This particular model (CTL-4100) has received certified Works With Chromebook.
Also, for using Wacom Intuos Small, some Chromebooks may require USB-C Adapter.
You must use the Wacom pen with the drawing tablet for usage with Chrome OS.
Wacom Intuos Small is compatible with the latest Chrome OS version and has also received certification as per Google's Compatibility Standard.
So, if you are planning to make the most of your creative drive and want to use the best digitally proven efficient and advanced technologies and applications in doing so, go for the Chromebook compatible Wacom Intuos Small.
It is available for purchase from leading online retailers and also from Wacom eStore for $79.95. For more information on Wacom Intuos Small, you can always visit the dedicated product page on the official company's website.